by Chris Clemens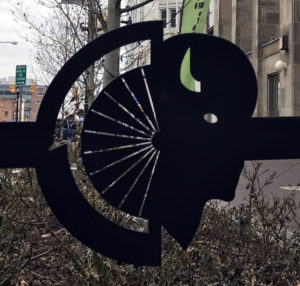 There's a lot of articles out there with headlines like, "Buffalo is Killing It Lately" and "Here's Why People Are Moving to Buffalo". It's no secret that a few of Upstate's cities are in the midst of a revival and suburbanites are discovering new reasons to re-enter the urban landscape. One of those reasons is food trucks.
Here where I live in Rochester, we have a Food Truck Rodeo about once a month where 25-ish trucks line-up on a chosen Wednesday. The event is regularly a huge success and that got me wondering what Buffalo's well known Food Truck Tuesdays was like. This week, I hopped in the car with my good food friend Chris Lindstrom of Food About Town and we spent an evening exploring the food trucks of Buffalo.
History
I don't care if you only want to know about food. You're gonna get just a little dash of history, and you're gonna like it!
The Larkinville neighborhood is probably one of the best examples of successful redevelopment in Western New York. In 1827, the Buffalo Hydraulics Association laid the groundwork for much of the current neighborhood. They developed the city's first industrial hydraulics utility, allowing the use of nearby water to generate power. Think about the timing of that, just two years after the completion of the Erie Canal, which started in Buffalo a few clicks north of this spot. The water power generated a thriving complex of industries.
Later in 1876, a guy named John Larkin set up shop in the neighborhood to begin making soap. While his products were all pretty awesome, Larkin ended up revolutionizing the process of delivering those products. He created "Larkin Clubs", which essentially made common housewives the direct sellers of his products. Larkin would send a big box to a housewife, and she would then break the box in to smaller offerings and sell them to her friends and neighbors. He essentially created the model now used by tons of companies to move their product. Tupperware parties were born of Larkin's vision.
Needless to say, this neighborhood was "killing it" about 150 years ago. But, the early 1900's brought the Depression and the later part of the 1900's brought a lull to manufacturing. Add to that the fact that people were moving out of cities and you end up with a complex of industrial buildings with a few scattered businesses holding on, but certainly not filling things wall-to-wall. Then, residential streets start to become sparse because, why would you live in a neighborhood that isn't doing well? It's just about the most perfect definition of "Rust Belt" as you can find.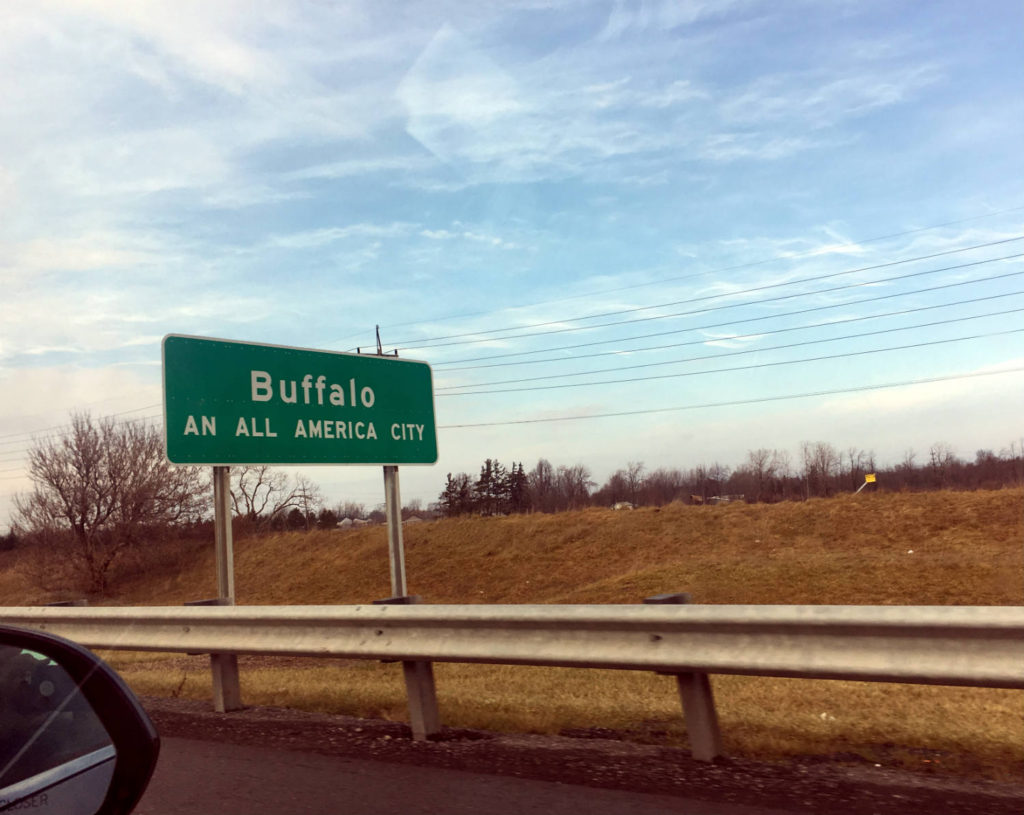 Larkin Square
Luckily, a few developers with a vision (and funding) began to realize the potential for a revitalized space. They wanted to see people back in the city. They wanted businesses sharing spaces again. They wanted life to be happening. And, so the concept of Larkin Square–a mixed use event space–was born. And, that's exactly where in 2012 they started the tradition of Food Truck Tuesdays, a free event where a rotating schedule of live musicians play for attendees who eat up the offerings of Buffalo's food trucks, all parked side by side like an outdoor food court.




And guess what happened? People went. In droves. People from the city and people from the suburbs. Execs in pressed Oxfords sat side-by-side teens with neon-colored hair. And it didn't stop, it has grown exponentially.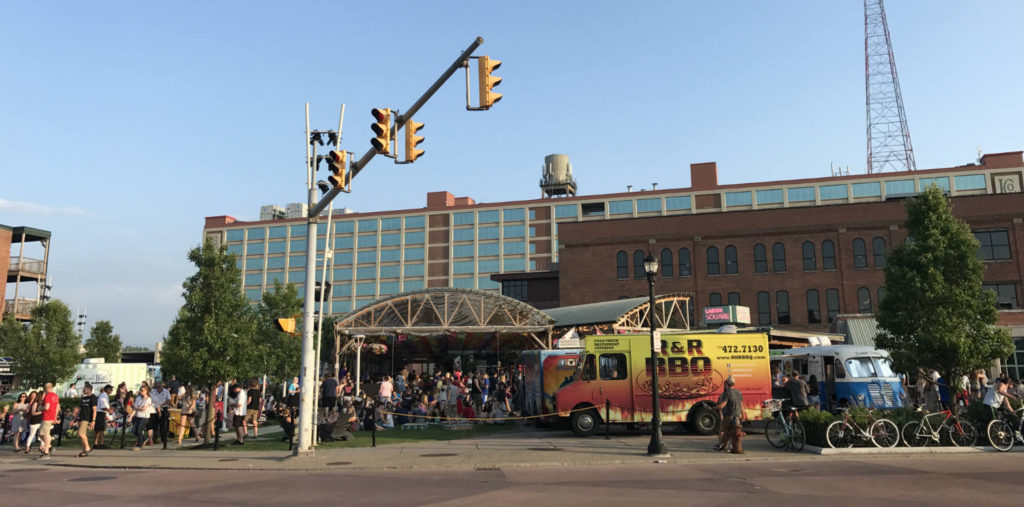 Tuesday, June 13 – Food Truck Tuesdays
It's grown so much in fact, that there are now actually two food truck events about two blocks from one another. The Flying Bison Brewery sets up a food truck event in their parking lot, just a two-minute walk from Larkin Square. So, that's where we started.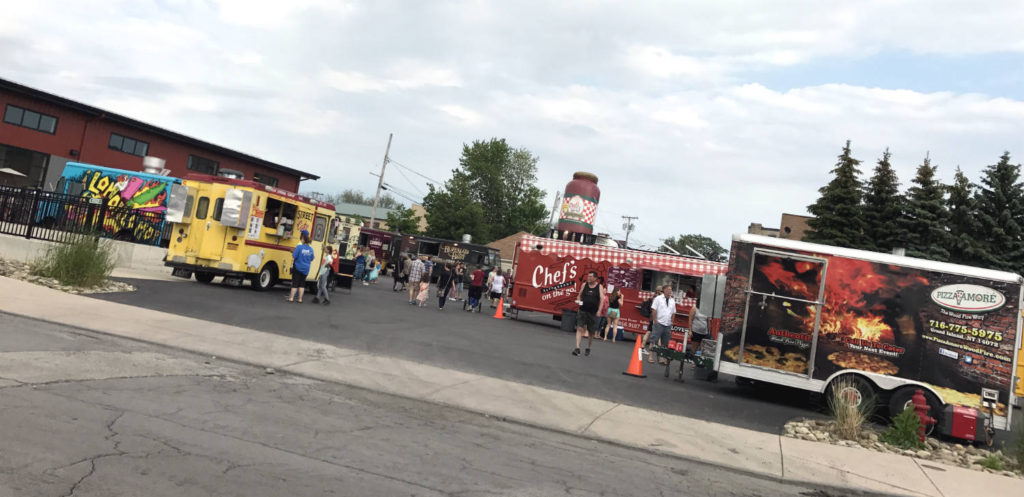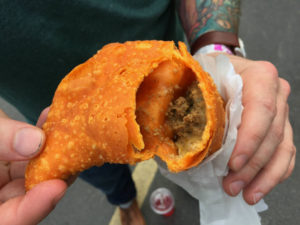 The line-up at FBB had some classic Buffalo well-knowns like Chef's serving up their sweet-sauce Italian fare. There was Souped-Up, Antone's at the Fair dishing out hoagies, a cannoli truck, and the colorful Lomo Lomo. We snagged a beef pastelillo from Niagara Cafe for a quick snack. There were a bunch more but let's face it, this post is already getting long.
We tried Ru's Pierogi because how could two Rochesterians go to Buffalo without getting Polish food? Luckily, their special was Beef on Weck Pierogi's. That's like a whole bunch of Buffalo all at once. For $9, we got three pierogis and a side of fries. The pickle on the pierogi was a particularly nice touch!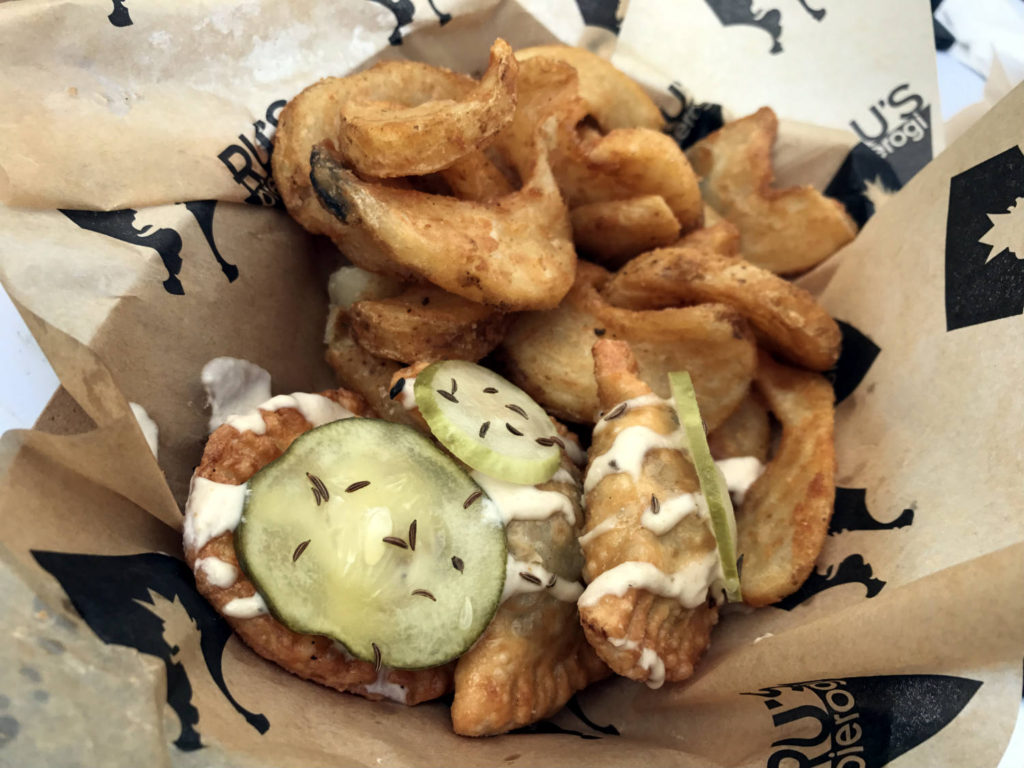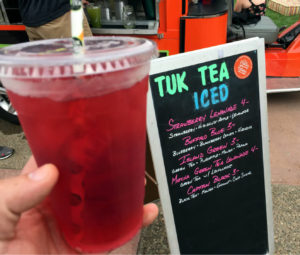 Back at Larkin Square, the Alex Sexton Quartet was entertaining eaters. We grabbed a couple drinks from the Tuk Tea company, a mobile iced tea service mounted on a bit of a rikshaw looking "truck". We then set out to attempt to eat as much as possible.
Our Neapolitan style pizza from O.G. Wood Fired pizza was simply outstanding! The crust had just the perfect ratio of doughiness to crunch, and the tomatoes sweet. Look for a brick-and-mortar location from these guys coming later this fall. If you're a fan of pizza, you will want to make the trek from wherever you're reading this to give it a try.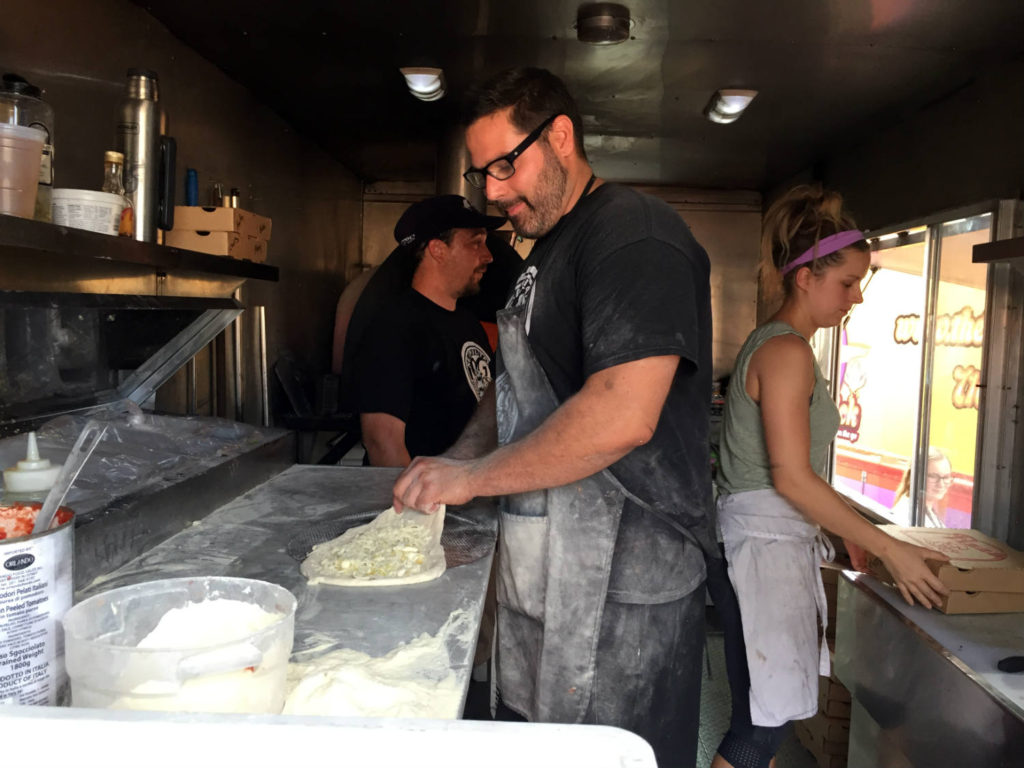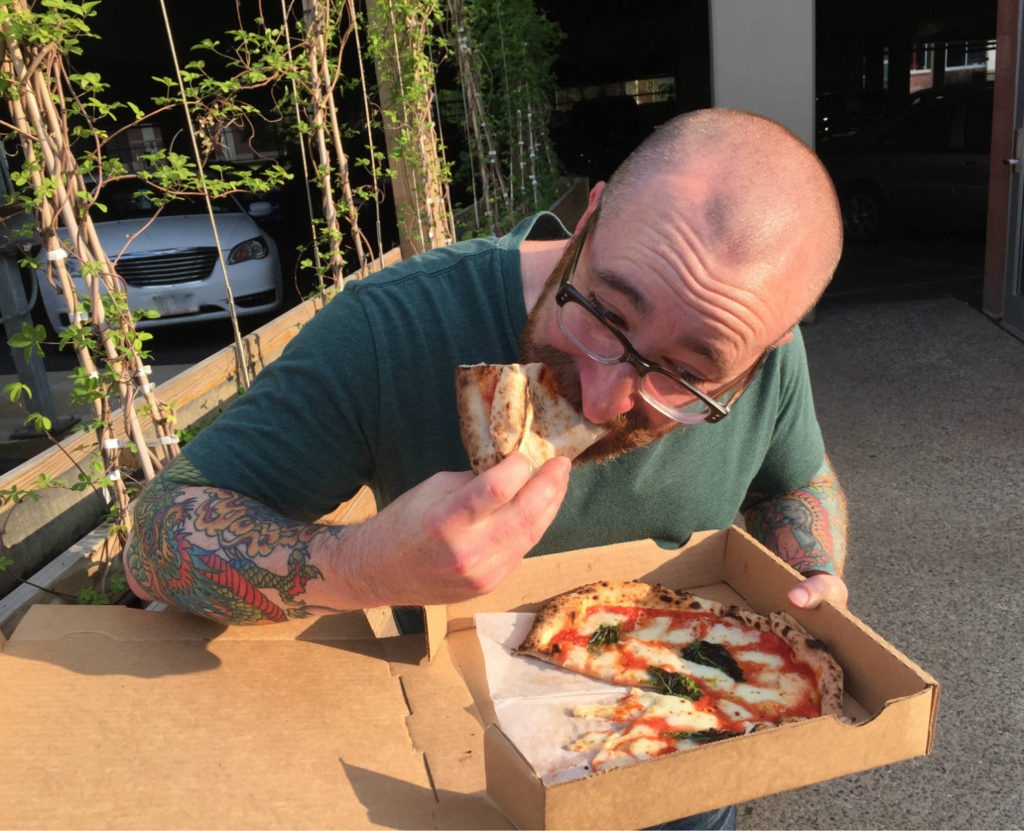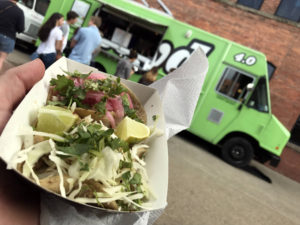 Another big winner of the evening was the result of Chris wandering off while leaving me in the ridiculously long line for Lloyd's–possibly Buffalo's most famous food truck. Luckily, he eventually returned with an interpretation of a Chicago-style hot dog from Frank's, who makes their own hot dogs from scratch and lays them out with a long list of top-end condiments. We both agreed that among the over-indulgent lineup of what we ate all evening, this dog was the top winner. The flavors of the hot dog stood entirely on their own, but the jalapenos, tomato puree, mustard and pickled celery rounded it out perfectly. Frank's: you have an open invite to Rochester whenever you'd like to visit.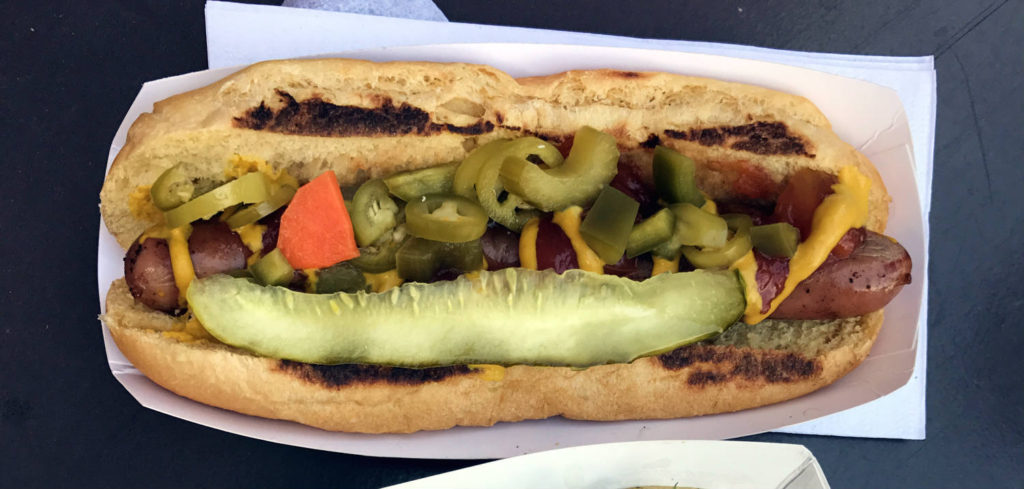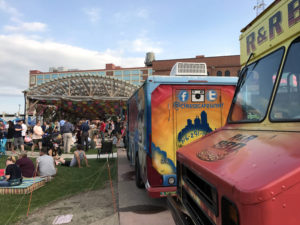 In the end, Chris and I rolled ourselves away from Larkin Square quite satiated. But even more, we rolled away with a sense of satisfaction. The people of Buffalo are doing great things for themselves and their neighborhoods and it was awesome to such a great event unfold.
Larkin Square was killing it by creating an industrial revolution in the 19th century, but in the 21st century they are killing it with a community revolution. You owe it to yourself to be part of it.
Thanks to my friend Chris Lindstrom for being great company out to Buffalo and for sharing a few of the photos in this post. For more food fun, go checkout his site and podcast Food About Town. You can listen on the way to Buffalo!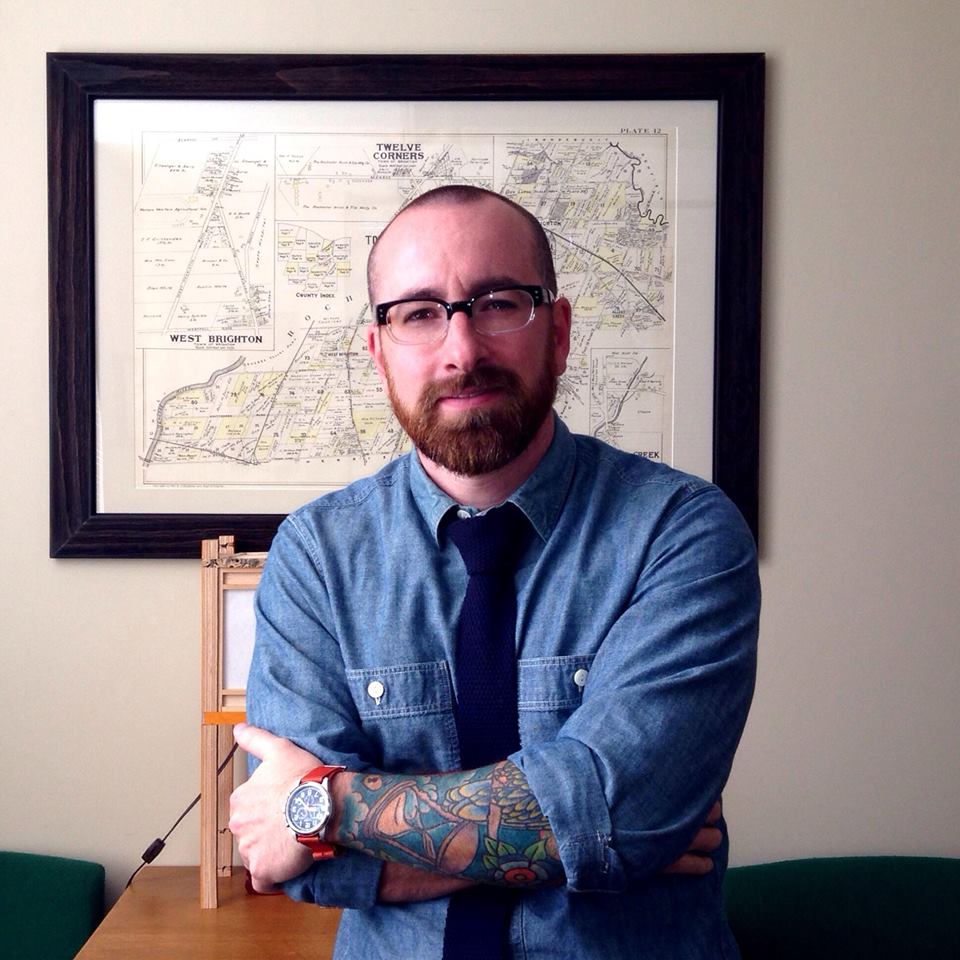 Chris Clemens is the Founder/Publisher of Exploring Upstate. From his hometown in Rochester, he spends as much time as possible connecting with the history, culture, and places that make Upstate New York a land of discovery. Follow him on Twitter at @cpclemens