Devil's Rock in Stafford is said to have gotten its odd shape from the Devil himself. Locals will tell you the Prince of Darkness carved a major section of the rock as he walked in circles while chained here. Scientists have a different story.
by Chris Clemens
On the north side of Route 5 just east of Batavia you'll find Devil's Rock. It's in the front yard of the New York State Department of Transportation offices in the town of Stafford. But, both the town of Stafford and the offices showed up long after the rock arrived.
Devil's Rock is easily recognizable for its odd, top-heavy shape that almost looks like a mushroom. The widest part is up on top, and the middle is thinner. Then the base is wide again, though today that base is level with the surrounding lawn. It's nearly the opposite of how most rocks in our area are shaped.
Imagine seeing it for the first time and wondering how it possibly could've come to look like this!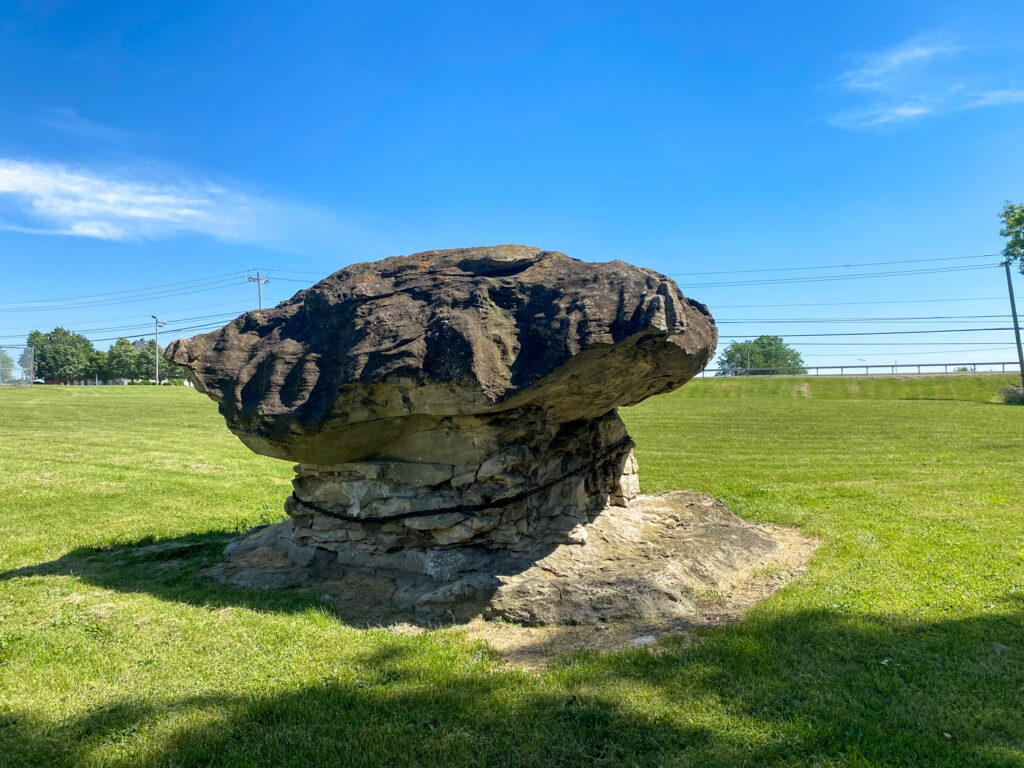 Nearly everyone you ask in the area (believe me, I've done a lot of asking over the years) will tell you the same story. That's particularly interesting because in folklore tales that have been passed on from person to person, there's usually a change up somewhere. Usually as the story ages and is passed among generations, each one adds their own little twist to the tale. In the case of Devil's Rock though, the story is pretty consistent.
In fact, I haven't found a single version that differs in any way.
The Devil Gets Captured In Stafford
The tale you'll hear is that the Devil was napping near the boulder, presumably long before Genesee County formed. One brave, wandering soul came across the sleeping giant, and felt it best to keep Satan from causing trouble. The hero looped a chain around the boulder, and then to Satan.
When the Devil awoke to his captive chains, he began to pace and circle the rock in angst. As he walked in frustrated circles, his mighty steps would pull the chain. That loop around the boulder is said to have turned around and around as he walked. For years, the Devil circled the rock while his chain slowly wore through the mid-section.
Ultimately, the Prince of Darkness broke free of his tether. But after years in captivity and walking in circles, he had changed the shape of the rock forever. Legend states that locals found the rock with the chain still looped around it, but the demon once attached to other end was long gone.
The entire tale is immortalized on a sign at the rock. Though today in 2021 it has entirely become illegible from weather. I haven't found a single photo or source online of when it was legible.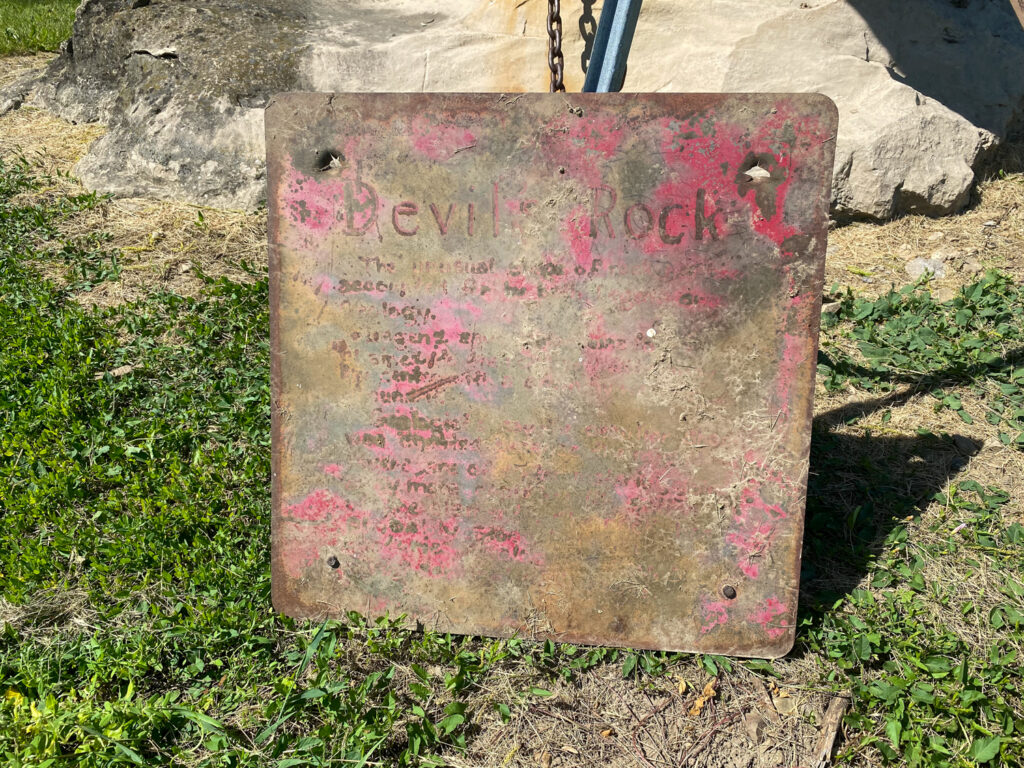 Devil Went Down To Glacier
While the Devil is associated with the heat of Hell, Devil's Rock is more likely associated with the coldest elements of Earth. Locals and folklorists might say the Devil carved this rock, but geological experts say Devil's Rock was created by the glacier that once covered our section of the planet.
On February 13, 1919 the Daily News out of Batavia published a piece by John Gillard called "Pyramids Are As Infants Compared To Stafford Rock". In the piece, Gillard goes extensively into the geological history of our area. His explanation is so in-depth he takes things back to the Tertiary Era from 66 million years ago.
According to Gillard, the rock known as "Devil's Rock" is made up of waterlime, which was originally part of the Lower Helderberg Formation–a glacial formation of the Lower Devonian period.
His explanation about how the rock came to be is a good one, but that doesn't explain its shape. Luckily, he closes with an idea on that, too.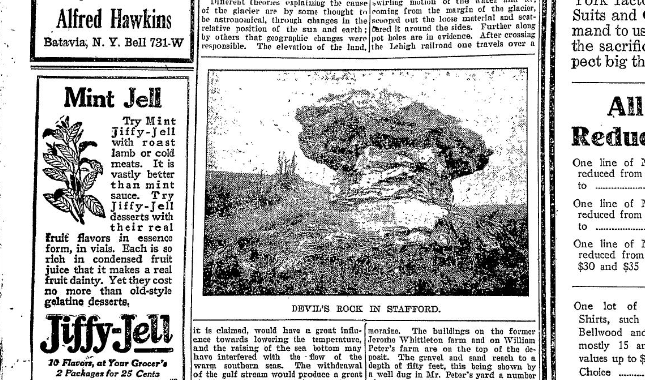 As for the odd shape, he says, "Millions of years had elapsed since the time seas flowed over this part of the world and the time the rock was left there. The cause of the peculiar shape of the rock is that the middle layers are of softer material, going away more rapidly with the action of the elements. In time–perhaps a long time–it will probably topple. It has stood there ages, a silent sentinel. The pyramids are but infants in comparison to its age."
Gillard's piece was a fun find, but it didn't answer all the questions. In fact, it kind of left me with more than when I started. To get some clarification from an expert in this century, I did a bit more research.
A Devil's Rock Solid Explanation
Jessica Barone is a Professor of Geology and Chair of Chemistry and Geosciences at Monroe Community College here in Rochester. To start, she explained that Gillard's term of "waterlime" might have been confusing for me because it isn't used anymore. Waterlime used to describe limestone, and sometimes dolomite. Because many of these rock formations were named long ago, some of their names still carry the waterlime word with their proper name.
The Lockport Dolostone (also called Lockport Dolomite) exposure is north of where Devil's Rock is currently located. While Gillard touched on that a bit, my new geologist friend was able to explain it in a way that even I could understand.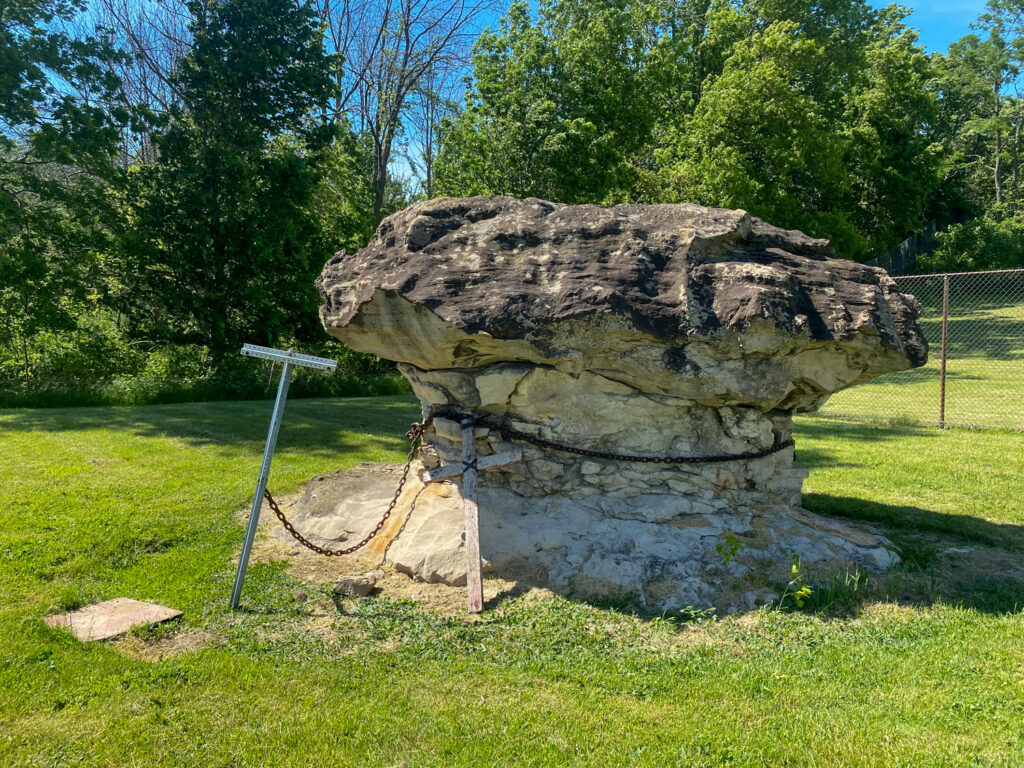 She told me, "Glacial erratics are plucked from the bedrock as a glacier advances over an area and when the ice melts, it deposits those plucked rocks." Based on that explanation, Barone explained that Devil's Rock is likely the same stuff that sits at the top of Niagara Falls.
She continued…
"As far as the odd shape of Devil's Rock, it's likely simply due to differential weathering and erosion … sorry, probably not the devil! Basically, the Lockport Dolostone is comprised largely of the mineral dolomite (a calcium-magnesium carbonate mineral), which is relatively resistant to weathering BUT in some parts of the rock layer (or along contacts with overlying and underlying layers), there may be some calcite present (calcium carbonate) or interbedded of clay-rich layers (like shale). It is these layers that would weather and erode to a greater extent when exposed to the elements (wind, rain/flooding, ice/snow) in western NY … giving it that odd shape."
Devil's Rock Today
Luckily, just over a century from the time Gillard wrote his explanation, Devil's Rock is yet to topple. He didn't predict when it would happen, but that someday Devil's Rock would fall victim to the ages. As of right now, you can still find it on Route 5 just a few minutes east of downtown Batavia.
Today, that metal sign is rusty and unreadable, and actually not even attached to the sign post anymore. Someone put a wooden cross next to the rock, and the chain still exists. (Or, at least there is a chain there, but maybe this one is simply a replica.) When you go, be sure you take a close look at those different layers of rock.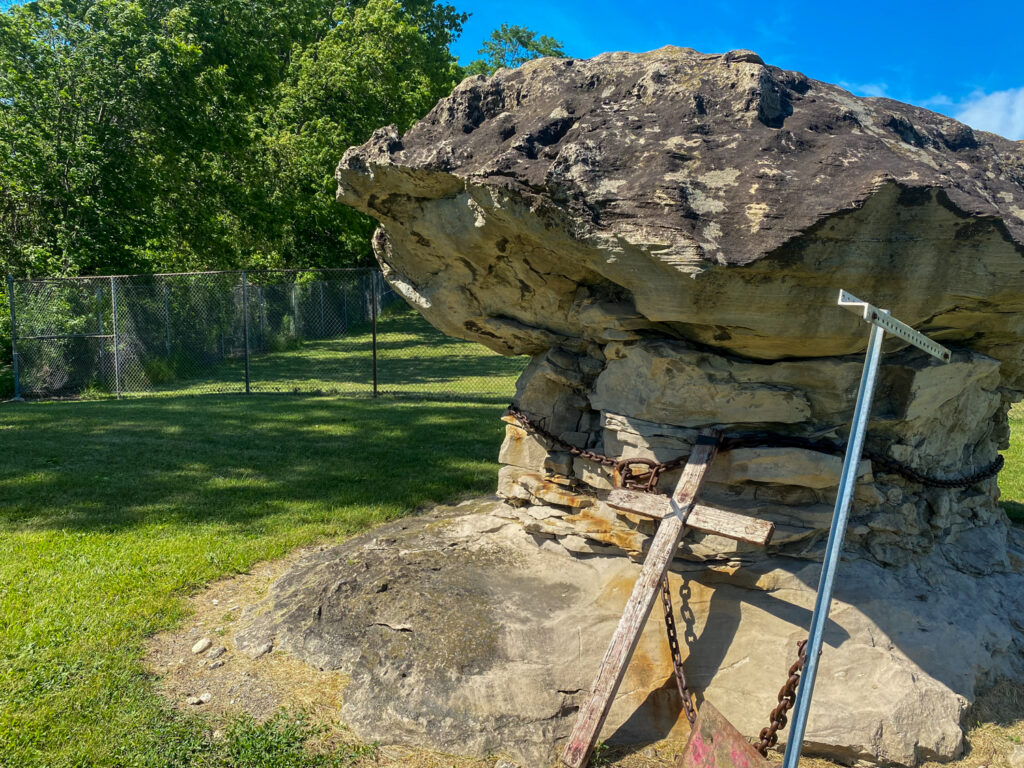 For those not willing to let the dust settle on the Satanic roots of the story, you've still got a chance. Barone's scientific explanation circled back to the folklore without her evening knowing it. Devil's Rock here in Stafford is made of Lockport Dolostone, and she told me that's the same rock that caps Niagara Falls. Just north of the falls you can find Devil's Hole Cave. Plus, while it's an entirely different type of rock, there's a "Devil's Den" in Panama Rocks!
So, just maybe all those rocks aren't solely related by glaciers!
It seems likely the rock here in Stafford is indeed a glacial erratic. But that doesn't entirely disprove the story that the antichrist once slept soundly next to it. But even if Satan wasn't actually chained here, you're looking at something formed millions of years ago. Go check it out before it's lost in battle with the Western New York weather!
(Thanks!)
I'd like to give a huge thanks to Jessica Barone at the Chemistry and Geosciences Department at MCC for the assist on this story. I took a Geology class at MCC while getting my Associates there back in the 90's and admittedly didn't do so hot. If there's such thing as submitting extra credit over two-decades later, hopefully this will be accepted.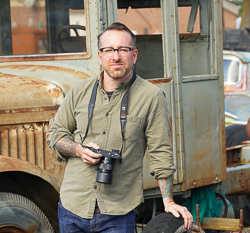 Chris Clemens is the Founder/Publisher of Exploring Upstate. From his hometown in Rochester, he spends as much time as possible connecting with the history, culture, and places that make Upstate New York a land of discovery. Follow him on Twitter at @cpclemens