Looking for an Upstate New York tattoo? These folks from around New York love Upstate so much, it's on them forever. Checkout these ideas for inspiration.
by Chris Clemens
If one thing has changed in Upstate this past decade, it's that people seem prouder than ever of our heritage. I don't remember seeing people don Upstate sweatshirts, or search for home decor celebrating the region until the last few years. Sure, we've always had t-shirts and stuff, but recently it seems to be way more prevalent.
Even more common lately is tattoos of local inspiration. You can't get more serious with your pride than putting artwork on your skin forever.
I was walking through the parking lot of Wegmans when I noticed a guy loading his car with a lot of Genesee Beer. Then I noticed both of his calfs had Genny logo tattoos. It got me wondering how many people across Upstate New York have taken so strongly to a local brand or icon that they want it on them forever.
So, I went looking.
I gotta be honest though, this was tougher than I thought it'd be. I spent weeks combing through tattoos on Instagram and sending messages to artists. There weren't as many as I expected, but I did find a handful of great pieces from around the state. Here's some tattoos inspired by scenes, icons, and personal connections to Upstate New York.
Shark Girl Tattoo
If you don't know what Shark Girl is, you probably haven't been to Buffalo's Canalside. Shark Girl is the creation of artist Casey Riordan Millard who has painted the image in much of her work since 2004. The Shark Girl sculpture existed prior to being in Buffalo, but when it got installed there in August 2014, the chance to get a selfie with the whimsical statue went viral. At this point Shark Girl is just as much Buffalo as wings and cereal smelling air.
This piece was tattooed by Shannon Kuzara out of Sink or Swim Tattoo in Niagara Falls. Allison Rabent has lived in Buffalo for a handful of years, but since her parents are from there, she said she feels right at home in the Nickel City. She told me, "I work in the arts so I've always been a fan of the public art in Buffalo. I just think Shark Girl looks cool so I thought it would be fun to have her on me forever."
Niagara Falls Camera Tattoo
A lot of the tattoos I've seen have been on locals who wanted to celebrate their heritage. But this Niagara Falls tattoo was actually put on someone from London. Amber Albano of Hart and Huntington Tattoo in Niagara Falls did this simple black outline piece.
Rochester Flower City Logo Tattoo
If you live in Rochester, you likely already know about the city logo. It's a graphic that pays homage to the original Flour City nickname, and also the newer Flower City nickname. In the last handful years it has been showing up on more and more skin. Sometimes it's just simply the logo, but a few people have gotten super creative by incorporating it into a larger design.
This one has the logo wrapped by lilacs, which is the official flower of Rochester. Done by TeeJay Dill at White Tiger Tattoo.
Collar City Troy Tattoo
This old school style piece was done at Lark Tattoo in Albany. The red, white, and blue hat is an homage to Uncle Sam, the personification of the United States government. Historians have linked the likeness of Uncle Sam to Samuel Wilson, a meatpacker from Troy who supplied rations for American soldiers during the War of 1812. Troy's nickname is "Collar City" because of its history in manufacturing shirts, collars, and other textiles.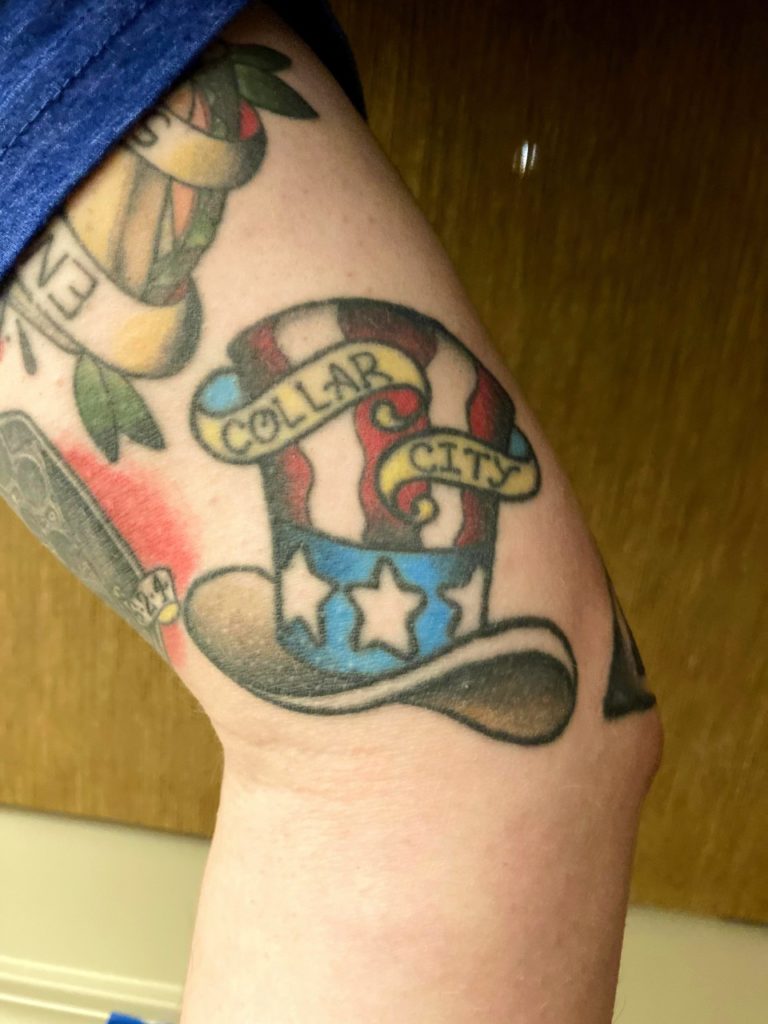 John picked the Collar City design because he went to college in Troy, where he met his wife, Kaitlyn (who also happens to have a lake in Upstate tattooed on her foot!)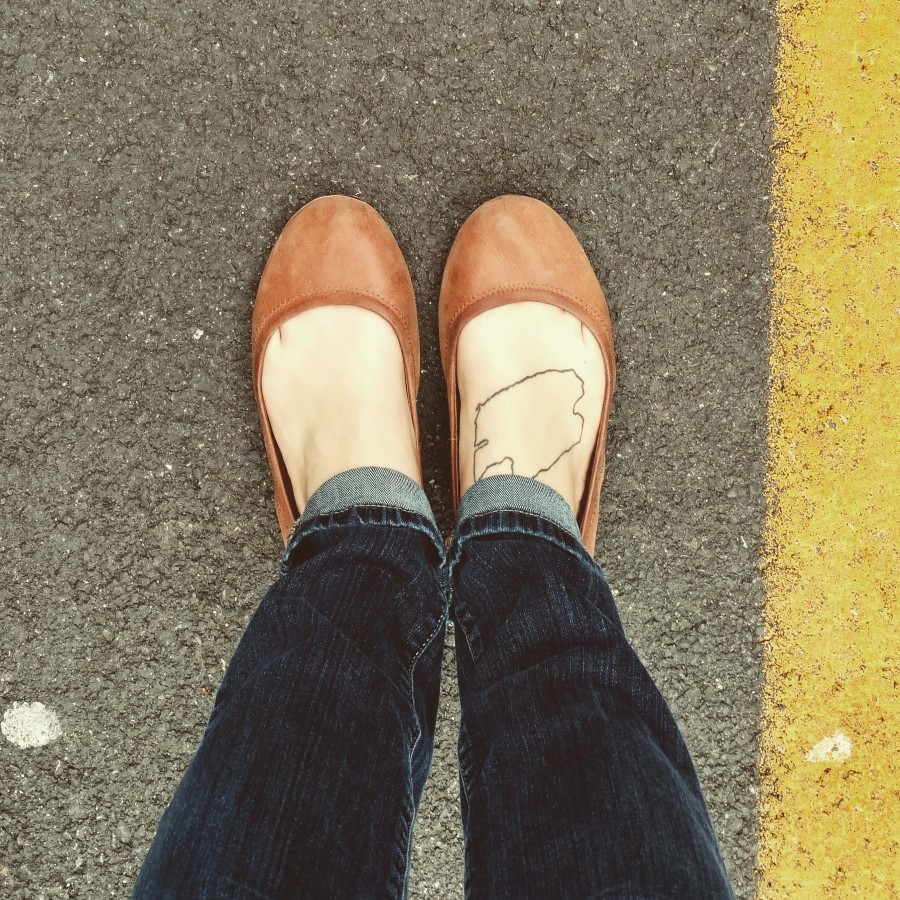 Schiller And Schubert Tattoo
This black and grey piece was done by Luke Rought at Say As I Do Tattoo in Binghamton. A set of street signs from the corner near where you grew up, and a pair of Jordans to commemorate your favorite sport seem like a great inspiration for a permanent piece of art.
Mt. Beacon Fire Tower Tattoo
Nick Digiaimo from Beacon wears this one proudly.
If you're not familiar, fire towers are used for rangers and park management staff to be able to spot wildfires. They're usually atop mountains, so the lookout can see for miles into the park land. With newer technology available, fire towers aren't as needed as they once were, but quite a few still remain throughout the state. Aside from a great view, they offer an image of pride for a lot of hikers.
Nick told me, "The Mount Beacon Fire Tower tattoo represents my love for the outdoors and my home town. I grew up and went to school in Beacon, over the years it has changed a lot but one thing has stayed constant, the gorgeous views from atop that tower. I feel incredibly fortunate to have that in my back yard. To hike up there to gain perspective (both literally and figuratively) reinforces my love for my city and the Hudson Valley."
This one wasn't done in New York, but you can't really blame him. Nick's sister is the artist behind this one from Hidden Entity Tattoo in Auburn, Washington.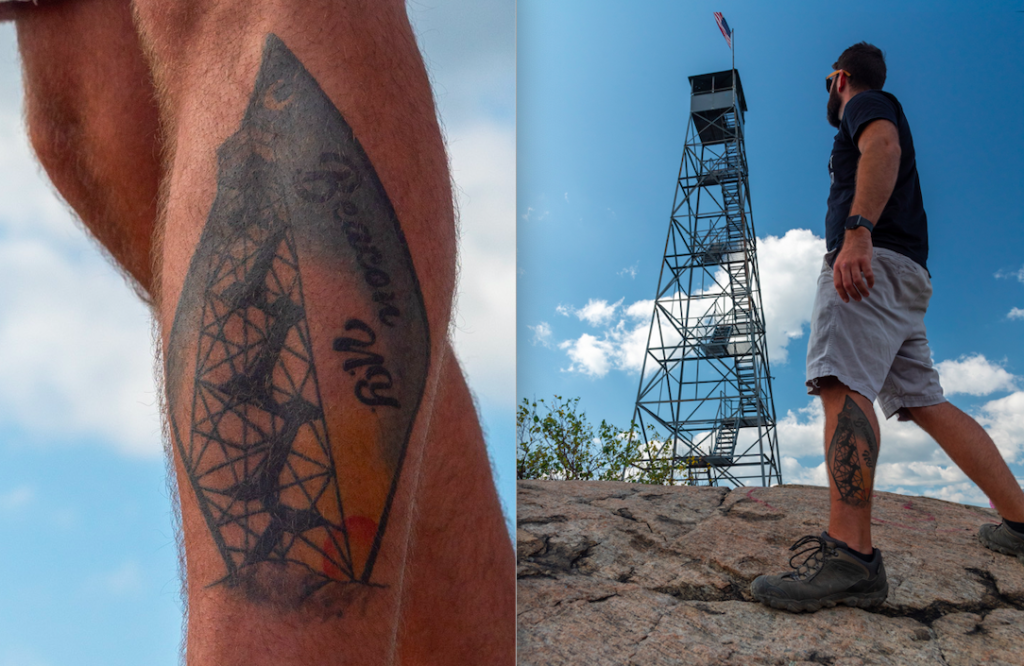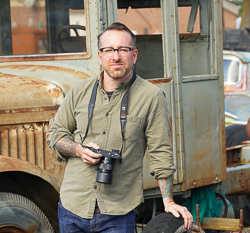 Chris Clemens is the Founder/Publisher of Exploring Upstate. From his hometown in Rochester, he spends as much time as possible connecting with the history, culture, and places that make Upstate New York a land of discovery. Follow him on Twitter at @cpclemens