Looking for a getaway in Upstate New York? Saugerties on the west bank of the Hudson River offers the charm of the Hudson Valley and the sweet mountain air of the Catskills.
by Chris Clemens
Saugerties, New York is a quiet little town in Ulster County. It hovers precariously on the border between the Hudson Valley and the Catskills. Even still, it's not that far from the Capital Region. It's one of those places that feels like its on the border of where Upstate begins. We've talked before about where that border exists, but let's recap again before visiting Saugerties.
The idea of Upstate New York is just that. It's an idea.
There is no physical border and whoever you ask will give you a different answer. That's because the concept of Upstate is precisely a psychological interpretation of being "not the city".
Many people live outside The Big Apple and commute in for their jobs. As a result, even the surrounding areas are still strongly impacted by the five Burroughs. Don't believe me? Drive your car from Albany to New York City. As you get closer, the driving gets way more aggressive. Even without signs, you can just sense that you've left Upstate.
By car Saugerties is just under two hours from New York City. That makes it a bit far for a daily commute but that's still close enough for a day trip or a real easy overnight. So, the area around Saugerties is kind of the brackish water of Upstate. You'll find enough city-life influence, but not enough to strip it of that slower-paced, breath-of-fresh-air small village feel that people love about Upstate.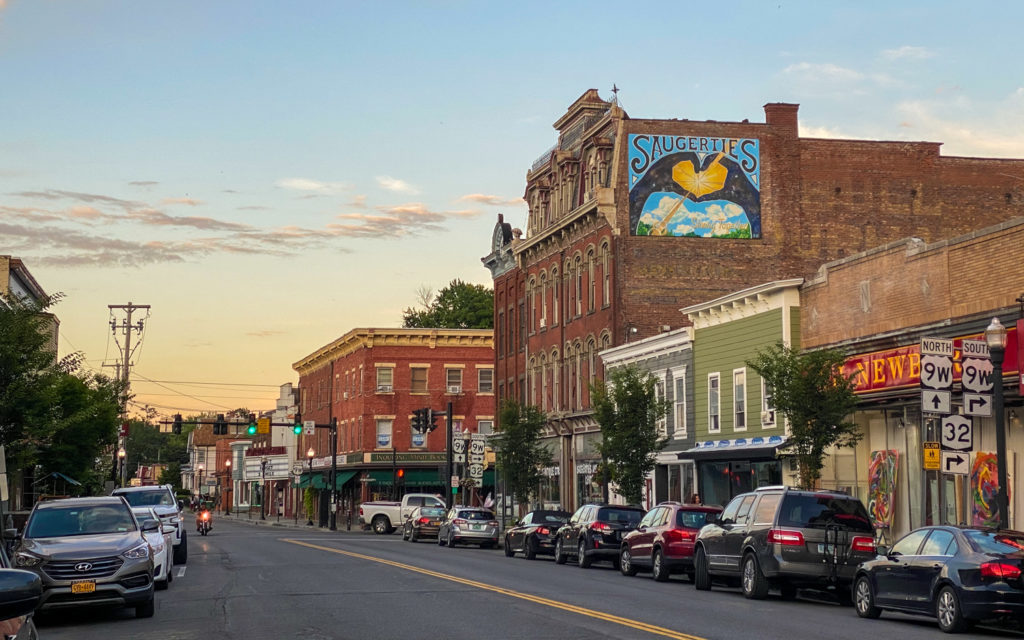 That is to say, Saugerties is a perfect place to hang for a couple nights. Which is why I recently did precisely that.
Early Saugerties
With its position perfectly on the west bank of the Hudson River, the area now known as Saugerties has a history that begins way before that name was chosen.
A lot of Saugerties historical accounts begin with the transfer of land in the mid-17th century. Before that, this land was occupied by the Esopus–a native tribe of the Lenape people. For that reason, you'll see the word around, like at the Esopus Creek meandering through town. There are some differing receipts for the transaction between the Esopus and the land purveyors but the land transaction from the Esopus leaders to the governor of the provinces of New York boil down to little more than a few pieces of cloth and some bread.
From there, some of the earliest white settlers were Germans, and soon after Dutch families arrived.
Like other riverside settlements, Saugerties' economic development hinged on its access to flowing water. That meant easy access to shipping, but also for powering mills. This land officially became Saugerties in April 1811. At that time paper mills, logging, and iron production were fueling the community's development.
Getting There
Nineteenth Century era Saugerties has direct ties with my mention of its position near the border of Upstate New York.
Before planes, people in cities were vacationing in locales they could easily reach by train or car. For many in New York City, access to summer resorts in the Catskills and cities along the Hudson River were an ideal vacation land. Saugerties was one of those places that celebrated a strong summer vacation crowd.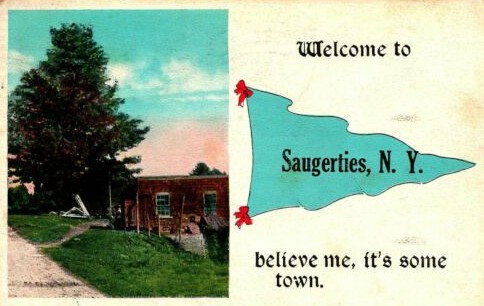 Still today, the town and village enjoy a strong draw for tourists, but not just from New York City. Larger cities along the river are starting to experience a revitalization fueled by interest from city-dwellers seeking elbow room. Saugerties by comparison is a just a little sleepier than some of those like say, Hudson, or Beacon.
Since I live in Rochester, I took the thruway to the Canajoharie exit and opted for the scenic road the rest of the way. Following Route 162 south ultimately meets with Route 30, and the town of Schoharie made a nice stop for lunch. After Middleburgh, Route 145 curved its way through an hour of green rolling hills and bright sunshine.
According to Google Maps, staying on the thruway the whole time would've taken 3 hours and 59 minutes. Taking the backroads through the eastern side of Central New York added only 16 minutes to the trip. That sixteen minutes is totally worth the view through Schoharie and Greene Counties.
After hooking up with Route 32, it was an easy drive south right into Saugerties.
Stay
I stayed at the Diamond Mills Hotel and Tavern, located right on Esopus Creek. The four-star hotel renovated a former paper mill that began here in 1888. Today, the 30-room boutique hotel is a destination not just for its picturesque position on the creek or for its walking distance to the village of Saugerties, but also for its dedication to an upscale experience.
Admittedly, I haven't stayed in every hotel in Saugerties, but I can't imagine there are many with a view as fantastic as this.
Things To Do In Saugerties
One of my favorite replies to get from people when I tell them where I'm visiting is, "Uh, why?"
It seems like people either don't realize what exists in these lesser-known locales, or don't believe it's possible they're worthy as a destination. Saugerties is one of those spots that when you start listing off the things to experience, people slump back and say, "Huh. I had no idea!"
If you also have no idea, here's a few reasons you should consider a visit.
Partition Street
Diamond Mills Hotel and Tavern is located right on Partition Street, which is the center of town loaded with shops and restaurants. Keeping your car in the lot and walking a short uphill route will land you in the center of Saugerties activity within minutes.
Partition Street is a vibrant little main drag that seemed to have a really different vibe at different times of day. In the morning it was easy to sense the town was still waking up and grabbing coffee. There's a couple great little used bookstores, a charming old hardware shop, a jeweler, a couple antique shops, and plenty of places to get food.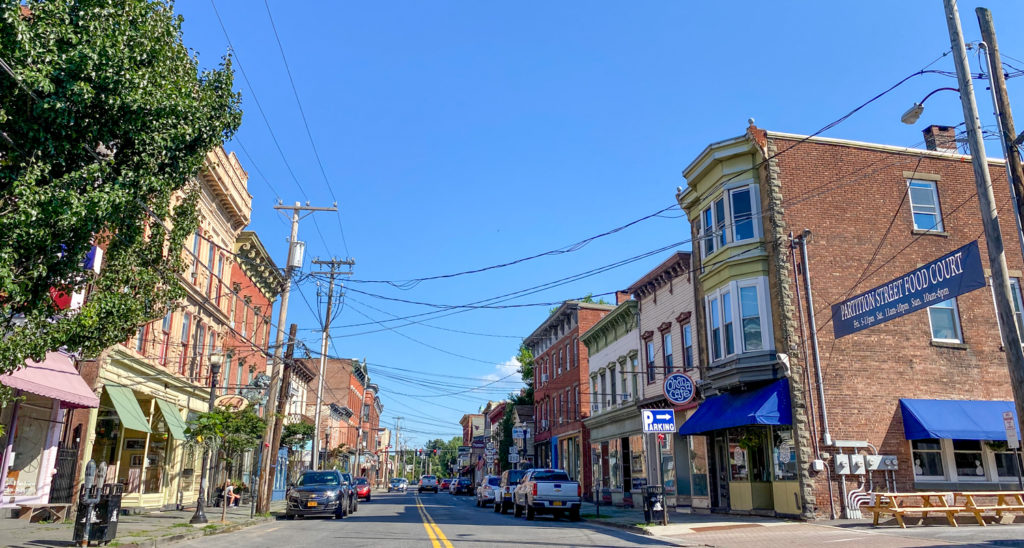 In the evenings, this same section of town transforms into kind of a downtown scene with tons of great outdoor seating at bars and restaurants. There were families eating together at the outdoor dining spots, but there were also some young people that seemed ready for a night on the town. The evenings felt like a real nice mix of people milling about.
Opus 40
I'd say that Opus 40 is a must visit if you're in Saugerties, but honestly it's a must-visit period. This sculpture park is all outside, and covers just over six acres.
One guy named Harvey Fite bought this land filled with native bluestone. Over a few decades, he hand harvested stone to create one of the coolest dry stone sculptures in Upstate. With the rolling hills marking the beginning of the Catskills in the background, there's a serenity about this spot I've enjoyed each time I've visited.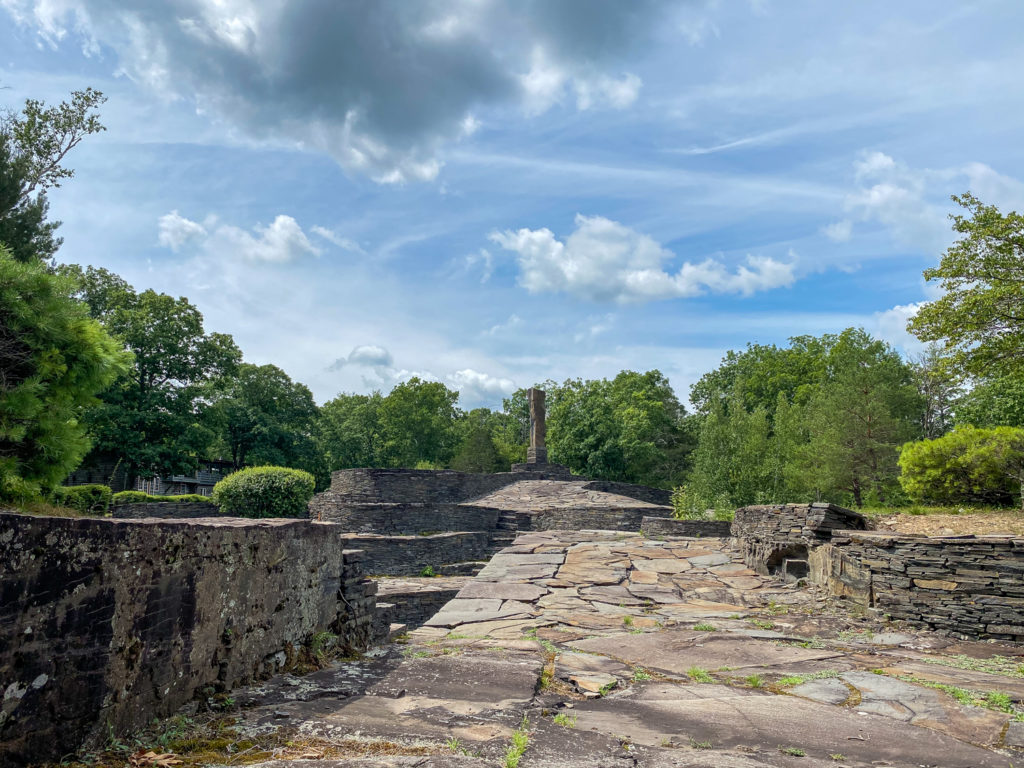 It's an easy 10 minute drive from the village, so there's no excuse for not visiting.
Falling Waters Preserve
With all the eating I was doing in Saugerties, getting outside for a fresh air walk seemed more important than usual.
Luckily, Falling Waters Preserve was just a few miles from the village, so driving there was super easy. The 192-acre preserve is mostly wooded, so in most cases it was also a nice shady break from the August sun. There are a couple trails here that ultimately lead down down to the west edge of the Hudson River.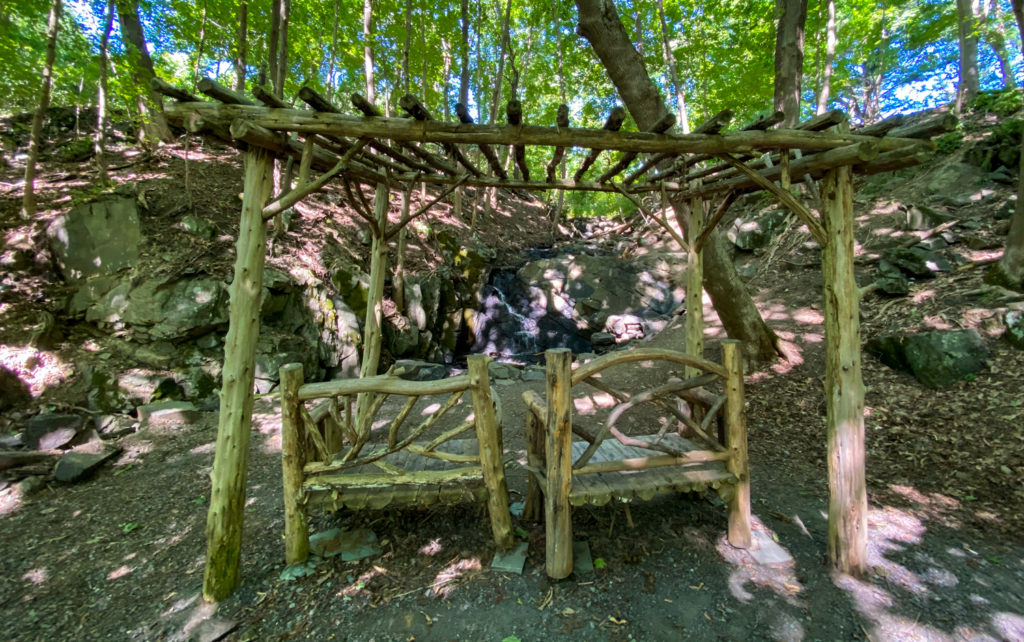 If you're in town and looking for a nice outdoor walk, this will serve you well.
Other Stuff
It was closed during my most recent visit, and I couldn't even walk down the trail to see it, but the Saugerties Lighthouse is considered by many to be one of the top stops in town. Check ahead on this one, because based on pictures and what I've read, I bet it's a great tour!
The Hudson Valley Garlic Fest is held in Saugerties, and is one heck of a garlic festival. There's over 100 garlic growers featuring everything from garlic truffles to garlic ice cream.
In 1967 a young musician named Rick Danko rented a pink-painted house in West Saugerties, about ten minutes from the artist-laden town of Woodstock. Among the friends who showed up to hang were Bob Dylan, and others who would later form a musical group called The Band. In this home, they wrote what would later become The Band's first album "Music From Big Pink". The home is now privately owned and available as an Airbnb. According to the owner's website, they are totally cool with visitors, but the neighbors aren't super friendly. If you go, read this first.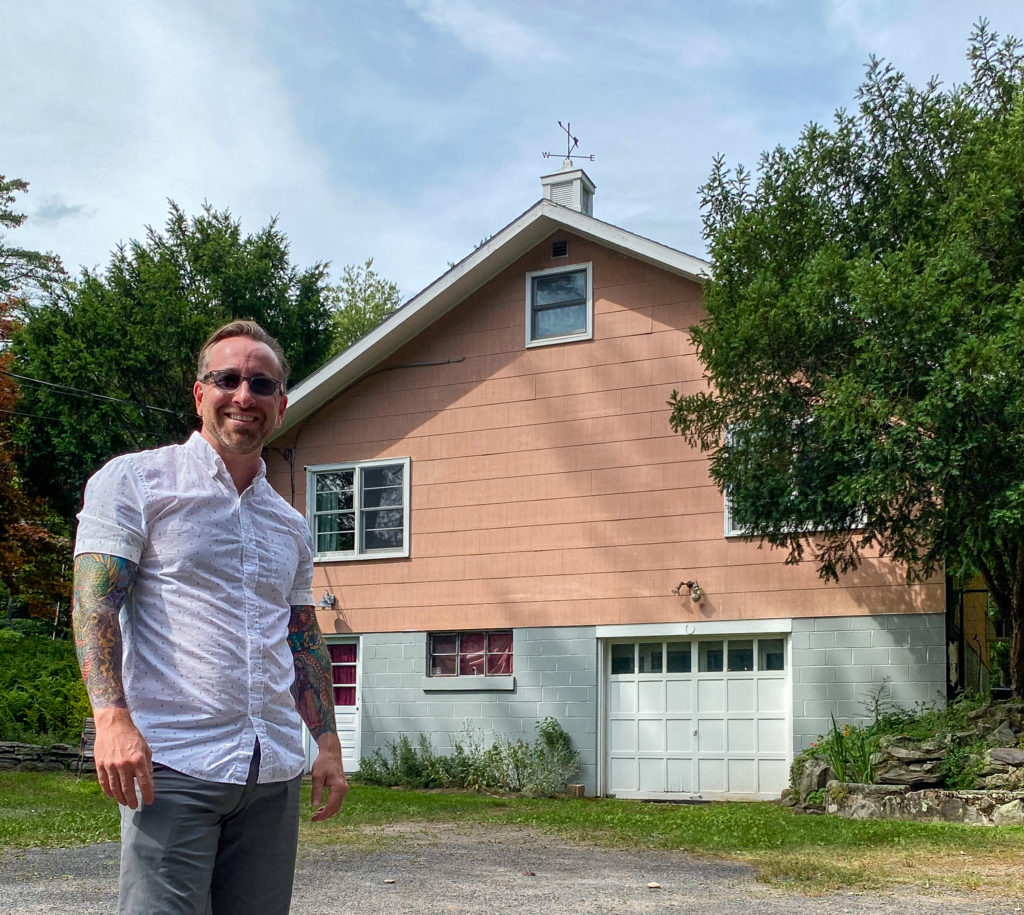 Where To Eat In Saugerties
This is one of those aspects of town that I think gets a strong influence from the city. There are a few vibrant towns and cities around Upstate that have a solid culinary scene, but for its size and structure, Saugerties has plenty to impress. With the Culinary Institute of America just under an hour away, there's plenty of restauranteurs doing creative things to keep up with the vibrant culinary scene of the Hudson Valley.
Black-Eyed Susie's
Black-Eyed Susie's is one of those reasons I mention that NYC has impacted the culture here in town. This little spot started in New York City in 1996, and a handful of years later, moved up onto Partition Street in the village. With items ranging from French Lentil and Mushroom Pate to Poached Steelhead Trout with Tarragon Sauce, the menu is anything but boring. They also give a solid focus on healthy options and a vegan friendly menu.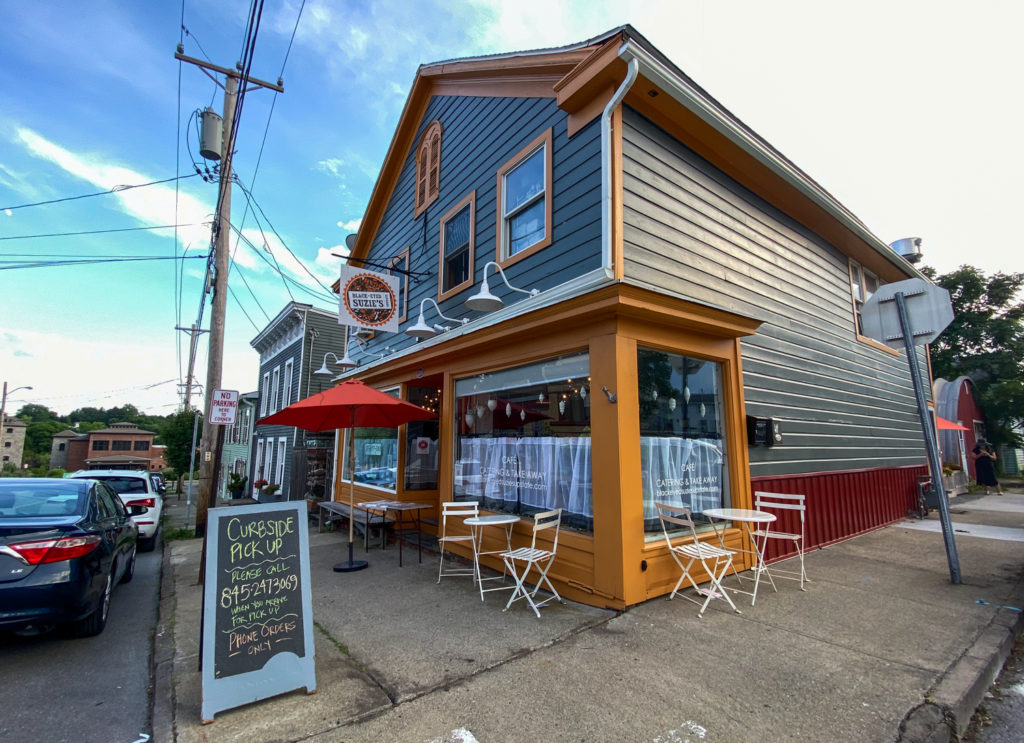 Diamond Mills Tavern
Right onsite at the hotel, this is a casual spot but with a little extra class. Even though I sat outside in shorts and a collared shirt, it's the kind of date-night place I'd have felt at home wearing a sport coat.
They just recently hired a new chef trained at CIA, so their menu aims for a solid representation of perfectly executed items that should be approachable to everyone.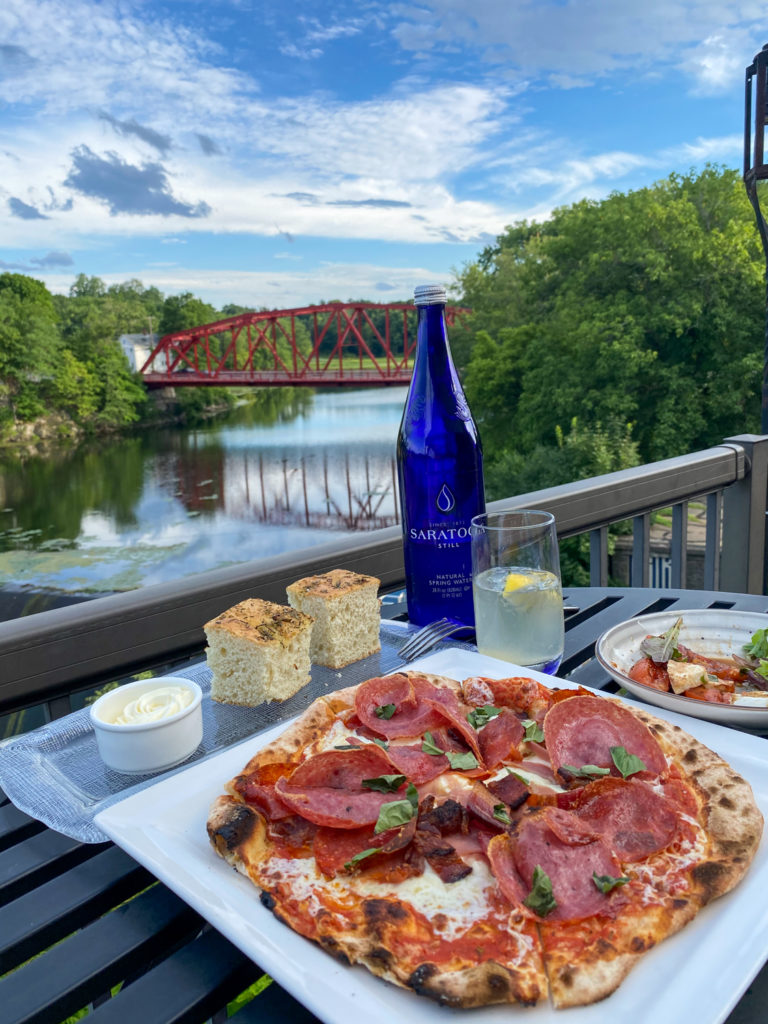 Plus, the view here overlooking the Esopus Creek is absolutely fantastic.
Olsen & Company
Olsen & Company is on Jane Street, just off Partition, so if you only hit the main drag you'll miss it. But, missing this would be a serious flaw in your itinerary.
With a focus on locally sourced ingredients and community partnerships, this little cafe was a nice blend of modern design and comfort. You'll find speciality coffees and espresso available, which is how I was able to get my first ever Cortado made with hemp milk. The sandwiches here were really impressive, but so was the hospitality.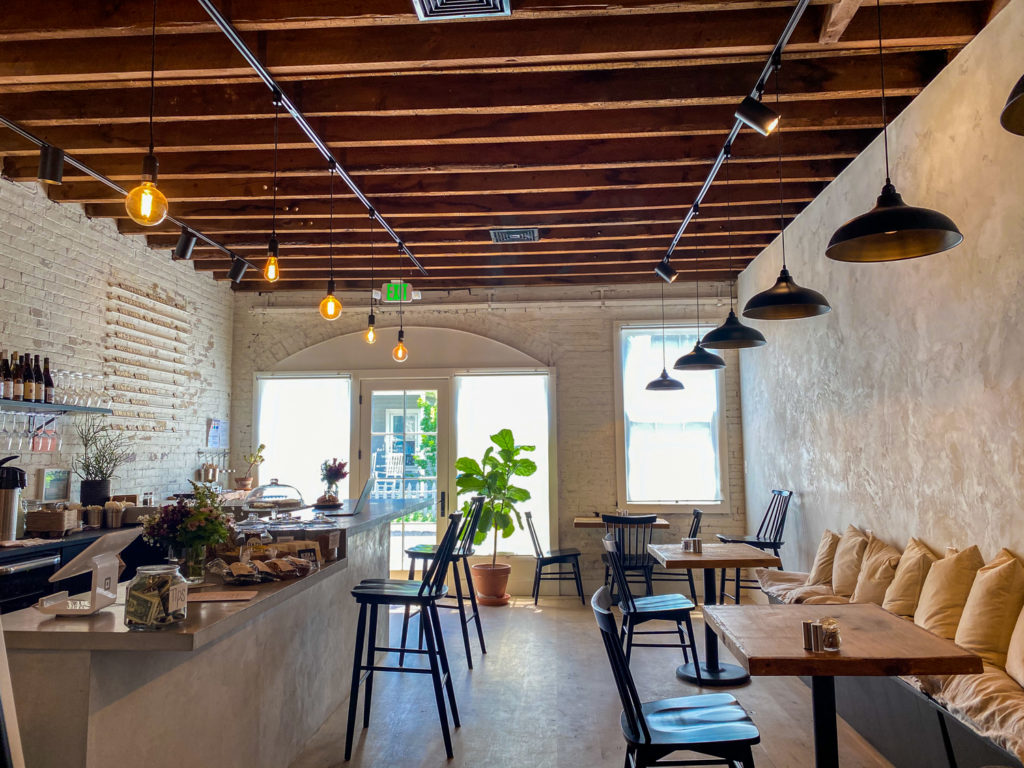 Brine Barrel Deli
A handful of years ago I was passing through Saugerties and wanted to find a spot for lunch. When I discovered there was a deli in town who made their own pickles, I immediately added it to my itinerary. Sadly, that trip ended differently than planned and I wasn't able to make it. Ever since, the Brine Barrel Deli has remained on my radar. This trip through I was steadfast in my attempts to try these homemade pickles, and was kindly rewarded.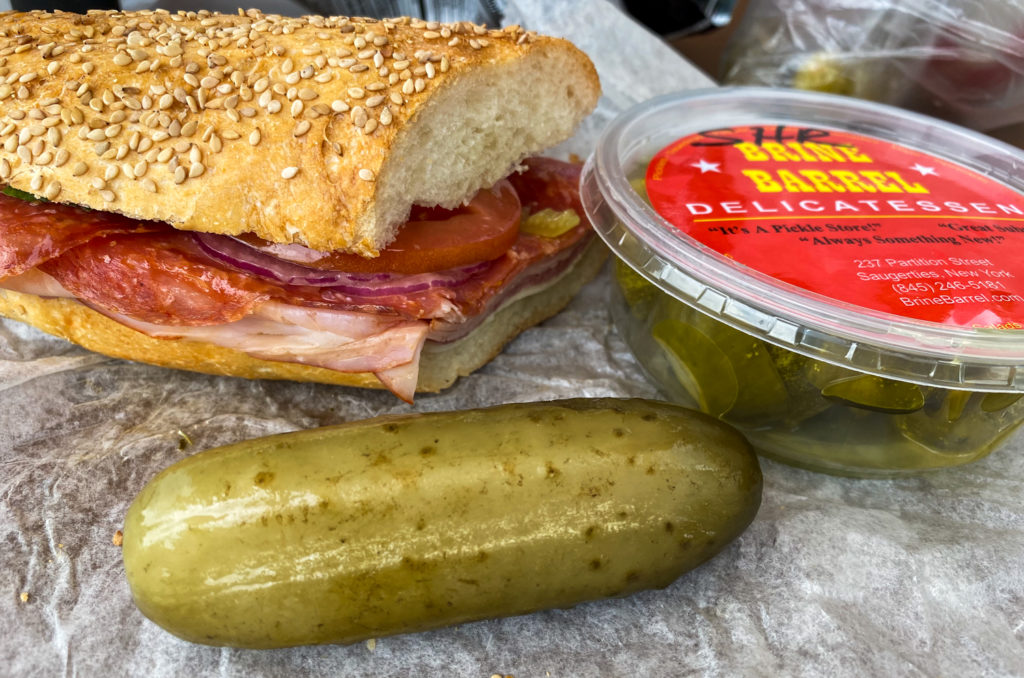 You can snag traditional deli-style subs here, but the true star of this tiny little storefront is the house made pickles. For those of you who are serious pickle nerds, you'll be pleased to find that you can get a new dill here!
Alleyway Ice Cream
You'll find Alleyway Ice Cream by following the signs on Partition Street down back through an alley off the sidewalk. For the last three years founder Julian Hom has been serving up small batch house made recipes that he's been toying with on his own for a decade. Flavors like Goat Cheese Beet and Thai Tea Cookies n' Cream round out a short menu where every option seems more of a necessity than an option.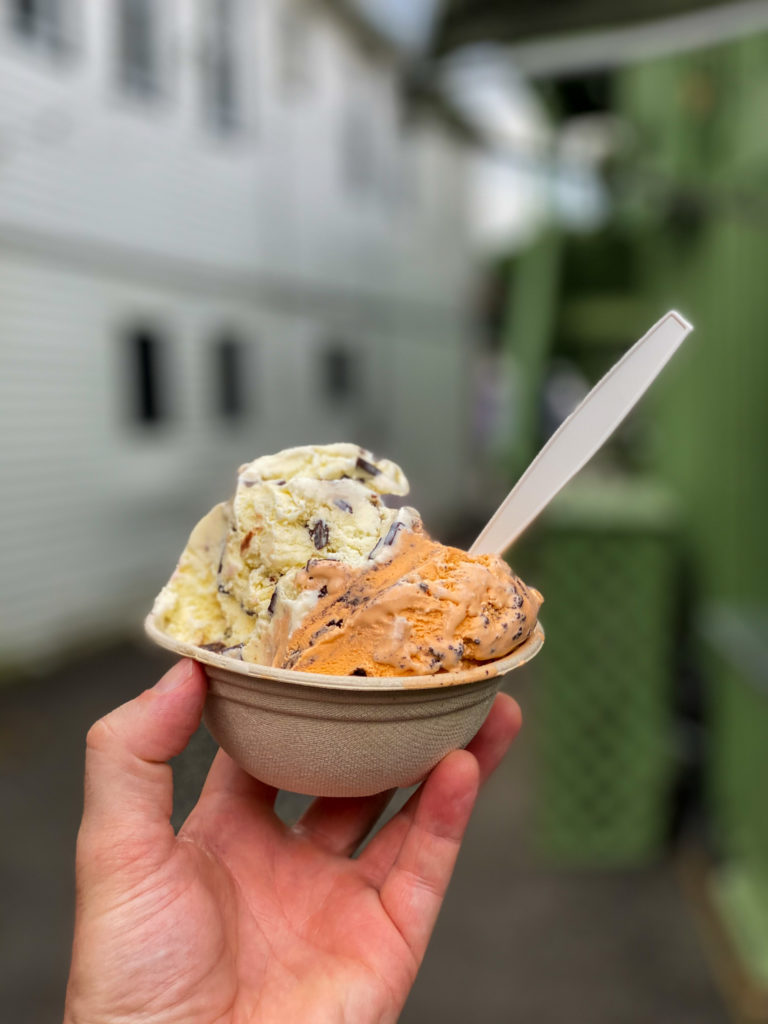 Bluestone Roasting Company
One thing I found interesting about Saugerties is how much speciality coffee came from out of state. I'm a huge fan of supporting New York coffee roasters, so I prefer to drink coffee roasted here instead of out of state. Luckily, there is a coffee roaster right on Partition Street! Bluestone Roasting Company processes all of their beans in house, so their menu features really fresh beans. We stopped here three times during this trip, and really enjoyed each visit.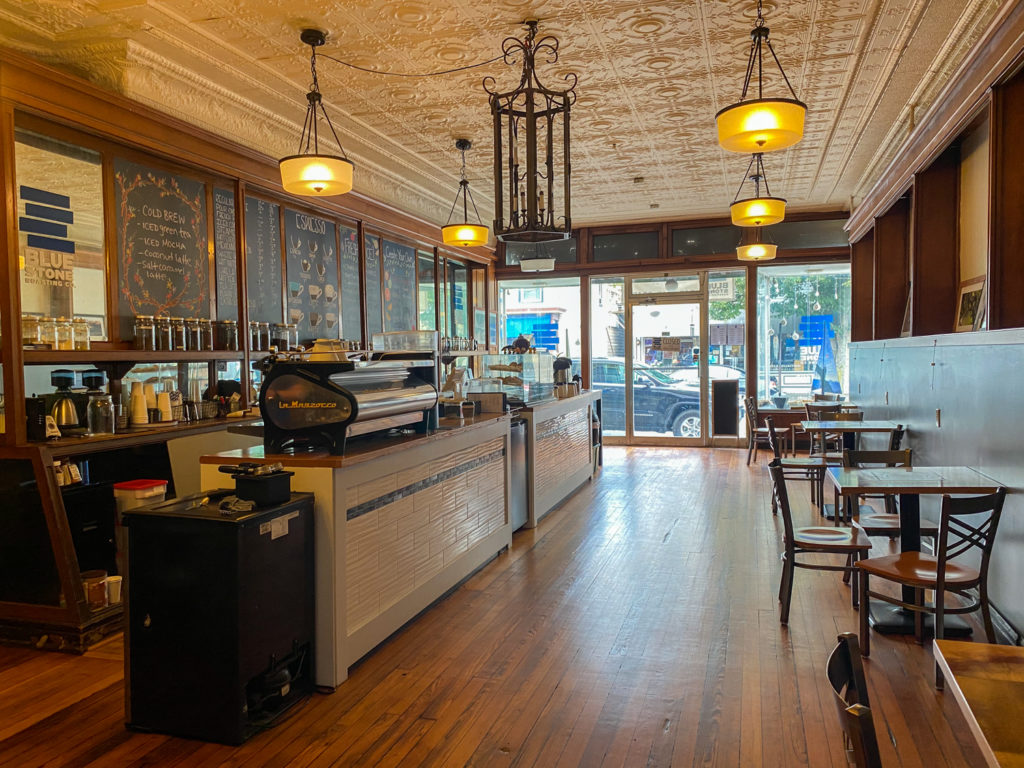 Bonus: There is a customer at Bluestone Roasting that occasionally pops in with a Simpsons cartoon figurine. He gets his coffee and leaves his figurine on the counter. The staff thought it was cool so they left them, but then the collection got way too big for the counter. If you visit, be sure to find the Simpsons figurine collection on the back wall where it got moved when it was too big for the counter. I got a big kick out of the fact that someone just decided to start their cartoon character collection in a coffee shop, and the coffee shop was totally on board.
ImmuneSchein
It's not exactly a place to eat, but this place impressed the hell out of me. Their new tasting room is just minutes from Opus-40, so you might want to pair these two stops together.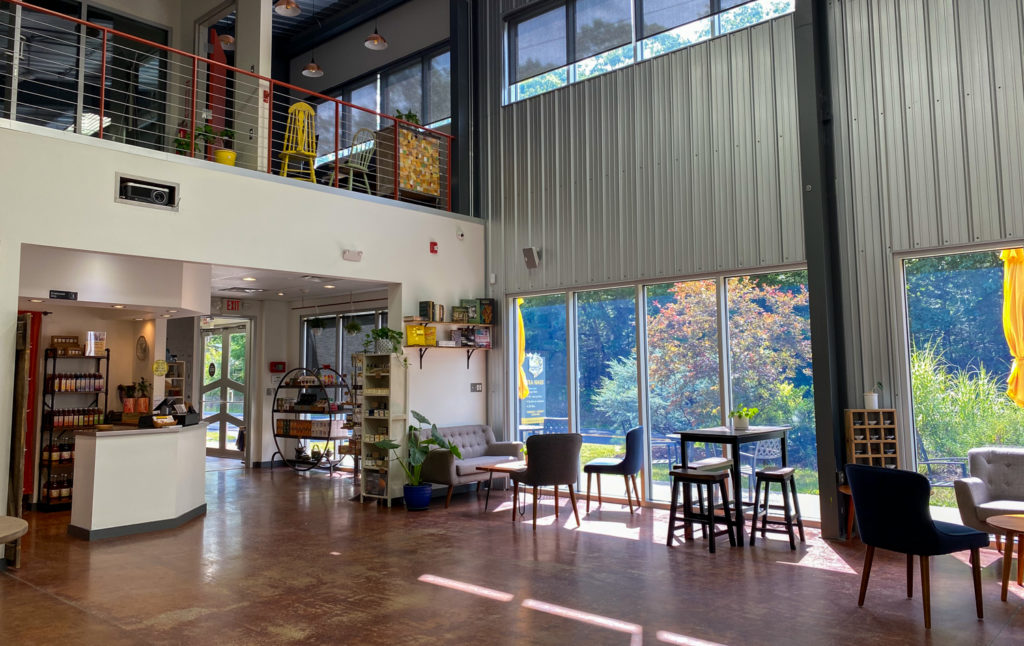 These guys make hand crafted ginger elixirs, which end up as a very simple ginger concentrated syrup. Their line is simple, but strong enough to add a kick to your Saugerties visit. Some people drink these straight like you might with an apple cider vinegar, but there's a ton of other ways to use them. During our visit the ImmunSchein staff rallied off a lot of recipe ideas. I came home with six bottles and can already tell I should've gotten more.
Enjoy Saugerties!
Should you find yourself looking for a getaway and wanting to visit the Hudson Valley, the town of Saugerties should do you well. I really appreciate the folks at Diamond Mills for putting me up for two nights to give me time to see everything. Between the great food options, the walkable village, and great photo ops, this will go down as one of my favorite trips in 2020.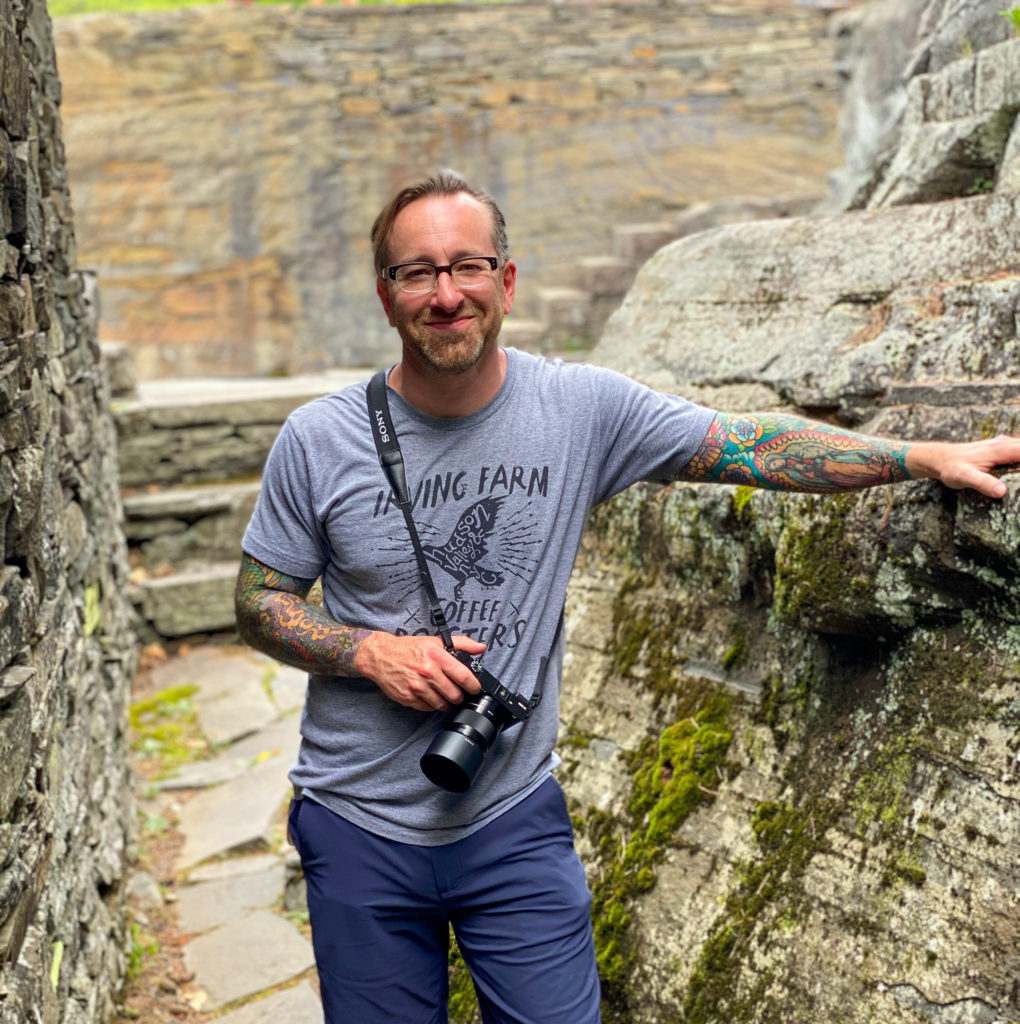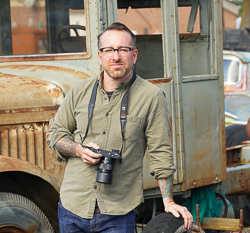 Chris Clemens is the Founder/Publisher of Exploring Upstate. From his hometown in Rochester, he spends as much time as possible connecting with the history, culture, and places that make Upstate New York a land of discovery. Follow him on Twitter at @cpclemens