by Chris Clemens
Today, you can walk into any number of tattoo shops in Rochester, many of which seem to open and close so swiftly that they barely have a chance to create one of the Flower City logo tattoos seen walking around the city. That's why having a shop that continuously year after year, and decade after decade, churns out custom artwork recognized on a national level is something pretty special for the region. TeeJay Dill owns, operates and tattoos out of two wildly successful White Tiger Tattoo locations, one of which will host the October 31st "A Little More Than 20-ish Years Anniversary Party". Because tattooing was illegal in New York City between 1961 and 1997, White Tiger Tattoo isn't just the shop with the longest-same-owner in Rochester but also one of the oldest shops in the state.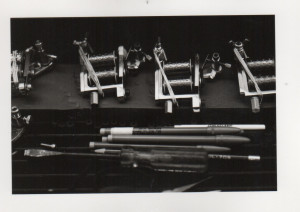 Tattoos of course have become increasingly more popular and commonplace, but it really wasn't all that long ago when they were reserved for the 'freaks' and 'carnies' who lurked on the fringes of mainstream culture. As the anniversary for the shop loomed, I became intrigued about how it got to be the shop it is today. But, you know me, starting at the beginning isn't early enough. I had to go back further. All of the following information is what I've gleaned from talking to a number of different people who were around tattoo shops in the early days of Rochester's scene. The more I learned, the more I became fascinated with mapping the family tree of tattoo shops and tattooists in the region. What's incredibly intriguing about this story for me is that most of the tattooists in Rochester today can trace their 'lineage' back to one single shop and a few hardcore pioneers.
A Very Golden Needle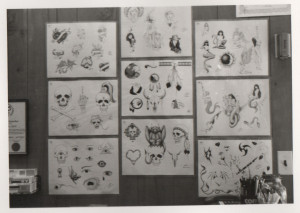 Much of the American culture tattoo scene that we know today incubated among the boardwalks and counter culture of Coney Island. Famed old-school tattooist "Sailor" Fred Steinhart set up his shop 'The Golden Needle' on Lyell Avenue in Rochester decades ago, bringing with him the counterculture of Coney Island in which he was raised. Sometime in the mid-80's Joel "Doc" Yager, already a tattoo artist since 1979, found himself in Rochester and began tattooing with Fred. The tattoo shops of that time were a considerably different experience than what most of us are used to today. The Golden Needle has been described to me as the epitome of 'the early days'. Flash (pre-drawn designs) were almost the only choice for artwork and accommodations weren't exactly plush. Walking into a shop at midnight after having a few beers and choosing one of the designs off the wall was pretty much the norm. And, while you got that tattoo, you were sitting close enough to the next client that you may as well have been spooning them. Needles were already single-use then, but it wasn't uncommon for two artists to share close quarters, and maybe even share a glob of vaseline. Remember, the 80's were a different place.




Wanting an opportunity to have a shop that could focus more on custom work, Doc quietly left The Golden Needle and set up his own place. His military career as a drug and alcohol counselor for enlisted men and women had given him the opportunity to see other parts of the world, including Japan, and it left a lasting impression on him. Wanting to have a custom shop that was a bit more modern and accommodating to the public, while still maintaining a sense of mysticism, Doc incorporated a bit of the Orient to the feel of the shop. And, while that was also part of the process in choosing a name, the 'White Tiger Tattoo' brand ultimately arose just simply from the fact that the nearby Seneca Park Zoo happened to have a white tiger on display. Once the moniker was merely thought of, it stuck.
Creating Tattoo Competition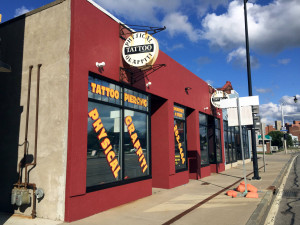 When he opened White Tiger in 1992, Doc was tattooing along with two other local artists and the three of them set forth in establishing the White Tiger name to be synonymous with custom tattooing in Rochester. He opened shop at 374 1/2 Ridge Road near Kodak Park. At the same time though, another artist who had worked alongside Doc at The Golden Needle also decided it was time to go it alone, and Joe T. opened Physical Graffiti right around the same time in nearby Fairport. Joe's business relationship with a popular local radio personality helped jettison his shop to entirely unprecedented levels. A Saturday at Physical Graffiti in the early years meant clients were lined up early in the morning to grab a number like the deli counter in a supermarket. If you weren't interested in potentially standing in line for 8 hours, you lost your spot and your chance to get tattooed. Business at Physical Graffiti was going gangbusters and the artists couldn't keep up.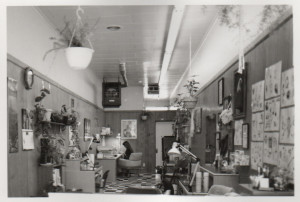 Meanwhile, TeeJay was beginning to establish herself as an artist under the tutelage of Sailor Fred at The Golden Needle, whom even today she humbly credits much of her success to. From the time she began at the Golden Needle in 1991, it seemed to me during our conversations that her sense of loyalty to Sailor Fred and the shop where she was learning her craft outweighed her desire for fame or money. Though, as a single parent with bills piling up, Doc extending her an invitation to just simply fill in one day at White Tiger seemed a bit too enticing to pass up. On New Year's Day in 1993, TeeJay worked her very first shift at a shop she would later come to own and grow into an iconic brand.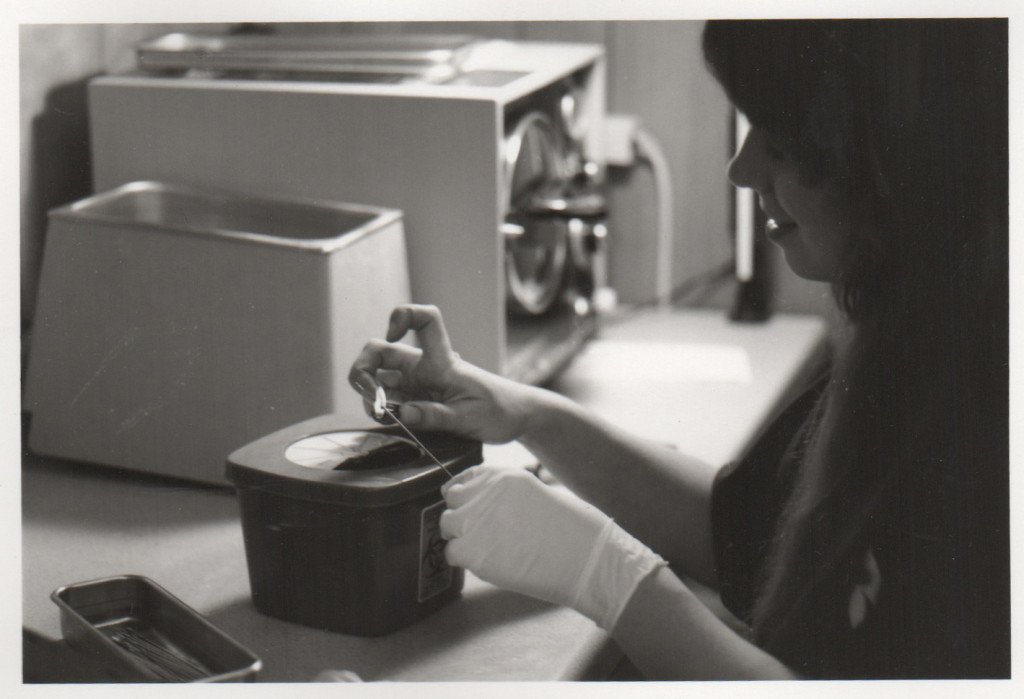 Shop For Sale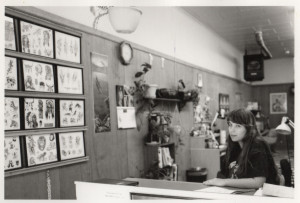 With Physical Graffiti artists not being able to keep up with the demand, Doc made the decision to move his station from the shop he created over to Physical. The original two artists that White Tiger started with, Tooly and Jewel, both were still working and TeeJay had transitioned away from the Golden Needle to be a full time artist at White Tiger. With Doc leaving to pursue a career at a shop he once competed with, rather than slump in to defeat, TeeJay purchased the White Tiger Tattoo shop and name from him in December 1993.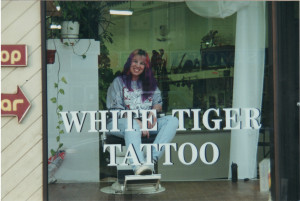 What I found to be the most intriguing part of that transition, was that TeeJay shared with me, "I only bought White Tiger so that I could get good enough at tattooing that Physical would want to hire to me too."
Over the course of the next year, more transitions occurred with Jewel deciding to no longer tattoo, and Tooley no longer working for the shop. Hell bent on wanting to be 'good enough' that a competing shop would hire her, TeeJay worked alone in her shop, sometimes well into the night, to ensure that everyone who wanted to be tattooed that day would get the chance, and to cover the cost of owning a business while raising a daughter by herself. Somewhere in 1994, she brought on Steve Christman, who had previously apprenticed under Jet, another iconic Rochester artist who also worked at White Tiger for a little bit. In addition to Steve, TeeJay also took on her own first apprentice, Joe Pavone.
White Tiger Tattoo 2.0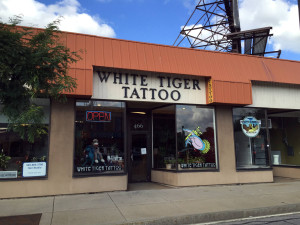 It wasn't long before the space at 374 1/2 Ridge Road was no longer working for the crew, and TeeJay relocated the shop just a few doors down to 466 West Ridge Road. Joe Pavone had officially transitioned from apprentice to artist and it was Joe who had the honor of tattooing the very first piece in the new shop. Longtime client 'Eyeball Mick' already had a tradition of being tattooed each year on Friday the 13th and Halloween, but it was on October 31, 1995 that he was tattooed by Joe in the new shop, a tradition that continues to this day. Though White Tiger Tattoo existed well before that first Halloween, the upcoming celebration will mark that inaugural tattoo that kicked off the new location. Hence the 'A little more than 20-ish years' title of the anniversary.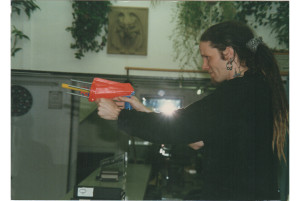 Over the course of the next two decades, the White Tiger family continued to grow with countless artists coming and going. Some began and struggled as artists who never quite were able to find their way and some became artists that are renowned for their craft. Some moved on to start shops of their own and some moved to other areas of the country. In fact, people in the state of Massachusetts can now legally get tattooed because of the hard work and perseverance of Stephan Lanphear who after working for TeeJay a number of years, moved and began lobbying efforts that ultimately were a success in the state. While most of the artists who have been adopted into the White Tiger family over the years have transitioned in and out of tattooing stations in the shop, Joe Pavone still stands proudly by TeeJay's side for more than two full decades.
In May 2008, TeeJay opened a second location in the Village of Webster and she splits her time between the two shops. After years and years of constantly honing her skills as an artist, it's not entirely unheard of for someone wearing her art to pass another person wearing her art and immediately recognize the unique appearance of her tattooing, like two Harley riders waving to one another on the road just simply because they are part of an exclusive club of owners. I know of at least one person who was on the other side of the country when someone pointed out their tattoo asking if TeeJay from Rochester had done it.
While the process of an artist permanently adorning a client is often an incredibly personal and emotionally intimate process, TeeJay found herself a number of years ago in a position to create an entirely different type of tattoo altogether for women who have had mastectomies. Over the years, countless numbers of courageous women who might not normally have wandered into a tattoo shop have found White Tiger to be a haven of rebirth with TeeJay esthetically recreating the appearance of a nipple using the same needle and ink that would be used to adorn someone's full sleeve of skulls or dragons. Her schedule is always full and so is the schedule of almost all the artists at both shops.
Epic-logue
The more I learned about the beginnings of the tattoo scene in Rochester, I realized that as complex as it were, the progression ever since would be an impossible tale to tell in a single long-form written piece. Both bloodline and adopted families were born. Lifelong friendships between artists, shop-owners and among clients grew. At times, resentments and turf wars have torn through bonds that at one time seemed as permanent as the tattoos they were creating. Tattoo trends came and went, and new ones showed up. Some artists have fallen victim to addiction or mental health trouble. Unexpected medical conditions have forced people to relearn everything they've known from scratch. Life has happened. Lots of life has happened.




While other shops have come and gone as quickly as some tattoo fads, White Tiger Tattoo hasn't just stuck around, it's become an icon. That same small shop that TeeJay started working at to earn a few extra bucks has grown to be synonymous with high-end, custom tattooing not only in Rochester, but around the country. And, while she may have purchased the shop with the intention of getting good enough to go work for the competition, she and the rest of the crew at both shops have now become the competition.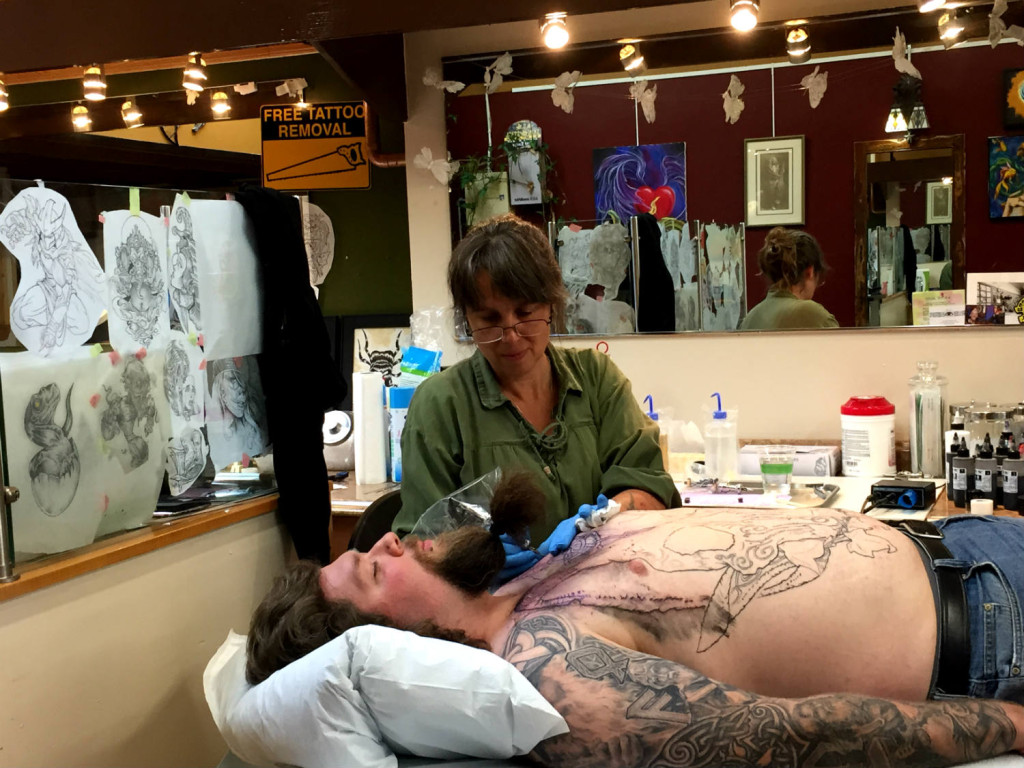 If you're a client of White Tiger, or want to be, you're invited to the anniversary party on Halloween at the 'original' West Ridge Road location. There will be prizes for costumes, a photo booth, a charity raffle, and surely lots and lots of fun and reminiscing. For more info on the event checkout the Facebook page here.
Also, you should checkout the White Tiger Tattoo website, 'like' their Facebook page, and even follow them on Twitter. Then, stop into either shop and make an appointment for your next custom tattoo by some of the best artists in the city.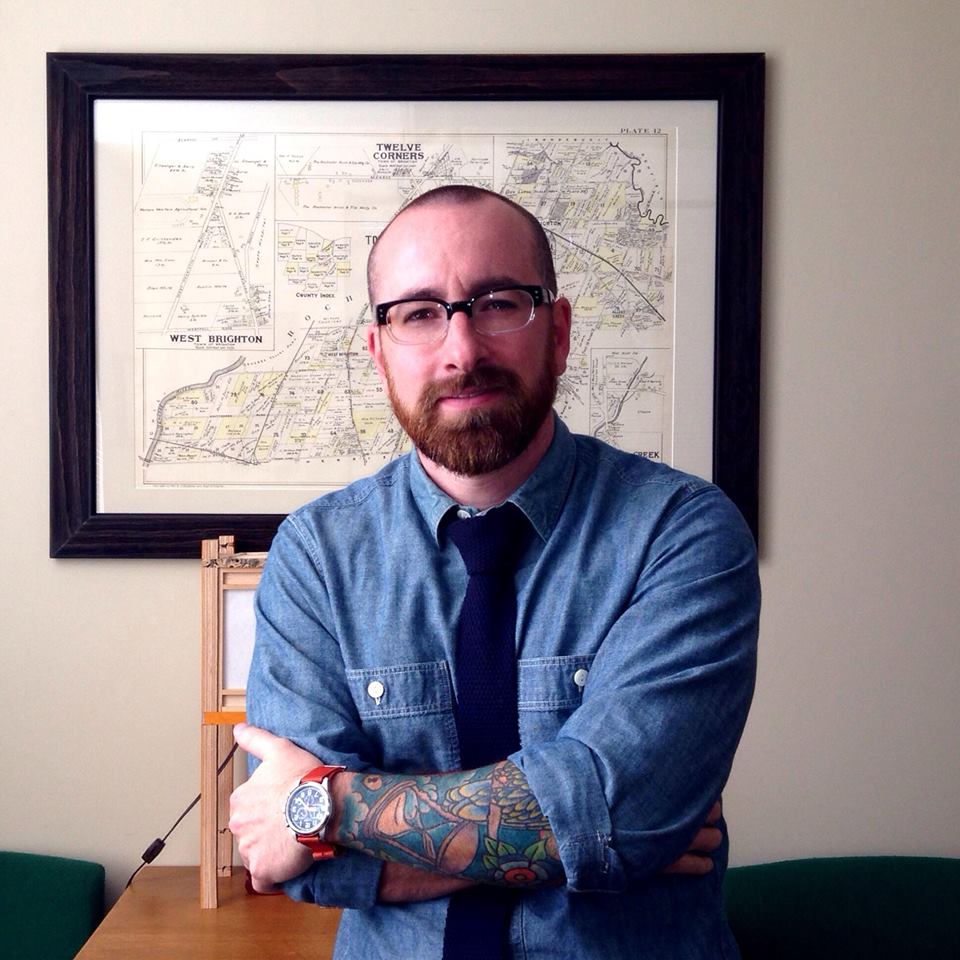 Chris Clemens is the Founder/Publisher of Exploring Upstate. From his hometown in Rochester, he spends as much time as possible connecting with the history, culture, and places that make Upstate New York a land of discovery. Follow him on Twitter at @cpclemens