There is no scientifically perfect answer for determining the center of a state and there's a lot of disagreement about its location. Still, most experts agree that the center of New York State is in Pratt's Hollow.
by Chris Clemens
I'm intrigued by points like "highest elevation" or "geographical center" of a certain area. Admittedly, these points probably aren't all that important since the borders around those places are ones we made up. But it's still pretty cool to be in the highest point of the state, or the exact center of a county.
In some cases I've driven out of my way to visit these points. Sometimes I'll find myself in a spot by chance. In other cases, I've just stood wondering if I was close.
Identifying the tallest point is pretty easy, since it's measured by feet above sea level. But measuring the center-point of an area without symmetrical borders and uneven terrain is way harder to pinpoint. Still though, some thankless souls have worked hard at figuring it out.
Since the accepted final answer has determined that the geographic center of New York State is in Pratt's Hollow, I wanted to find out how that was calculated. The rabbit hole of research went way deeper than I thought. After a lot of reading I set out to Madison County so I could (maybe) stand in the very center of the Empire State!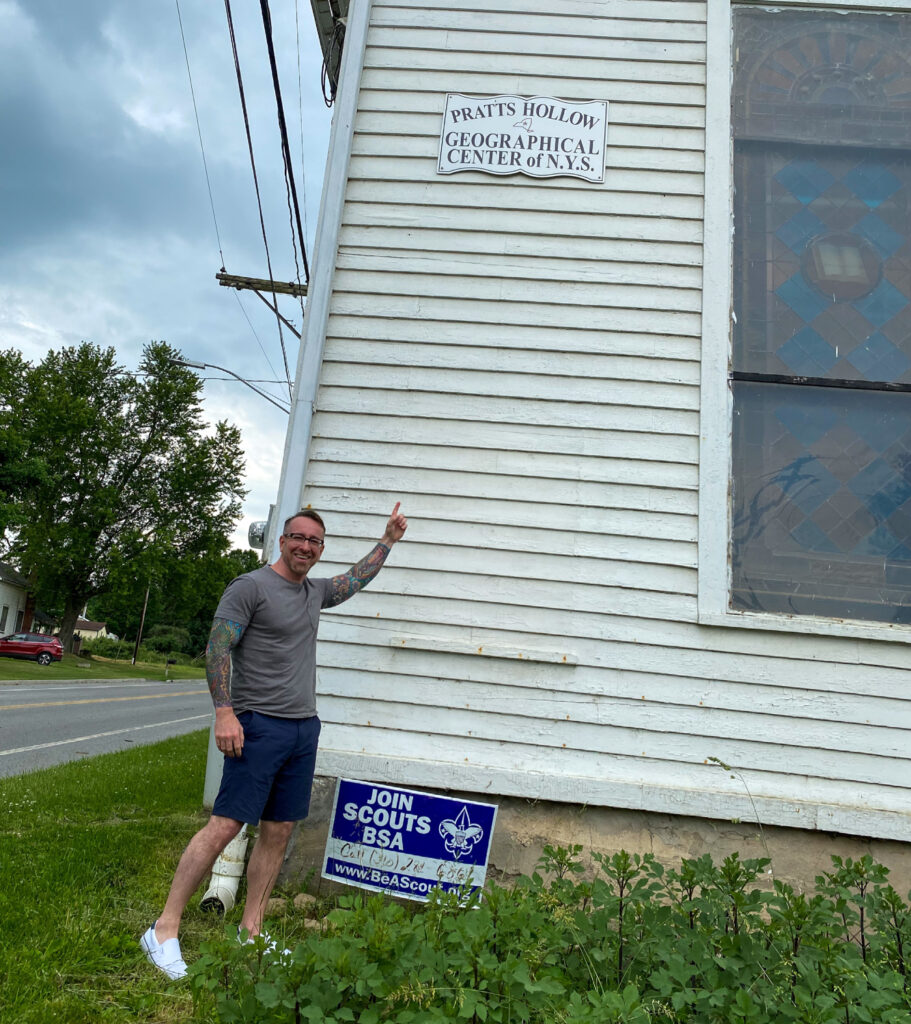 How To Define A Geographic Center
Seeking the perfect center of a region is a messy process. Most municipal borders have uneven terrain and wonky borders. Without symmetrical borders, it's tough to take an even measurement to the center. For some clarification on New York's geographical center I checked in with the United States Geological Survey (USGS).
The federal government founded the USGS in 1879 specifically to provide "classification of the public lands, and examination of the geological structure, mineral resources, and products of the national domain." To date they are the largest water, earth, and biological science, and civilian mapping agency in the country.
Surely, I thought, they would have a solid answer for how these things are calculated.
The USGS directed me to a publication they wrote exactly on this topic. In their publication Elevations and Distances in the United States (1980), they lay out how a geographic center is calculated.
That was not promising. It turns out that even the experts can't agree! Still, the USGS writes that the geographical center of New York State is "Madison 12 + miles south of Oneida and 26+ miles southwest of Utica".

And, for a scientific answer, that's still pretty vague.
Mapping The Center Of New York
I thought maybe mapping it would be an easy way to determine the center so I played around.
In my first attempt, I took a perfect circle large enough to fit the state. Points like Long Island and Chautaqua County are really far out. That meant a lot of empty space inside the circle, and a really inaccurate center-point. It feels centered from east to west, but man that's top heavy. This point also doesn't align with the USGS info.
This method surely isn't right.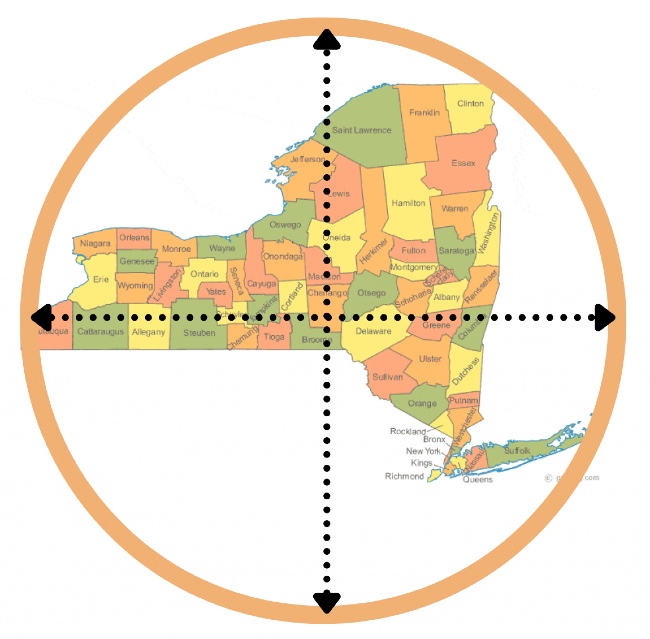 I wondered if taking the three furthest points in the state and taking equal measurements toward the center would get me there. In my mind, if a plane traveled the same speed from the further points traveling the same distance, that should be center. Right?
Unfortunately that didn't work either. Oddly, it brought me to about the same geographical point that the circle method did.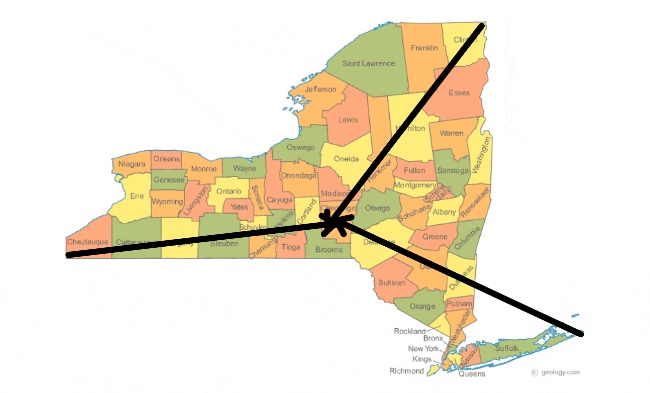 I figured that surely there were other sources online for determining the center, and there are! A website called Netstate publishes this type of info, and on the New York page they publish the exact coordinates.
Except, they claim the geographic center is found at 76° 1.0'W 42° 57.9'N. When plugging those coordinates into Google Maps, you get a spot west of the north end of Cazenovia Lake. That doesn't align with the USGS publication at all. It also doesn't align with any of the maps.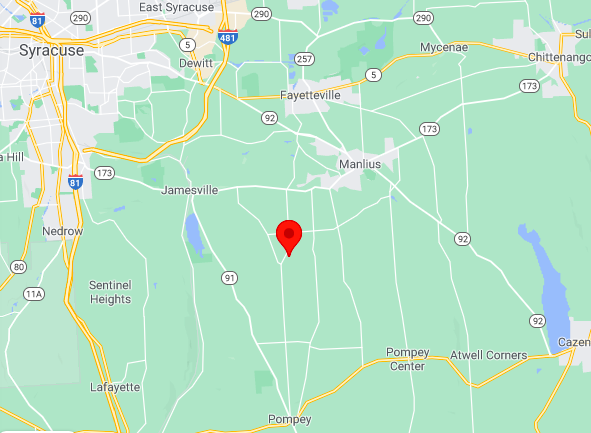 Unfortunately, Netstate gives no reasoning to back their calculations. They just simply list them. Without a least a little science or a source their info essentially worthless.
A Moving Center
While looking for evidence that Pratt's Hollow is indeed the center, if you dig back far enough you'll find conflicting reports. At one point Oneida Castle, a village in the town of Vernon, was thought to be the center. In fact, the town of Vernon website still claims to this day that they're the center. On their website, A Brief History of Vernon from the Oneida County Historical Society, they state:
That page states that the info in that quote was pulled from an article written in either 1977, or 1998. That's particularly interesting because Pratt's Hollow was named as the center in 1965.
Matthew Urtz is Madison County Historian in Wampsville. He did some digging for me and found an article from the Brookfield Courier published on February 11, 1965. That article shares the news that the official center of New York could be found in Pratt's Hollow, and the distinction was removed from Oneida Castle.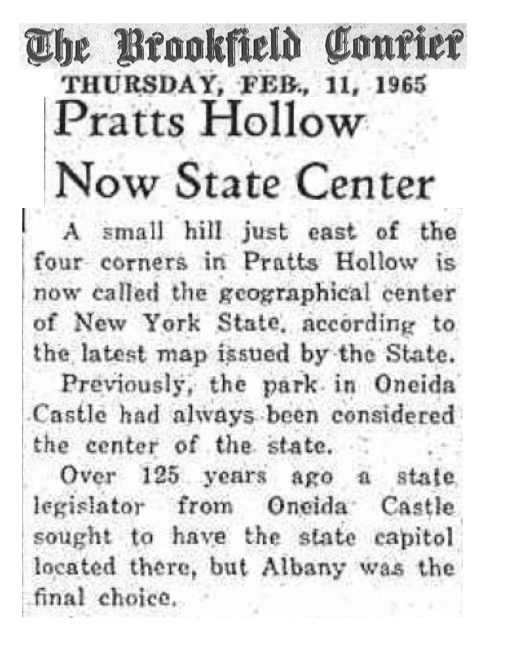 I'm guessing this didn't go over well with the folks in Oneida Castle, but hopefully there aren't super hurt feelings.
One Last Map
I was mostly fumbling around with photo editors and playing games with my own head at this point. Still I thought I'd try one last mapping method.
I took a square and put it around the state the same way I had used a circle before. I made a cross in the center and low and behold, that cross falls right around where Pratt's Hollow exists!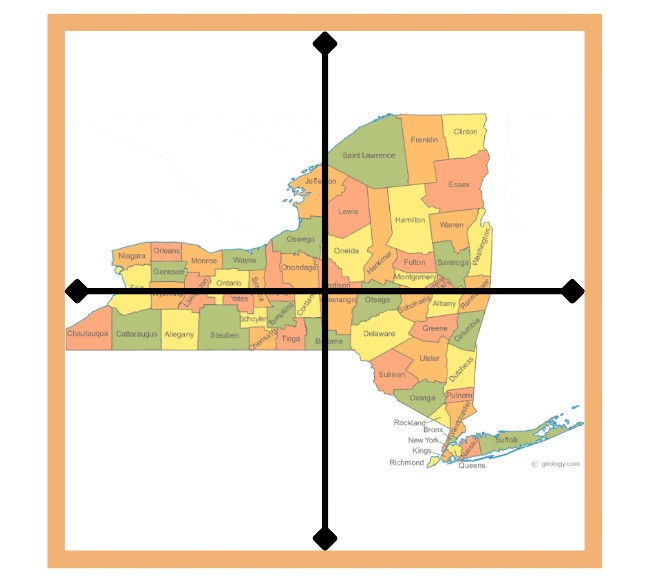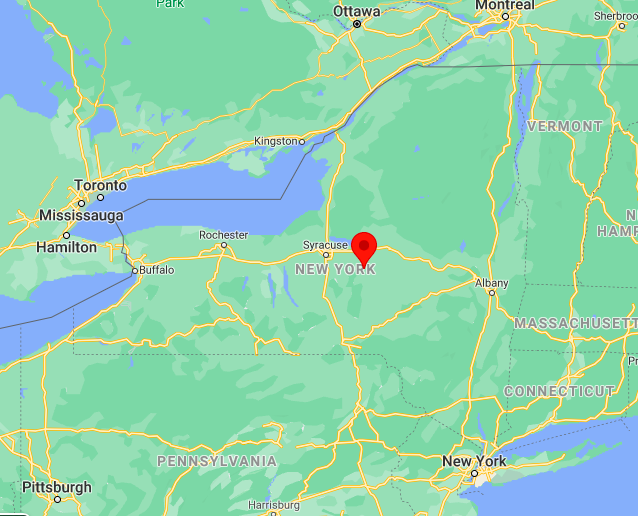 In their publication the USGS says that the geographical center of a place is determined by gravitational pull. Simply using a map isn't going to provide that kind of data. But after a bunch of research, it appears that no scientific evidence exists anyway.
Gravitational pull is impacted by things like lakes and mountains and valleys. So, they identify all these things, estimate the impact of each one on gravitational pull, and make an estimate for the area.
Pratt's Hollow: Geographic Center Of New York
Regardless of what you believe, or how you play with the calculations, the fact is there is a sign claiming the center of the state. At the intersection of Rocks Road (Route 42) and Pratts Road (Route 49) you'll find the historic United Methodist Church. It's a simple, white church watching peacefully over the main intersection in the hamlet.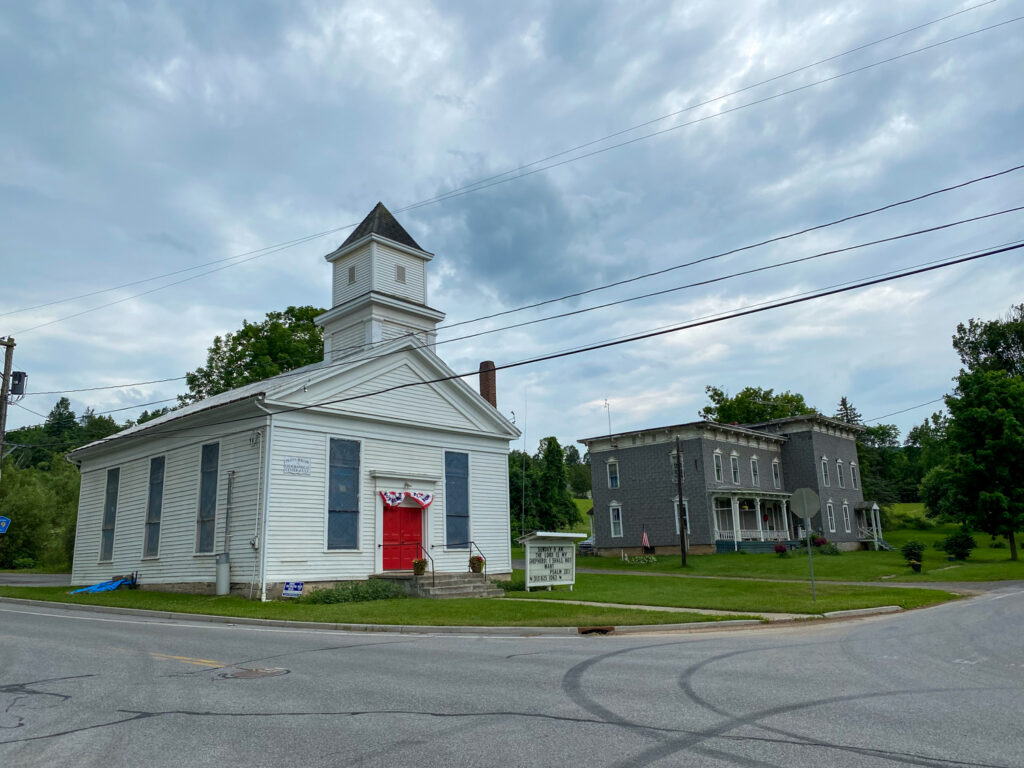 On this church you'll find signage on both the front and back of the building identifying Pratt's Hollow as the geographic center of New York State.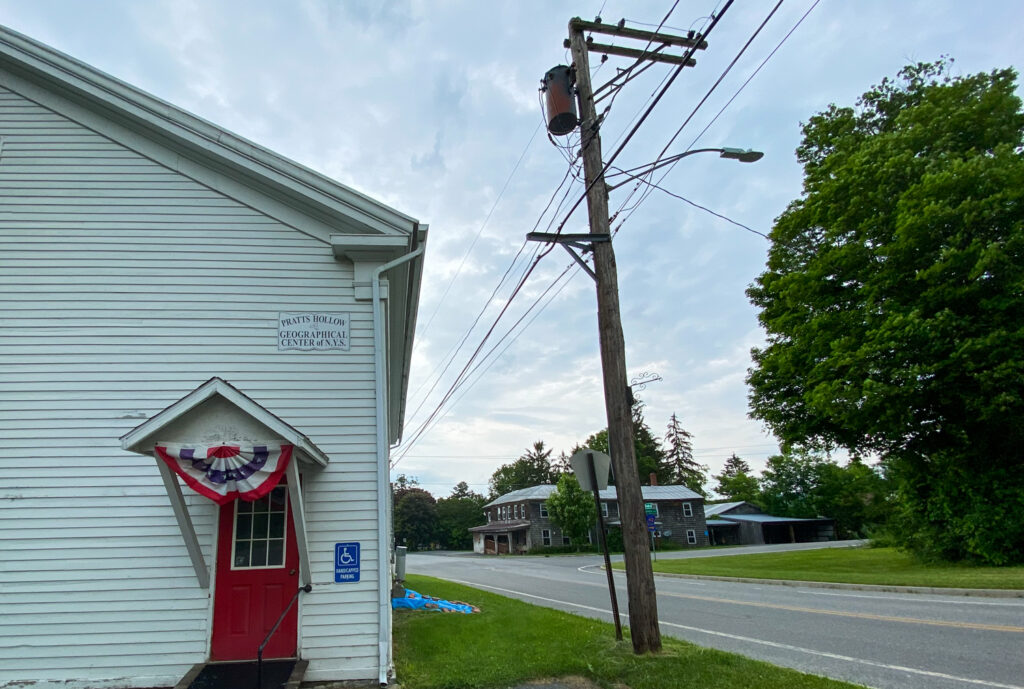 While I'm not 100% certain that the sign is the scientifically proven perfect center of the state, it's still cool a cool stop to make. If you're tooling around Central New York and looking for a fun stop, Pratt's Hollow is the center of it all!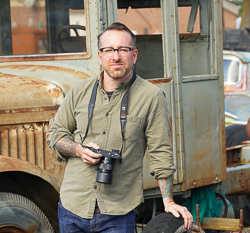 Chris Clemens is the Founder/Publisher of Exploring Upstate. From his hometown in Rochester, he spends as much time as possible connecting with the history, culture, and places that make Upstate New York a land of discovery. Follow him on Twitter at @cpclemens