While most people haven't heard of Bouckville, anyone who shops seriously for antiques knows it well. This small Central New York town in Madison County is home to some of the busiest and best antiquing in the state.
by Chris Clemens
Do a search for "antiques in Upstate NY" and see what you find. There are numerous articles listing off the best towns to go antique shopping in Upstate. There's mostly mentions of the Hudson Valley, and some Finger Lakes spots. A few articles look like they just read a previous article and copied the list into their own.
One mentions a spot in Syracuse. Binghamton gets a quick shout-out.
None of them mention that nearly the entire small Central New York town of Bouckville is almost only antique shops!
Not only is the main route dotted with shops on each side, but the farm fields in this area are just as special for collectors. For one week out of the year, Bouckville (in partnership with neighboring Madison) hosts the largest antique show in New York State. Between the existing year-round street of antique shops and the annual show, Bouckville should be near the top of any list for Upstate New York antique destinations.
(By the way, if you're already curious, Bouckville is pronounced "Bowk-ville".)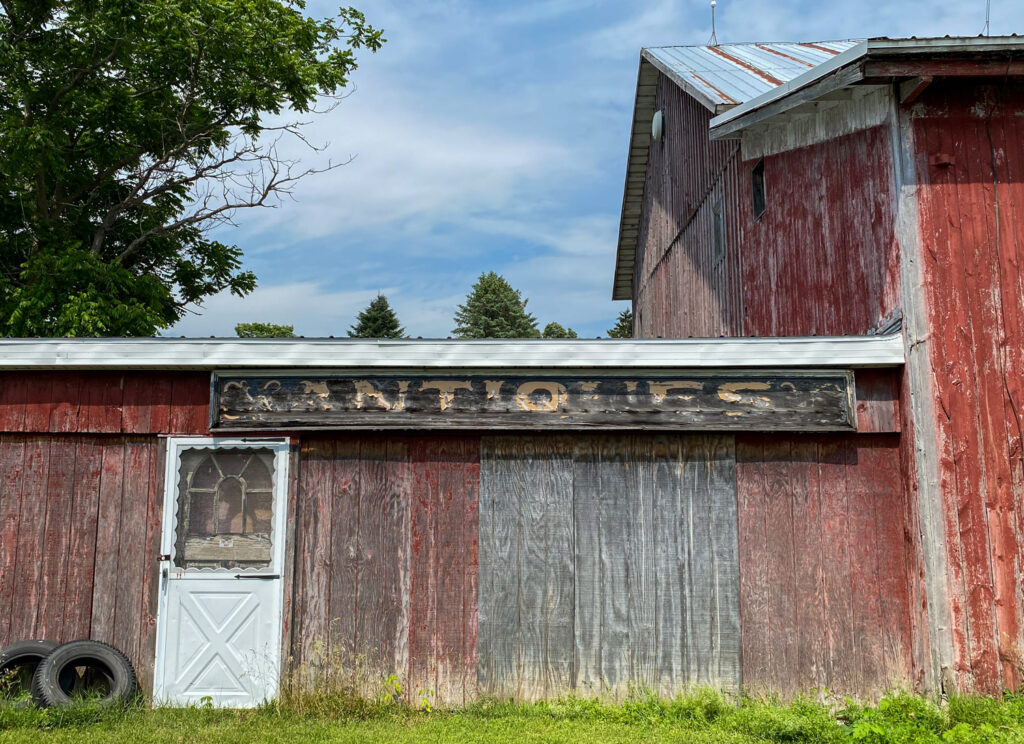 Bouckville's Beginnings
Despite what some might tell you, Bouckville hasn't always been an antiques hub. A century ago, this town looked considerably different.
Back then, a major roadway called the Cherry Valley Turnpike meandered from Oneida County to Albany. In its path laid the small town of Bouckville. For both pleasure travelers and commerce, the Turnpike was a main thoroughfare. Taverns, service stations, and various businesses in Bouckville did a solid business with ample traffic. The hops industry thrived in this area, as well as a major Mott's apple processing plant.
Beginning in the 1930's though, Bouckville experienced a series of economic hardships. First the Mott's plant suffered a catastrophic fire. Then, a blue mold wiped out much of the hops. Adding insult to injury was the opening of the New York State Thruway in 1954. Now the fifth-busiest toll road in the country, the Thruway became the major auto route in New York.
Instead of the Cherry Valley Turnpike, most vehicles chose the faster path in the north.
Even with the Cherry Valley Turnpike being re-branded as historic Route 20, it couldn't compete with the Thruway. As a result, Bouckville struggled to keep up with just a trickle of cars passing through. Businesses closed and storefronts emptied out.
This part of Bouckville's history is pretty common for Upstate. There are tons of towns like this that once boomed, then later lost their shine. Bouckville wasn't about to just put itself out to pasture though. The lull in the economy was simply an opportunity to re-invent itself, and that's precisely what they did.
Locals Rally To Reinvent An Upstate Town
In 1970 a group of antiques collectors formed a coalition and called themselves the Madison-Bouckville Antique Dealers Association. With dealers from Bouckville and the neighboring town of Madison, the entrepreneurial coalition began setting up an outdoor exhibition. Their first antiques show in 1972 brought 35 dealers, but it was successful enough that they wanted to continue. Over the next few years the show bounced around a couple locations along the historic Route 20 connecting both towns.
Despite its overall success, in the first few years the event struggled to find solid ground.
James Ford is a retired school teacher in Bouckville, and has followed the history of the Madison-Bouckville Antiques Show and written about it extensively. He recently shared with me a piece of the history that seemed to help link the show to the number of antique shops in town.
The show really changed when Jock Hengst headed the fledgling show and secured what was known as the "big field." This field was on Rt. 20 on the south side of the road on the east end of town. He advertised widely and had 1000 selected dealers set up on his field. It was a very classy show. What changed was when others started to set up areas along Rt. 20 to sell items during the days of Mr. Hengst's advertised show.

Some buildings became antique shops, such as the former railroad depot which became the Depot Antiques. A private home was sold and became Cider House Antiques. The "riding the coattails" effect of coupling with and competing with Jock Hengst's success led to a bigger show each year.

James Ford, Bouckville, New York
With the show being such a success, it made sense to some locals that they set up year-round. As a result, Route 20 slowly started seeing antique shops spring up on each side of the road. While the show was only one week out of the year, the string of shops was becoming a stronghold in the community.
And Bouckville Bounces Back
In the decades since, the Madison-Bouckville Antique Show held each August has grown so much, that it's now the largest antique show in New York State. For an entire week, two-thousand vendors show up from around the United States. In similar form, collectors show up in droves from all over.
It's been such a success they've even added a smaller show that takes places earlier in the summer.
There are similar shows around the country like this where huge fields become tent-laden rows of old things and oddities. This show is unique though for a couple reasons. First, it's entirely 100% free to attend. A lot of shows will charge admission, even if it means there's a free field and then a premium pay-to-enter field. The Madison-Bouckville show is totally free. Second, the entire field is open all week. Other shows might have certain fields open on certain days, but here, the whole thing is open start to finish.
The Center Of Upstate New York Antiquing
During the early 70's when the show was gaining a foothold in the Central New York Region, locals began setting up permanent antique shops that stayed all year long. There doesn't seem to be a lot of recorded history about who was there first, or what opened next and when those shops closed. Though some of the finer details have been lost to time, every local Bouckville resident I chatted with seemed to agree that the town has "been like this" forever.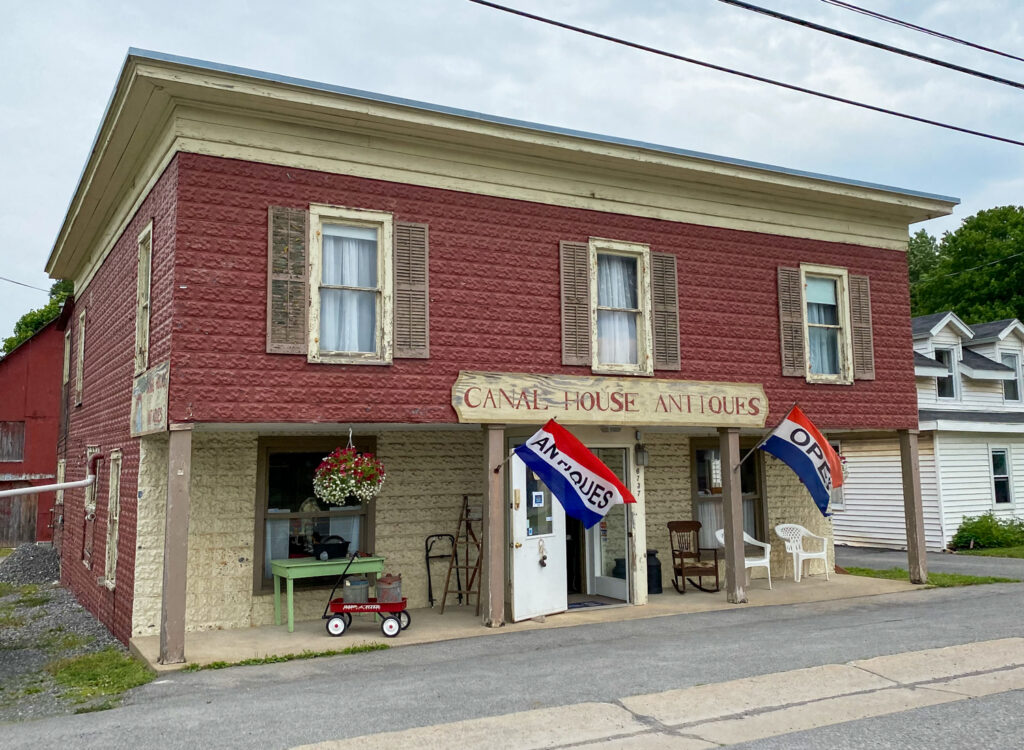 By "like this" they mean there has always been a street of shops. Occasionally a new one will open, and then one will close. Sometimes there are more shops, sometimes there are fewer. During my most recent visit there were eight shops, plus an auction house.
Eight antique shops may not sound significant, but find me another stretch of roadway where most businesses in a town are antiques. Add to that fact they host the largest antique show in New York State and you have an Upstate antiques destination that's especially unique. Now, couple that with the fact that the geographical center of New York State is just up the road, and it seems safe to say that Bouckville is the antiques center of Upstate.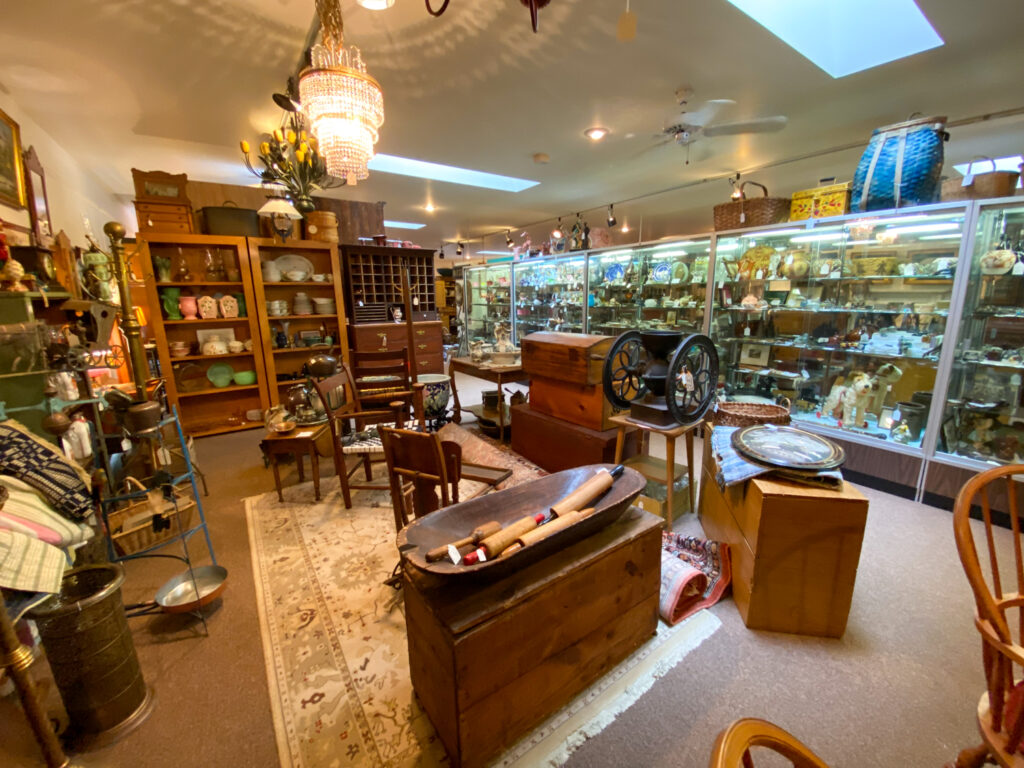 The fact that these "expert" guides you find about antiquing in Upstate don't at least casually mention Bouckville in their lists is just plain absurd!
What To Expect
The first thing that you'll notice, particularly if you're coming from larger cities, is that the prices are either lower, or at least reasonable. I'm told that collectors from cities like Austin come to small-little Bouckville because they can find things way cheaper, then take it back to Austin where buyers expect to pay a premium. That's the case in both the shops and the show.
For the shops, you can park at any of the spots on the strip and walk to the others. I'd guess it's about a mile stretch where you'll find the shops. For the show, you can expect to do a lot more walking.
When I say that the town is "almost entirely antique shops" I'm not exaggerating. There are certainly other businesses though, so you've got a few options for food and overnight accommodations. During my most recent visit, I ate at Ray Brothers BBQ just west of town. The Food Network voted Ray Brothers the best ribs in New York State back in 2019, so unless you're vegan, that's a solid choice.
Each shop has kind of its own personality. The Victorian Rose had kind of a bed and breakfast vibe, while the Antique Pavilion was filled with quirky oddities. The Gallery Antiques at Pinebrook had sort of a rock n' roll vibe, and the Cider House Antiques had a fair amount of clothing. I visited every shop in town, and it was real cool to notice the different personalities of each one.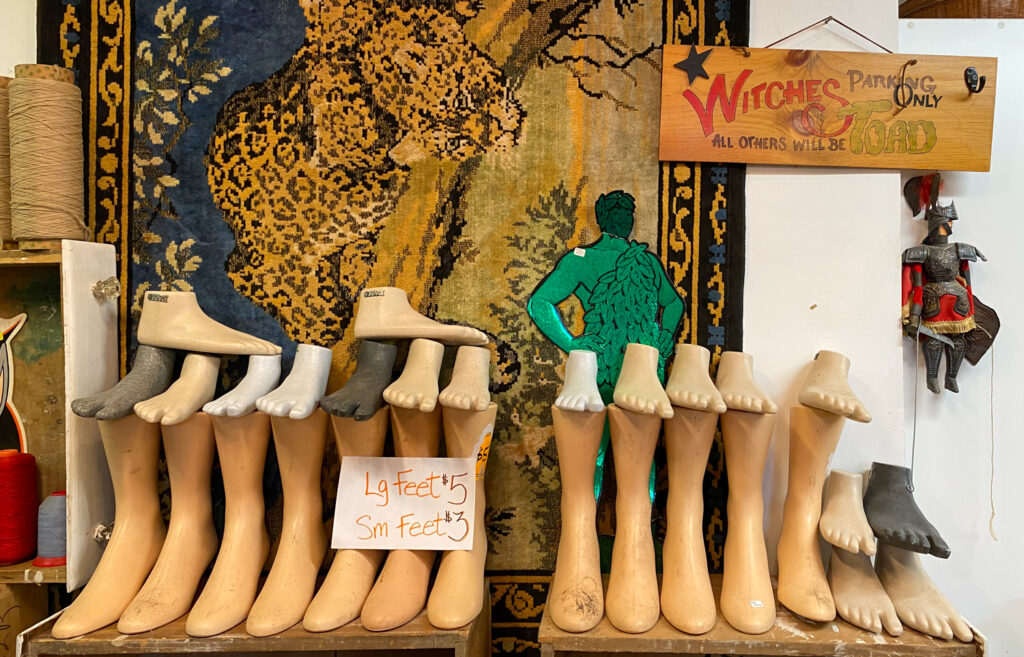 I do believe with the difference in each shop, there's something there for every kind of antique collector.
Visit
If you're just looking for a regular antique shopping trip, going anytime will get into the shops. If you're looking for the show, checkout the Madison-Bouckville Antiques Show website for info on dates. The show is always free, so you could even just stop in for a few hours.
For places to eat and stay, that website also features a nice list of local spots. What I find especially cool about that list is that aside from a hotel chain or two, these are all locally owned, small local businesses. You can spend an entire week just supporting small, local businesses just like the Cherry Valley Turnpike days!
Gallery
Throughout the shops I visited, here's a quick glance of some of the things I found while shopping in Bouckville this summer.
Still need more antiques? Don't forget Angelica's Street Of Shops in Allegany County!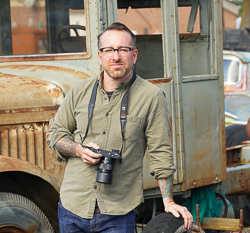 Chris Clemens is the Founder/Publisher of Exploring Upstate. From his hometown in Rochester, he spends as much time as possible connecting with the history, culture, and places that make Upstate New York a land of discovery. Follow him on Twitter at @cpclemens