The Griffis Sculpture Park in East Otto offers miles of exploration through mystical metal sculptures and forested land. Just a few miles north of Ellicotville, the park is a perfect Western New York day trip idea.
by Chris Clemens
The group text came through mid-week. All it said was, "Set up a day trip for the three of this Saturday."
We all live in Rochester, and a day trip means different things to different people. The request caught me a little off guard. An hour drive? Two hours? A food theme or historical places theme? Or, something else? I rallied in my brain for a bit with ideas. What had I been wanting to do, but that they'd also be into?
Almost immediately I thought of Griffis Sculpture Park in East Otto.
I've been a couple times already, but it had been a handful of years since my last visit. It didn't take much convincing–both of my friends had heard of it and had been wanting to go.
Just like that, I had planned a day trip for three friends to the hit road through Western New York.
Background On Griffis Sculpture Park
The Griffis Sculpture Park is this kind of mystical, magical wooded land in East Otto, Cattaraugus County. With over 400 acres of land and 250 metal sculptures, it's become a favorite destination in Western New York. There are wide-open grassy areas that are easily accessible, then there are some medium-difficultly trails for those seeking more of a proper hike.
If you wanted to spend a couple hours here you could easily fill that time. But you could also even just hop out of your car and spend five minutes.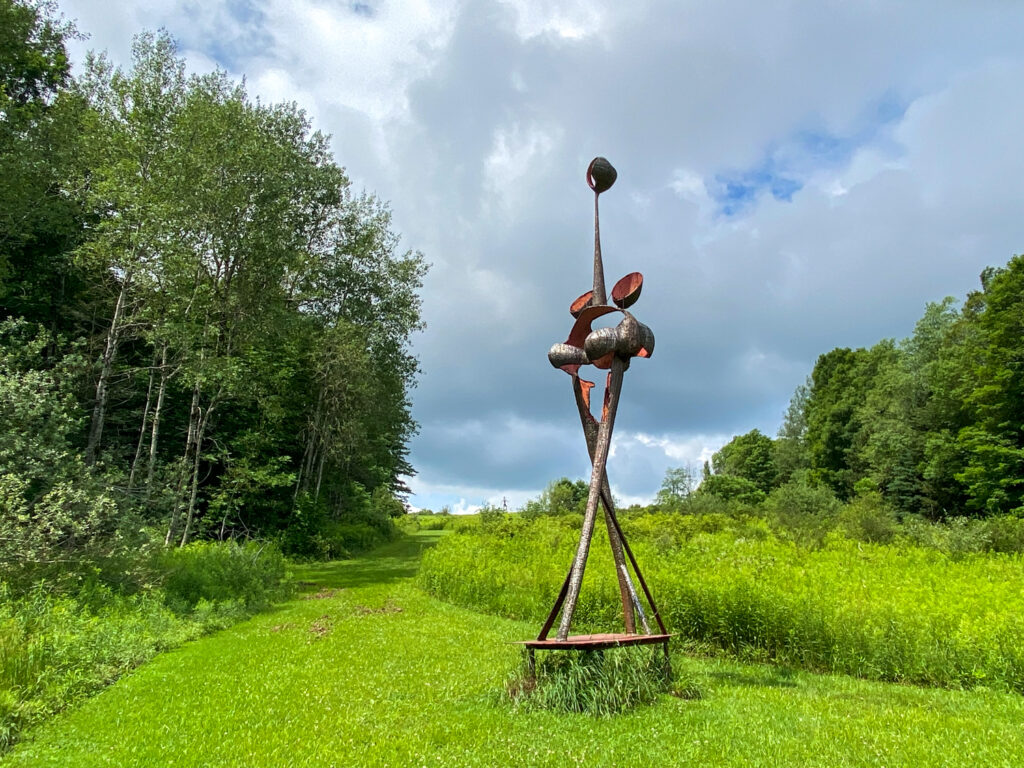 The whole concept for the park was that of Larry Griffis, Jr. of Buffalo. He had spent much of his adult life in Buffalo working in the upholstery business, but retired into the idea of pursuing his artistic dreams. Seeking a later-in-life discovered passion Griffis moved to Rome, Italy to learn the process of bronze casting. It was in Italy that Griffis experienced Hadrian's Villa, and was inspired to create a sculpture park closer to home. The concept was influenced by seeing his family play amongst the ruins at the Villa. It helped him realize the value of interactive art.
Back in Western New York, Griffis set in motion the process of establishing what soon would become the very first sculpture park in the United States. In 1966, he settled on a 125-acre parcel of land gifted to him by his mother. In the decades since, the park has expanded and grown four times its original size.
Today there are whimsical metal sculptures that inspire curiosity and interactive play dotting the entire park. Some are right out in the open and easily seen from afar, and some you won't find unless you're really hunting for them. The park layout gives visitors an opportunity to experience the whole thing a lot of different ways.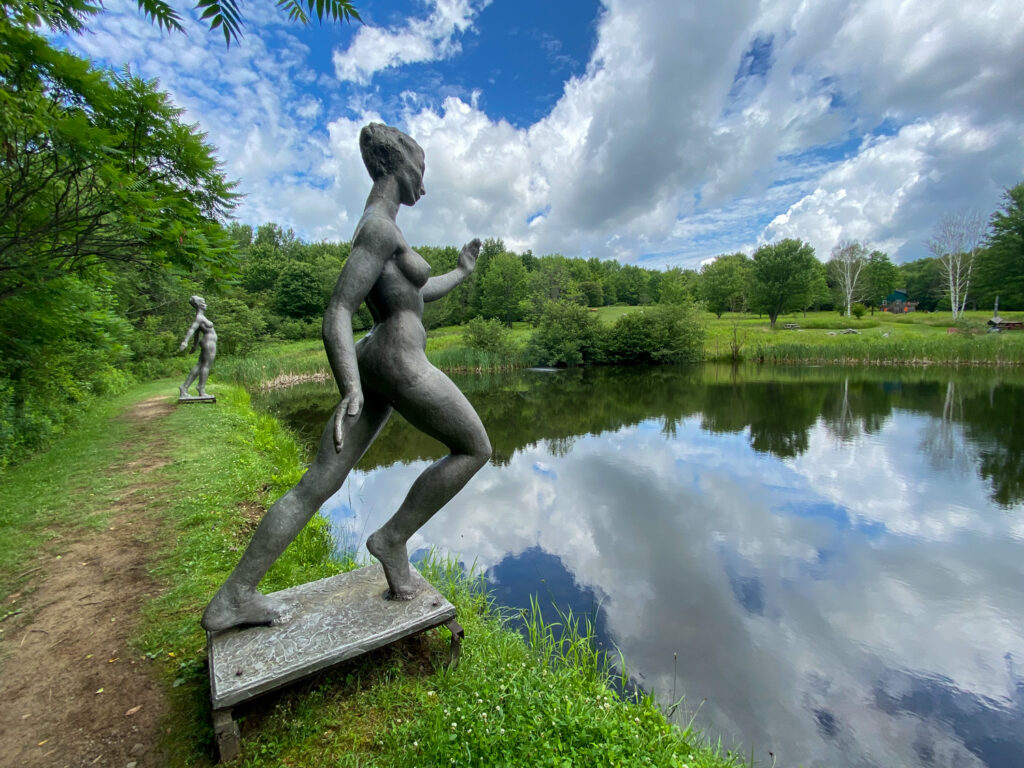 Visiting Griffis Sculpture Park
Now that the park has grown so much over the years, it exists in two sections.
The Mill Valley Road Section is probably considered the "main" attraction. You'll find plenty of parking here, a small gift shop, and miles of trails. The Mill Valley Road part of the park is where you'll find some of the most prolific art pieces like "The Bathers" and the "Castle" at the top of the trail. Entrance to the park is $5 per person and if the shop is open you can pay there. Otherwise, there are options for sending in your payment.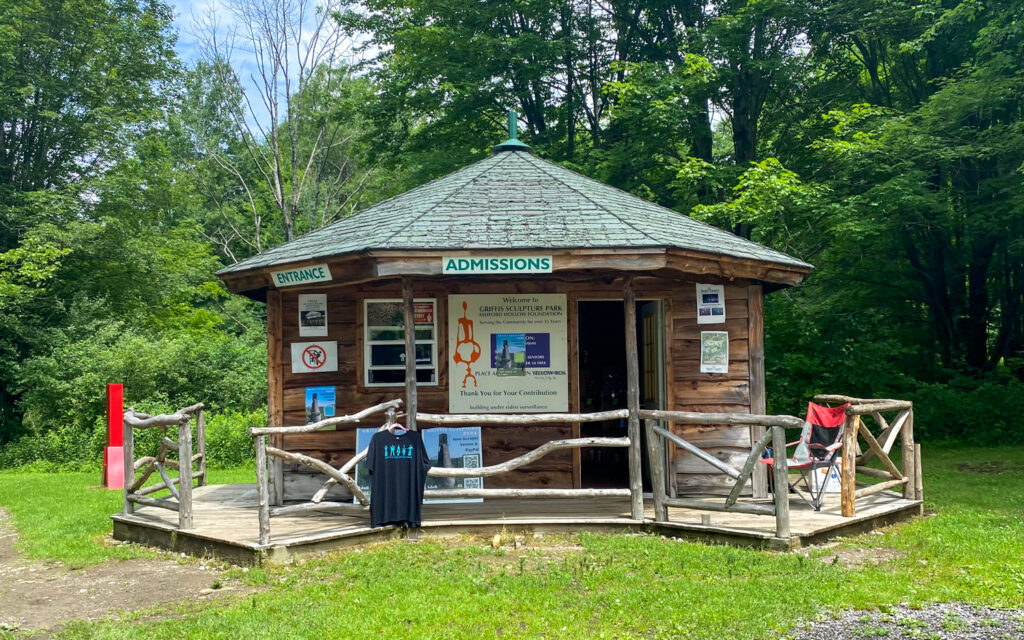 The Rohr Hill Road Section is a couple miles away. This is the section where you could easily just drive through and enjoy a quick glance. But, those who park and go walking will discover there's a lot more that you can't see from the car window. A small trail through the woods has a scattering of sculptures, and even a pond in this section has a few.
They also do a bunch of really cool programs like nighttime walks with the sculptures lit up, and concerts. In late summer, they host an entire festival onsite that includes art, live music, and food vendors.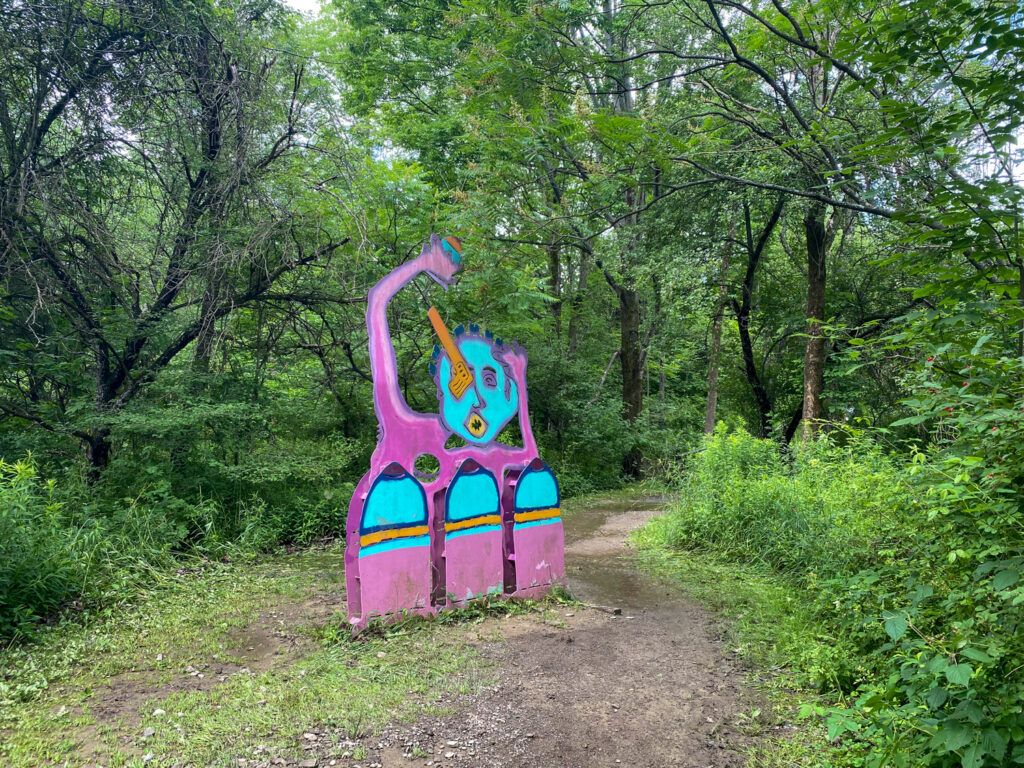 Visiting In 2021
We opted the longer route out of Rochester, and rambled on past Letchworth State Park. West of Letchworth, the roads are just about as rural as you can find in Upstate. It makes for a way cooler drive than following the thruway into Buffalo and back down south.
I wanted to mention earlier that I had been to Griffis Sculpture Park in the past for a particular reason. In fact, this was my third visit. My biggest takeaway this time was the fact that I was seeing things I hadn't noticed before. In the Rohr Hill section there's a pond that I never even knew was there! Having a couple friends pushing our exploration in different directions meant that I was experiencing the park in new ways.
We spent a solid couple hours walking through both sections. By that time our protein bars and yogurt snacks were not cutting it. The park has ample picnic tables scattered around, but we opted to head out and find a meal. Griffis Sculpture Park is less than a 10-minute drive from Ellicotville, so pairing the two for a single day trip works perfectly.
If you're looking for new adventures that take you outside, we all agreed that Griffis Sculpture Park was the perfect response to a group text message about planning a day trip!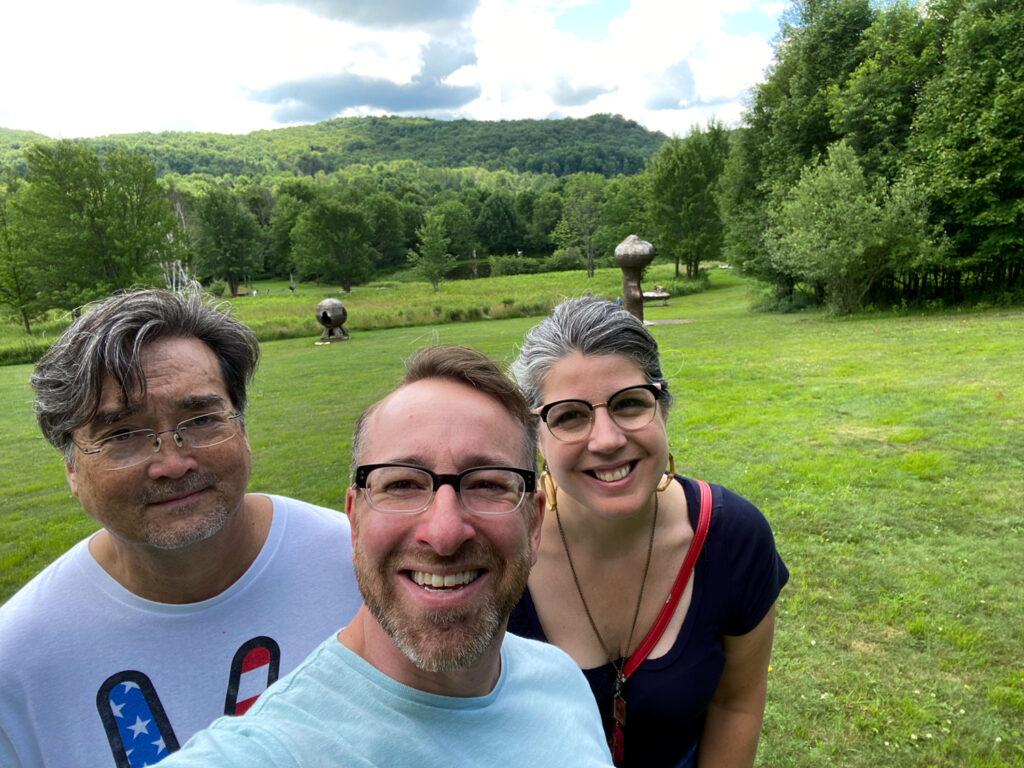 By the way, while you're on Rohr Hill Road, try to find the grave of the Ashford Hollow Witch!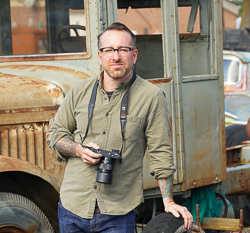 Chris Clemens is the Founder/Publisher of Exploring Upstate. From his hometown in Rochester, he spends as much time as possible connecting with the history, culture, and places that make Upstate New York a land of discovery. Follow him on Twitter at @cpclemens