A visit to St. John Gualbert's Church near Buffalo reveals one of the largest collections of Catholic relics in the world.
by Chris Clemens
UPDATE: In November 2016, the Bishop officially issued a decree designating this relic collection. Though it is stored within St. John Gualbert Parish in Cheektowaga, the collection itself is now known officially as the Shrine of the Holy Relics of the Saints.
---
The practice of venerating relics dates back to Ancient Greece when they served more of a protector role or symbol of tutelage. Today, relics act more like direct line between the human and spiritual realm.
Many believe that spiritual use of relics began with Buddhism. When Buddha died, he explicitly informed his followers not to worship him as a god. Still, his body was split into eight pieces and each was sent to eight different corners of the world. That way, they argued, Buddha's remains for veneration would be more accessible to many more people.
They felt that his relics offered a reminder that Buddha himself was once human and attained enlightenment just as anyone else could. Since then, countless other relics from numerous other Buddhist leaders have provided followers with a similar sentiment.
And, other religions have begun the process, too.
Christian Relic Origins
One of the earliest examples in Christianity of human remains providing a spiritual experience is in the King James Bible in 2 Kings 13:21. That passage states:
"And it came to pass, as they were burying a man, that, behold, they spied a band of men; and they cast the man into the sepulchre of Elisha: and when the man was let down, and touched the bones of Elisha, he revived, and stood up on his feet."
The practice of handling the deceased has always been sacred, but the practice of worshiping body parts didn't catch on until later. In 787 CE that the Second Council of Nicea voted to move the practice to a decree. That decree maintained all sanctioned altars must hold a relic.
That practice in the Roman Catholic Church continues to this day.
How Relics Are Classified
In the Roman Catholic tradition, there are three different classes of relics. A 'First Class' relic is one that has a direct lineage to Jesus Christ. Additionally, any part of the body of a Saint is considered a First Class relic. That includes a flake of skin, a tooth, or a drop of blood, etc. To be Second Class, the object must be something the Saint owned or an instrument of torture to a martyr. A Third Class relic can be anything that has touched either a First or Second Class relic.
So, if you have the head of John Baptist, you'd own a First Class relic. If I took my Swiss Army knife out of my pocket and touched it to your John the Baptist head, I would then own a Third Class relic of John the Baptist.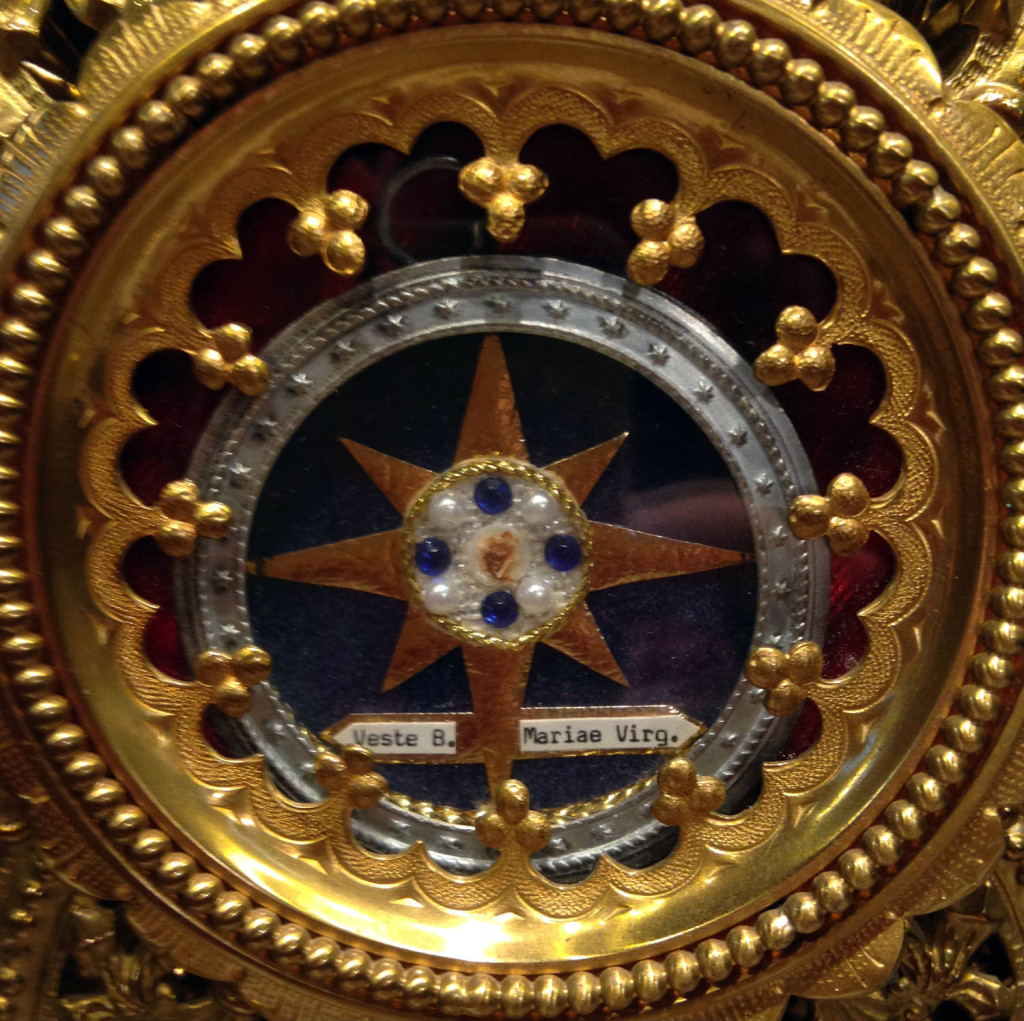 Historically, a church could reach out to the Vatican and request a relic. That was until a high official at the Vatican stumbled across eBay. Concerned both about fakes, and people capitalizing off sacred objects, they changed some rules. Since then, they've clamped down a bit on the process. Today obtaining a relic with authenticated proof isn't unheard of, but it takes more than just asking.
Relic Tourism
When this blog first began, a friend shared a book with me called Rag and Bone: A Journey Among the World's Holy Dead. It's essentially an account of the author doing precisely what I do here on this blog, but doing it worldwide and specifically to religious relics. It was more than I had previously read about relics, and it piqued my interest.
The book got us researching what kind of local relics might be accessible to visitors. While researching more, I discovered that The Vatican and St. Peter's Basilica in Rome is home to the largest collection of Christian relics in existence. But, the second largest collection worldwide lies right here in the United States. With an astonishing number of pieces, St. Anthony's in Pittsburgh claims ownership upwards of 5,000 individual pieces.
After St. Anthony's, the next largest collection of Christian relics in the United States is recorded in Ohio. The Maria Stein Shrine of the Relics boasts a most pious a collection of just over 1,000. So, imagine my surprise when I heard that a church near Buffalo claimed to have over 1,100 pieces in their collection.
With a curiosity about how a collection that large could fly under the radar, I contacted the Diocese of Rochester. They didn't seem phased, and told me that there isn't really a cataloging system of who has what.
I learned that each church has a relic, but that the finer details of those relics are rarely collected. The more I researched the veneration of relics, the more curious I got. It didn't take long before setting up a time to meet Father Michael at St. John Gualbert's church to find out more.
Cheektowaga Gets A Blessing
Father Michael Burzynski is a native of Cheektowaga which is a largely Polish suburb just East of Buffalo. Almost 25 years ago, before becoming ordained, he assisted another parish who contacted his parish with a research project. They had hoped to learn more about a particular individual soon slated to become a Saint. He collected all the info he could find, and was sent a First Class relic of that Saint with a letter of thanks for his work.
Father Michael passed it along to his parish for good keeping and returned a thanks for the gift. His note informed the sender that the relic was in good hands with the parish.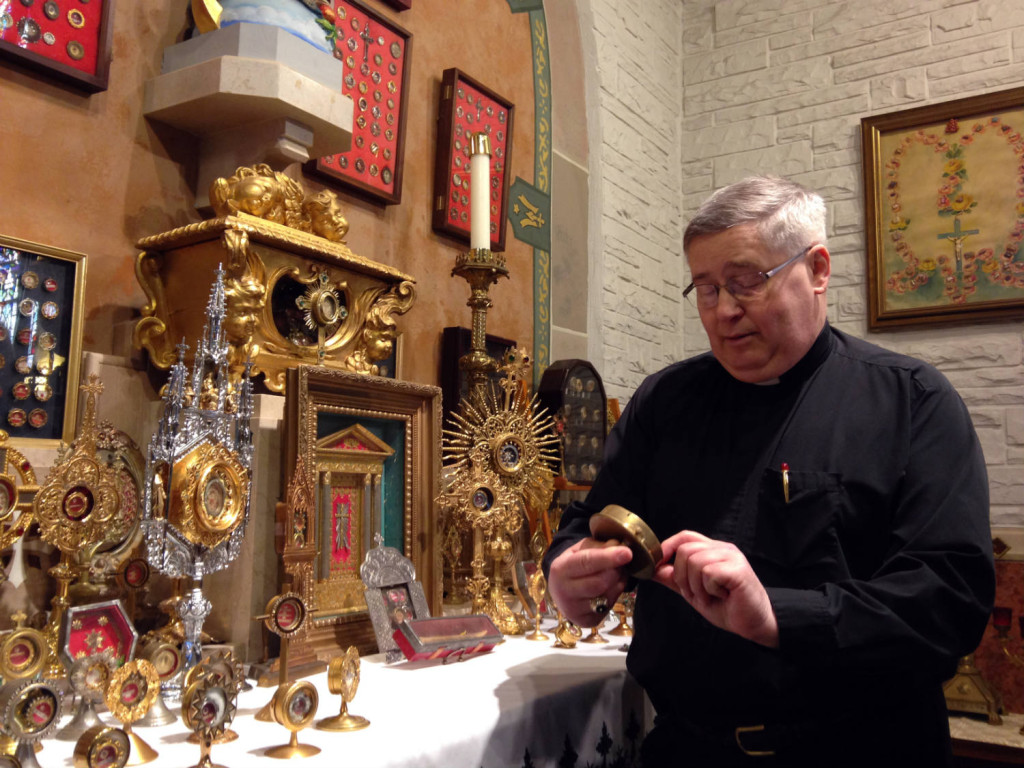 He received yet another First Class relic, with a message clearly stating that the original was intended specifically as a personal gift to him. Since he had passed it along, this second relic was to serve that purpose. Unsure of how to personally own a relic, he treasured the piece and dedicated himself to its preservation and veneration.
Over the next couple of decades Father Michael would find himself in situations where a local church might be closing and would need to find new homes for their things (including relics), or a member of the parish may have owned a few relics and left them to Father Michael upon their passing, etc.
A perfect recipe for being in the right place at the right time, and having a reputation for someone who would provide the utmost care and respect for such a collection, he found himself in care of more and more relics and collection that was growing as strongly as his faith.
The Relics Move to St. John Gualbert's
Father Michael has always displayed the collection at whatever parish he has been part of.
After being appointed in 2011 to lead St. John Gualbert in his hometown, he brought the entire collection of over 1,100 relics to be a permanent fixture in the church. Once a personal collection, he has since donated the entire lot to the Diocese of Buffalo with the caveat that it remains forever in its current heavily guarded resting place in a side altar at St. Gualbert's Church.
It's an honor that Father Michael would invite me in to see the relics and then share the story here with you guys. Assuming that surely if it's public information that the second largest collection of relics in the United States is in Ohio, then he must want this to be kept a nice neighborhood secret. As it turns out, it's not unknown because it's supposed to be unknown, it's just unknown because people haven't been sharing the fact that it exists.
Father Michael and the parish at St. John Gualbert's would love to see the collection become a place of pilgrimage. Visiting for veneration is highly encouraged to anyone.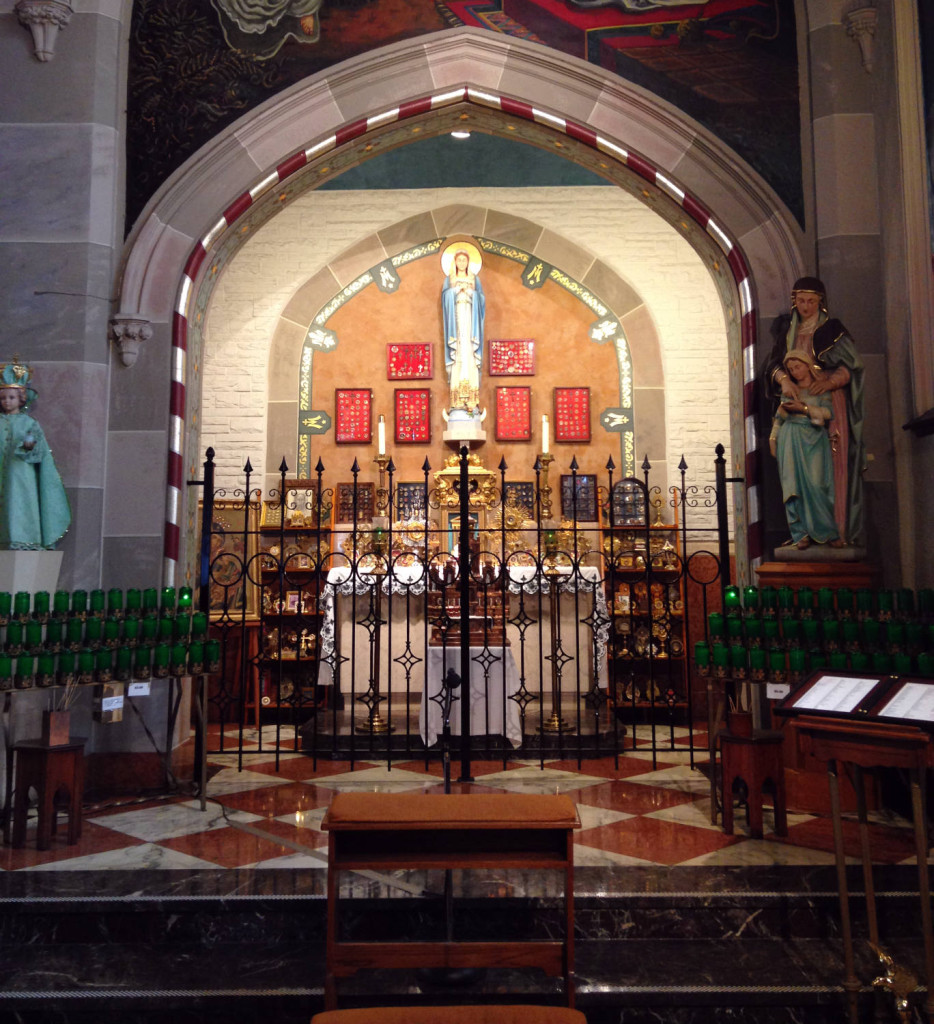 I spent quite a while talking with Father Michael and getting his back story. The chance to sit down with someone who has single-handedly honed one of the largest collections of relics in the country was a huge honor. As always, I am grateful for the chance to even enter the front doors of a church.
But, seeing such a rare collection up close was particularly special.
Inside St. John Gualbert's In Cheektowaga
Watching over the collection is a wall-mounted Virgin Mary statue surrounded by shadowboxes and reliquaries. Within them is everything from blood, to pieces of bone, hair and belongings to numerous Saints. Most notable in the collection is a reliquary that guards a First Class relic to each apostle, a relic to the True Cross, and a piece of Mary's veil.
With a collection of relics that lays claim to some of the most historic pieces of Christian history, I asked about validity. He took apart one reliquary to show the red wax seal that certifies a relic to be true by the Vatican. There is a certificate of authenticity for each piece in the collection.
Though he's confident that each of the relics stored at St. John Gualbert are real, he also cautioned that there are plenty of fakes floating around. He has purposefully purchased fakes just to prove his suspicions about certain vendors to be true.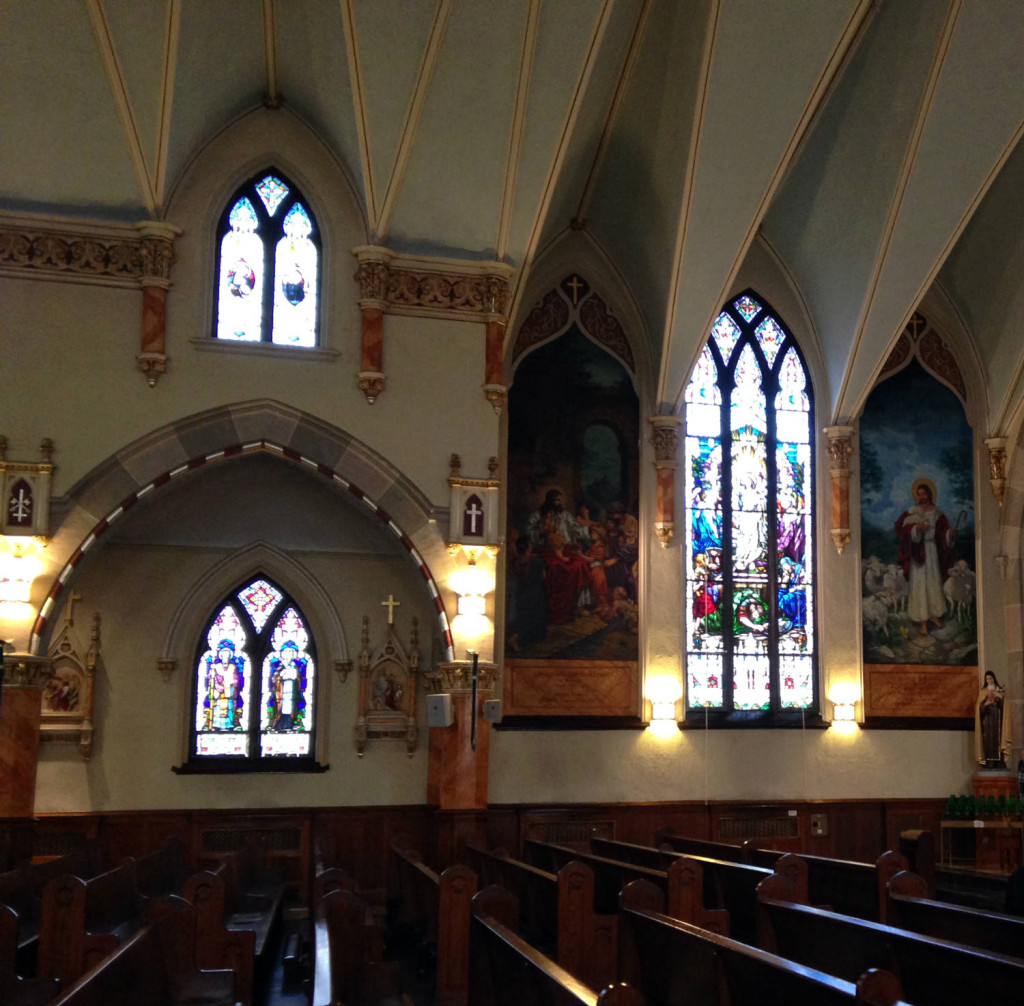 Father Michael has been added to my list of Incredibly Cool People that I've had the honor of meeting. And, the world-class collection of relics that is housed at St. John Gualbert's will go near the top of the list of cool things I've seen.
Since this is one of the first pieces online to write about his collection, I'm hoping that the word will spread and St. John Gualbert's will continue to attract devotees and visitors. If nothing else, hopefully the world will soon learn that the 'Second Largest Collection in the U.S.' isn't really in Ohio, but actually right here in the Western New York.
If you stop by St. John Gualbert's and say hello, be sure to tell them I said hello!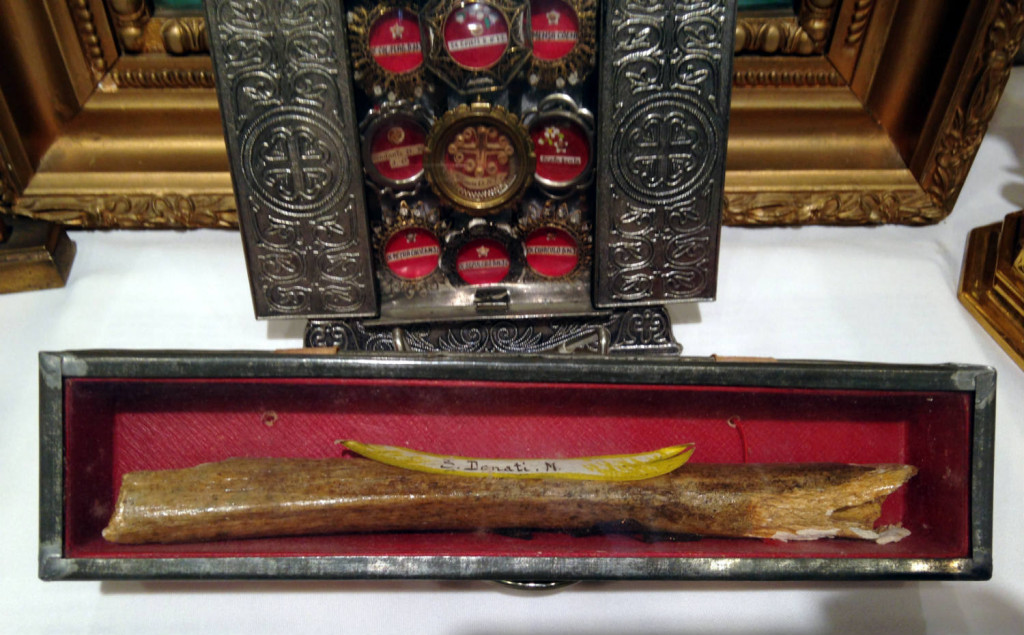 *This post previously appeared on ExploringTheBurnedOverDistrict.com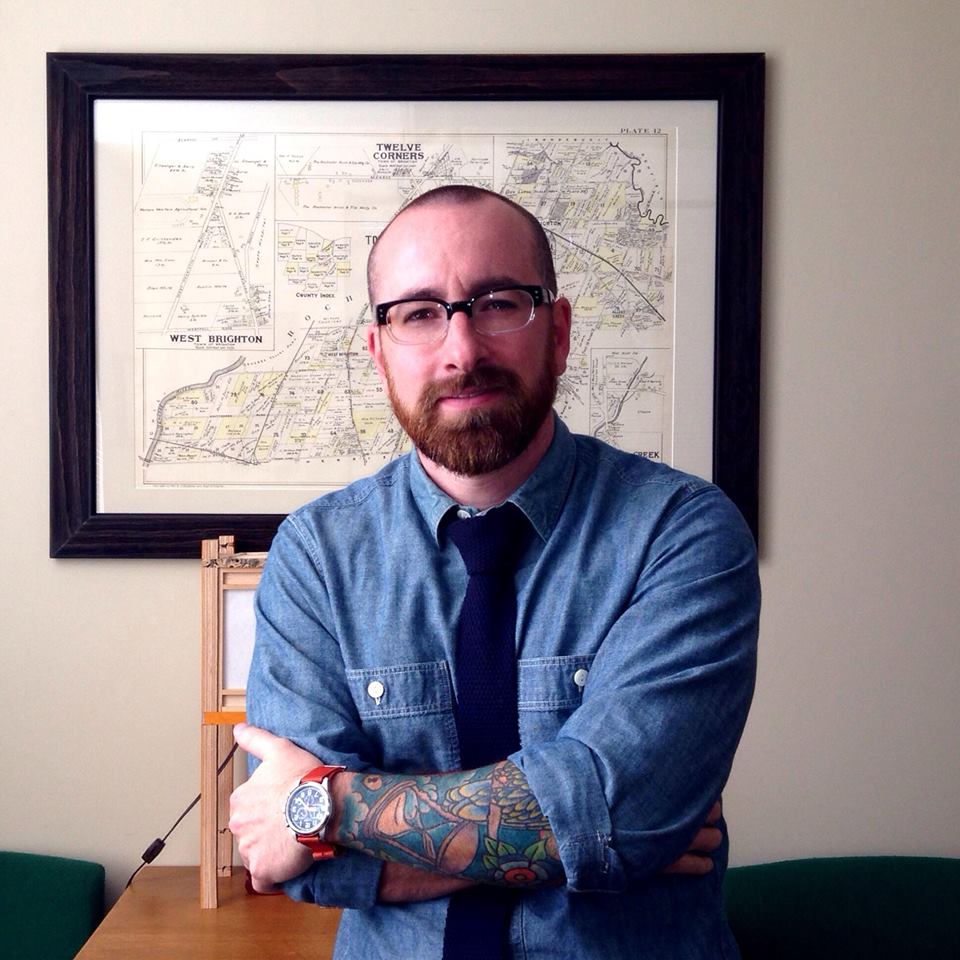 Chris Clemens is the Founder/Publisher of Exploring Upstate. From his hometown in Rochester, he spends as much time as possible connecting with the history, culture, and places that make Upstate New York a land of discovery. Follow him on Twitter at @cpclemens