by Chris Clemens
Protecting intellectual material can be a bit of a precarious plight. One intellectual's creation could be interpreted and then slightly changed (or not) and then published as something brand new. Nearly everyone has heard the iconic guitar riff from Led Zeppelin's 'Stairway to Heaven', but for decades Jimmy Page has been accused of ripping the melody off from a 1968 song by the band Spirit–who most people have never even heard of, much less have heard their song 'Taurus'. Nevertheless, Led Zeppelin has always maintained the position that they created a melody that was different-but-similar strictly by chance.
Facebook's Mark Zuckerberg defended himself in court against the Winklevoss twins when they accused him of stealing their idea to create Facebook. Apple's Steve Jobs came under fire for suing competitors for patent infringement despite shamelessly being public about liking the ideas behind the Pablo Picasso quote, "good artists copy, great artists steal". Because art and ideas are the thing of inspiration and creation, it becomes tougher for a court of a law to interpret what intellectual property has been stolen and what has been created out of inspiration or the evolution of an idea. Scientific data and factual information though seems like it would be tougher to recreate without it being obvious that it was the work of someone else. Unfortunately, for a map maker with interesting ties to Upstate New York, that's precisely what happened.
Any map maker would certainly want their published product to be thorough and accurate, and certainly wouldn't want to have to go and complete the same cartography duties that someone else has already painstakingly completed. Making it to a geographical location, setting up land surveys, taking the data back to the office and drawing up the map, proofreading, layout, placing keys and compass and coloring all is a ton of work. Many times a mapping company would skip all the complicated stuff, grab a map that already existed and toss their name in the corner, then place it up for sale. Now, imagine being the company who did all the hard work in the first place. But, what could you say to tell them they were wrong, their map displayed factual information that exists, how could you prove they stole it from you?




A map making company by the name of General Drafting Co. from Convent Station, NJ came up with an ingenious plan to steal-proof their hard work. For their scheme, they used a plot of land near the famous Roscoe ("Trout Town USA") in Delaware County that was essentially a nothing area–a dirt road that was rarely visited by anyone other than a few locals. The founder of General Drafting Co. was Otto G. Lindberg, and together with his partner Ernest Alpers he created a fictious town in the very spot where that lone dirt road existed. Using an anagram of a selection of letters from their names, the two published a map sometime in the 1930's and placed the town of Agloe right in that "nothing" spot. Now, were any plagiarist to copy their map, Agloe would in turn show up on the stolen property, and General Drafting Co. would have their proof.
Not long after, the well known map company Rand McNally published their own New York map and included the small, out of the way town of Agloe. General Drafting had their 'gotcha moment' and proudly brought them to court to publicly unveil their fictitious town and surely win a cut and dry case. Quite unfortunately, their plan had been stymied by the fact that a couple who had purchased a legal copy of the map from a company called ESSO (who was a distributor of General's maps) noticed Agloe on their map and began to operate the Agloe General Store. Rand McNally claimed in court, "If there's no Agloe then what the heck is this store doing there?" and much to the dismay of Lindberg and Alpers, it held up. The "paper town" that they created to protect their own work ultimately became a real entity and effectively voided their claim that they had made it up in the first place.
In 1992 General Drafting Co. was purchased and ultimately absorbed to become part of the American Map Company, but their legacy continued to be printed. It wasn't until 2013 that Google finally removed the non-existent town of Agloe, NY from their maps, a task that became more realistic now that the Agloe General Store had closed decades earlier.
I pass through Roscoe each year on my way to a fund raiser in New Jersey and always stop at the well known Roscoe Diner for lunch. I wanted to go stand in Agloe, or, what was believed to be Agloe, or what wasn't actually Agloe at all. I asked the waitress if she knew much about the story but she admitted to being entirely clueless despite having lived her whole life in the area. With one last ditch effort, I checked with the hostess while paying my bill and she said, "Ohhhh yes! That's right up the street!" and gave me directions. While driving west on 179A, I was told that I would encounter Beaver Kill stream and then pass a white house and turn a bend and I'd see a barn–once there, I'd be standing in Agloe. It turns out that's not even close! The Agloe General Store existed on Beaver Kill Road, right near the intersection of Route 206. Today, the store is a falling down mess, but is the only remaining evidence that the town once existed. Though I was in the area, it appears I wasn't actually standing in what was Agloe, or had never really been Agloe. So until my next trip through Roscoe, here's some video I found on YouTube which even includes a brief look inside the building.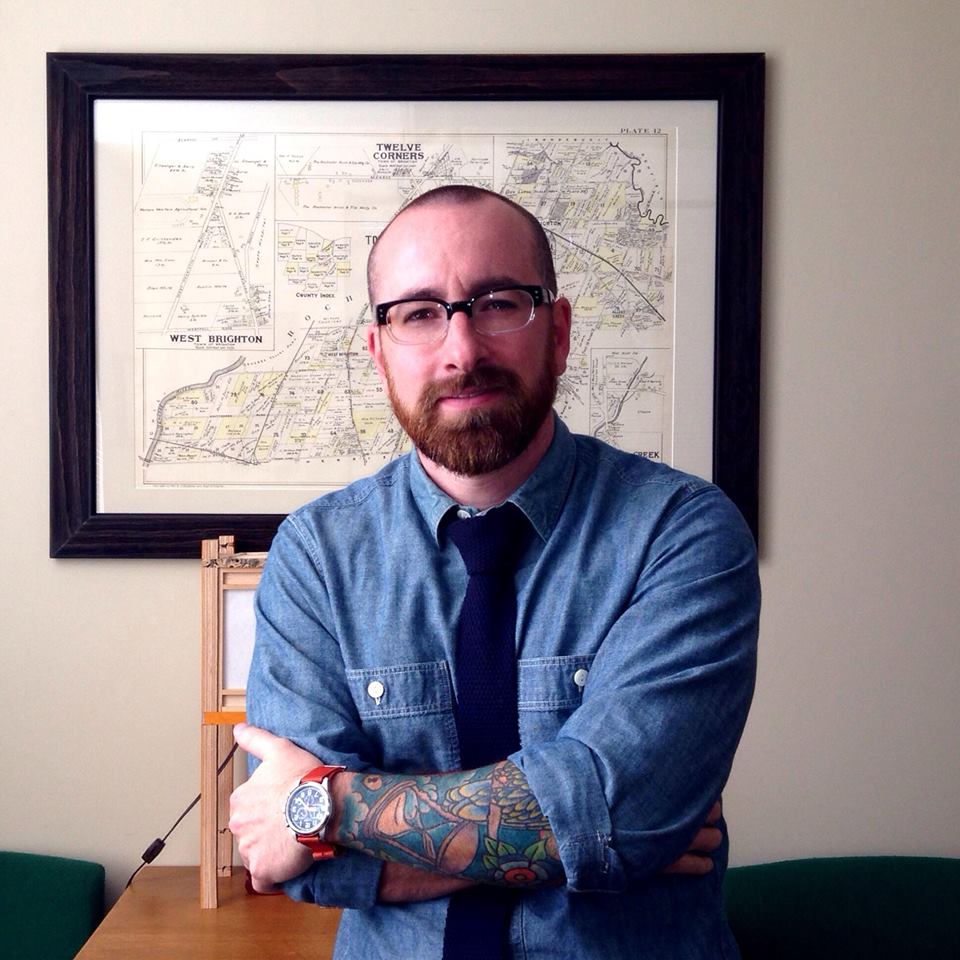 Chris Clemens is the Founder/Publisher of Exploring Upstate. From his hometown in Rochester, he spends as much time as possible connecting with the history, culture, and places that make Upstate New York a land of discovery. Follow him on Twitter at @cpclemens