The second bee sting death recorded in the United States happened on May 12, 1814 to Timothy Ryan near Canandaigua, New York. The event is marked with a historical marker near the cemetery in the town of Hopewell Center.
by Chris Clemens
Bee stings cause on average about 50 deaths per year in the United States. Though that number sounds high, medical professionals agree that bee stings causing fatalities are quite rare.
That's precisely the reason that a historic landmark sign on Route 21 in Hopewell Center (just a few miles northeast of Canandaigua) has always interested me. The sign indicates that the second known death in the U.S. that was the result of a bee sting happened in the area. You know me, "best of's" and "the largest" and "first ever's" intrigue me to no end.
Googling the event didn't bring up too much more than the fact that the landmark sign exists and that just wasn't enough to squelch my curiosities.
According to an article written by George A. Dean, MD, of Fairport, NY that was published in the Journal of the American Medical Association on March 2, 1963, the unfortunate victim to make history was a man by the name of Timothy Ryan.
The story has made headlines in a few places over the last two hundred years, including the syndicated column "Ripley's Believe It Or Not" that appeared in the New York American newspaper. Each of these make reference to the details published on May 17, 1814 in the local Ontario Repository paper.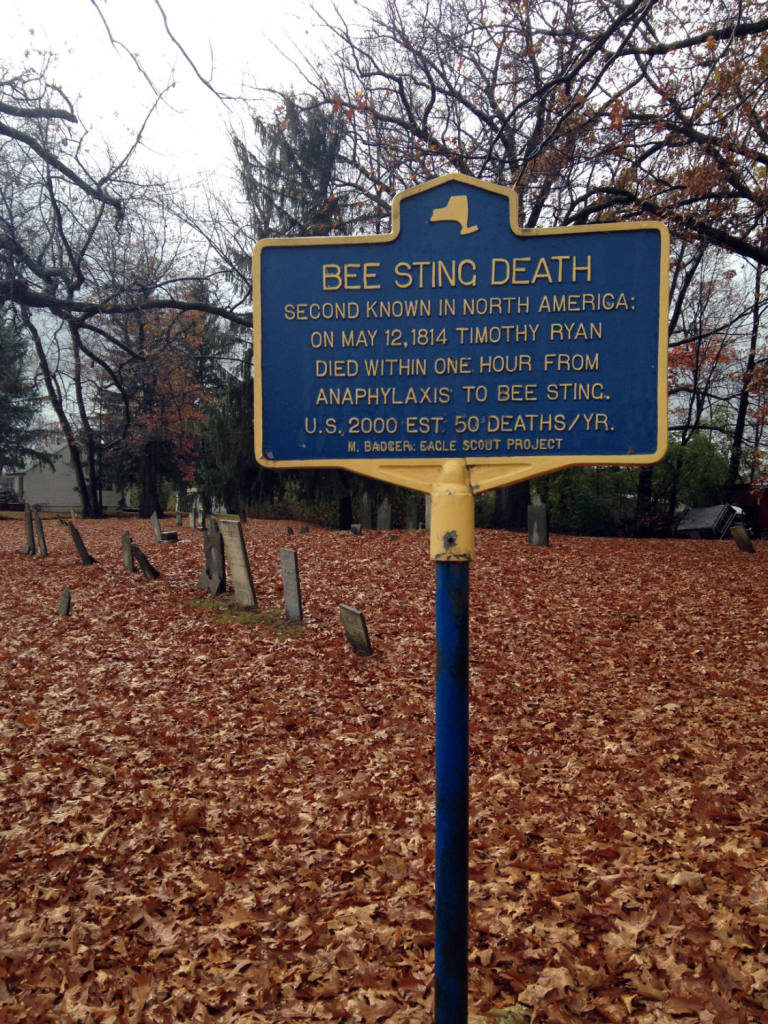 Bee Sting Death In The Finger Lakes
The paper reports that on Thursday, May 12, 1814, Timothy Ryan was moving a hive of bees on his property in Farmington.
It's reported that he was stung 4-5 places in the head and neck and right away became unable to walk on his own. His two sons assisted him in getting away from the hive and then went for help.
Less than an hour later, Timothy Ryan died at the age of 60. It's believed that there was no medical assistance provided, as the nearest doctor was in Canandaigua, and in 1814 that wasn't as close as it seems today.
The medical diagnosis of anaphylaxis didn't really become recognized until a few years later, but the symptoms described by the reports would properly allow for a posthumous examination to safely diagnose that Timothy Ryan experienced anaphylactic shock and died as a result.
Dillon Cemetery
He later was interred in a family cemetery that is located on current Route 21 in Hopewell Center.
The Dillon Cemetery (also known as Greenhouse Cemetery) has burials that pre-date the turn of the 20th Century, and is even home to two Revolutionary War veterans. Unfortunately, nearly all of the 150 or so burial plots have stones that have been subject to 200 years of harsh weather and as a result, many are unreadable and falling apart.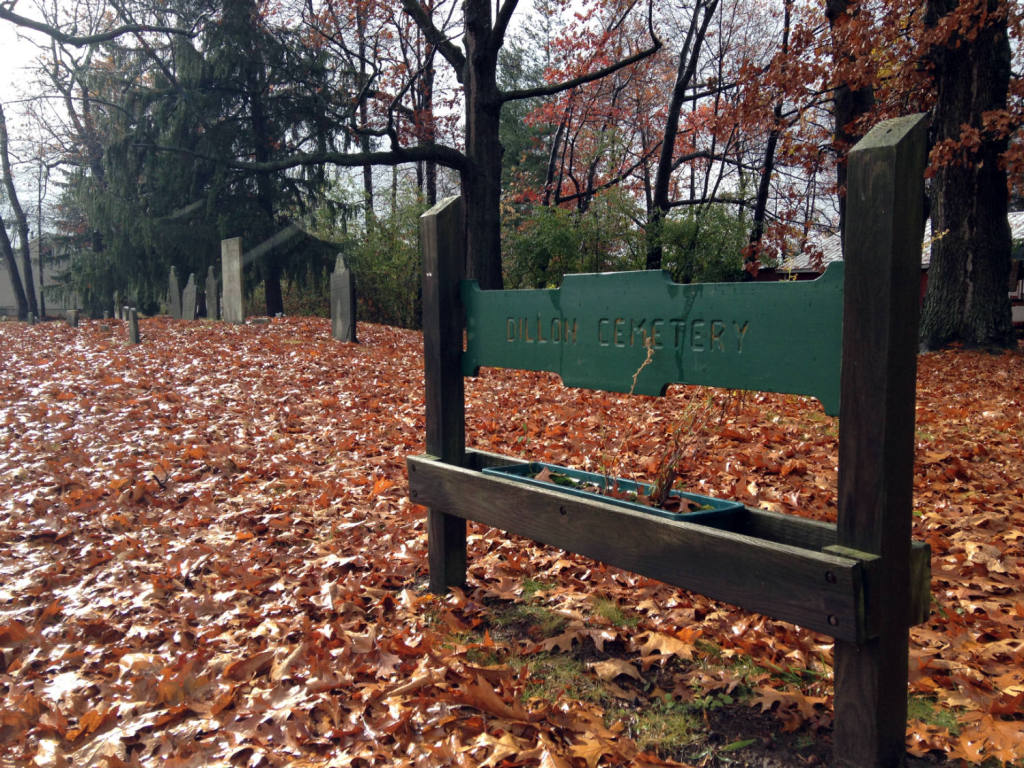 Timothy Ryan Burial
I had read online that Mr. Ryan's stone was still intact and readable, but it was only the bottom half of the inscription that I was able to identify when I got there, and without having known the full original inscription, I would have had no way to determine the curious medical case's final resting place.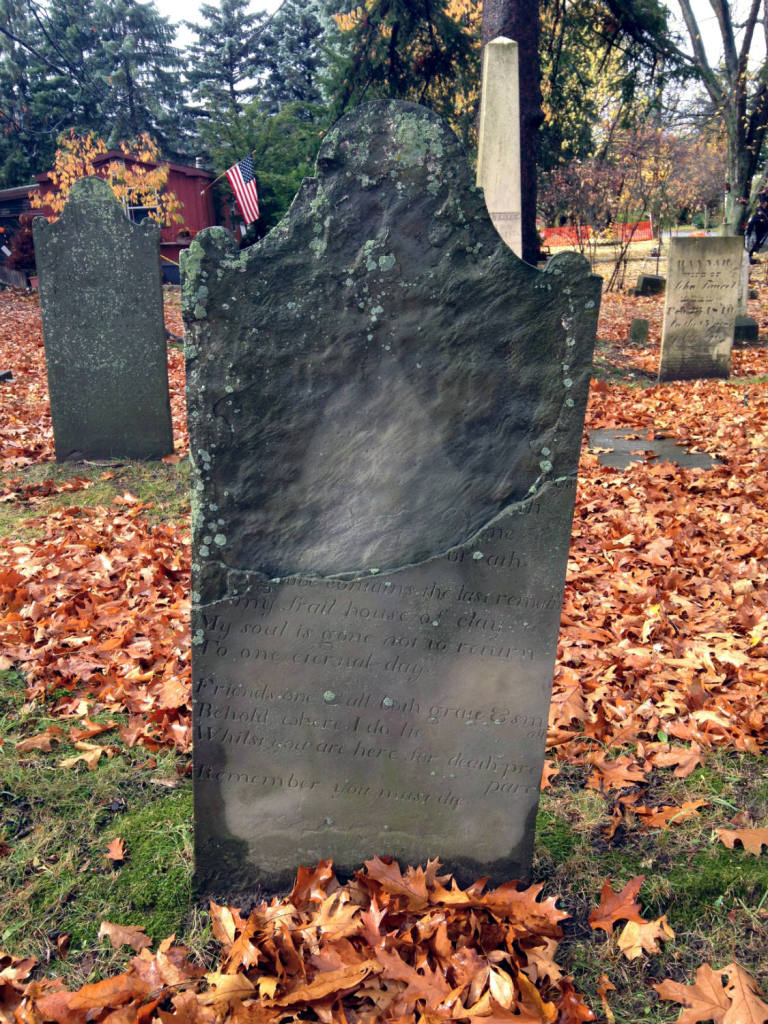 The original full inscription reads:
"In memory of
Timothy Ryan who
Died May 12th 1814 in
The 66th year if his age.
A thousand ways cut short our days
None are exempt from death
A honey bee by stinging me
Did stop my mortal breath.
This grave contains the last remains
Of my frail house of clay
My soul has gone not to return
To one eternal day.
Friends one & all both grate & small
Behold where I do lie
Whilst you are here for death prepare
Remember you must die."
Bee Sting Death History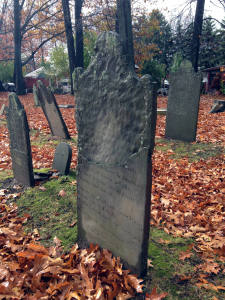 There are a curious number of inconsistencies with all of the research I was able to find. Things like his age when he died isn't always listed the same. Plus, his last name in most places is 'Ryan' but in a couple places it's 'Hyne'.
The most curious of all the facts is the documented bee sting history here. This sign and other places list Timothy Ryan's death as having been the second reported bee sting death in the U.S. You'd think the first was documented as well as the second, but it's not. I was never able to find the first bee sting death in the U.S.
In spite of some of the few hazy details, and in fact, maybe even because of them, this story has been a super fun foray in to some obscure Upstate history for me.
If you find yourself driving along Route 21 in Hopewell Center, pull over and checkout Mr. Ryan's tombstone, the last remaining portion may only be readable for a few more years!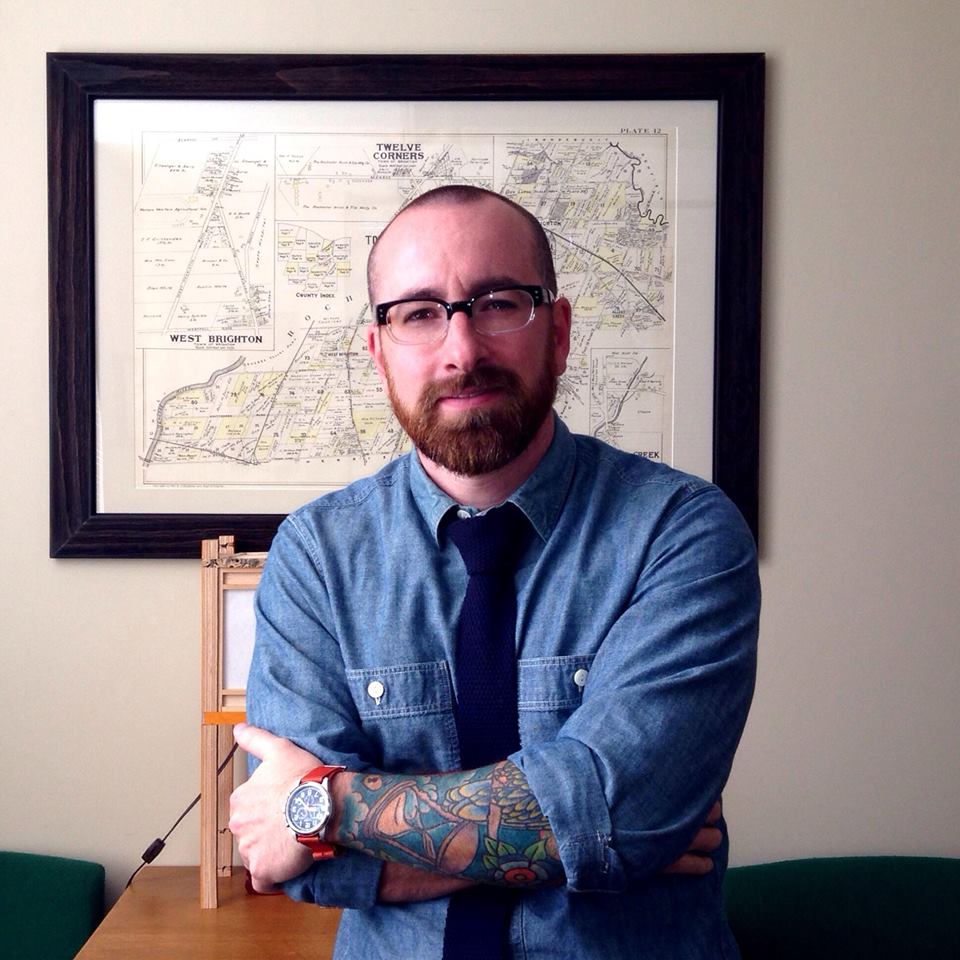 Chris Clemens is the Founder/Publisher of Exploring Upstate. From his hometown in Rochester, he spends as much time as possible connecting with the history, culture, and places that make Upstate New York a land of discovery. Follow him on Twitter at @cpclemens