by Chris Clemens
One of my favorite activities is to take roads in New York I've never driven, turn up music loud and put all the windows down while putting forth my best effort to get lost and discover some new interesting thing I want to stop and take a picture of. An interesting mailbox, a historic cobblestone house, a landmark I had read about but didn't really know where it was until I find myself in front of it thinking, "That's where this is?? Wait, where am I even??" One of the last few really beautiful weathered Fridays of 2014 I hopped in my car and drove. While checking a map at one point I realized I was right near the FLX Wienery and decided that would be my lunch stop.
Though I would never consider myself a foodie or start writing exclusively about food, I'm a big fan of trying all sorts of different cuisine (provided of course, that it has not touched anything even remotely resembling mayonnaise). Hot dogs have always trumped burgers with my palate so when the FLX Wienery opened in May 2014 on Rt. 14 in Dundee I knew it was a spot that would be worth my hour drive from Rochester. Admittedly, I didn't drive all the way to Dundee for the sole purpose of checking out this roadside restaurant, but since I was in the area and needed lunch, it made perfect sense to stop even though I was all by myself.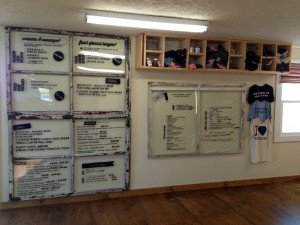 A pun on the area where the restaurant resides, the FLX Wienery was founded by two long-time Finger Lakes Wine Regioners Chris Bates and his wife Isabel Bogadtke, both of whom have experience cooking and managing Five-star locations in NYC. A previous hot-dog business existed in the same location on Rt. 14 but was up for sale, and these two nabbed the opportunity. Even though they still have strong connections to 'The Other New York', Chris grew up in Upstate New York and opening shop here allowed him to get back to his roots.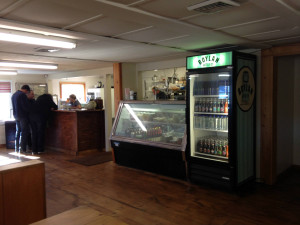 The Finger Lakes Region is known throughout the country for top-notch dining and for being the home of a few chefs who push the envelope with recipes. Since the mid-1800's people have been growing grapes in the region and in many ways the success of the wine making in the Finger Lakes has paved the path for the success of a pertinent palate and those who pay close attention to how their food is prepared. Locally sourced, organic, hand-crafted slow foods are what Finger Lakers really go for and the FLX Wienery has found a niche in providing precisely those characteristics while still maintaining a casual atmosphere to flaunt footlongs.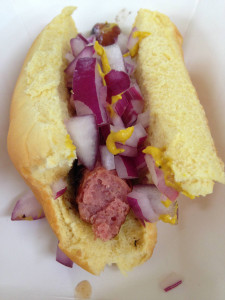 Artisan sausages and fresh herbs with gluten-free and vegan options and items made in house and some even grown out back all round out a pretty robust menu considering their staple item is a hot dog. In fact, I have to admit that I felt a tad overwhelmed with the menu and wanted to try a bit of everything, though I realized that was far from reasonable to both my waistline and wallet. I quickly went with a "Quick Fix" combo and threw on chopped red onions and mustard (because, seriously, ketchup doesn't belong on a hot dog, right?) and snagged a Boylan's bottle of Birch Beer out of the cooler (they also have a wine and beer menu). The combo comes with fresh made thick cut fried potato chips loaded in to a flower pot. I have to admit that when I saw the portion of chips it looked ridiculously too large, until I realized how fantastically crisp and natural they were and began wishing I had more. They were absolutely Finger Lake-n good!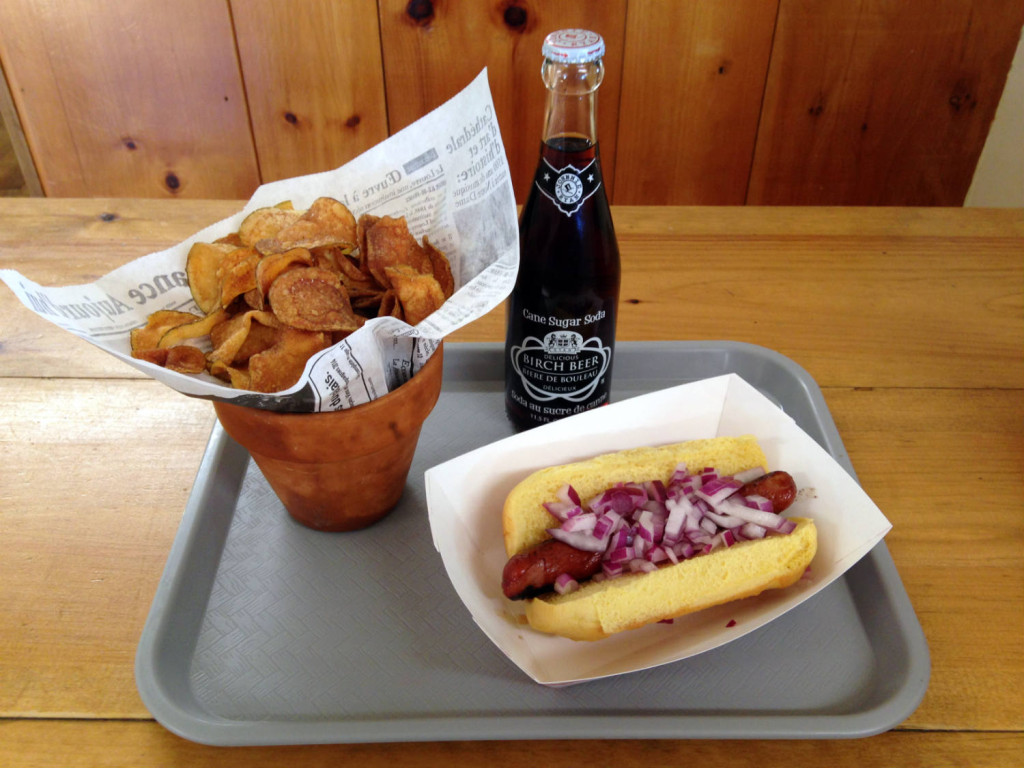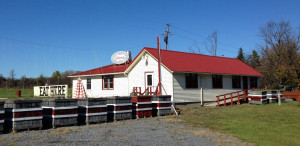 I won't be doing any super in-depth reviews of food here because quite frankly (see what I did there? 'frank' in a post about hot dogs?) it's just not something I'm good at. I really loved the food I had on my visit and the casual dining experience is one I'm looking forward to returning to. So, if you'd like a serious food review of some local spots, go checkout my pal Chris at FoodAboutTown. In fact, here's a podcast of the two of us from January 2015 discussing all things Rochester, blogging and food (including an in depth look at my hatred for all things mayonnaise and my mentioning that he someday checkout the FLX Wienery). In fact, depending on where you're driving from, the podcast might be just about the length of your drive to go try some local links!
The FLX Wienery is open Thursday through Monday from 11:30a to 6:30ish and is located at 5090 State Route 14 in Dundee, NY 14837 and you can find them on Facebook right here!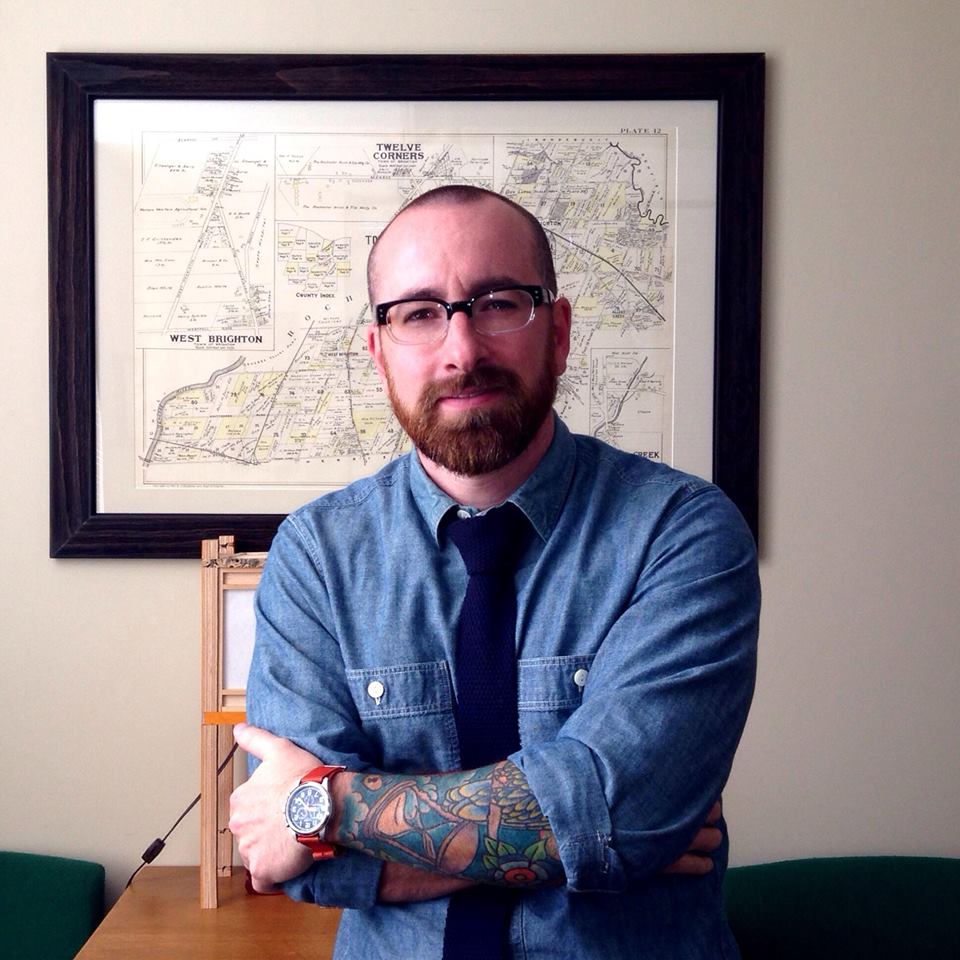 Chris Clemens is the Founder/Publisher of Exploring Upstate. From his hometown in Rochester, he spends as much time as possible connecting with the history, culture, and places that make Upstate New York a land of discovery. Follow him on Twitter at @cpclemens