Taking an inside tour of St. Paul's Episcopal Cathedral in downtown Buffalo.
by Chris Clemens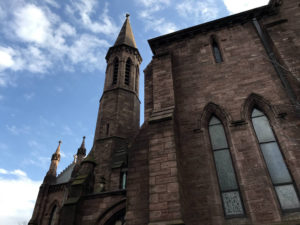 While on a walking tour in Buffalo called "Masters of American Architecture", we were given the opportunity to explore one of the city's religious gems.
St. Paul's Episcopal Cathedral on Pearl Street towers 275 feet above the sidewalk. The cathedral houses the Episcopal Diocese of Western New York, a distinction befitting of a landmark with such history.
The building does have a long (and difficult past), but in addition to its history, it also happens to have an astoundingly beautiful set of windows, woodwork, and what is possibly my favorite church ceiling in Western New York.
Earliest Episcopalians In Buffalo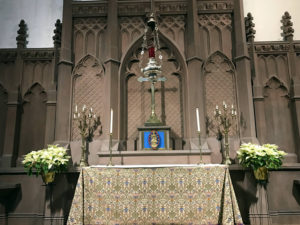 Though the City of Buffalo wasn't officially established until as late as 1832, the congregation that calls St. Paul's home founded way back in 1817–that even beats the Erie Canal!
Just two years later, the Holland Land Company deeded property over to the congregation so they could establish themselves as the first permanent religious site in the area. While the canal was being completed, things were a bit tough for the group that struggled to pay its bills. After the canal, the growing city provided plenty of new congregants to help support expenses.
In fact, the city was growing so quickly that other Episcopal congregations were forming and creating a bit of competition.
Building St. Paul's Episcopal Cathedral
They chose the current property on Pearl Street which rests on a triangular shaped lot.
Because of his success in designing New York City's Trinity Episcopal Church, British-born architect Richard Upjohn was hired to build the now prospering congregation's new home. Upjohn's previous experience positioned him to already be familiar with a few of the concept's needed considerations, namely that it be done in a Gothic design, and that it adhere to the Episcopal churches 'High Church' design requirements.
Beginning in 1849, it was only two years later that the church was consecrated. Work continued on additional towers as late as 1870. Then, in 1888, all of that splendor went up in a monumental fireball of gas.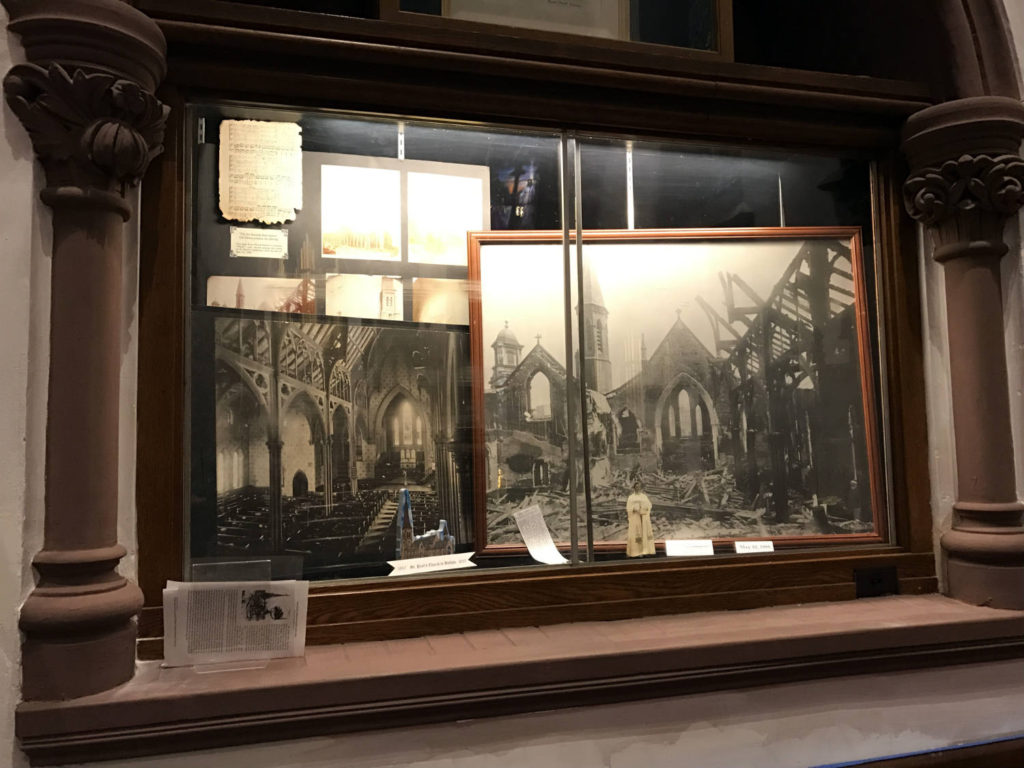 In the mid-1800's, gas power was still a bit new and also more than just a tad unstable. Regulating how much gas and the pressure it was creating in pipelines lining the city was imperative, but also a daunting task. As a result, occasions of neglect within that regulatory system would occur.
One such example was on May 10, 1888 when the gas pressure was too much. Along with forty other buildings in the area, St. Paul's interior suffered a monumental explosion with enough force to knock windows all the way in the street. Just a decade after Richard Upjohn's death and merely three hours after the explosion, St. Paul's Episcopal Cathedral lay in smoldering rubble.
Rebuilding St. Paul's Episcopal Cathedral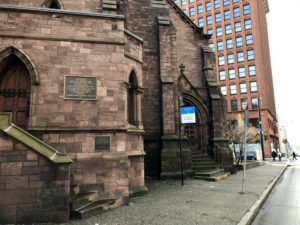 Within months, the congregation had chosen Robert Gibson, known for his design of Albany's famed All Saints Church, to help with the rebuild of their home. Construction on the building, which we were walking through now, was completed in 1890.
The outside is built of the same Medina sandstone found in much of Western New York. Mined in Medina and shipped up the Erie Canal nearly to St. Paul's doorstep (the canal was later re-routed), the reddish-brown textured stonework gives the building the same stately, this-will-look-beautiful-forever look that many other buildings in the region have. Towering spires and entrances hidden around corners with large wooden slatted arched doorways all add to the unique appearance of St. Paul's outward appearance, looming blissfully from it's awkward diagonal position.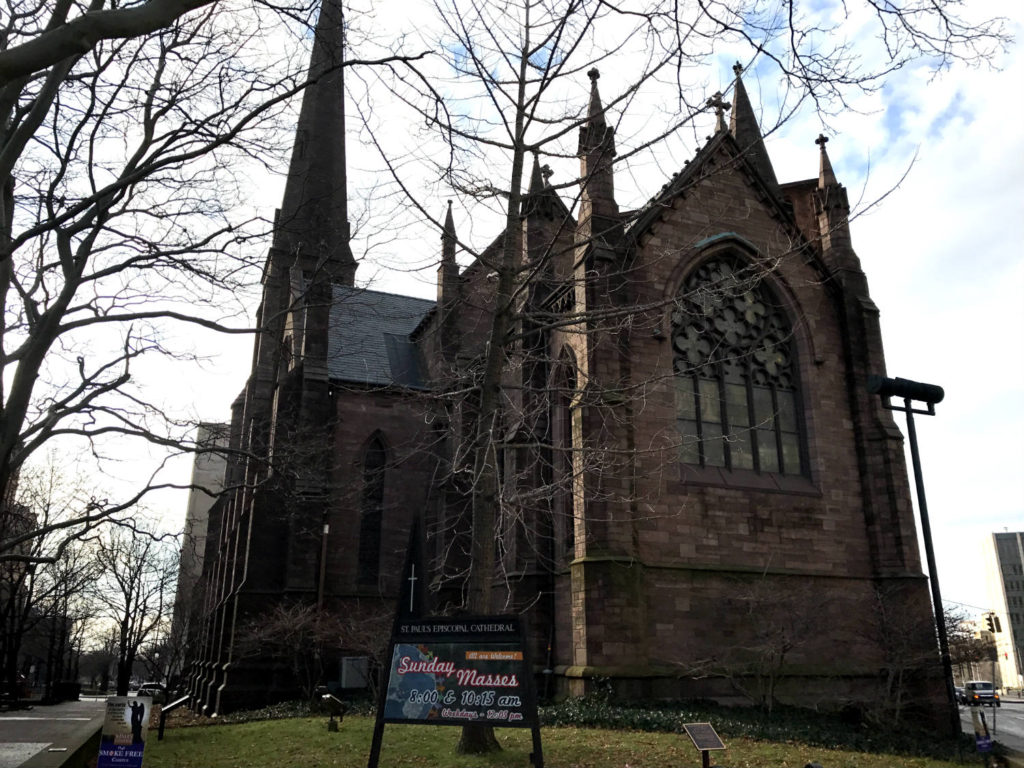 Inside The Cathedral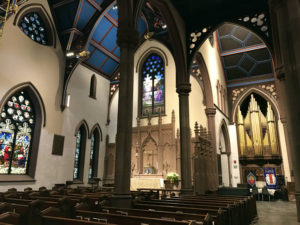 The oddly-shaped nave is long and narrow, but features a transept to the left, allowing the floor plan to entirely maximize that triangular lot. Overhead, what is now possibly one of my favorite ceilings, features hammer beams with angelic figures hovering just below panels of wood with brightly contrasted blues and reds. A Louis Comfort Tiffany stained glass window is perched over the side altar in the transept and is an exquisite display of his signature "drapery glass" style. Many other vibrant stained glass windows show the work of Mayer & Co. from Munich, Germany and Henry Wynd Young Studios, as well as John Hardman & Co. of London, England.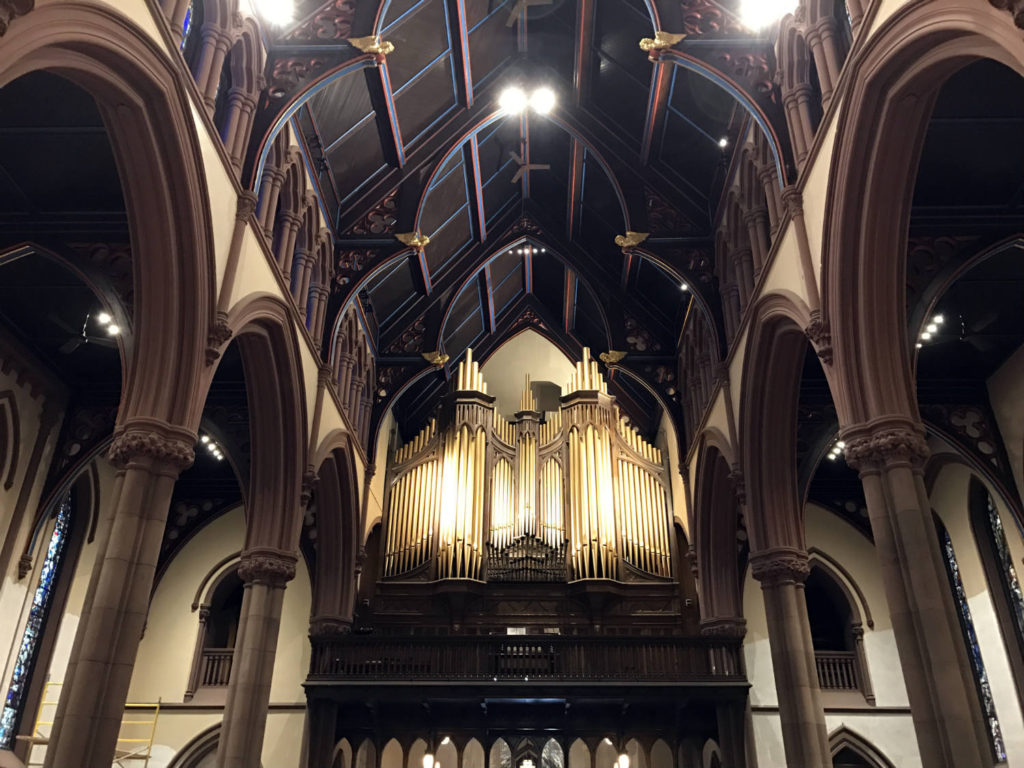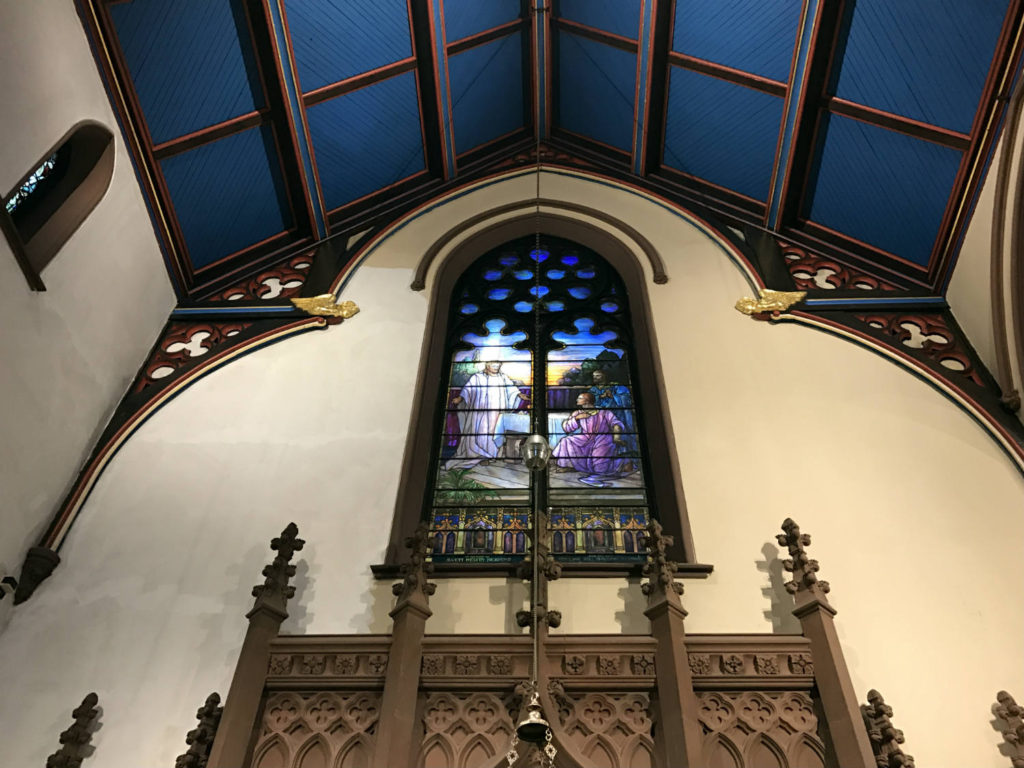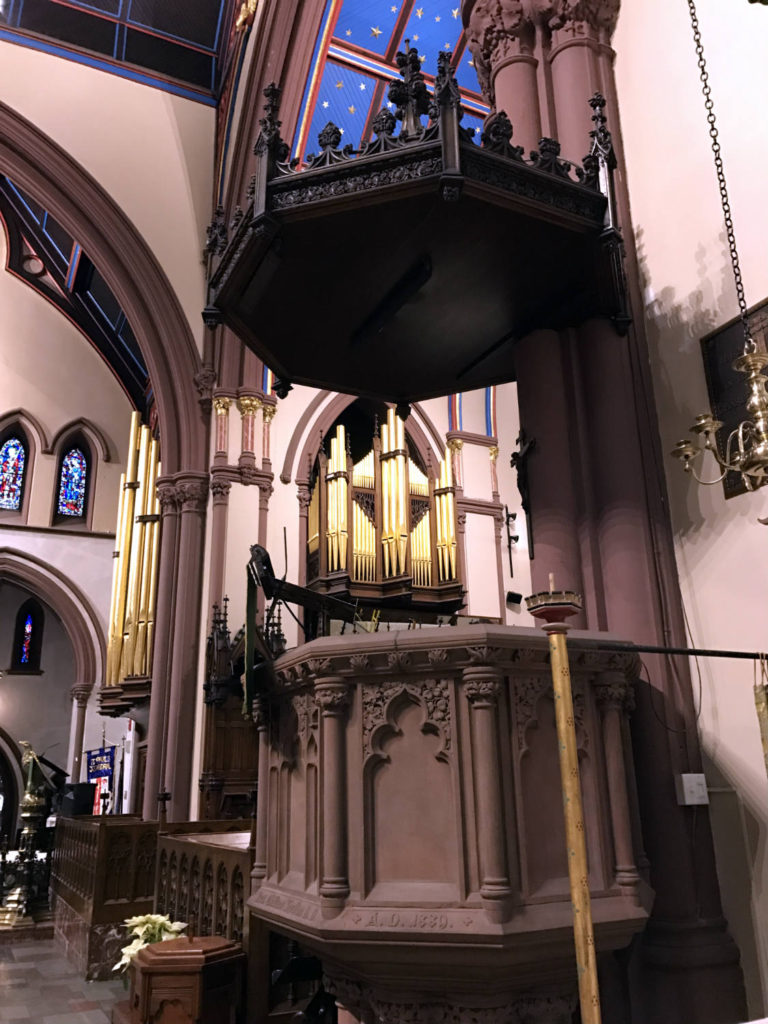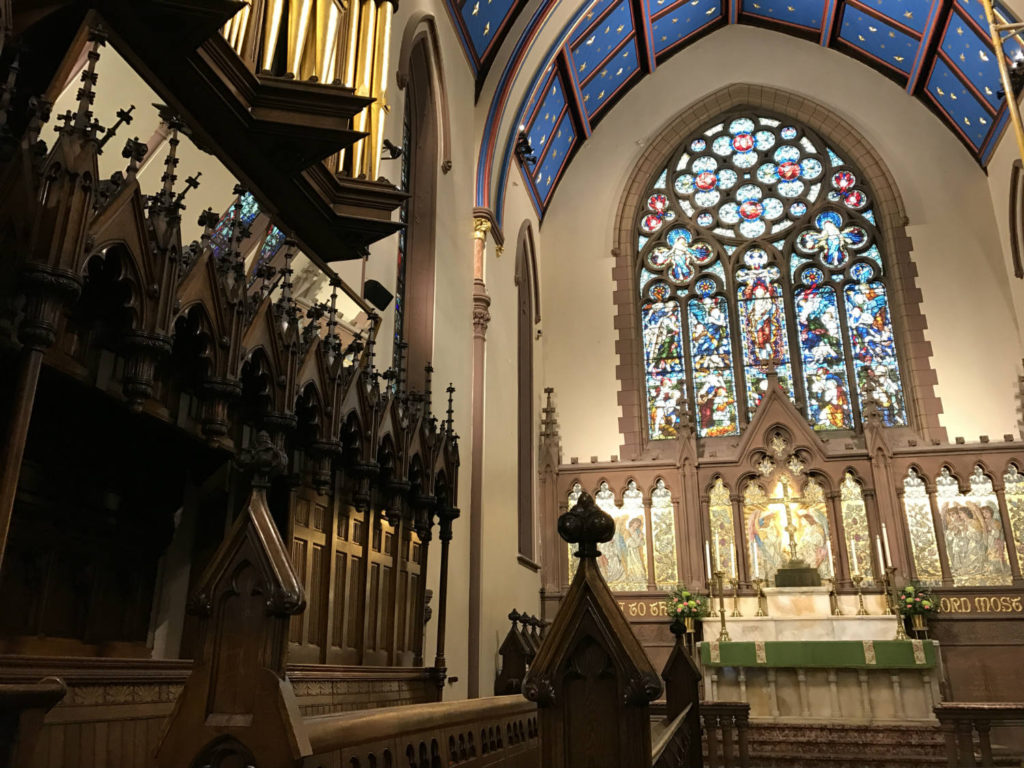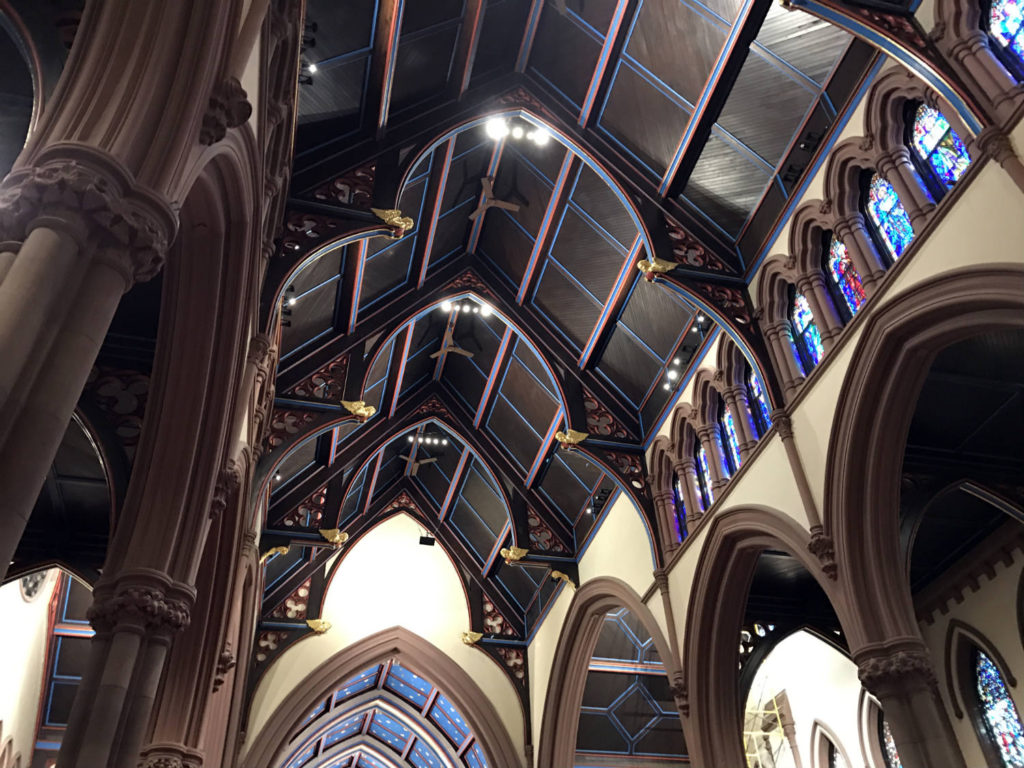 It's easy to see why St. Paul's Episcopal Church in Buffalo would've been included on the "Masters of American Architecture" walking tour. With its longstanding history, its Phoenix-like story of rebuilding, and its current collection of beauty and art, St. Paul's is deeply deserving of the attention of all who pass by.
*This post previously appeared on www.ExploringTheBurnedOverDistrict.com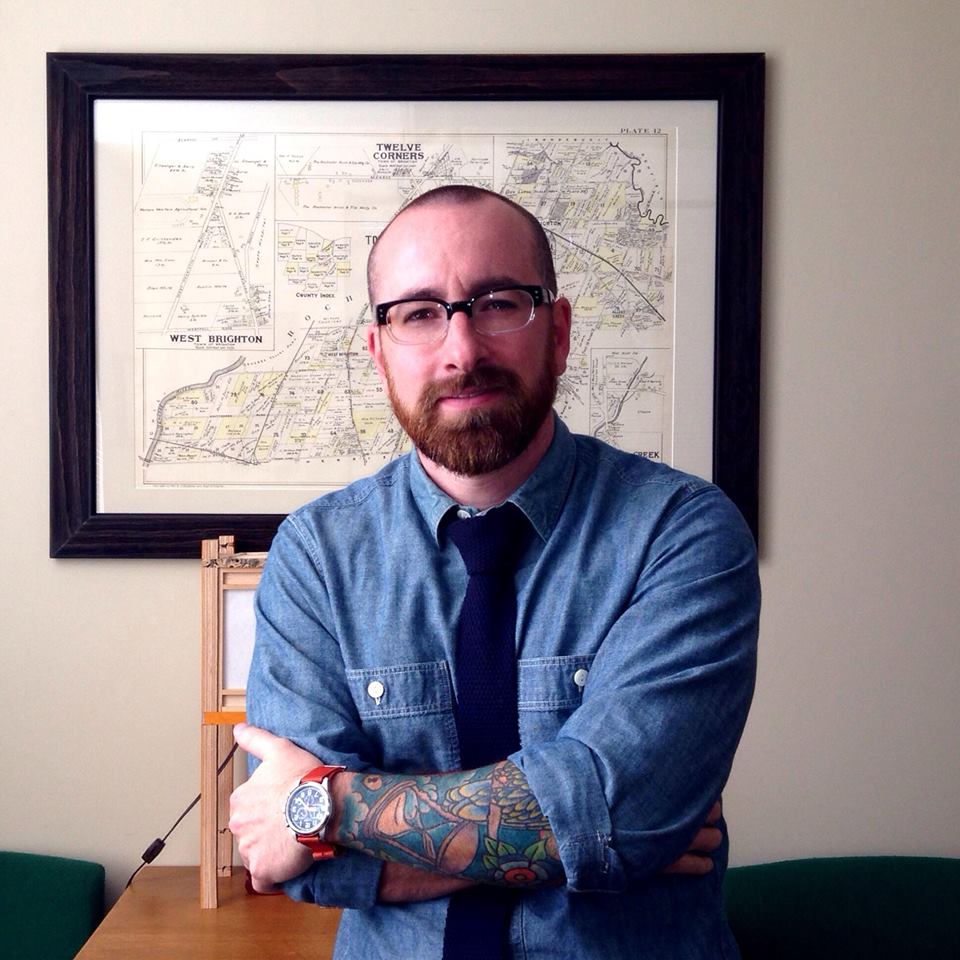 Chris Clemens is the Founder/Publisher of Exploring Upstate. From his hometown in Rochester, he spends as much time as possible connecting with the history, culture, and places that make Upstate New York a land of discovery. Follow him on Twitter at @cpclemens