by Chris Clemens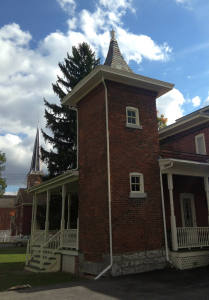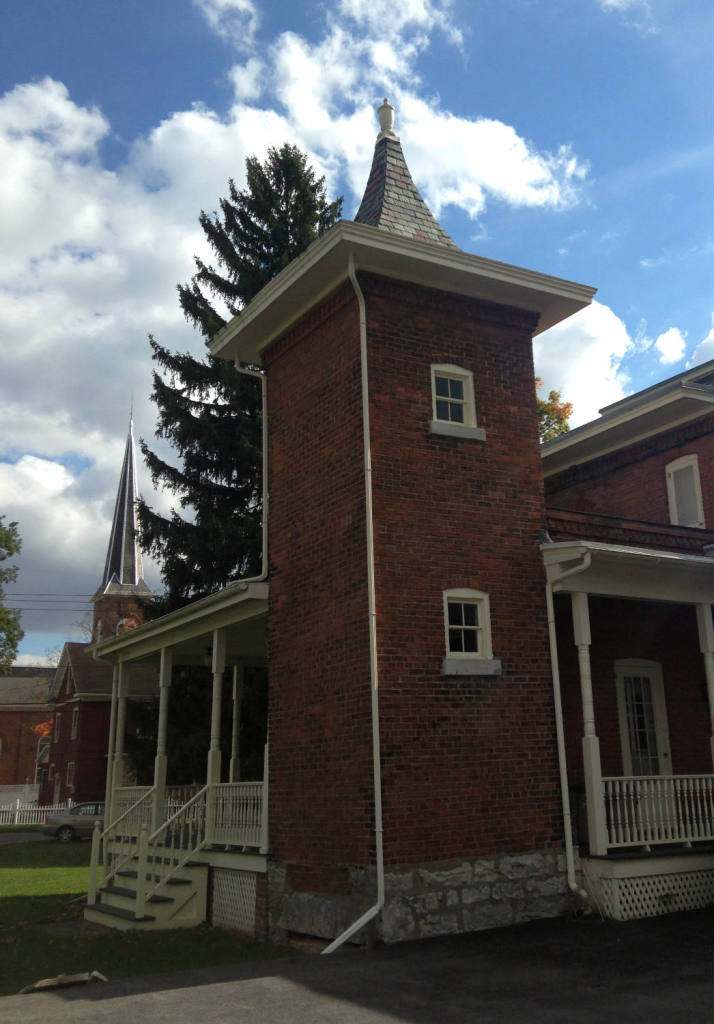 If you're reading this post, then you are lucky enough to have access to some of the most recent technological advancements of our time like internet access. There's a good chance you're even reading this on your tablet or smartphone, which means you might even be reading it as you're using other technological advancements, like while sitting in the bathroom. Prior to 1891 when Thomas Crapper created a series of inventions to make the modern toilet we know today, your literary perusing would've been done in a privy, or as it's more commonly known, an outhouse. While the most common outhouse was a wooden shed with a private single-hole vacancy, there were a few outside-the-shed thinkers throughout U.S. history that attempted to eliminate the confines of the traditional privy. There are about 13 or 14 two-story outhouses deposited around the U.S., and New York has managed to seize the throne by being one that can claim a number of unique qualities. While my good friend Aubrey Klingensmith, of the popular SpeechieApps blog, was visiting from out of town we met up and set out to visit the state's only two story privy. We both made sure to use the bathroom before we got on the road…
The Town of Phelps is in the upper right hand corner of Ontario County just North of Geneva. It was originally called 'Sullivan' but was later renamed for one of the original settlers when it was founded in 1796. Though once the sauerkraut capital of the world, there isn't a particularly famous history associated with Phelps. Nevada's fifth Governor, Charles Stevenson, was born in Phelps, as was famous baseballer Joe Gleason.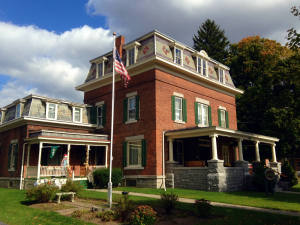 In 1869 the home at 66 Main St. in the Village of Phelps was first built by Dr. John Q. Howe. A successful mill owner, he was responsible for a number of Phelps town advancements. While he was busy building mills and channeling water to power them, his son Frank was responsible for the first electric power station in the town. After his other son, William, graduated from Columbia University in 1888 he was appointed head of the Department of Communicable Diseases. It was in this well known home where the Howe family would grow and prosper, but the trend of a growing family required more space and more, uh, facilities.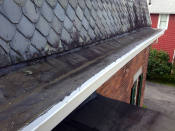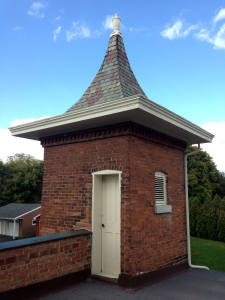 The structure was built in an architectural style known as the Second Empire, a popular design for the time that was reminiscent of French stylings and is now a museum and home to the Phelps Historical Society. Before even going inside, some pretty unique architectural qualities for Upstate NY are obvious. Be sure to check out the unique brickwork of the chimney, and the mansard roof (also a French thing) and the yankee gutters (though, these are easier to see while looking out a window from the second floor). Simply stated, the house itself is really a unique work of art, but we were really there to learn more about how the Howe's went to the bathroom.




Our guide through the museum was a volunteer docent studying History at Nazareth College in Pittsford. A local Phelpsian herself, it was really cool to chat with Sarah while she showed us around the Howe House. There aren't too many young people who are passionate about preserving and celebrating our regional past, so to encounter someone who was excited to share what the museum had to offer was really great. We walked through a small gift shop, a former parlor room which is now a rotating exhibit space, a sauerkraut room, a military room and even a room full of kids' toys, Sarah then politely gave in to my incessant banter about the toiletry.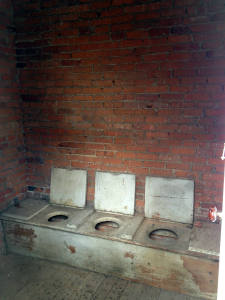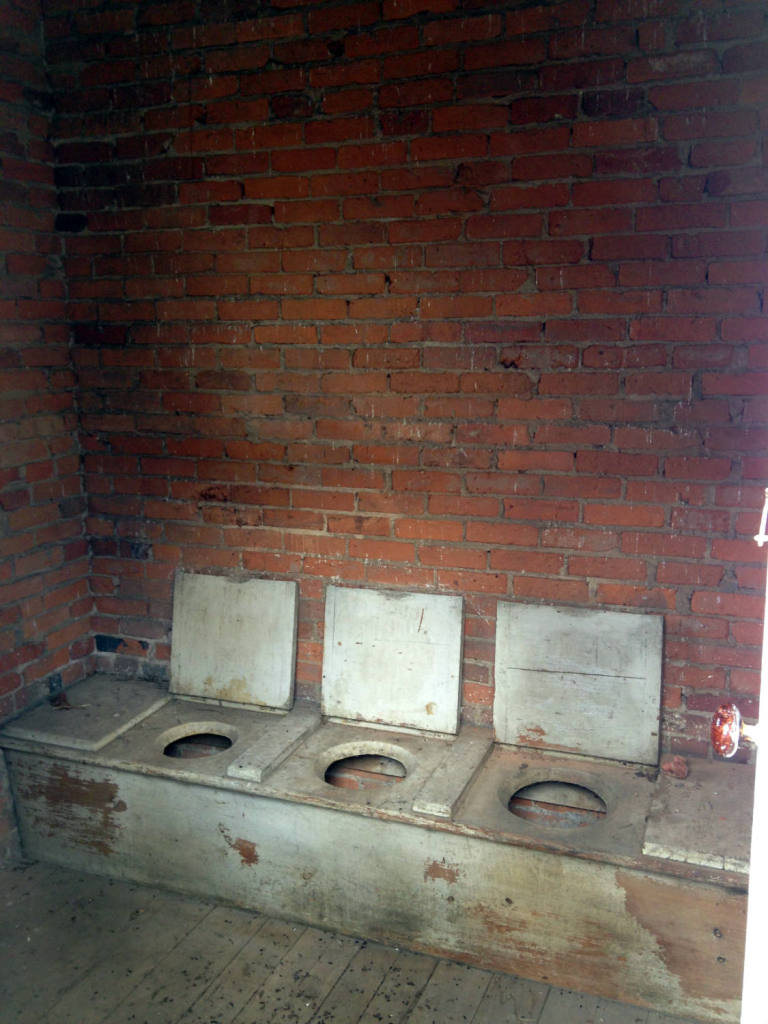 If you're still reading this far down, I know it's because you are just as curious as I was about how a two story outhouse might even work, so I won't make you wait any longer. At the back of the home, a rectangular brick structure was added to house the entire system. The first floor room has three holes and is accessible from the porch that wraps around the back of the home. Once inside, it's obvious that the three toilets on the first floor are protected from the fallout of the second floor by simply offsetting each row and placing a divider between them. The second floor of the bathrooms are only accessible by a second floor doorway that leads out on to the roof of the porch. Relieving yourself on the second story required walking across the roof and entering a doorway for that portion, which contains another three toilet seats. Wondering where "it" all went? A large wooden sliding tray located at the very bottom of the building would catch everything that dropped, and removing the tray would allow for disposal and cleaning.
I haven't mentioned it yet, but not only is this the only two story privy in all of New York state, but it's believed to be the only brick two story privy in the entire country!! I was kind of bummed to find that the first floor of the privy was filled with ladders and buckets as if it were a storage shed. I know not quite everyone gets excited as I do about being able to stand in the only brick two story outhouse in the U.S. but I really think the Historical Society could be leveraging the interest of such a unique feature a bit more. If you're in the area, be sure to drop in and pay them a visit and show some support!
Enter to win Exploring Upstate's first ever giveaway contest!!
Details
To be eligible, find the number of 'potty' related puns in the above post and leave a comment on this blog entry with the correct number. To increase your chances, you can tweet this post out using the link below and/or signup to receive new posts to your email.
Contest Entries will be accepted between Tuesday 11/4 at 12:00a and run through Tuesday 11/11 at 12:00a
One correct answer will be chosen at random and the winner will receive a free, brand new Amazon Kindle!!
Congrats to Meredith Marsh for winning the Amazon Kindle and helping Exploring Upstate to celebrate its first ever contest!!! There were three potty puns in this post: 'vacancy', 'eliminate' and 'throne'.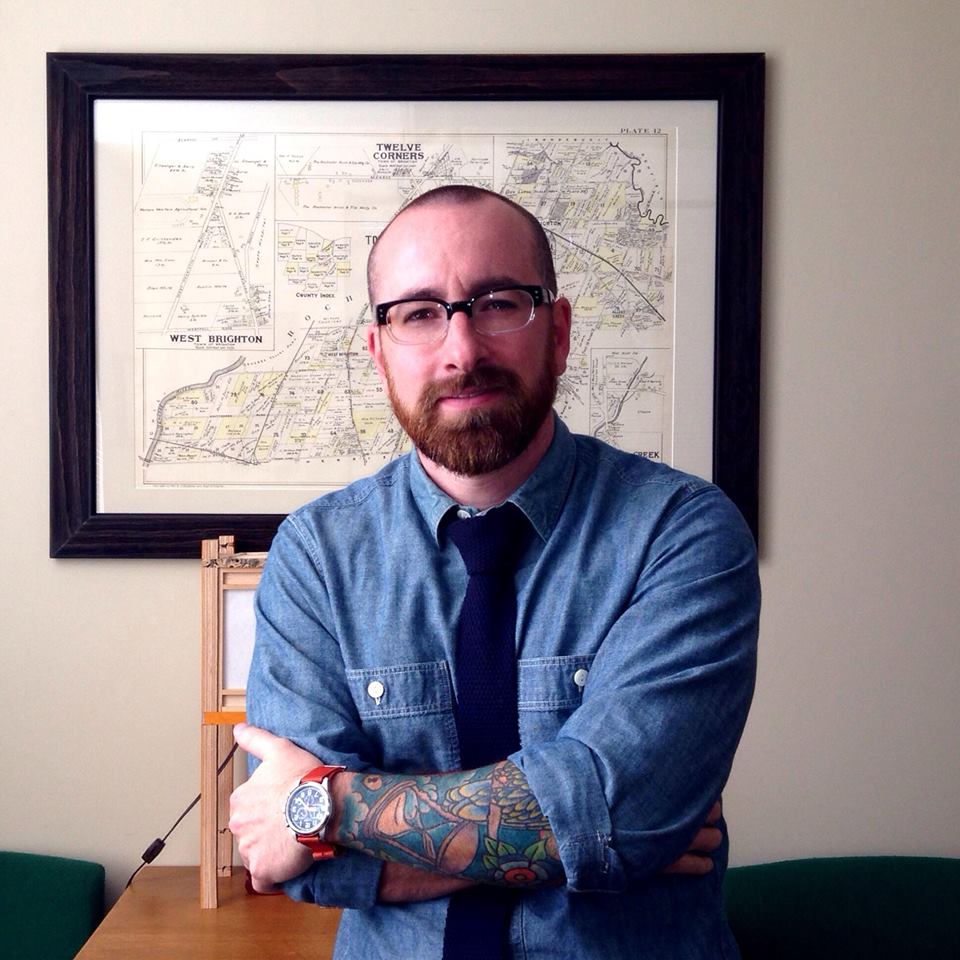 Chris Clemens is the Founder/Publisher of Exploring Upstate. From his hometown in Rochester, he spends as much time as possible connecting with the history, culture, and places that make Upstate New York a land of discovery. Follow him on Twitter at @cpclemens