by Chris Clemens
When Michael Lang first created the idea for a music festival in the quaint, artist-retreat town of Woodstock, New York, it was a simple concept. Just weeks before the festival was to take place, the townspeople panicked at the thought of accommodating such a huge crowd. They subsequently blocked the producers from allowing the festival in Woodstock. Not to be dissuaded, organizers frantically sought a new location, and found respite with a small-town, Jewish dairy farmer by the name of Max Yasgur in Bethel, New York–over 60 miles southwest from the Town of Woodstock.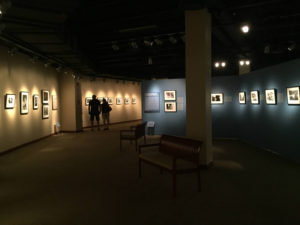 During the days of August 15-18, 1969, over 400,000 people from around the world converged on Yasgur's dairy farm in Sullivan County in the quiet Catskill Mountains. A three day schedule extended to four, infamously bad acid, strained resources and "The New York State Thruway is closed, man!" could easily have been variables in a formula summing up to a tragedy of epic proportions. But, now history has been made and organizers, attendees, musicians and hippies-at-heart are still nostalgic for the week of perfectly maintained camaraderie, peace, love and, of course, music. Luckily, there's a museum dedicated to these things.
Woodstock, For Me
Somewhere in the late 80's at a family gathering, the Woodstock film came on the television. I remember perfectly how the others in the room disappeared from my reality as I focused intently on a sweat-ladened, tunic-covered, Shaman-like soul named Richie Havens bent over his pick-beaten acoustic guitar and chanting "Freedom". I was probably ten years old, with no understanding of the Vietnam War, hallucinogenic drugs, the state of civil unrest in the 60's and no concept of what 400,000 people in a tiny town meant. That didn't matter. Havens' performance started me on a quest of watching every remaining minute of the film, then buying as many CDs and books about the era and even learning the songs myself on guitar. Over 25 years after first seeing the film, I set out to visit the place it all happened.
Bethel Woods Center for the Arts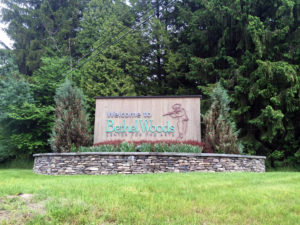 In 1996, the parcel of land on Yasgur's Farm where the Woodstock Festival took place was purchased by a wealthy cable television producer living in a neighboring town. Later in 2004, that producer and a team of others erected a 15,000-person capacity performing arts center on the land. Along with the concert pavilion, they included an event space, a museum, small cafe, gift shop and rotating exhibit space on a sprawling, perfectly manicured grounds.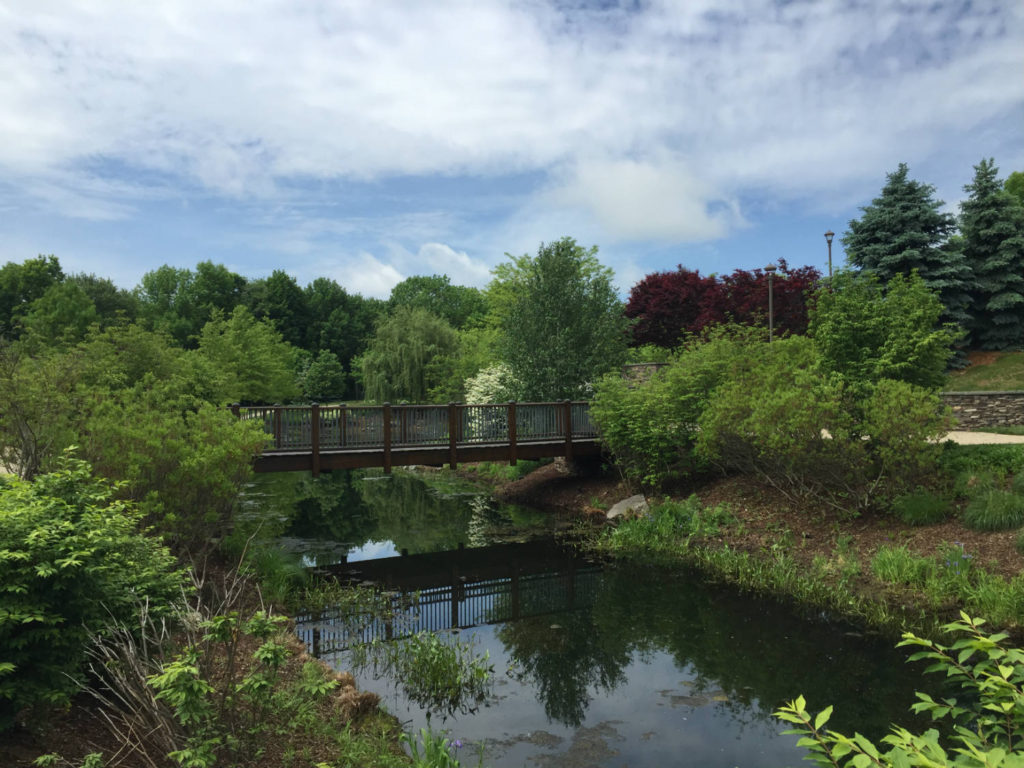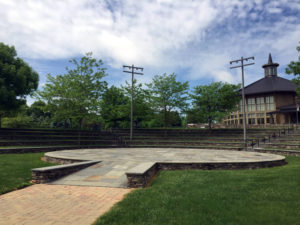 The museum is a collection of mixed-media presentations with plaques, videos and interactive exhibits detailing not only the 1960's culture, but how the culture was shaped by the historical events from the time. The Civil Rights Movement, anti-war rhetoric, creative endeavours and how a grassroots cultural movement started a revolution.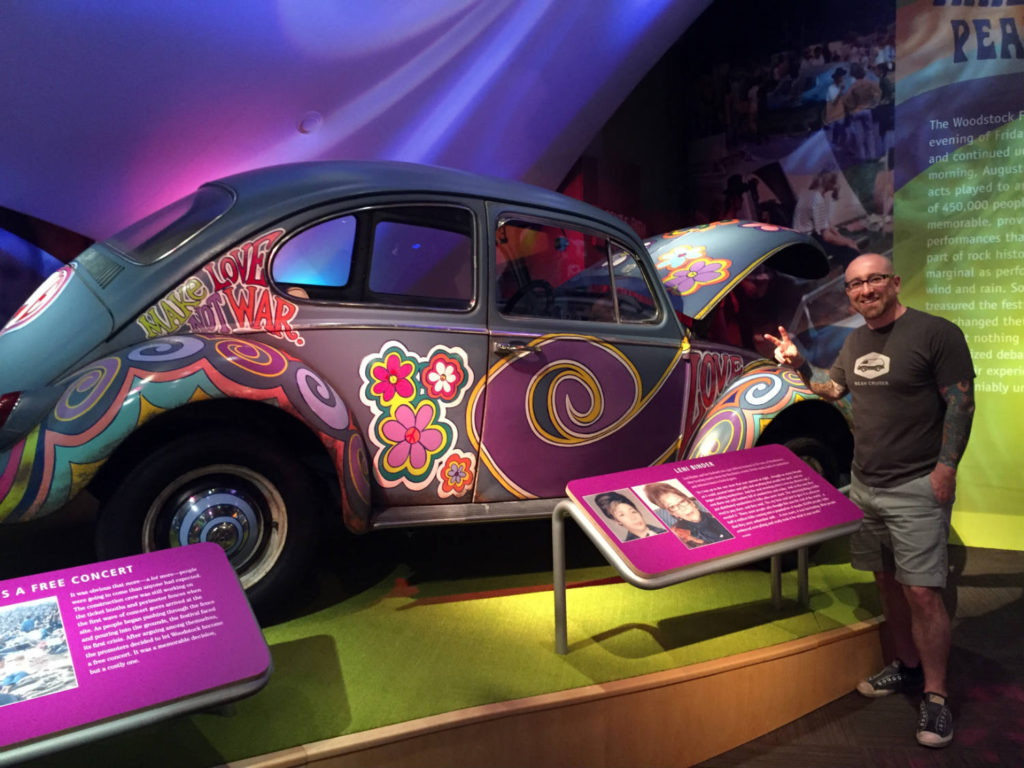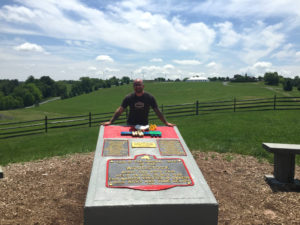 Though seeing a bus that was painted to look like something the Merry Pranksters would've driven and a tunic representative of the one Havens wore during his iconic performance were neat to see in person, visiting the land and connecting with the surroundings was probably the portion of my visit that resonated the deepest for me. Just down the hill from the estate that is Bethel Woods, a small pile of rocks rests where the original stage once stood. A roadside monument commemorating the location of the festival looks out to what was once a huge audience. To what once was a naturally produced slip-n-slide of naked hippies in the mud. To what once was a revolutionary gathering of like-minded folks who sought to explore music, free-love, drugs and existing peacefully in an overcrowded communal space of sharing. To what once was the largest gathering of humans in the state. To history.
Max Yasgur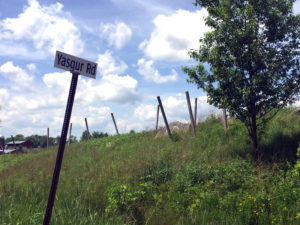 Yasgur in many ways played a pivotal role in the festival. Had he not agreed to providing the land, it's tough to imagine where such an event would've taken place. To this day, the compensation (if any) that he received has been kept secret.
Just a few miles to the west of Bethel Woods, I visited the property on Yasgur Road where he and his wife once lived. Today, the property is home to two historical signs, one of which indicates that when Yasgur's wife sold the land, she maintained ownership of one square foot of soil. It's now surrounded by a couple homes maintained in an aesthetic that appears to be reminiscent of the original festival. One of those indicators being a roadside icon 'Muffler Man' painted as a hippy.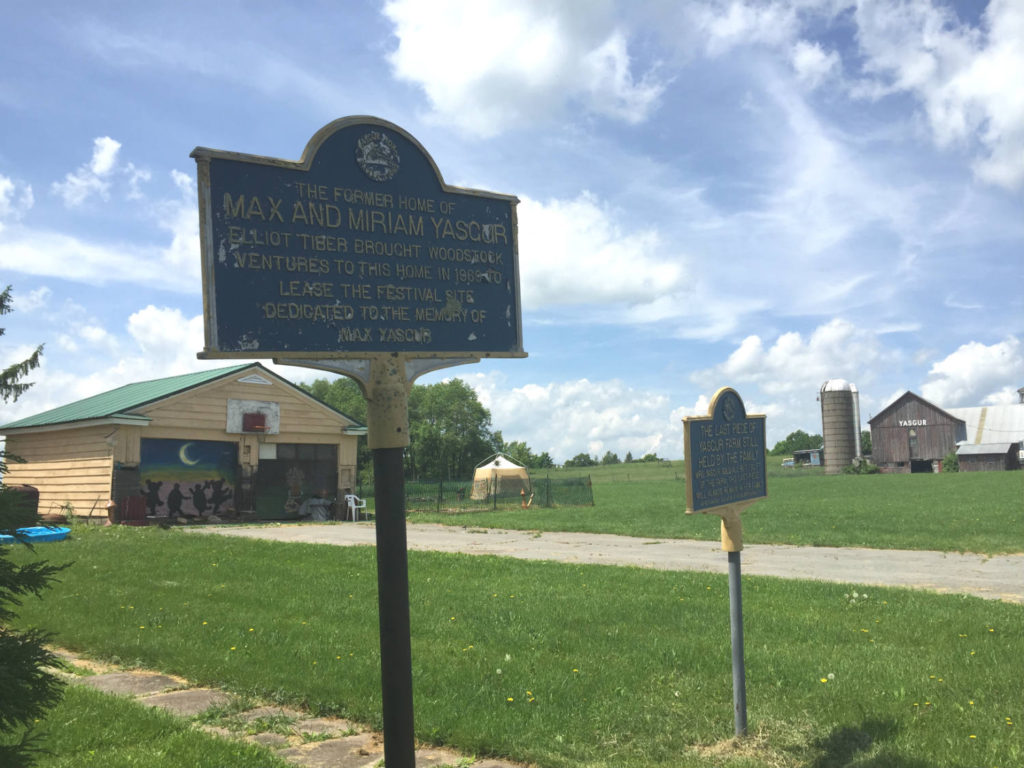 An Encore
Another portion of my Woodstock pilgrimage was to visit the grave of Max Yasgur. As an amatuer historian and adventurer-in-completion, I've always found that visiting the graves of important people has helped me put to rest the obsessive thoughts that compel me to insist that I see every available aspect of a historical story. After two towns and three days of hunting, I learned that the family of Yasgur has kept his final resting place a secret on purpose. I've never worked so hard to find a landmark and (I suspect) was even given wrong information to purposely keep me from visiting the grave.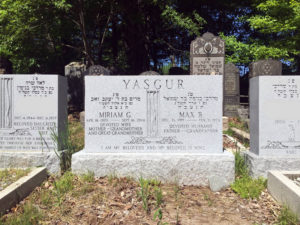 Much like Lang and the organizers of Woodstock, I'm not easily dissuaded. I vow to keep the location of Yasgur's final resting place to myself, but the opportunity to pay respects to someone that in many ways was a small town hero was something too important to give up on. I won't go into how I found his final resting place, but it wasn't easy. In proper Jewish tradition, I placed a rock upon his headstone while thanking him for making possible the site of a cultural revolution.
Some of my Favorite Facts About Woodstock
Bob Dylan was actually totally anti-Woodstock Festival and that's why he didn't perform. He felt that the festival would ruin the culture by exploiting the freedom and artistry of Woodstock the town.
Joni Mitchell wrote the famous tune 'Woodstock' for Crosby, Stills, Nash and Young but she wasn't there. She was told by her manager that it would be a bad career move to perform there.
Santana was included in the festival lineup only because of a coin flip by Michael Lang. He had space for one band, but Grateful Dead promoter Billy Graham was trying to book two. Santana beat It's A Beautiful Day in the coin flip.
The man in the documentary who can be seen cleaning the port-o-potties later sued the filmmakers for 'mental anguish'.
Visit Woodstock
For more information about Bethel Woods and visiting the museum, checkout their website here. If you're looking for a place to stay while in the area, I strongly recommend the Lazy Pond Bed and Breakfast. I liked it so much there I even wrote about it a while back!




If you're looking for Yasgur's old house, head west on Route 17B out of Bethel. You'll find the Hippie Muffler Man on the north side of the road and Yasgur Road is just west of that.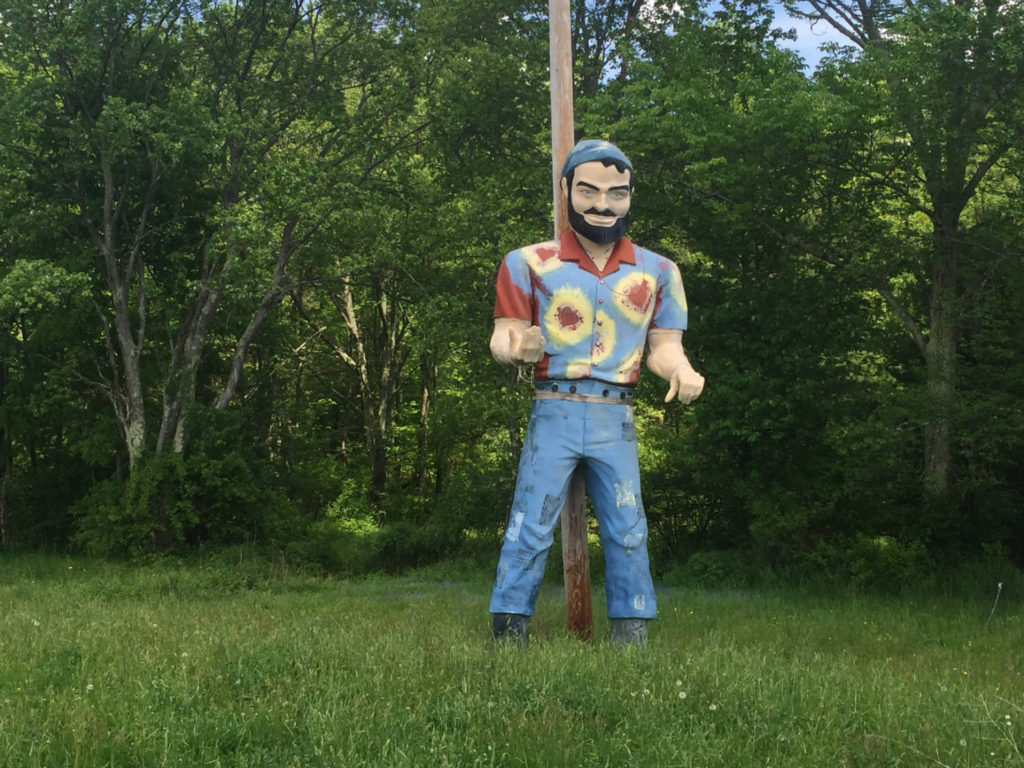 Don't ask me about Yasgur's grave. I will respect the family's wishes to keep the location a secret.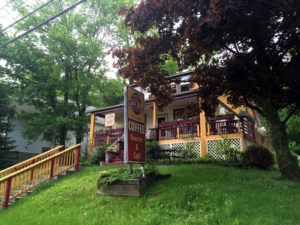 I know Exploring Upstate readers pretty well at this point, and I know you're gonna want coffee. Just east of the entrance to Bethel Woods on Route 17B you'll find Java Love–a small roaster and cafe with a lazy, summer-morning-feeling front porch overlooking a lake. Strongly recommend!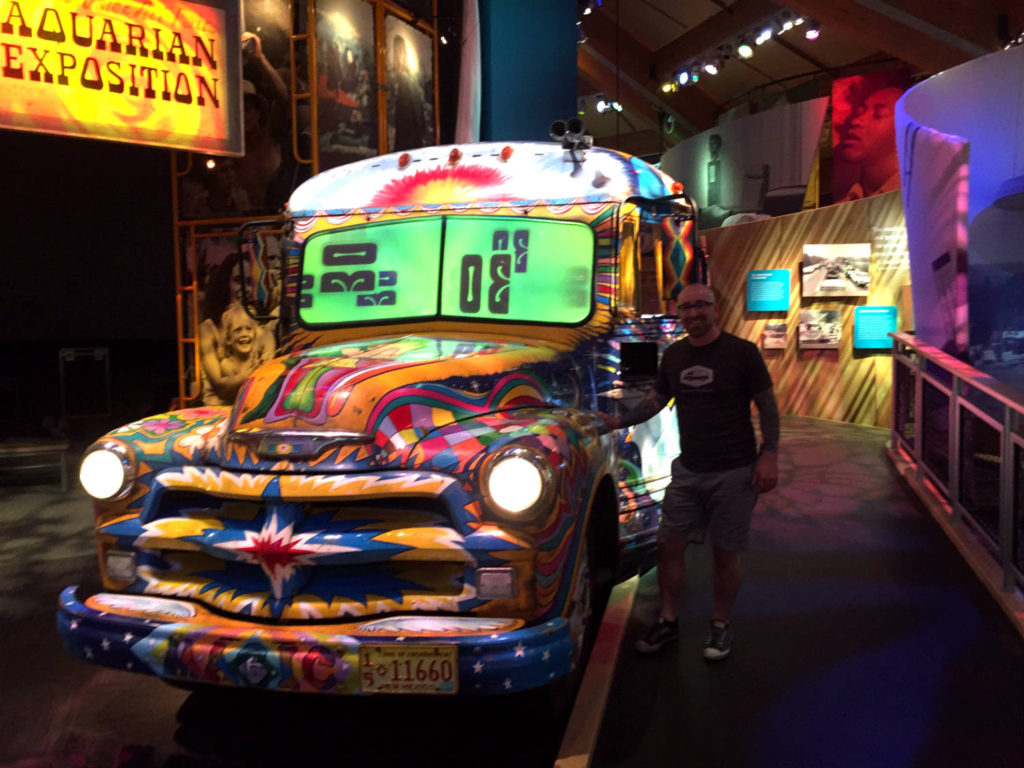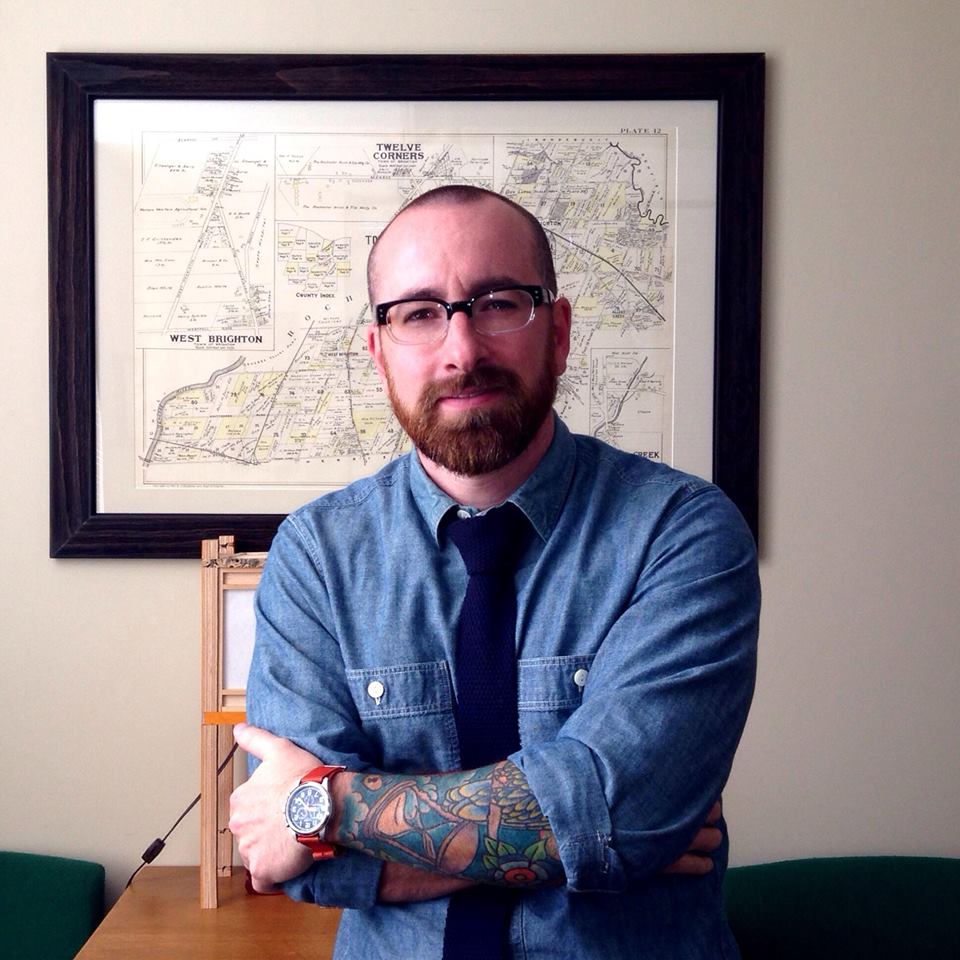 Chris Clemens is the Founder/Publisher of Exploring Upstate. From his hometown in Rochester, he spends as much time as possible connecting with the history, culture, and places that make Upstate New York a land of discovery. Follow him on Twitter at @cpclemens