Bottle trees have a long history in spiritual folklore, and they fit perfectly into the landscape of Upstate NY where wine regions flourish.
by Chris Clemens
For 2015, I gave myself a bit of a scavenger hunt challenge. I wanted to feature a different topic each month and find 15 examples of that topic from my travels.
Back at the end of 2014 I made a list of ideas for all 12 months and one of the first things that went on the list was Bottle Trees.
I've read for years about the history and lore behind the trees and have always been enamored by them. I am also equally enthralled by the artistic expression they're able to feature. Some people hang bottles with string from live trees. Others have actually created a tree trunk and branches from some sort of metal and others still just drill holes in a wooden pole.
Purpose Of Bottle Trees
There are tons of stories that exist about the history bottle trees. Sometimes they're just aesthetic, but their origin has kind of a spiritual background.
Probably the most common thought is that the bottle trees are intended to capture evil spirits. It's believed that in the middle of the night, spirits looking for shelter find their way inside the bottles. Putting a bottle tree away from your home means they prevent the spirits from coming further in to your yard and ultimately into your house. The spirit remains trapped in the bottle, and in the morning, they're extinguished by the morning sun shining through the glass.
While the double entendre of 'spirit' and using a wine bottle probably isn't a coincidence, spirits have been in bottles throughout stories for thousands of years.
More recently, roadside attraction-style collections of bottle trees have kept the lore alive all over the country.
There is no shortage of bottle trees in New York, but I suspect the purpose of the majority of them is an artistic way of honoring our winemaking heritage with some fun lawn art. Here's 15 from around Upstate that I've found particularly intriguing.
15 Bottle Trees in NY
Webster, New York
1. I have to admit, I haven't the slightest clue where I found this simple collection of blue bottles on a metal frame. For some reason, I want to believe it was in the Town of Webster.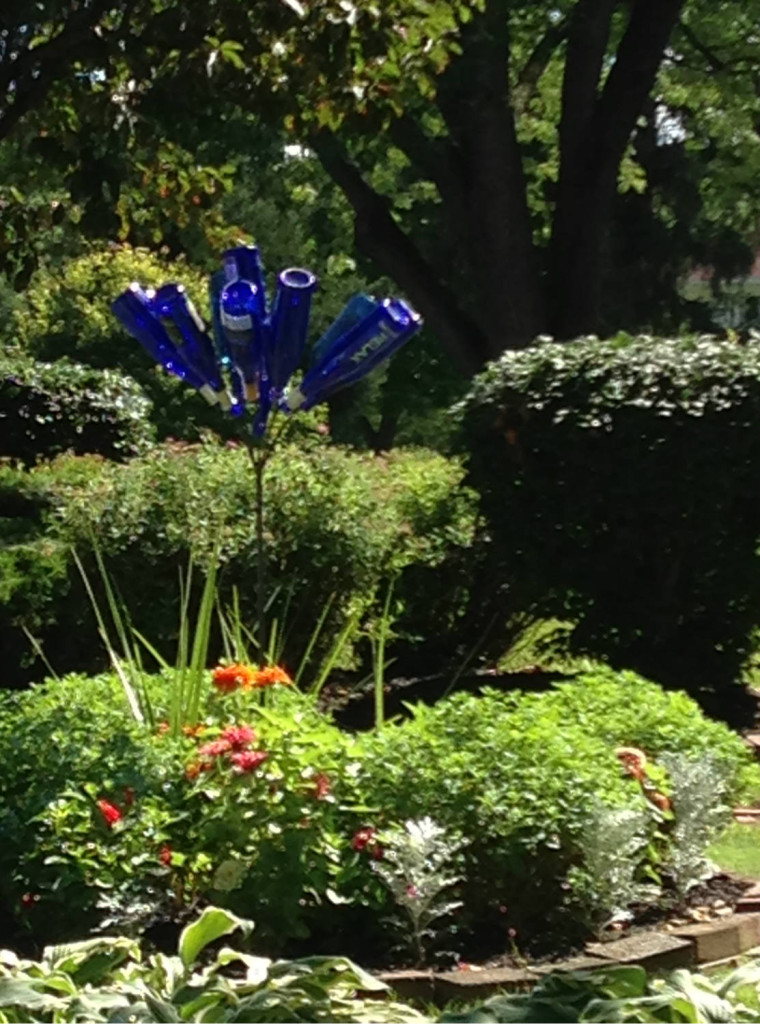 Gainesville, New York
2. This was found on Route 104 right around Gainesville. This clear soda (or is it "pop"??) bottle collection is on a metal frame with a decorative design at the top.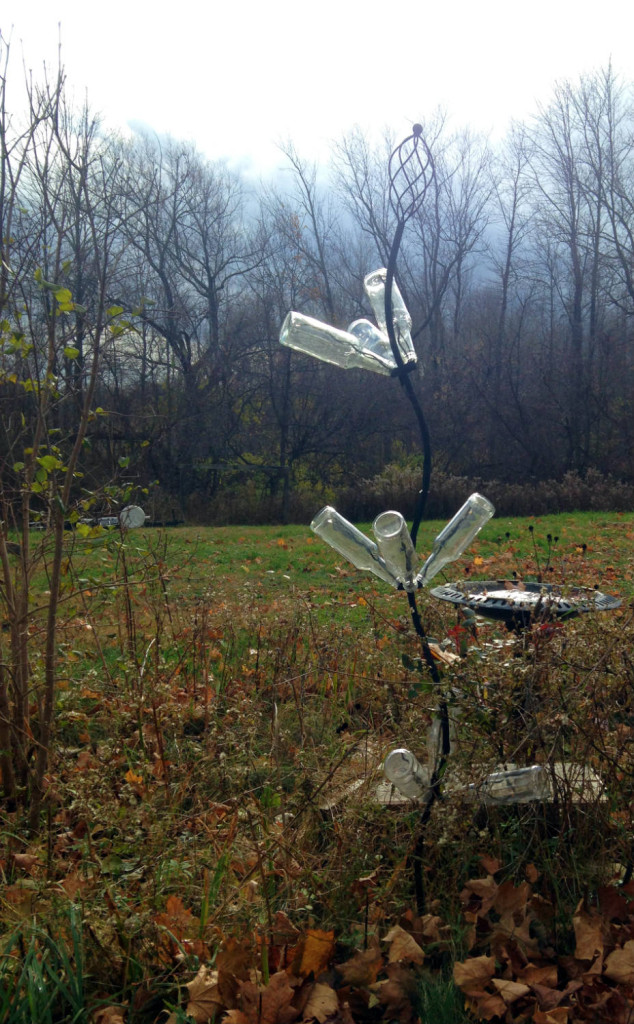 3. The same yard as #2, but they went all blue on this one!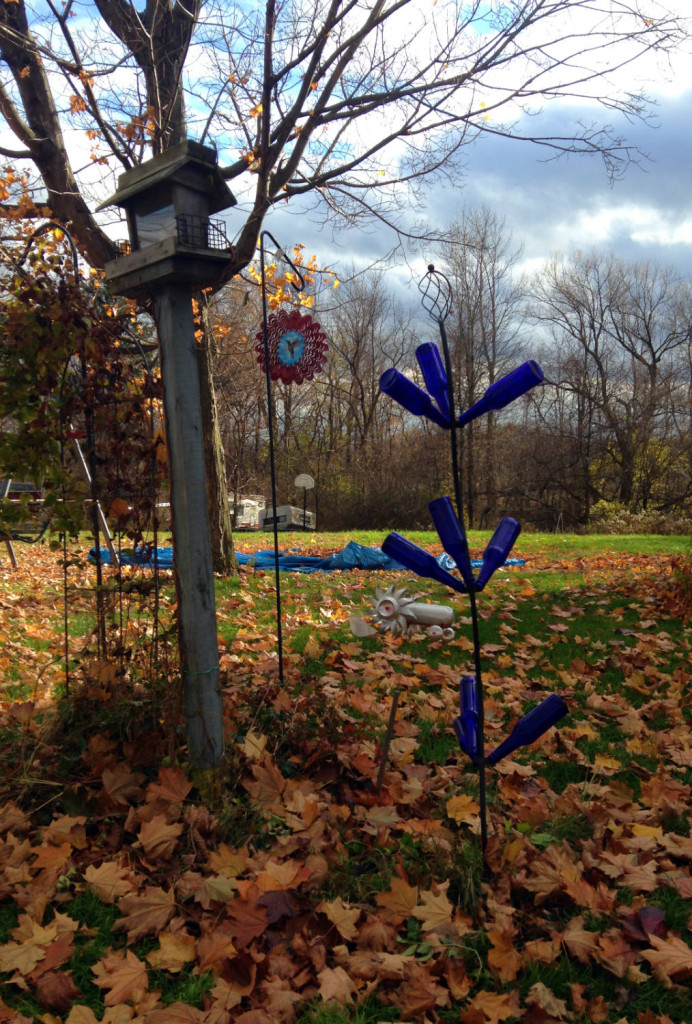 Portageville, New York
4. Super fun find! This short little live (or, it used to be at least) tree garnished with hanging bottles is just north of the entrance to Letchworth State Park on Route 19A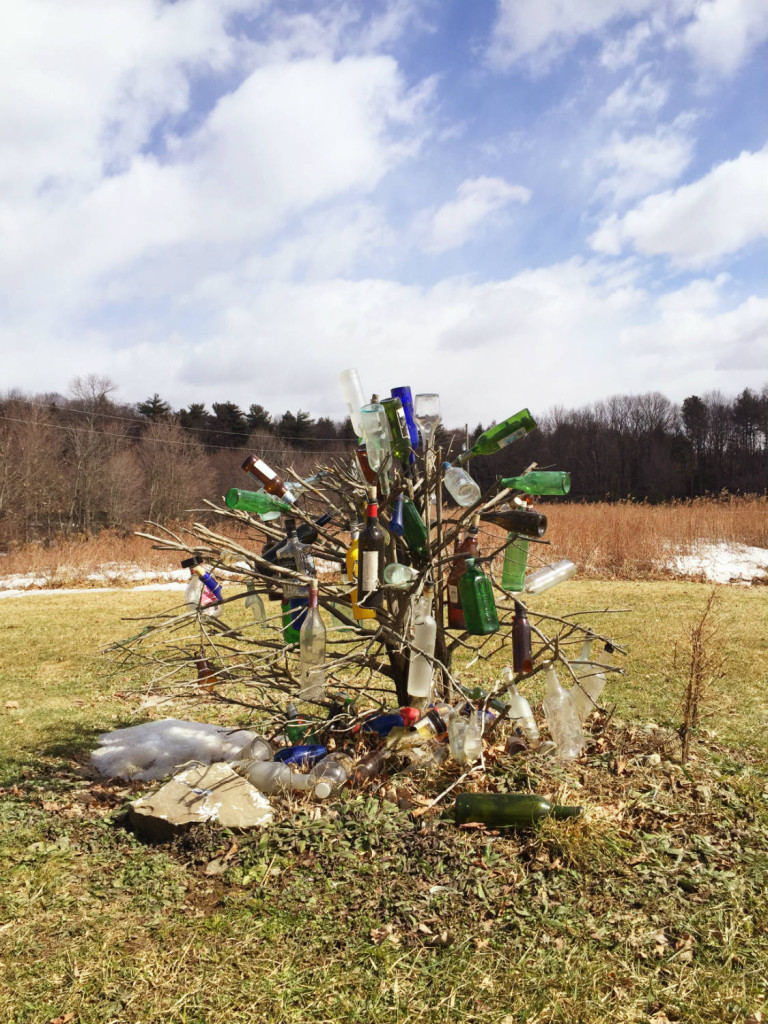 Dundee, New York
5. Glenora Wine Cellars in Dundee on Route 14 has two humongous wine bottle trees. This one is outside in front of the entrance welcoming visitors.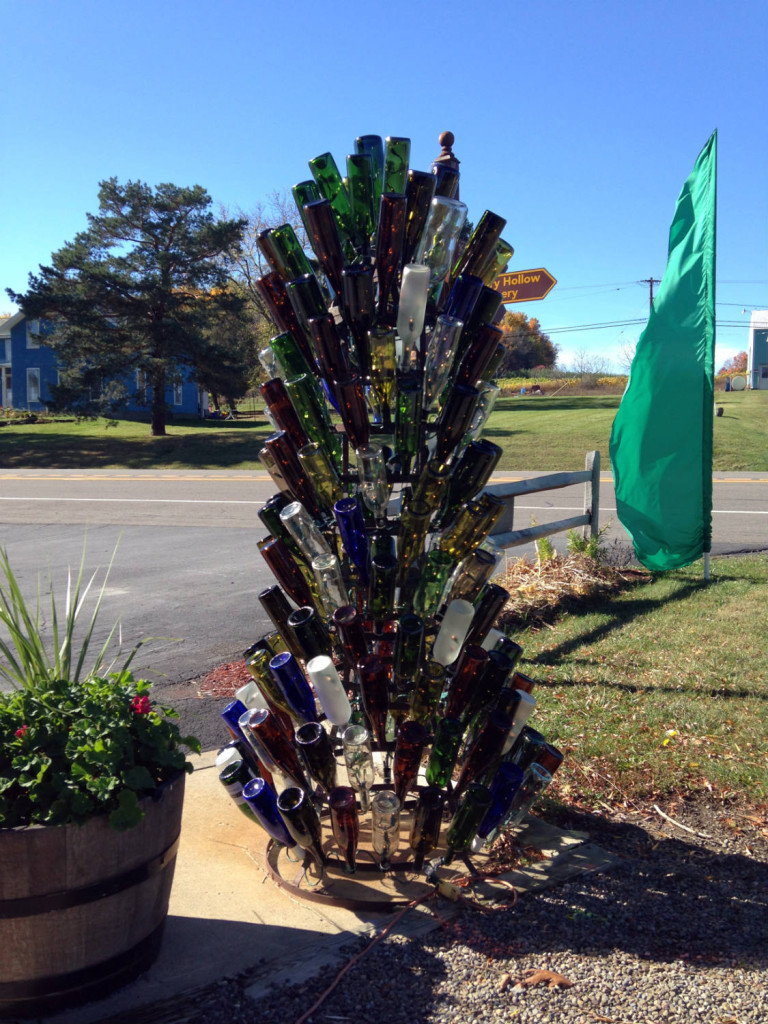 6. Once you step inside, this one is right in the entranceway.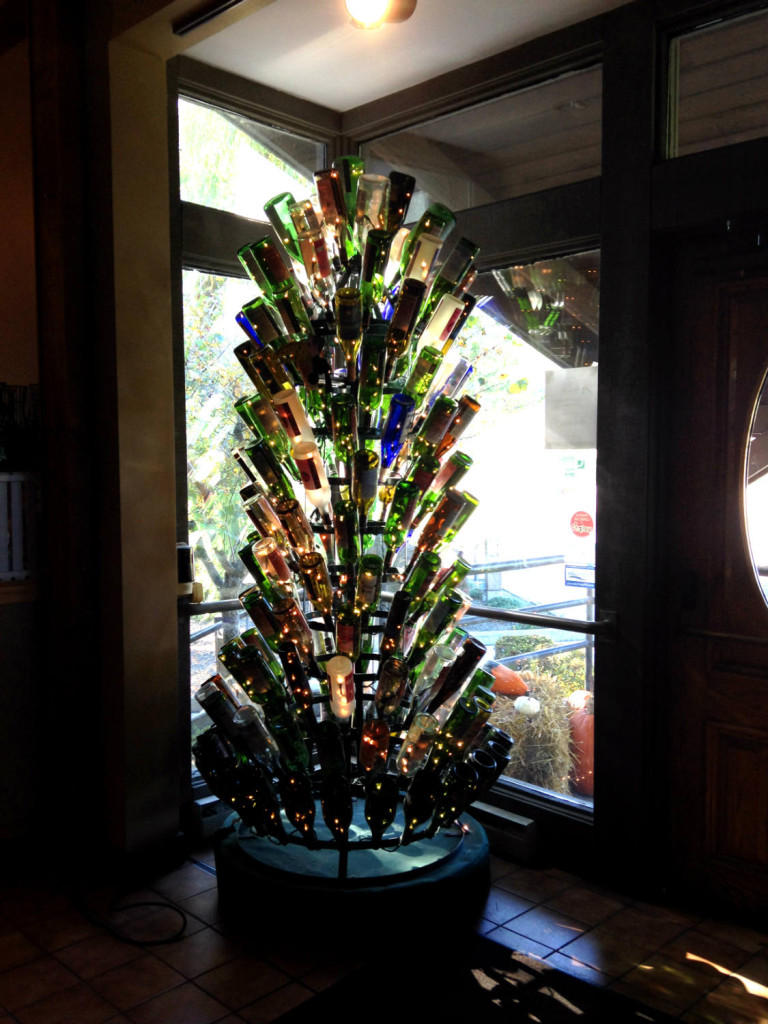 Nunda, New York
7. One of my favorites: This is outside someone's home on a dirt road in Nunda.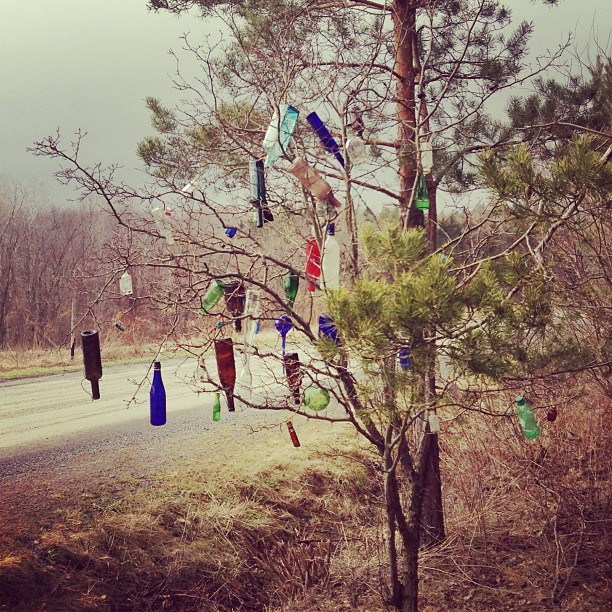 Ellicotville, New York
8. While on my way to Griffis Sculpture Park, I discovered this metal sculptor's shop which I now can't seem to find the name of. Unfortunately they were closed, but there was a ton of cool things outside to look at. We found this bottle tree guarded by an alligator!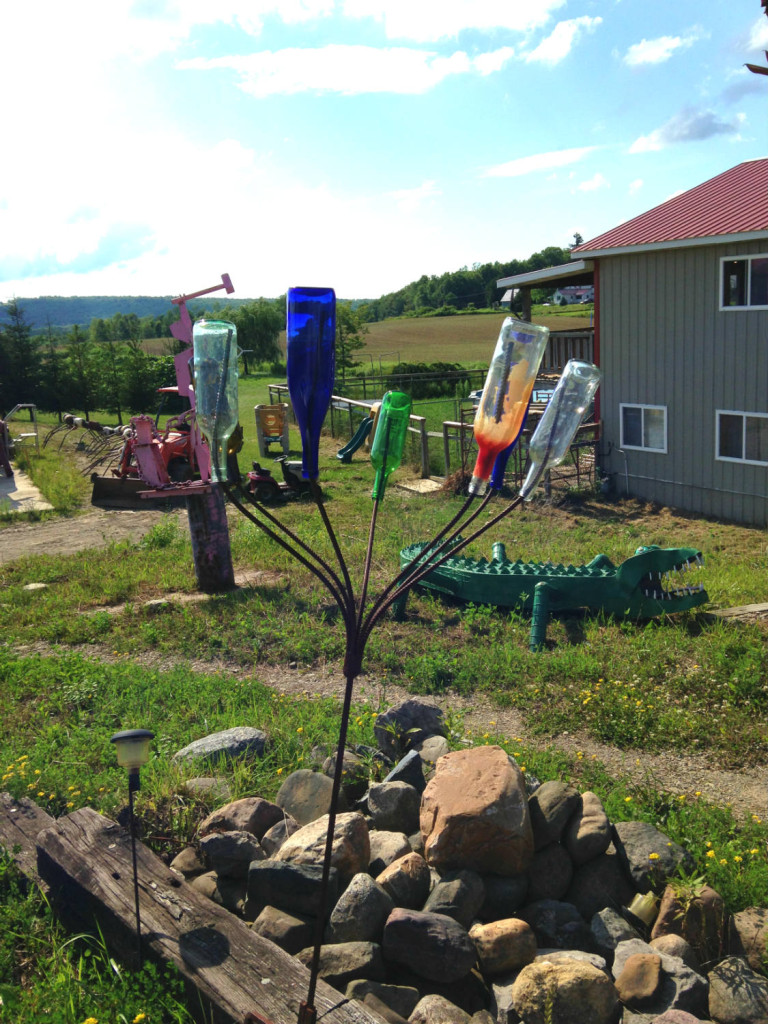 Conesus, New York
9. On East Lake Road along Conesus Lake just south of Camp Stella Maris. Love all the colors on this one!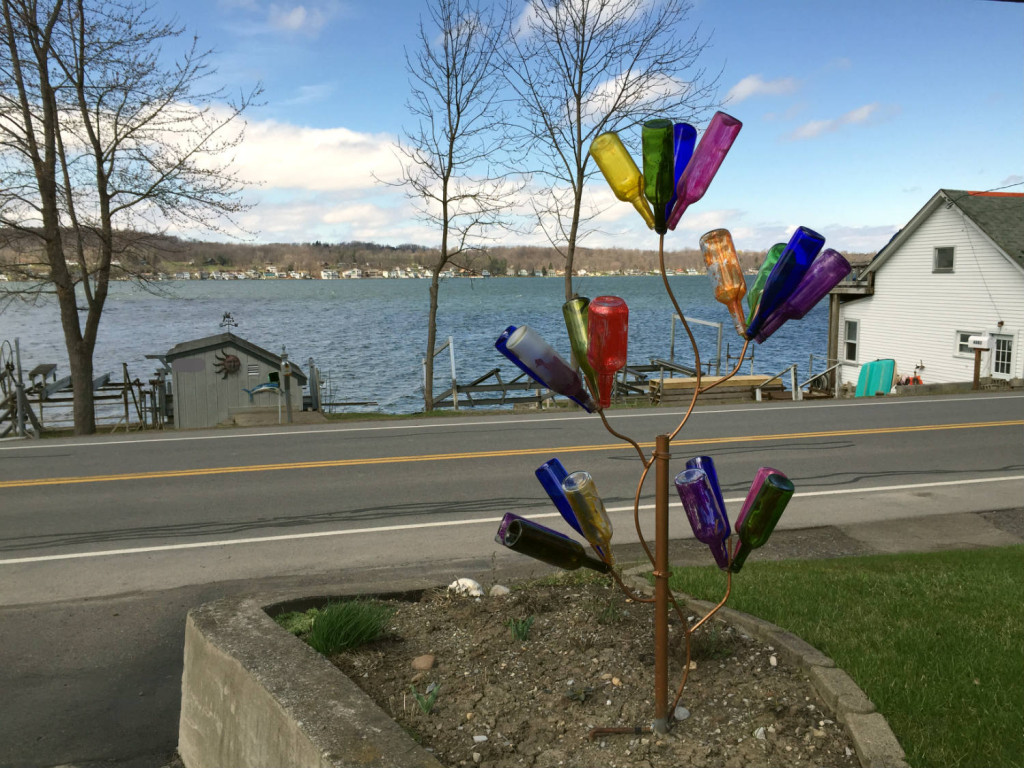 10. Further south on East Lake Road I found another bunch of colors!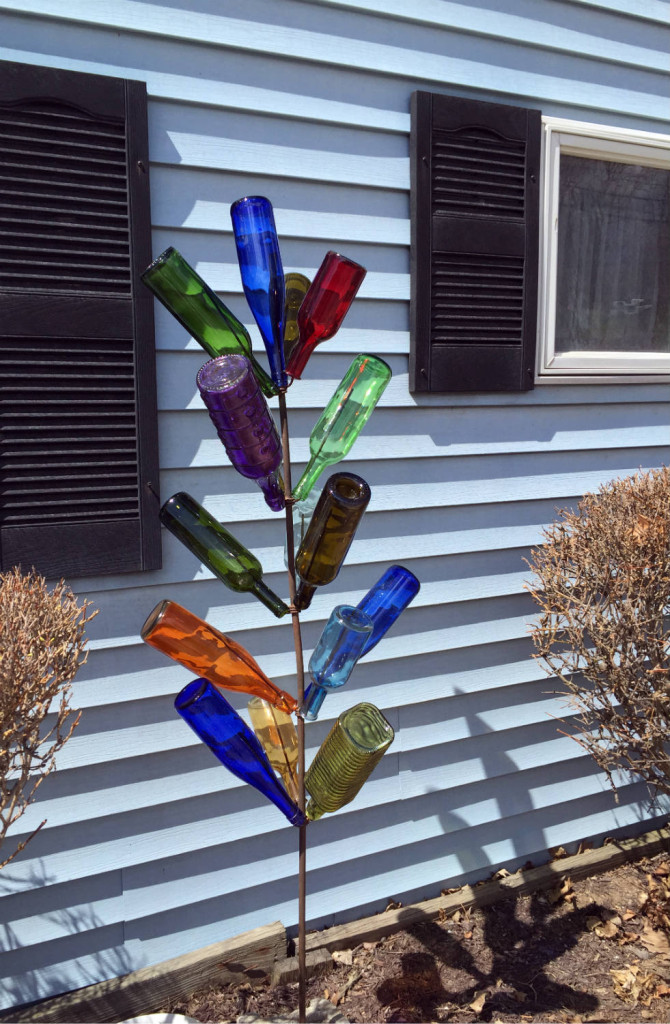 Watkins Glen, New York
11. Heron Hill Winery on Route 14 on the west side of Seneca Lake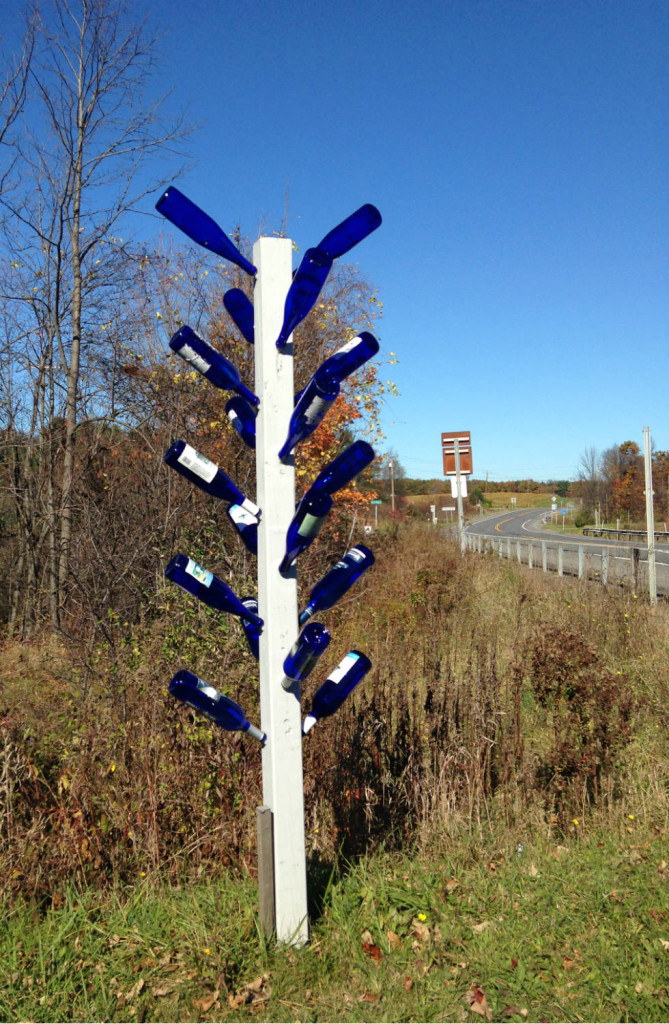 Unknown
12. Clearly I am awful at labeling my own photos, because I also can't seem to remember the location of this blue bottle sculpture. But I promise it's in Upstate New York!!
I saw it during the day obviously, but it looks like it had some solar lights on it to glow in the dark, probably to guide the spirits into the bottles! It also appears to be the exact same design as the two above found near Gainesville.
(I'm thinking it was somewhere near Seneca Lake like #11 was.)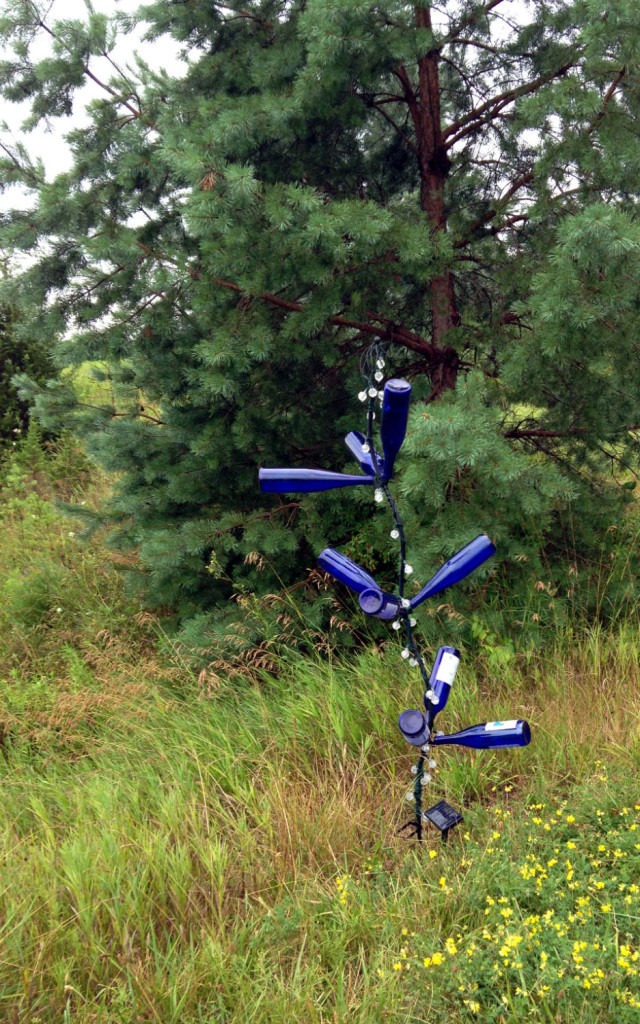 West Bloomfield, New York
13. How awesome is this?? Not only did this person on West Bloomfield Road just north of West Bloomfield put a bunch of bottles up, they also dotted the wooden pole with metal caps for a bark look! One of the blue bottles appears to have recently bit the dust.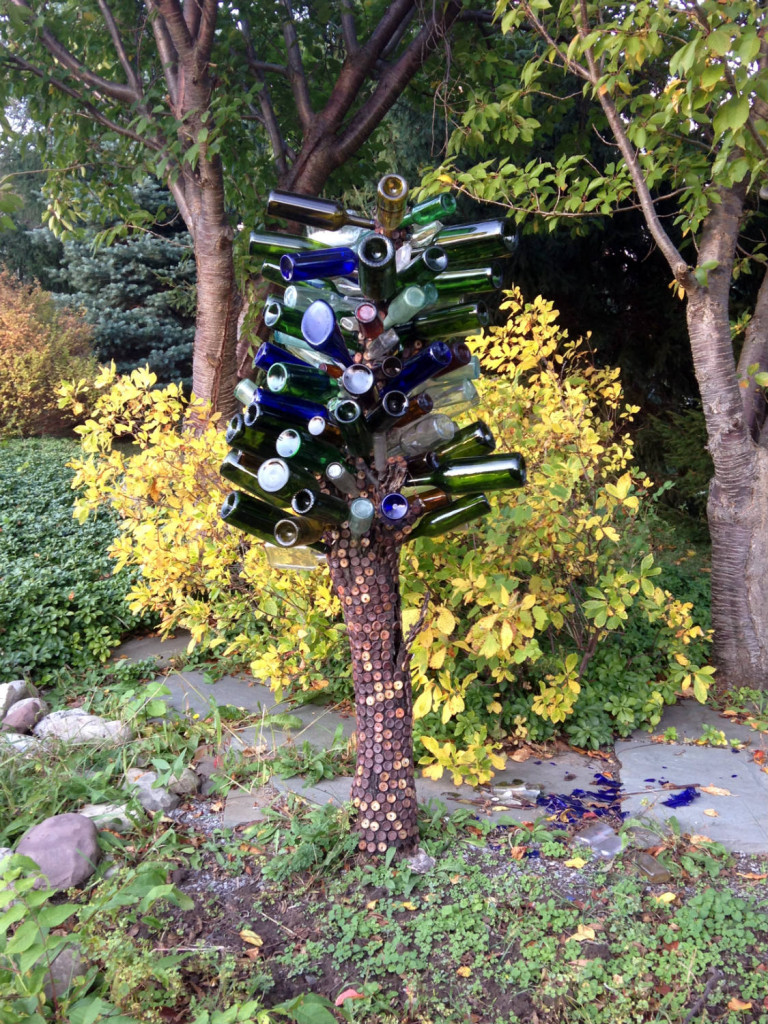 Olean, New York
14. Another collection of hanging bottles found in Rock City Park in Olean.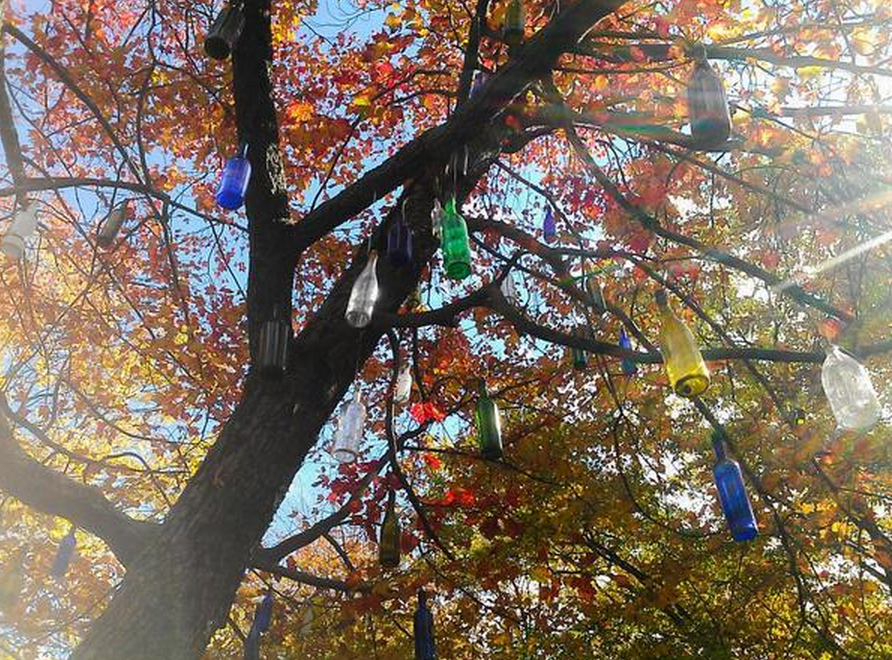 Lakeville, New York
15. This one is right on Route 20A just west of I-390 near Lakeville on the way to Geneseo.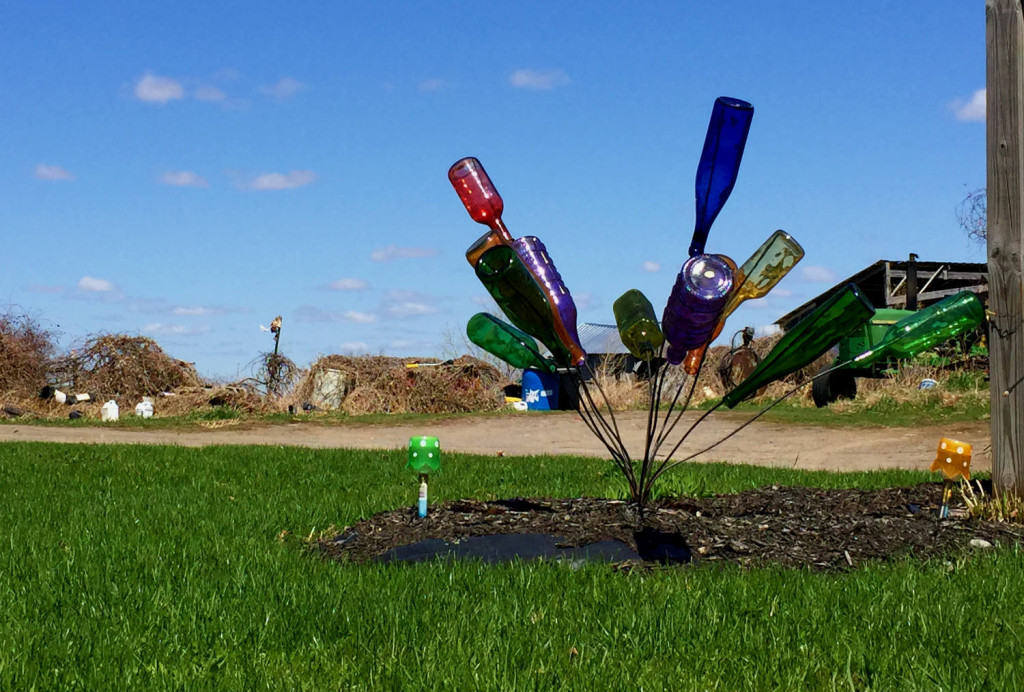 Got any '15 for 2015′ scavenger hunt ideas for me for the remainder of the year? Leave 'em in a comment!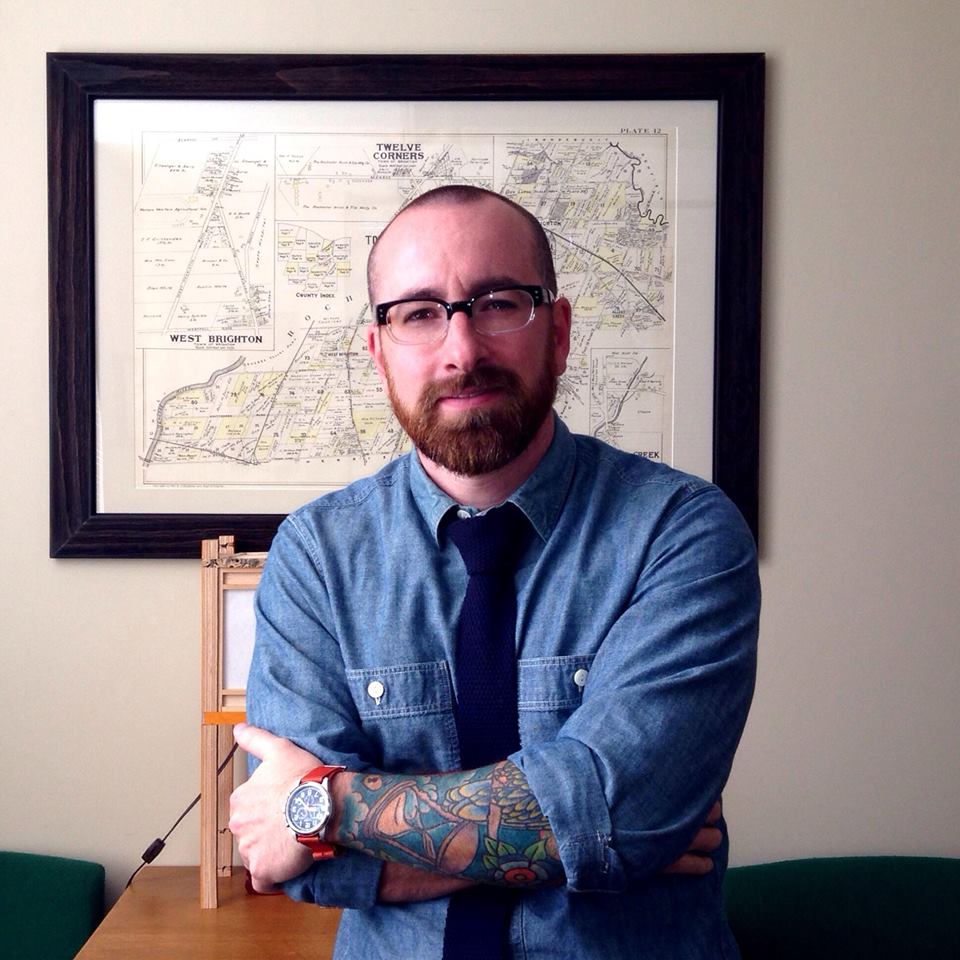 Chris Clemens is the Founder/Publisher of Exploring Upstate. From his hometown in Rochester, he spends as much time as possible connecting with the history, culture, and places that make Upstate New York a land of discovery. Follow him on Twitter at @cpclemens