by Ann Stachowski
Ok, I'm going to let you all in on a little secret: I grew up, and still spend an inordinate amount of time, in Conesus, NY. Finger Lakes and forests are in my bones, and I've spent loads of time in the woods of my hometown.
Really, there isn't much else to do that wouldn't get me in trouble as a kid.
There are all sorts of cool things back in the woods. On this particular adventure I grabbed a couple of friends, both of whom love history, hiking, and trains, and showed them one of my old haunts: a long-abandoned railroad bed. After a battle through a field, a near-death experience with a horsefly, and a nice hike through the woods, we hit the railroad bed.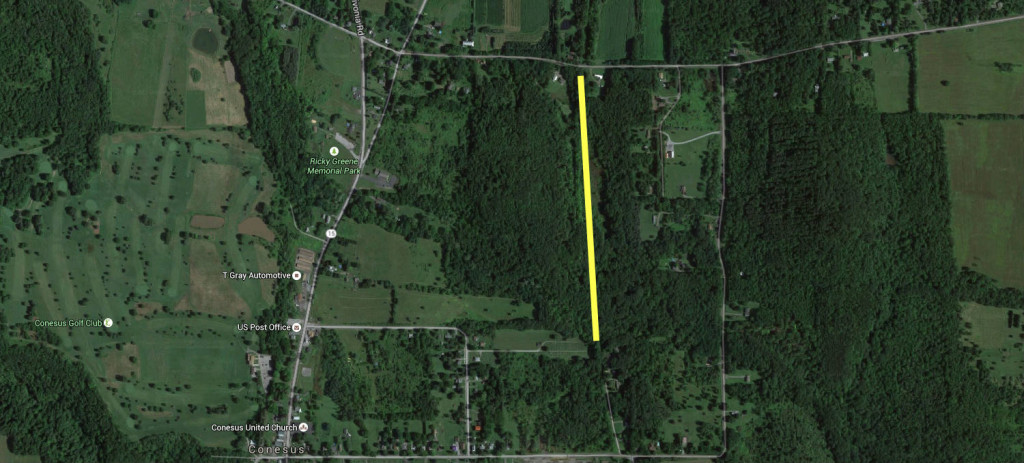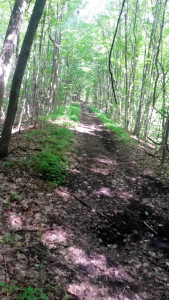 This is a short chunk of the old New York and Erie Railroad, eventually the Erie Lackawanna RR. Originally, this branch stretched from Corning to Rochester. Abandoned sections of the railroad can be found the entire length of its former route. The railroad construction began in the early 1850s, and the tracks were set at a six-foot gauge (six feet apart). Several years later, the railroad executives decided to align the rail gauge with the national standard of four feet nine inches. Digging up further information on this stretch of railroad is tricky, but from accident reports it closed down sometime after 1884.
Now, railroad history is really not my thing, but the woods are, and the railroad bed is a nice trail to walk. It's quiet and green and flat, though I don't recommend it during hunting season. Brian, Chrissy, and I walked this segment of the Erie Lackawanna line south, stopping to check out two of the bridges on our way. The first bridge required quite a bit of sliding to get to its base, which I always enjoy. For once, I managed it on my feet the whole way down!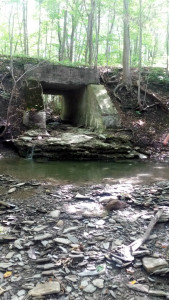 The second bridge is slightly easier to get down to, though once you're actually in the streambed looking at it, you know that if you want to get close, you're going to get wet. Brian, a historical train enthusiast, decided he didn't care and wanted to see the bridge up close. Chrissy and I decided to stay dry. It's always wonderful to see something through new eyes, especially when it's an old haunt. Between their joy in the woods and streams, and Brian's extreme enthusiasm when faced with old railroad bridges, I spent the entire hike grinning.




Our walk back was much less adventuresome, going through mown grass and on paved roads until we found our way back to the car.
We did have to make a stop on the way, though. Brian and Chrissy love trains and toys, and I couldn't very well let them leave Conesus without showing them the wooden play train and monster truck at Ricky Greene Memorial Park. That was almost as much fun as watching them see the bridges for the first time.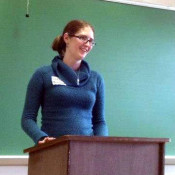 Ann Stachowski is a Finger Lakes girl, born in Rochester and raised on the hills around Conesus Lake. She spent six years at SUNY Brockport, and escaped with dual Bachelors in Psychology and History, and a Masters in American History. She currently lives outside of NYC with her husband, cat, and many toy dinosaurs.