by Chris Clemens
Wizard of Oz fans have no shortage of stops to make in Chittenango, the birthplace of Lyman Frank Baum, author and creator of the iconic tale. I've only ever seen the original Wizard of Oz movie, and admittedly until after my trip to Chittenango I wasn't even aware of the multiple books, films, spin-offs and even crossovers with other fictional classics. I'm always a fan of exploring New York's diverse history and almost always blown away by the things I continue to learn, so a trip to Chittenango was strongly in order and it was no let-down!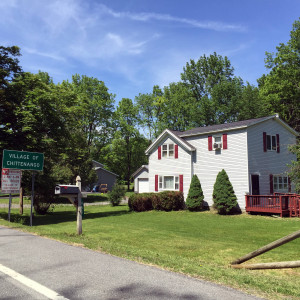 The house that Frank Baum was born in is now entirely gone, but Oz fans still make pilgrimage to the location of the author's former estate–so obviously I did too. Found on the edge of town on same roadway that will take you to Chittenango Falls, the landscape looks worlds apart from May 15, 1856 when he was born.
The Village of Chittenango
Just up the street from there, you'll find the Village of Chittenango in all of its upstate-small-town-from-the-1800's charm. Without looking too closely, one might miss the sidewalks painted like yellow brick roads and the signage everywhere featuring Wizard of Oz characters. Even the town's official sign spotlights Oz characters as if they once searched up and down the streets of Chittenango looking for their brains, hearts, courage and homes.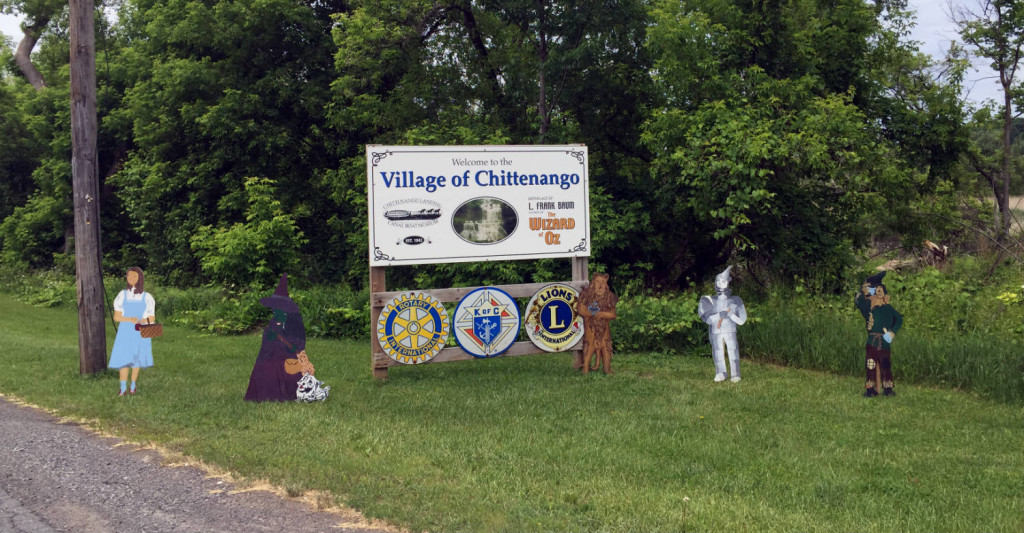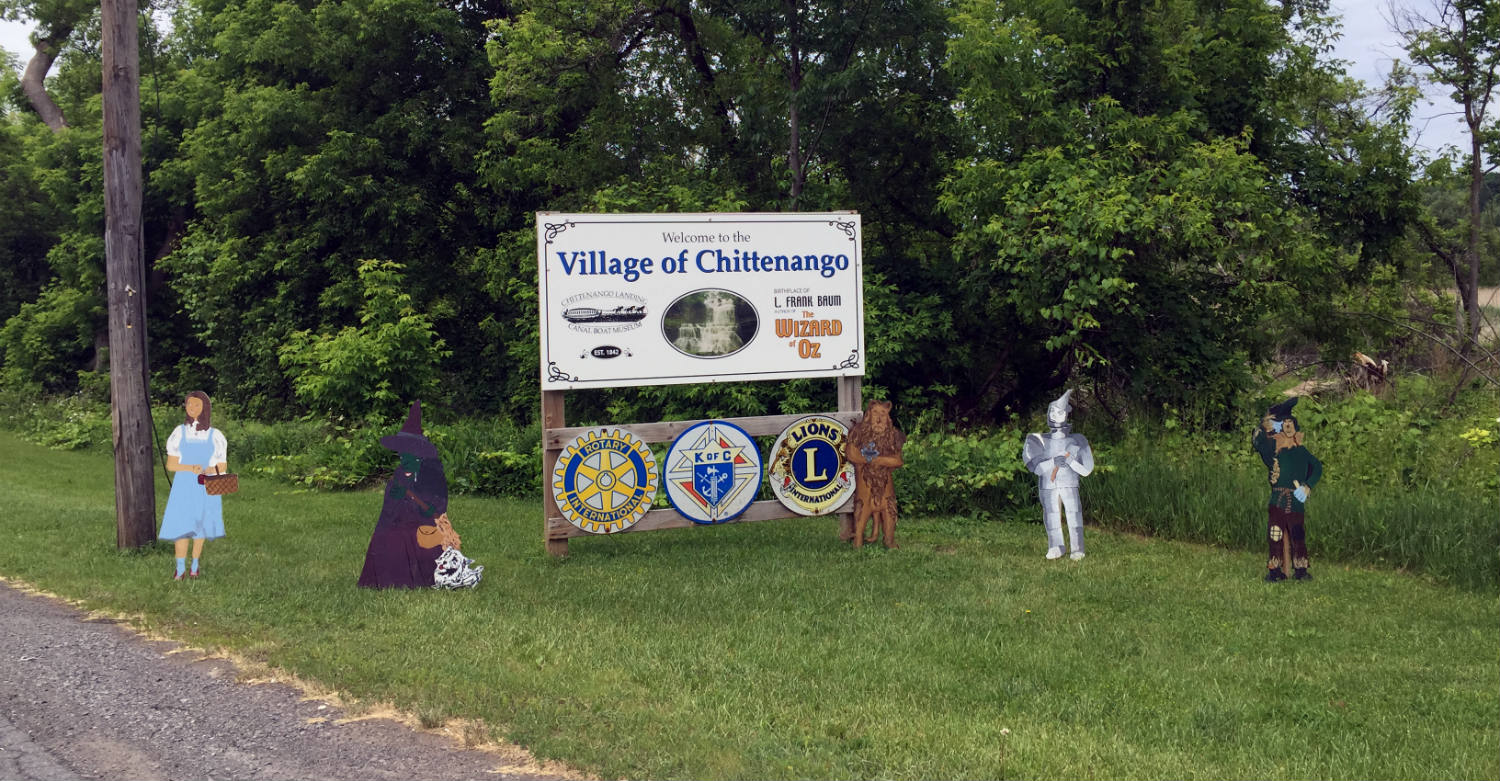 All Things Oz Museum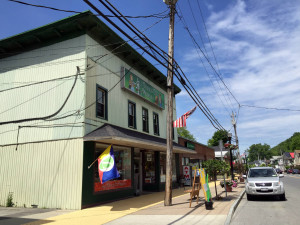 Right in downtown Chittenango you'll discover the All Things Oz Museum. A former storefront has been converted to part gift shop, part museum and part Mecca for Oz-realites–I have no idea if that's what they call themselves but it sounded fun at the time I wrote this. On display inside the museum you can view old chatskis, collectibles, memorabilia and even costumes from nearly each of the Wizard of Oz stories and spin-offs. While I was visiting, there was even a costume on display from the musical 'Wicked'. A dress so highly valued in fact, that it warranted a live security officer standing guard that single dress the entire time it was on display for the weekend.
Oz-Stravaganza
Also while I was in Chittenango, the Oz-Stravaganza 2015 Oz-themed weekend festival was just kicking off. Authors doing book signings, a small carnival, guest speakers, munchkins related to Oz actors, documentary filmmakers and even distant relatives of Frank Baum all show up to mingle with an estimated 20,000 visitors over the course of the three day commemoration.




To be perfectly honest, the whole thing was oddly surreal. I was with my regular, long time exploring buddy who kept making references to things like 'The Wiz' and 'Wicked' and 'Return to Oz' and he kept giving me glances of disbelief every time I had a blank look. I literally had NO idea that there was ever anything after the original film that I watched while playing Pink Floyd's 'Dark Side of the Moon' album. Don't know what I'm talking about?? Check this out. Alright, in my defense, I guess I had heard of 'The Wiz' and knew of 'Wicked', but I've never seen them. However, the fact that there are books where Oz characters actually meet Twilight characters was an entirely new concept for me. I also had never been through Chittenango before, so the juxtaposed downtown village area that is perfectly picturesque Upstate against the touches of Oz-ness everywhere really was something unique. Add to all that the Oz fans of any age, color and background and the town was transformed into something as if a tornado had picked us up and landed us outside of New York altogether.
The Yellow Brick Road Casino
Just a few days before the Oz-stravaganza fest took place, Chittenango received another Oz-themed destination. The Yellow Brick Road Casino opened on June 2, 2015 with hundreds having waited outside, some even overnight, to get the first glimpse at the emerald green bells and whistles of over 400 slot machines and a 500 person bingo hall. Four different eateries with Oz-related names like "Dorothy's Farmhouse" and the "Heart and Courage Saloon" are available in addition to the gaming. While games and cutely named food are pretty fun, I have to admit that my favorite was the steel bar tornado greeting anyone walking through the front door. And, I have to mention that the staff at YBR are incredibly friendly. My fellow explorer for the day said later, "Seriously, how many people asked us if our lunch was good?" I'm not much of a gambler, but if I was betting I'd say it was a lot.
Even if you're not a huge fan of the Wizard of Oz I think the average New Yorker would enjoy a jaunt through the region checking out all of the Oz-related things in Chittenango. And, if you go and don't really enjoy it, you could always try closing your eyes and clicking your heels…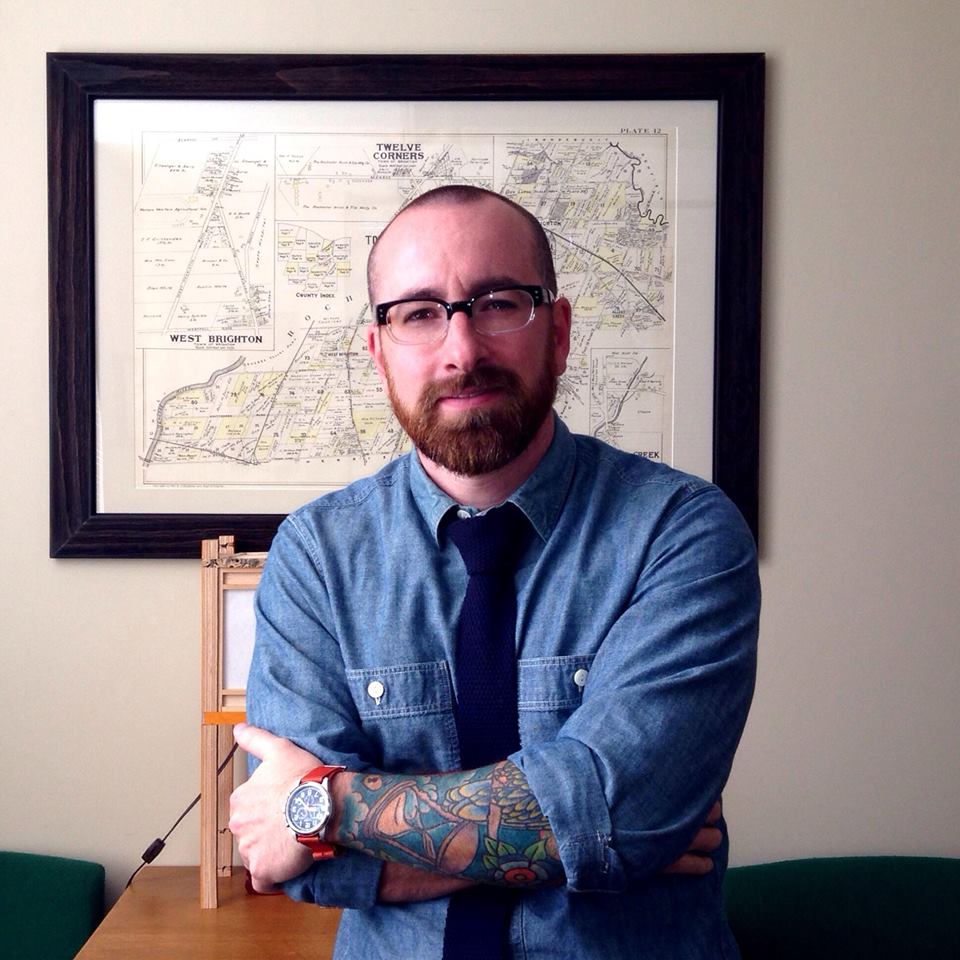 Chris Clemens is the Founder/Publisher of Exploring Upstate. From his hometown in Rochester, he spends as much time as possible connecting with the history, culture, and places that make Upstate New York a land of discovery. Follow him on Twitter at @cpclemens