While Anchor Bar in Buffalo is cited as the original Buffalo chicken wing, Duff's Famous Wings is often preferred by locals to the original.
by Chris Clemens
We all know of course that the "Buffalo Chicken Wing" was first invented at the Anchor Bar in 1964.
Since then, countless iterations have popped out of fryers all over New York and even other parts of the country. I always think it's fun(ny) to order 'wings' when I'm traveling in other states. It's interesting to see what kind of ridiculousness they attempt to pass off as a Western New York icon.
Though I wouldn't say I'm an aficionado and I've about had it with the term 'foodie', I love to eat. Growing up in Rochester meant having access to some great chicken wings, so I've definitely developed an opinion. I made it a point to watch the locally produced documentary The Great Chicken Wing Hunt. After watching I visited what they determined to be the best wing in the world.
If you haven't read that post, you can find here. If you have read that post, you already know I was none too pleased with the turnout.
I needed to have GREAT wings. I wanted to LOVE what I was eating. Really, I needed to feel disgustingly satiated but still insist I eat more just because they are THAT good. I needed Duff's.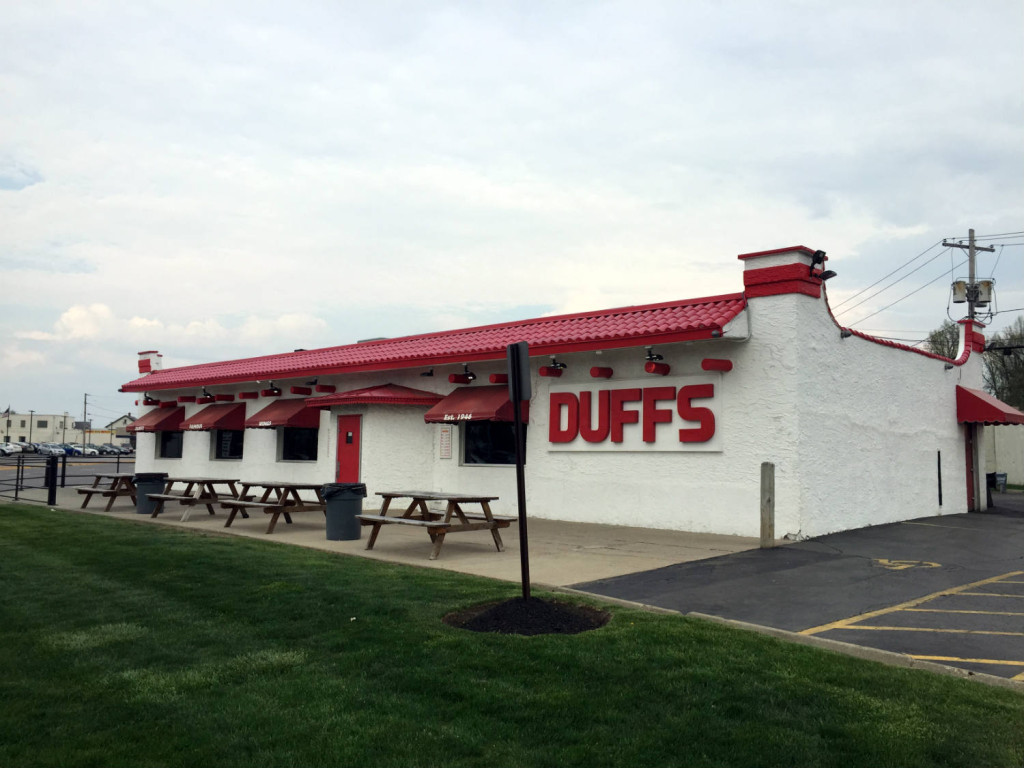 Duff's Famous Wings History
In 1946 Louise Duffney opened a little bar in Amherst (a northern suburb of Buffalo) on the corner of Sheridan Drive and Millersport Highway.
Five years after the Anchor Bar appetizer was invented, Duff's added the chicken wing to their menu in 1969.
Now, ask on any social media platform where the best wings in Buffalo are and the ensuing battle will divide fans into camps touting both Anchor Bar and Duff's. Though Anchor Bar is indisputably the inventor of the wing, many would argue that Duff's perfected it. They quickly established themselves as being a favorite among Buffalonians.
In 1985 Duff's believes they finally became 'famous' and changed their name to the current "Duff's Famous Wings".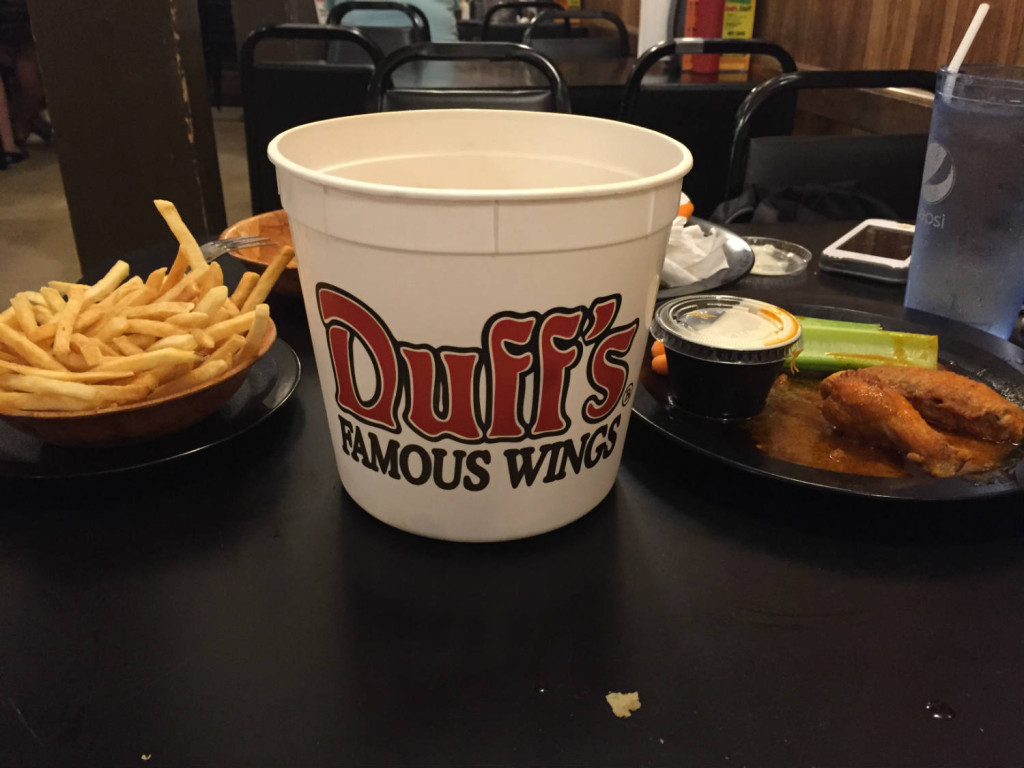 Eating At Duff's
The menu has a whole host of other non-wing items like another Buffalo culinary invention, the Beef on Weck sandwich, fried bologna sandwich, italian sausage, and a 'veggie burger' for anyone who has somehow brought a vegetarian with them. For the adventurous, their sauce menu features a long list of options, the most troublesome-sounding of which is 'Death Sauce' that somehow ranks hotter than the 'Suicidal Sauce'.
Until Exploring Upstate starts paying me a handsome salary, I choose to leave those options to those who voluntarily enjoy being tortured while I stick to my 'Medium Light' well-done wings.
The decor of Duff's is nothing to write home (or on your blog) about, but I think that's part of the appeal. The older tables and chairs in perfect rows surrounded by faux-wood paneling screams "we didn't bother spending a ton of money on the decor because we know that crap doesn't matter–you're here for the wings." The dining room at Duff's is simple but maintained.
Flats Or Drums?
With that being said, there are a few Duff's locations that have opened up over the years. Since I've only been to the original, I can't really speak to the dining room feel of the other locations. But, let's face it, you're going to have some of the best buffalo-style chicken wings that you can buy.
You won't even notice the rest!
According to the Duff's website, there is a location opening in Rochester within a few months of this post going live. I'm ready!! In the meantime, I'll just be remembering my visits to Buffalo and checking out their Facebook Page.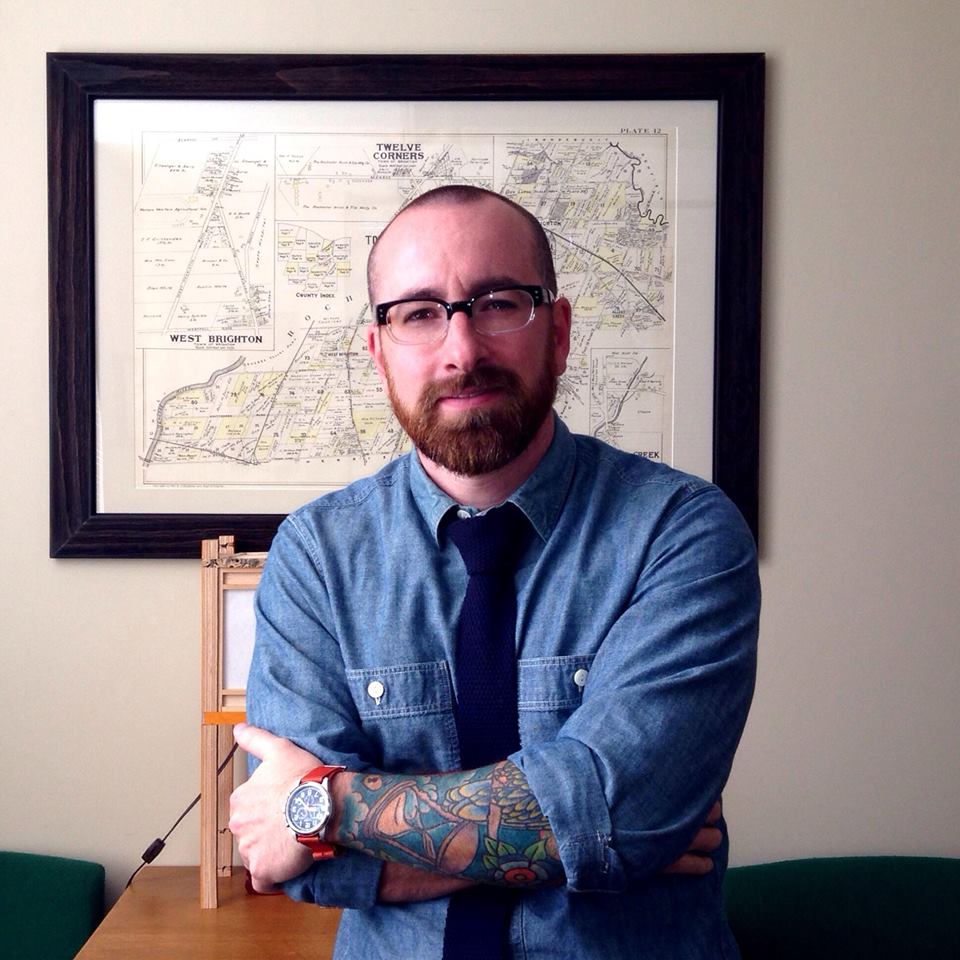 Chris Clemens is the Founder/Publisher of Exploring Upstate. From his hometown in Rochester, he spends as much time as possible connecting with the history, culture, and places that make Upstate New York a land of discovery. Follow him on Twitter at @cpclemens