Abigail's in Waterloo was determined to have the best chicken wing according the documentary the Great Chicken Wing Hunt. We visited to see for ourselves.
Update: Abigail's closed in June 2018.
by Chris Clemens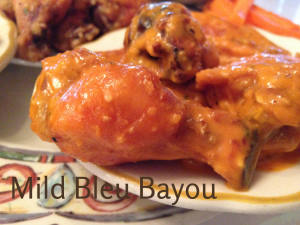 The Chicken Wing was born at Anchor Bar in Buffalo on March 4, 1964. It was the effort of bar owners Tessa and Frank Bellissimo attempting to salvage an order gone wrong.
Prior to 1964, chicken wings were basically considered garbage and no one had much of a use for them. Anchor Bar received a box from their distributor on accident. Unsure of what to do with them, Tessa went to town on a recipe. Her goal was to turn the culinary dregs into something that maybe someone might enjoy.
I highly doubt that evening Tessa had any clue as to the future popularity of her dietary invention. Countless others have tried to replicate the original Anchor Bar wing and most have fallen miserably short. Others, however, have done quite well.
The Great Chicken Wing Hunt
I caught wind of a documentary following a few folks trying wings in New York State. I tracked down 'The Great Chicken Wing Hunt' on Hulu and watched as Lyons local Matt Reynolds pairs his Slovakian friends with a group of Upstate New York chicken wing aficionados while they visit 72 different haunts in 16 days, sample 270 different chicken wing recipes and ultimately vote on a winner.
The group created an objective scoring system in hopes of finding the absolute best chicken wing.
While the process sounds scientific and objective, I tend to think that food sampling is anything but. I do enjoy a lot of different types of foods provided they haven't come in contact with mayonnaise, of course. But I have never had the type of refined palate that would move me into 'being a food critic.
I either like something or just don't, so identifying the subtle nuances of a meal just doesn't work for me. However, I love a good Buffalo-style Chicken Wing. I always enjoy trying a restaurant's attempt at recreating the Western New York classic.
When the players in "The Great Chicken Wing Hunt" determined the "World's Best Wing" was located in the Finger Lakes, I had to try it. I set up a day and headed to Waterloo to have the chicken wings at Abigail's.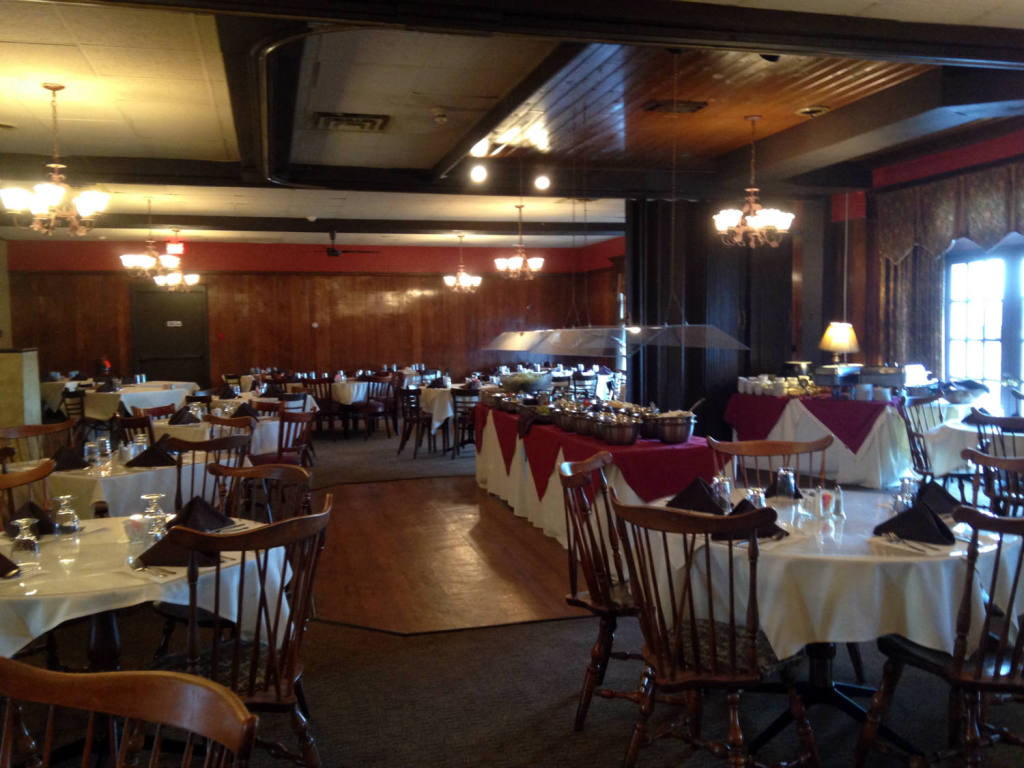 *Full disclosure: I actually went to Abigail's knowing that the group voted it their top choice but hadn't actually seen the film yet. After leaving Abigail's I subsequently drove home (though, as you'll read later not straight home) and fired up Hulu to find out what these people were talking about.
Off To Abigail's In Waterloo
I brought a friend along who grew up just South of Rochester and has since moved to Phoenix. Being a wing fan herself, she is dismayed that in Phoenix a wing is really just a boneless BBQ concoction. While she was in town she was totally onboard for having a legit wing.
Abigail's hours are a little funny, they're open 11a to 2p and then open again at 5p for dinner. We arrived promptly at 5:01p and were not the first party to be seated.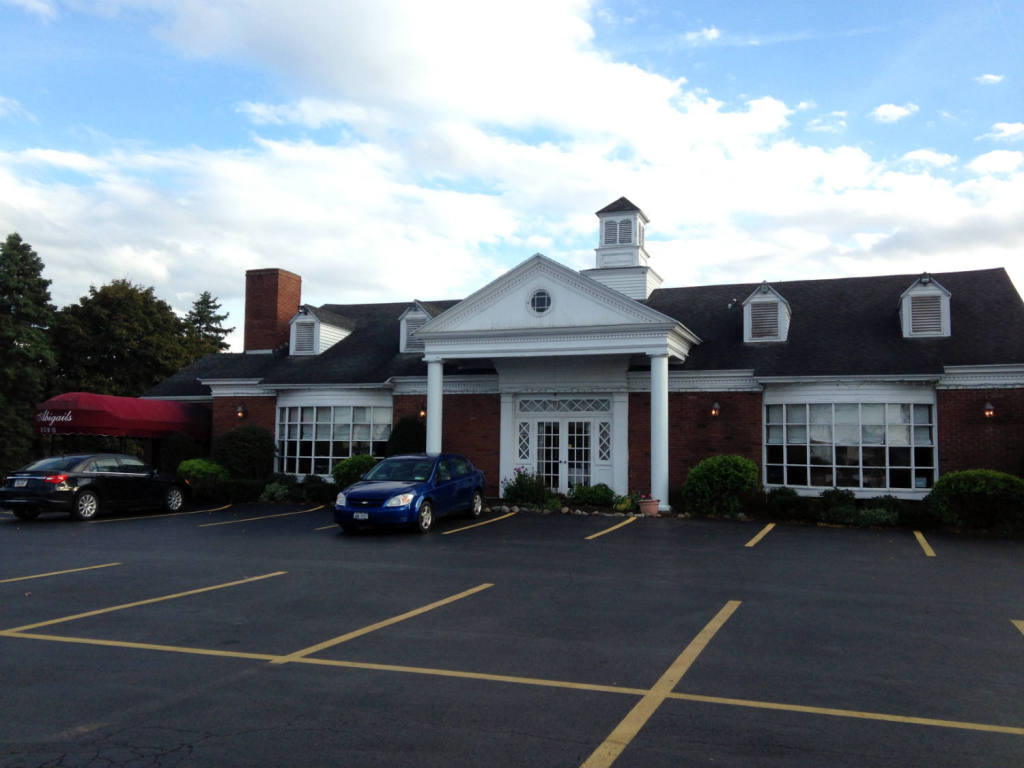 Abigail's is a party-house feeling restaurant on Route 20 in Waterloo, just a few miles West of historic downtown Seneca Falls. They offer a full menu but also a few variations on the chicken wing.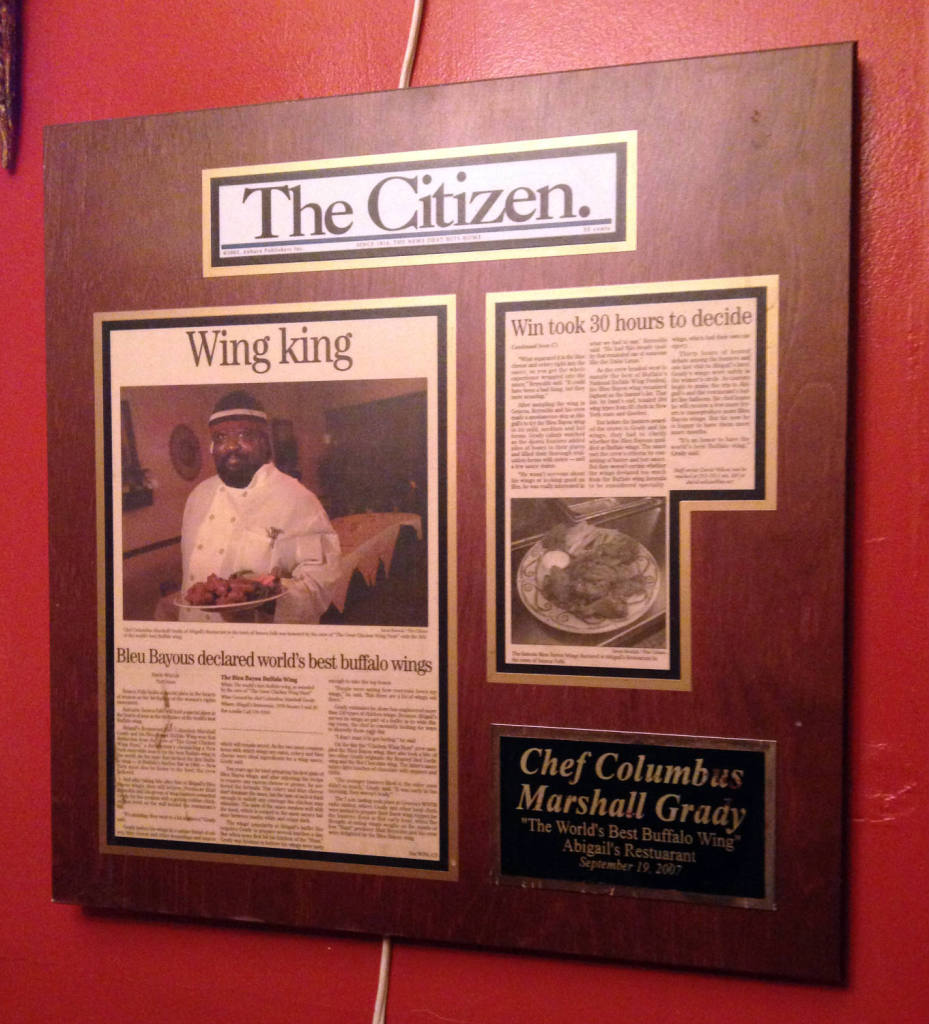 Wing Options At Abigail's
We really wanted to try the award winner, so we got six Bleu Bayou in mild, six Bleu Bayou in medium and six sauceless. When told they were out of sauceless, we went with the Garlic Teriyaki to finish off our order of 18. The other options we both agreed were not options at all. The menu included:
Apple walnut
Cranberry Vinaigrette
Pumpkin Spice
Jalapeno (that's how it was spelled on the menu) and Cheddar
Garlic Teriyaki
Honey Buffalo
Bleu Bayou (in mild, medium and hot)
then a sauceless hot wing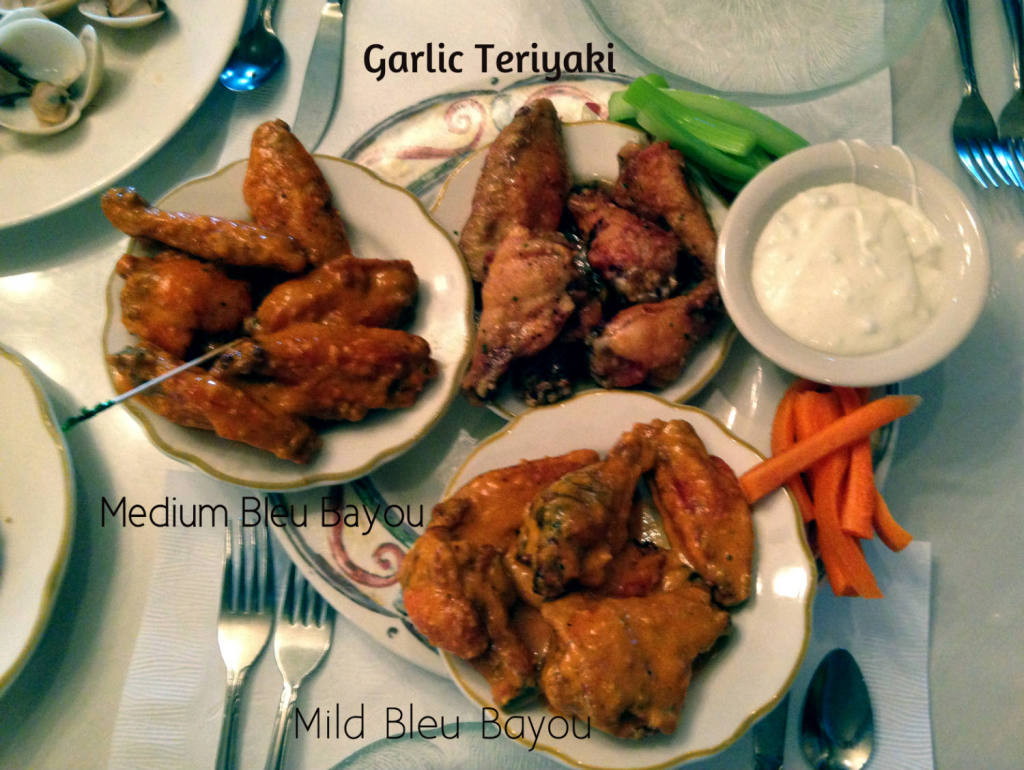 Abigail's Bleu Bayou Chicken Wings
The 'Buffalo style' wings were colored a pale orange, indicating their namesake as 'Bleu Bayou'. Chef Columbus Marshall Grady takes a traditional Buffalo style sauce and mixes it with bleu cheese and chopped celery. In defense of Abigail's wings, I hate bleu cheese. I particularly have never understood why people put it on their chicken wings. To me it seems like putting cream and sugar in your coffee. I feel like it's a feeble attempt to somehow make the taste of the staple item acceptable to their palate.
Typically I order my wings well done so they're crispy, but for this experiment I ordered exactly as they came. I started with the mild Bleu Bayou which was meaty, but not nearly cooked long enough to my preference. With the first bite I could tell the amount of bleu cheese mixed into the sauce was way too much for me to enjoy.
Still, I finished the wing.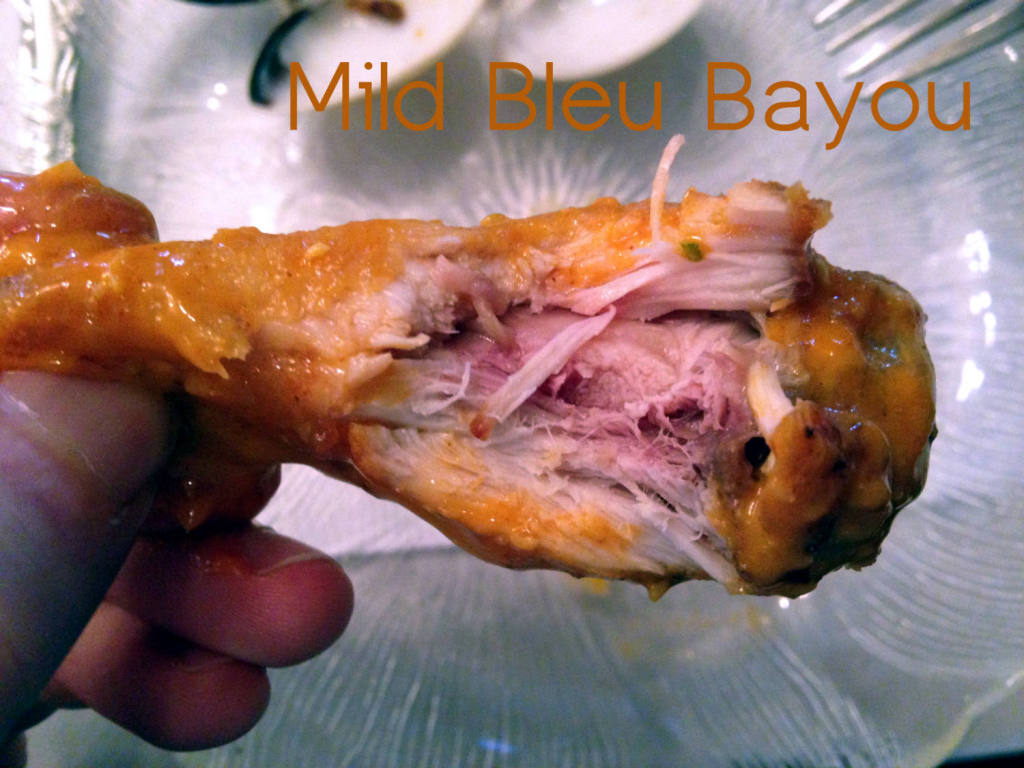 The medium Bleu Bayou seemed to be a medium simply because it had less bleu cheese in the sauce. The result was a just slightly more orange and just barely more edible wing than the mild. I was able to choke down two of the medium.
Admittedly, the Garlic Teriyaki had a better looking presentation. But biting in immediately gave me a flavor burst that my brain was convinced was entirely all wrong. I wanted a chicken wing dammit! A real Chicken Wing!!
My accomplice was having similar doubts with each bite. Ultimately decided that rather than forcing ourselves to eat these, we'd leave and stop somewhere on the ride home to get something more satisfying.
Film Follow-Up
After filling my belly with other stuff I settled in to watch 'The Great Chicken Wing Hunt'.
Throughout the film there is some discussion about what makes a traditional Buffalo-style chicken wing. That leads naturally into whether or not anything other than that should be considered a novelty wing.
A traditional Buffalo-style wing is an unbreaded wing deep fried and tossed in a vinegar sauce (usually Frank's Red Hot) with butter and cayenne pepper.
I share the opinion of some of the team members who insist that anything different is just simply not a Buffalo-style chicken wing at all. Abigail's was chosen almost nearly across the board by all team members as a Buffalo-wing because it incorporated the tastes of the buffalo wing itself, and the two sides that it often is served with: bleu cheese and celery sticks.
A chef from Prague, Ric Kealoha, was one of the Chicken Wing Hunt team members that emphatically disagreed with his fellow documentarians. He insisted that though the wing had merit, it was most certainly not a Buffalo-style chicken wing. Therefore, he felt it didn't deserve to win.
Chicken Winging It
After trying the Bleu Bayou recipe at Abigail's myself, I have to say that I couldn't agree more. Plus, they were easily some of the least enjoyed wings I've ever had.
Overall the film is a really fun watch. In fact, Matt even refers to it as a 'Documentary Comedy'. But I have to respectfully disagree with their decision that Abigail's has the best. Furthermore, I wouldn't even allow Abigail's to be considered in the first place.
That of course doesn't mean you won't like it or even that it isn't worth eating, it just means that as far I'm concerned it's not really a chicken wing at all. If you're wondering what my choice is for 'Best Wing' it is without question, the mild-medium sauce at Duff's in Amherst on a well-done wing.
Care to disagree? Leave me a comment!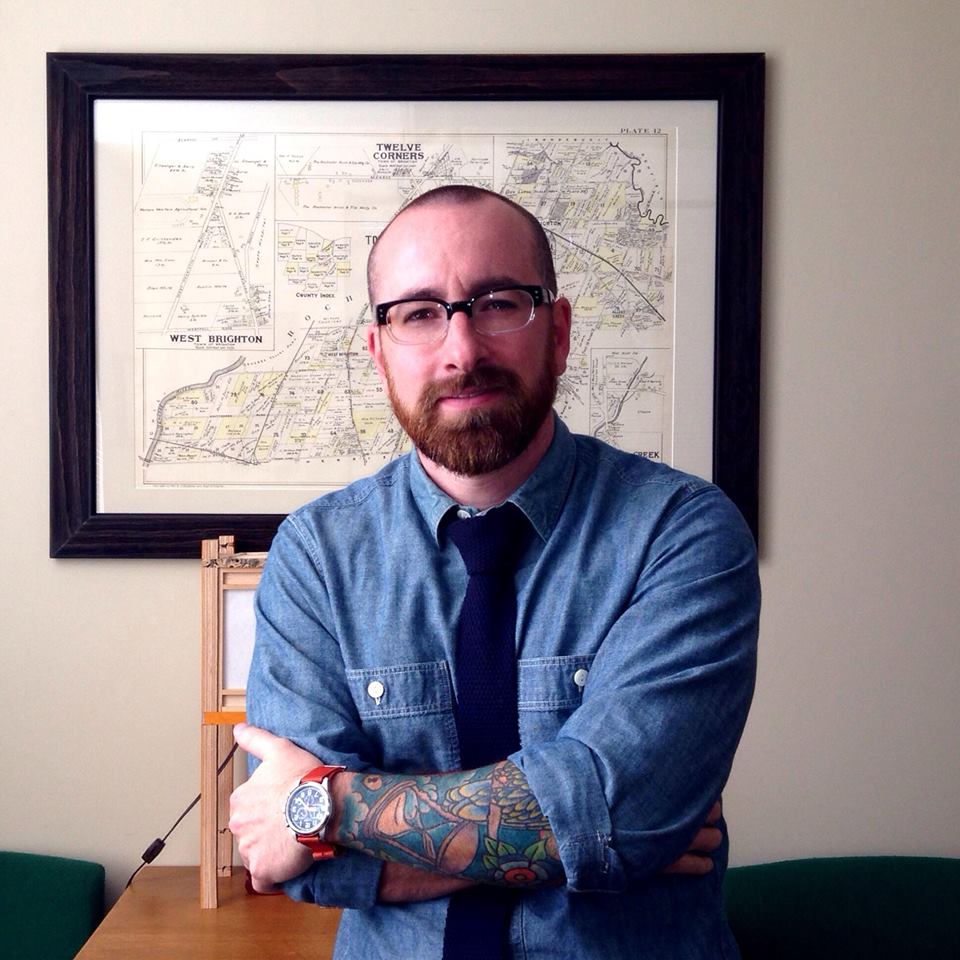 Chris Clemens is the Founder/Publisher of Exploring Upstate. From his hometown in Rochester, he spends as much time as possible connecting with the history, culture, and places that make Upstate New York a land of discovery. Follow him on Twitter at @cpclemens