Take an inside tour of Silo City and see these historic waterfront grain silos in Buffalo up close.
by Chris Clemens
If you take any time at all to explore the history of the Old First Ward of Buffalo, it's nearly impossible to avoid the enormous concrete industrial cylinders jutting into the skyline along the Eastern edge of Lake Erie.
The seemingly desolate collection of grain silos have fueled the curiosity of people all over Western New York.
Adventurous trespassers who don't heed posted warnings have been breaking and entering for years now as part of the popular 'Urban Exploring' boom. But a few preservation and activist groups have made it possible to experience the silos up close both safely and legally.
Explore Buffalo is a small not-for-profit tour group that takes aim at bringing folks on a myriad of different opportunities. You can join their adventures through history, architecture, art, and development around the city. I had previously taken the Architectural Masters tour but had been curious about checking out their "Silo City: Vertical Tour". For this one attendees go on a two and a half hour jaunt through the American and Perot Grain Silos.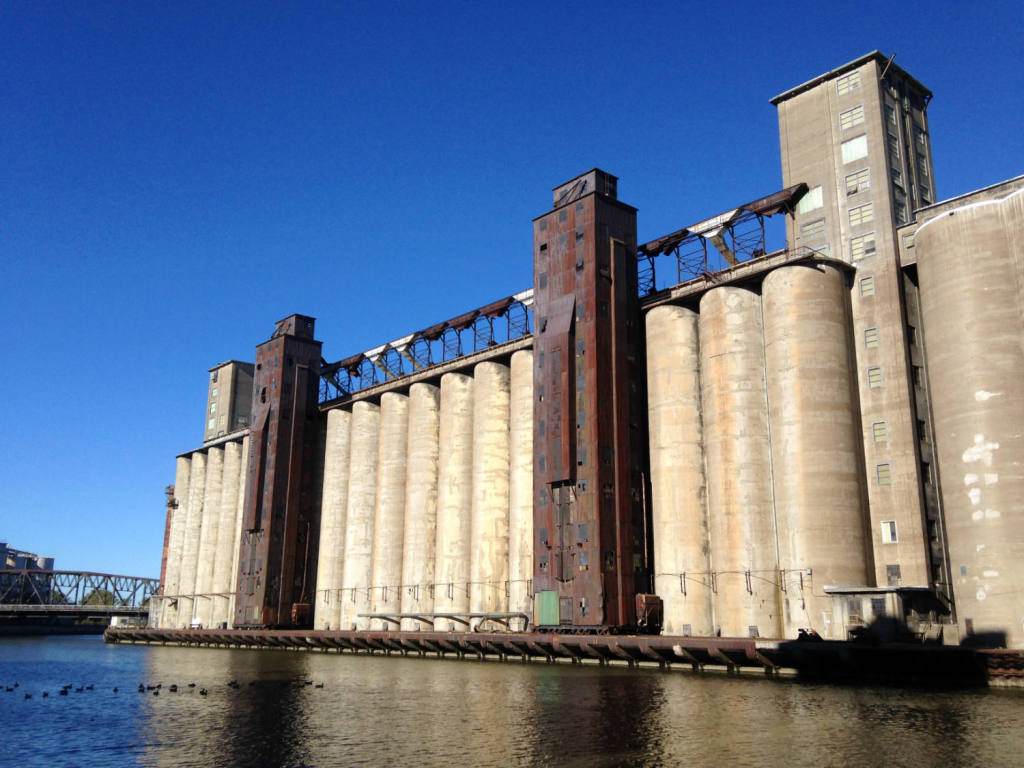 Why Grain Silos Are Needed
In the early 1800's grain would make its way to New York by all sorts of different means. Each of these methods were increasingly more cost prohibitive and laborious than the last.
The installment of the Erie Canal meant boats now had the upper hand. They could transport grain in larger quantities and in quicker times to avoid spoiling product. Unfortunately, large lake boats couldn't really navigate the narrow canal. The canal boats were small enough where they'd just get tossed around on the lakes.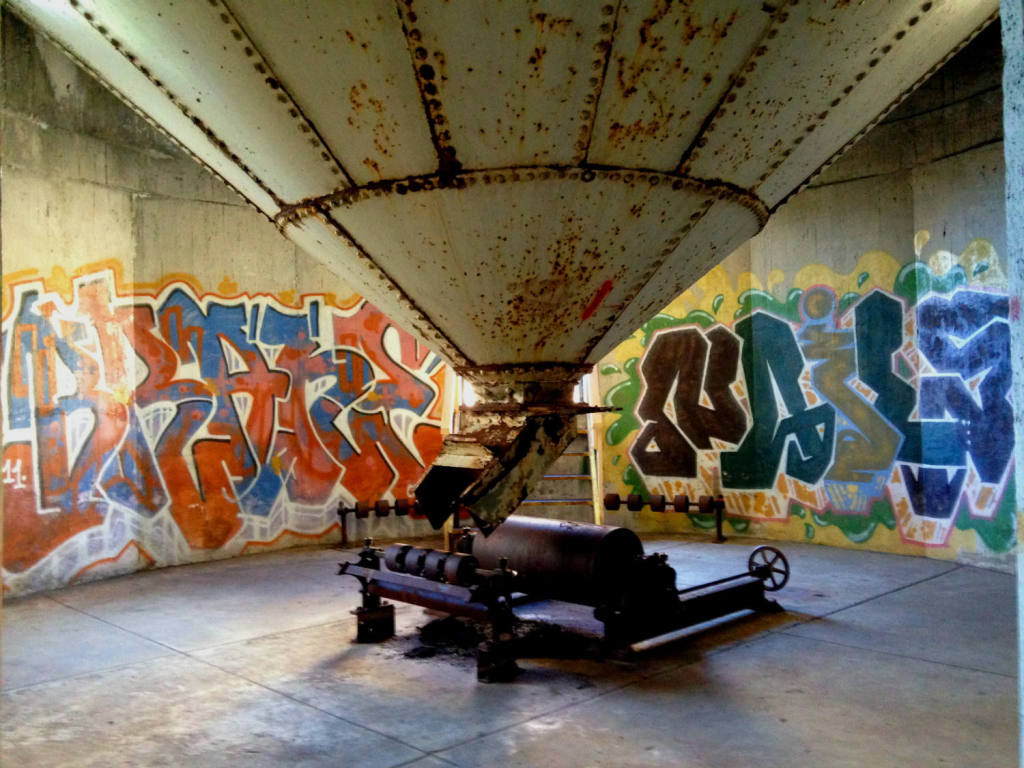 With both Lake Erie and Lake Ontario here, Buffalo became a transfer spot for grain shipments imported from the west. Larger boats would bring in the freight and it would get transferred to the smaller boats to haul product east. The First Ward had already become a settlement for Irish immigrants in the mid-19th century. Those folks needed work and the back breaking job of removing grain from one boat and putting it on another was a secure income.
Buffalo's Earliest Grain Silos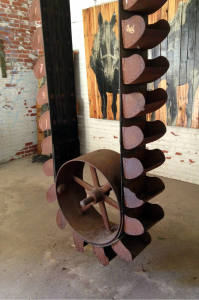 In 1842 Joseph Dart, a local merchant in Buffalo, constructed what many believe to be the first grain elevator. A simple wooden building that utilized a belt system with buckets attached would immediately change the industry forever.
His system increased volume while cutting costs and additionally, provided a structure for grain storage. Similar grain elevators sprung up in the area, but each and every one met the same fate. Storing combustible grain products in a wooden structure just turned out to be a bad idea.
The solution for a fire resistant design was found in using cement and steel.
In 1906 the American Malting Company elevator was constructed. That was the first in the city built with reinforced concrete. More importantly, it's believed to be the first structure in the country to have been constructed using a 'Slip Form Technique'. With this method a large circular mold would be filled with cement and then raised as it settled. Once the ring was raised they would pour more cement and repeat all the way up. Even today striations on the cement facades can be seen indicating the use of the unique method.
The American Malting Company used the building to make regional beers until Prohibition when production came to a halt. It had a fixed marine tower but received an additional tower in 1922 when the flour manufacturer Russell-Miller took over. This new marine tower was especially impressive because it was built on railroad tracks. That meant the entire structure could move to meet the boats!!

The Silo City Tour
Our tour began in this American silo.
It starts with viewing the bottom of the grain hoppers before going up. It's a shame, because I wish everything was, but I'll disclose now that this tour is NOT handicapped accessible. In fact, it might even be tough for those in top physical condition.
(Alright, maybe not tough, but it ain't easy!)
The American Silo
The group climbs up 100 feet on a rusted steel spiral staircase. It's affixed to the wall, but it definitely sways a bit here and there. I never once felt in danger, but the dizzying views of looking down multiple floors of spiral stairs made for an interesting start to the morning!
At the top floor of the American building there's a few opportunities to get some amazing views in all directions. I stood looking out over the City of Buffalo loving this opportunity. I wondered if any of the mill workers who worked in that very spot thought that people would someday be grateful for the chance to be standing there.
The Perot Silo
Just a year after the American Malting Company built their silos, the Perot Malting Company set up shop next door. While they built the silo next to their competitor in 1907, the company actually dates back to 1687. It was then that founder Anthony Morris originally set up shop in Philadelphia.
Even though they built their silo on the water, it was never built with a marine tower. That meant there wasn't any real direct access for grains from boat to building.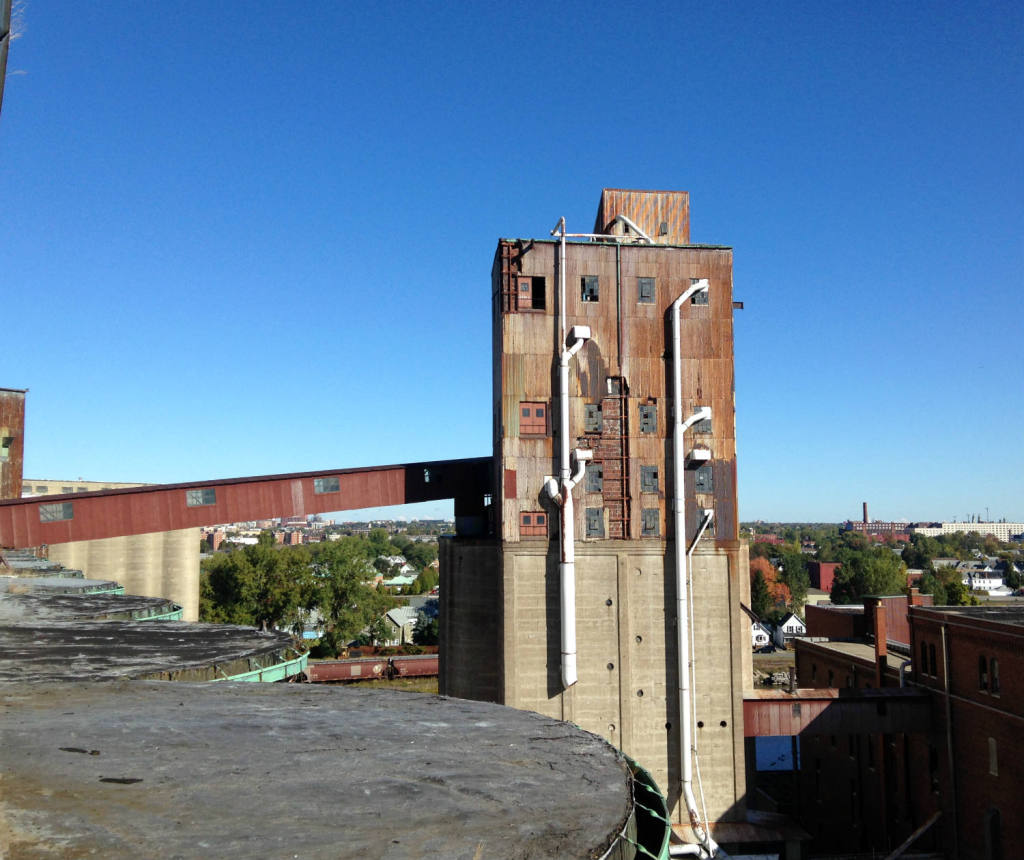 When the American building switched over to flour the two neighbors were no longer competitors. They struck an agreement allowing boats to deliver to the American silo, and product to be shifted overhead by a conveyor belt. From the ground, you'll see a red 'skywalk' at the top level between the two buildings. That's the conveyor that connected the two. If you're taking the tour you'll be walking across that connection and then climbing down in a hole that lets out near the roofline of the one of the Perot silos.
If you're wondering how American Malt didn't survive the Prohibition Era and Perot did, it's because Perot continued production for medicinal and industrial use alcohol until the country was free to get drunk again.
Silo City Tour Continues
For over two hours our group climbed up and around and down the American and Perot silos. I was taking this tour with my friend Sarah from the Mindfully Frugal Mom blog, and we stopped for a quick photo op.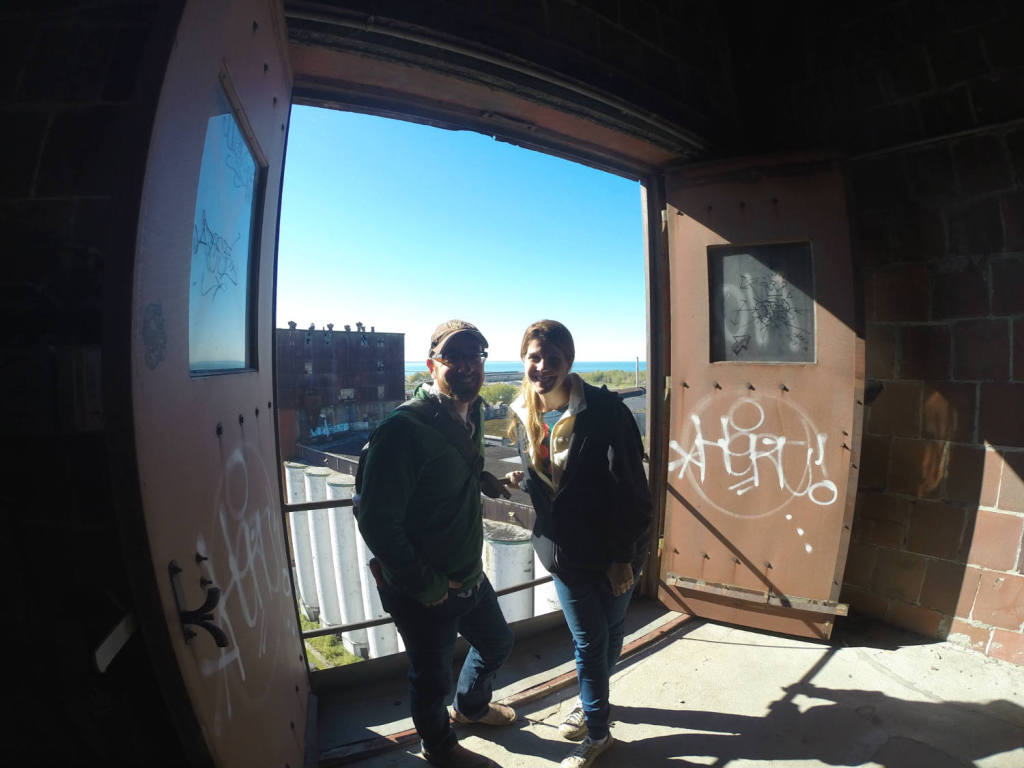 We learned the history of the buildings and saw firsthand how grain was transported and stored. Of course, we did that while catching some of the most unique views of the city that you could possibly find.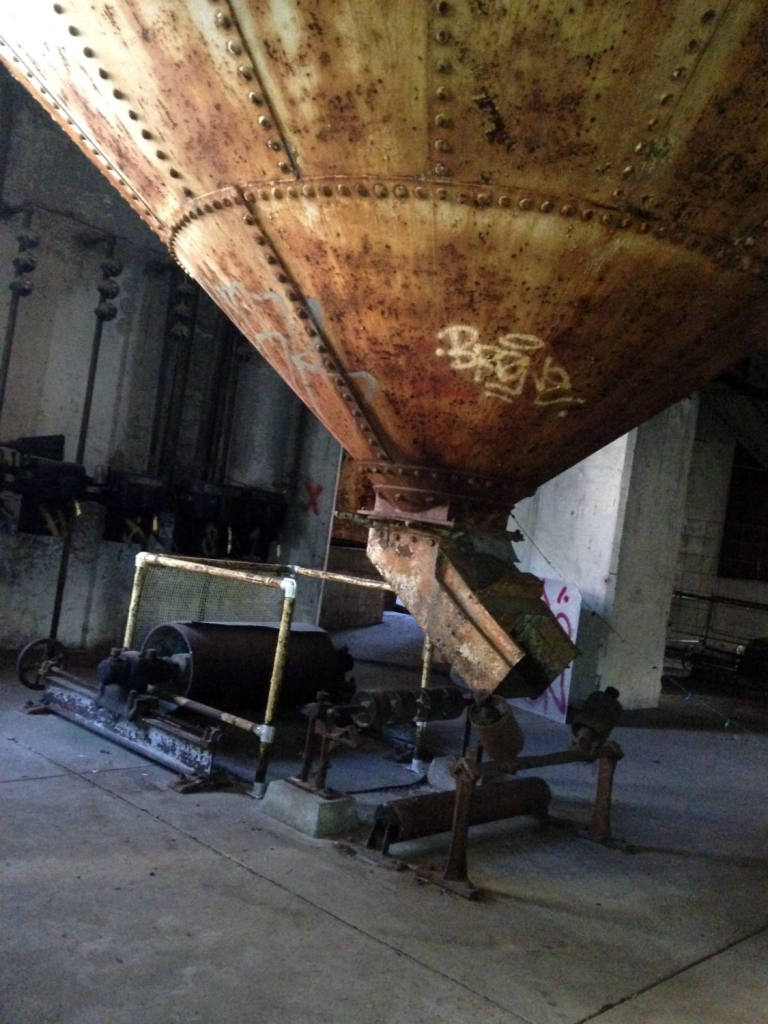 Once we made it back to the ground our guide Jason Mendola brought us around the ground floor of some of the other nearby buildings.
What I found noteworthy about this tour is that I looked at least twenty grain silos and nearly as many hoppers, but it still didn't get old. Each building's nooks and crannies had their own personality. Being able to marvel up close at each one was a really fantastic experience. I kinda felt like a kid–it was all an adventure in history and discovering new spaces.
How To Take A Tour Of Silo City
So if you've determined that you're, 1) interested in taking the 'Silo City: Vertical' tour and 2) not afraid of heights, there's one last tour for the remainder of this year on October 25.
Head on over to Explore Buffalo's website and grab your tickets before the last one sells out! Tickets are a reasonably priced $45.00 per person and even includes lunch at the end.
If keeping your feet on the ground is more your style, they have a bunch of other really cool options to checkout here. Also, if there's a tour that you're really interested in but can't make the schedule they have, Explore Buffalo can accommodate your needs in most cases. This is a great option for folks like professional photographers who may need a few more minutes in each spot and don't want to hold up a group.
If you go exploring with them as a group or on a personalized tour, be sure to tell them I say hello!!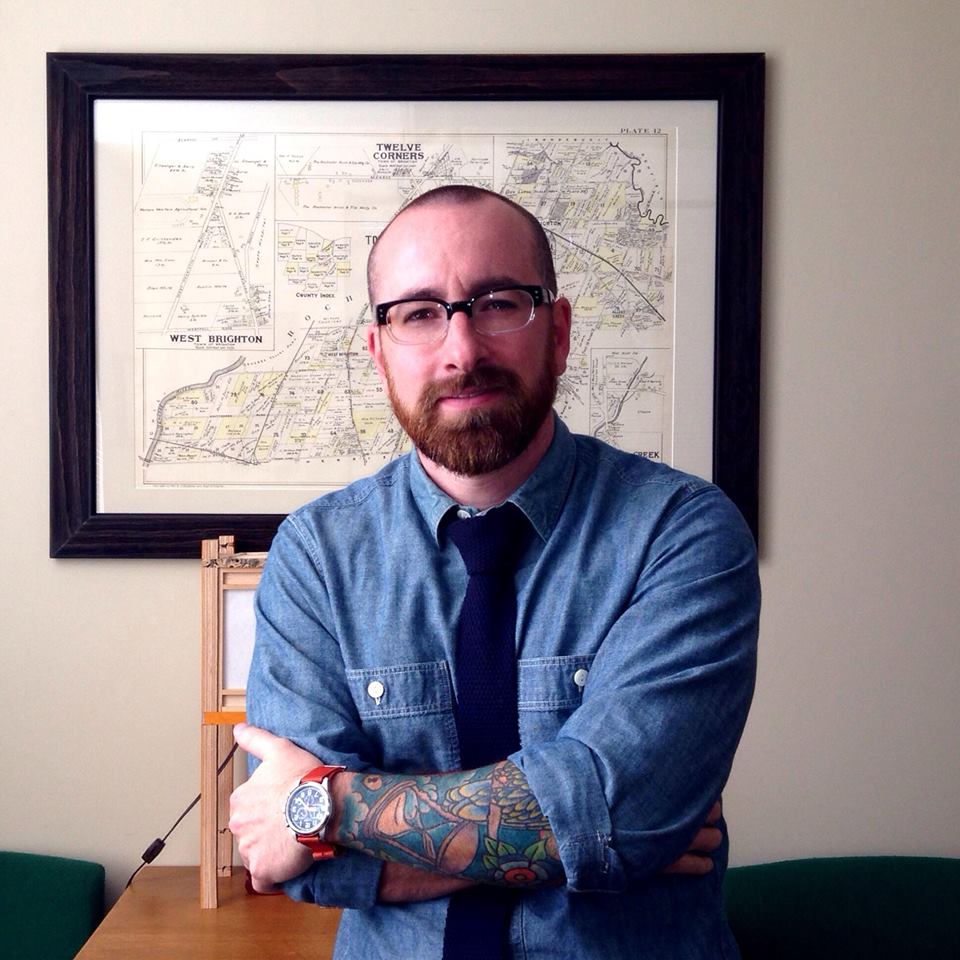 Chris Clemens is the Founder/Publisher of Exploring Upstate. From his hometown in Rochester, he spends as much time as possible connecting with the history, culture, and places that make Upstate New York a land of discovery. Follow him on Twitter at @cpclemens