by David Haas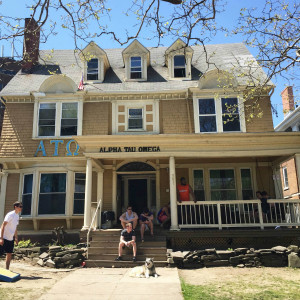 I was recently invited to 304 Walnut Place by some of the members of the Epsilon Phi Chapter of Alpha Tau Omega Fraternity at Syracuse University. An alumni named Salvatore reached out to me asking me to research the history of the home, and what I found was beyond fascinating!
The home was built in 1899 for George Larrabbe and designed by Gordon Wright. Larrabbe was the manager of the National Biscuit Company. The home was soon after occupied by George Hopkins Bond and his wife Florence Cherry whom this post will feature.
George Bond was born in the city of Syracuse in 1873 and his family had been residents of Onondaga County for more than a century. Bond was a direct (10th) descendent of Stephen Hopkins, one of the passengers on the original Mayflower voyage to the new world.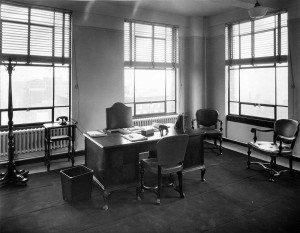 Bond attended Syracuse public schools and Syracuse University (SU) where he graduated with a bachelor's in 1894. He was a member of the Delta Kappa Epsilon fraternity and played both baseball and football for SU. He is remembered as the first SU athlete to wear the block "S" logo when in 1893 after a meeting of the Athletic Governing Board he immediately bought a sweater and had an orange block "S" sewn into it. It was premiered by Bond in a baseball game later that spring. In 1894 he was also named the 4th coach in Syracuse Football history where he led the team to a 6-5 record.
Bond continued his education at SU and graduated from the College of Law in 1897. He married his wife Florence in 1901 and they had two children. He soon grew into a prominent lawyer taking on countless positions and community roles at different times. He was a professor in the law school at SU. From 1904 to 1906 he was state inheritance tax appraiser for Onondaga County. He was elected district attorney in 1908. He was a member of the executive committee of the Board of Trustees of SU and was often sought out by the various University Chancellors for advice. He was later elected to the New York State board of Regents. Among other achievements, he served as director of the A.E. Nettleton Shoe Co., the Onondaga Pottery Co. and Pass-Seymour Inc. He was also president of the New York State Bar Association.




Bond participated in the first land purchase that went into the building of the Onondaga Golf and Country club.
He might be most known for founding the still existent law firm of Bond, Schoeneck and King, where he was a prominent lawyer and senior partner until 1953. Bond selected an office spot high in the State Tower Building on South Warren Street so he could look out his window and see where he was born, where he went to school and where he lived.
George Bond was also a known friend of former presidents Theodore Roosevelt, Herbert Hoover and Franklin Roosevelt.
He lived most of his adult life within two blocks of the SU campus and at the time of his death his home at 304 Walnut Place was the last remaining private residence in what was now being called "fraternity row". He passed away in May of 1954 and his wife Florence past 4 months later in October. They are buried in Oakwood Cemetery.
The last line of his obituary read, "Syracuse mourns one of its finest citizens".
Sources and Additional Reading
The Post-Standard, May 9th 1954. Page 22
The Herald-American, May 9th 1954. Page 55
The Post-Standard, May 10th 1954. No Page Listed
Syracuse Landmarks: An Aia Guide to Downtown and Historic Neighborhoods by Evamaria Hardin
Born and raised in Syracuse, NY David Haas operates the @SyracuseHistory Instagram account which he created in 2013 in an effort to help individuals realize and appreciate the rich history of the city. David is actively involved in several neighborhood groups including the Eastwood Neighborhood Association and Tomorrow's Neighborhood's Today. He has also volunteered on several other community projects, and advocated for change through various media sources. David manages a not for profit program through the Learning Disabilities Association of CNY and is the Co-Leader of the Syracuse Chapter of the National Stuttering Association. To learn more about his effort to raise community awareness about stuttering you can visit his website and follow him on Instagram.