A political race in Albion, NY changes the appearance of Main Street forever.
by Chris Clemens
Ever walk down a street or notice a building and think, "I wonder why they built it like that??"
Typically I have told you the story of places I've visited, but this one seemed too fun to not share. I haven't been in either church, but I definitely went to check them out.
While visiting Pullman Memorial Universalist Church in Albion, my guide Bill Lattin guided us outside and pointed across the street. He shared a story that seemed too fantastical to be true, but definitely had me intrigued. After parting ways with Bill that day, I drove around the two churches in his story to get better a look.
Our Church In Albion Is Taller Than Yours
The Presbyterian Church (not pictured) that sits on Main Street in Albion is tall, and not by accident.
In 1872 a wealthy parishioner, Elizur Hart, bequeathed a generous $60,000 just so the church could afford to make a spire 175 ft tall, making it taller than the Baptist Church that sits a mere two blocks away on West Park Street.
Unfortunately that would be only the first of rivals the Baptist Church would encounter!
Our Church In Albion Is In Front Of Yours
The website Living Places tells the story of the second rival:
When William Stafford, a Baptist, lost an election for County Judge he blamed his defeat on his Baptist friends whom he claimed neglected to support him. In spite, he sold his property adjacent to the Baptist Church to the Catholics, stipulating that Saint Joseph's parish build directly next to the street so as to block the view from Main Street of the Baptist Church.
As I drove around the block taking photos and marveling at such a deep seated resentment, it was obvious that Saint Joseph's followed through on their end of the deal.
While standing in certain places, you can't see the facade of the Baptist Church at all! Checkout the photos, and next time you're in Albion take a look for yourself!
Special thanks to our friend Bill Lattin for sharing the fun story with me. Also, thanks to our friends Jeri and Lou at the Erie Canal Schoolhouse Bed and Breakfast in Albion! They helped with providing some of the research on this post!
(Note: In the photo below, Pullman Memorial Universalist Church is all the way to the left, which is actually on the other side of Main St.)
*This post previously appeared on ExploringTheBurnedOverDistrict.com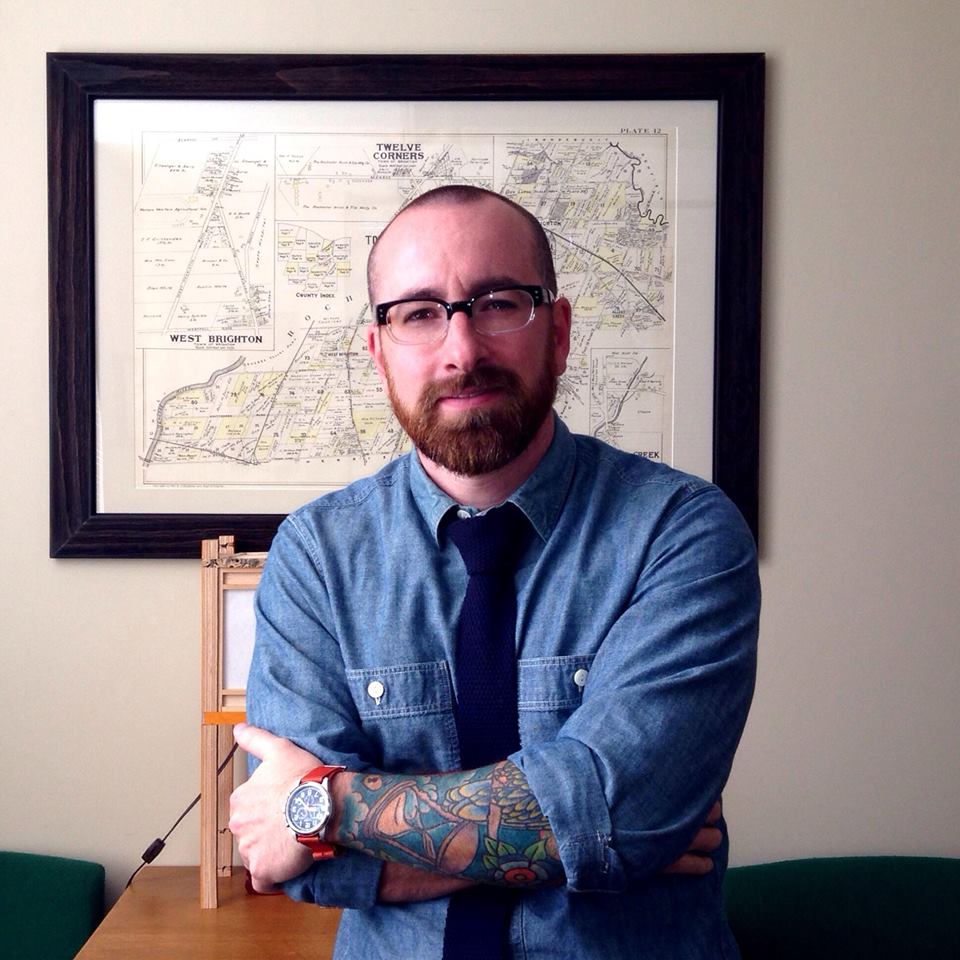 Chris Clemens is the Founder/Publisher of Exploring Upstate. From his hometown in Rochester, he spends as much time as possible connecting with the history, culture, and places that make Upstate New York a land of discovery. Follow him on Twitter at @cpclemens