Pullman Memorial Universalist Church in Albion is one of the most important architectural and historic gems in Orleans County
by Chris Clemens
Albion is a small canal town in Orleans County in Western NY. In tourism dollars spent, Orleans is 57th out of 57 counties in New York. If you're like me, you're probably thinking 'Well, that's because there isn't anything in Orleans County to go see Chris!" We're both wrong–there are some very cool things to see, and a lot of history worth taking note of.
Each time I drive through Albion I notice the countless historical markers and make note of things to come back for. As I researched the Pullman Memorial Universalist Church, I got in touch with Bill Lattin. He's the Orleans County historian who also happens to be a member of the Pullman Memorial Universalist Church.
What I didn't know was that Bill knows just about everything about the entire county's history. The more I visited with him, the more enthralled I was to have such an opportunity.
Additionally, he's the one who's been putting all those signs up around town, so there was plenty to discuss. I met Bill at the church and he told me the story of Pullman.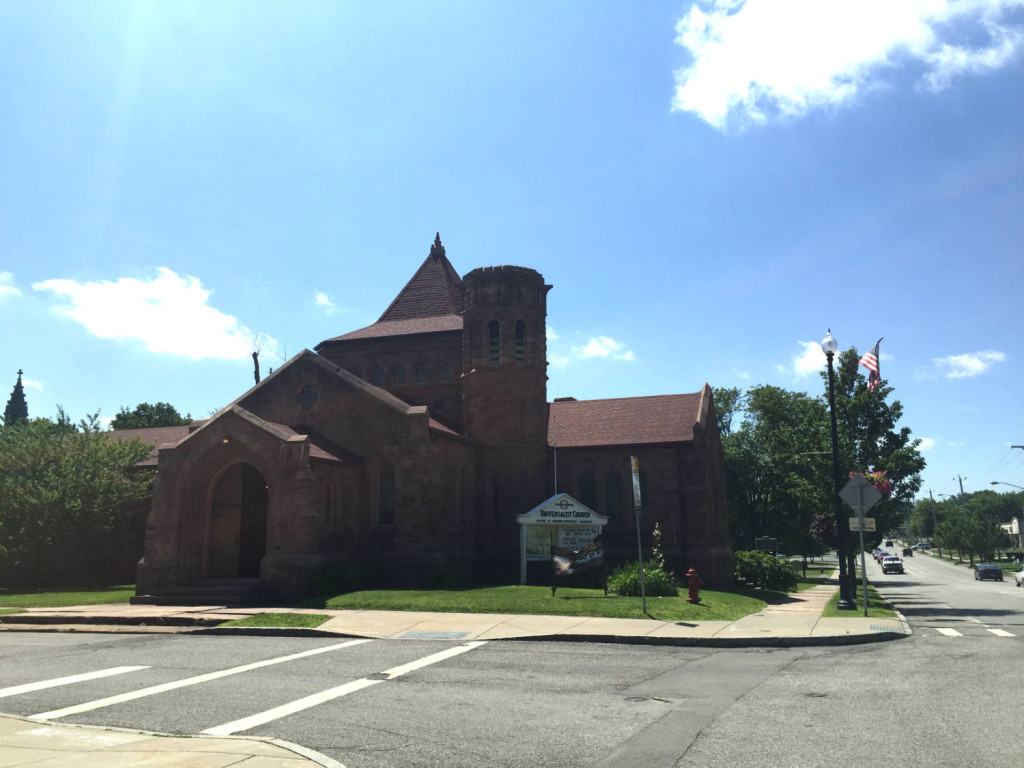 Universalist Roots
People who settled here seeking freedom had always had the Bible interpreted for them. The opportunity to interpret the Bible for oneself only came as the result of the wide open freedoms of the new land. Like many religions born of American soil, Universalism's roots are with immigrants seeking a home where governments didn't dictate personal beliefs.
It celebrates traditions dating back to 1741 where Dr. George DeBenneville first preached in Pennsylvania after coming here from London. The non-creed, all-inclusive dogma of Universalism claims that God will ultimately grant all humans salvation. It states that our lives are often a series of 'awakenings' where we grow closer to truly knowing God.
Essentially, it teaches that we might make a choice to harm another human, but that won't keep us from salvation. Instead, it means that we still have some lessons to be learned. Many of the traditions pre-date Christianity, and incorporate rites and devotions and a moral code for human conduct. Universalism is one of the quintessential examples of our country's Freedom of Religion.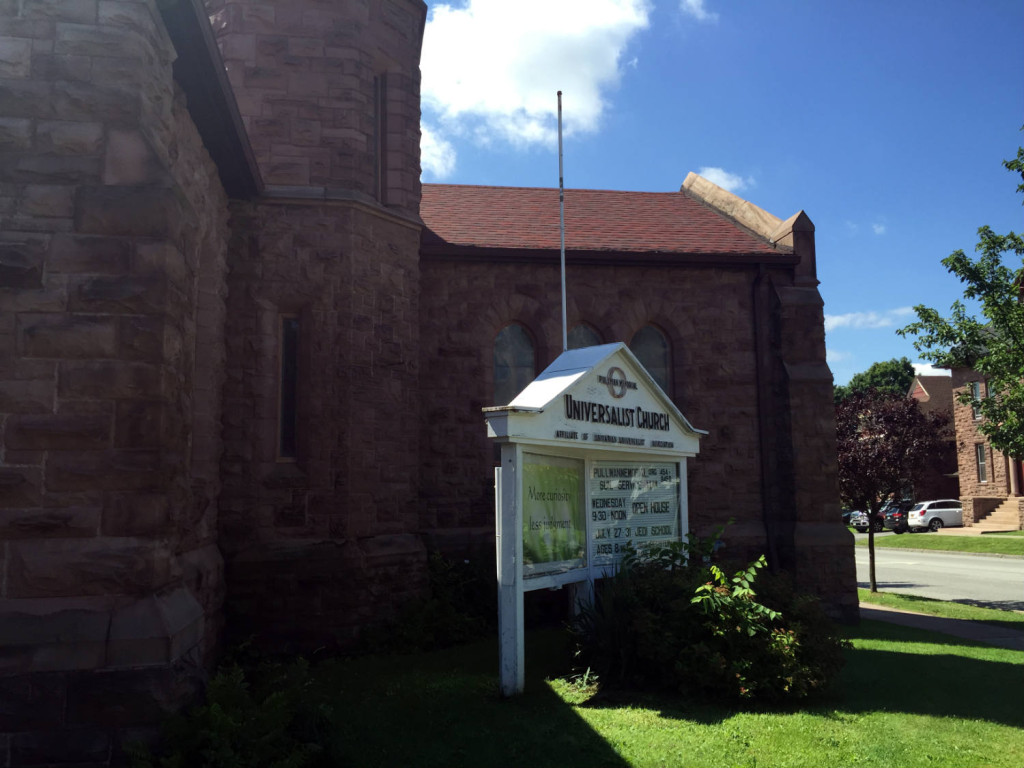 Today, Universalism is a bit different than it's inception. Many would say that in its infancy Universalism was built on a Christian set of beliefs. Over time it developed into a non-creed system that would cater to Christians, Jews, Buddhists, Hindus and even Atheists! In 1961, the Unitarian Church and the Universalist Church combined and became known as the Unitarian Universalist Association (UUA).
George Pullman's Legacy
George M. Pullman lived in Albion where his parents had moved the family. He moved to Chicago as an adult to really let his business of moving buildings flourish and his wealth accrue.
While I won't get in to it much here, Pullman went on to have an incredibly successful railway car business. The business unraveled with Pullman at the helm of a worker's strike that includes a bit of a riot. Ultimately his burial had to take place in the middle of the night to avoid a crowd. Even Pullman's casket featured a few of out-of-the-ordinary security features.
While in Chicago, he maintained friendships with many of his childhood friends back in New York. While on a visit home one of them approached Pullman with the idea of building a Universalist church closer to the center of town. The nearest congregation was a few miles up the road. (Remember, in the 1800's it was a lot of work to travel 3 miles, particularly in the Upstate NY winters!)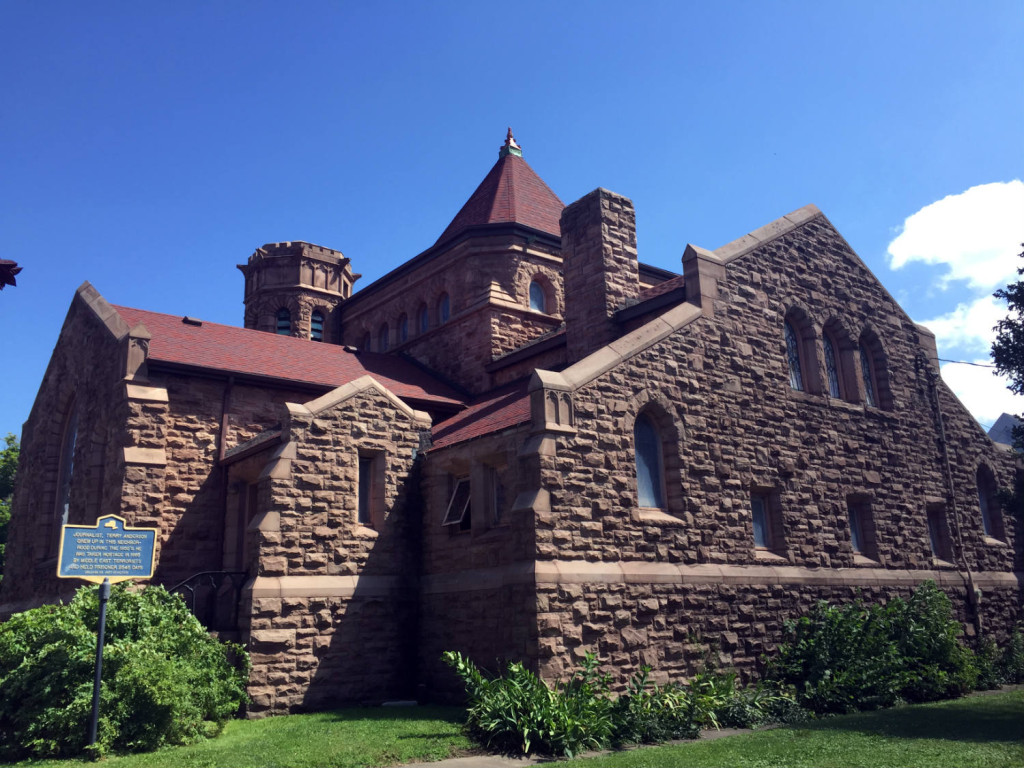 Pullman, Universalism, And Albion
Pullman agreed if the group could raise $5,000 on their own, he'd pony up the rest and they'd make history.
In 1893, Pullman selected the location at Main and East Park Street, just a couple blocks south of the Erie Canal. He personally paid $7,500 for the plot of land. Pullman chose his location with a discerning plan to provide the building a level of prominence. Doing so would send a message that the Presbyterians across the street weren't the only ones to take notice of.
Interesting side note: Pullman tried to buy the adjoining property too, but due to some bigotry issues, he was denied. In the late 1800's, a progressive, liberal, non-creed denomination wasn't something that everyone recognized as a respectable faith. In many areas, Universalists were treated as second class citizens and that plagued them even into the mid-1900's.
Pullman Memorial Universalist Church
Nevertheless, he used the lot he bought and filled it nearly edge to edge with a spectacular Medina pink sandstone church. Even after 100 years, the Old English Gothic design captures glances of Main Street passersby in Albion.
The construction to build the design work of architect Solon Beman was begun in 1894.
Beman had already provided the design work for a number of other projects that Pullman had built, so their relationship was strong. Though there is little religious iconography to be seen at Pullman Memorial, it's easy to recognize right off the bat that the floor plan of the nave is that of a cross.
Beman's idea to keep the architecture stately and pronounced was important. A simple design that wasn't overtly religious was what everyone sought in the project.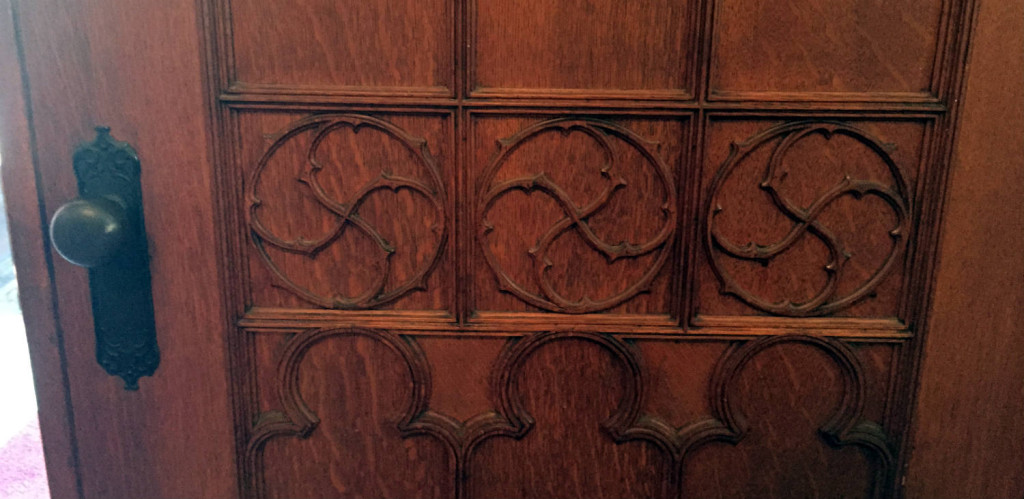 Inside The Church
When first stepping inside, the aisle is flanked on each wall with a bronze plaque of Pullman's parents. Each plaque was designed and crafted by Carl Rohl-Smith, a Danish sculptor who is known worldwide for some famous projects.
The woodwork is a stained, darker oak and the walls are a unique faded salmon. Each of those walls features a handsome border of hand stenciled ivy. Bill mentioned that the stenciling isn't original, but was as close as they could come using photos of the original paintwork during the restoration. Bill himself was the one who stenciled the leaves, and other members of the congregation helped complete the restoration themselves.
One of the most notable parts of the church, and one of those things Orleans County should be promoting, is a collection of fifty-six Louis Comfort Tiffany stained glass windows. The majority of the windows are of a decorative nature, but have no elements of religious tone.
Continuing The Pullman Memorial Tour
The west end of the nave that lines Main Street has three larger windows, and took a decidedly longer period of time to pick a theme for.
Apparently Tiffany felt a landscape scene would not only be picturesque, but also reflect the beliefs of the Universalist church. Since Pullman was footing the $5,000 bill for the single, center window he made the final call. He decided a window of Christ with outstretched arms and a three-dimensional look was how the window should be made.
It wasn't guaranteed the window would be completed in time for the dedication ceremony, but Tiffany made it happen. This window also happens to be one of the few that Tiffany signed his name to.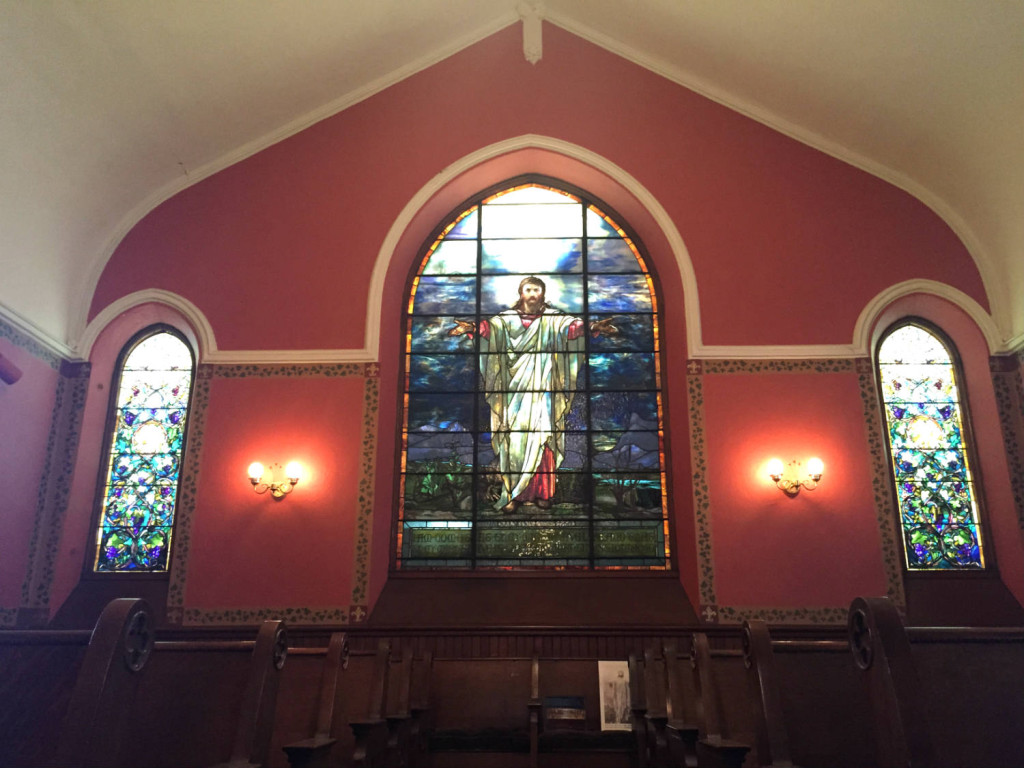 Bill continued to point out things like how the doorway to the belltower is shaped like a bell so they could actually fit it through the door. Though, ironically, a bell was never installed. Just as interesting was the 'electrolier', which was incredibly state of the art since Albion was one of the first towns in the area to have electric.
Not everyone will love obscure details on a tour, but I can't get enough of them. After spending probably an hour or so chatting, there was one really important aspect of the church to be explored.
The Organ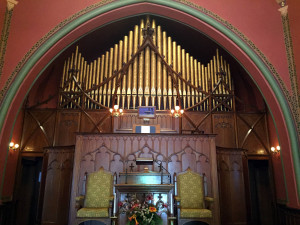 When you first enter Pullman Memorial, you notice the high arched ceilings, and the bright, ornate windows. But you can't possibly miss that nearly an entire wall is ensconced with a pipe organ.
This organ is an Opus 812 and was installed by the Johnson & Son Organ Company out of Massachusetts for the super sweet price tag of $6,000. Remember the facade pipes at Willard Memorial that Tiffany painted, and the Seventh Day Adventists painted over when they bought the place? Today at Willard, there peeks through the paint that has faded just a hint of the gold leaf stencil that Tiffany laid down as decoration.
Luckily, Pullman had Tiffany do the same gold leaf stenciling on the pipes in his church, so it was very cool to be able to see it up close and unadulterated. I didn't get to play this organ like I have in the past, but Bill turned it on and played a few keys–to our surprise, the pipes that Tiffany decorated aren't facade pipes at all, but active pipes!
What makes the organ somewhat unique is that in addition to having been one of the 'top of line' organs of its time, it was powered by the town's municipal water supply by a pump directly below it in the basement. Today, it has been converted to electric power, but the original water pump is still there.
Wrapping Up
After seeing nearly every room of the church and realizing he had a captive audience that wasn't waning, Bill continued to tell us stories and give us information about the congregation. He then said "Well, you guys know that this congregation was sort of a carry over from the congregation at the cobblestone church on Rt. 104 right? The oldest cobblestone church still standing in all of North America?"
Bill continued, "Well, did you want to go see that too? I could take you now if you want!"
You can probably guess what our answer was but I'll save that story for another post, and wrap up with saying that I am super grateful to have crossed paths with him. Not only was is a very cool guy, but I can't imagine there's anyone in the entire county who could've told us as much.
This 'exploring the burned over district' project continues to put very cool experiences in our path, and the Pullman Memorial Universalist Church was a great one to add to the "Been There" list.
If you're in the area and Pullman is open, make a point to stop in and see some of the most rare Tiffany windows that exist–and say a prayer to whatever God or Gods you either believe or don't believe in.
This post previously appeared on ExploringTheBurnedOverDistrict.com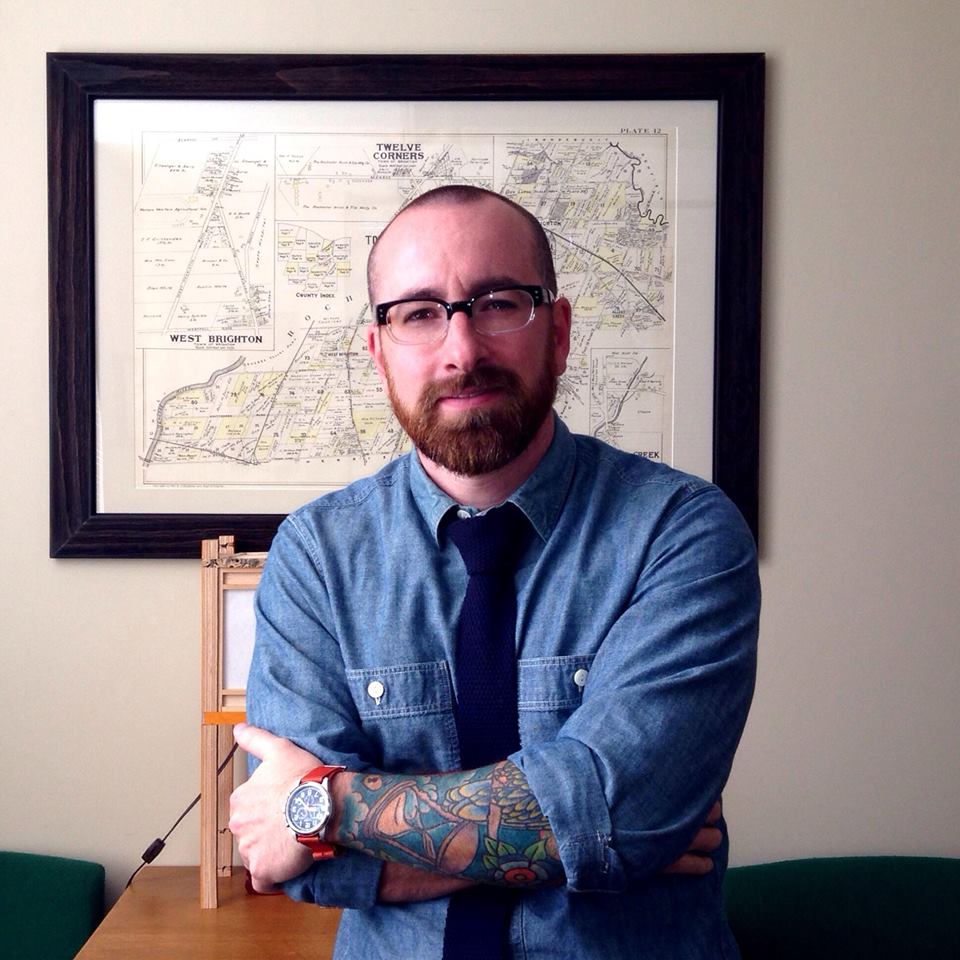 Chris Clemens is the Founder/Publisher of Exploring Upstate. From his hometown in Rochester, he spends as much time as possible connecting with the history, culture, and places that make Upstate New York a land of discovery. Follow him on Twitter at @cpclemens