by Chris Clemens
Stretching about 40 miles in length, Cayuga Lake is the longest of the collection and also the second largest in volume and surface area. It features one of the two islands found in the the Finger Lakes Region and is hugely popular with boaters. The City of Ithaca sits at the bottom end of the lake, but there are a bunch of really great little townships scattered around the perimeter.
For decades, each side of the lake has been home to a growing list of wineries, a meadery, breweries and cider houses. As promised in the Finger lakes NON-Wine Trail introduction post, I spent a day driving around the entire lake to bring you this:
Finger Lakes NON-Wine Trail of Cayuga Lake
Ithaca Beer Co.
Ithaca, New York
website | facebook | twitter | instagram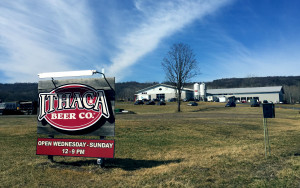 Located on their very own road, Ithaca Beer Drive, the brewery features a really great dining room with an awesome pub-fare style menu. It's nestled back in the woods away from downtown Ithaca, so even without a lakefront view, you have a setting that feels perfectly 'Finger Lakes'. We got there at 11:55a knowing that they opened at noon, and there were already ten people in line at the door. By 12:30p the entire dining room and bar was packed with people who apparently knew that it was a fantastic spot to grab lunch and a great drink.
Ithaca Beer Co. makes all kinds of different beers right in house, and in addition, makes both a Ginger Beer and a Root Beer that they sell in bottles in a lot of local grocers around New York. While I've had both in a bottle previously, they have them right on tap at the bar, and it adds a really different flavor to each. The Ginger Beer is so clear I thought our waitress mistakenly brought me a water! Not too spicy and not too sweet, the Ginger Beer is clean and perfect. The Root Beer is a bit sugary with just a hint of molasses and is a tad reminiscent of those classic root beer barrel candies. I slammed one of each along with my pulled-pork sandwich and then bought a few bottles to bring home.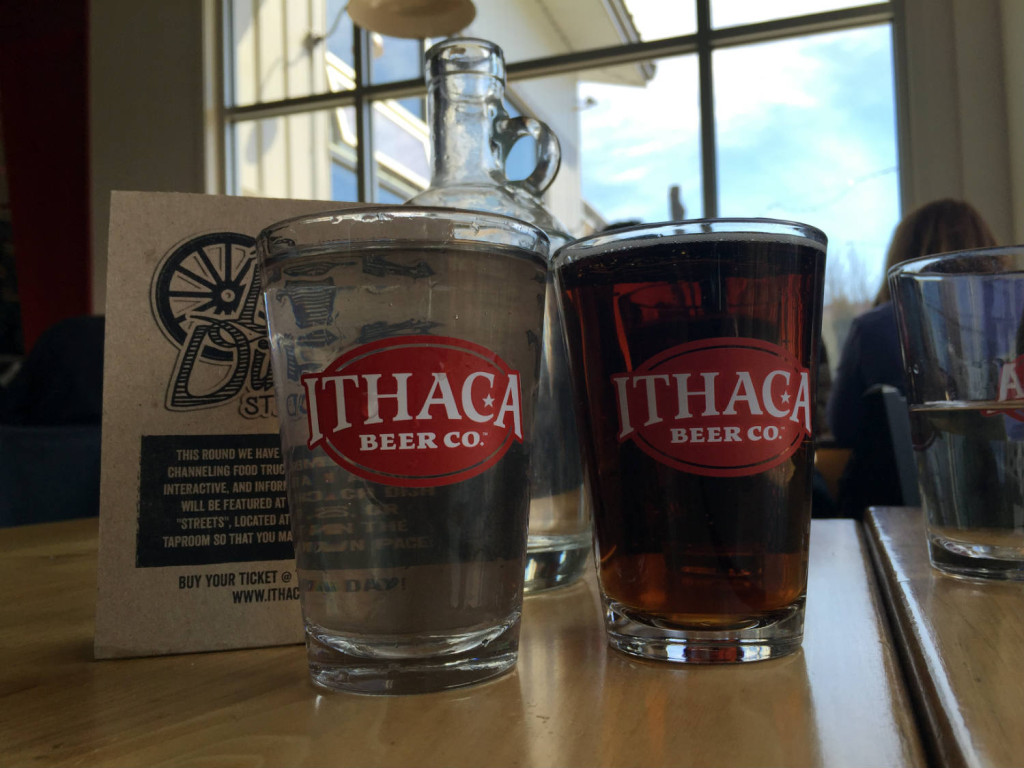 Swedish Hill Winery
Romulus, New York
website | facebook | twitter | pinterest | youtube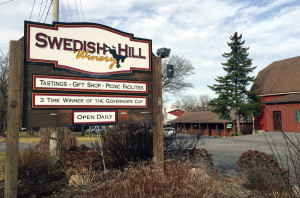 Right on Route 414 in Romulus, Swedish Hill has been winning awards since they first began growing grapes in 1969. Originally they were only growing to supply other wineries, but they began producing their own wines in house in 1985. With tours, tastings and and a comfortably quaint tasting room with plenty of room for groups, they made this list because they make not one, but two, grape juices.
The Concord Grape juice is a redder, thicker juice that probably would be easiest to describe as what Welch's is famous for. It's a sweeter, red juice that is just a little bit tart with a thicker texture. Their White Grape Juice is a drier, cleaner flavor that is clear, but also pretty sweet. If you're a fan of grape juice but want to try something a little different than the typical red, I strongly recommend this white. Actually, I really enjoyed both and brought home a bottle of each for only $5.25 each!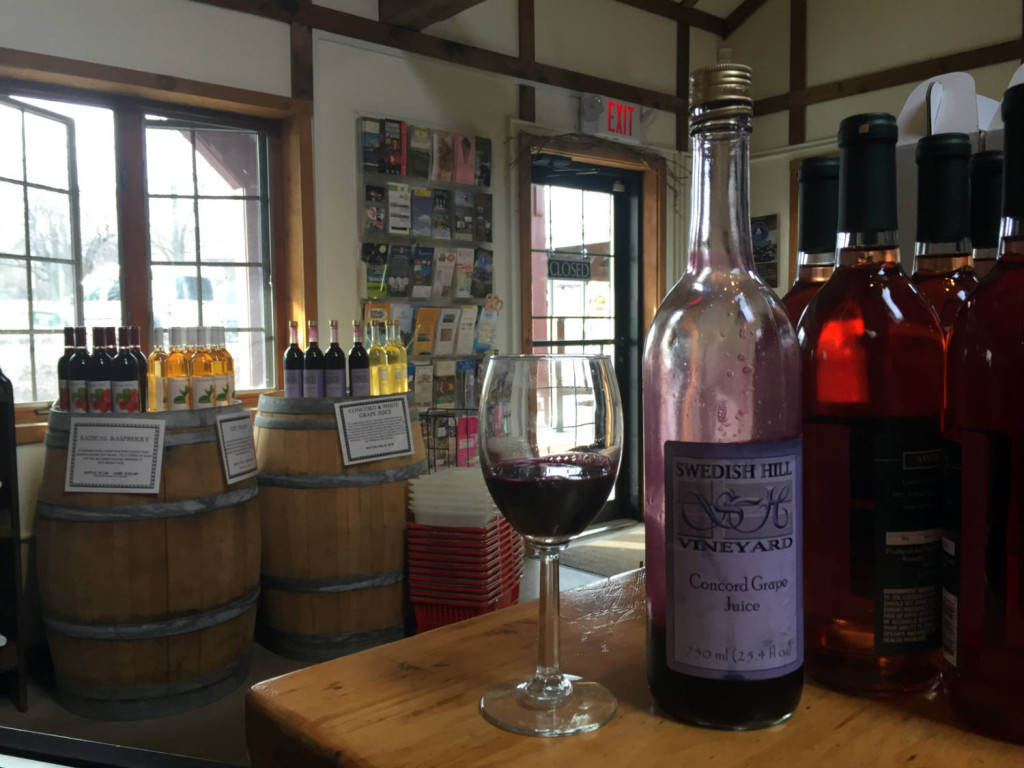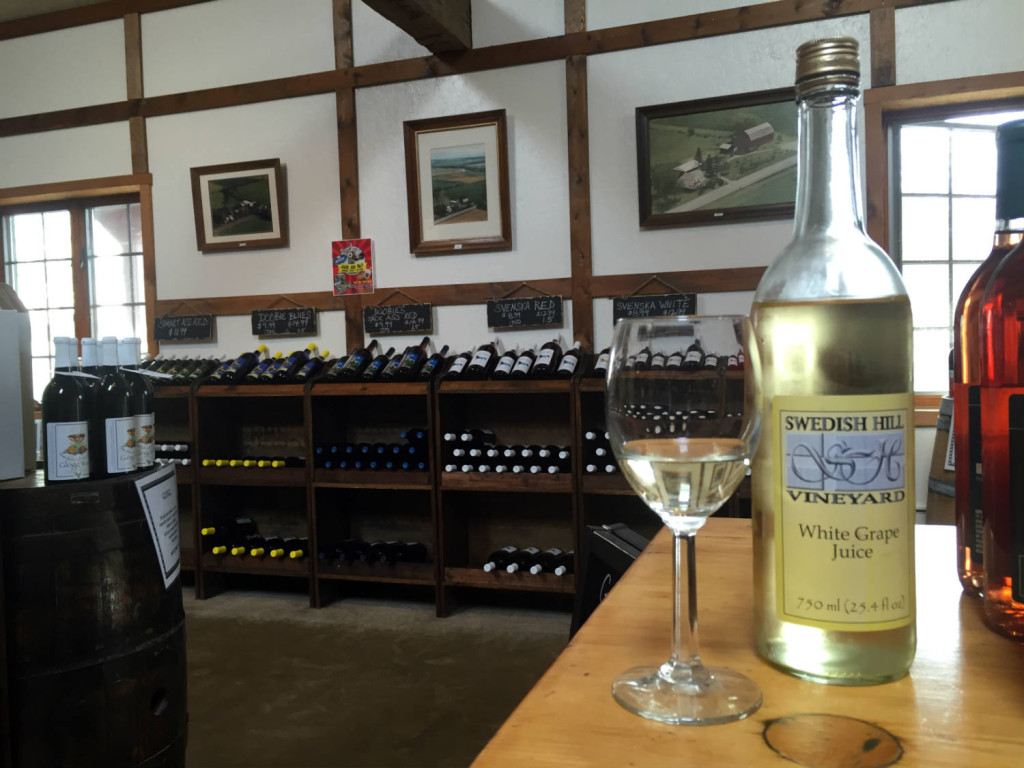 Goose Watch Winery
Romulus, New York
website | facebook | twitter | pinterest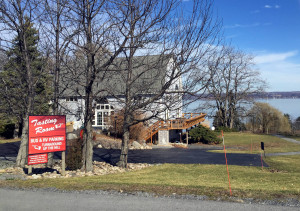 Owned by the same folks who brought you Concord and White grape juices at Swedish Hill, you'll find Goose Watch Winery right on Route 89 in Romulus in an old, renovated barn set up on a hill overlooking Cayuga Lake. They have a lot of the same winery-tasting-room-shopping items like t-shirts and locally sourced food products along with their expansive line of items like sherries, sparkling wines and ice wines. The two guys assisting in the tasting room were real cool and helpful while I checked out their grape juice.
A bit unlike the other juices on this list, Goose Watch Winery has a Blush Grape Juice. It's a red juice made from the Isabella grape, which was one of the first to be planted in the Finger Lakes Region. It's also sweet, but a bit clearer and drier than the Concord juice. Obviously, I also snagged a bottle of that to bring home.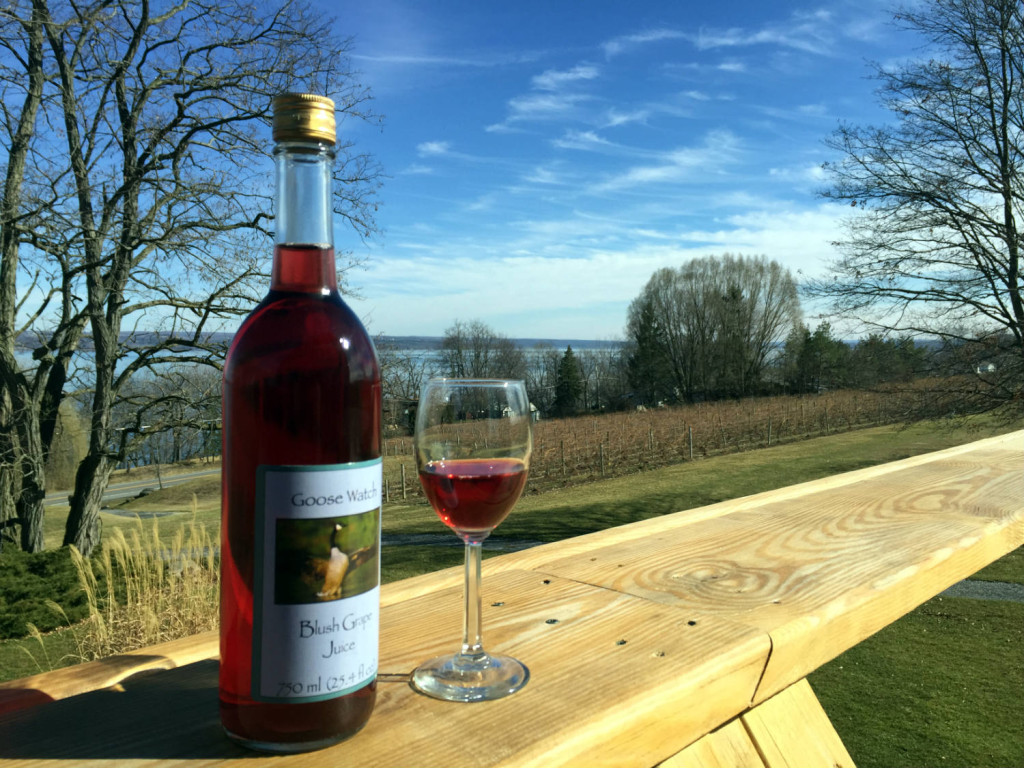 Good Life Farm
Interlaken, New York
website | facebook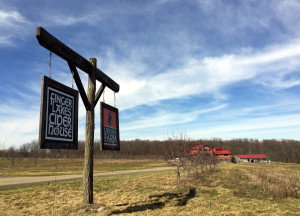 Did I fall in love with Good Life Farm? Maybe "smitten" is more appropriate to describe my feelings. It's set well off Route 89 down a gravel road, but you won't miss what my travel pal Dennis tagged as 'The World's Largest Arrow Sign" pointing you toward a little plot of quintessential Finger Lakes farmland. The tasting room staff were super helpful in explaining everything and the other patrons were relaxed and jovial. Some of the first spring air to come off the distant Cayuga Lake from the east wafted through the open doors while geese grazed near a pond just beyond the two-story deck offering a postcard like view. Luckily, there were three non-alcoholic drinks to try at Good Life, so we were kept there a while.
The "Ginger Bear" is a kind of ginger ale with just an ever-so-slight hint of vinegar. Made with ginger grown right out the back door of the tasting room, it's combined with citrus juices, honey and sparking water to create a really refreshing ginger ale-like drink. Typically, I'm not a huge fan of vinegar based drinks, but this had just a slight hint of a vinegar flavor–enough to let me know it was in there, but not enough to turn up my nose at it. There's a good chance that I'd drive the hour and a half just to have this again.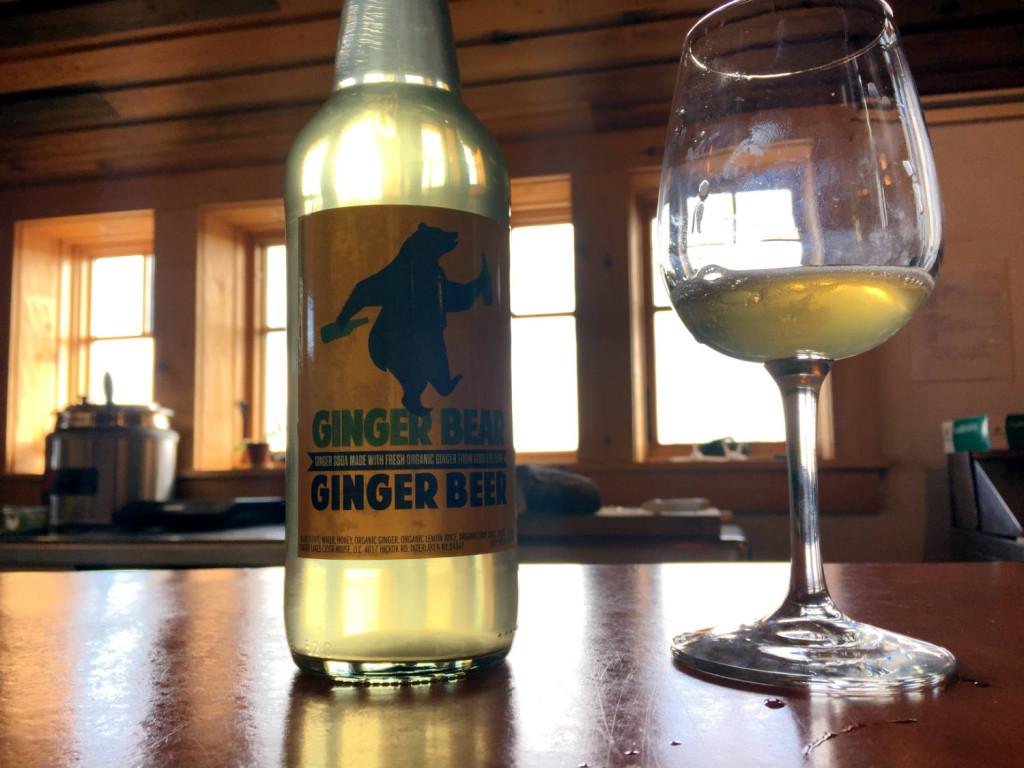 The "Switchel" is another vinegary drink, but with a hint of molasses flavoring. The apple cider vinegar is much stronger with this one, making it not my favorite but still wasn't nearly as vinegary as some others I've had elsewhere.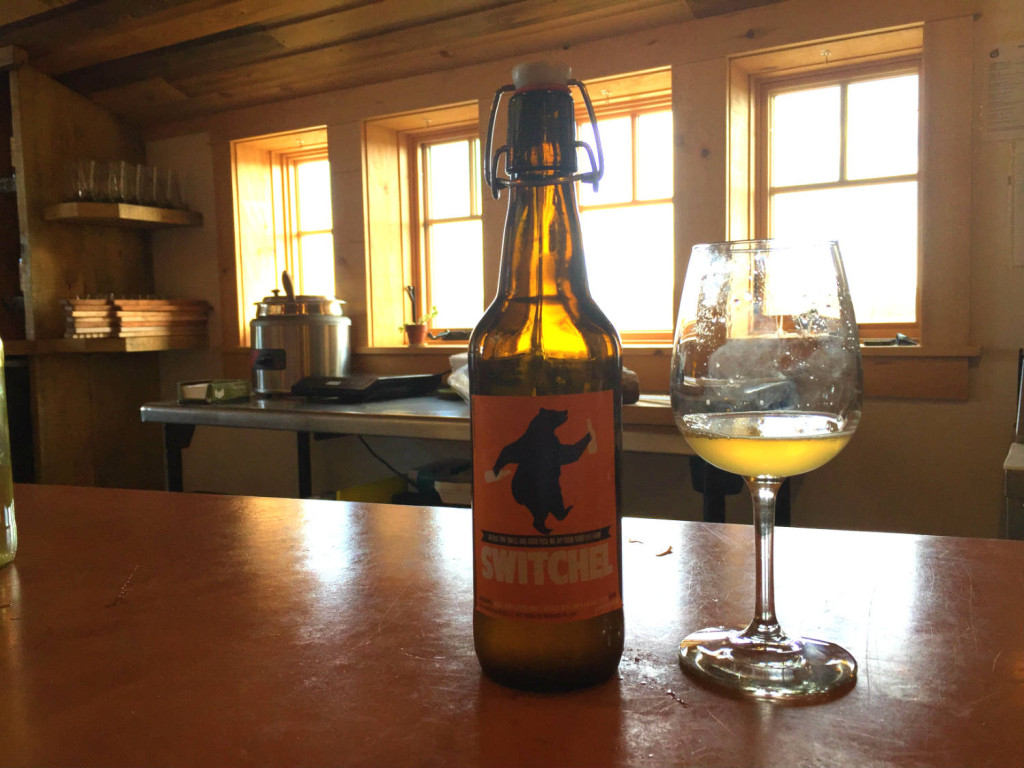 Lastly, I sampled one of the two "Shrub" drinks that GLF makes. Now, a 'shrub' kind of has two meanings. It can refer to a fruit liqueur popular in England a few hundred years ago, or to a syrupy concoction sometimes referred to as a 'drinking vinegar'. This one was their 'strawberry-peppercorn' and I was quite surprised at how much I enjoyed it. Theirs is intended to be mixed with something else (like alcohol), but even some sparkling water would turn this into a fun spritzer. The strawberry notes are super sweet, but the spicy aftertaste is a reminder that there's plenty of peppercorn ground up in your glass. Despite the fact that it's a concentrate, I'd totally be open to a glass of it straight up. Or, I also think it would make a great salad dressing!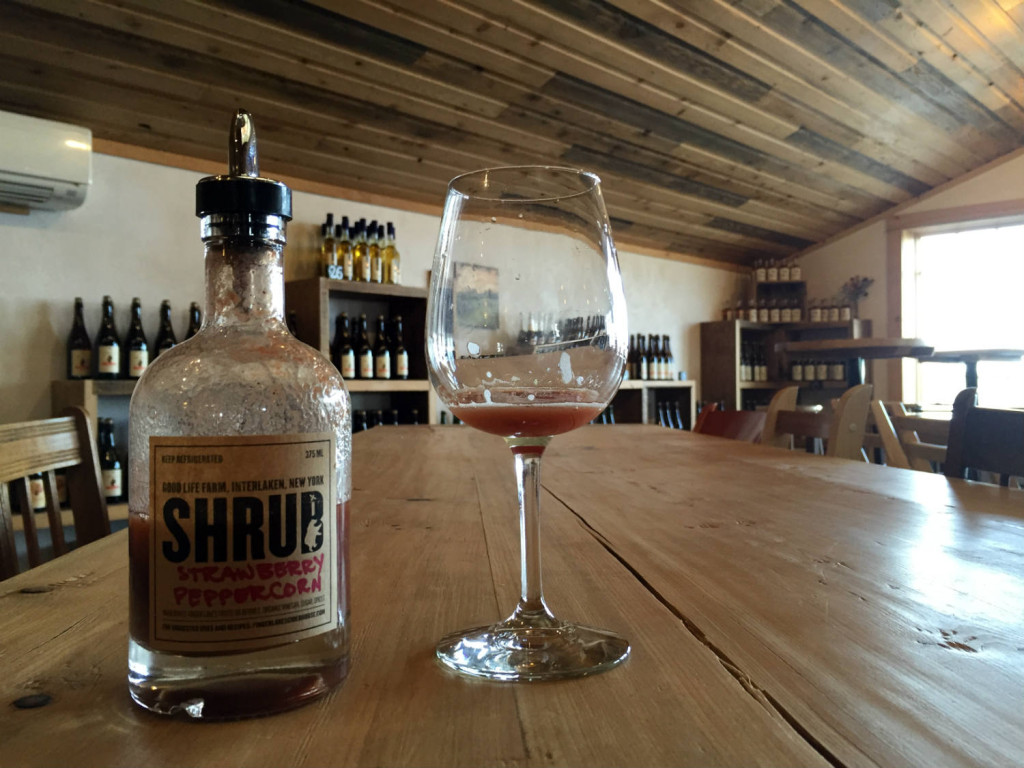 Cayuga Ridge Estate Winery
Ovid, New York
website | facebook
According to a gentleman who answered their phone, they do indeed make a grape juice in house, but only in the fall. Alas, I have no idea how this one tastes, but maybe I'll swing back around later in the year to give it a try!
I did quite a bit of calling around and emailing and received a lot of different information, some of which was discovered to be incorrect after I showed up. If you know of a spot on Cayuga Lake that didn't make this list, it's only because I couldn't find out about them. Feel free to leave a comment with their info so I can check it out next time I swing through!
Up Next: Seneca Lake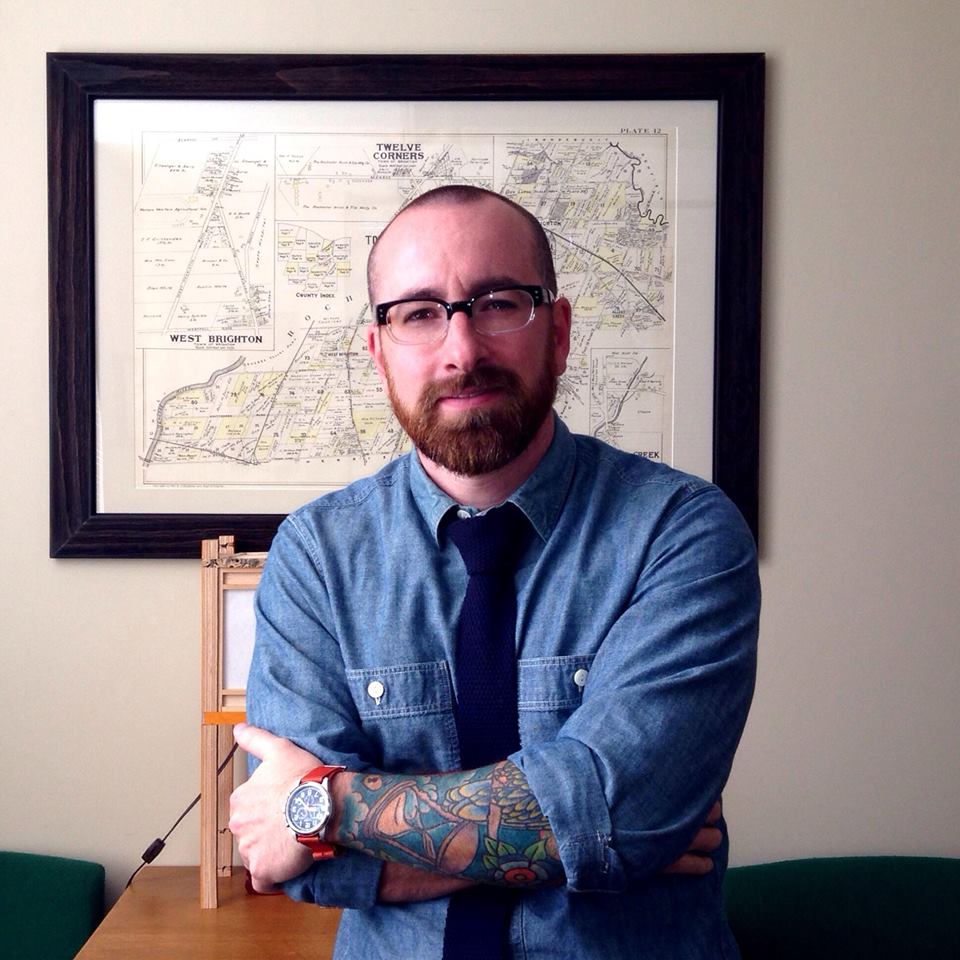 Chris Clemens is the Founder/Publisher of Exploring Upstate. From his hometown in Rochester, he spends as much time as possible connecting with the history, culture, and places that make Upstate New York a land of discovery. Follow him on Twitter at @cpclemens