by Chris Clemens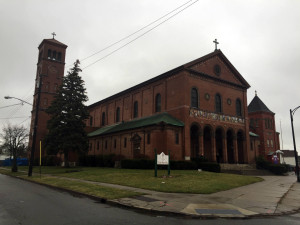 As a fan of both the religious and architectural history of our region, the Buffalo Mass Mob is a force that I've been following since its inception in 2013. The plot is simple: a church that once was a vibrant, bustling community of parishioners in the first half of the 20th century and maybe since then has seen a decline in attendance is chosen as a target. A date and a time are selected and shared using digital outlets like social media and blogs. On game day, a 'mob' ascends upon the church for mass and both the pews and coffers are once again filled. I've attended a number of Mass Mobs in Buffalo, and even in Cleveland where the local news interviewed me, because, I also am half the team that first brought the effort to Rochester.
So, what's the point? While these churches might not be filling pews as tightly as they once did in the early 1900's, they still provide an important anchor in their community. Without the resources to maintain aging structures and dwindling attendance records, many of our region's architectural masterpieces face certain doom. Preservationists and non-profits in the business of saving history fight battles regularly and often lose. Additionally, the effort of the Mass Mob encourages networking among community members who might not normally have an opportunity to connect with other folks doing great things. The opportunity to see the mastery that is St. Luke's in Buffalo is one I've hoped to have for years and lucky for me, it was the target of a Buffalo Mass Mob on January 10, 2016.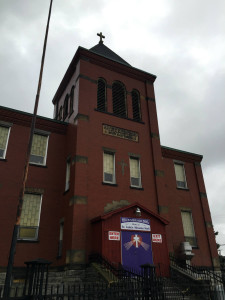 In 1908 a few Polish families gathered to build a Catholic school in their neighborhood so their children wouldn't have to walk as far to places like St. John Kanty for their education. At the intersection of Oberlin and Sycamore, a school was built in just six months. The basement level served as a worship space of sorts on Sundays then was transformed to serve the children who attended school throughout the week on the upper floors. Later on, the parish had raised enough funds to build next to the school and the cornerstone for the new, permanent church was laid on June 3, 1928.
Architects Oakley and Schallmo designed a Basilican Italian Romanesque church for St. Luke's using a simple looking facade that was detailed with colorful terra cotta inside and just above the portico. The overall design for St. Luke's was a nod to the Church of St. Paul in Rome. The main altar depicts images of God and the Trinity with mosaics and painted murals and ornate altars carved of marble. Much like the portico outside, a lot of the nave is decorated with colorful terra cotta that adds bright and varied artistry to the space and uses symbols to depict religious beliefs popular for the time period.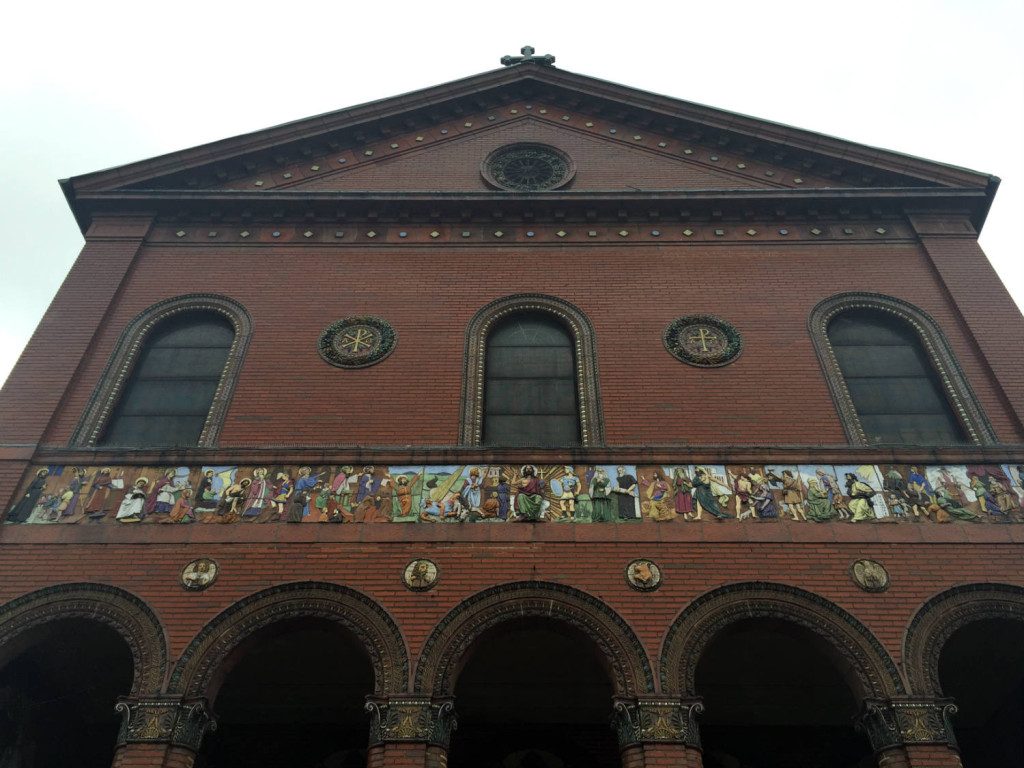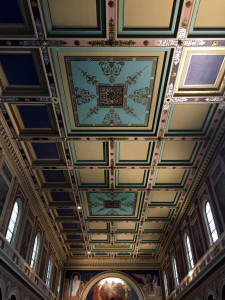 One of the features of a Romanesque design is a coffered ceiling, and St. Luke's now just might be one of my favorite coffered church ceilings. The straight lines and contrasting colors give the space below a majestic sense of art and nobility. You'll notice that some of the tiles in the coffers are different, so I'll note here that they originally were uniform of the lighter yellow with light blue outlines–no clue why some are blue now! It looks like they might be slowly painting to match the blue in the mural of the Holy Father above the altar, and just haven't finished yet.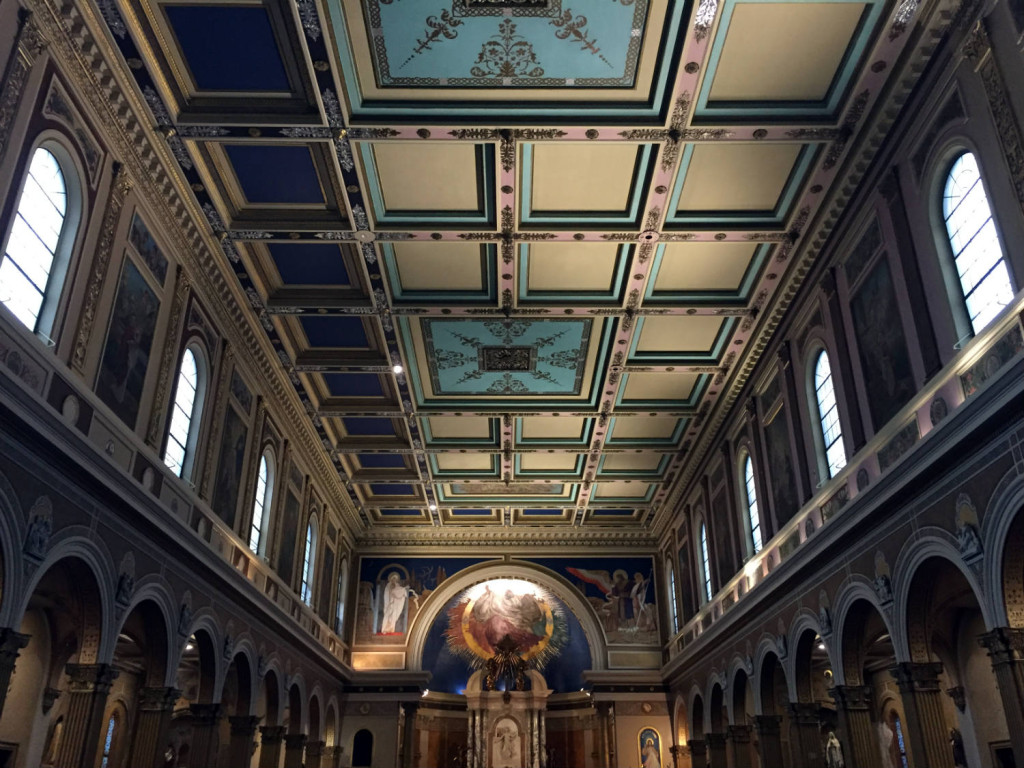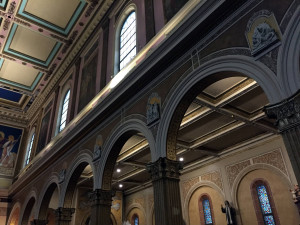 Like many of the Catholic churches in cities across the country, St. Lukes' steady decline in attendance was due to parishioners moving to the suburbs and building newer, modern places of worship to avoid driving back into the city on Sundays. In 1993, the Catholic Diocese of Buffalo closed St. Luke's and claimed there would never be another mass held in the building. The Catholic Church has been wrong about a lot of things, and that was definitely one of them.




During the course of St. Luke's closing, other movements were already in the works. A chance meeting of two Buffalo residents while on mission in Fatima, Portugal laid the cornerstone of an even more important mission that they would begin together back at St. Luke's only a year after the Diocese locked the doors. Amy Betros and Norm Paolini joined forces to raise the money necessary to buy the entire St. Luke's complex and begin the new era now known as St. Luke's Mission. Together, with an engaged community, the team dedicates what appears to be every waking moment and resource in their grasp to serve others in need.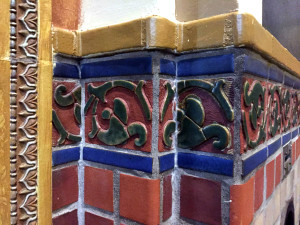 Weekly masses are attended by about 60-80 people. The school is now set up as a mall and each school room serves as a destination for those in need of clothing, housewares, books and children's toys donated graciously by community members. Anyone in need can fill one bag of goods per day to bring home. A safe haven for men in recovery from addiction provides a home for those wanting to get back on track. One meal on Sundays and two meals offered Monday through Saturday are provided to anyone in need of food, no questions asked. Burial services (which can be incredibly costly) are provided to those wishing to have a Catholic service and aren't able to afford it. And, that's not even a full list! Their dedication and service to those in need is far reaching and ever expanding–and incredibly generous. Which, made it a perfect candidate to be mobbed by Buffalo.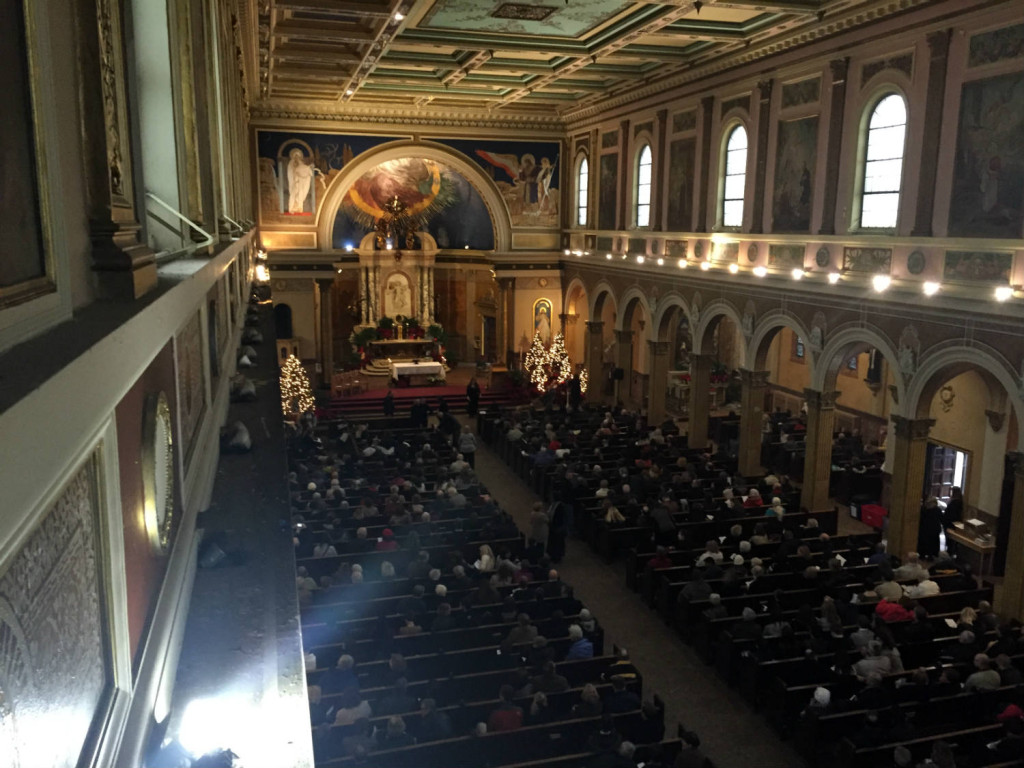 For a 1:00p service, approximately 800 people showed up to St. Luke's Mission for a pretty unique mass. Lead by a priest of the Eastern Orthodox Catholic rite and incorporating some Baptist feeling responses of singing and joy brought by regular attendees from the neighborhood, it was a unique mix of 'old neighborhood' and 'new neighborhood' coming together to celebrate faith, community and and the efforts of a few fine folks to serve others.
Toward the end of the service, those who attended school at St. Luke's were asked to stand, as well as those who were married and baptized in St. Luke's. Each time, a collection of about 25 people stood proudly in the same place that they had decades ago, some of them many decades ago. It was probably at that portion of the mass that I realized the full impact that Buffalo Mass Mob had made. Folks who hadn't been in years were returning home. The efforts of the neighborhood that existed over 100 years ago had come full circle. In 1908 the goal was to avoid needing to walk too far for education, but in 2016, the goal was to avoid needing to walk too far for community, support and unconditional love. Well done, Buffalo!
Sources and Additional Reading
Buffalo Mass Mob website
St. Luke's Mission of Mercy website
St. Luke's Mission of Mercy (St. Luke's Roman Catholic Church) on Buffalo Architectural History
Buffalo Mass Mob on Facebook
St. Luke's Mission by Buffalo FM on YouTube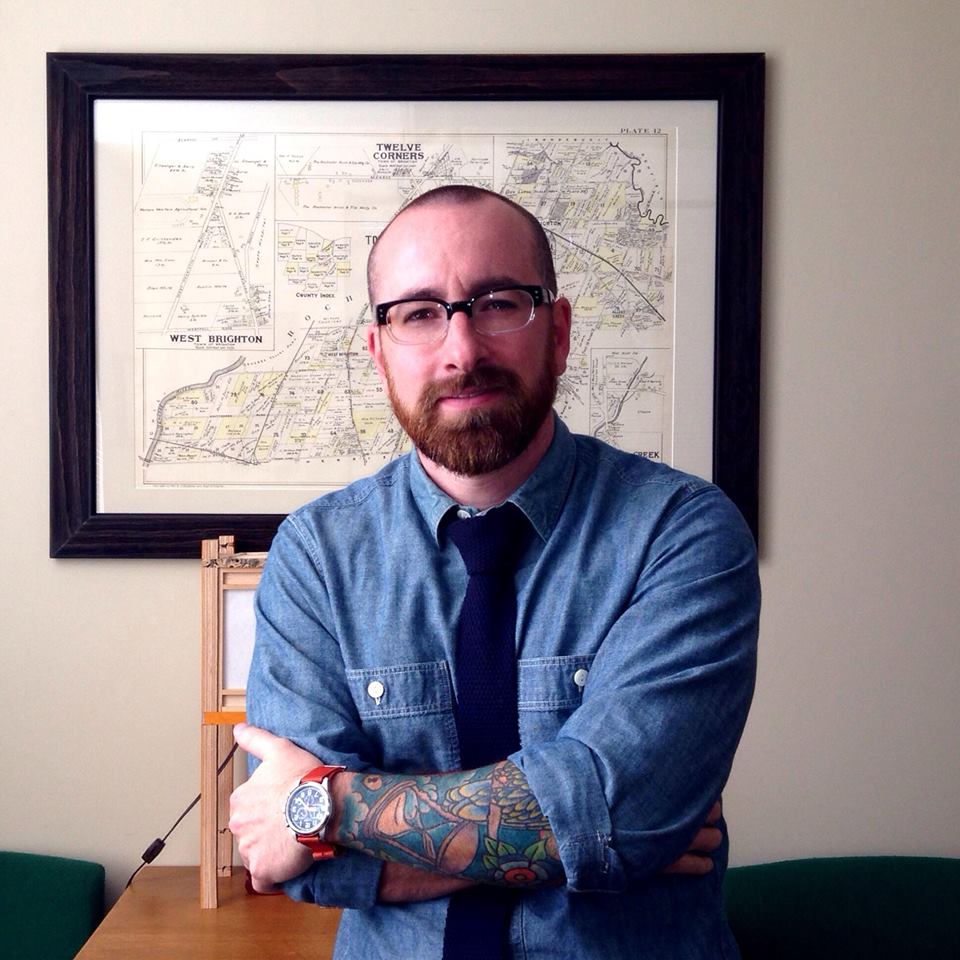 Chris Clemens is the Founder/Publisher of Exploring Upstate. From his hometown in Rochester, he spends as much time as possible connecting with the history, culture, and places that make Upstate New York a land of discovery. Follow him on Twitter at @cpclemens