by Chris Clemens
My pal Chris Lindstrom and I have been discussing the idea of spending a day hopping around Utica and sampling some of their iconic Italian culinary staples. Chris is a food reviewer and blogs on his site FoodAboutTown so I knew he'd be up for a day of Exploring Upstate if it involved food. While Utica, New York was once tagged 'The City that God Forgot", we have both agreed that it would be better suited as 'The city our stomachs will never forget."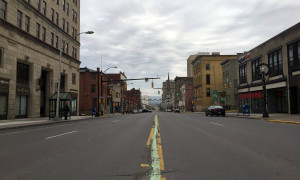 Utica was first settled in the 1700's, but was later incorporated as a city in 1832. Its position in relation to both the Mohawk River and the Erie Canal made it an ideal locale for shipping. In fact, in the second half of the Nineteenth Century, the city was the worldwide hub for the textile industry. As transportation technology changed and railroads allowed companies to ship farther and cheaper, Utica's economy suffered immensely. A struggling city of fleeing residents seeking employment elsewhere made room for a black market economy, and control of the city was seized by underground bosses from the Italian mob.
With a population of 101,000 in 1930 that sunk to a mere 62,000 in 2010, the political corruption that made a few nefarious types rich and a lot of others besieged with poverty had taken its toll on the once power-house of a Rust Belt City. That sounds depressing, right? I suppose it is, but that doesn't mean there isn't a silver lining in this story, so don't give up on me yet.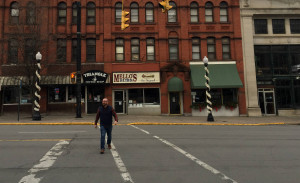 With the influx of settling Italian immigrants came a lot of really great food. Old-world recipes were refreshed with ingredients that either weren't available before, or were substitutes for things that weren't available here.




Here's where Chris and I diverge in our palates. He tends toward a technically perfect, only-if-it-is-done-properly taste, while I tend toward if-it-looks-good-and-doesn't-have-mayonnaise-I'll-take-it taste. I grew up with a lot of Italian-American influence (Clemens was once "DeClemente" until we arrived at Ellis Island) and much like many a Utican, money was highly valued 'cause there wasn't a ton of it to go around. As a result, I developed a bit of a taste for some 'improper' foods. I will freely admit, I love an Oscar Mayer bologna sandwich on Wonder Bread once in awhile (you don't have to cut the crust off for me anymore though).
That being said, I think we did a great job of scouring the city for some of the most fantastic Utican classics you can find and converged in our enjoyment on nearly all of it.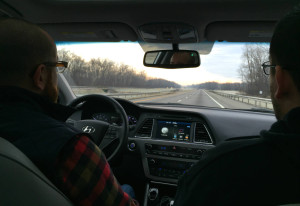 We created an itinerary before leaving that included all the stuff we wanted and the 'best' places to find them. However, we didn't anticipate many of those places being closed the day after Christmas. What made this trip awesome was that each at locked-door and darkened storefront we encountered, we were turned on to a serendipitous exploration of alternatives that left us grateful for the forced rearrangement of our schedule. Much like the Italians who settled in Utica 100 years ago, we were forced to work with what we had, and it ended up exactly perfect.
I'm sure there are some Uticans who would say that the places we ate aren't their favorite representations of each food stuff, but what we had was really great food. What's more, the folks we met along the way were just as awesome. If you have suggestions on where you feel we should've gone, leave a comment and next time we're in town we'll give those spots a try!
Giambotti – Creekside Cafe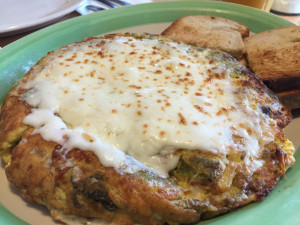 An interpretation of one of those classic 'Olde World' style Italian stews, a 'giambotti' (pronounced: "jim-baht") is a collection of greens with peppers, potatoes and sausage all scrambled into eggs much like a fritatta. We had ours at Creekside Cafe, which combines all the ingredients into a cast iron skillet baked in the oven, creating somewhat of a personal-pan-pizza looking dish. A super tasty, dense breakfast with perfectly cooked through chunks of sweet Italian sausage and legit home fries with just a bit of heat from the peppers. We didn't intend to get our giambotti at Creekside, and admittedly, it's probably not a perfect example of how giambotti is typically prepared, but it was damn good!
Visit Creekside Cafe and Creamery – website | facebook

Sausage Pizza – O'Scugnizzos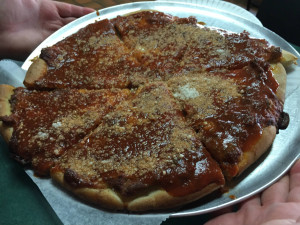 O'Scugnizzos on Bleaker Street has been making pizza the same way for over 100 years now, and it was a perfect lunch. This is one of those foods where you need to be okay with the fact that isn't 'done correctly', because the way it's done is fantastic. A pre-cooked shell might seem unnerving to a pizza chef, but line it with a semi-sweet sauce and their in-house made Italian sausage with mozzarella and parmesan cheese and you have a really unique take on a traditional Italian tomato-pie favorite. I've never seen a pie made like that anywhere else, but I can totally see why it's been a Utica favorite for over a century.
Visit O'Scugnizzo's – website | facebook

Tomato Pie – Daniele Ristorante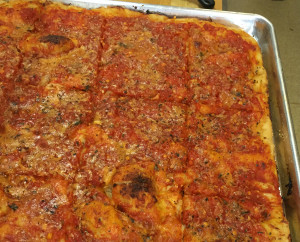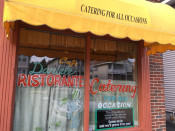 Speaking of pizza, tomato pie is pretty much a "When in Utica, do as Uticans do" food favorite and we certainly did. This is where a number of spots we sought out were closed, but a local that we ran into directed us to Daniele's on Mohawk and James–and I'd second that direction. Our timing allowed us to nab a few slices of fresh, out-of-the-oven tomato pie made by some really nice folks that have been doing it the same way for decades. I only slightly remember the thick dough, tomato sauce covered pie that my great-grandmother made, but the first bite of Daniele's brought those memories back a bit stronger. If I may say so here on his behalf, Chris was particularly pleased with our after-lunch snack and kept mentioning so in between full-mouthed bites.
Visit Cafe Daniele – facebook




Pusties – Caffe Caruso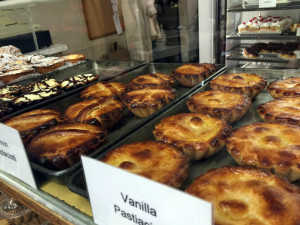 Supposedly, the place to get a Utica 'pustie' is at Florentine Bakery, but we discovered that you only do that Monday through Friday. If you're in need of a flakey pastry filled with sugary goodness on a Saturday like we were, you head a few doors up on Bleaker Street to Caruso's. We nabbed a lemon, a vanilla and since I can't pass a cannoli up, we also got one of the ricotta and chocolate pusties. So, what's a pustie? The official name for the personal-sized tart is actually pasticiotti, but if you're in Utica, you'll just want to use the regional dialect. Since I also have a tough time passing on a sfogliatelle, we nabbed one of those. While everything we had from Caruso's was fantastic, I think I rolled away partial to the lemon pustie–the soft, flaky crust with the tart, sugary lemon went perfect with my….
Visit Caffe Caruso – facebook

Coffee – Utica Coffee Roasting Company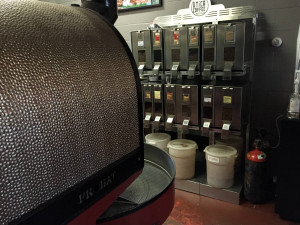 Is it "old school" and Italian? Actually, sort of! We dropped in to Utica Coffee Roasting Company for a short break from heavy foods and a caffeine pick me up. An Ethiopian roast slow-brewed in a Chemex while we received a personal tour of the roasting plant was a perfect way to decompress from all those carbs. If you're a caffeine junky, UCRC has an 'Ultra Caffeinated' roast that will be sure to keep you jumping. I didn't see any this trip, but they have also had bars of soap made with coffee grounds!
Visit Utica Coffee – website | facebook | twitter | instagram

Brewery Tour – Saranac Brewery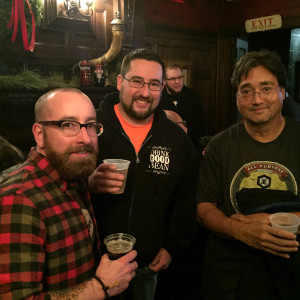 Also not particularly Italian, but definitely 'old school', one of the things to do while in Utica is to take a guided tour of the Saranac Brewery (aka. "FX Matt Brewery). The very first beer in the entire U.S. to legally be sold after Prohibition was Utica Club, which is now made right at the Matt Brewery–so it's tough to get more historical than that. For $5.00 you get a 45-minute walking tour of the entire facility and then a couple drink tickets to use in the speak-easy styled bar. Forewarning: this is a super popular tour with what seemed like 10 million people in attendance so get there early–it's just a bit more than a tad confusing on what to do and where to go in a room filled with drinking humans. Also, parts of the facility are pretty cold, so layer up!
Visit Saranac Brewery – website | facebook | twitter | instagram | youtube

Chicken Riggies and Utica Greens – Bella Regina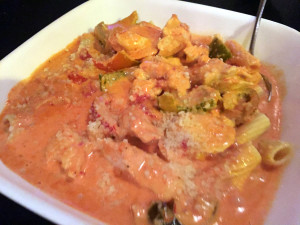 Chicken Riggies are almost exactly what you'd imagine if you know what rigatoni pasta is, but the red sauce has just a bit of cream mixed in. While most places allow you to get sausage or shrimp or a whole selection of other meats, chicken is the classic concoction. Though Bella Regina has only been in business a couple years, they won 1st place in this year's "Riggie Fest". We figured such a strong contender was worth the visit and we figured correctly! For our last meal of the day, we ordered our Riggies along with the famous Utica Greens, which are a regional take on the classic escarole dish. We included potato and some sweet Italian sausage to round out the textures. And, to really out do ourselves, we got some of the fried calamari with cherry peppers and finished the entire set with yet another cannoli and shots of limoncello.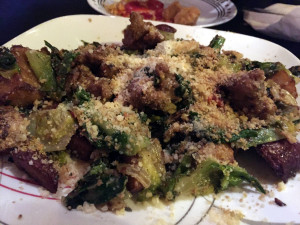 While every bite of our visit to Regina's was fantastic, I'd be remiss if I didn't also mention how cool everyone there was. Nicky, who sings mid-Century hits at Regina's on weekends, belted out a few Elvis tunes at Chris' request and helped to make a few out-of-towners feel as though we had somehow been adopted as honorary Uticans. If getting time to hang with the talent and our awesome waitress Sandra wasn't enough, The Bella Regina herself emerged from the kitchen to visit the table of loud, boisterous out-of-towners that she had no doubt been warned of from the front of the house.
Visit Bella Regina – facebook

Halfmoon Cookies – Gingerbread Bake Shop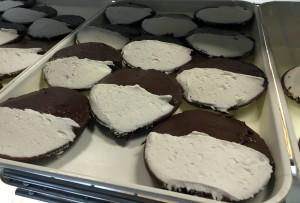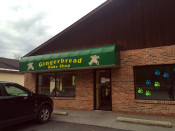 That's already a lot of reading, but you didn't think we spent a day in Utica stuffing our faces without getting a halfmoon cookie, right? Admittedly out of order, our first stop of the day was the Gingerbread Bake Shop, renowned for their halfmoon cookie, somewhat like the New York City classic 'black and white cookie'. We picked up a few and decided they'd be best as a dessert for the two hour ride back to Rochester. Gingerbread only had the chocolate cookie style made up when we arrived and admittedly, I'm not a huge fan of a chocolate cookie. Though, the frosting was super tasty and not overly sweet, and the cookie itself had a really great texture that was moist without being too doughy. I'd love to try the vanilla cookie next time in town!
Visit Gingerbread Bake Shop – facebook
With full bellies and lot on our minds we sauntered back to Rochester wishing we had all that fantastic food a bit closer to home. Really though, two hours is nothing for some of the best Italian in Upstate in a city rich with old-school charm and preserved culture.
Huge thanks to Chris of FoodAboutTown for joining me on this trip. Also, an even bigger thanks to my good friend Dennis for joining the two of us and agreeing to hold cameras in between all the food we forced on him! A bigger thanks still to the fine folks of Utica that we encountered throughout the day. You all made the task of exploring upstate a hell of a lot of fun.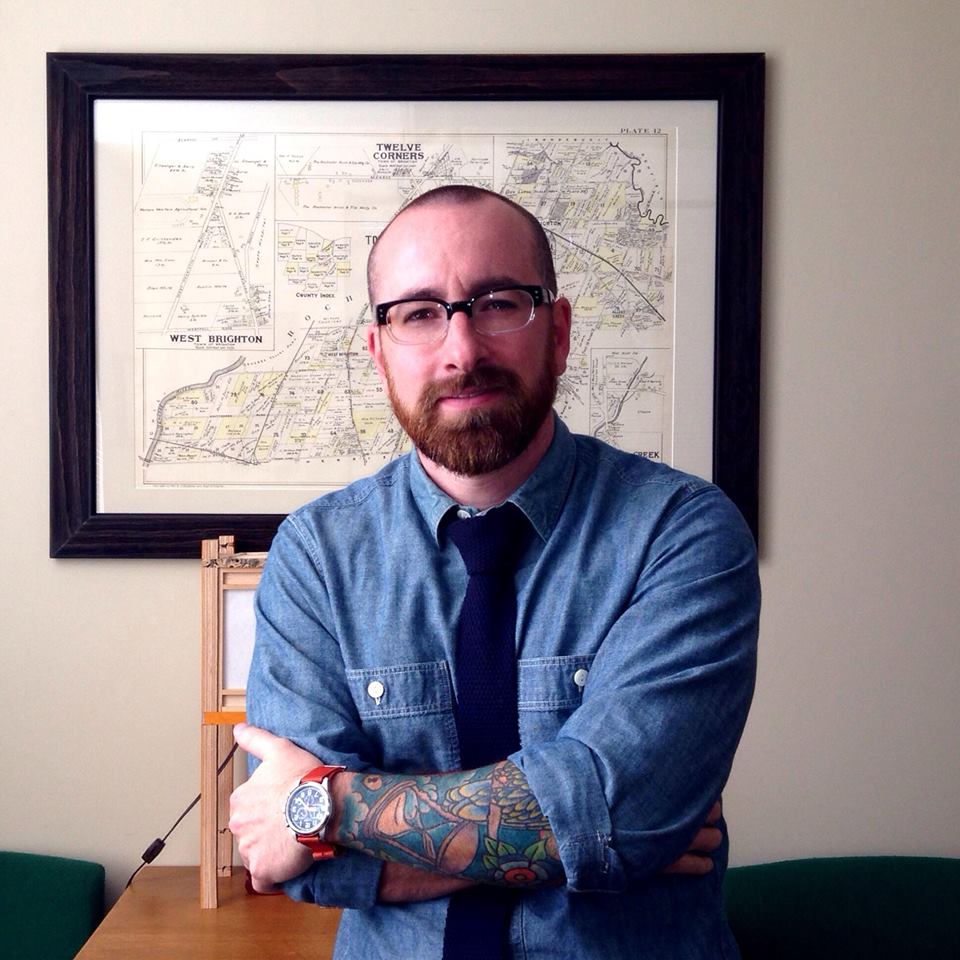 Chris Clemens is the Founder/Publisher of Exploring Upstate. From his hometown in Rochester, he spends as much time as possible connecting with the history, culture, and places that make Upstate New York a land of discovery. Follow him on Twitter at @cpclemens