by Chris Clemens
The majority of my exploration is in Upstate New York, and, of course, Exploring Upstate is intended to help you discover your next adventure here. But, occasionally I travel beyond the borders of the Empire State to see how the rest of the country lives. Most recently, I spent some time visiting Detroit, Michigan. When I've mentioned my trip, I've gotten responses in the realm of "Oohhh, God. Why?" or, "Yikes. Hope you didn't go out at night!"
The more I listened to it, the more it sounded familiar. It's the same exact response that many people have about going into even small cities here in New York.
How about the parking?
Is it safe?
What if a homeless person approaches me?
This Isn't the 80's
Admittedly, the Motor City has experienced tough times. It would be hard to find someone who hasn't caught wind of a tumbled economy built on the backs of a downtrodden domestic auto industry. You might have heard of the "Devil's Night" back in the 80's when entire neighborhoods were lit on fire. Maybe you even saw a more recent article about Detroit's auto insurance being some of the highest in the nation, strictly because of crime rates.
If that was all you heard, maybe you'd wonder why Detroit is a city I've wanted to visit. Or, why I'd even tell you that it's a city you should visit. The reality is, after just a few days in Detroit, I've decided it's one of the coolest cities I've explored.
The more I thought about how much I enjoyed it compared to how much backlash I received about my going, the more I realized I needed to tell people. I needed to share how I learned the only thing to be afraid of was a narrow-minded account of how things used to be.
Maybe going to a city I'm told is dangerous is exactly the kind of push I need to grow as a person. Maybe you do, too. Because really, the greatest experiences I've had in life were the result of going beyond my comfort level.




Hitting Downtown
Within an hour of checking into my hotel, I was walking downtown. I typically research a place I'm visiting and lay out a loose itinerary. For Detroit, it was very loose. I had some ideas, but a only a few concrete must-do's. I also had very limited time.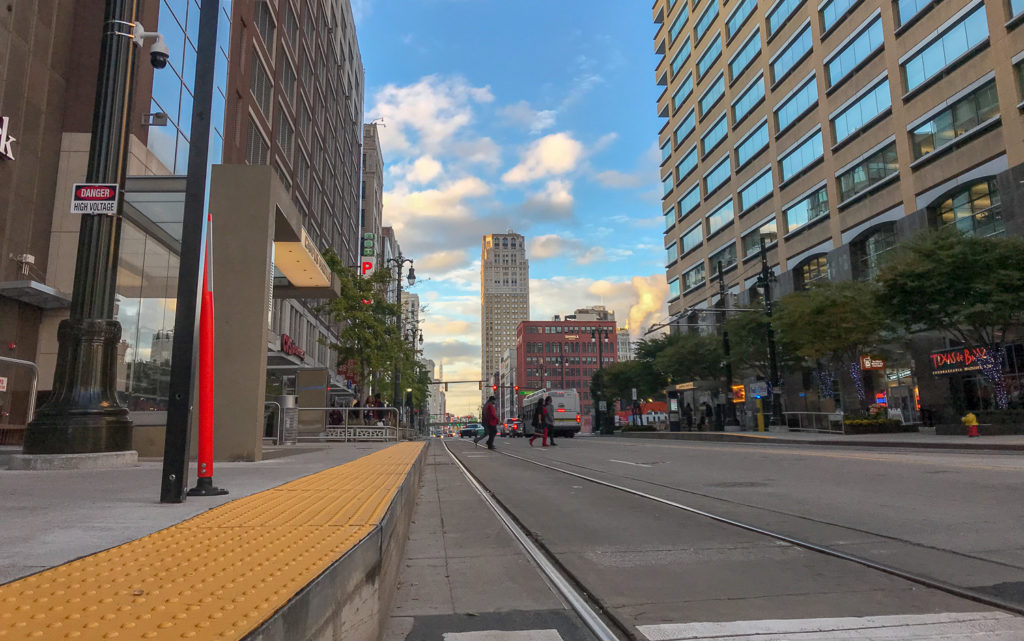 You've heard of a Coney Island. The hot dogs were made famous by the Greeks serving them up on–you guess it, Coney Island. In Michigan, a "Coney" is actually a type of restaurant. It's a Greek-run eatery that serves Coney Islands (the hot dog). In 1915 a couple brothers opened a Coney-style eatery right on Michigan Ave. Within two years, a bitter dispute broke out and they closed.
But like a phoenix rising from the ashes of a blaze, the brothers opened competing Coneys side-by-side in 1917. Still today, Detroiters are forced to choose between American Coney Island and Lafayette Coney Island. Within hours of landing in Detroit, I was already finding my favorite.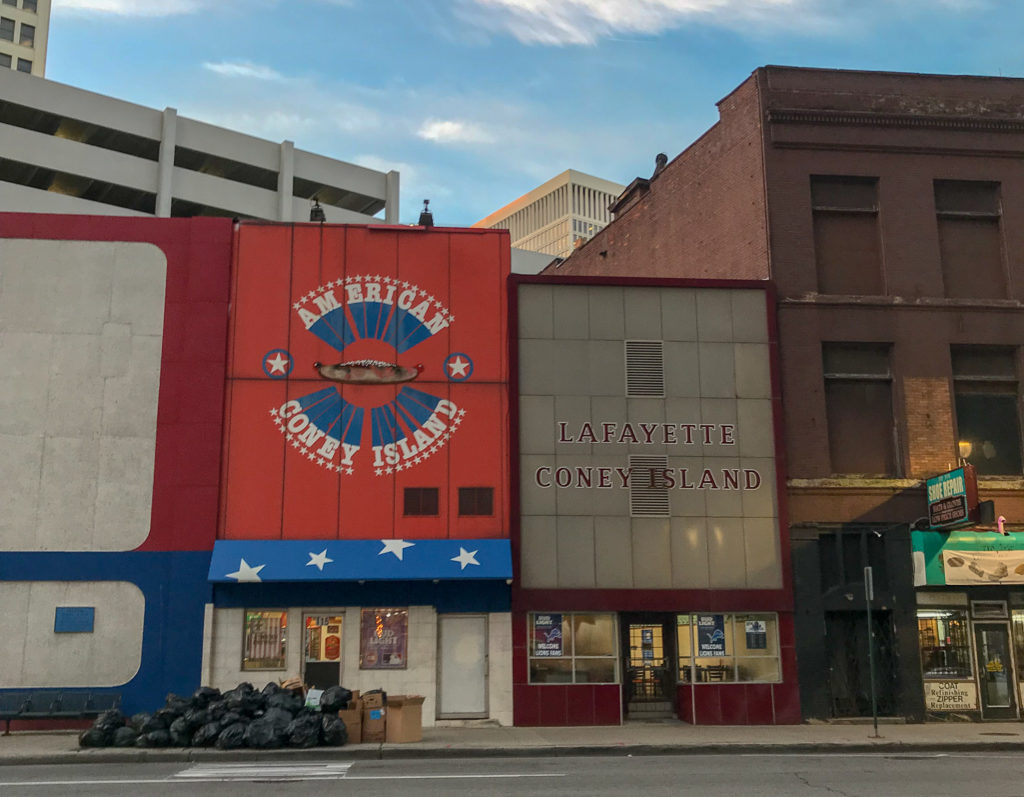 I did choose a personal winner in the battle, but I realized later it didn't matter. This kind of culinary history is important not because it's high-brow fine-dining. There's no James Beard award for these guys. It's important because a Coney is the culture of the city.
Despite hardship and resentment, the Coney traditions have withstood the test of time. Buffalo has the chicken wing. Rochester has the Garbage Plate. Syracuse has salt potatoes. Binghamton has spiedies. A city needs a culinary icon that everyone can relate to. In Detroit, the Coney is precisely that icon.
Fast Friends
After my hot dog(s), I walked a couple blocks to La Casa, a local cigar club. Lounges like this are always interesting, because there's a regular group of guys that hang out. It's kind of like Cheers, but maybe not where everyone knows your name. I mention that there's always a regular group, because it's not always easy to walk in as a stranger and feel at home.
With a Coney-filled gut of courage, I walked into the club side of the shop and sat down next to a couple of guys.
I doubt they'll ever see this, but Eric and Reggie are owed credit for setting the tone for how awesome my trip was. As I tapped their knowledge about Ford, Faygo soda, and the slightly obscure Asian corned beef, others who had filled out the room began to sit closer and join in.




They told me how the city had changed, and how all anyone wanted was to just live happily and make a little money. It had been hard, but investors were turning things around.
Amidst a plume of blue smoke, Eric told me, "Two years ago, we left here at night and ran to our cars. Now? We're gonna send you out to walk four blocks to your hotel, and we won't be worried for you one bit. It's a totally different city, man."
Reggie pointed out the window and said, "Look around! Look all these people hanging out! You didn't have that before."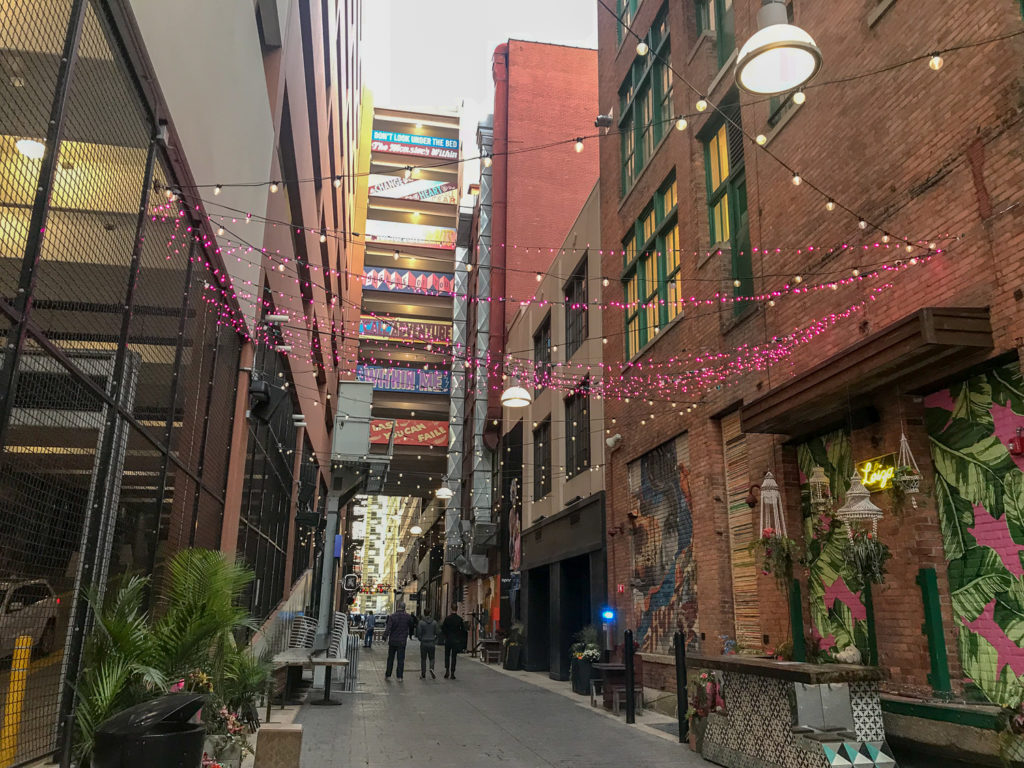 Local investors have changed the oil on the engines of metro Detroit and the pistons are firing. And, before you get pessimistic that investors are only doing it to reap financial rewards, consider some of their efforts.
Showroom Detail
For one, there are parks everywhere!
You want to eat your lunch downtown and sit somewhere? You can thank the private citizens who paid for the park. That was after they (literally) paid for the gas in the police cruisers because the city couldn't afford it. Maybe they're buying buildings and charging rent, but they're also putting the basic tenants of a successful city into place when tax revenue can't cut it.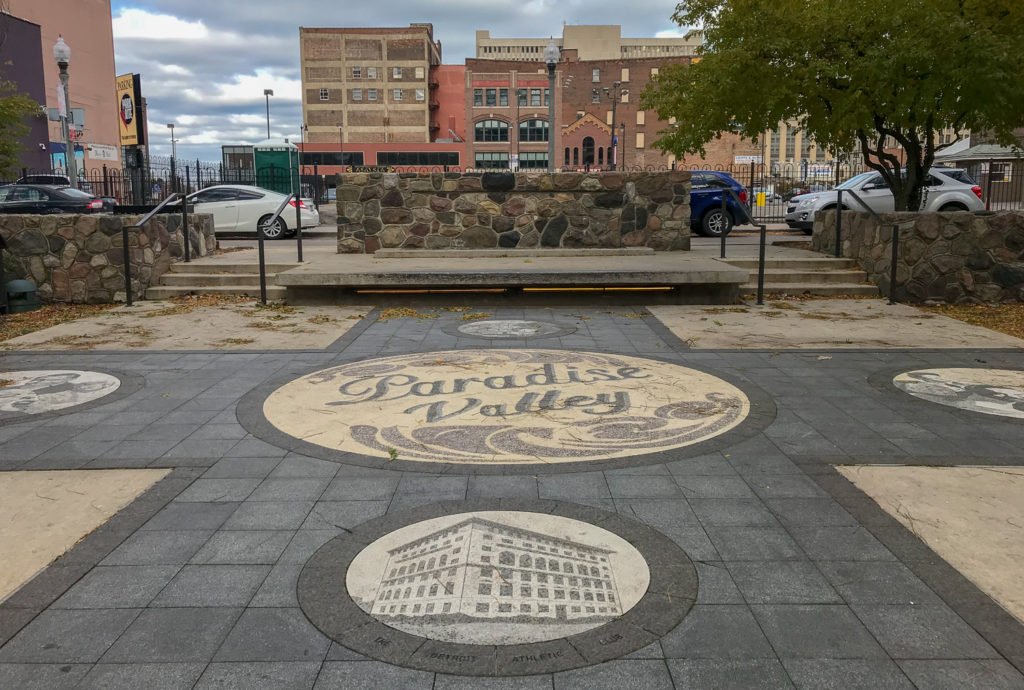 Transportation, social programs, safety, public spaces–those investments mean a vibrant city with happy residents. Those happy residents improve the economy and in turn, sure, get those building owners higher rent checks.
From what I've learned, it's kind of like the curb appeal to your house. Imagine your house has high value, but the lots around you don't. That means your house doesn't actually have a high value at all. What if you could invest a little on those neighboring lots to improve them? It would ultimately mean you could fetch the high value for your great house because it's surrounded by a vibrant neighborhood.
Fill 'Er Up
Food is what fuels my trips. I had an outstanding cortado from Dessert Oasis, so I can assure you Detroit's coffee scene is doing alright.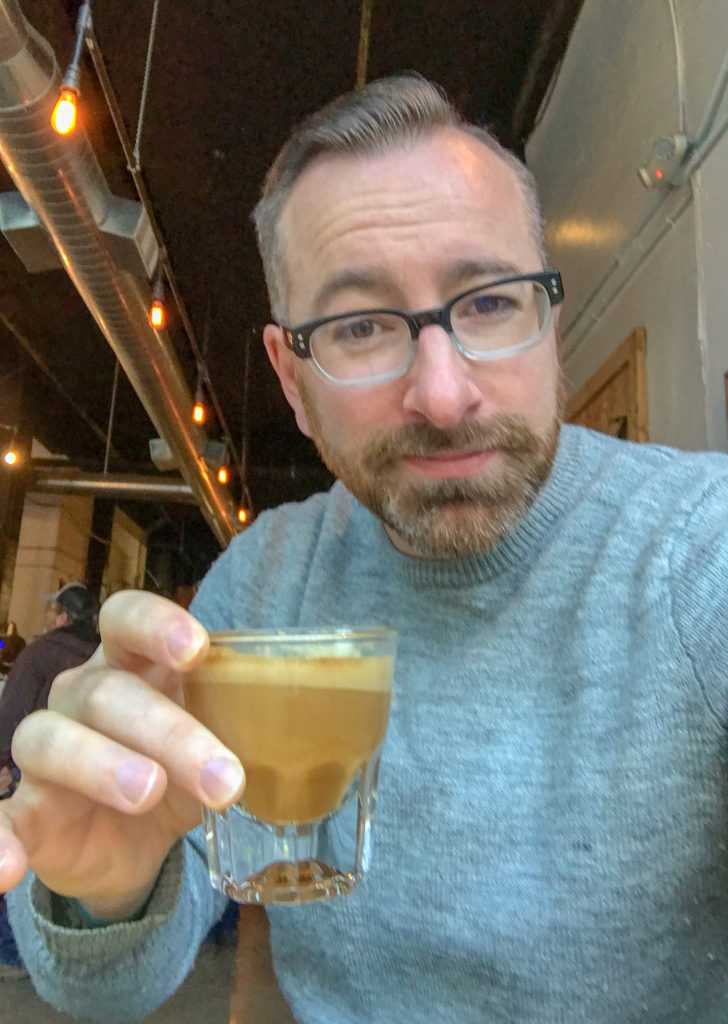 I drove north a few miles and scored a bag of glazed donuts from Dutch Girl Donuts. My first experience ordering through bulletproof glass was unique, but it didn't take me long to realize the only danger I flirted with was eating an entire shelf of these things at only $1.00 a piece.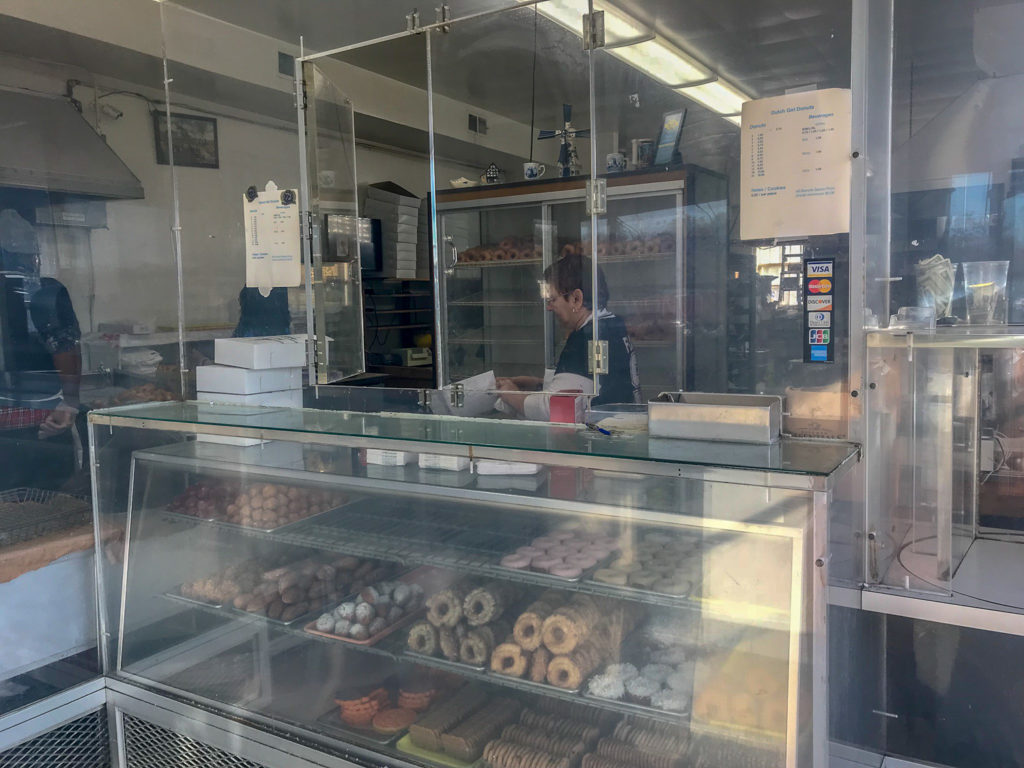 Detroit has its own style of pizza, too. The thicker, square crust will be familiar to anyone from Utica who loves a tomato pie. While they throw pepperoni on the bottom, the cheese piles up and is topped with a not-too-sweet sauce. Niki's in Greektown made me their version, which I'd describe as a perfect marriage of "Western New York style" pizza and tomato pie. That's probably why GQ Magazine rated it #24 of all pizzas in the country.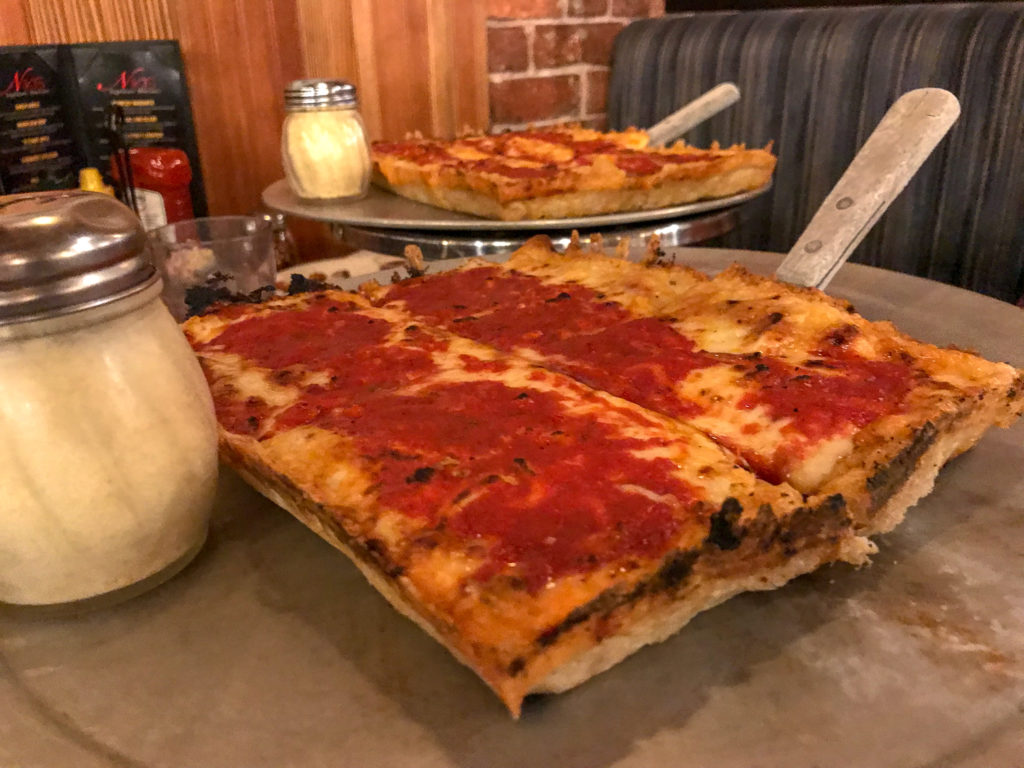 While donuts, pizza, and hot dogs is a menu I could live off forever, Detroit is attracting some seriously talented chefs, and I needed to try them, too. Dime Store is a small brunch spot, but the effort they put into every dish wasn't small in the least. The Apparatus Room fills out a former fire hall, so the interior is trendy, but still unique. The menu blindsided me with house made everything. After sampling about 10-12 menu items, I was knocked out by their pasta dish inspired by the local Coney Island. The spiral pasta tossed in a chili sauce made with beef heart made me love Detroit hot dogs all over again, but on a high-end level.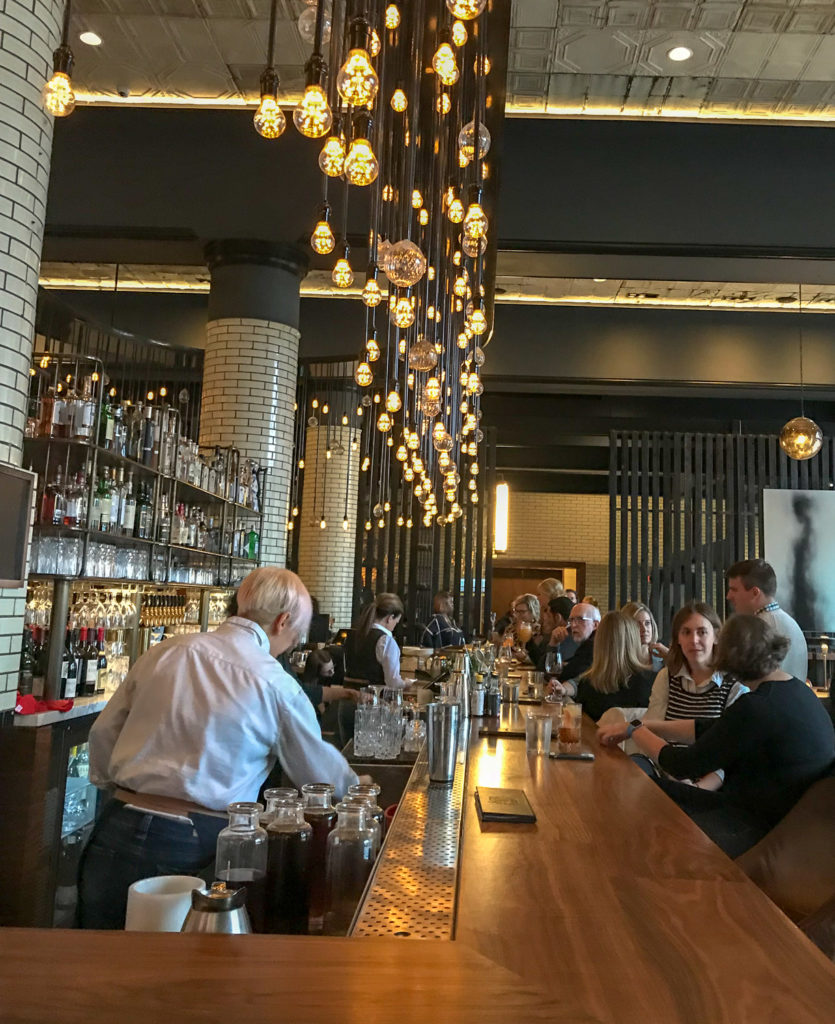 By the way, of course I had a Verners ginger ale!
Get On the Bus
I didn't have time for all the museums I wanted to visit. The Motown Museum and Detroit Institute of Art will hopefully welcome me next time I'm in town. The Henry Ford Museum was high on my list, though. I knew it was an important collection that I wanted to experience first hand. But, honestly, I wasn't prepared for truly how great it was.




Ford helped make steam engines. There was one in particular he made only eight of, just one of them about the size of a small building. When one of them went out of commission, he moved it back home near the Ford factory, then decided to build a museum around it. The rest of the gargantuan space features trains, cars, airplanes, engines, farm tractors, and just about everything you could possibly think of.
What I really loved though, is that it wasn't just an exhibit of cars. They used cars to tell the story of American history. As more families could afford cars, more families could go on vacation. That meant Howard Johnson hotels, and diners, and camping trailers. That affected how we were entertained on the road with games like License Plate Bingo. The museum covered it all.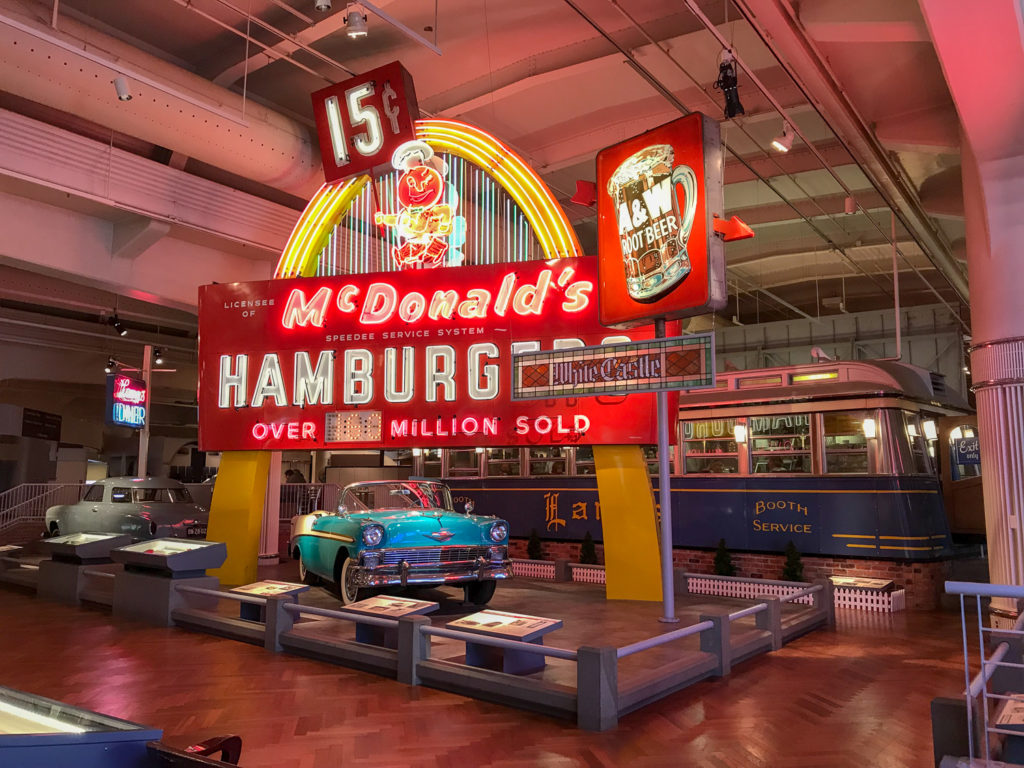 They also have the bus that Rosa Parks was arrested on in Montgomery, Alabama. I couldn't bring myself to sit in the very seat Parks was in. It seemed like it belonged to her. I could never do justice to the amount of courage she had. But as I sat across the aisle from her seat, I wondered if she'd be pleased with where Detroit was in terms of social justice.
Maybe she'd be horrified by the some of the stuff in our national news. But, maybe it'd brighten her mood to know that our nation's first black President had visited her bus at the Henry Ford Museum. It might even be enough for her to know that it doesn't matter your background or race, you can walk into a cigar bar, sit anywhere you want, and make friends before you've even lit a match.
Artomobiles
Remember me mentioning how houses burned back in the 80's? I've been told a number of different stories about how the Devil's Night tradition came to be. The one consistent note in every account is: neighborhoods were left entirely decimated.
In the mid-80's, Tyree Guyton returned to his home in the McDougall-Hunt neighborhood after serving in the military. He was shocked to find his street looking like a "bomb went off". He began creating art projects on the empty lots. The effort was partly a political protest, but ultimately became an attraction. As the project grew, outsiders began to visit the outdoor gallery.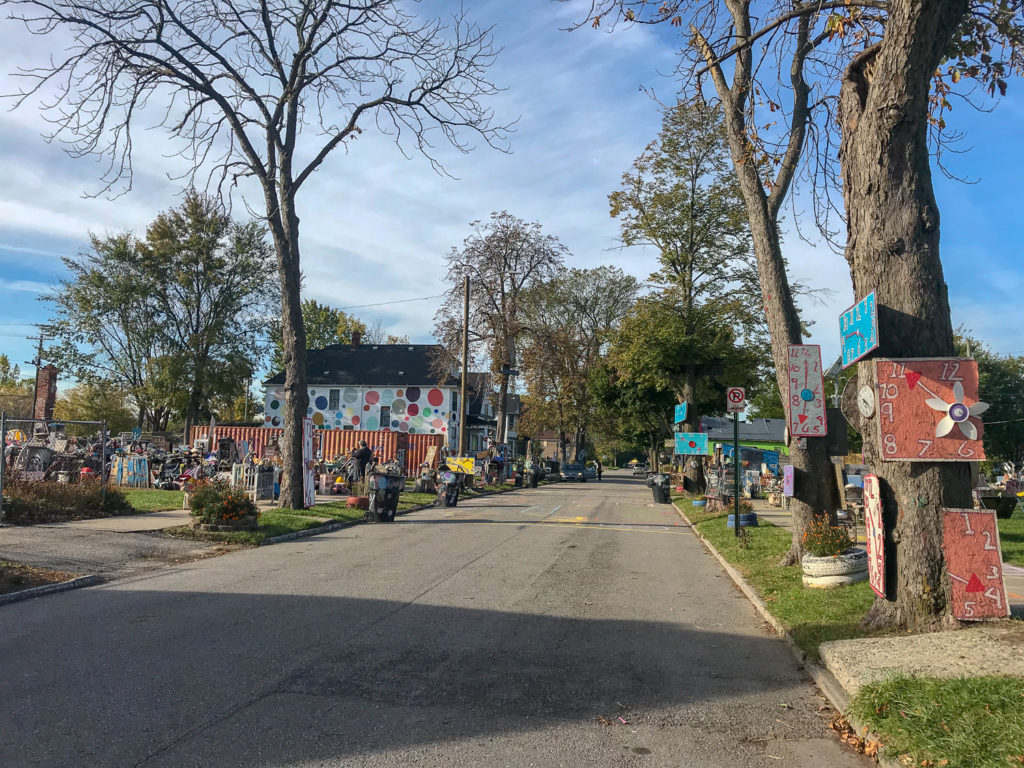 The project has brought people of all socioeconomic backgrounds from around the world to visit a poor, defeated section of the city they'd never have visited otherwise.
The City of Detroit has never really liked it, and they've made numerous attempts to take it down over the years. Today, it stands tall on an entire block at Heidelberg Street, and spills over to the surrounding blocks.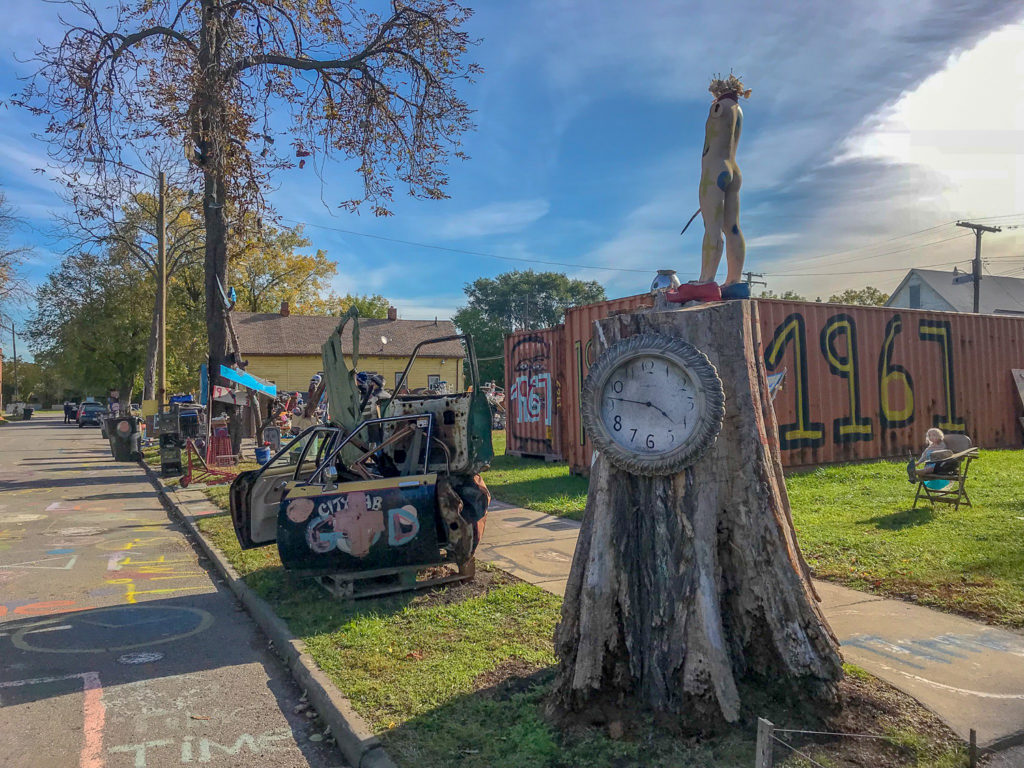 According to not-so-recent news, the Heidelberg Project is scheduled to slowly be demolished. If you intend to see this in person, you'd better make it quick.
The Heidelberg Project
I was told by one person the surrounding neighborhood isn't one I should go walking aimlessly, but I'd "probably" be fine walking the streets of the Heidelberg Project.
There was something unreasonably comforting about talking myself into believing crime didn't really happen on a Monday at 11:00am. Tens of thousands of people have visited the Heidelberg Project over three decades–I'm sure I'd be fine.
Admittedly, I did venture where locals told me not to go. I did get out of the car, and I did get approached, but no crime took place.
Also admittedly, a preset alarm went off in my mind that I should be skeptical of overt friendliness, but I silenced it in lieu of wanting to trust the Universe. Ultimately, I found people in a neighborhood I was told a white guy raised in a suburb of Upstate New York probably shouldn't go, and I found them to be super welcoming.
When I made it to the Heidelberg Project, I developed a new respect for Guyton's vision of wanting to bring outsiders to see the neighborhood should not be abandoned. The remaining homes were occupied by people wanting the same things for the neighborhood that everyone else wants. Safety, comfort, and a chance at living a life of happiness.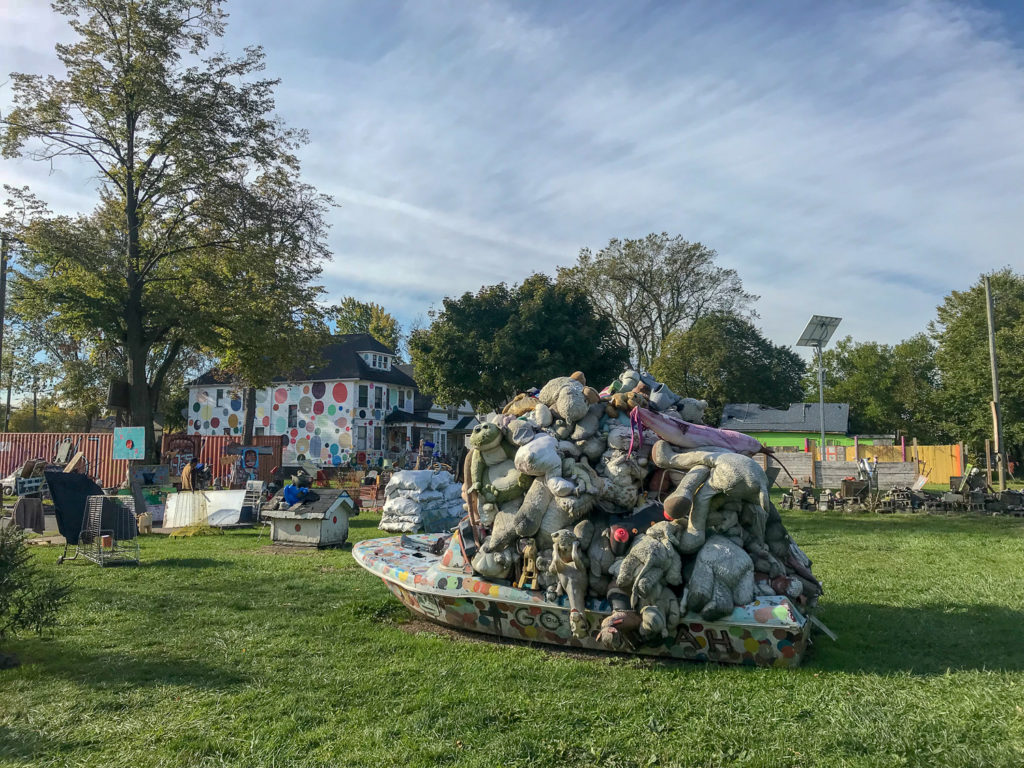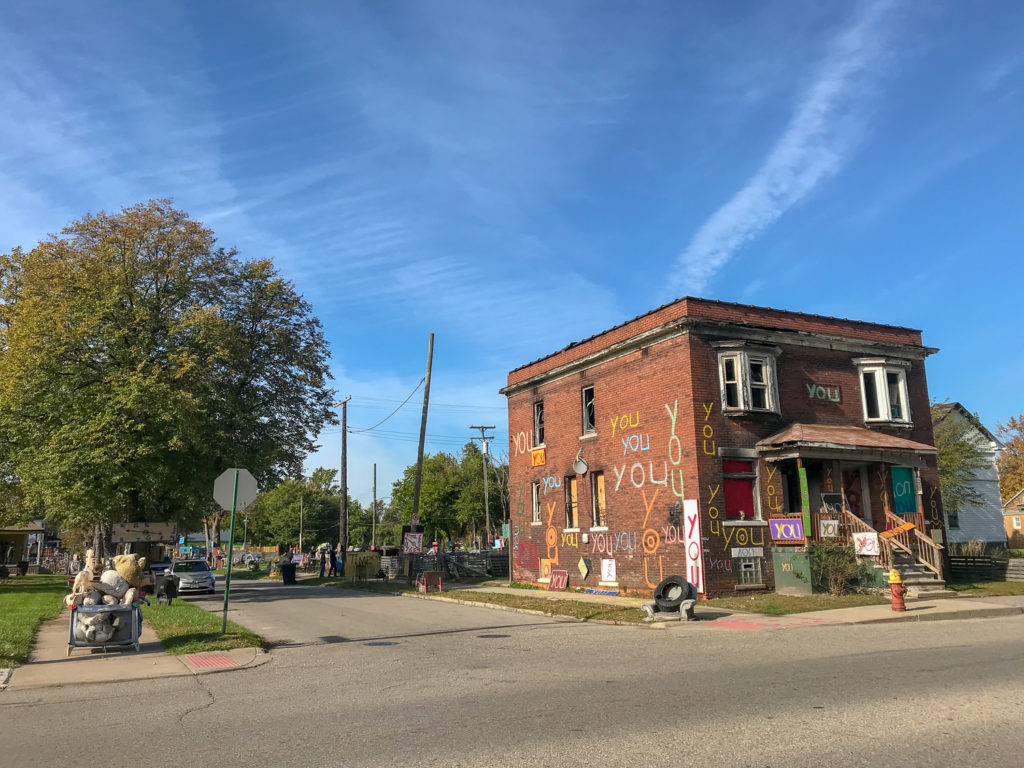 It's taken Guyton's art project to bring people from all over the world to his street, when history may have had plans to let it rot into obscurity.
Take-homes
Detroit may be a city you've heard is struggling, and after spending some time there, I can tell you it is.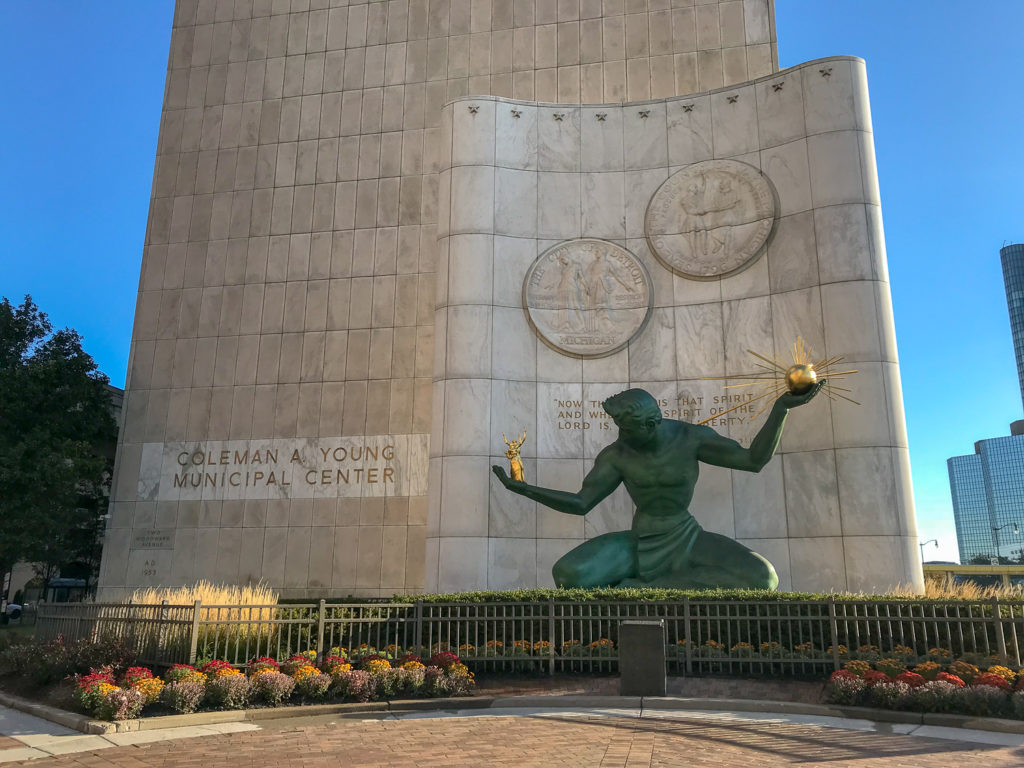 It's struggling to overcome the notion that it's no place for tourists. It's fighting to ensure people that the days when you had to rush to your car are gone. Detroit is still battling finances and crime, but the bigger battle is convincing you that if you go to visit, you'll probably never encounter those struggles.
More likely, you'll see construction projects as the city rebuilds.
You will notice police at busy crosswalks because there are so many walking pedestrians, it's worth it to pay them to be there.
You'll eat food you can't find anywhere else.
You will find people excited to take their city back, and share it with the world–regardless of race or socioeconomic background.
You'll find a culture that's about as American as you can get.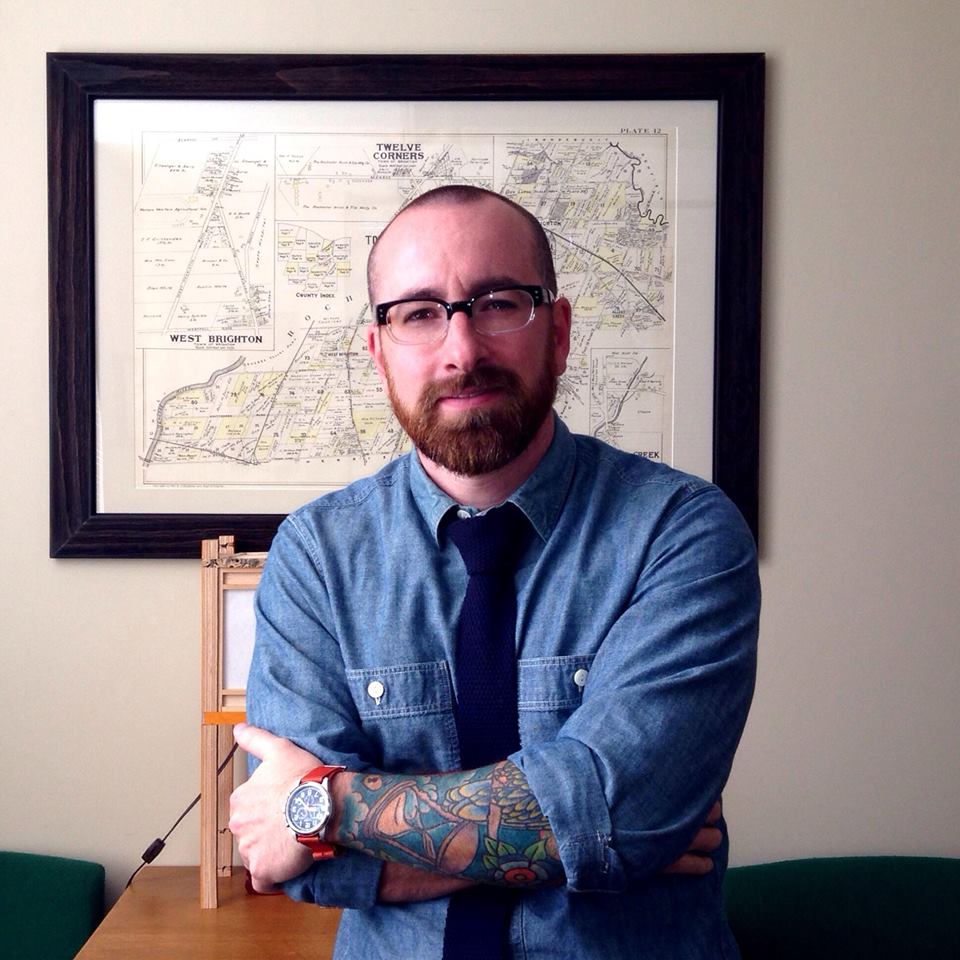 Chris Clemens is the Founder/Publisher of Exploring Upstate. From his hometown in Rochester, he spends as much time as possible connecting with the history, culture, and places that make Upstate New York a land of discovery. Follow him on Twitter at @cpclemens