Sibley's West gift shop in Phoenix sells only Arizona made goods, but the Sibley's name began with the Rochester-based department store made famous over a century before.
by Chris Clemens
Most Rochesterians of a certain age remember the Sibley's name with fondness. Before the department store chain was sold off to become Kaufmann's in 1990, the brand served Western New York for over a century.
The ultimate flagship building in Rochester is still there, but with few indicators that it was once one of the most prominent department stores in the country. Sibley Square today is a mixed use space with offices, retail, and residential tenants. But alas, the department store's legacy remains a memory reserved for those lucky enough to have visited during its heyday.
Sibley's was dealt a series of punches, which includes a migratory shift from urban centers to the suburbs. Upstate (and New York State in general) has been experiencing a migratory shift of its own.
That's why it's not uncommon to hear that people have migrated from Upstate to warmer climates. Some of those with a Sibley's memory have reached a point where Upstate winters have proven too harsh. Some of those Western New Yorkers that have relocated to Arizona have made a startling discovery other than just discovering they can't find white hots at the supermarket.
Imagine being from Rochester and walking through a strip mall in Phoenix and looking up to see a store using the Sibley's name.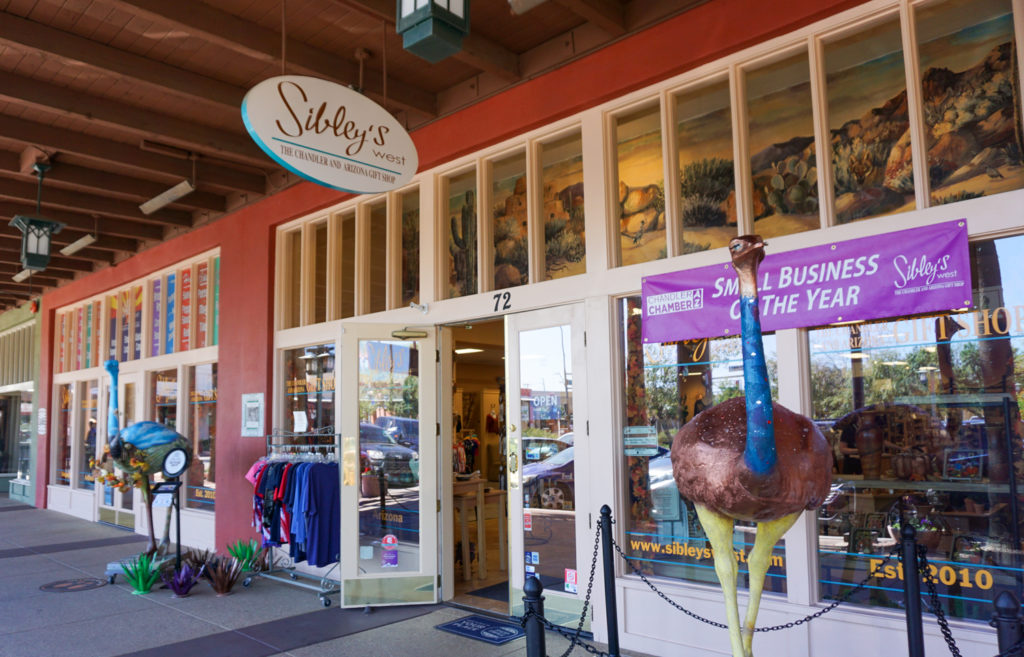 In fact, some have even marched right into the Sibley's West gift shop and demanded answers. They want to know how the shop could be using the name and even the original font and colors.
I had read a little bit of the backstory, but I wanted the rest. So off to Phoenix I went.
The Sibley, Lindsay & Curr Company
The whole department store's history actually begins in Boston. Three men working at a dry goods store called Hogg, Brown & Taylor decided they wanted a store of their own. That's when Rufus Sibley, Alexander Lindsay, and John Curr began looking at a map and planning their move.
When Sibley, Lindsay & Curr first opened in 1868, the city of Rochester was still riding the wave of becoming the first boomtown in the country. Downtown was hopping and the city's population was still growing. It was the ideal spot for a shop like theirs to thrive.
In 1893 the trio built what is now known as the Granite Building at 124 E. Main Street to house their operation. As the city's first skeletal steel structure, it was nothing short of impressive for its time.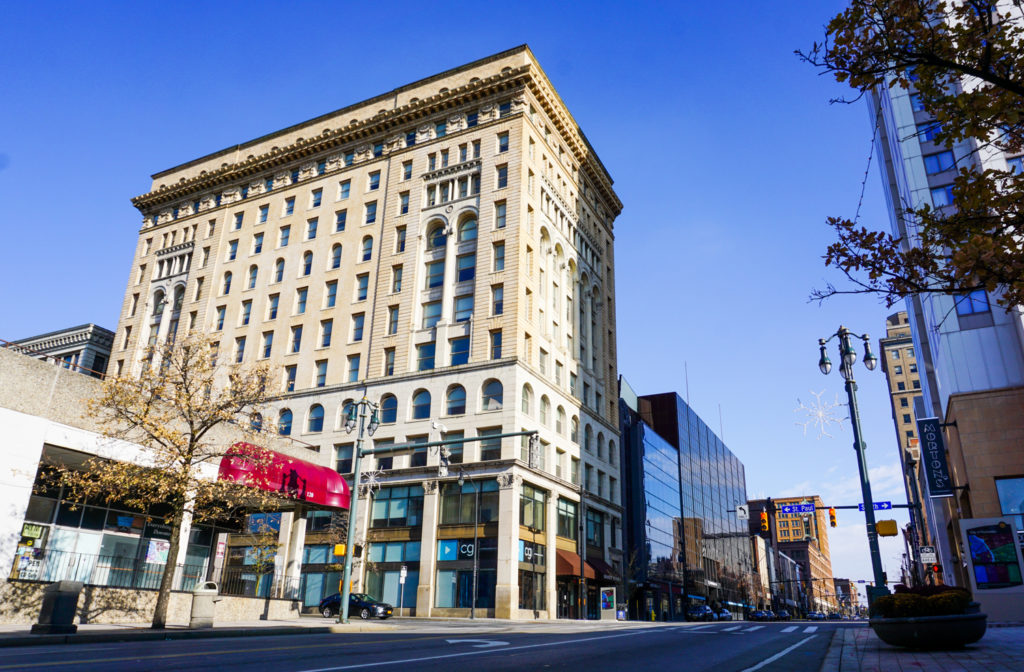 That was, until February 26, 1904 when a fire at the neighboring Rochester Dry Goods building would change everyone's plans. The fire didn't even start at Sibley's, but historians still refer to it as "the Sibley's fire" because the store was forced to move. At the time, that blaze was the worst in Rochester's history, causing about $3 million in damage to over an acre of city land.
Rising From The Ashes
It was after that heartbreaking fire that the department store would build their final flagship location, just up Main Street from their previous. It was here, in what is now Sibley Square, that the department store would become a crown jewel of Western New York heritage.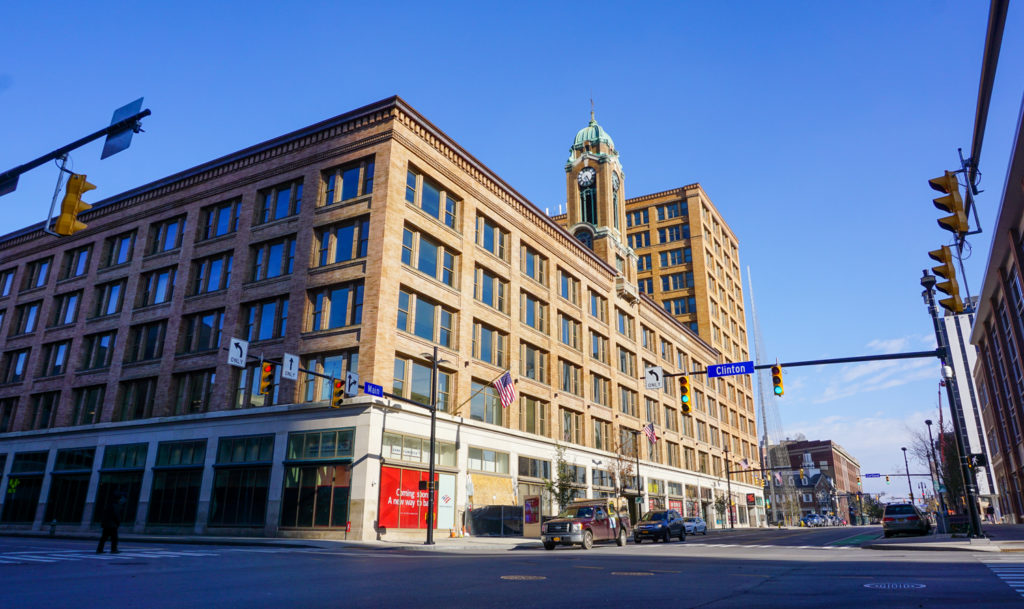 On Sept. 30, 1936, hundreds of Rochesterians watched in Sibley's as Mayor Stanton first started up the very first escalators in Western New York. The 1,500-foot, five-story system cost $250,000 to install and carried 8,000 people an hour. By 1939, Sibley's was the largest department store existing anywhere between New York City and Chicago. Soon after in 1962, Midtown Plaza was created by B. Foreman and McCurdy's and placed right across the street from Sibley's. Midtown was the country's first ever indoor urban mall, and believed to be the one way B. Foreman and McCurdy's could compete with the powerhouse of the Sibley's brand.
Over the following decades Northeast cities would see a transformation with a greater focus on suburban life. Even with stores in the suburban malls and neighboring cities like Buffalo and Syracuse, business for Sibley's was waning. The company sold quietly in the 1980's, and then again in 1990 to become Kaufmann's. It was later in 2006 that Kaufmann's sold and became Macy's.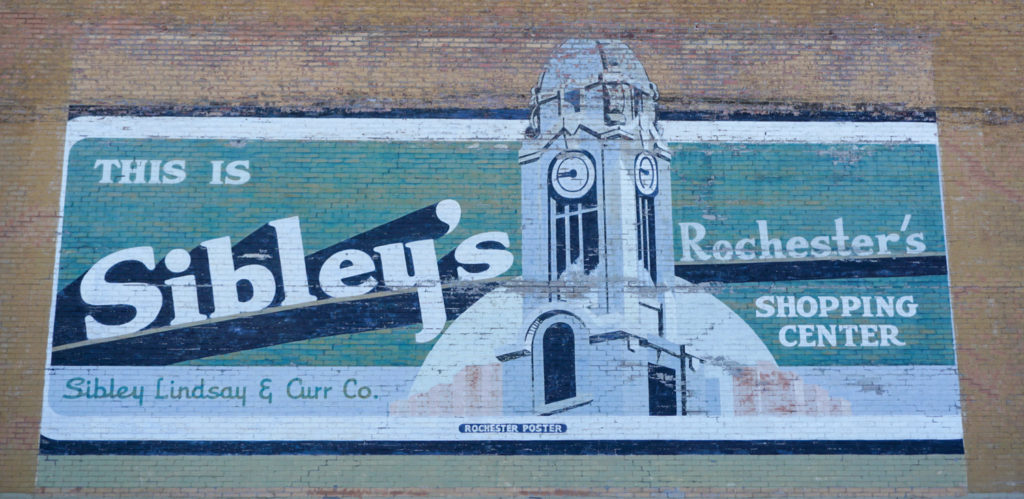 While Macy's was re-branding their new acquisition, the great grandson of Rufus Sibley realized his home in Rochester was just a little too cold during the winter season. He and his family are among those who sought warmer climates and plunked down under the desert sun of Phoenix, Arizona.
Sibley's West
Michelle and John Wolfe moved their family from the Rochester suburb of Brighton in 2006. A few years later, they were moved to create a retail space in a suburb of Phoenix highlighting local goods.
While I was visiting the store John told me, "It was actually Michelle's idea to use the Sibley's name. She wanted to help resurrect it. There was no hesitation though, it was perfect."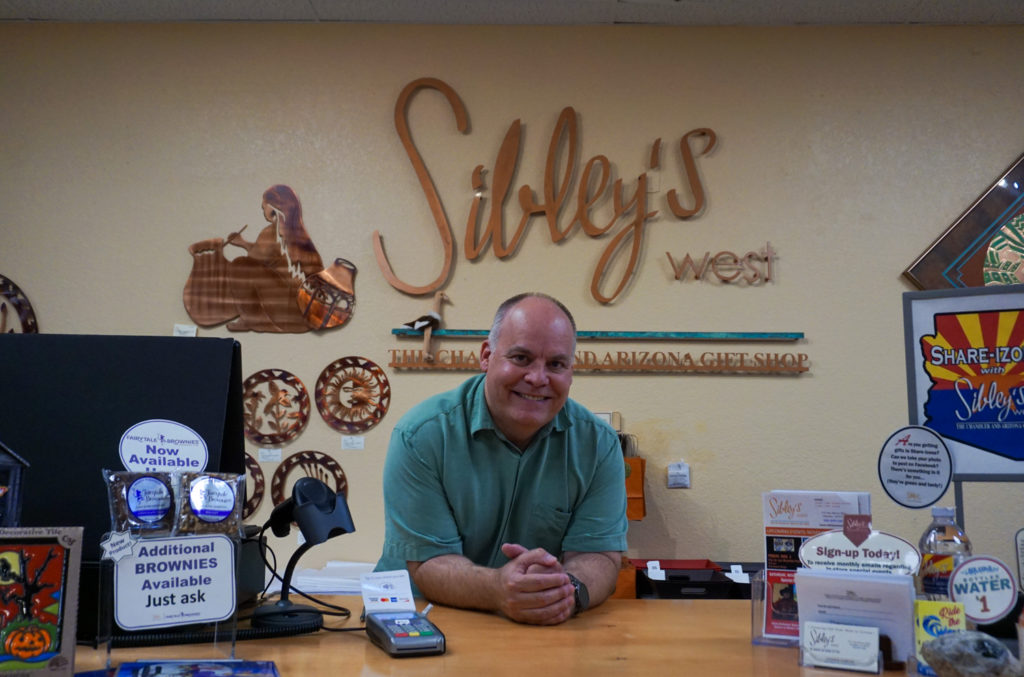 They opened Sibley's West in December 2010 and began stocking shelves with local pottery, artwork, and goods made locally in Arizona. The shop sells locally made products, but each one has a distinct connection to the maker who created it. Somewhat like a department store, there's a collection of pottery from one local artisan (who, actually is originally from Buffalo!) and beside that a display of paintings by another local artist. Beyond that a collection of teas, and hot sauces, and further along there is Arizona apparel.
What's just as important though, is that the Wolfes are using their retail space to highlight story of Arizonains.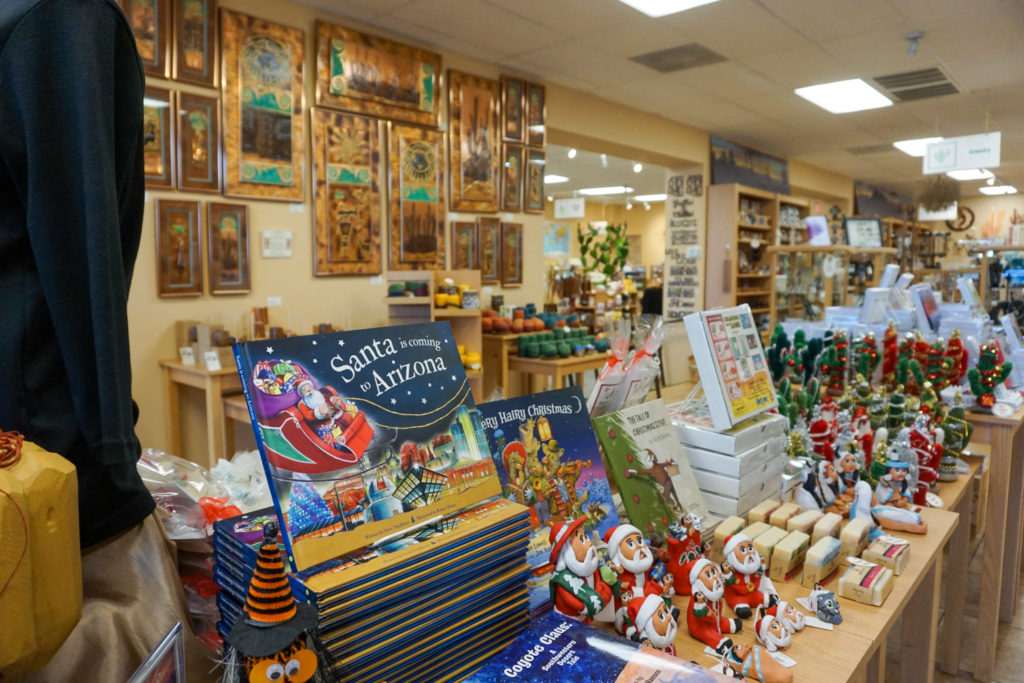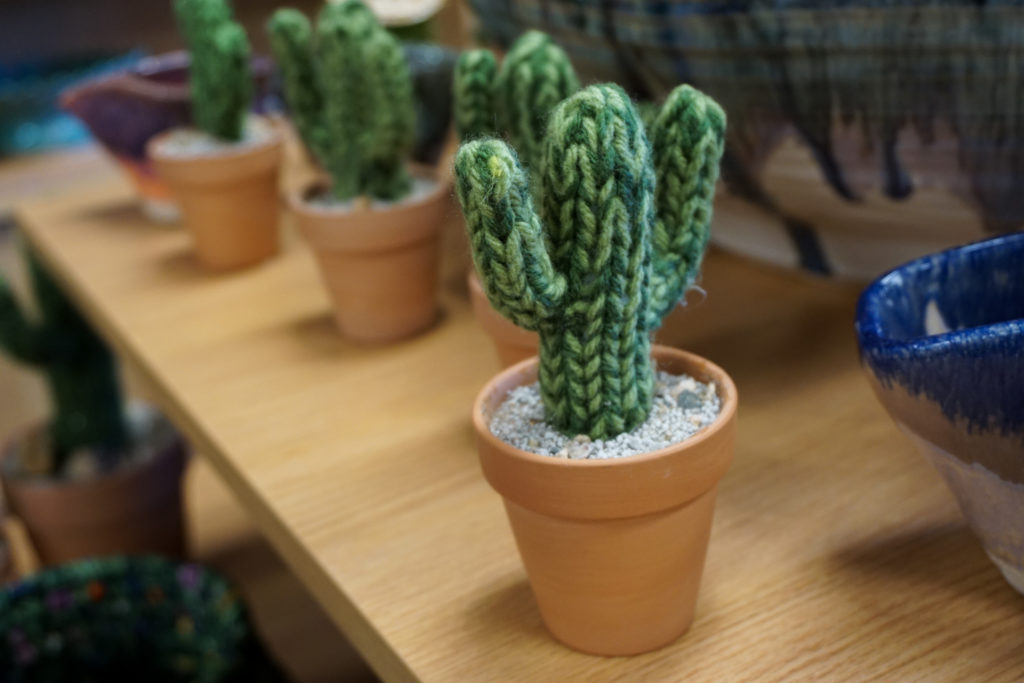 Signage at each display helps tell the story of how that t-shirt is unique, or why that prickly pear tea is special to Arizona. Plus, the Wolfes and their staff know the personal stories behind just about every item on their shelves.
To help with the storytelling, they host events like author readings and live sets from musicians.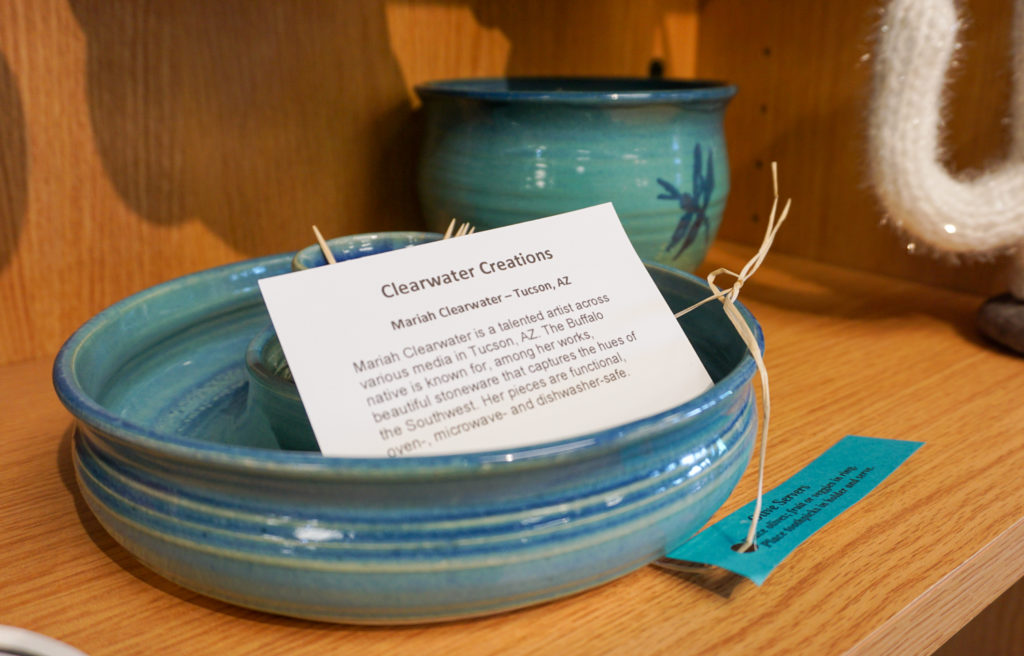 Local Love
In less than a decade their concept for an entire store highlighting Arizona goods has taken off.
It isn't just Western New Yorkers recognizing the name while walking past, the Sibley's West brand is now an established part of the Phoenix community. They've won awards and continue to attract attention throughout the state. Most recently, they've won the 2019 Small Business Boost award, giving them not just funding for marketing efforts, but a much wider presence in Arizona.
Since opening they've effectively doubled their retail space by taking over the neighboring storefront in the plaza. At the time of my visit, their list of local suppliers was just over 200.
The Sibley's West website says they "showcase gift items from more than 200 Arizona artists and businesses" and from a commerce standpoint they've built an impressive enterprise. But, from a community standpoint, the Wolfes and their staff have built a local place of community pride.
In case you're wondering like I was, the Wolfes still have a special place in their hearts for Rochester. In fact, there's an entire wall of Rochester history like an original Sibley, Lindsay and Curr sign and an original Sibley's charge card. There's even a photo of our prestigious Liberty Pole.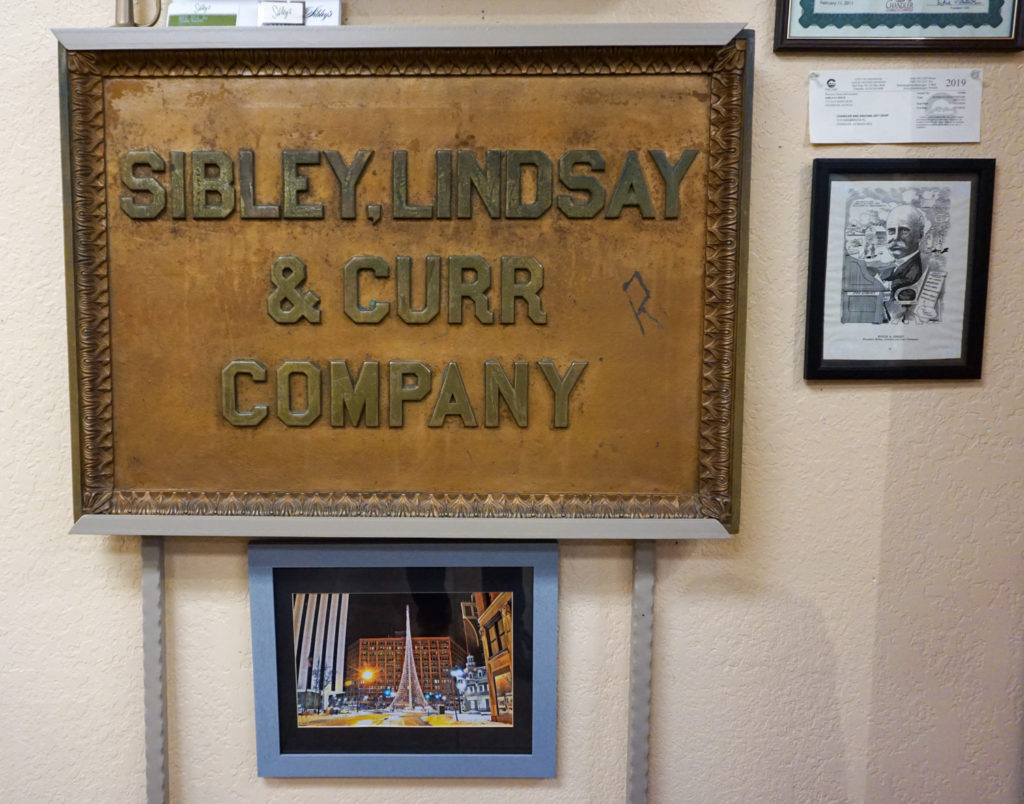 Western New Yorkers may miss Sibley's, but we can take some solace in knowing the brand lives on in a drier, sunnier locale. If you should find yourself in the Phoenix suburb of Chandler, stop in and add your name among the other Rochesterians in their guest book and snag a piece of prickly pear candy.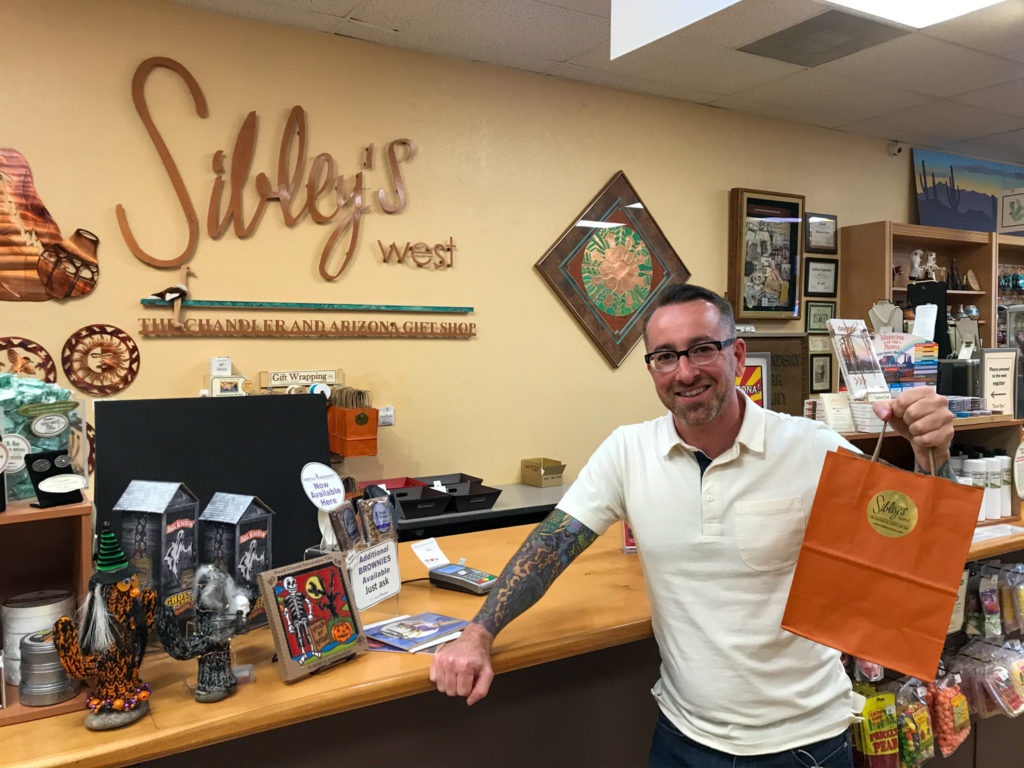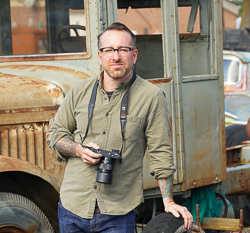 Chris Clemens is the Founder/Publisher of Exploring Upstate. From his hometown in Rochester, he spends as much time as possible connecting with the history, culture, and places that make Upstate New York a land of discovery. Follow him on Twitter at @cpclemens