The Salmon River International Sport Fishing Museum and Visitor Center in Altmar tells stories of fishing history, but also one of Upstate's greatest businesses that you've probably never heard of.
by Chris Clemens
There I was, driving through Oswego County on a gorgeous October day. If you're at all familiar with the area, you know that this time of year Pulaski is overrun with anglers. I'm no fisherman myself, but I thought I'd take some photos of people at the river and breathe in the last remnants of a crisp fall air.
I drove by a sign indicating that the Salmon Run International Sport Fishing Museum was just a bit east. It piqued my curiosity because despite my regular research of places in Upstate, I hadn't heard of one.
After pulling off the road and searching a bit online, I had a tough time finding any information. I did finally find a phone number and called to confirm they were open. That's when my leisurely Saturday joyride to leaf peep in the Thousand Islands-Seaway Region took a twist.
That afternoon I would enter a rabbit hole of local history. Sure this tiny museum in rural Upstate held artifacts related to fishing and even for a non-fisherman that was cool. But the backstory behind this hidden gem has held me captive even weeks after my visit.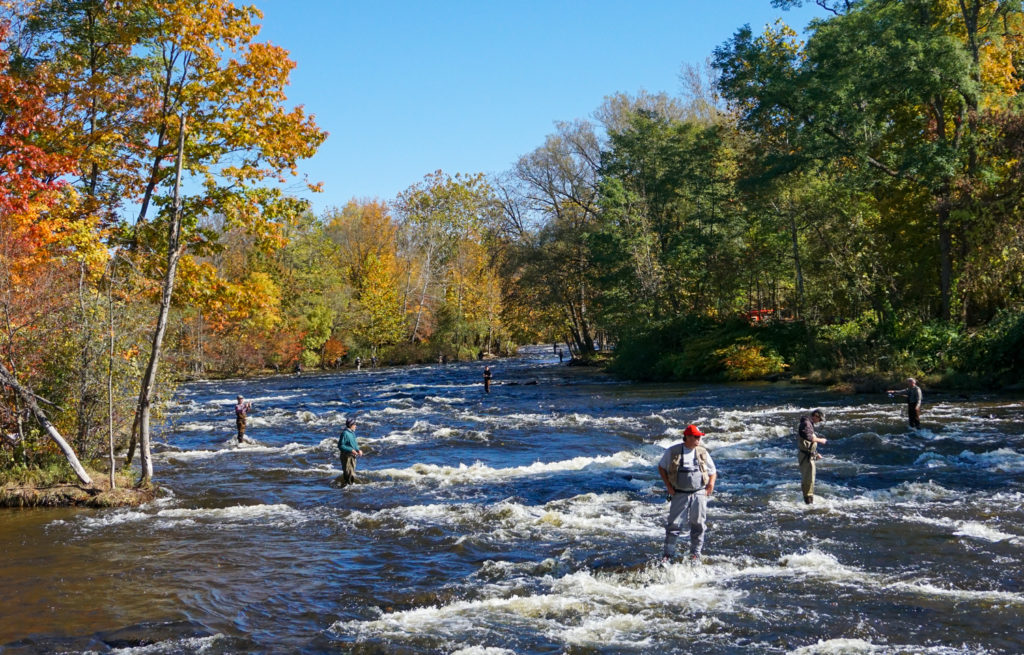 The B.F. Gladding Company
The museum's story begins some 80 miles south in the Central New York town of South Otselic. Today the Salmon River International Sport Fishing Museum and Visitor Center sits in the town of Altmar in Oswego County. But, the whole story of this humble sport fishing museum starts over 200 years ago with a company called Gladding.
Today they are known as Gladding Braided Products, but like their ropes and the para cord they produce for the military, Gladding's story is lengthy and woven with complexity.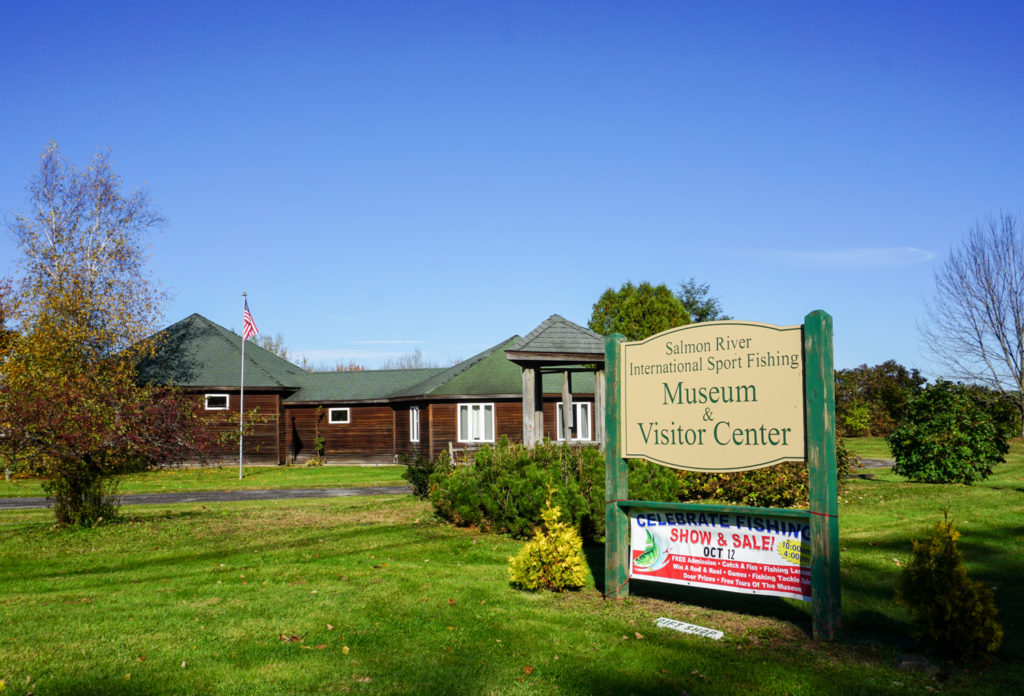 It was in 1816 that the company's founder John Gladding first settled in Chenango County. He already had years of rope making experience from a previous apprenticeship. After settling in Central New York, he set up a rope making operation that would later become a global empire.
Gladding began with ropes used on clipper ships and their business grew year after year. Gladding did well by his business, but it was his son, James, who continued his father's legacy and expanded the company's inventory line.
Among those new items, the Gladding brand would now produce fishing line.
The World's First Sport Fishing Museum
In the first half of the 20th century, you could find the Gladding name in every fishing tackle box you opened. They produced and shipped fishing line right from their factory in South Otselic to everywhere in the world.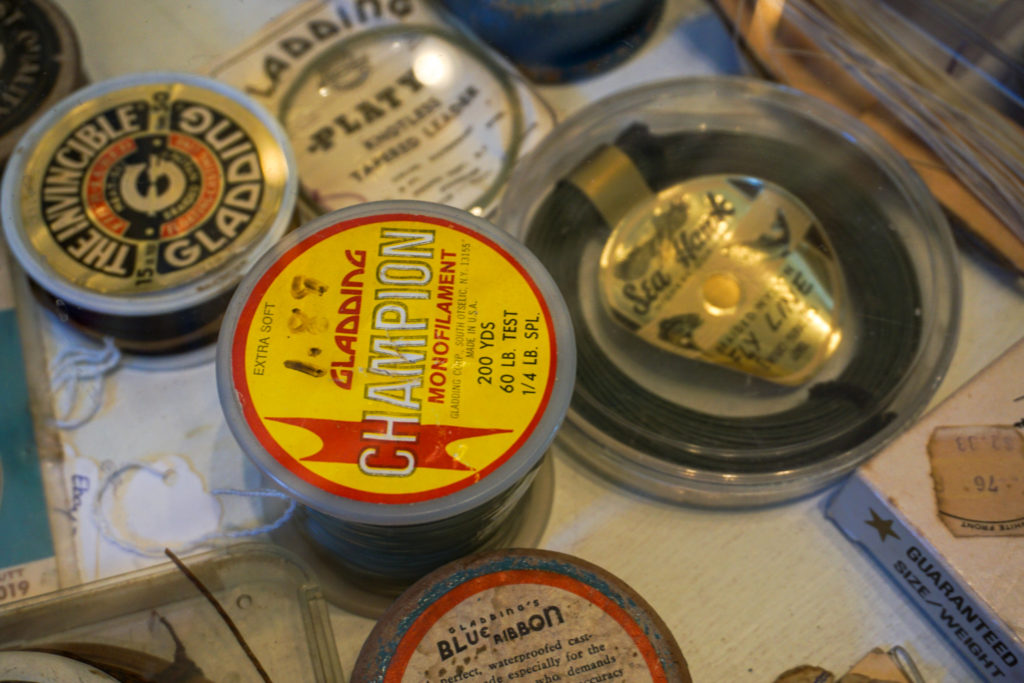 As a top name in the global sport fishing industry, it made sense for Gladding to form an official museum. It would allow them to house artifacts showcasing their own history, but also tell the story of international sport fishing.
Initial museum talks date back to the 1950's, but it would be years before the public would see the collection. It wasn't until September 13, 1972 that the United States Congress signed an official record solidifying the museum's destiny. That day the Gladding International Sport Fishing Museum would officially become the first sport fishing museum in the entire world.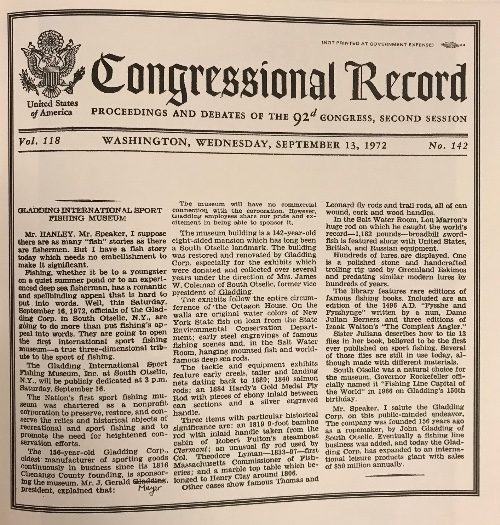 At the grand opening, it was clear to everyone the museum would be a stately jewel celebrated far and wide. Even national newspapers were writing about this small Upstate town's exhibit. Gladding had hooked a big one with the founding of their museum and everyone everywhere knew it.
Quite A Catch
Within just a few years, Gladding's worldwide domination would slip. It wasn't the first time the company hit hard times and it wouldn't be the last, but this one was nearly fatal.
One of Gladding's many products at the time was the citizens band (CB) radio. In 1977 the FCC quickly passed a law stating that all CB radios would have to be 40 channels, and no longer 23. The problem was, all American manufacturers of CB radios had stockpiled in anticipation of the Christmas holiday. Gladding, RCA, Pantheon, Hy-Gaia Electronics and nearly every other CB radio producer in the United States had warehouses full of worthless electronics.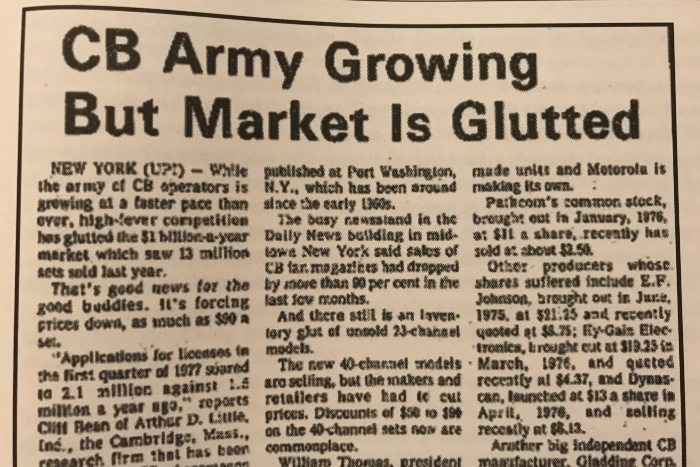 The debt from the CB radio debacle was too heavy for Gladding, and they filed for Chapter 11 bankruptcy. During the reorganization much of the company's assets were pillaged. Rumors abound on where some of those ended up, and those rumors included the world class collection from the museum.
Luckily, the collection hadn't been lost forever as some believed. It sat in storage waiting for someone to pay the bill and rescue it out of hock.
Thousands of historical fishing poles, reels, lures, lines, and paraphernalia lay in limbo. Thousands of Gladding brand products dating back over 100 years sat out of public view. Much of the collection had been donated by locals so it couldn't be sold with the other Chapter 11 assets. But, without an organization funding a museum, the collection wasn't something anyone could actually make use of.
The world's first sport fishing museum lay packed away in crates patiently awaiting its future.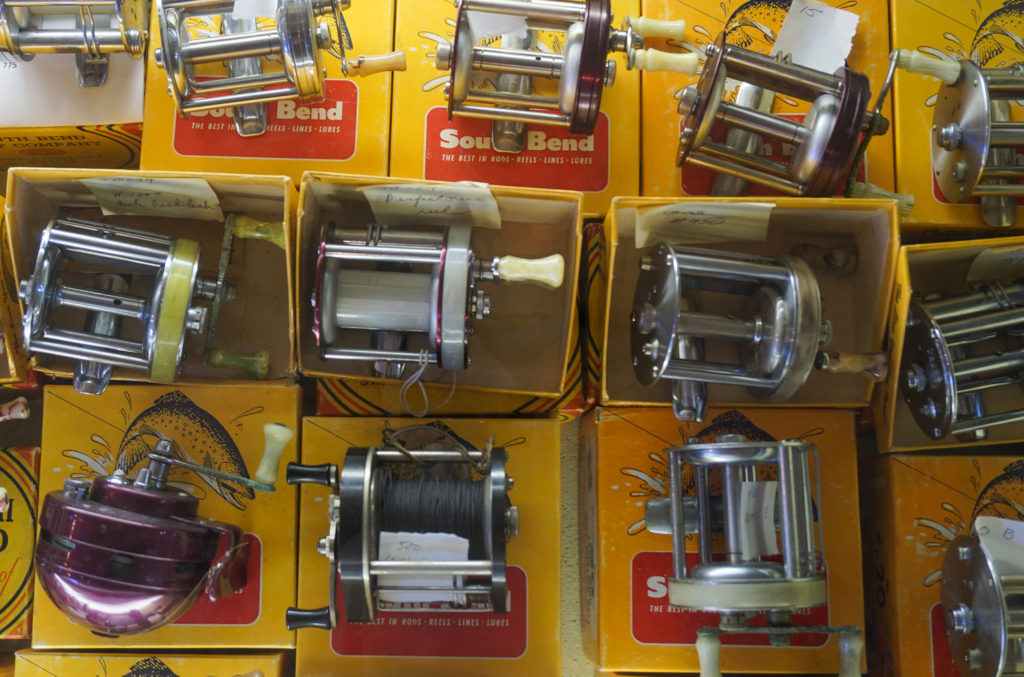 Swimming Upstream To Oswego County
The Gladding factory in South Otselic had been purchased by a former employee after the Chapter 11 proceedings in the 1970's. He and his team were quite successful in returning the Gladding brand to a viable business. Things for Gladding were great, but not so great that they could fund a museum. While the Gladding factory churned out business, that fishing artifact collection sat in limbo.
That was until the early 1990's when the future for the Gladding collection got brighter. A couple lawyers in the city of Oswego were casually chatting about client problems. One of the problems in that conversation included a historic collection of fishing history.
One mentioned that he had a client with a historic collection they wanted to unload. The other lawyer had a client who was looking for ways to help promote tourism in Oswego County.
Hook, line, and sinker!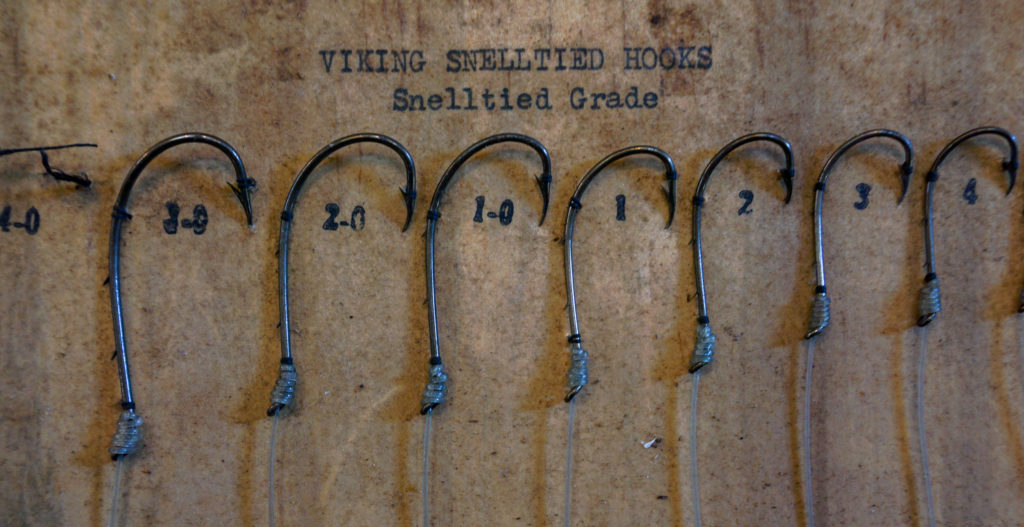 He proposed that a world class collection of fishing artifacts would make a great tourism destination for the city. Since the city of Oswego was positioned on a major Great Lakes port, fishing was indeed part of their culture, and it seemed to make sense.
The group in Oswego collectively raised nearly $10,000 to pay for storage fees and rescue the artifacts. Volunteers and local business leaders got to work on surveying the collection to see what they had. The group determined the value of the whole collection to be an estimated $500,000.
Except the lot wasn't just valuable, it was enormous. In fact, it was such a huge project the folks in Oswego were overwhelmed with how to manage it.
The Gladding collection had a new home in the city of Oswego, but its future remained uncertain. Other museums in Oswego couldn't manage a collection that large in addition to their own and it didn't make financial sense to build a brand new museum.
Instead, the Gladding collection lay packed away in storage–a fate it seemed destined to survive forever.
Pulaski Tosses Out A Line
As mentioned earlier, Pulaski and salmon fishing are nearly synonymous with one another.
Each fall the Salmon River is dotted with thousands of fisherman who make the trek from all over the country. It may even surprise some Upstaters that those west flowing waters emptying into Lake Ontario are a sport fishing destination known quite far and wide.
That's why the town of Pulaski started talking in the 1980's about how they could really solidify their position in the world of sport fishing travel. Guess what they included in their talks?
A museum!
Except, it was decades before discussions about a museum would finally take shape.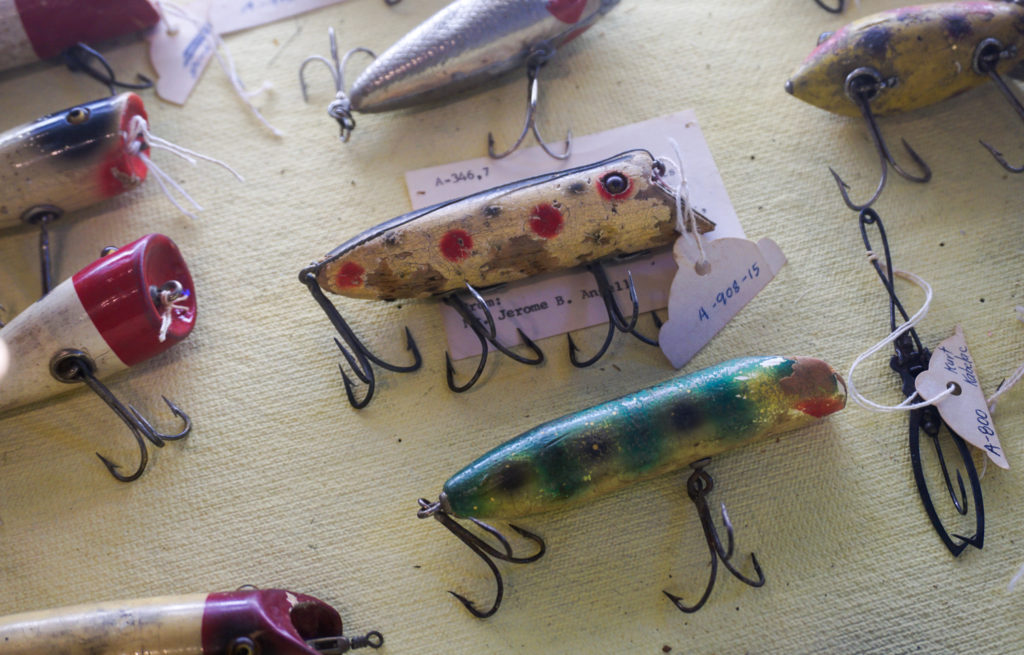 At the same time Pulaski was wishing for a museum and Oswego was trying to figure out what do with this gargantuan collection, the Niagara Mohawk utility company was setting aside some land on the river. Their goal for that land was to create access to the Salmon River for fisherman and recreational use. Niagara Mohawk constructed a small visitor center on the 1,700 acre swath of land, but that visitor center was still missing something.
That something was a world class collection of fishing history.
The folks near Pulaski partnered with the folks in Oswego and finally the Gladding collection found a home. The visitor center in Altmar would soon get new buildings to hold the collection, and the group in Oswego finally had a place to put their coveted artifacts.
At long last, in 2005 the Gladding collection would find its newest home. After decades of being kept in the dark, the collection was once again available to the public.
Salmon River Visitor Center and Sport Fishing Museum
Visit
Today you can visit that historic Gladding collection in the town of Altmar, just a few miles east of Pulaski on Route 13. A small octagonal room is filled with display cases of fishing line and hooks and poles–some of which date back even before the founding of our country.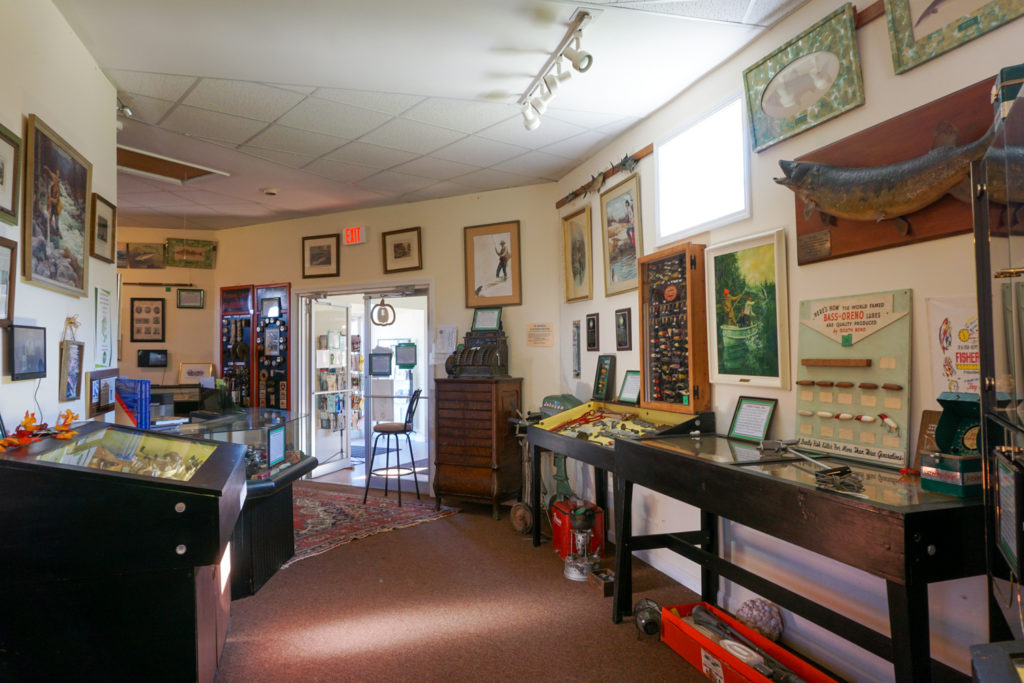 During my visit two anglers from West Virginia were learning about a pole used a couple hundred years ago. I pretended I knew what everyone was talking about, but the reality is I was fascinated that such a hidden gem of history flew so far under the radar.
This humble roadside collection might be easy to pass if you decided not to inspect the unassuming building that houses it. But those who understand the value of celebrating local know that the Salmon River International Sport Fishing Museum and Visitor Center is one an important part of this region's culture.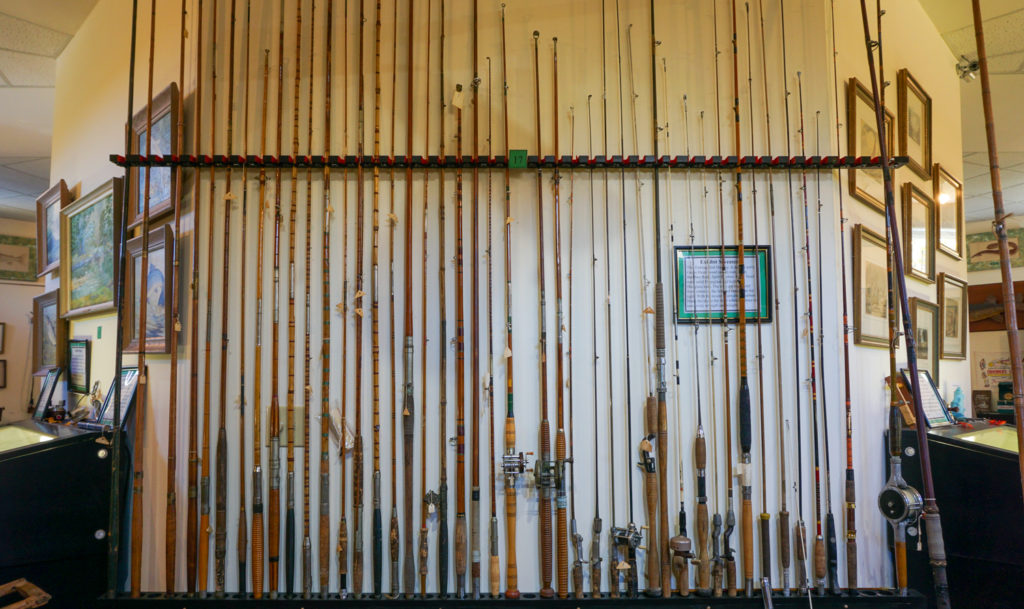 Even as a guy who doesn't fish, I found the museum to be an enchanting look into the area's lifestyle and an engaging tale of an Upstate company. I'm totally glad I spotted that sign and stopped in.
Hours are limited but tours are available upon request. To find out more about setting up a time to visit you can find the phone number at the top of this link. You can also send a message using their contact form found in the main menu of that site.
Support
You'll find me touting me the value of supporting local and helping small heritage sites all over Upstate because I believe it's important. Some museums are doing great and have a captive audience and some are too obscure and unknown. Sadly, the Salmon River International Sport Fishing Museum and Visitor Center falls into the latter category.
You won't find much online about it, and you probably won't even find many publications telling you to visit.
It's rare that I make an extra effort to call for supporting but this one is deserving. Stop in and take a look around. Drop $5.00 in the donation box. Tells others about it. Without the support of those who care about preserving our region's heritage, the Gladding collection may someday find itself once again sitting in storage.
Sources
The Salmon River International Sport Fishing Museum and Visitor Center has an outstanding collection of dedicated volunteers. Among them is Michael Riordan who answered the phone when I called to see if the museum was open that Saturday.
Michael Riordan and his mother, Evelyn, compiled a book called A Long Line of Twists and Turns | The Story of the B.F. Gladding Company. This nearly 300 page tome is by far the greatest written piece of Gladding history in existence. Their book was not only fascinating to read, but of utmost value while piecing together the above story. You can get a copy by contacting the Visitor Center directly.
Riordan is also the one who welcomed me at the museum. He spent much of his afternoon that day sharing the story of Gladding, some local history, and a lot of history about fishing. Much of the above was gleaned from that chat. I also am grateful to have been able to chat with Margaret Clerkin, a former member of the local Chamber of Commerce and Michael Riordan's mother Evelyn.
These three weren't expecting me that day, they were there because they live the story of the museum and are committed to its legacy. Upstate needs more volunteers like these folks. Head up to Altmar and tell them I say hello.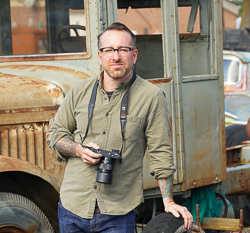 Chris Clemens is the Founder/Publisher of Exploring Upstate. From his hometown in Rochester, he spends as much time as possible connecting with the history, culture, and places that make Upstate New York a land of discovery. Follow him on Twitter at @cpclemens