Author Fred Exley inspires a road trip from beyond the grave to explore the important connections of an author to Upstate NY
by Michael Brewster
Adventurers as we are, the idea of roadtrips come naturally. But a literary road trip is a special beast with mythic overtones dating back to Hunter S. Thompson's legendary Fear & Loathing in Las Vegas and Jack Kerouac's On the Road.
For well over a decade now I've been meaning to look into the Upstate writer Frederick Exley, who hailed from Watertown, to see if he's buried there. In that time, I'd visited the graves of Jack Kerouac in Lowell, MA; the painter and writer J.B. Yeats, father of Irish Nobel poet W.B. Yeats who is buried in Chestertown, NY; and local legend Rod Serling, buried in Interlaken at the heart of the Finger Lakes. Exley would be a great addition to my travels, with the bonus that it would be a day trip.
Frederick Exley published his debut novel A Fan's Notes in 1968 to critical acclaim. The novel starred a failed writer named Fred Exley from Watertown, NY who was an alcoholic and fanatic of the New York Giants football team, especially its quarterback Frank Gifford. Essentially, Exley slightly fictionalized his life and wrote about it.
In the book, he comes to read the American man of letters Edmund Wilson. Wilson's mother's family owned an old stone house in Talcottville, on Tug Hill, about an hour south of Watertown, so Exley began to identify with the older writer. Wilson had been at Princeton with F. Scott Fitzgerald, had courted the poet Edna St. Vincent Millay, and had a long friendship with Vladimir Nabokov. As a literary critic, Wilson was widely regarded as the sharpest wit, but he himself could not find traction writing fiction and suffered for it.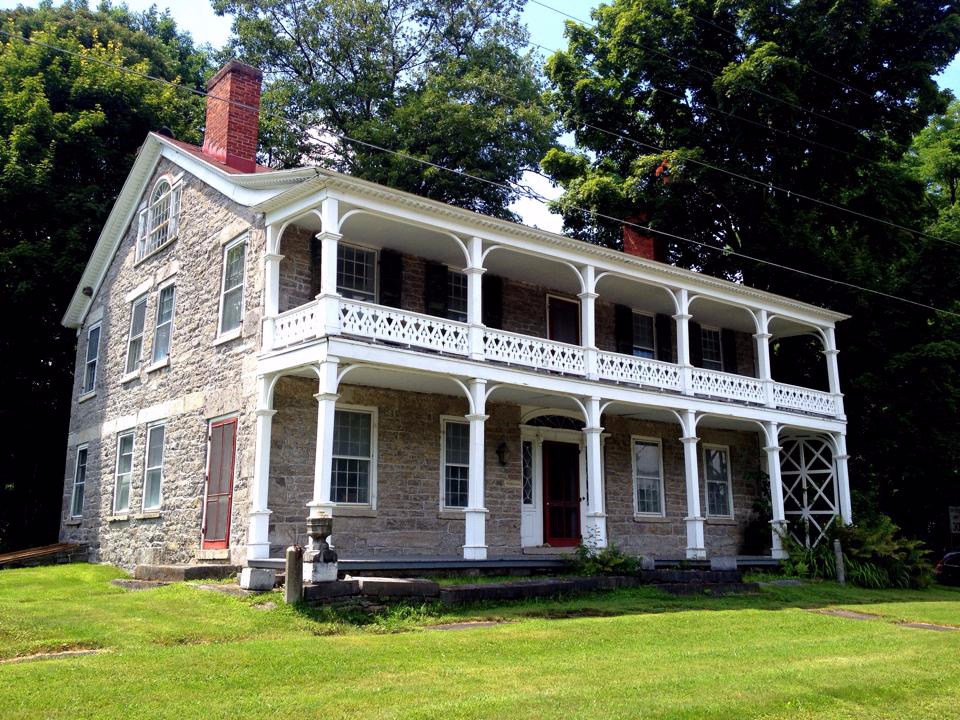 Preparing To Depart
As a young writer myself, I picked up Exley in the late 1980s and devoured his autobiographical trilogy. His looking toward Edmund Wilson as a literary mentor (albeit from afar), led me to take both Exley and Wilson as my own mentors. From Exley I took the fictionalized self-mythologizing impulses and from Wilson I borrowed his clear and intellectual approach to reading literature. I shared both the need to write my experiences into reality and the crippling self-doubt of not measuring up to my models.
So, a trip to Frederick Exley's grave in Watertown would be much more of a pilgrimage than a mere visit, and recently I cajoled my buddy Mark into making the trip.
Mark is a Watertown native, and we'd roadtripped before, so for me he was a perfect companion for this particular journey. Frederick Exley considered himself a blue collar guy, and his having gone to college and writing was almost an affliction, an anomaly that set him slightly apart from his North Country buddies, but his drinking and worship of the Giants kept him solidly grounded. Like Exley, Mark and I are fans—in our case we bleed the Orange of Syracuse University sports, especially basketball. We also share a love of many musicians and bands, and no roadtrip is complete without the right music.
When I thought about this trip in advance, I pictured Mark as my Watertown guide, the North Country Virgil to my Dante, who would steer me to a corner bar where there, at the end, was a photo of Fred Exley, and the bartender would say, "Yeah, old Fred, he'd sit there drinking his (whatever Frederick Exley's favorite drink was) all day," and Mark and I would order up two of the same drink and toast the man's memory. We'd then head over to the cemetery, pay our respects, have a shot of Irish whiskey from the car flask I carry for exactly that occasion and then head back to Syracuse for a bite.
As a teacher, I have summers off, but as a truck driver, Mark is at the mercy of his schedule, and so when I texted him about the idea for a trip up North, he told me to wait until his vacation in mid-July. This meant I had a couple weeks to wait, and as I do, obsess. I searched through my entire library, spread as it is over several rooms and closets, for my Exley books, but I couldn't find A Fan's Notes, the most important one of all. I'd like to say that I gifted my copy back in the day to a fine young lass I was wooing, and I'm pretty sure I did, but the woo didn't take and now I'm not sure if I gave her a copy of Exley when she gave me a copy of Tim O'Brien's The Things They Carried. For the purposes of this story, we'll go with that.
Either way, Notes-less, I needed to get a copy and ordered one from Amazon.
A Fan's Notes
It came the other day, and flipping through remembered reading it back when I was 21, and I also cursed at how much I'd forgotten about Exley since then.
In my mind the book is about Exley, drinking, Gifford, and Wilson. Well, Wilson appears first past half-way, and it's actually Exley's second book, Pages From A Cold Island, that deals with Wilson in much more detail. Still, A Fan's Notes gave the Watertown roadtrip a boost of import when I re-read what Exley had said when he discovered Wilson's Talcottville connection:
I was at first astonished, and then pleased, to learn that but a few miles south of me, at Talcottville, the legendary critic inhabited for part of the year a limestone farmhouse of his own… This was a remote and flimsy parallel upon which to build a literary romance, but I had little to cling to in those days.
Essentially, the story of my own literary career, such as it has been, was born back in the late 1980s as I cobbled together Syracuse, Watertown, and Talcottville into my own Upstate Literary Frankenstein. I could do as Exley had done and tear through Wilson's dozens of books, and at the same time Exley could inform my own fictional voice, as a fellow Upstate writer.
A couple years ago, on a roadtrip to the Adirondacks, I looked up Talcottville, and finding it on Route 12D, made a stop at the old stone house. I had no Exley books with me, and no Wilson either—unprepared, I know—but I was able to take some pictures of the magnificent limestone house. In doing this, I did not remember that Exley used to take the high road through Talcottville when he was in the area, hoping to catch a glimpse of Wilson through the windows. He imagined stopping by and commiserating with the great man, but he remembered Wilson had said "literary idolaters fell somewhere between blubbering ninnies and acutely frustrated maidens," so Exley "never did stop."
This Exley roadtrip, I realized, needed to incorporate that Watertown-to-Talcottville leg, and with Mark as Exley's Watertown stand-in, we would pay homage to Wilson together.
Finding The Grave of Fred Exley
With Find A Grave and other resources like Steven Huff's In Our Own Ground blog, it is fairly easy to put yourself within a few feet of Frederick Exley. Basically, get yourself to Brookside Cemetery in Watertown, aim yourself at the farthest back corner on the left and look a few rows deep to find the Exley family plot. Frederick's ashes are interred next to his parents, Earl and Charlotte Exley.
You'll probably want to begin your trip, as Mark and I did, in your favorite pub. We each had fish & chips and christened the journey with a shot of Tullamore Dew Irish whiskey. Mark was in charge of the music and had pre-decided on David Bowie's The Rise and Fall of Ziggy Stardust and the Spiders from Mars as the soundtrack for the ride up I-81 from Syracuse to Watertown. Though there is no discernible connection between Bowie, Exley and Wilson, the album was released on June 16, 1972. June 16 is of course Bloomsday, the day that James Joyce's Ulysses is set on, and on June 12, 1972 Edmund Wilson died in the stone house at Talcottville. So, for the purposes of this narrative, Ziggy Stardust was essentially perfect.
The finding of Exley's grave was straightforward, and we communed with Fred for a few moments, took some pictures, and I shot some video of Mark reading the opening page of A Fan's Notes. The cemetery itself is beautifully park-like and would be a nice place to explore if you'd like, but we had places to go and stone houses to see, so we took our leave and headed southeast out of Watertown down Route 12.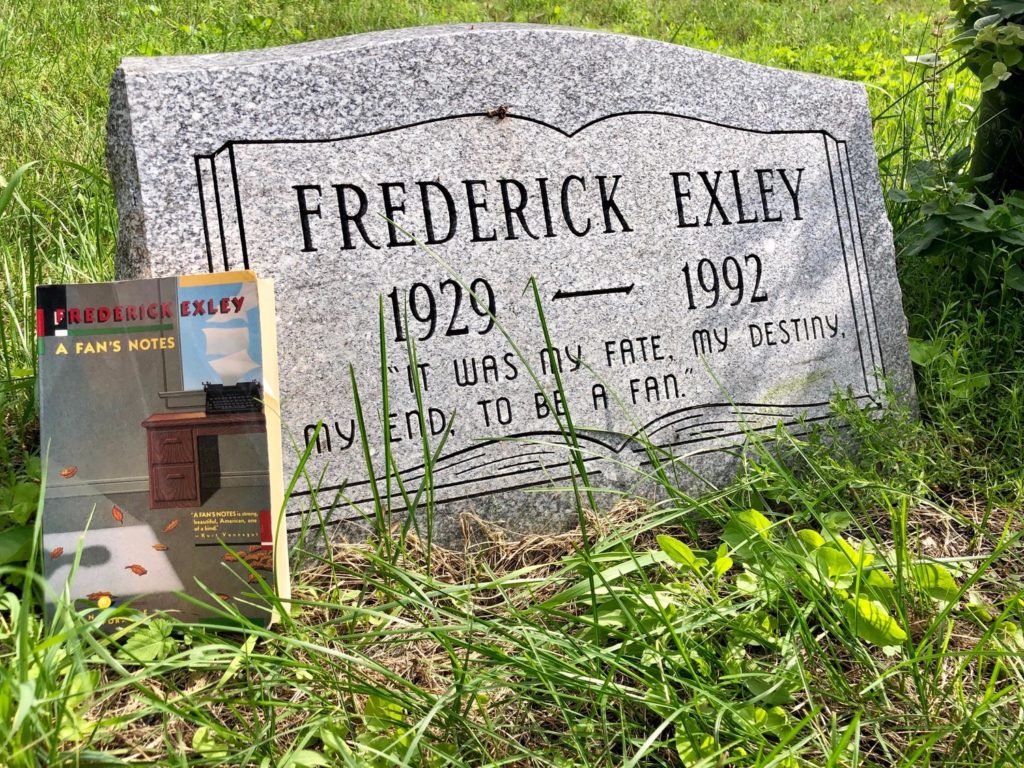 The Old Stone House In Talcotville
Because of the addition of the Talcottville leg, we did not seek out a dive bar in Watertown, but we did look for one not too far from the cemetery. "The Sportsmen's Lodge, up here on the right if it's still there…" Mark directed me, but as we approached, the Lodge looked long-abandoned and boarded up. Not to worry, though, as there are plenty of small places between Watertown and Talcottville if you're seeking some small-town ambiance with lunch and refreshments.
The ride to Talcottville is under an hour, and affords fine views over Tug Hill to the distant Adirondacks. Soon enough, though, Route 12D South dips slightly to the bridge over the Sugar River just downstream from Talcottville Falls and Edmund Wilson's old stone house is on the right, at the corner of Domser Road.
This was my third visit to the house, and I believe it is still in the hands of Wilson's descendants, though it is clear that nobody has lived there within recent years. The lawn is always mowed and there is an ample shoulder to park on. I have taken many photos of the house, and even went as far one time to sit on the stairs, just to touch the same stones as Edmund Wilson, but I cannot advocate for transgressive trespassing. Again, as at the cemetery, I shot some video of Mark reading Exley's words, this time the section I've quoted above about driving through Talcottville.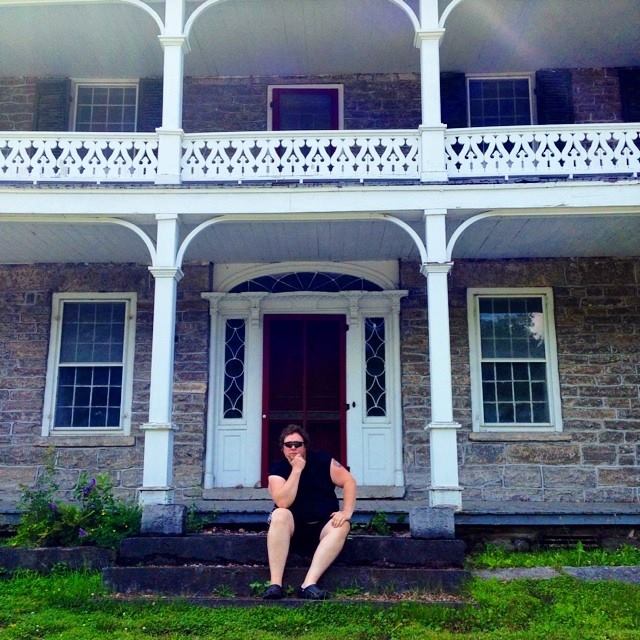 Wilson loved living in his old house, and the collection Upstate, drawn from his diaries, is a great read. This is one of his thoughts about the place:
I enjoy 'galvanizing' this old house into life, as I feel I have at last been doing, making it express at last my own personality and interests, filling it with my own imagination, yet feeling a continuity with everybody who has lived there, basing myself in some sense on them — the older I grow, the more I appreciate them. Intellectually and geographically I
travel further from them, yet also now fall back on them, probably become more like them; feel more comfortable and myself here probably than anywhere else in the world.
Cheers for Steve Owen & The New York Football Giants
A major component of A Fan's Notes is Exley as football fanatic, and though I never shared his passion for the Giants, at the time I discovered his book I lived in Buffalo and had already begun my own love affair with the Bills (which I have written separately about here). If I were a completist, this story would have a California leg to visit Frank Gifford, and maybe a jaunt out to Wellfleet, MA to visit Wilson's grave, but we're trying to keep this story contained to Upstate NY. In my recent revisiting of A Fan's Notes, I perked up at the beginning of Chapter Two.
Now, you as an astute reader have already noticed the swirling layers of this narrative, how seemingly disparate pieces line up nicely, down to even apparently-trivial details like the date of Ziggy Stardust. Chapter Two is called "Cheers for Stout Steve Owen," and begins like this:
When Steve Owen, who coached the New York Giants from 1931 through 1953, died of a cerebral brain hemorrhage at his home in Oneida, New York, I debated for a day whether to make the trip south for the funeral. For a long time I felt that I owed Owen such homage, and I'd never again be able to pay it.
Certainly, a roadtrip homage to the spirits Exley and Wilson must now include a visit to Hall of Fame Coach Steve Owen's grave in Oneida. Leaving Talcottville, the original plan was to continue south to Oneida to visit with Steve Owen, but Mark had a tight schedule, so we headed back to Syracuse. I made the trip to Oneida a couple days later.
Steven Owen's Grave In Oneida
For the purists, a Watertown to Talcottville to Oneida trip is easy, follow Route 12D South to Boonville, head down Route 46 South to Rome, a gorgeous winding jaunt down the hills, and then West on Route 365. Saint Patrick's Cemetery is located at 1139 Fairview Ave. in Oneida.
For this second leg, I enlisted the company of my buddy Sam, who wanted to visit Good Nature Brewing in Hamilton. It was on a roadtrip to Portland, Maine a decade ago that Sam and I stopped in to visit Jack Kerouac's grave in Lowell, MA, thus kicking off my "Shot of whiskey at the writer's grave" avocation. Sam's dad was a New York Giants fan from way back which added a nice touch to the visit.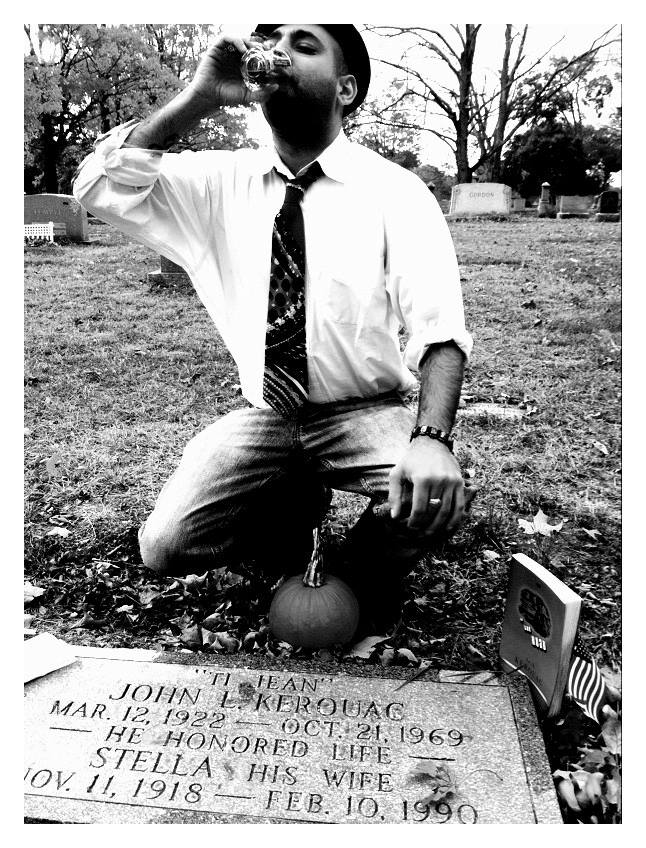 Using Find A Grave, I could see that the headstone was large with "Owen" buttressed between two crosses. We drove slowly through the sections and Sam spotted it on his side. I don't know if Frederick Exley ever did make the pilgrimage to Owen's grave, but visiting him 55 years later, we made the homage to both men.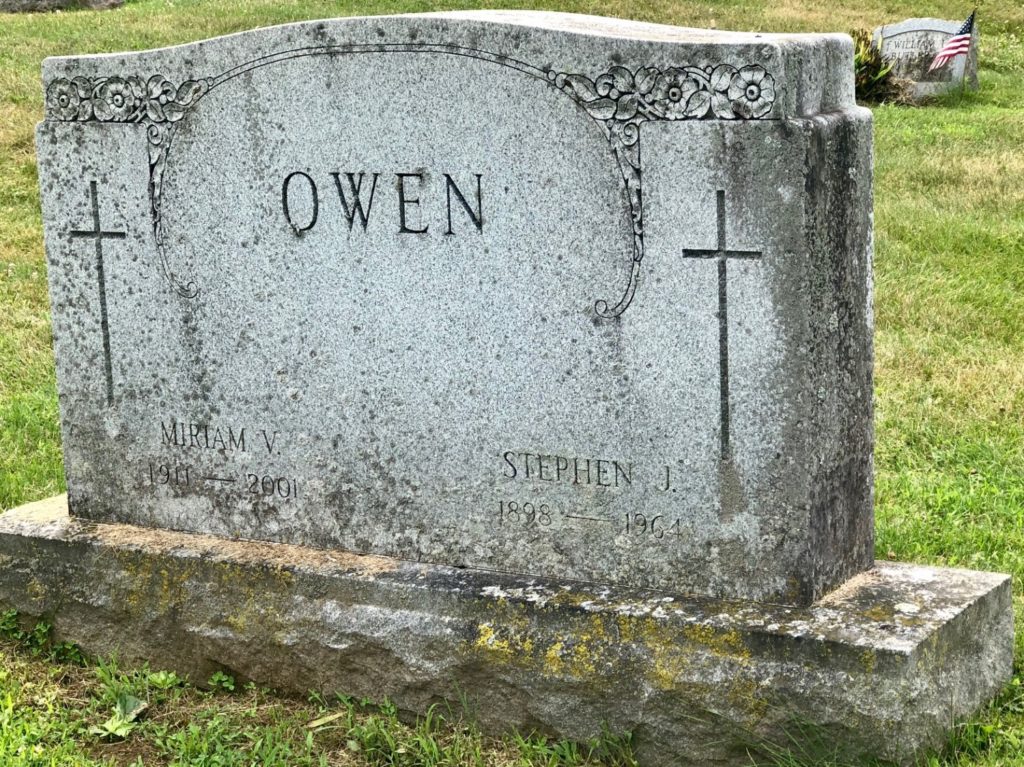 Cheers for Free Love
Not content with what I thought would be a "make-up" trip to Oneida, I decided to research an Oneida connection to either Exley or Wilson, just to make for a subplot, yet another thread of narrative meaning on the Literary Highway, and indeed, there is one.
As voluminous a literary mind as Wilson had, he also devoured history and even went so far once to learn Hebrew to be able to delve more deeply into the Dead Sea Scrolls. One of his pursuits was socialism and how Communism might be a viable political strategy. His study led him to write a book on socialists called To the Finland Station, and in it he devotes a small section to John Humphrey Noyes and the Oneida Community.
It was Noyes who first promoted "free love," and his particular religious ideas grew into a movement. Influenced by the Shakers, who settled near Albany in Colonie, NY. The Shakers were economically self-sufficient, and Noyes practiced this same idea. Silversmiths in the community created silverware, which over the past 150 years has evolved into Oneida, Ltd, still making flatware.
Keeping with the theme of legacies and spectacular failures, Noyes realized that his communal ideas, especially in the areas of relationships, marriage, and child-rearing were not going to last long past his own lifetime, if at all. Wilson points out that unlike the Shakers or the Mormons, two other Upstate New York religious reformations, Noyes was unable to develop a successor who could shepherd his community after his death. He ended up leaving Oneida and died in Niagara Falls, Ontario. Wilson wrote:
It is significant that Noyes, who had thought more deeply and who had achieved a more remarkable success than any other of the early socialist leaders, should have been unable to find any hope for the future save in the very unrealistic notion that the requisite combination of socialism and religion might be made universally to prevail by the conversion of the "local churches" to communism (109).
With this in mind, I traveled the several miles from St. Patrick's to the Oneida Community Cemetery to visit with John Humphrey Noyes. The location of the cemetery is quite tricky, the GPS had it on a road next to the Oneida Community Golf Club off Chapel Street. As we drove past the golf course, I didn't see the road, so I ended up turning left on Kenwood Ave, thinking that the access was from that side. On Kenwood Ave stands the magnificent Oneida Community Mansion House, but no cemetery. We did a U-turn and tried pulling into the golf course. Following a dirt track adjacent to the woods, we hit a fork, and looking closely at the map, the cemetery seemed to be in the middle of the golf course, so we took the left fork toward some more woods. There we found the hillside cemetery.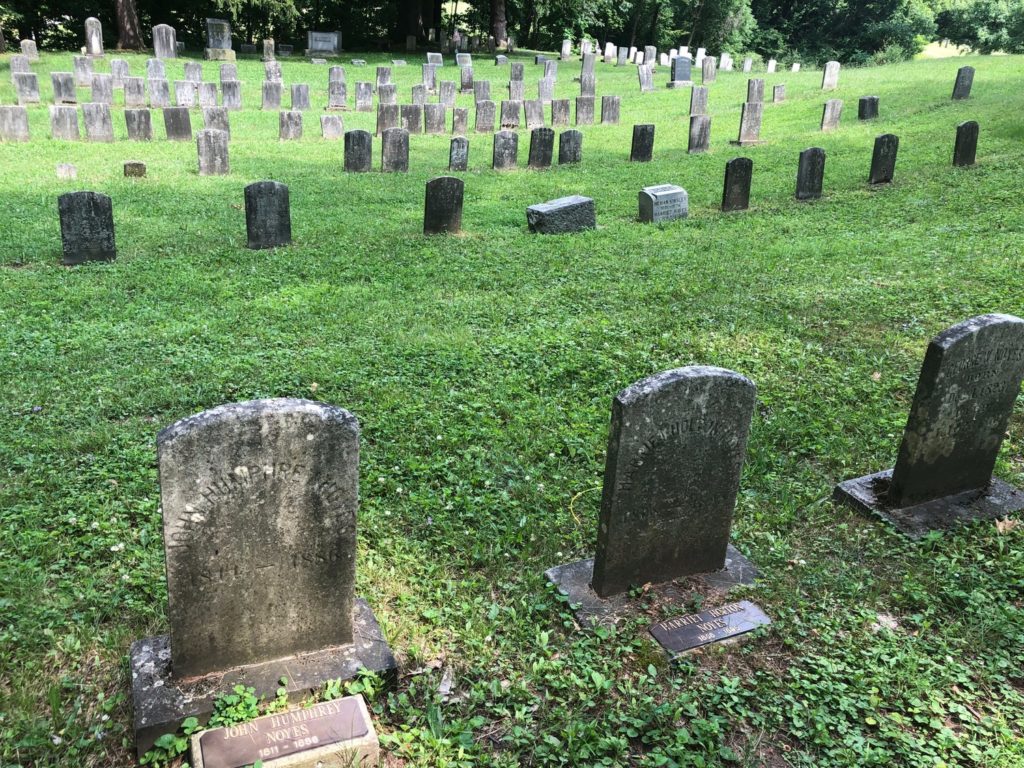 I didn't know quite what to expect, and as we walked through the several hundred stones, I thought the top of the hill, with a large set of monuments, would be the fitting site for the founder and leader of the Community. Instead, John Humphrey Noyes is buried almost anonymously situated amongst dozens of similarly understated stones.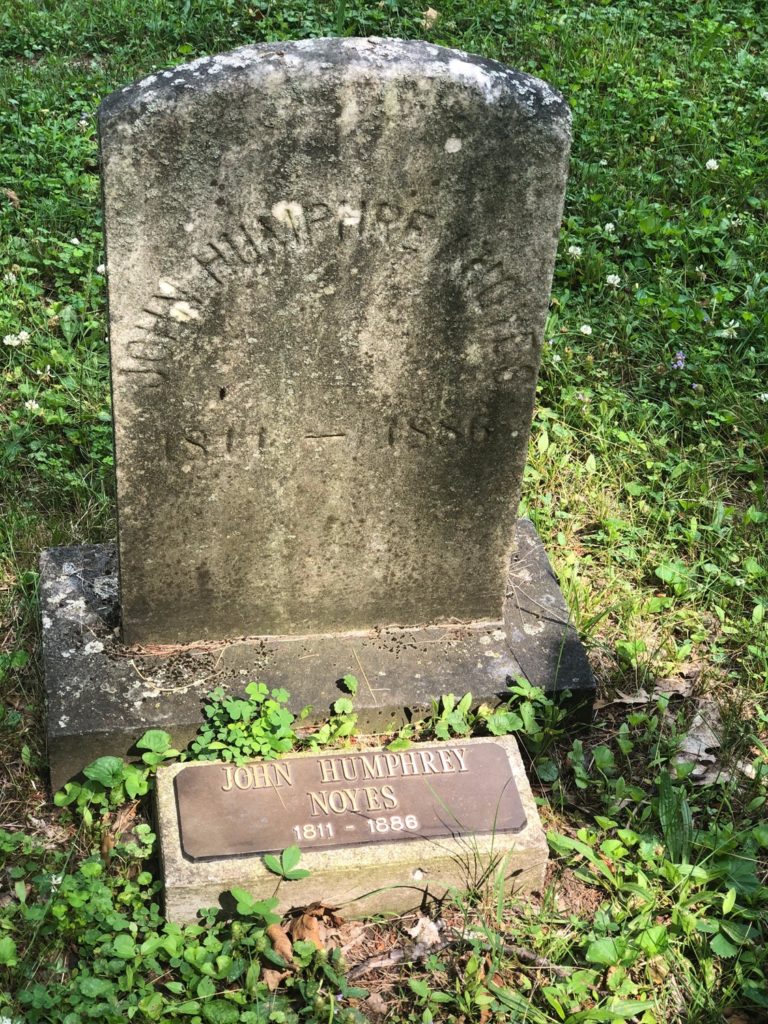 I thought about his experiment in American Socialism, and wondered if Edmund Wilson had ever made the journey here. I chuckled at that thought because Wilson was both a fussy old man and an inveterate adventurer, but I am guessing my proxy journey would be as close as he ever came to this place.
A Sense of Place
Standing at the graves of Frederick Exley, Steve Owen, and John Humphrey Noyes, and sitting on the lawn at Edmund Wilson's old stone house in Talcottville, I had some time to ponder the ideas of leaving a legacy in the world, and what it even means to be famous in life if you are semi-forgotten in death.
In a perfect world, or in this one with more time, I'm sure I could continue to draw parallels between Exley's work, the writings of Edmund Wilson, local sportsmen like Steve Owen, and the deeper currents of Upstate and American History, but this short essay is not meant to be endlessly recursive as much as I hope it inspires its readers to seek deeper connections in the world around us, to read and talk and seek and visit.
Though this is not the first literary roadtrip I've undertaken, and I hope not the last, I don't know if many could match the pure Upstatedness of the trip and it's for this reason that I've written this piece for the readers of Exploring Upstate.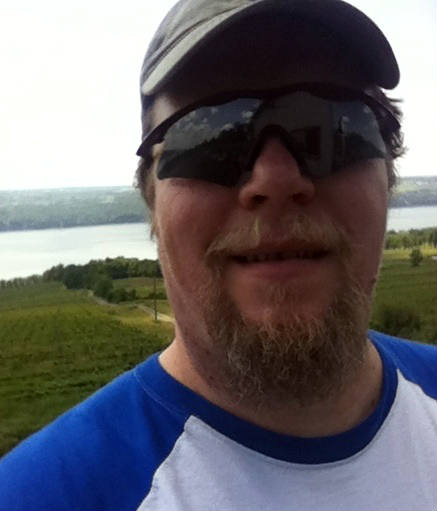 Born and raised in Central New York, Michael has traveled extensively, but is most at home in the Finger Lakes. The beauty and history of Upstate New York continue to marvel and fascinate him. He enjoys local food, beer, and live music. Find him on Twitter @brewcuse