Upstate News You Can't Use is a series to discover insane ads, fantastical headlines, and ridiculous news in historic newspapers from Upstate New York
By David Brooks
There, we've done it. Just about survived another July. Pretty awesome considering!
While researching for this month's post, it was amazing to me how many old newspapers had articles about freak accidents and other mischief in automobiles, with products, and not surprisingly – exploding illuminations!
Here is a sample collection that came together by no accident.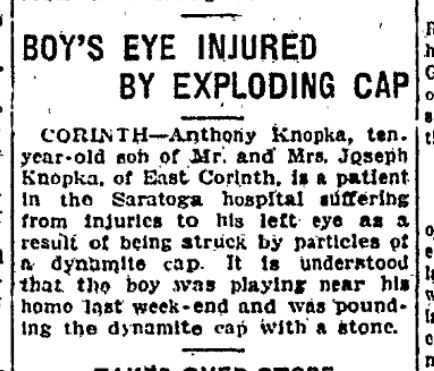 Avoiding the urge to cap the post off with this one, we'll throw it to the front. Having had a fairly misspent youth myself, I can understand the lure of smashing explosives with rocks just for the fun of it.
Unfortunately for young Knopka of East Corinth that didn't end all that well.
Wisecrackers
Most folks enjoy a good prank from time to time. That is so long as they aren't made to look the ass in the matter. Then again, horsing around can sometimes go too far.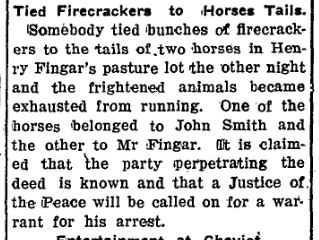 And, on the topic of being tired to the point of fuming…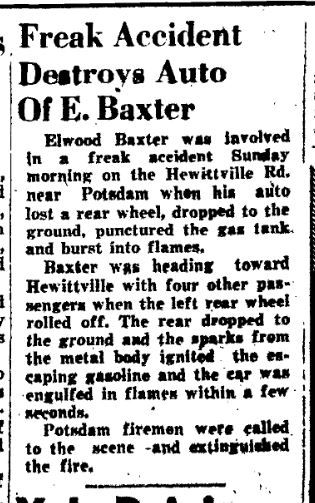 Nothing Extraordinary
A wheely close call on this one. There's something nuts about tires flying off vehicles, and this case out of Rochester is a good example of how kids used to pay attention to things going on around them.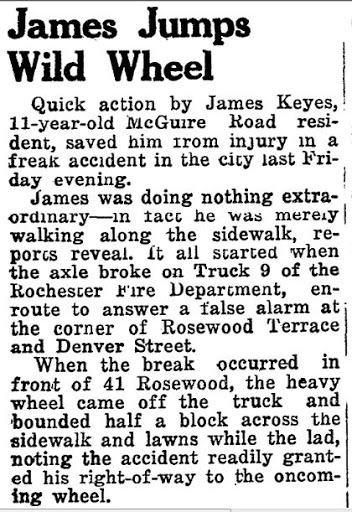 Then again, from experience with 11 year olds today… it makes the wording, "merely walking along the sidewalk" seem like some exaggerated and perhaps even sloppy journalism.
Checkout this post about Finding Famous Graves in Rochester from July 2018
Face The Freaky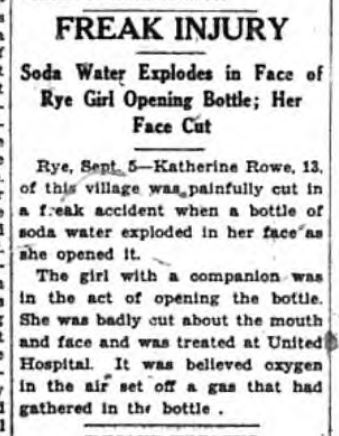 Sounds like a reasonable conclusion, the oxygen set off the gas in the bottle, eh? And you thought the Mentos and Diet Coke experiment was impressive! (Then again when my brother and I discovered something like that with orange spree and diet cola it happened to be in the back of the family car on a long day trip.)
Little Miss Rowe probably had the story to share with her friends upon returning to school that year. However, this clipping leads me to wonder if a quick poll of readers could reveal the regional differences even in Upstate New York of what people call that carbonated sugar beverage… Soda Water being the one my father used for years.
Hairy Situation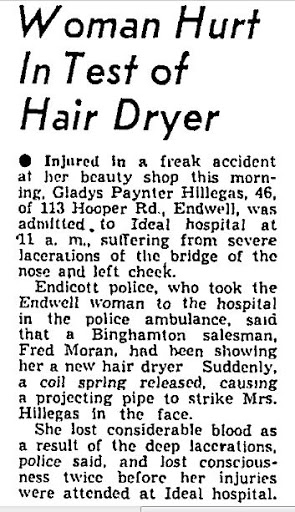 Not such an ideal situation and Gladys inevitably won't be buying any of those dryers for her shop. Poor salesman too, what do you do with a broken AND bloody promo product!? Seems like a throw away scene from a bad 90's horror flick.
By now you're hooked on these freaky accidents and reading old newspapers in search for some relatable human experiences.
You'll Fish Your Eye Out
This one has to give you a sinking feeling. It isn't only Red Ryders that'll put your eye out…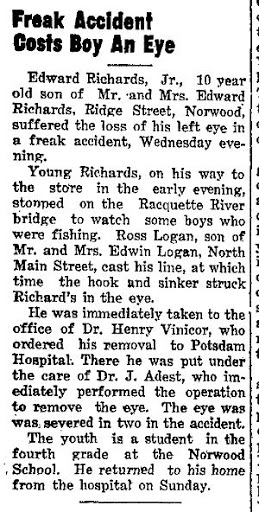 Then again, that isn't the FREAKIEST eye-cident I've come across.
Granted, this was only reported in a New York newspaper and involves a man in New Jersey, but really, how could this NOT be included in a list of freaky accidents?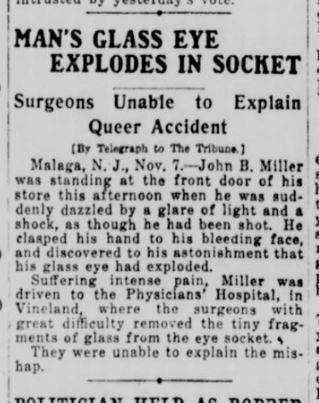 It was tempting to just fill this post with the dozens and dozens of easily found newspaper clippings about people being injured or even killed over the week or two around the Fourth of July.
The intent isn't to fill the post with grim reminders of our own fragility, but rather lend a touch of humor and a reminder that strange things happen, sometimes seemingly without reason or expectation. We can all rest assured that that was the way it was, the way it is, and certainly the way it will be.
To paraphrase Ferris Bueller: Freak accidents are a part of being alive, if we're all moving too fast to stop, step back, smell the flowers and find a little chuckle, we might find we aren't nimble enough to avoid the big giant fire truck tire hurtling our way!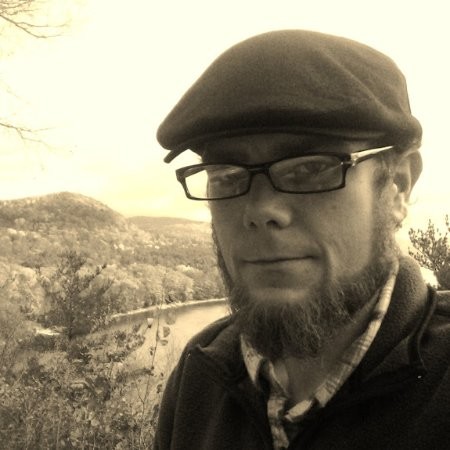 David Brooks has an American History degree from the State University of New York. He currently lives in Northville along the banks of the Great Sacandaga Lake. He serves as the Education Director for the Schoharie Crossing State Historic Site and on occasion can be found exploring the Adirondacks hoping to catch sight of Big Foot.