Defining regions in Upstate New York can be a difficult task. Let's take a look at some maps and the different ways Upstate is divided by region.
by Chris Clemens
The New York times has written about it. People on Twitter have tweeted about it. Brooklynites have yelled about it over a coke and a slice. No one can agree on where Upstate New York actually exists.
If you ask someone from the Hudson Valley, they might tell that you Upstate is north of Rockland County. But, if you ask someone who has never left New York City, you're probably going to find that they think Upstate begins at Stony Point and Syracuse is somewhere in Canada. If you talk to someone in Plattsburgh, they might even tell you that they're so far north that they're beyond being Upstate.
It's a puzzle that will probably never be resolved and that's fine.
But, if you're from New York State and traveling, where do you say that you're from? As a resident of Rochester, I can tell someone I'm from New York and they ask how close I was to Ground Zero on 9/11. I have to explain, I'm from Upstate New York–nowhere even close to the Five Boroughs. If they are persistent, they might want to know where in Upstate.
And, that's tricky.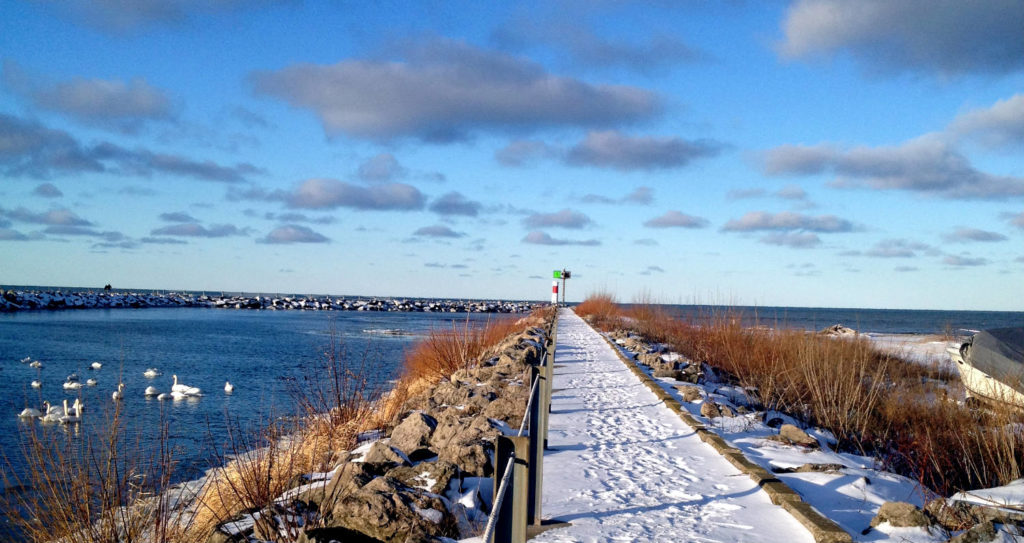 Where Are The Regions In Upstate
What I've always found intriguing is the regions in Upstate and how we define them. If you did a very scientific poll on Twitter asking what region Rochester is in, you might get Finger Lakes for an answer, or some will say Western New York. If you drive south and talk to someone in Corning, they might also identify with the Finger Lakes region. Or, they might tell you they're from the Southern Tier.
Rochester, New York is located in the ___________ Region of the state.

— Chris Clemens (@cpclemens) December 19, 2017
Utica is pretty close to Central New York, but there are plenty of claims to the Mohawk Valley. Gloversville on the bottom edge of the Adirondack Region, was originally put on the map for, you guessed it: glove making. Even though many of those gloves were made of leather, Gloversville had nothing to do with the Leatherstocking Region. So, here's another scientific Twitter poll:
Utica, New York is located in the ___________ Region of the state.

— Chris Clemens (@cpclemens) December 20, 2017
Surely, if I did some researching, I could easily find out what the defined boundaries were for each region.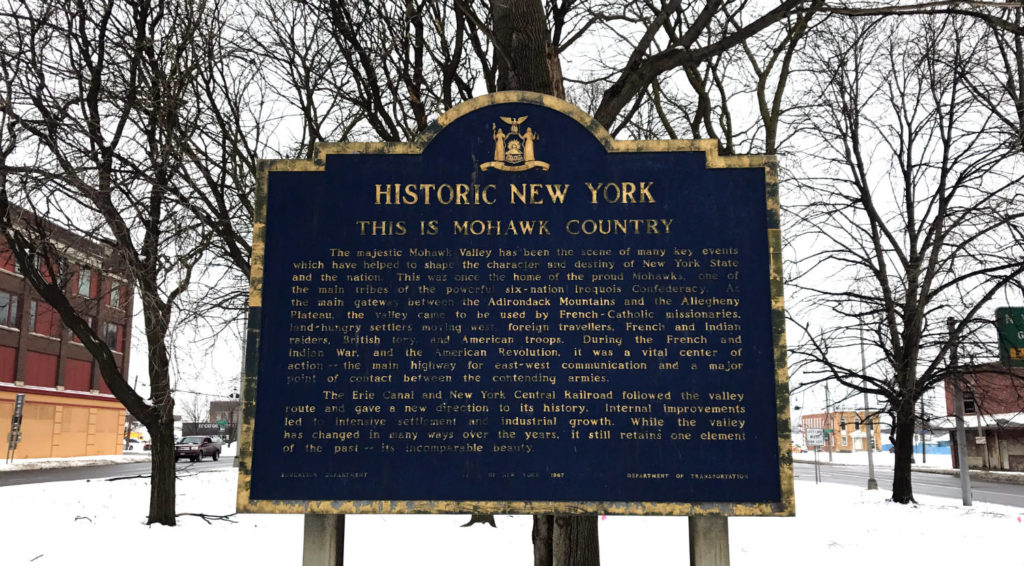 Official Upstate New York Regions
The official Empire State Development program puts Rochester right in the Finger Lakes. But, it also puts Albion of Orleans County in the same region. Albion is about an hour and fifteen minutes by car to the northern tip of Conesus Lake, its nearest Finger Lake. Though, interestingly, Niagara Falls is only a few minutes shorter. So, I guess Albion can be in the Finger Lakes.
But, then why would Steuben County get lumped into the Southern Tier when it owns nearly half of Keuka Lake's waterfront?

I checked in over at one of my favorite programs to see how Path Through History (PTH) broke things up. PTH is operated by the previously mentioned Empire State Development in conjunction with the NYS Department of Transportation. But, each department has a slightly different map!
PTH does put Rochester in the Finger Lakes, but they break Chautauqua-Allegheny in to its own region altogether.
More interestingly, they spell it "Allegheny", which is typically a Pennsylvanian thing. In New York, we usually spell it "Allegany", like the county.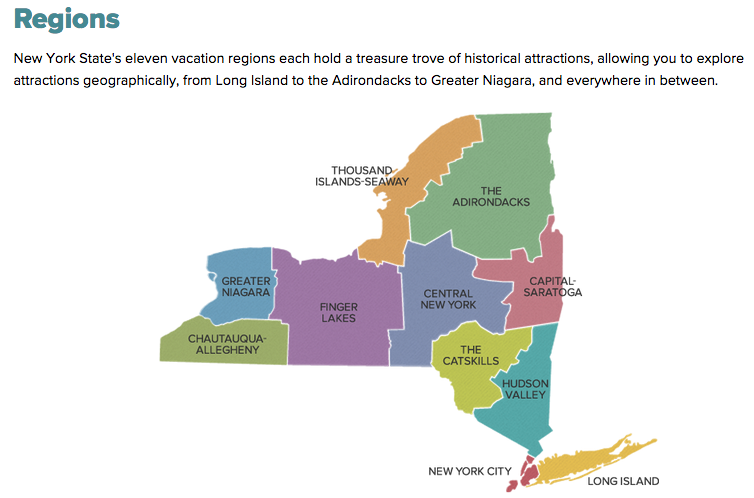 Surely, the state's office for Homeland Security can be considered an authority on geography! But, according to them, you can be in Alexandria Bay on the St. Lawrence River, just a stone's throw from the Canadian border and somehow still be in Central New York.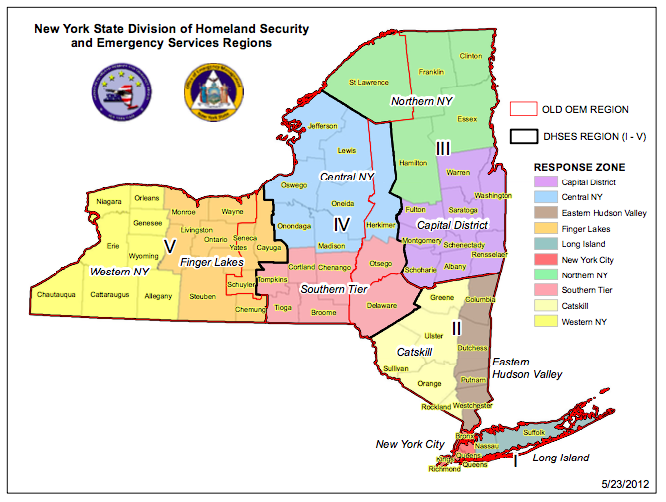 How about a weather source? Trackers use maps constantly and each region in Upstate has a pretty different climate controlled by its proximity to a lake. I thought a weather resource might be a good way to determine how the state is divided. As you probably have already guessed, they also rained on my parade.
The Community Collaborative Rain, Hail & Snow Network (CoCoRaHs) at Cornell keeps things pretty simple with only five regions. But, in this one, Oswego County is included with Western New York. That means you could be in Cayuga County and drive east into Western New York! That's not a universe I can live in.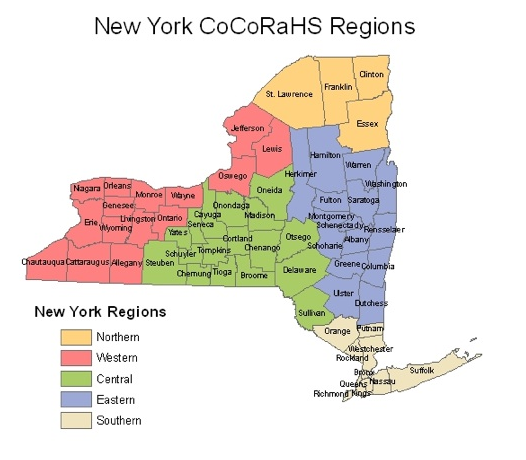 It's easy to imagine that anyone in charge of transportation would have a solid handle on boundaries. Just as you'd expect, the New York State Department of Transportation does has a method for assigning regions to local offices. Their map is actually not that different from the Empire State Development office. But, they primarily use number codes to identify regions.
Each number does have a more common name like "Central New York" (No. 3), but in this one there is no Finger Lakes Region, they call Region No .4 the "Genesee Valley Region". Except, they end the Genesee Valley at the south edge of Wyoming County.
Some geologists might seriously disagree.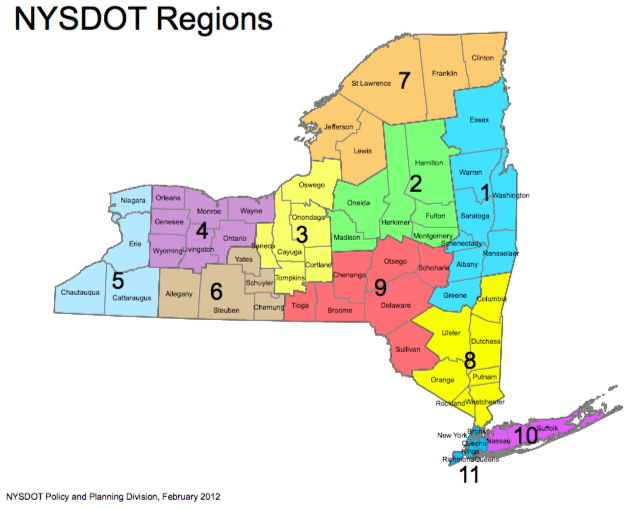 Unofficial Regions In Upstate
How about just one more?
Timothy McDonnell runs a website called Regions of New York State. Unfortunately for this discussion, McDonnell makes it even more complicated. He also uses the Genesee Valley term, which is absolutely a moniker that someone from Rochester might identify with. The Genesee River is unique in so many ways, and it has helped to shape the city, and the surrounding areas. Furthermore, he extends the Genesee Valley Region right down to Pennsylvania.
But, on this map, people in the Catskills would most closely associate with New York City. If this were the 1950's and NYC Jews were still vacationing at Grossinger's that might be acceptable. But in 2017, Manhattan is ffffaaaarrrr from Sullivan County.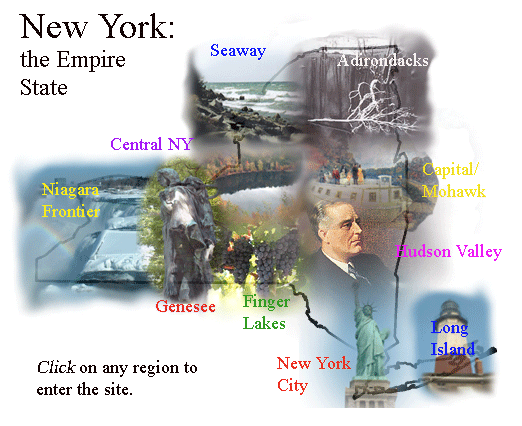 However, the more I looked at this map, the more I liked it! Buffalo gets to hang with the folks in Jamestown. Rochester is sort of hanging with all the people along the Genesee River. Ithaca gets to be in the Finger Lakes and the people in Roscoe on the edge of the Catskills get to associate with….Nah.
I can't let that go.
But there is one element to this map that the others are missing. An element that in my opinion is probably one of the most important.
If you're curious to know how someone who didn't care about political votes, tax revenue, or financial responsibilities would divide the state up, so was Mrs. Biltucci who teaches fourth grade history at the Central Valley School District in Ilion. One of her students kind of nailed it with only seven regions. So, we have the Appalachian Upland to thank for those delicious spiedies in Binghamton.
Also, why did it take going to a 4th grader to finally get someone to mention the Great Lakes?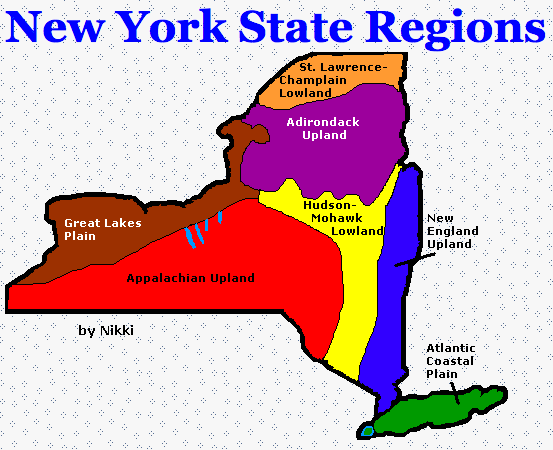 How These Maps Exist
Clearly, there are reasons that each of these groups have drawn their borders. I'm guessing the weather folks at CoCoRaHs would agree that Oswego County isn't known for chicken wings. But, when it comes to lake effect snow conditions, that eastern border of Lake Ontario will have similar weather patterns to Buffalo than it will to the Adirondacks.
When a program has a fiscal budget they need to determine how best to appropriate that funding. They'll determine where the money is coming from and where it needs to be spent. So, even though Ithaca sits perfectly on the southern edge of Cayuga Lake, the funds generated through taxation help support economic programs in the Southern Tier. Though it kind of unearths an awkward truth about public funds and dividing the state, it gives power to the map from the economic development program.
More confusing though, is that tourism programs spend money to promote things in the Finger Lakes which Ithaca would no doubt benefit from. If you want to start a business in Ithaca that would bring in tourists and you're seeking a grant of some sort, you'd actually be striking up a conversation with the Southern Tier.
How We Think the Upstate Regions Are Divided
While discussing this with a friend from Rochester, she reminded me that when we were growing up, our phone numbers began with 716, just like Buffalo. Western New York had an entire area code! That was stripped of Rochester in 2001 when they created 585. Suddenly, Buffalo seemed kind of….long distance.
Unless, of course, you were a Buffalo Bills fan. We don't have an NFL team in Rochester, so football fans have always claimed the Bills as a hometown favorite. In fact, they do their practices at Saint John Fisher College, so it's easy to feel like a Western New York-er without even leaving Pittsford.
But, what if you don't watch football? Or, follow Sabres hockey? What if you'd rather spend a Sunday driving through the hillsides of the Finger Lakes tasting a Riesling? There's a good chance you'll identify more with the Finger Lakes Region.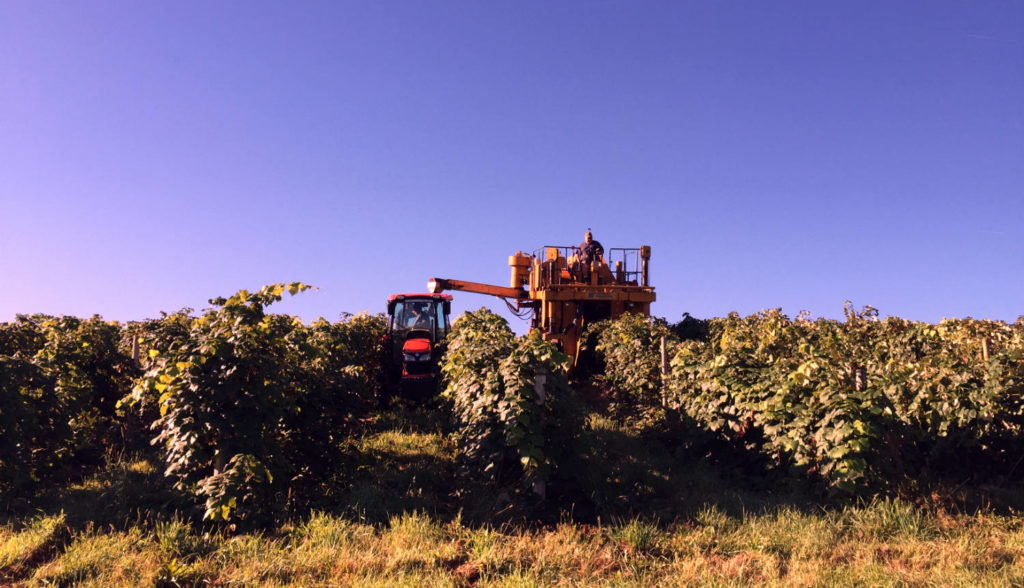 What if you live in Schenectady which is just a few miles west of Albany? Because, I know people in Albany who have said, "Ohh. Nooooo. Schenectady is Mohawk Valley. They're not with us in the Capital Region." Buuutttt, why? It started to seem like this discussion wasn't at all about borders, but more about culture. So, I reached out to my good friend Dr. Lindsay Bell, Professor of Anthropology at SUNY Oswego. She explained:
Boundaries are the products of human culture. They are always contested and contingent on larger historical and political economic circumstances. While we may feel as though regional identities come from within, they actually emerge from the process of imagining, reinforcing, or reconfiguring boundaries. It is in our relationships to "others" that we gain a sense of self and community. Boundaries are made and reinforced through interactions like fighting over regional boundaries on twitter, or debating whether or not you should put ranch on pizza (no thanks, Long Island).

These subtle acts can pull us closer to imagined others or can create a separation between us and those who may be physically very close by. These 'lighter' conversations and identity debates usually do link back up to questions of class and social inequality. With the uneven distribution of wealth in the state of New York, some may want to identify with wealth, while others have developed strong counter identities. The interesting questions about boundaries as an anthropologist are who is trying to create them? What symbolic means are they using to do so? (soda vs pop? Chicken wings? football?) What is at stake in these debates? Why is this particular debate happening now?
How Regions In Upstate Are Defined: FINAL ANSWER
So, you want to know the final answer on how New York's many regions are divided? The answer is: Pride. Regional Identity. You live in the region of New York State that you most closely identify with culturally!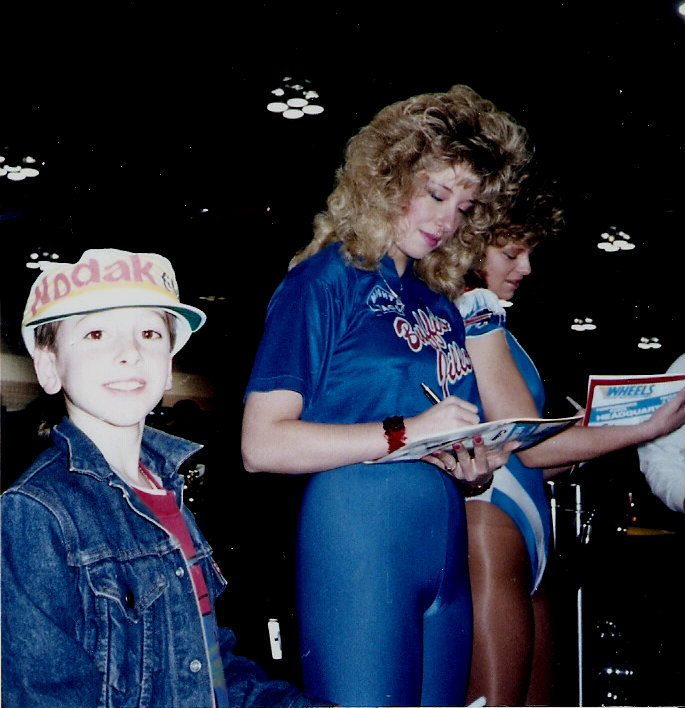 You might live in Marcellus right on Otisco Lake (which only loosely considered a Finger Lake), but if you're a Syracuse Basketball fan, you're gonna reap that Central New York pride and tell outsiders that's where you live. If you're from Rochester and visiting Seattle talking to another football fan, you're going to stake your claim to Western New York and then have them take a video while you jump on a plastic beer pong table in the parking lot.
You want to be excited about where you're from, just like me!
And, that's why Timothy McDonnell's blurry map is so important. People drive upwards of an hour to get to work in some areas. People move to the next town over, or the next county over. When they do, they cart their culture with them. Buffalo had Polonia where the Polish settled and set up a small version of their homeland. Syracuse has Tipperary Hill where the Irish settled after building the Erie Canal. But, as people began moving out of those neighborhoods, the cultural identity of the neighborhood changed.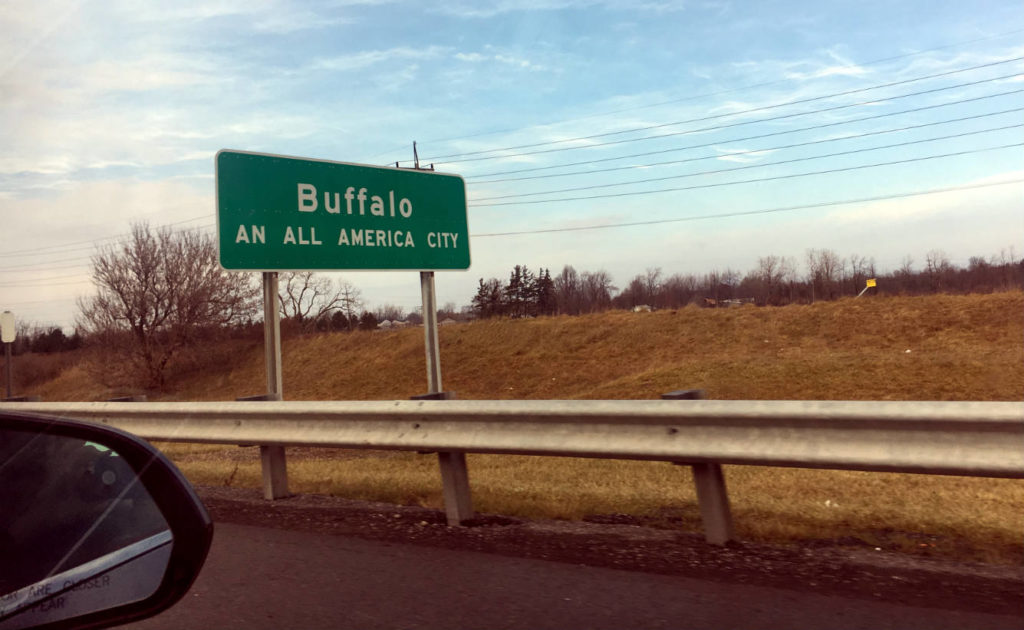 The Polish that left the Broadway-Fillmore area were still Polish. They were just Polish in a neighborhood that now had Italians, Irish, and Germans. If I move from Rochester to Medina, is it really so far away that I couldn't still say I'm a Rochesterian?
Luckily, I could probably just create a map to support my claim. And, that's all that counts.
Afterward
Got your own way of splitting up New York in to regions and fancy yourself an artist? Send me your own map and if I get enough, I'll share them in another post!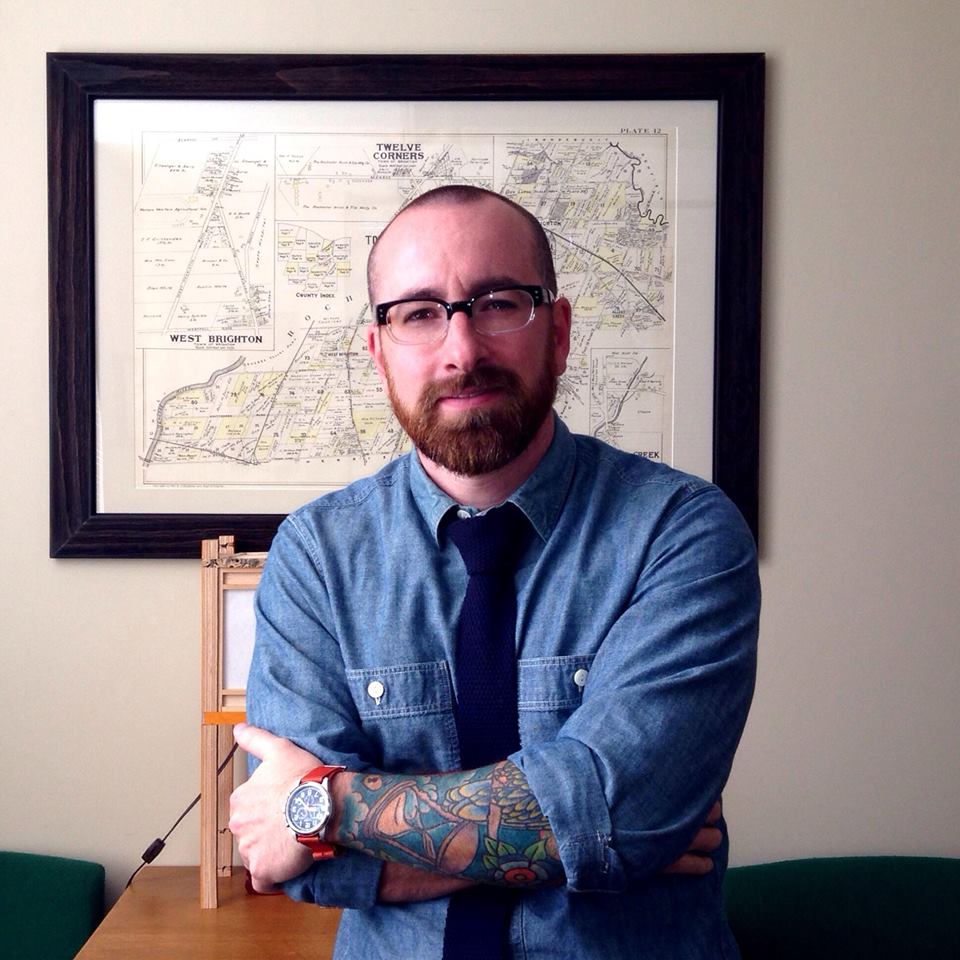 Chris Clemens is the Founder/Publisher of Exploring Upstate. From his hometown in Rochester, he spends as much time as possible connecting with the history, culture, and places that make Upstate New York a land of discovery. Follow him on Twitter at @cpclemens