Every year during the last full weekend of July, the 50-mile stretch of Route 90 in the Finger Lakes becomes one humongous garage sale. Here's everything you need to know about getting there.
by Chris Clemens
The legendary weekend long event that is the Route 90 Garage Sale brings visitors from as far away as California. Stretching from the southern end in Homer to the northern end in Montezuma, the garage sale is one of the pinnacle events of a Finger Lakes summer.
People actually come from out of state and stay the weekend just to shop at the sale.
The 50 Mile Route 90 garage sale is always the last full weekend in July
A few families set up Friday night, so if you're around then it's worth it to take a drive through
There are antiques, hand-made goods, household items, and occasionally even a vehicle for sale
History Of The Garage Sale
In 1987, a couple enterprising women realized that this section of the county didn't see as many visitors as other sections. Much of these towns like Kings Ferry and Union Springs are home to farms that have been operated by the same families for generations. Those old farms had big barns filled with treasures that were ripe for the enterprising picker.
That's when Connie Reilly and Barbara Noden realized the potential of Route 90.
"Everyone loves a garage sale," Reilly told me. "There were these huge barns just filled with great old antiques." Some of those people had tried sales on their own, but without a lot of cars driving through, a single garage sale in a rural stretch of road can be tough to make work.
They floated the garage sale concept out to the community and there was no hesitation. Everyone loved the idea of one weekend where they could all set up at the same time.
"People Love A Garage Sale"
That first year, Cayuga and Cortland counties knew they had something special.
People visiting from out of town were booking hotels and rooms at bed and breakfasts. The Boy Scouts and even the Masonic Temple were able to set up booths with food that helped them raise money. Gas pumps were pumping and diners were filled.
From day one the Route 90 Garage Sale had a festive feel that everyone enjoyed.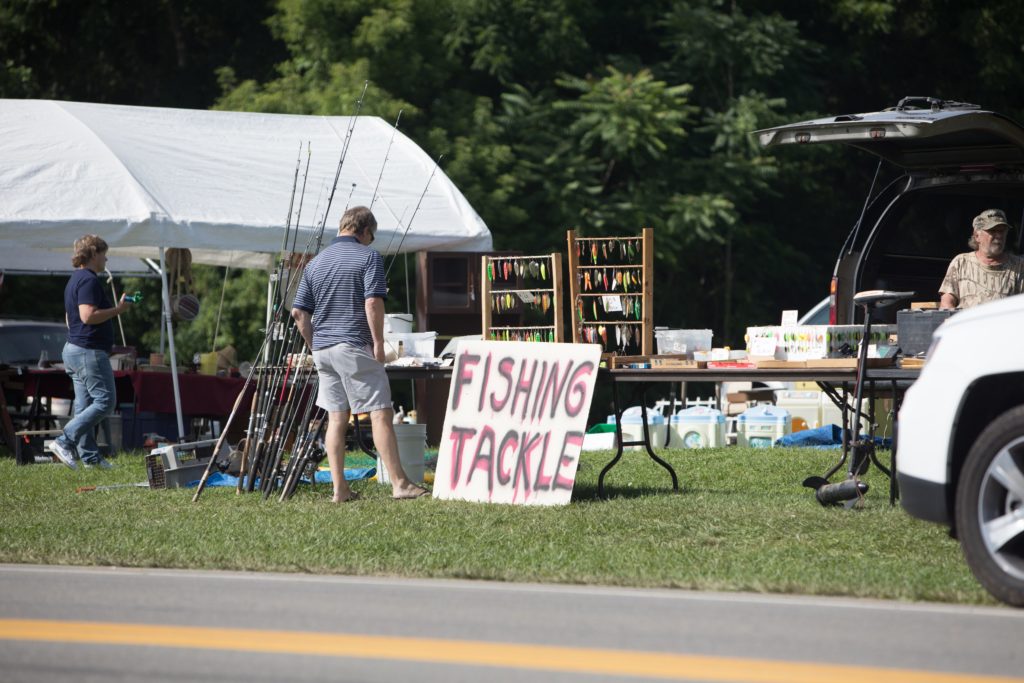 Reilly told me, "Somewhere around the twelve year, we started to get worried. All those barns with all that great treasure were finally starting to deplete their inventories. What happens when those farm families sell out of their stuff?"
But, the entire community made it obvious they wanted to continue. At that point, the garage sale had become a thing all its own and it was too much fun to even consider stopping. They'd find more stuff. And, find more stuff they have.
In fact, in recent years, some families even set up on Friday night just to get a head start.
After three decades, people from far and wide are still scheduling their Finger Lakes vacations around the iconic 50 Mile Route 90 Garage Sale.
Trying to figure the best plan for tackling a 50 mile garage sale isn't an easy task. So, before you head out to snag a deal, here's everything you'll need to know.
50 Mile Route 90 Garage Sale – The Route
(Technically, it's 54 miles from Homer to Montezuma. But, Noden and Reilly thought that rounding down would make it easier to remember.)
Ultimately, the trail passes through both Cayuga and Cortland Counties. In Cayuga County, you'll hit the towns of Montezuma, Cayuga, Union Springs, Aurora, King Ferry, Genoa, Locke and Summer Hill. Then, you'll pass over into Cortland County to hit the town of Homer.
NOTE: Much of this land is farm country, and the towns are small. There might be some stretches of Route 90 where you just see farmland for a few miles. Keep going, there's another stand set up just ahead!
There's two counties, nine towns, 54 miles, thousands of people, and plenty of deals to score!
Starting In The North
On the north end, the sale route begins in the town of Montezuma. If you're coming from the west on the Thruway, your best bet is to get off at Exit 41 for Waterloo. It's probably more miles, but if you really don't want to backtrack, go north here and then head east on Route 31, which will meet up with Route 90. From there, you can take Route 90 the whole rest of the day.
If you don't mind backtracking on Route 90, you can just head over on Route 318 and drive through the Montezuma Wildlife Refuge.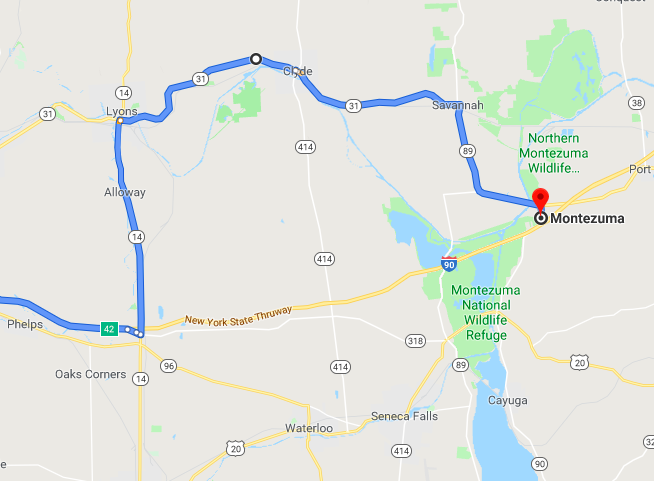 If you're coming from the east on the Thruway, you'll probably want to get off at Exit 40 for Weedsport and take a right onto Route 31.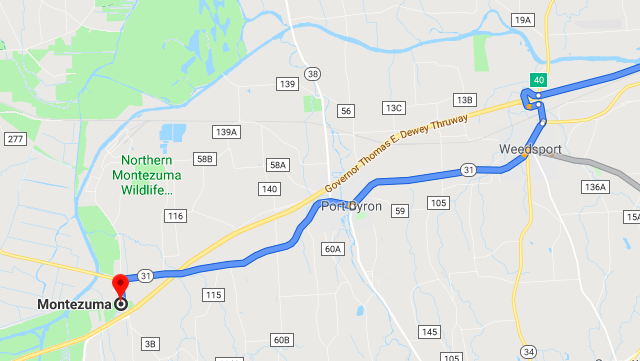 Starting In The South
If you're looking to start at the south end, you'll be looking for the town of Homer. Taking Route 81 from the north or the south is easy, since there's an easily accessible exit for the town of Homer.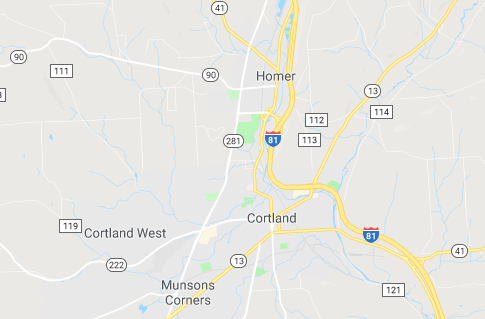 Non-Garage Sale Stuff To See On Route 90
Let's face it, even the most serious of garage sale fanatics will need a break from digging through boxes of VHS tapes and coffee mugs.
If you're looking to break the trip up a little, or convince your not-a-fan-of-garage-sales spouse or friend that they should join you, here's a bunch of non-garage sale options along the way.
Montezuma, New York
The U.S. Fish and Wildlife Services operates a wildlife preserve surrounding the Montezuma Swamp. The Montezuma Wildlife Refuge is a great place to spot birds while driving through.
Union Springs, New York
If you're looking for a little lakeside respite, Frontenac Park in Union Springs is a great little stop not far off Route 90.
Aurora, New York
The Route 90 garage sale is kind of iconic for this area, but so is the MacKenzie-Childs store in Aurora. The annual barn sale often brings in over 25,000 people in a long weekend, but stopping any other weekend is just as fun.
Read more about "Cayuga County and the Towns You Don't Know" in this post from March 2019
Genoa, New York
Smith's General Store is one you'll pass if you stay on Route 90 and head through Genoa. This small collection of local historical artifacts is the work of one local man, and he can often be found hanging around there on Saturday mornings. If you see the open flag out front, stop by and say hello to Pete Signor, and checkout his little museum.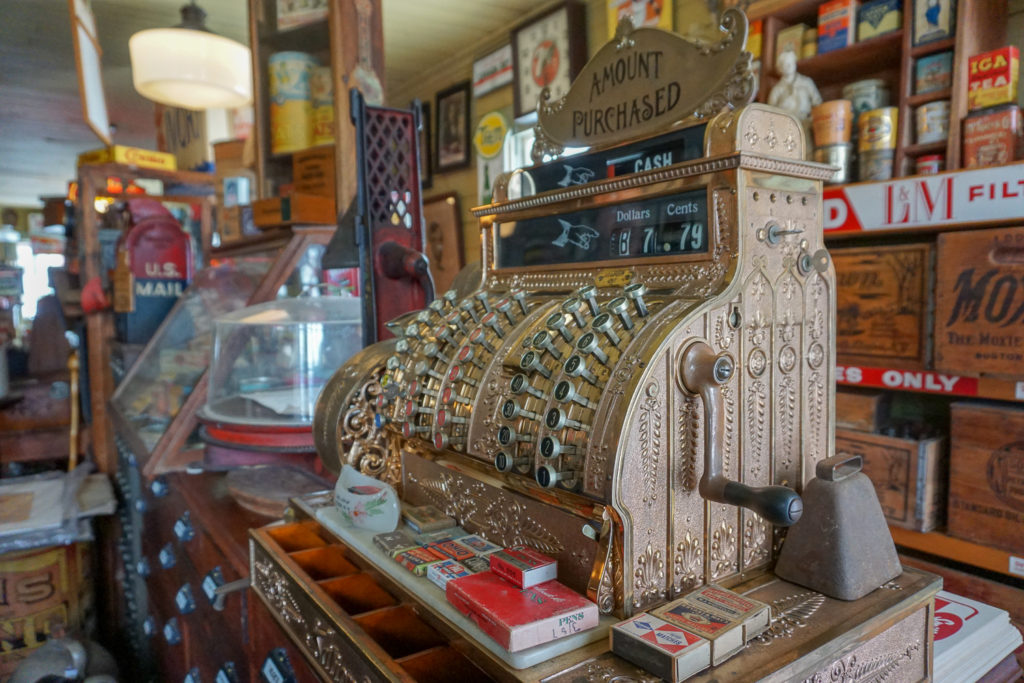 Homer, New York
The Central New York Living History Center in Homer is a great little local history museum. Serious truck fans will dig the Brockway Trucks exhibit!
Read more about "How the Brockway Firetruck Made it Back to Cortland" in this post from August 2017
Where To Eat For The 50 Mile Garage Sale
Because the Route 90 garage sale is such a huge event, there's all kinds of food stands set up that aren't normally there. You'll have plenty of food trucks and pop-up options along the way. On Route 90 in Cayuga, you'll find a field with lots of vendors and plenty of food.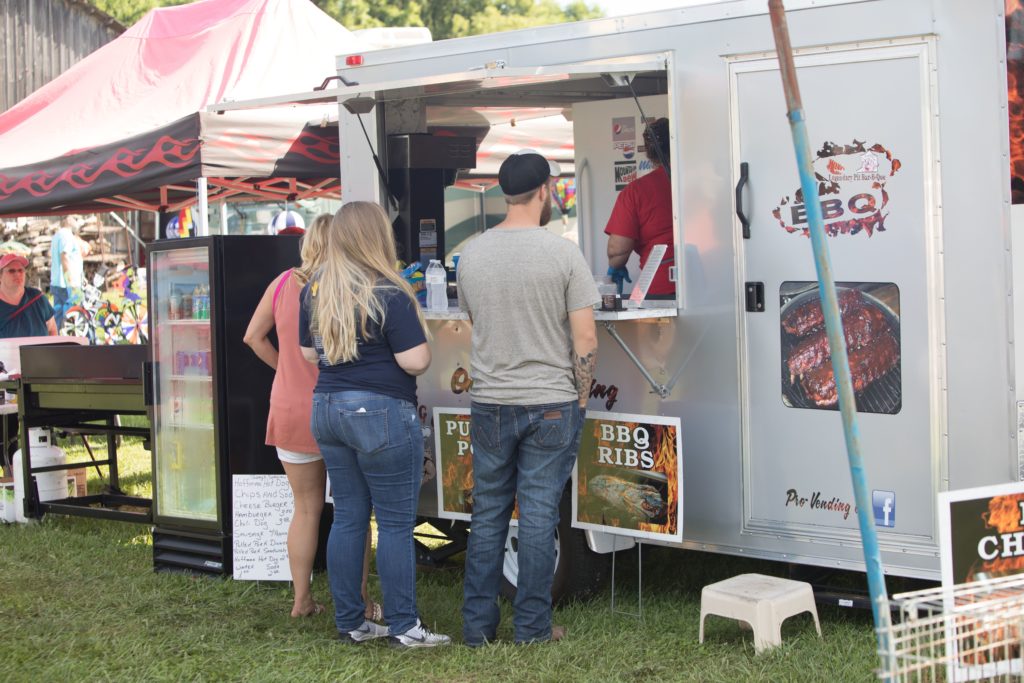 If you're looking for more of a sit-down type service, there's a lot of great places all along Route 90.
The Wheelhouse Restaurant just north of Union Springs has a great waterside patio and offers a casual menu. Nearer to Route 90 in that town you'll find Pete's Treats for ice cream and frozen yogurt.
Just about mid-way through the 50-mile garage sale, you'll be in the town of Locke. Barb's Diner right near the four corners of town serves up an outstanding homemade menu that includes some of my favorite fried chicken in the region.
If you're still hungry–all the pies are made in-house!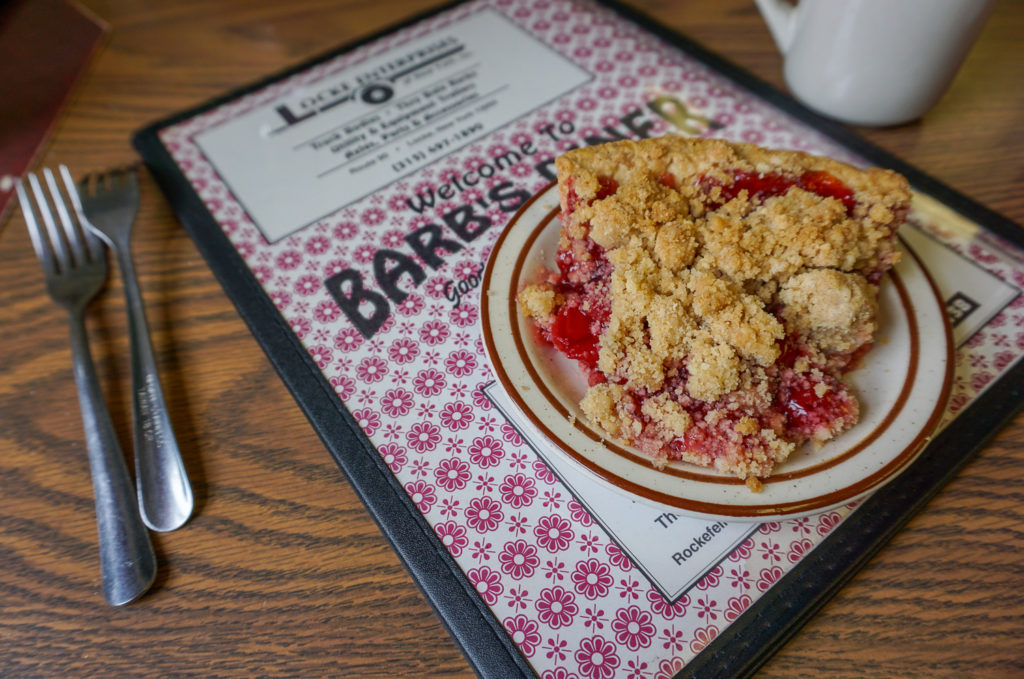 In Homer, you can't go wrong with Dasher's Corner Pub!
Bathroom Breaks
Let's be honest, if you're driving miles and miles on rural roads, you're not finding a rest stop. If you need break, here's a few places to try.
Frontenac Park in Union Springs is a public park with restrooms
In the town of Cayuga you'll find a field with lots of vendors set up, and they bring in portable toilets to that area
Apparently, local Fire Departments are understanding during the festival, and for an emergency you can stop there and say hello
My favorite on-the-road-bathroom-solution: find the public library
More Information
If you're looking for more information about the garage sale, or other things to visit in Cayuga County, checkout the Cayuga County Tourism website. You can find more info about Homer and the other spots in Cortland County on the Experience Cortland website.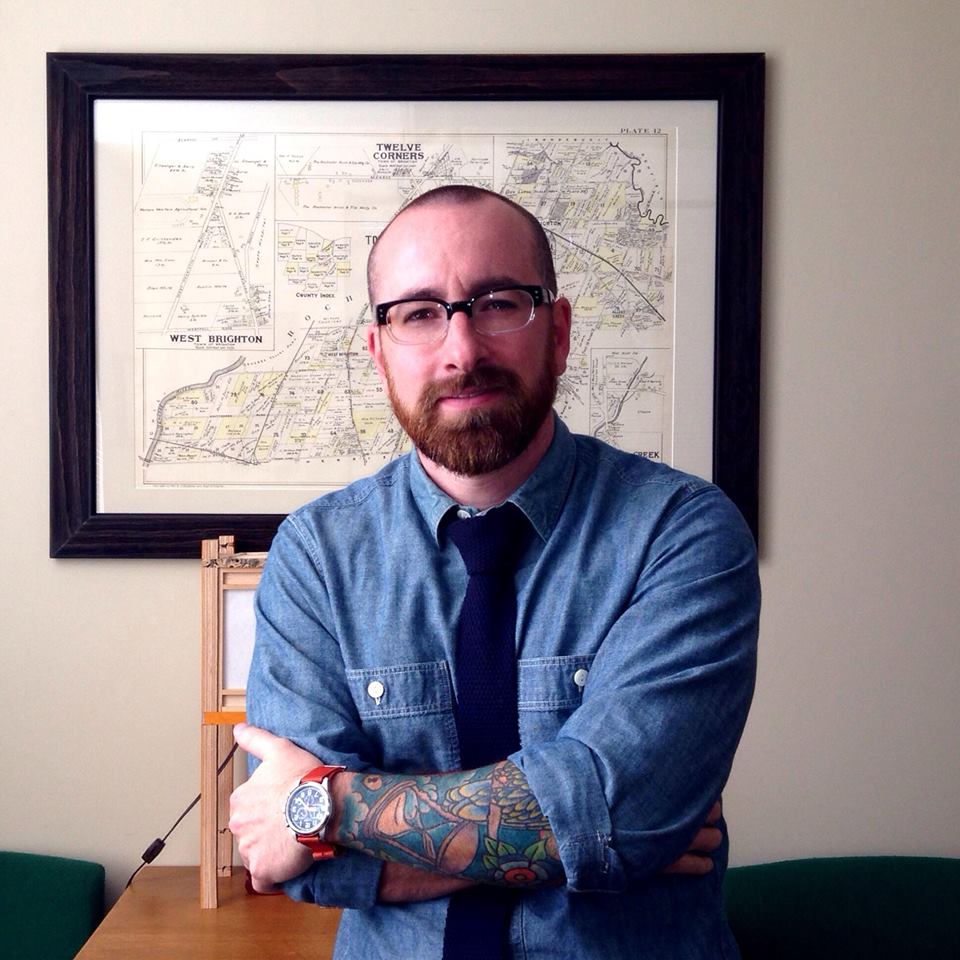 Chris Clemens is the Founder/Publisher of Exploring Upstate. From his hometown in Rochester, he spends as much time as possible connecting with the history, culture, and places that make Upstate New York a land of discovery. Follow him on Twitter at @cpclemens