by Chris Clemens
Even though Exploring Upstate is intended to be a platform for me to share things I love and learn about Upstate New York, I recently spent a week driving to, around and then back from my first time ever visiting Louisville, Kentucky. I had a few opportunities to get out and explore a bit on my trip and was able to discover some really, really cool spots that you'll want to hit if you're ever in town.
First founded in 1778, Louisville is one of the oldest cities west of the Appalachian Mountains and now is the 30th most populous city in the U.S. The airport is the worldwide hub for UPS, the Kentucky Derby is often known as 'The Most Exciting Two Minutes in Sports", and there are three Fortune 500 companies that call it home. Sports, bourbon, the "Hot Brown" sandwich, baseball bats, bourbon, Muhammed Ali and more bourbon are just a few of things that Louisvillains are proud of. (Louisvillains probably isn't correct, but I like it.)
Cave Hill Cemetery
First chartered in 1848, Cave Hill quite literally was named for a cave in the side of a hill with a natural spring. It's the largest cemetery in Louisville and is home to the final resting place of Kentucky-pride fried-chicken-famed Colonel Sanders and also Patty Smith Hill, who is famous for writing the 'Happy Birthday to you" song. Placed on the National Register of Historic Places in 1979, Cave Hill has well over 120,000 interments as well as an adjoining National Cave Hill Cemetery with a lot of Civil War vets.
Cherokee Park
The 69th most visited municipal park in the United States was designed in 1891 by the famed landscape architect Frederick Law Olmstead. The 409 acres of land has a multi-use scenic loop for cars and pedestrians to share, picnic areas, a dog park and some hiking trails. While it's a beautiful park and I always feel like an Olmstead is worth checking out, if you're Louisville and aren't in need of a park, you could probably skip this one.
Louisville Water Tower
It's kind of hard to imagine our young country to be home to the oldest anything in the world, which is why I made it a point to get out and see the world's oldest ornamental water tower. Built in 1860 right on the Ohio River, it was intended to be not just a functional water tower, but a service to the community as a work of art in a park-like setting. Tours are available of the grounds and a small museum, but only on certain days.
Muhammad Ali Center
Admittedly, I care nothing about boxing. I don't have a problem with its existence really, it's just that I don't get being interested in it. Regardless, I found the Muhammad Ali Center to be incredibly moving. To walk through a museum dedicated to the story of a man who fought segregation and then a rise to national stardom because of his athletic prowess is in itself an intriguing tale. But, add Cassius Clay's transformation from hometown hero boxing champ to spiritual icon Muhammad Ali when he converted to Islam to the attention he brought to the Vietnam War when he refused the draft along with America slowly having to watch one its icons of strength ultimately succumb to Parkinson's Disease and you have a museum that nearly any American can appreciate. The Center is a museum that tells the tale not of a guy who fought other guys in a ring, but a guy who fought for what was right. I hemmed and hawed on visiting because my interest in boxing is so low, but I couldn't be happier that I chose to check it out. I've caught a lot of hell from friends for also not caring about the Olympics, but I'll admit it here this once: watching a video of Ali lighting the Olympic torch in the 1996 Atlanta games may or may not have choked me up a bit.
Louisville Slugger Factory Museum
THE actual factory where Major League Baseball and Minor League Baseball bats are made! I took a tour of the actual factory operations which are the only spot in the entire world to manufacture wooden bats. There's a bit of uncertainty around the very perfect beginnings of the Louisville Slugger, but it's generally believed that the first pro-bat built by the Hillerich family woodworking shop was in 1884. Today, computer controlled electric lathes turn out what is probably one of the most iconic American pieces of sporting gear. It's pretty loud, but the smell of freshly cut wood is pretty awesome. Photos aren't allowed inside the factory on tours, but at least you can see me here holding the same bat that Mickey Mantle used in 1961. And, I was holding it on October 20, which is Mantle's birthday!

I of course hit a whole bunch of other cool things while I was in town, like Mark's Feed Store BBQ for a fantastic lunch, the Four Arch Bridge over the Ohio River and third wave coffee shop Quills. Though, I have to admit Highlands Coffee won me over in the caffeine department.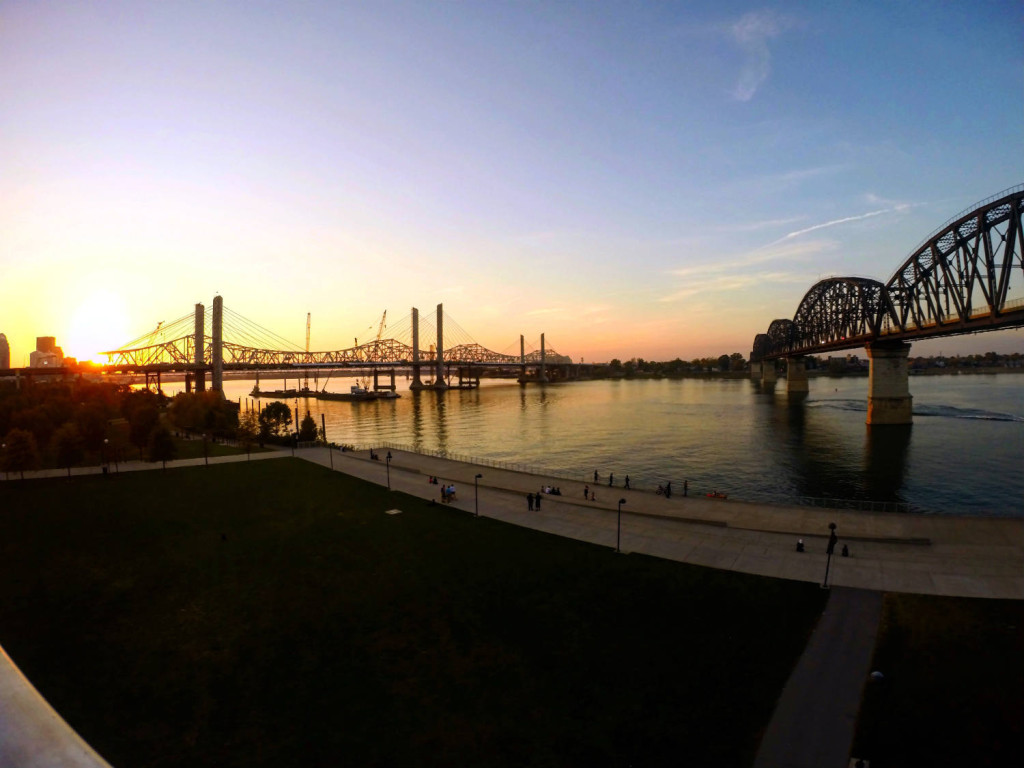 Oh, I also happened to swing over to the 24 hour museum that is in the lobby of the famed 21c Hotel right in downtown. And, also used their one-way mirror urinal that let's your relieve your bladder while still seeing what's happening out in the hallway. (You can click the slider in the photo to see more of each view!)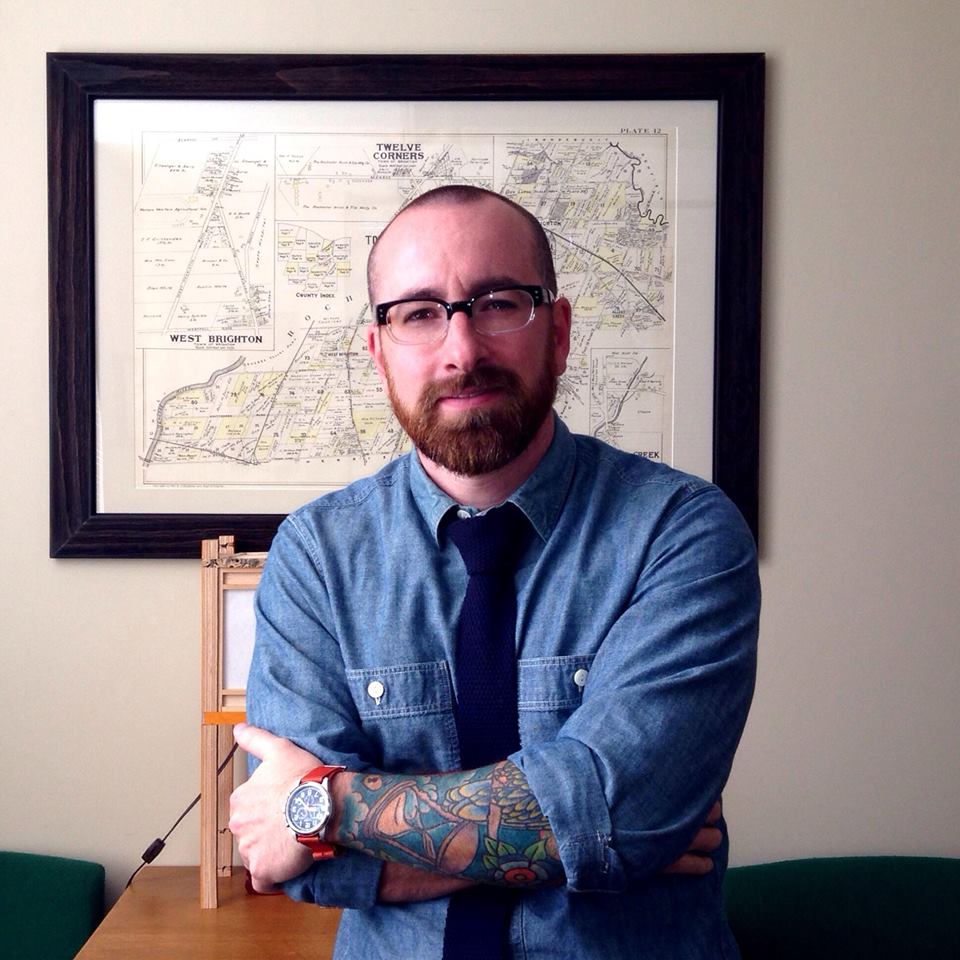 Chris Clemens is the Founder/Publisher of Exploring Upstate. From his hometown in Rochester, he spends as much time as possible connecting with the history, culture, and places that make Upstate New York a land of discovery. Follow him on Twitter at @cpclemens