by Chris Clemens
Last winter, I spent the day driving around Utica, New York to sample each of the city's famous food items. My good friend Chris Lindstrom, owner, author and podcaster of Food About Town, joined me as we sampled foods like Tomato Pie, Chicken Riggies, and Utica Greens. Chris and I had a blast driving around the city and exploring. If you happened to have missed that post, you can find it here.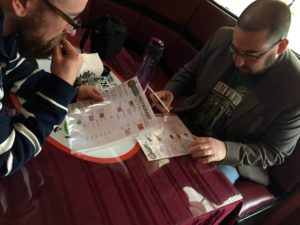 One thing we noticed during our visit were the number of markets and eateries with very ethnic sounding names. Bummed that there was no time in our itinerary to include our discoveries, we vowed to return a year later. And, that's just what we've done!
I'd like to note quickly that we really did plan the idea of this trip over a year ago. With recent discussions on the national level about the resettlement of refugees in America, we did slightly fear potential politically fueled blow-back about highlighting a program that seems to be working. Please note, our intention was to visit a city doing great things to highlight its residents and basically eat wonderful food all day. Politics did come up throughout our visit, but it only added to the experience of connecting with people of different backgrounds and philosophies.
Utica and Refugees
Somewhere during the middle portion of the 20th century, Utica began to struggle. It's position as the worldwide hub to the textile market had been lost. The Erie Canal was no longer the industry rainmaker it once was. The nickname 'Sin City' arose from the ashes of a mafia war that easily could've been a Scorsese film. To make matters worse, government officials were on the take from that same Italian crime syndicate. It's a story not unlike so many other Rust Belt Cities in the northeast. To their credit, Utica made serious moves to wildly change the narrative about their city sometime in the 1970's.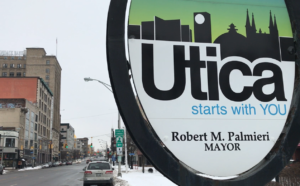 With entire neighborhoods of vacant homes, Utica tried to imagine a way to get people in them. Like most cities, they wanted people living in homes who would take pride in their property. People who would be good neighbors to one another. People who would open businesses. People who would patronize businesses. People who paid taxes.
In 1981, Utica began to resettle Vietnamese and Cambodian refugees around the city. The program worked so well, that they ramped up their efforts. Over the last few decades, the City of Utica has welcomed in folks from Bosnia, Ecquador, Mexico, Burma, Bhutan, and countless other countries. In fact, now in 2017, over 26% of the City of Utica's population of 63,000 is foreign-born. I'm told that there are over 46 different languages taught in the schools!
Utica Food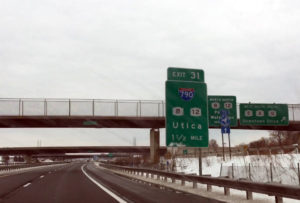 Knowing that Utica has been resettling upwards of 400 refugees per year the last few decades, we knew that the selection of ethnic foods had to be amazingly authentic. We began with just searching online and reaching out to a few locals we thought would be in the know. Wanting to experience as much as we could but also realizing we could never do it all, we created an initial list of locations and food items that numbered well over twenty five. That was definitely going to be too much.




Our search results were narrowed as we built an itinerary based on 1) proximity to one another, 2) a wide spectrum representing different areas of the world, and also 3) popularity among locals. Like last year, we created a short webisode to highlight our trip. After the video, you'll find a list of each spot we landed and what we had. Hope you enjoy as much as we did!
Ruznic Market and Restaurant
Bosnian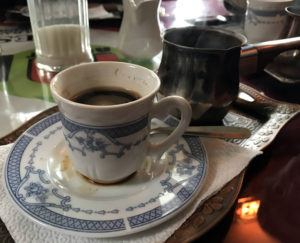 We began with traditional Bosnian coffee, which is very similar to Turkish coffee. Made by boiling coffee ground as fine as sand, it's super bold and flavorful. We added a Burek (thinly rolled dough with ground beef and baked in the oven) and a traditional Cevapi dish (minced meat sausages) served on grilled bread with raw onion and sour cream. When you're in a market, and a patron comes in speaking the same non-English language as the staff, it's a good indication that what you're getting is authentic. In just a few minutes of hanging around, we saw a lot of that.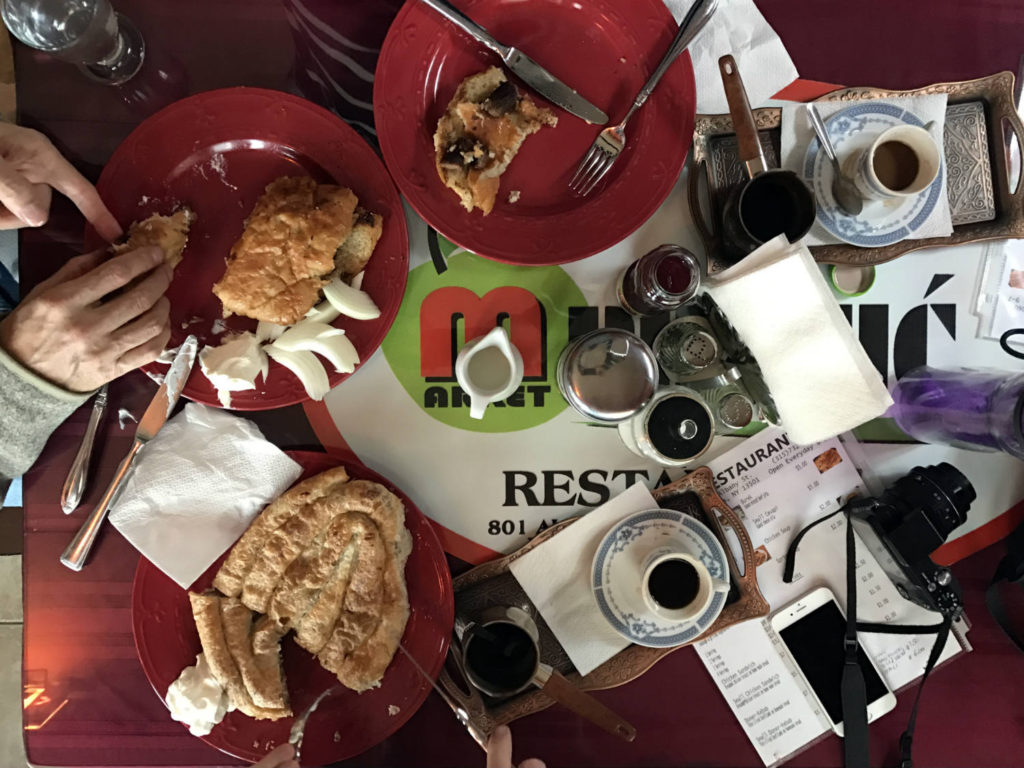 Pho Mekong House of Noodles
Vietnamese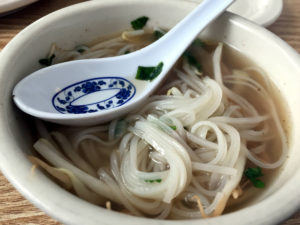 We were told Pho Mekong was some of the best Vietnamese we could find. Oddly enough, according to our waitress, the cook is Cambodian, but only cooks Vietnamese food! Our traditional Pho with meatballs was really flavorful and the noodles were just right. We finished with an order of drunken noodles that sobered us up enough to continue with the rest of our visits.
We were feeling pretty satiated at this point, so we stopped off to a number of markets. The Nguyen Phat Oriental Store on Bleecker had a wonderful selection of everything from fresh fish and vegetables, to knock-off energy drinks and a full rack of hot sauces. The Min Htet Win Oriental Market on South Street had a similar selection, but with a few general items like housewares and clothes. We had a really great time exploring the shelves regardless of the fact that we couldn't read many of the labels.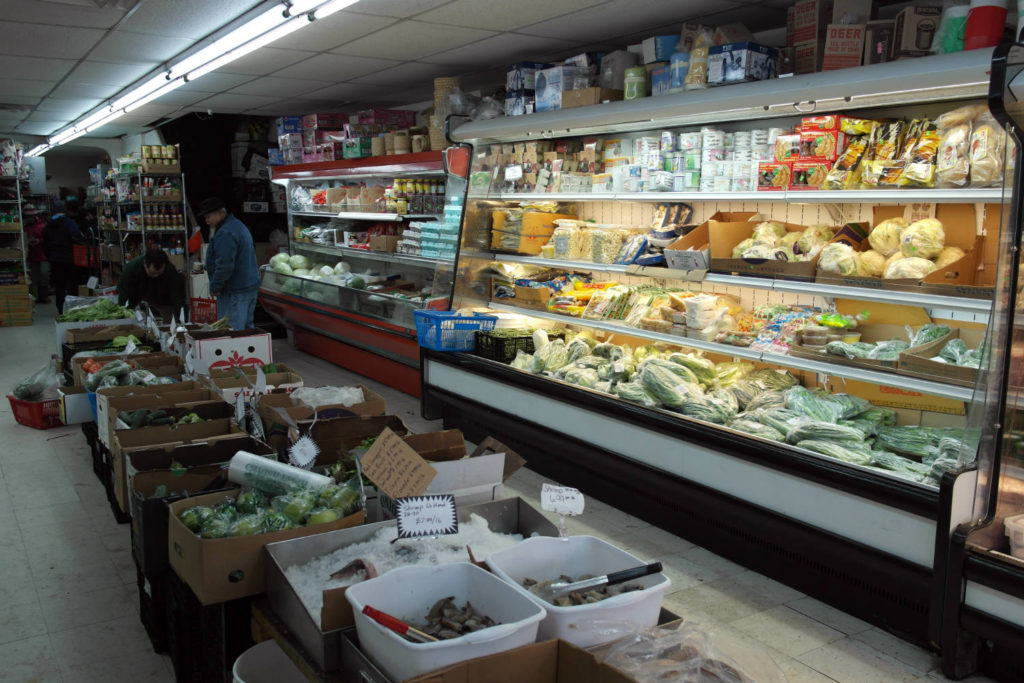 My friend Phil once turned me on to an idea I loved so much that I incorporated it to my own life. He told me how every time he goes in to a supermarket, he tries to find one thing he's never heard of before. Using that practice has introduced me to some really fun things I normally wouldn't have discovered. These markets essentially are filled wall-to-wall with potential!
Tarik's Bakery
Bosnian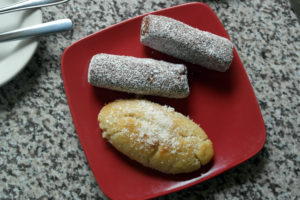 Located on Bank Street right off the main drag in downtown is a small Bosnian cafe that we aimed to score some dessert. The Hurmasica is a traditional lemon-cake like treat that we went with before moving on to a dense chocolatey dessert that for the life of me I cannot recall the name of. My lapse in memory is possibly due to how much I enjoyed the Hurmasica.
We also had another Burek here at Tarik's, and though both that we had were wonderful, it was interesting to see how different they were between the two Bosnian eateries. We had a wonderful time everywhere we went but we really enjoyed chatting with the owner of Tarik's, going back in the kitchen to see how our Burek was made, and even chatting with other patrons who recognized us from the internet!
Zeina's Cafe
Lebanese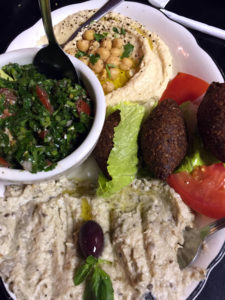 More very tasty coffee. The coffee we got at Zeina's was similar to the Bosnian/Turkish/Greek, etc., but this was noticeably less extracted, and would probably be more palatable for the average person wanting to try a Mediterrean-style coffee. We followed it with pita, hummus, kibbeh, baba ganoush, and kafta with rice–all of it wonderfully bright and fresh tasting. Zeina's was highly recommended by a bunch of people during the planning stages of our trip, and it's easy to see why. You'll find it on Varick Street in the brewery neighborhood with plenty of other great spots to visit within walking distance.
Emmie's Global Cuisine
Caribbean
Emmie's was another that came highly recommended before our arrival. We had eaten plenty of entrees throughout the day, but we set our sites on their purple yam ice cream to finish the day. When we arrived, we discovered they had a long list of desserts that made it tough to choose. We stayed our course with the ice cream, but included a mango and a cheddar cheese. Yes. A cheddar cheese ice cream.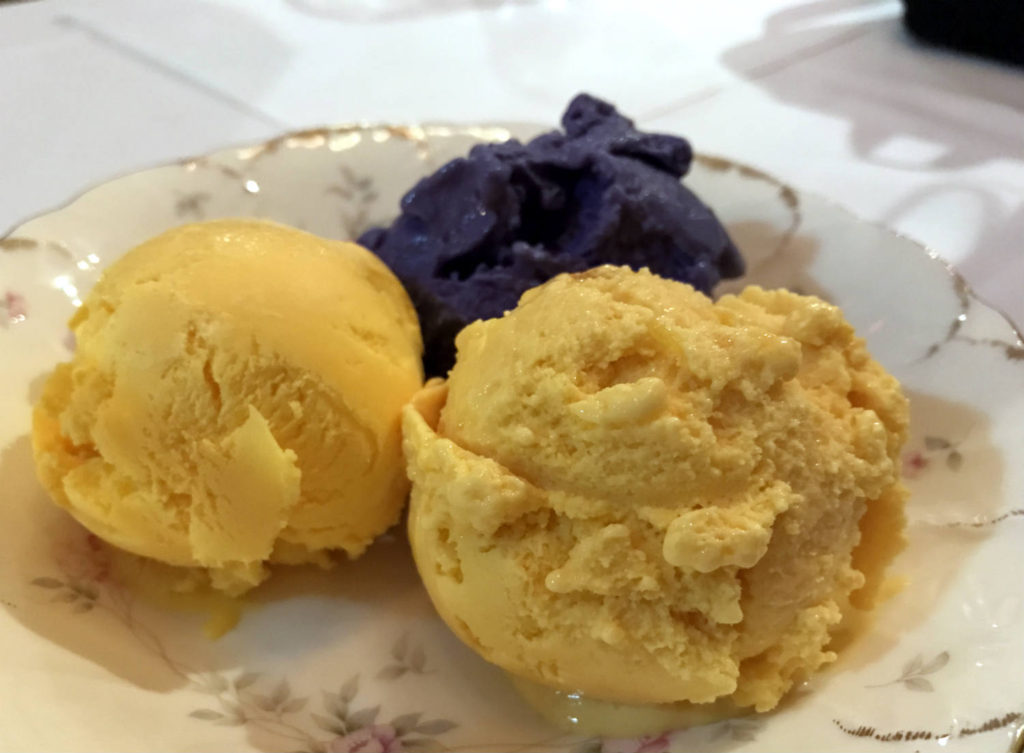 I am certainly a cheddar cheese fan, but wouldn't have anticipated enjoying it as ice cream. Though we came for the purple yam which was great, the cheddar cheese ice cream experience I think won me over. I wasn't expecting to like it at all, and somehow even after a full belly, I could've kept going with it.
Epic-logue
I know that was a lot to have to read, but it was also a lot to have to write! What it comes down to is, we had such a fun day eating so many wonderful foods, there was no way to do the visit justice by cutting it down. In addition to the video above, Chris and I recorded an hour long discussion about our trip for his Food About Town podcast. We talked about a lot that didn't make it in to this post or the video, so if you're really wanting to explore more of this project, take a listen right here.




We also talked about potential ideas for next year's Utica Food Tour. If you have suggestions, by all means, send 'em along! We are already looking forward to it!!
As always, thanks to Chris for partnering with me on such a fun project, and to our friend Dennis who agreed to hold cameras and put up with us all day. Also, thanks to the Mohawk Valley Resource Center for Refugees for providing information and inspiration, and for doing such good work to help the community. Biggest thanks of all to each of the folks we interacted with throughout the day that helped make our visit so special. You guys are the ones who are the face of the city and getting people to want to visit and live in Utica. For you folks: Keep it up. It's so cool to see a city revitalizing and reinventing itself. You have much to be proud of.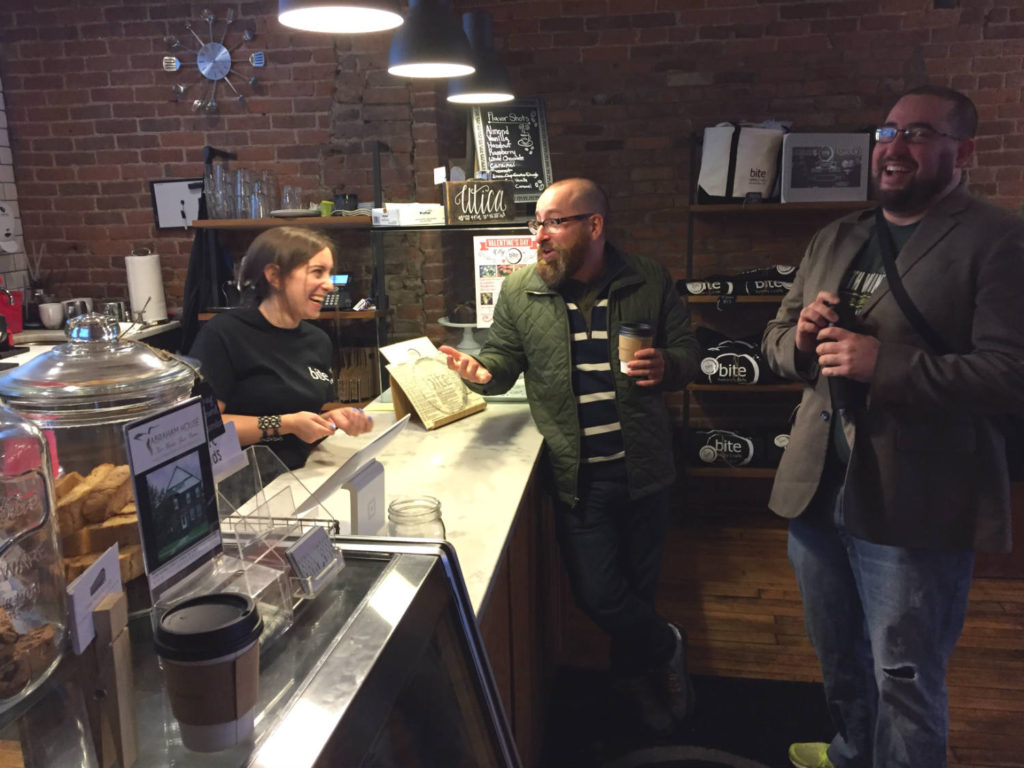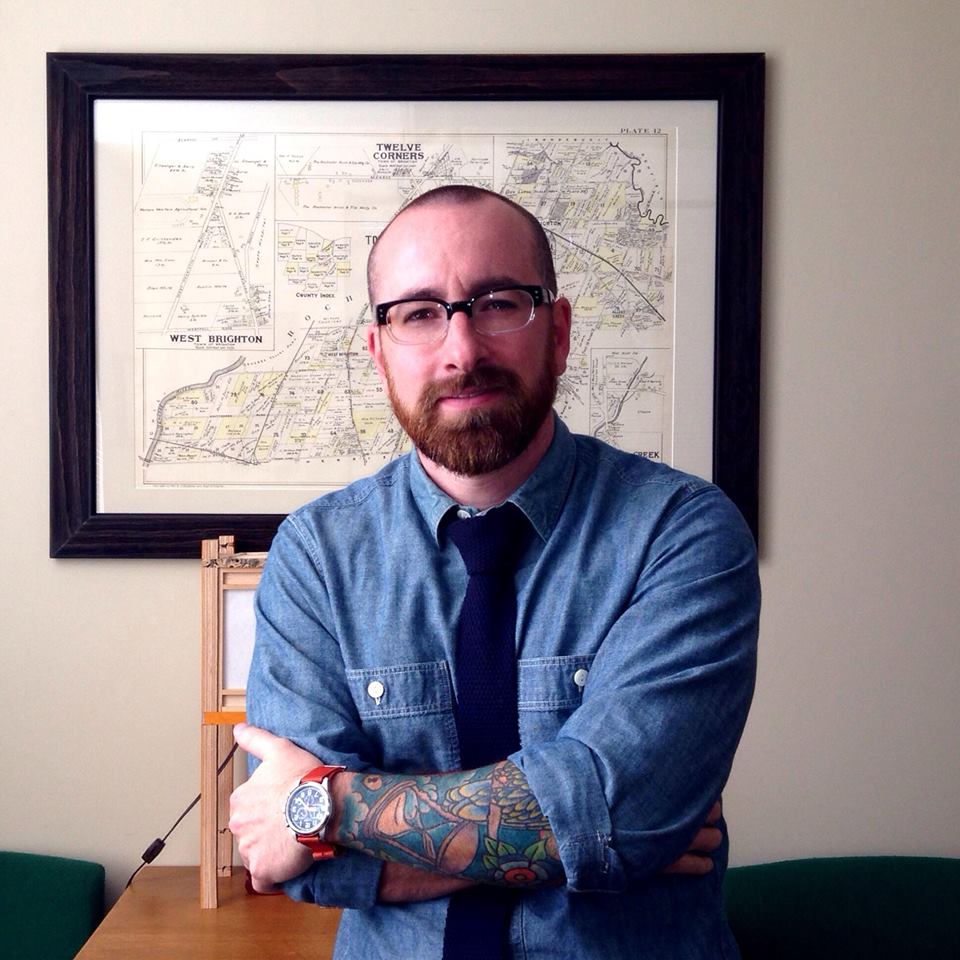 Chris Clemens is the Founder/Publisher of Exploring Upstate. From his hometown in Rochester, he spends as much time as possible connecting with the history, culture, and places that make Upstate New York a land of discovery. Follow him on Twitter at @cpclemens