by Chris Clemens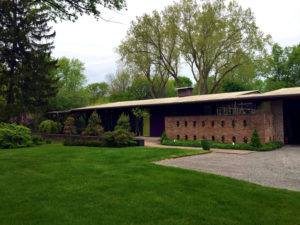 As a homeowner, I can assure you that I'd be stoked to find a house with a roof capable of lasting 59 years in Upstate New York. Though metal roofs are becoming more commonplace, in 1957 when the only Alcoa Care Free Home to be built in New York was first constructed, the concept for a home that could withstand elements and required little care and looked attractive was a really radical idea.
History
To date, there is still only one method for producing aluminium, and it's called the Hall-Heroult Process. Named for Charles Martin Hall who discovered the method around the same time that a guy named Paul Heroult was discovering it in France. They share much of the credit but worked separately on the research. Hall, however, set out attempting to manufacture things using the process. In fact he made the very first aluminum product (a tea kettle) in 1887 right in Lockport, New York. When that idea didn't steep, he attempted to set up shop slightly south of New York under the name "Reduction Company of Pittsburgh". This first operation would later become what is today known as ALCOA (the Aluminum Company of America). The company, whose headquarters are now in New York City, is the world's third largest producer of aluminum.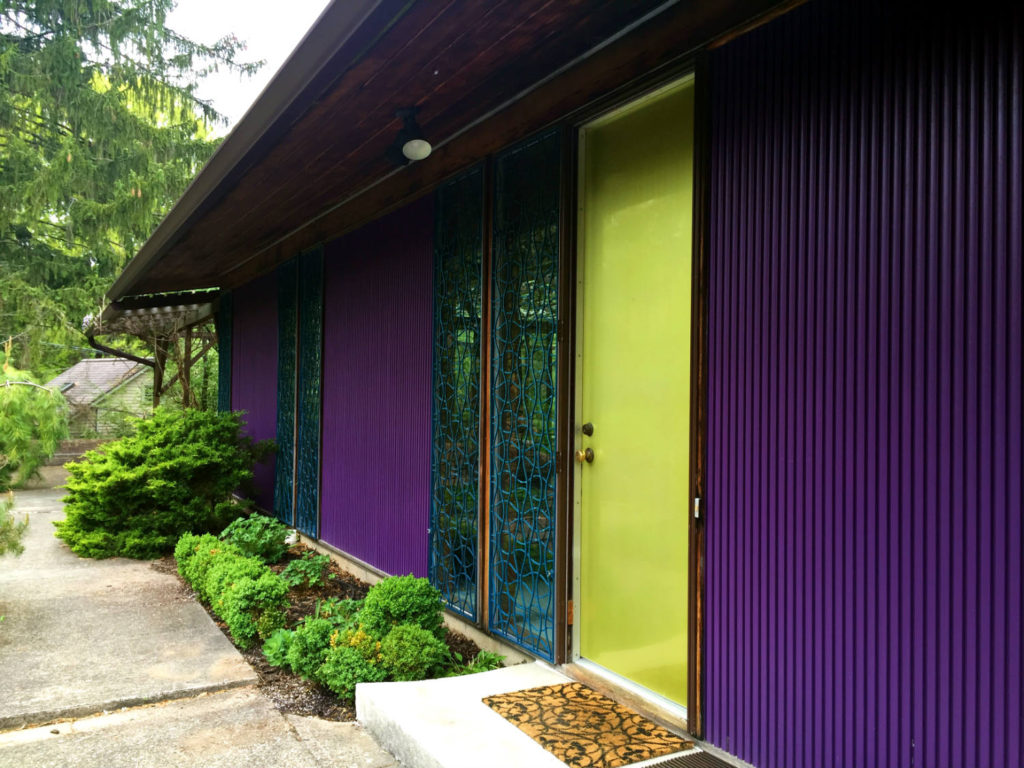 With the popularity of ranch home architecture filling out the mid-century suburbs of America, there came an even greater want for a long-lasting home that didn't require all the "burdens of household chores and upkeep". What's more, imagine how great it would be if it became less expensive to build that long-lasting home because the materials were inexpensive! So, Alcoa thought, "Why not build a simple and stylish home that incorporated aluminum throughout the entire design?"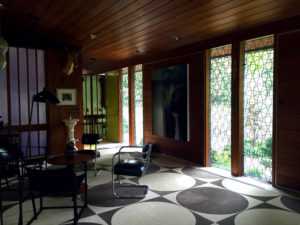 Around the United States, there were only twenty-four of the homes built, and the only one in New York is in a suburb just southeast of the City of Rochester. I've passed it countless times throughout the years, and in fact I pass it twice everyday while traveling to and from my office. After decades of nearly-killing-me curiosity, the home's fifth and current owner, Nigel Maister, graciously allowed me the opportunity to explore his Alcoa Care Free Home and to share with you guys.
Exterior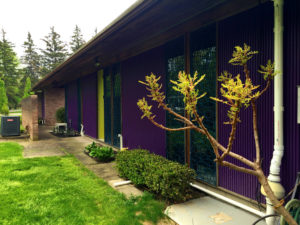 The exterior of the home features a lot of brick, but is interrupted with immediately charming purple aluminum panels and lime-yellow aluminum paneled doors. Floor to ceiling windows between the panels have blue aluminum geometric patterns that allow light to pass through, but offer enough interruption to the view that passersby can't just look right in your home.




The garage was actually a carport in the original design and construction, but a previous owner enclosed the entire thing to make a semi-detached garage. Technically, the home and garage are connected, but only by an open-air courtyard that each of the three bedrooms peers into. On the opposite side of the home from the garage, a covered patio the entire width of the design continues the straight, horizontal lines of the concept. Well hidden while viewing from the outside, the patio from an indoor perspective feels like an outdoor extension of an open-air design that was created long before it became a home design fad.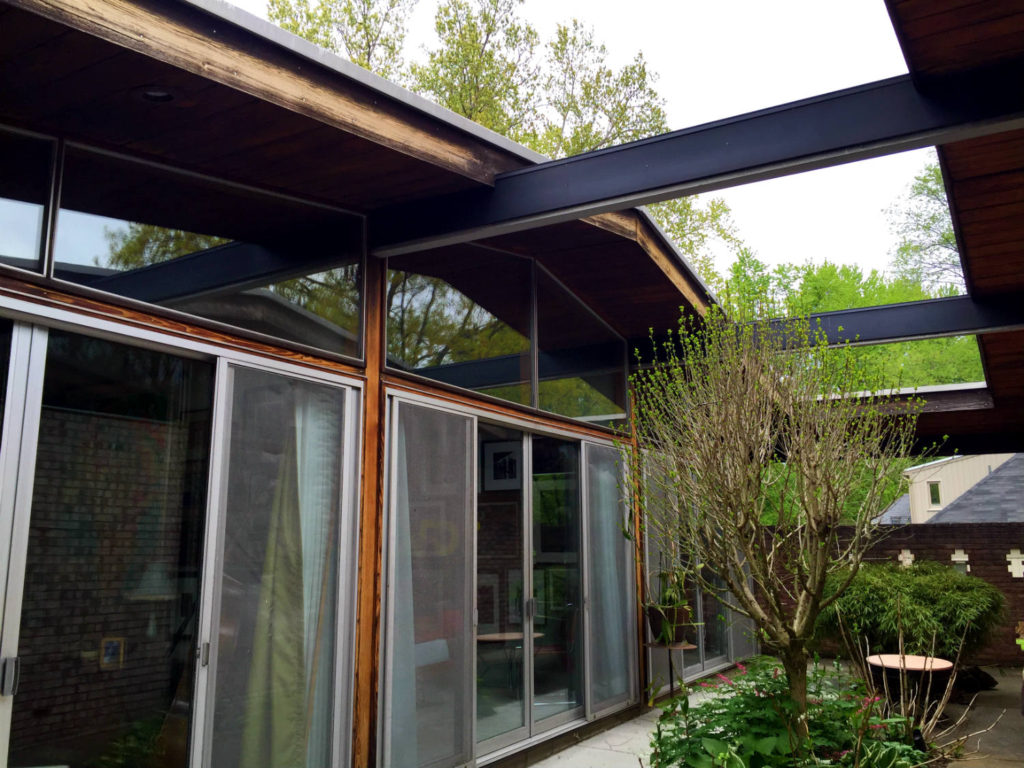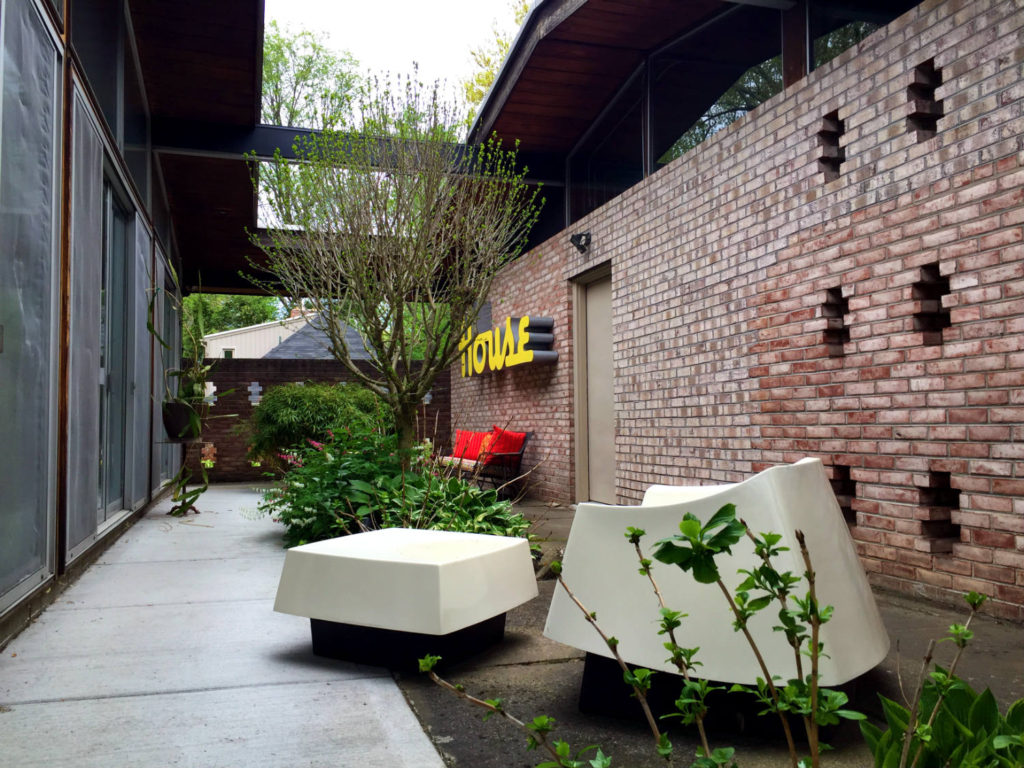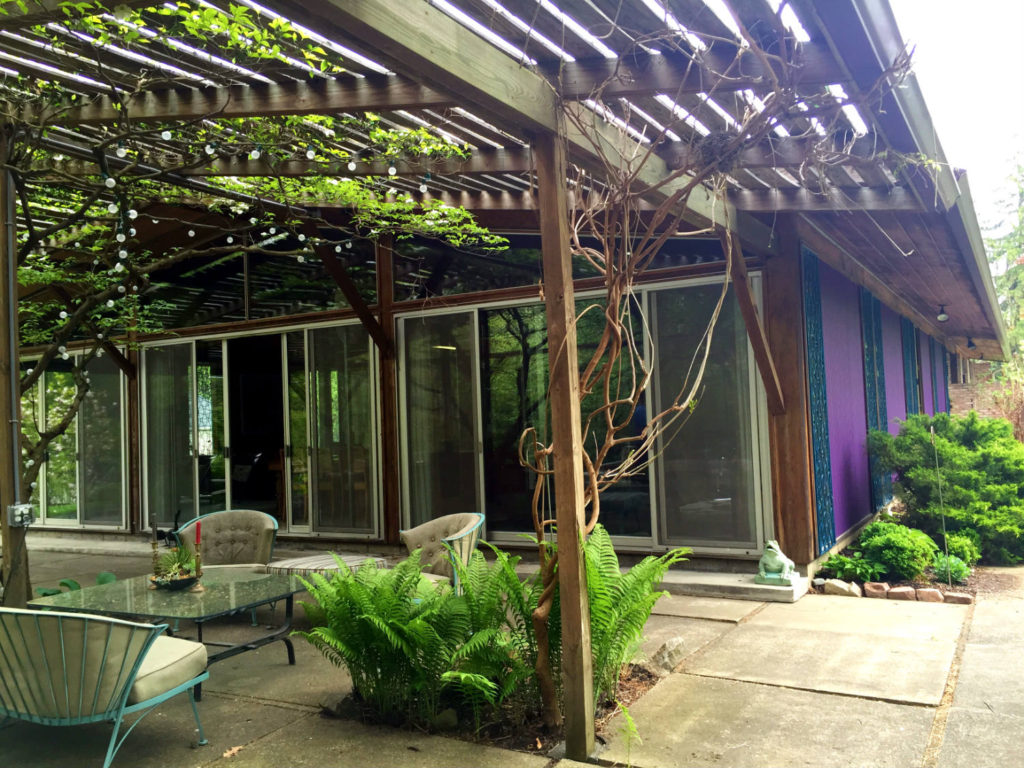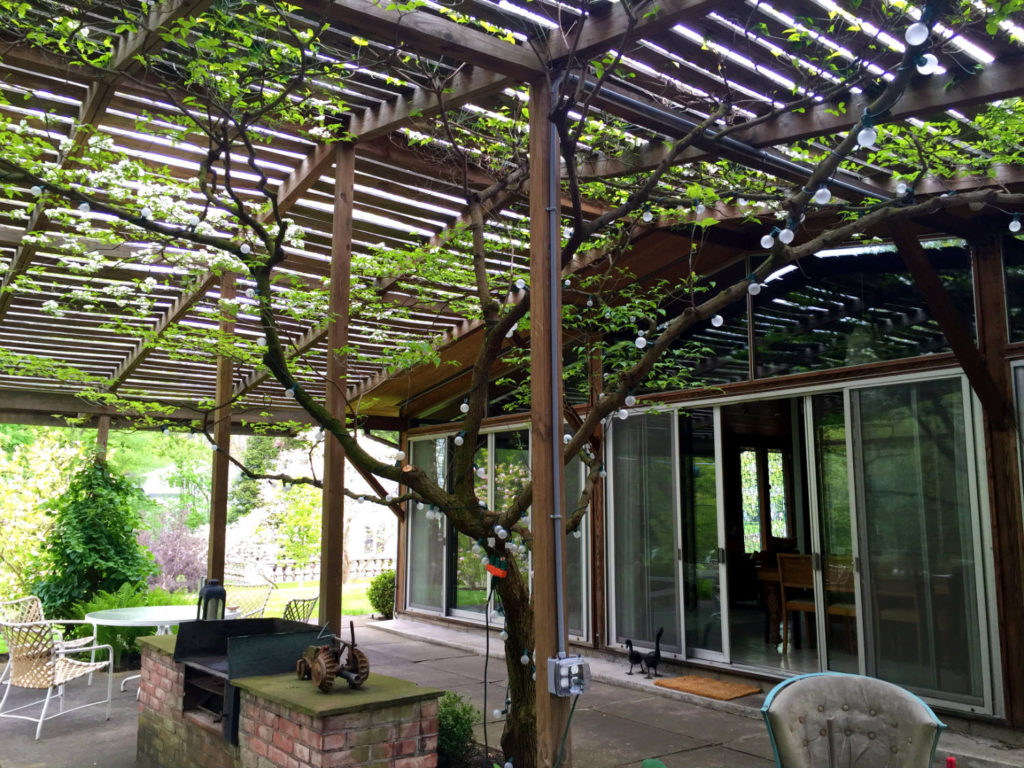 Interior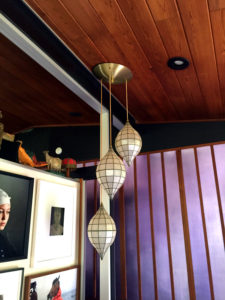 The 1,900 square foot interior is essentially divided into two halfs. On one end of the home, a meandering hallway divides three modest sized bedrooms that peer out into a courtyard through sliding aluminum glass doors from the two full bathrooms. Each of the bathrooms have been renovated by previous owners, but certain touches of modern technology like water-saving toilets with big chrome buttons in the wall have such an uncommon appearance that they feel right at home. The bedrooms look a tad smaller than what I'm used to, but with a peaked ceiling and walls that are lined with panels cleverly disguising doors, there is enough closet space to store everything you could ever possibly need to stow away.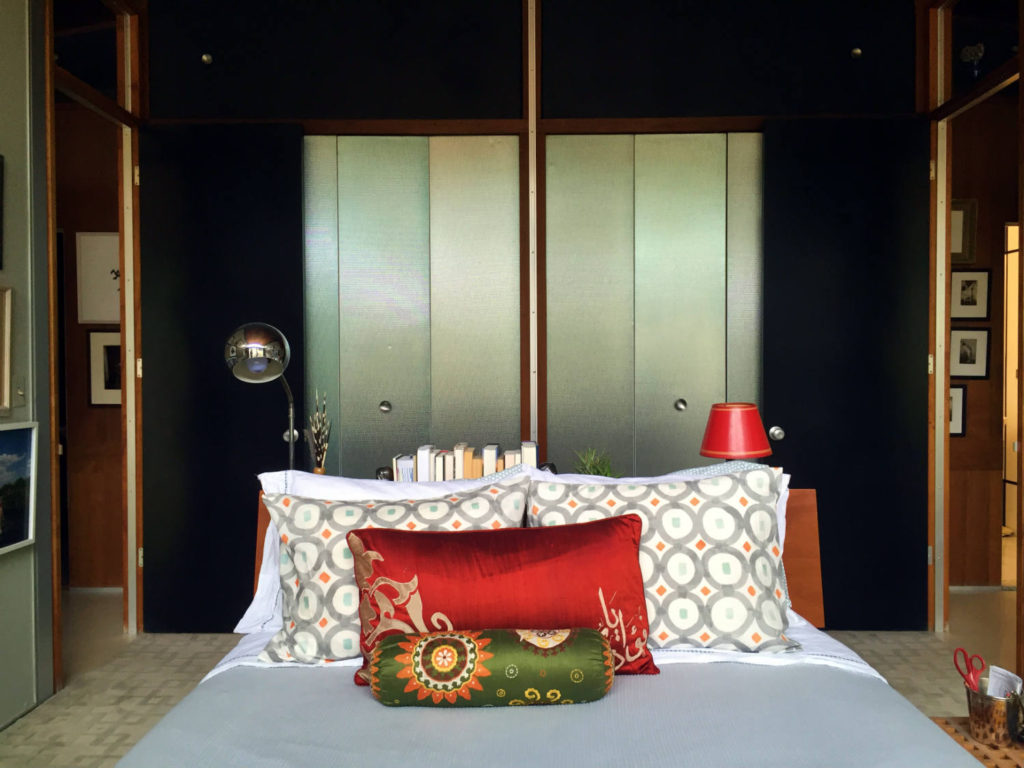 The other half of the home features an open floor plan with dining and living spaces circling a funky colored kitchen. Purple aluminum paneling lines the floor-to-ceiling dividing wall and hides the door to a finished basement. The entire west wall (which feels like the back of the house, but technically is the side) is a series of aluminum sliding glass doors that open up to a covered patio nearly the same size as the indoor living area.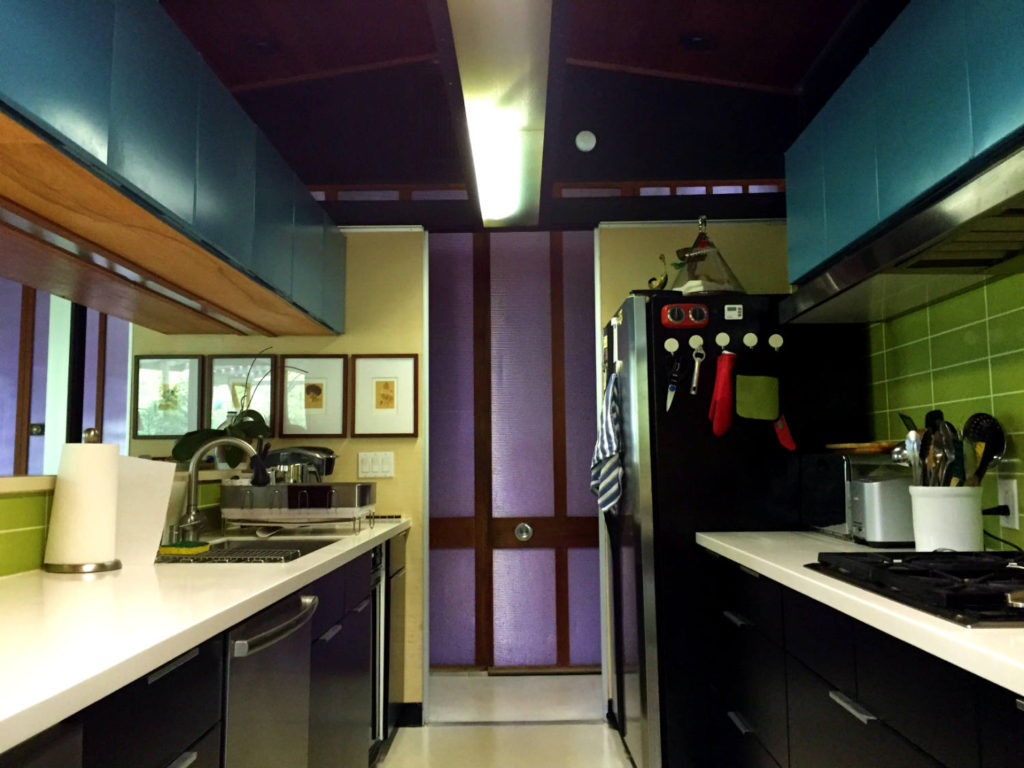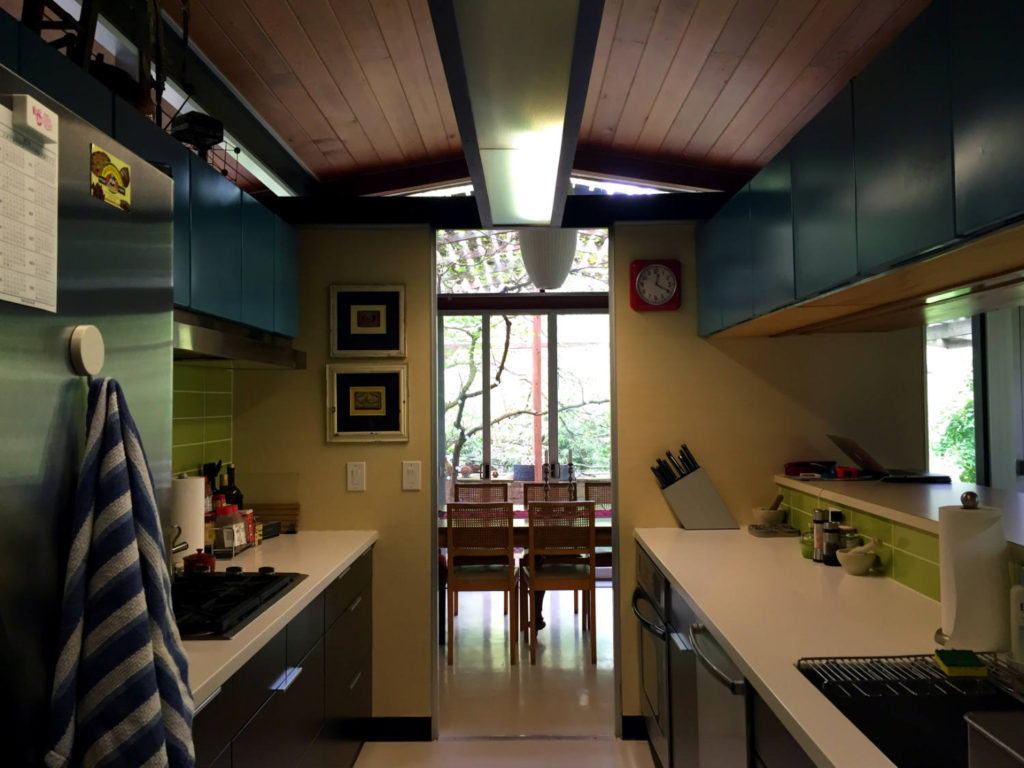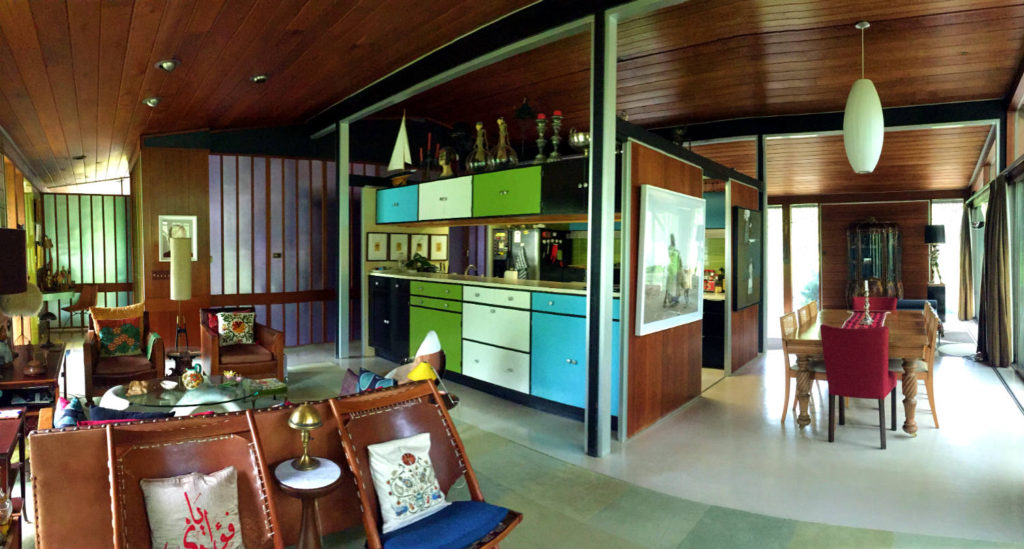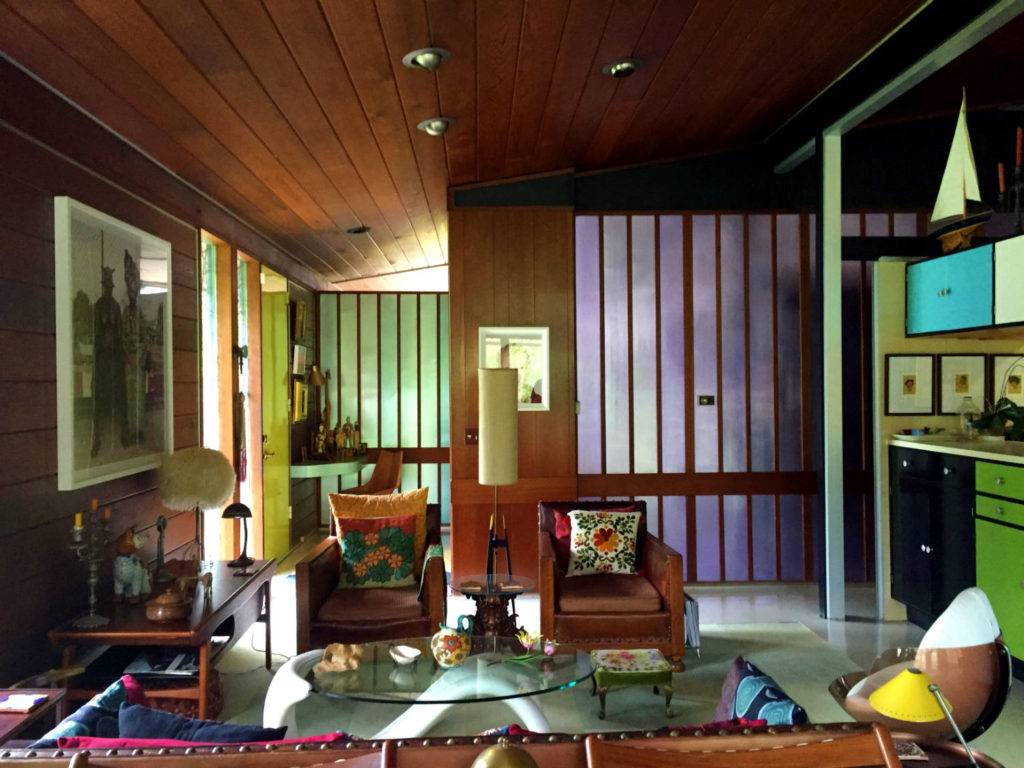 The home is registered on the national landmarks list, and while some changes have been made to the structure, each have been done in keeping with a mid-Century modern style in mind. The original design doesn't include furniture or artwork, so each owner has brought their own sense of style and decor to round out the aesthetic of the home.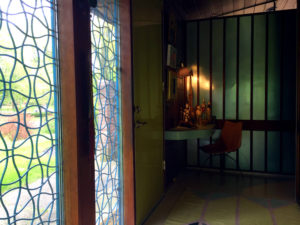 Alcoa's plans to enter the modular residential market didn't exactly pan out, and that's why there are so few of these homes in existence. Builders discovered that once they acquired the plans and began building, costs were far higher than Alcoa had originally anticipated. They were right about being care-free, but a bit off the mark in terms of affordability. To date, Alcoa has all but attempted to erase their foray into the residential home market from their company's history. Luckily, there are a few fine folks like Nigel who have fallen deeply in love with the eccentric colored designs and have become self-appointed guardians of Alcoa's Care Free Home history. In fact, this home in New York is possibly one of the best preserved and best documented histories of all the homes.
For more, you can visit the My Alcoa Care Free Home that Nigel created himself. It's essentially a digital museum and walk-through of the entire home with a detailed history dating back to the groundbreaking and even includes original paperwork! If you can't find info you're seeking on the Alcoa design on his website, then it doesn't exist.
Resources and Additional Reading
Alcoa Care Free Home on Wikipedia
Your 1957 Dream House Made Real on Coronare Modestus Faust website
Rochester Steven's 1957 Alcoa Aluminum House on Retro Renovation website
The History of Aluminum on Aluminum Association website
Production of Aluminum: The Hall Heroult Process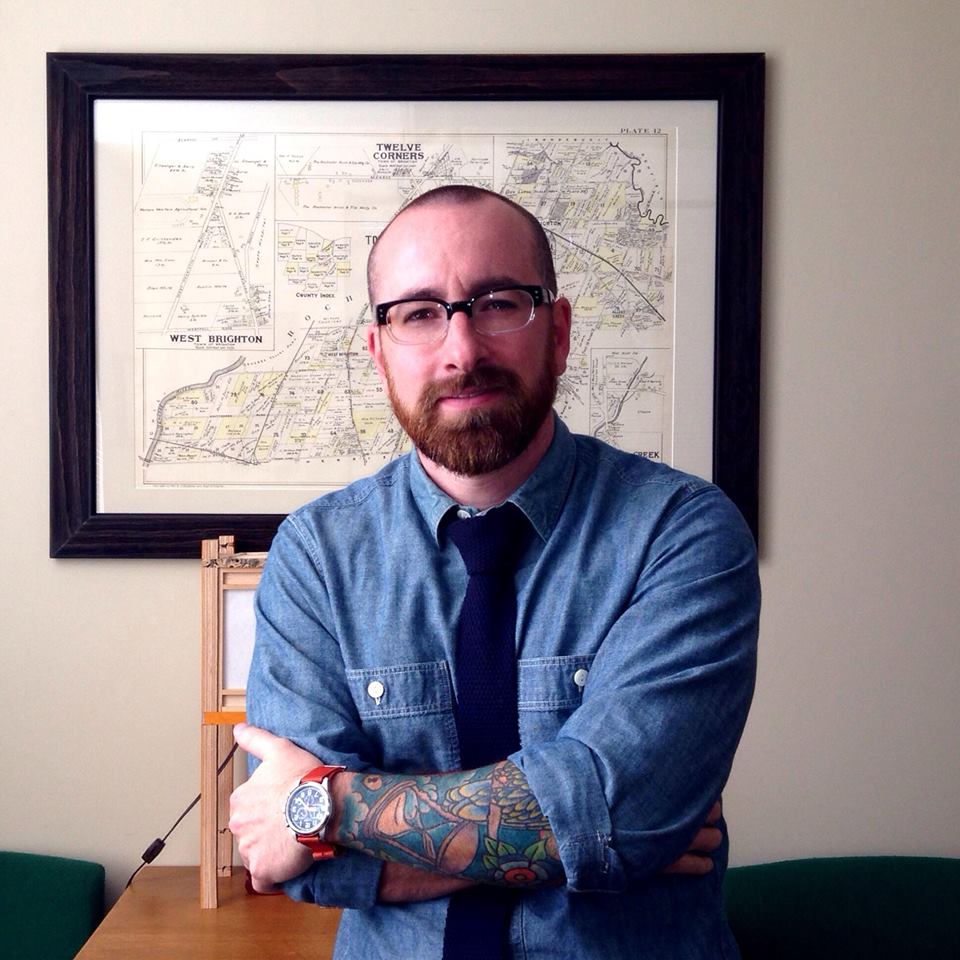 Chris Clemens is the Founder/Publisher of Exploring Upstate. From his hometown in Rochester, he spends as much time as possible connecting with the history, culture, and places that make Upstate New York a land of discovery. Follow him on Twitter at @cpclemens