The Pok-A-Dot is a greasy spoon style eatery in Batavia. Since opening in 1953, this little restaurant has become a mainstay in Western New York culture.
by Chris Clemens
An older, retired man walks in and sits at the counter in the next chair over.
He nods first at me and then to the waitress who is already sliding a cup of coffee along that she poured as he walked in. While sipping his coffee, he chats with another man for a couple minutes until a plate of eggs benedict lands in front of him.
The waitress says, "You did want that again, right?" and the look on his face turned to one that seemed a combination of confusion and surprise. He seemed to imply, "Well, what else would I want?"
Instead he said, "Yeah! It's my favorite!"
After a few minutes of eating and coffee, he got a bit more open to the idea of chatting with me. I asked how long he'd been coming to the Pok-A-Dot but he wasn't sure. Once a week for maybe a few decades he guessed.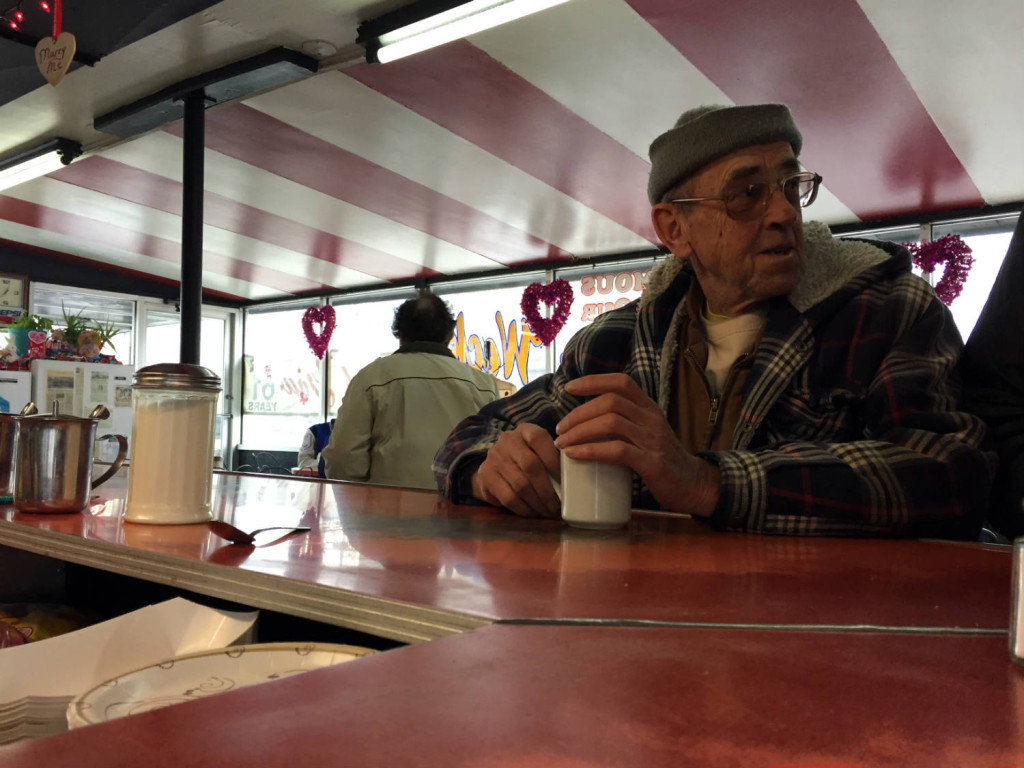 The more I dug into the history of the Pok-A-Dot, the more I found that nearly all the patrons were regulars just like this guy. Locals have been loyal to this Batavia spot for multiple generations. Even people who have moved away make it a point to visit while in town.
I asked my new friend what else was worth checking out in Batavia while I was there. With kind of an embarrassed grin he said, "This is it!"
Knowing of course that Batavia has some super interesting history, I knew he was being somewhat facetious. But clearly I was already sitting in his favorite spot in town. It seemed he couldn't imagine sending me someplace else.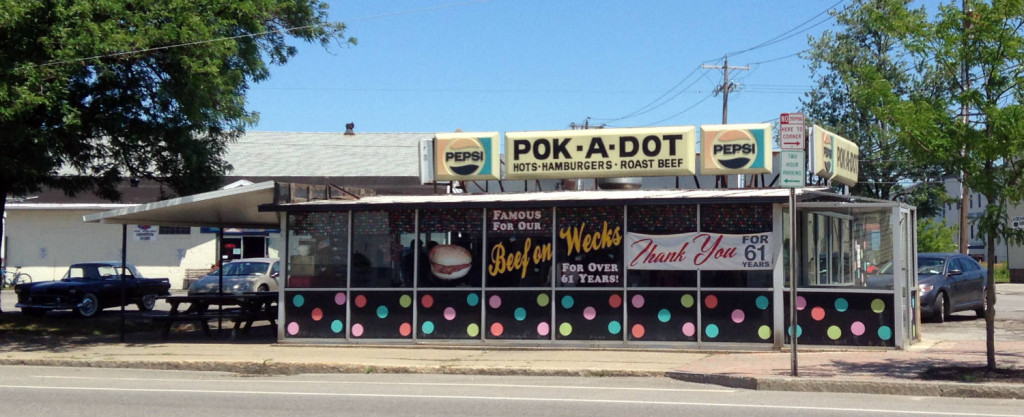 History Of The Pok-A-Dot
In April of 1953 two men took over the corner at Ellicott and Liberty Streets in Batavia. Clearing the corner of a bandstand, Joseph Marone and Philip Pastore laid the groundwork for a small 20 by 20 foot food stand. Ultimately their hard work on the corner would put Batavia on the culinary map.
Construction wrapped up on June 6 of the same year and they opened for business. Day one began by selling enough root beers, ice creams and hot dogs to fill their cigar box cash register. As time went on, other menu favorites were added like breakfast items and a family pasta fagioli recipe.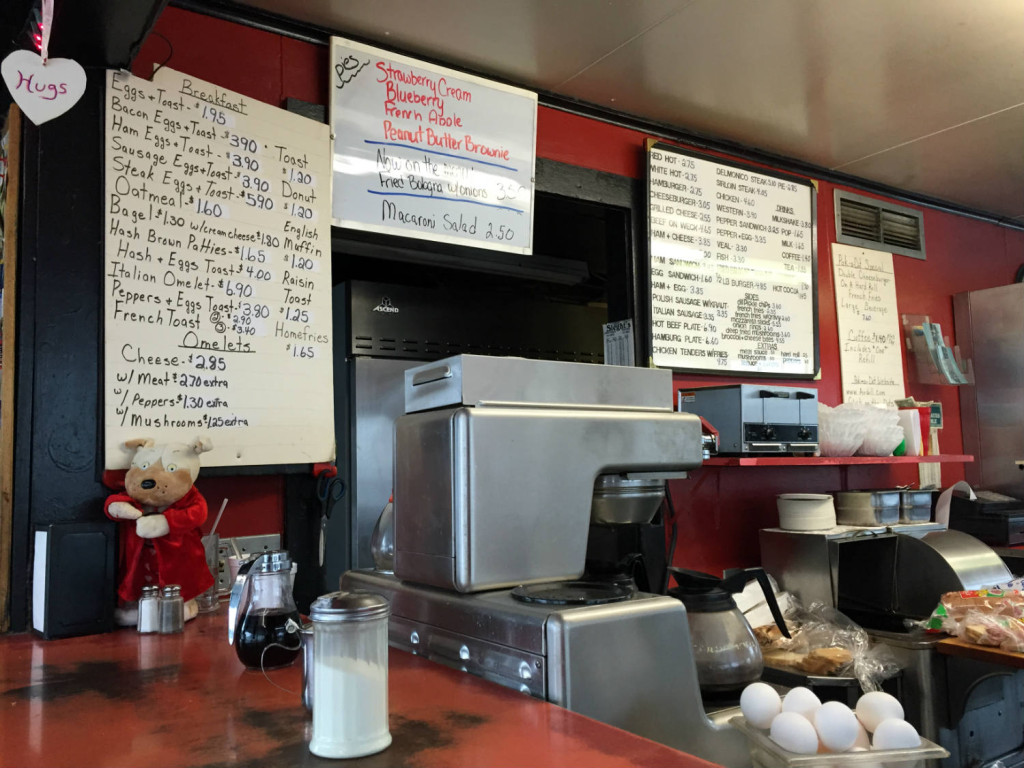 One menu item in particular is a Western New York favorite. Though its origins are in West Seneca, the Pok-A-Dot has become a famous mainstay in the Upstate selection of the popular sandwich.
Leona Pastore began making her "Beef On Weck" in the early days of the Pok-A-Dot. Her thin-sliced roast beef slowly cooked in au jus and served up on a hard kimmelweck roll has earned the eatery a reputation that would please even the most uncooperative of critics. I've been to the Pok-A-Dot a couple times now in my travels through the area and though I'm sure the rest of the menu is fantastic, I still can't bring myself to order anything else.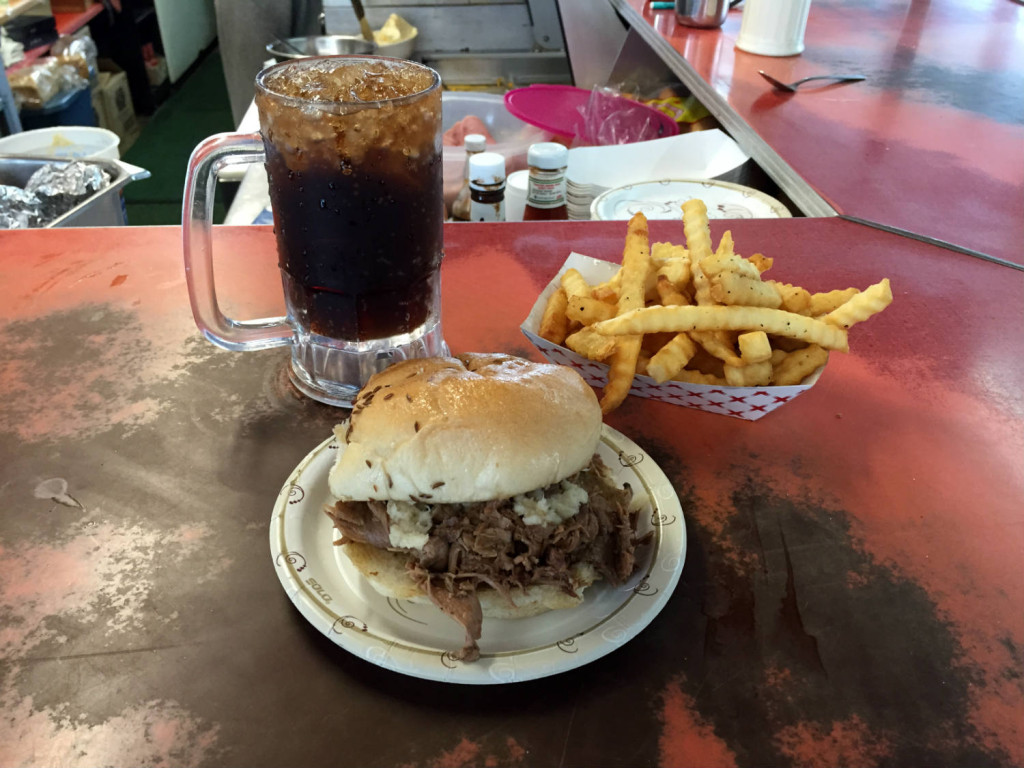 Quick rant: You can feel free to correct anyone or any menu that says "Beef On Wick" and remind them that you're not eating a candle–it's weck. And, if you really want to be a culinary-in-the-know, you'll spell the full name of the roll as kummelweck!
The Pok-A-Dot Family
While sitting and chatting in the diner on this visit it was easy for me to feel at home even though I wasn't a regular.
It became obvious that the Pok-A-Dot was known not just for iconic food, but as a meeting place for friends and family. It is a home. Generations of families were raised here at the very counter I was sitting at. They've sipped root beer from the same frosted mug I had in front of me.
Sarah Lidbom is a 3rd generation employee of the Pok-A-Dot. Just by briefly chatting with her through social media and emails I could tell by the way she told me about the history of the restaurant that it was a second home for her and now her non-native Upstate husband has become a convert as well. After a quick trip down memory lane, she offered to share some personal photos with you guys. I'm really grateful for these 'cause how cool is it to see her grandma working the grill 30 years ago??
Margaret and Joann working the grill! Photo Credit: Sarah Lidbom

Pictured sometimes in the mid-90's L to R: Delores Wandryk (former Manager), Joann (current Manager), Margaret and Joann's daughter working the grill–all smiles!!! Photo Credit: Sarah Lidbom

Delores Wandryk (Sarah's Grandmother) works the Pok-A-Dot Grill in the Early 1980's Photo Credit: Sarah Lidbom

Sarah Lidbom, 3rd Generation Pok-A-Dot employee grabbing some coffee in 2004 Photo Credit: Sarah Lidbom
A Batavia Icon
Celebrating their 61st year, the Pok-A-Dot has had a heck of a run.
Being featured on television shows, hosting a wedding onsite, being in international media reports, and having been owned the entire time by the same folks is a pretty incredible feat.
What's most interesting about sitting at the counter is the fact that the small-town, family owned feel is exactly what you'd expect from that kind of description. It's developed such a family-like following, that a local Batavian even put together an online photo album of the regulars–and there's hundreds of them! Checkout The Cyber-Pok-A-Dot and see if you recognize anyone.
Leaving A Legacy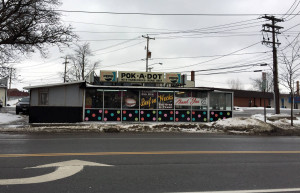 I want to dedicate this post to Joe "Trigger" Marone who passed away at the age of 90 on October 22, 2014. I'm grateful that he and Phil put their heads together on a project and created a culinary icon that is celebrated by so many for honoring great food and family.
How many other people have dedicated themselves to owning and working at the same spot they created for 60 years??
Though I never met him, having the opportunity to sit at his counter is one I'm grateful for. You should make it a point to get to the Pok-A-Dot even if it means a road trip strictly for the sake of getting a Beef on Weck with a root beer in a frosted mug.
You can sit right at his counter and hold up your frosty mug in honor of his memory and the dedication of the Batavians who have made the Pok-A-Dot an Western New York must-visit mainstay.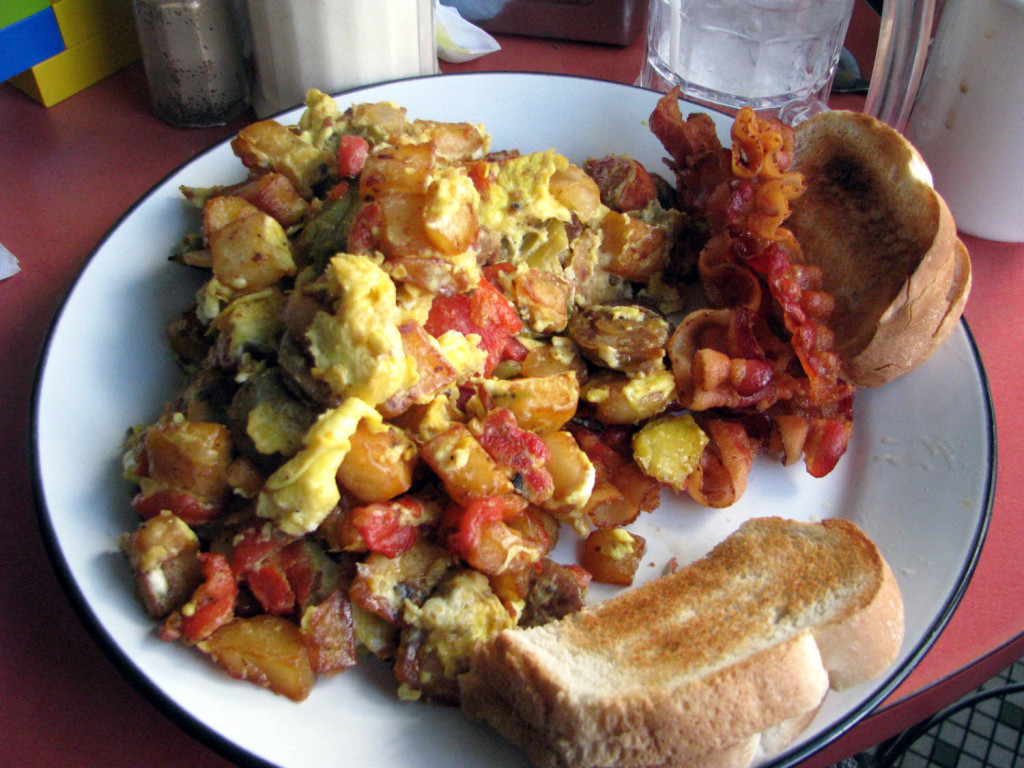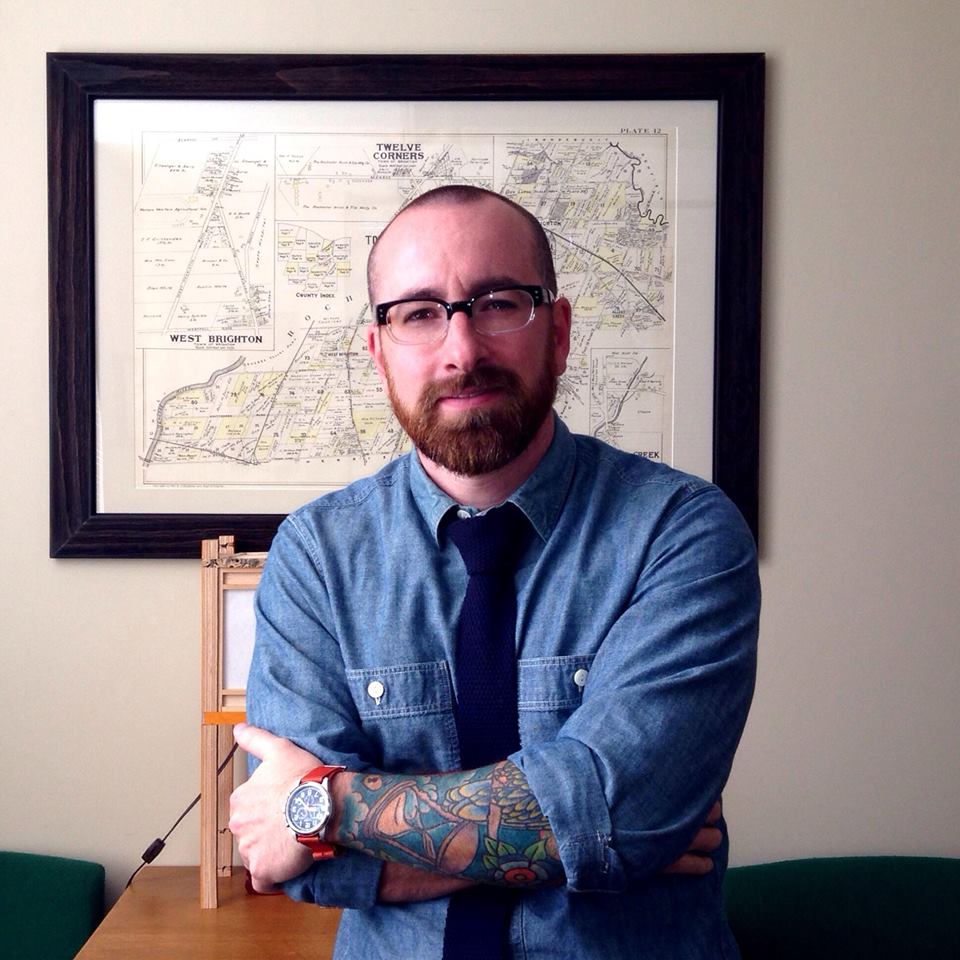 Chris Clemens is the Founder/Publisher of Exploring Upstate. From his hometown in Rochester, he spends as much time as possible connecting with the history, culture, and places that make Upstate New York a land of discovery. Follow him on Twitter at @cpclemens