Lower Falls in Rochester is a 110 foot waterfall on the Genesee River. It's 276 feet wide and in a U-shape and is the northernmost waterfall on the river. At the base of the falls is a grotto known to explorers as Lower Falls Cave or sometimes "Rico Cave".
by Chris Clemens
The Genesee River is one of only 33 in the entire world that flow North. At 144 miles long, it has a bunch of waterfalls that are pretty impressive.
In fact, the Senecas who once lived in the region referred to the Genesee River as "Casconchiagon" translating to "River of Falls".
Rochester has three naturally occurring sets, which is unique for a downtown. Though High Falls is aptly named, its 96 foot height makes it slightly shorter than Lower Falls to its north. Lower Falls drops water 110 feet down its 276 foot U-shaped span. Middle Falls lies between the two just South of Lower Falls and has a dam attached to it. At only 20 feet tall, Middle Falls doesn't get quite as much attention.
Lower Falls
Like much of the Genesee River in Rochester, Lower Falls was a favorite place for early settlers to build mills. The water current at this point on the river was able to generate a lot of power for grinding flour.
All that water coming through could turn large turbines (or, water wheels) which would easily power the turning of millstones. In turn those would grind up grain. The flour industry formed at these millsites create the industrial powerhouse that Rochester used to be. As you've probably guessed, that's how Rochester became known as "the Flour City".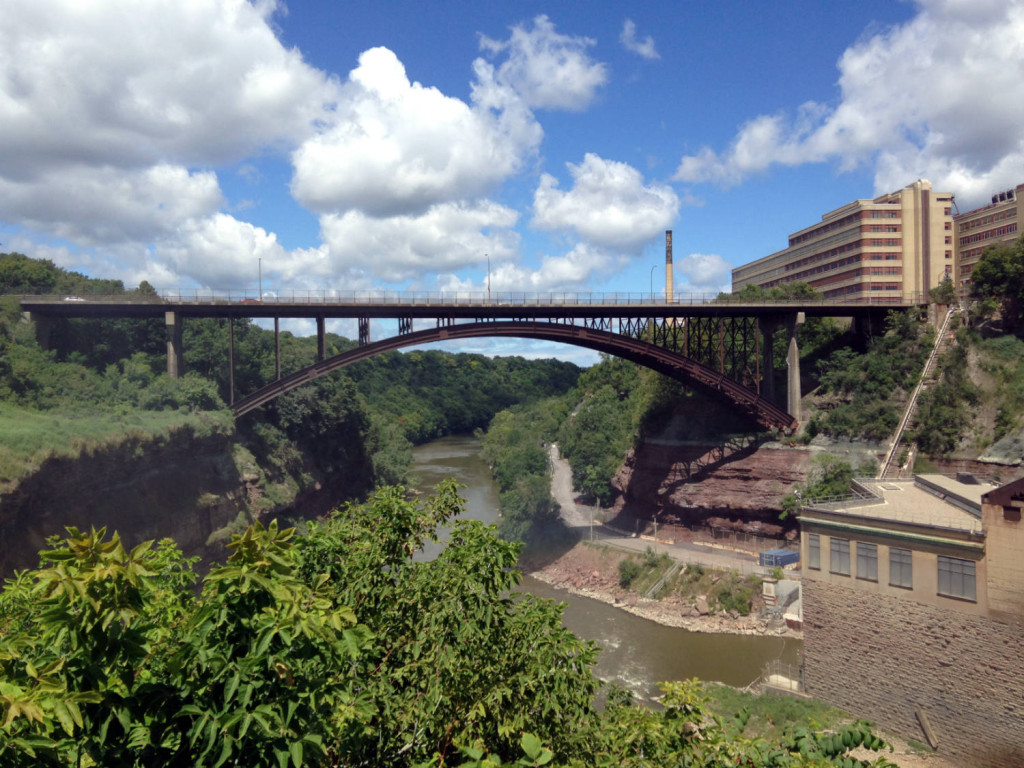 Things look much different now, but at one time the gorge was home to a lot of industrial buildings using water power. Today Rochester Gas and Electric has a station positioned on the east side of the gorge. On the west side is the historic Maplewood Park and Rose Garden, a public use park designed by Frederick Law Olmstead.
Maplewood Rose Garden Access
Parking in the Maplewood Rose Garden will grant you access to a few walkways. Each of these will give you a decent view of both Lower and Middle Falls.
A sidewalk leading toward the gorge will descend a few steps and turn a sharp right to go under the Driving Park Bridge. That will continue into what is "Lower Falls Park". From above, there are plenty of impressive views available of Lower Falls. This is a great little park to take a quick walk in!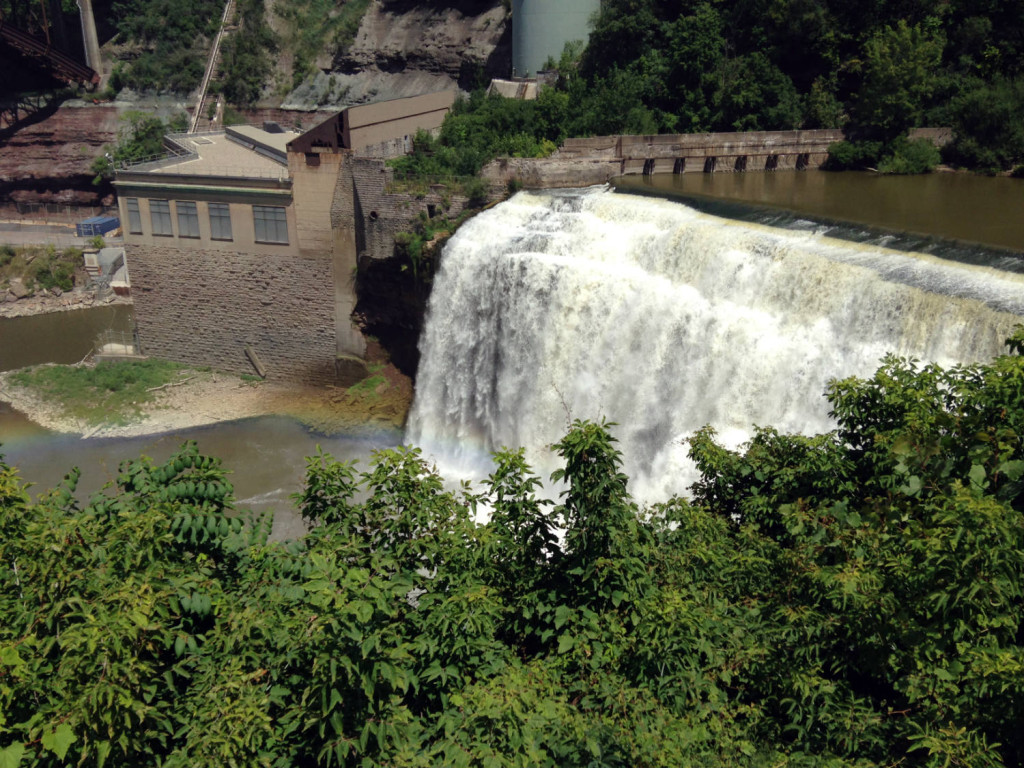 But those views become even more impressive from "Rico Cave"–a grotto at the base of the Lower Falls.
DISCLAIMER: I DO NOT IN ANY WAY RECOMMEND GOING INTO THE GORGE OR TO THE BASE OF THE FALLS. IT'S INCREDIBLY DANGEROUS AND NOT AN EASY DESCENT.
The safety of the exploration becomes even more troublesome when the dam at Middle Falls opens up. When that let's water through, the water levels of the river and rise rapidly. An alarm sounds to warn of the impending rush, but many people have died after being swept off. Rescue teams regularly have to get people out of the gorge.
Finding The Base Of Lower Falls
That being said, I went. In fact, even fell for part of the descent which made that stretch of the path go slightly faster. If you descend those steps from Maplewood Rose Garden you'll see the railings have been bent to create an opening. On the other side of that opening is an unofficial path.
A barely identifiable trail starts at this point and descends the entire wall of the gorge and down to the river. My friend Luke and I grabbed our photo gear and went for an adventure that had us in smiles the entire time.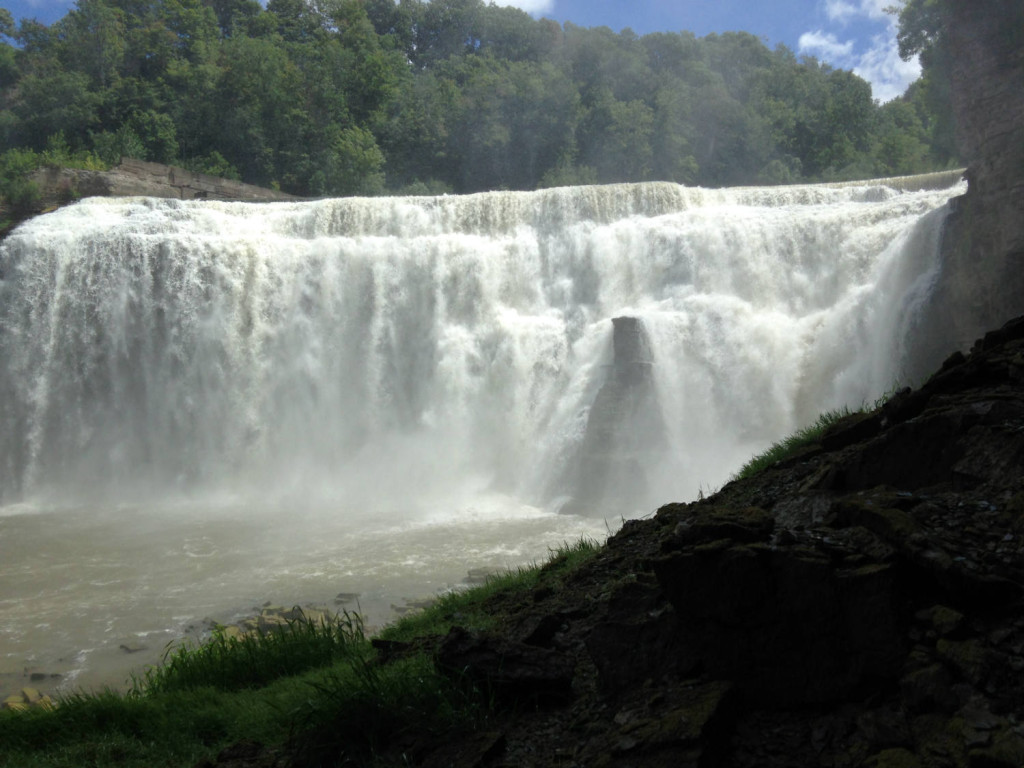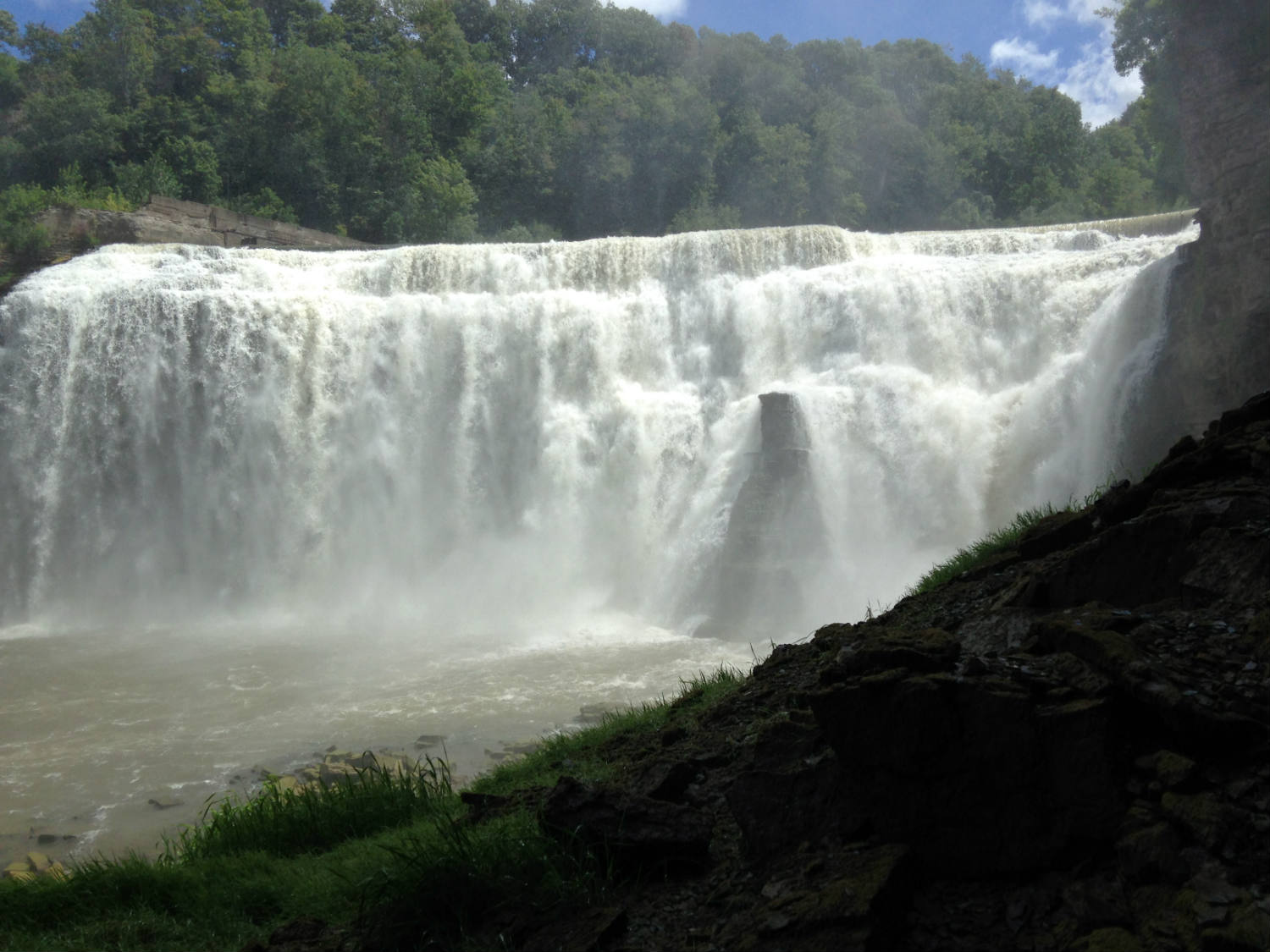 The gorge is often filled with anglers searching for the perfect cast. For those capable of getting there, it's known to be a heck of a fishing hole. On the day I went, there was even two people in head-to-toe rain gear. They had managed to get up so close they were standing right at the base of the falls.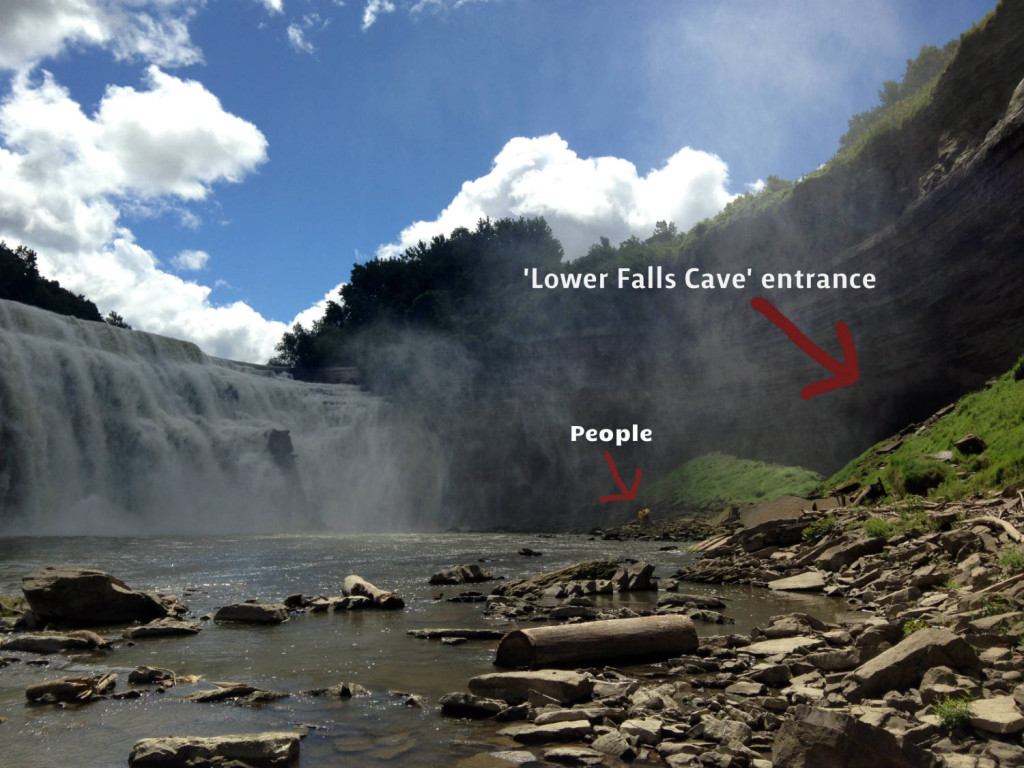 Being up close while countless gallons of Genesee River water pour over the edge of a surreal set of falls is an experience unlike any other I've had. Walking along the river's edge to get closer access gets tougher and tougher with the closer you get to the falls.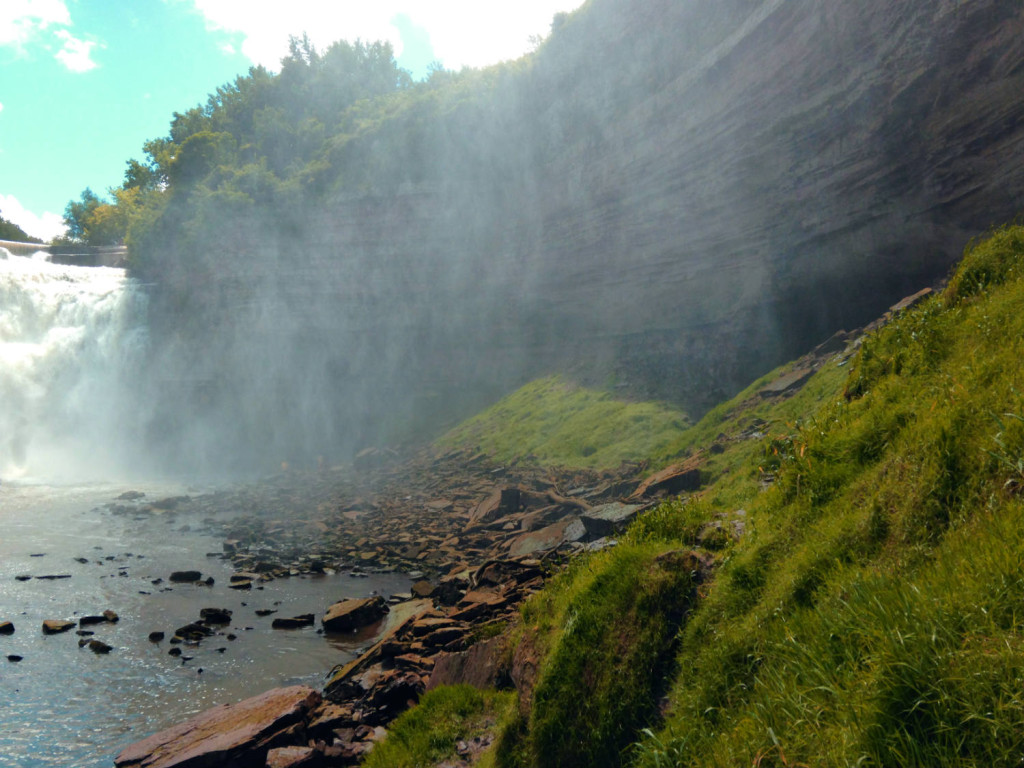 Because the spray is so strong, not only is visibility really low, but everything is soaked and the rocks are covered in a constantly wet slimy moss. But, we were there to find this elusive 'Rico Cave' that I had read about so we kept our footing strong and kept going.
Lower Falls Cave
A man-made 'cave' at the base of the falls on the west wall of the gorge is nearly invisible until you're just upon the opening.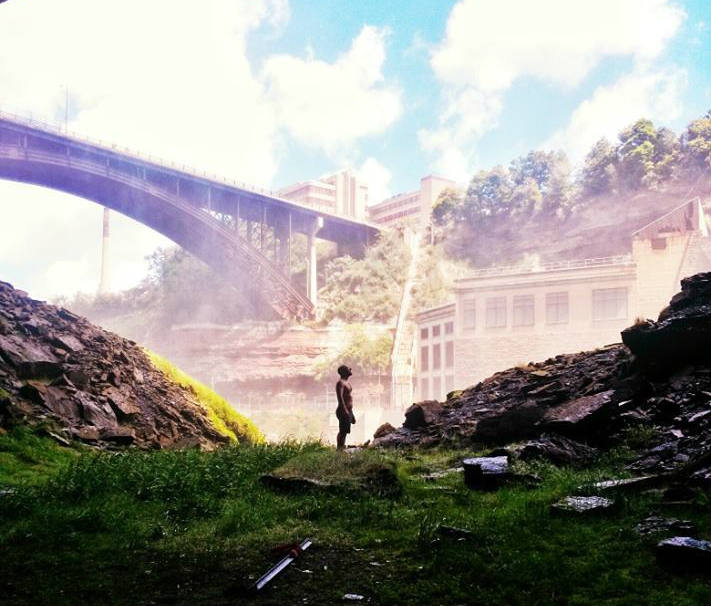 It's not a naturally occurring cave at all, an opening at the top indicates its intended purposes as a water management system. A Puerto Rican flag has been spray-painted on the wall and supposedly helped earn the spot its 'Rico Cave' moniker. Finding info to back that up has been difficult though. I believe it's more widely known simply as "Lower Falls Cave".
While I consider myself pretty adventurous, getting to the gorge in the summer months was not an easy walk. I've always wanted to go during the frozen months but my courage has given way to mom's warnings to be safe in all I do.
Lower Falls Cave In Winter
Luckily, there's a few people in Rochester who are much more brazen than I, like Steve Carter, who is the founder of a grassroots movement called 'Explore Rochester'. Currently an Instagram movement, you can follow the @ExploreRochester account and share your own adventures with the #ExploreRochester hashtag.
Steve was kind enough to share the following wintertime photos of the gorge and cave with you guys while I sit warmly in my house sipping hot coffee writing this post.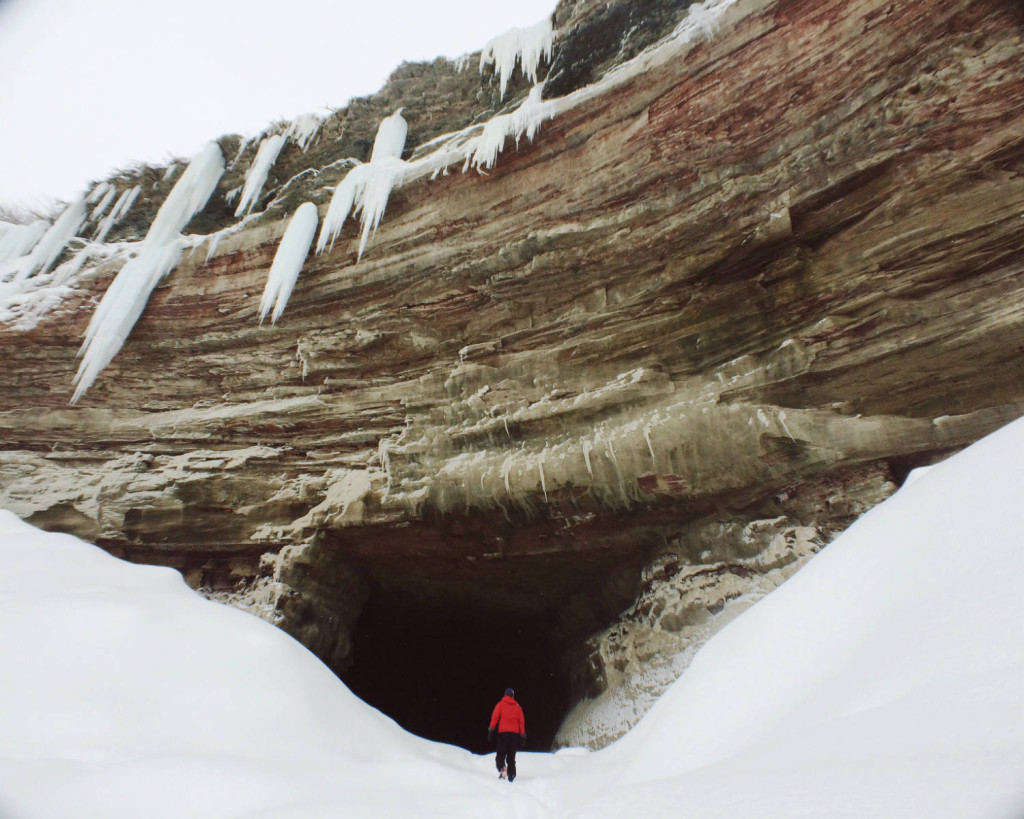 Resources and Additional Reading
Lower and Middle Genesee Falls on the NYFalls website
High Falls and Lower Falls on CNYHiking website
RG&E Hydro Tunnel (includes technical diagrams and photos of construction)
---
GIVEAWAY CONTEST
Now, on to more important stuff. The kind folks at KeySmart are offering Exploring Upstate's readers a FREE KeySmart!!!! You'll win a standard sized KeySmart of your color choice and one expansion pack. I've been using mine for over a month now and love having them arranged Swiss-Army-Knife-Style instead of flailing around. Contest runs through Friday, February 20th at 8:00pm. To win your own KeySmart, enter below!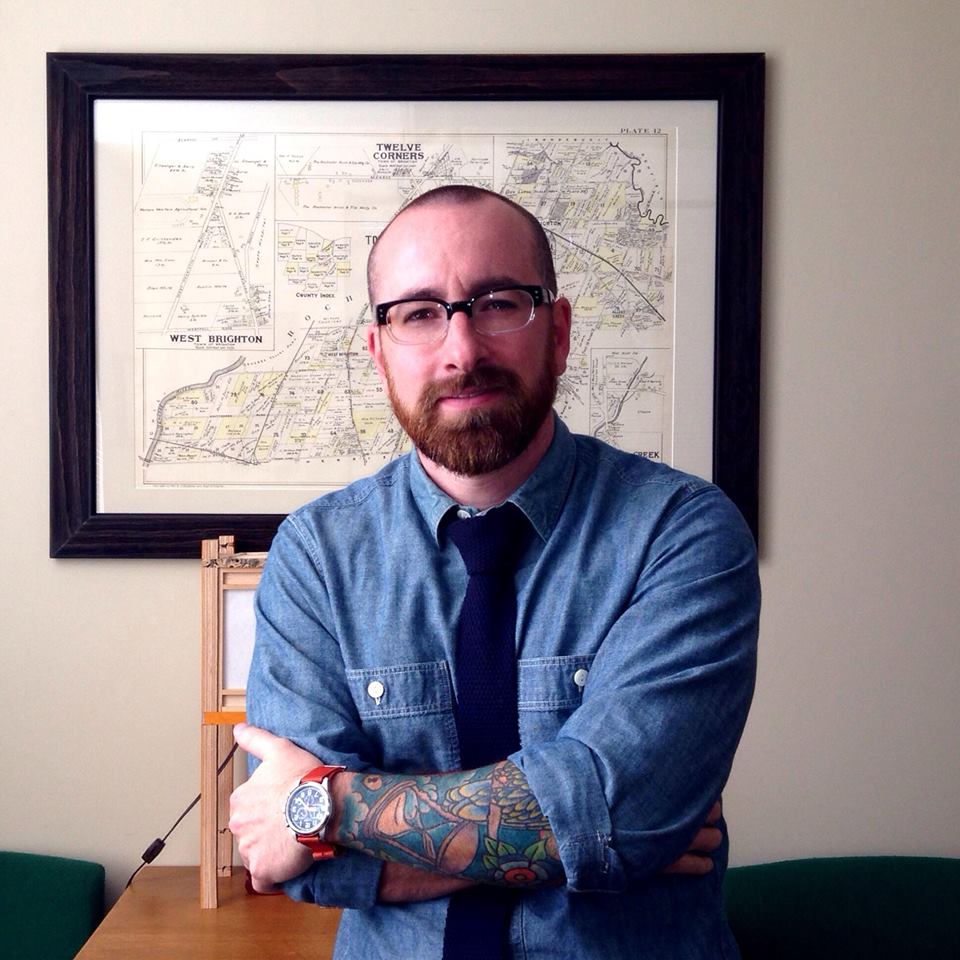 Chris Clemens is the Founder/Publisher of Exploring Upstate. From his hometown in Rochester, he spends as much time as possible connecting with the history, culture, and places that make Upstate New York a land of discovery. Follow him on Twitter at @cpclemens