by Chris Clemens
On the rural back roads of Henrietta, on the south end of Monroe County, you'll mostly encounter fields and long stretches of land. There are plenty of houses, and plenty of tract developments with more in the works. On one particular stretch, set back off Martin Road, you'll pass a red and golden temple that appears it belongs in photos from your trip to Thailand. The temple is the Wat Pa Lao Buddhadham, and home to a local Laotian community.
At one time, much of my travel writing about Upstate New York was specific to religious and spiritual places. Back in 2012 I visited Wat Pa Lao Buddhadham after arranging a tour in advance. Admittedly, I left wishing I had an opportunity to learn and experience more. I think it's difficult to balance being a "tourist" while also composing a respectful approach to the experience. At the same time, it takes courage and trust for a community to welcome an outsider into their safe place.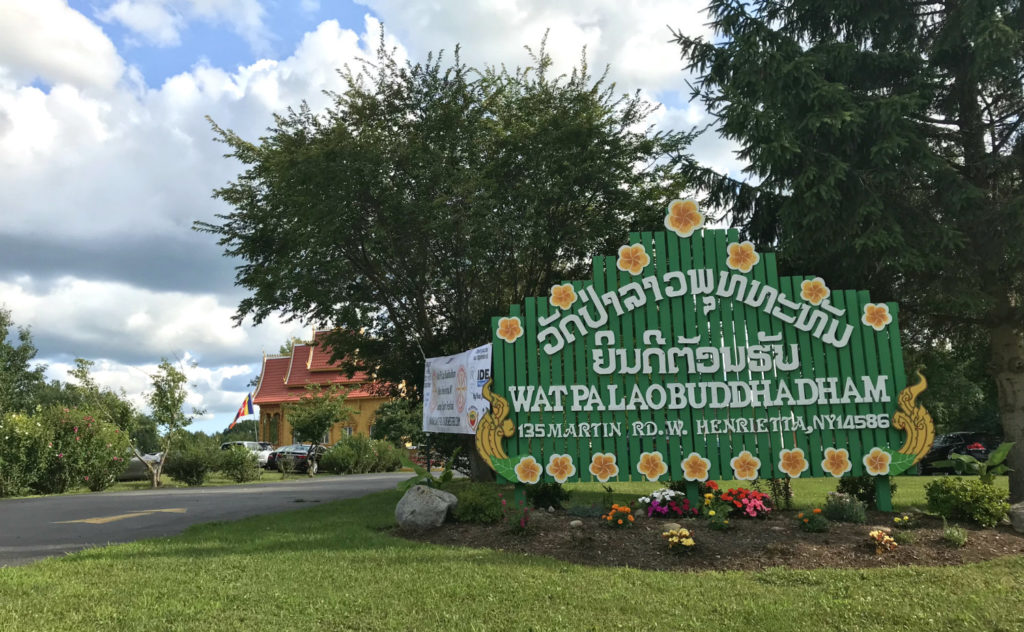 Now, maybe more than ever, I think it's important for each of us to experience new things. To see new places. Meet new people. Eat brand new food. Learn new things about our neighbors in other countries, and in our own back yard. In fact, I truly believe it's the only the way we're going to survive as a planet.
The new generation of leadership at Wat Pa Lao Buddhadham has been feeling similarly. They've been focused on wanting others to know they're a community where all are welcome. Knowing I had written about wishing to experience more, I got an email from a board member inviting me to their festival on July 28th.
I cancelled the other plans I had for the day and set out with my pal Dennis to revisit the Wat Pa Lao Buddhadham.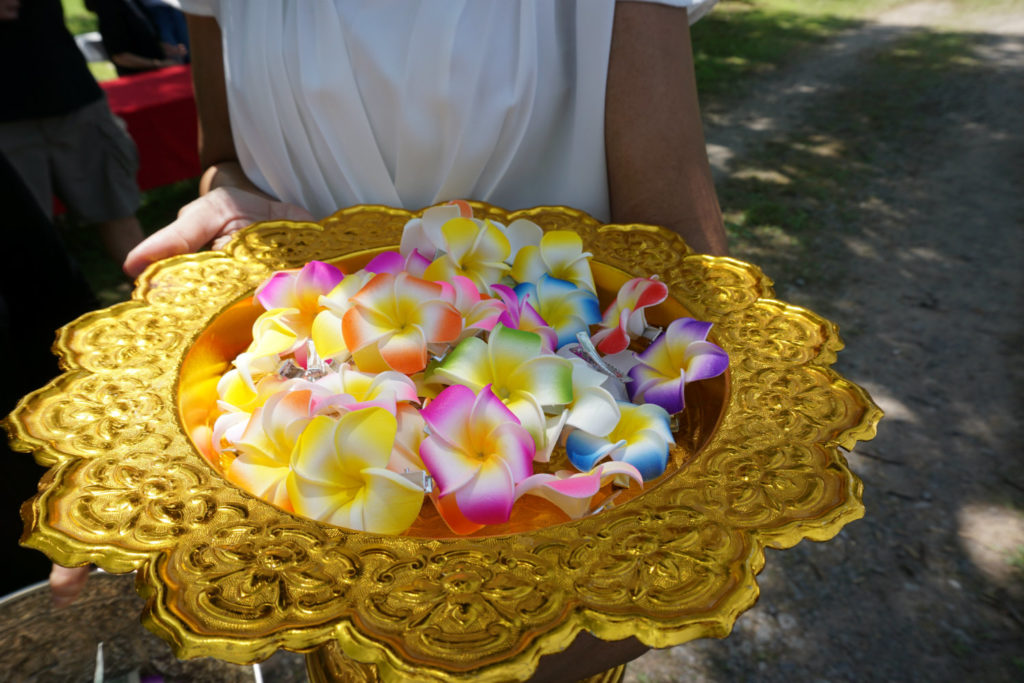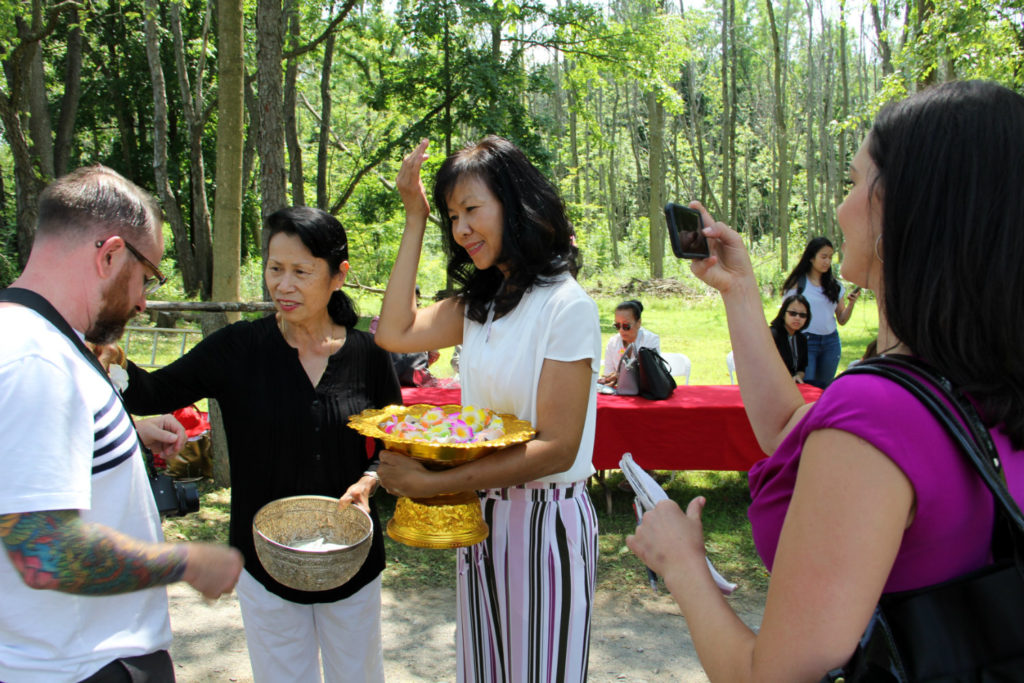 Wat Pa Lao Buddhadham Comes to Town
The local Laotian community has called this land in Henrietta home since 1999. There are four monks who live on site in a house. Then, there is the temple that you see from Martin Road, and various buildings around the property. Among the 60 acres there are smaller shrines and spirit houses surrounded by a lot of nature.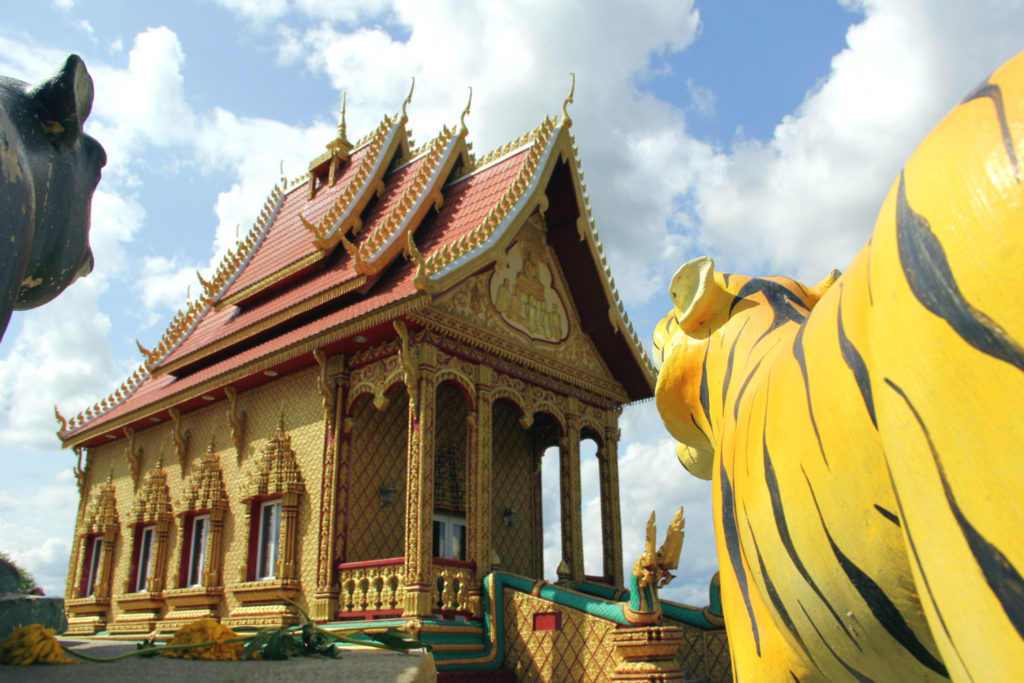 For Laotians, Buddhism is commonly blended with Animism, which is the idea that all things possess a spirit to be revered. Animism differs slightly from other beliefs because even non-sentient, inanimate objects are part of the spiritual realm. While Buddhism could be considered the religious belief here, there is a cultural component that can't be separated. If you look closely, you'll find evidence for this all around the grounds. The property is a collection of spiritual iconography, nature, and a modern design with various works-in-progress scattered about.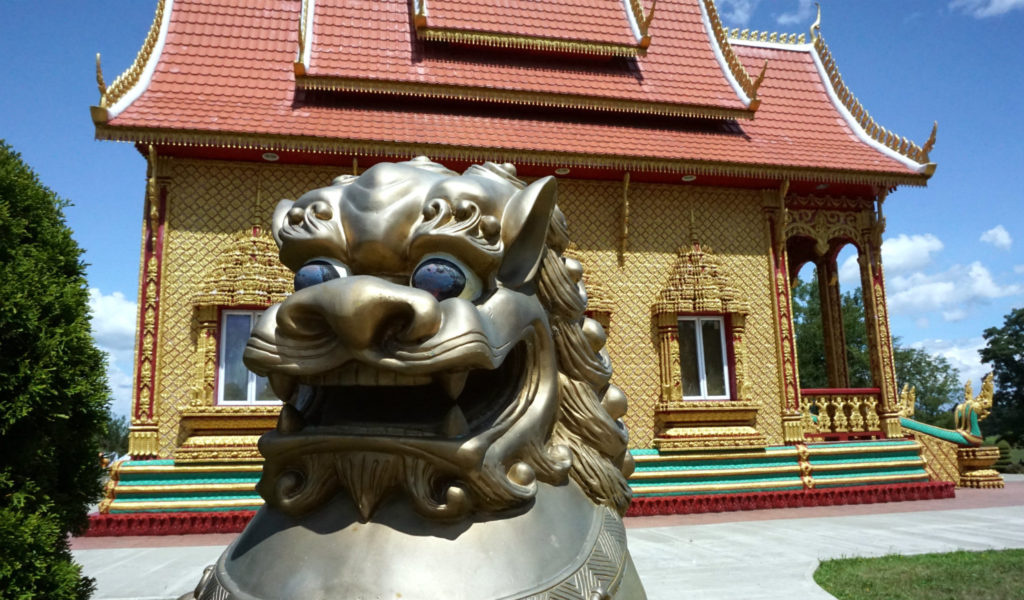 Experiencing the Festival
Like many cultural festivals, the annual party at Wat Pa Lao Buddhadham features live music, traditional food, and vendors. It's an opportunity for the community to celebrate heritage, culture, and to let loose for a day. It's also one of their bigger fundraisers during the year.




With preparation months in advance, the community prepares a huge spread of traditional food. We had an outstanding Pho (pronounced "Fuh"), Laotian beef jerky sprinkled with sesame seeds, and fresh spring rolls. That was all washed down with a traditional iced coffee, made by blending a cold coffee with condensed milk for a bold, but sweet iced drink. There was larb, papaya salad (made with fermented seafood), and Khao Lam. There are fried bananas, boba tea, and an endless assortment of food ranging from the familiar to the adventurous.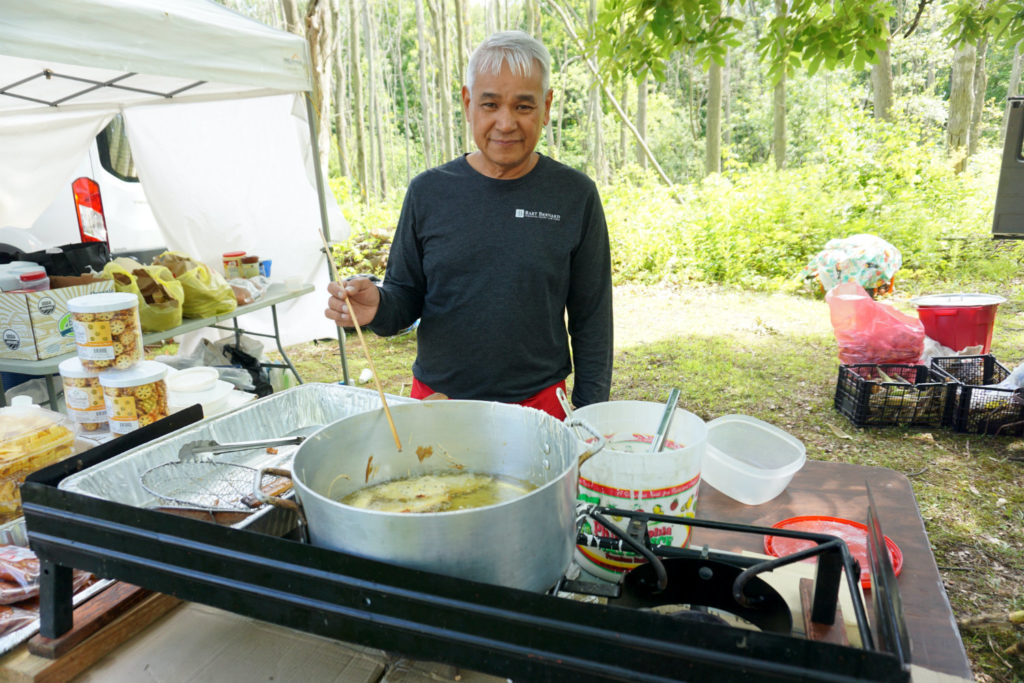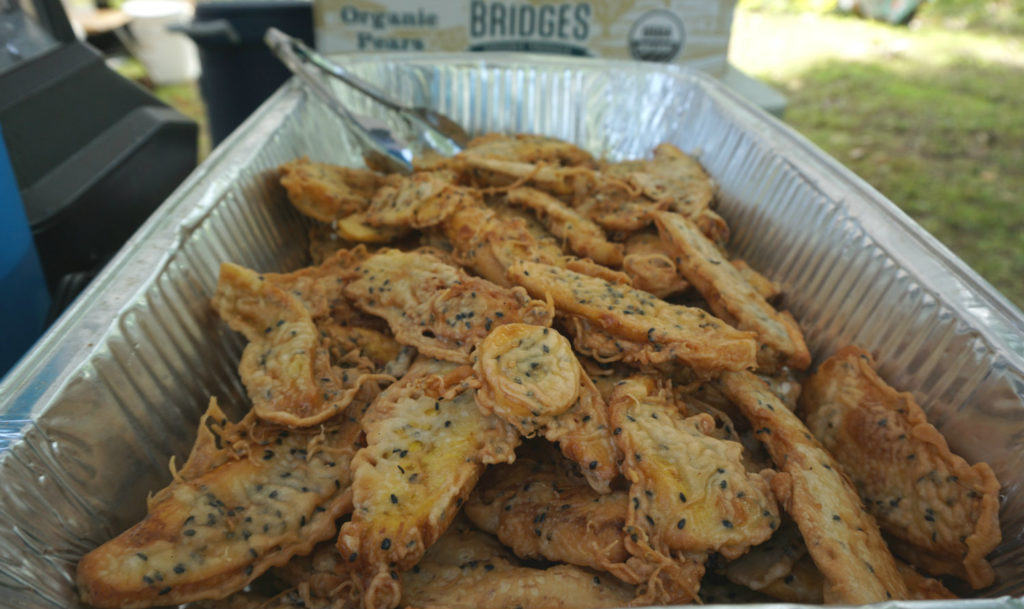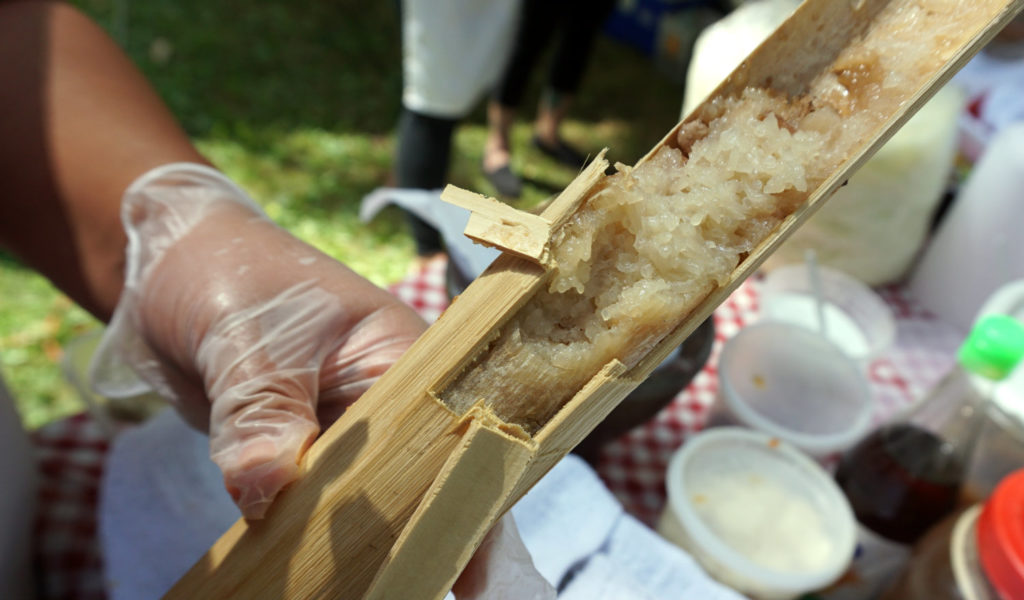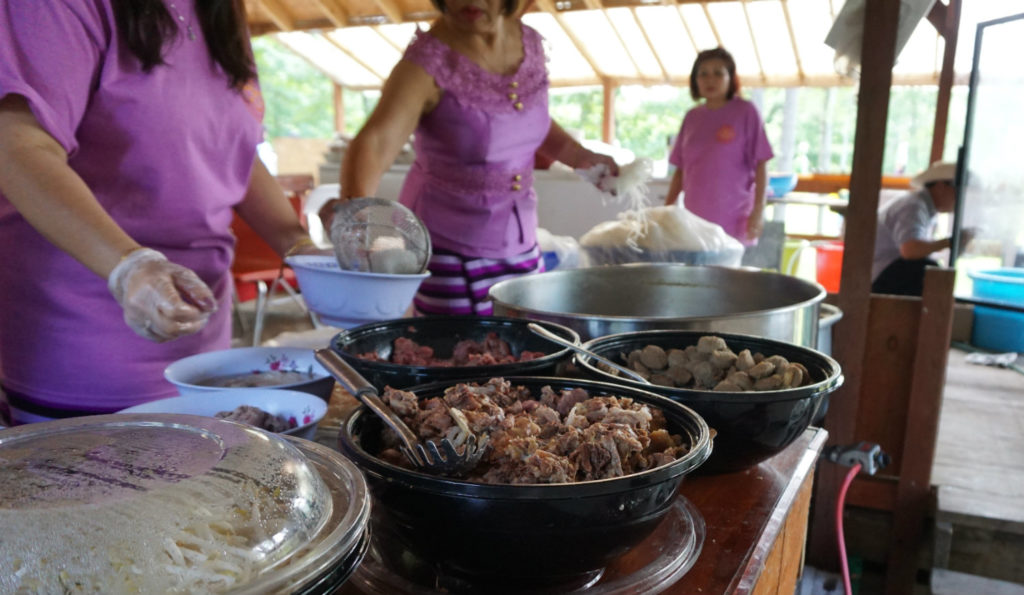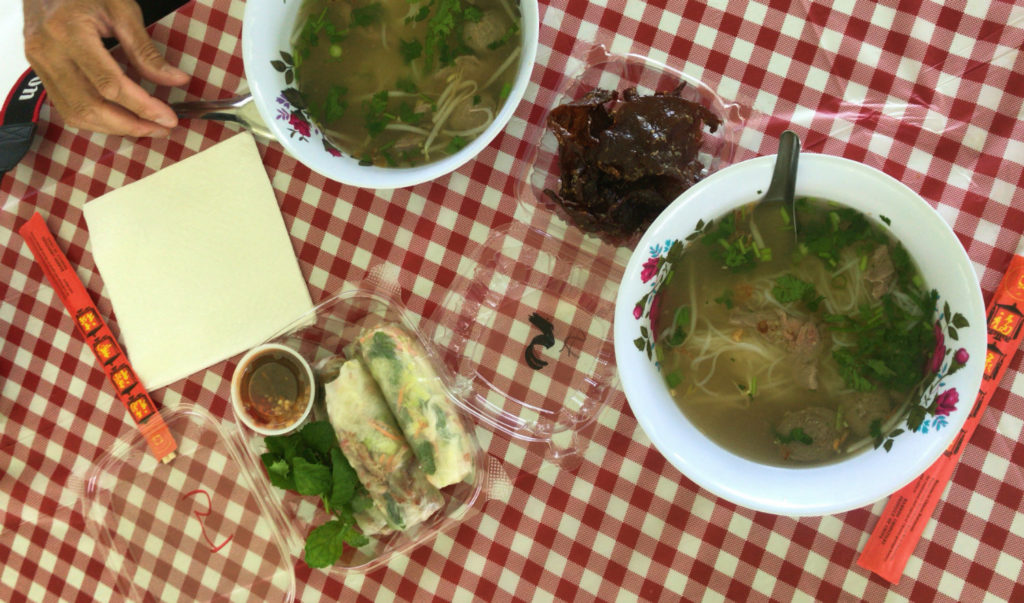 The festival takes place in an area just beyond the temple, as monks don't partake in activities like drinking or dancing. It was interesting to pass back and forth from festival area, to sacred area, and feel the emotion change. While a live band played through loudspeakers as people danced and carried on, monks, nuns and volunteers were preparing an offering back near the temple.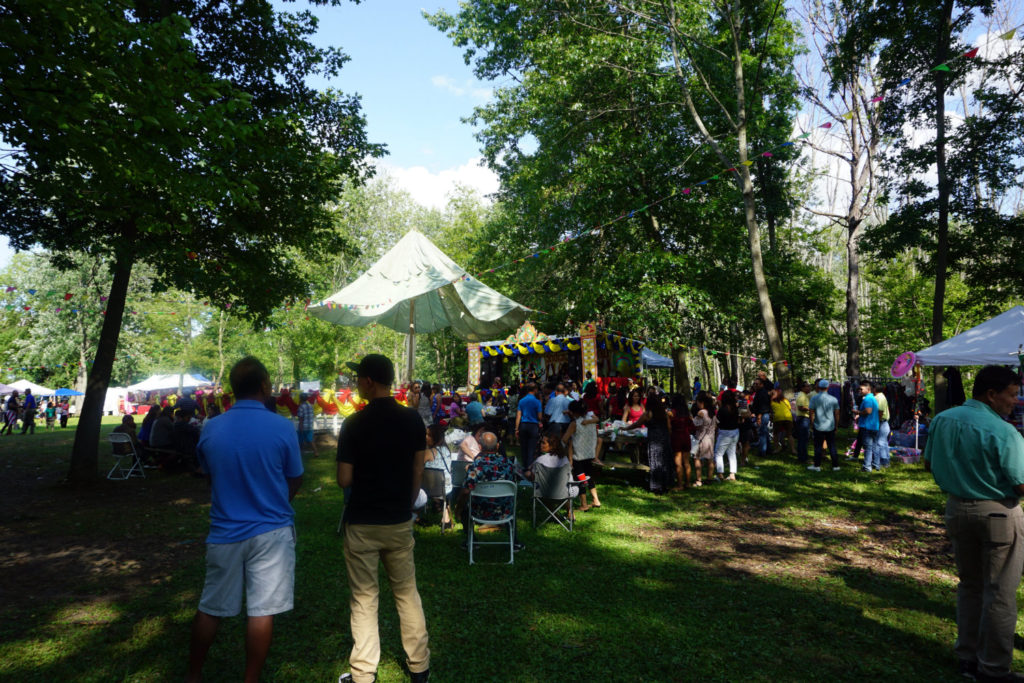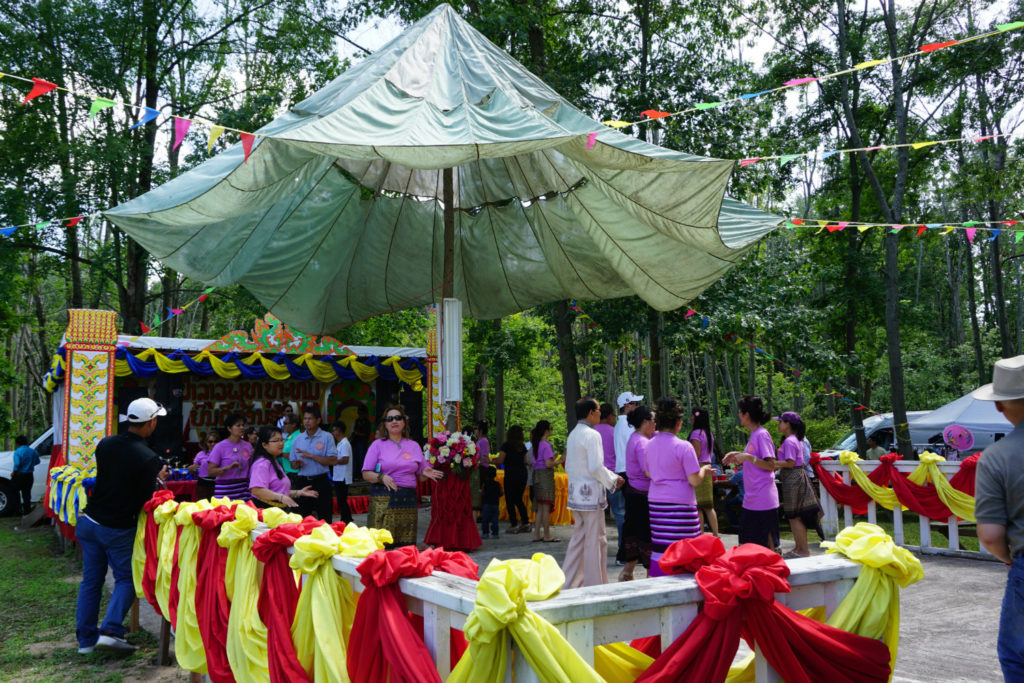 New Friends
It's not lost on me that at this point, I often receive special attention when I'm visiting a new place. Once in the Thousand Islands, after being seated I introduced myself to the couple at our table. The man said, "OH! You're the travel writer guy! The hotel warned us to behave around you." It's a weird experience that I haven't quite gotten used to.
I was worried that with each of the folks we were introduced to, that we'd be treated differently than had we just walked in off the street. While it's true that we probably did reap some benefits of being specially invited, I recognized that it didn't exactly set the tone for how we were treated. Total strangers who didn't know why we were there or who I was started up conversations. People explained the food they were selling. Volunteers preparing the offering for the service explained what they were doing. A younger guy who we just happened to strike up a conversation with, went and asked a monk to give us a blessing.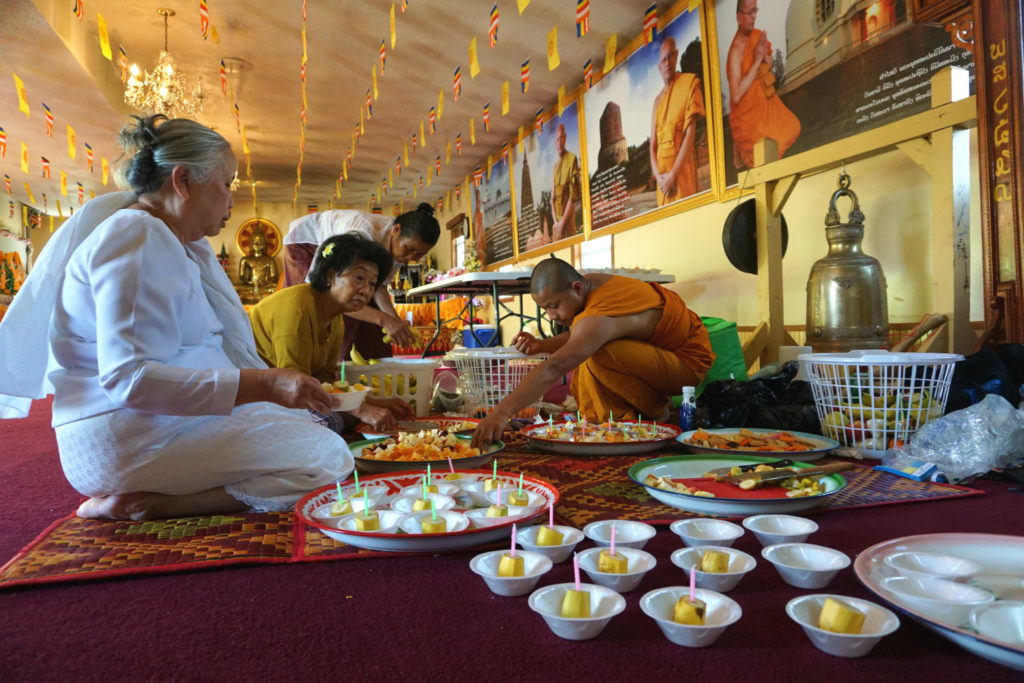 It seemed that everyone just wanted us to feel at home within their celebration. And, we did. I don't understand the language. I know some Laotian food, but certainly not all of it. I've never been to Laos. There are probably about thirty statues of Buddha around my home, and one tattooed on my arm, but I'm not sure it's fair to say I'm Buddhist. But, none of that mattered.
Everyone was super cool about sharing their celebration with us. It was easy to feel at home without knowing what everything meant in the moment.
Sangha
Over the years I've visited Wat Pa Lao Buddhadham a handful of times. In fact, the first photos on Instagram for the geo-tag of the temple are from me! Everyone I've told about the temple's existence has the same comment: "I've lived here my whole life and I had no idea that was there."
Now you know. And, now you know where you can go to see the temple in person and eat some of the most authentic Laotian food you can possibly find in this area. Now you know there is a community where you can walk right in and feel like you're in a far away land, but still feel like you're at home.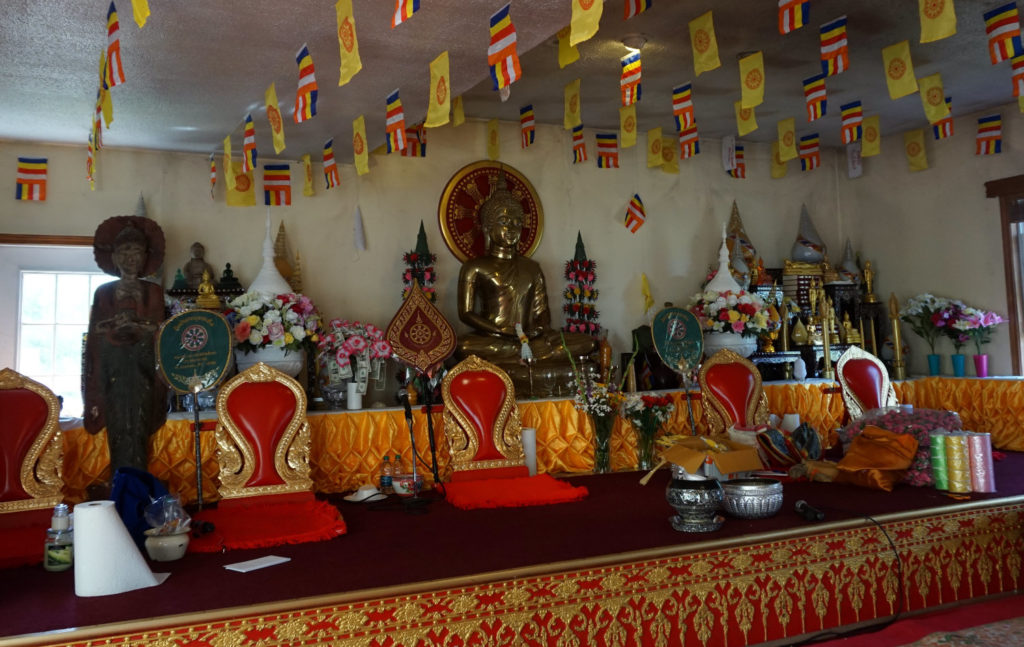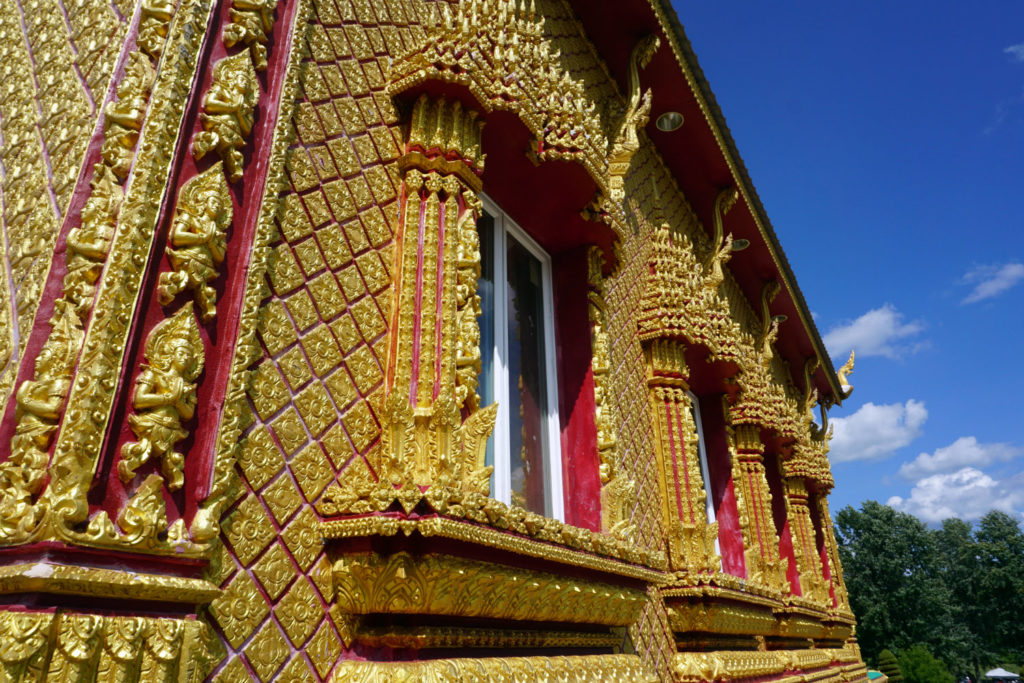 Next summer, add the Wat Pa Lao Buddhadham festival to your list the same way you'd add the Greek Fest or Oktoberfest. To make sure you don't miss info, you can find more on their website and follow their Facebook page.




Huge thanks to my good friend Dennis who joined me for the afternoon, and allowed me to use a few of his photos for this post!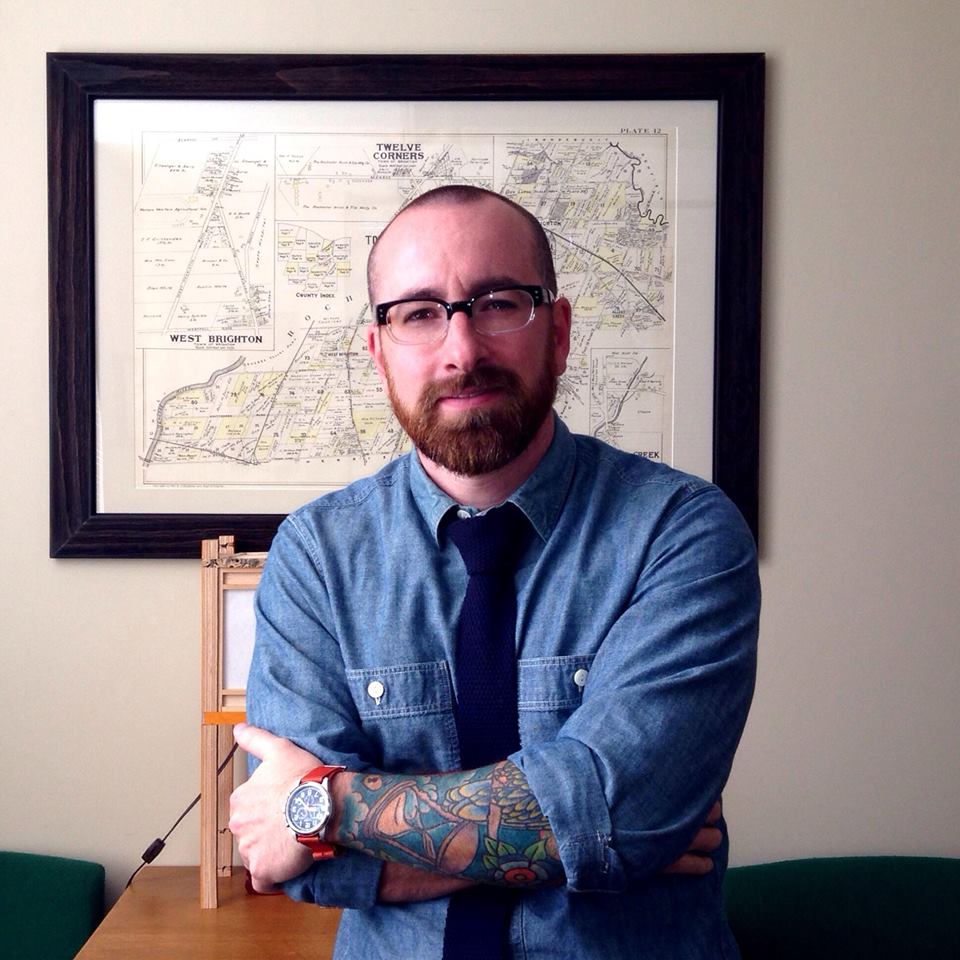 Chris Clemens is the Founder/Publisher of Exploring Upstate. From his hometown in Rochester, he spends as much time as possible connecting with the history, culture, and places that make Upstate New York a land of discovery. Follow him on Twitter at @cpclemens