by Chris Clemens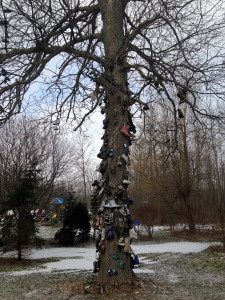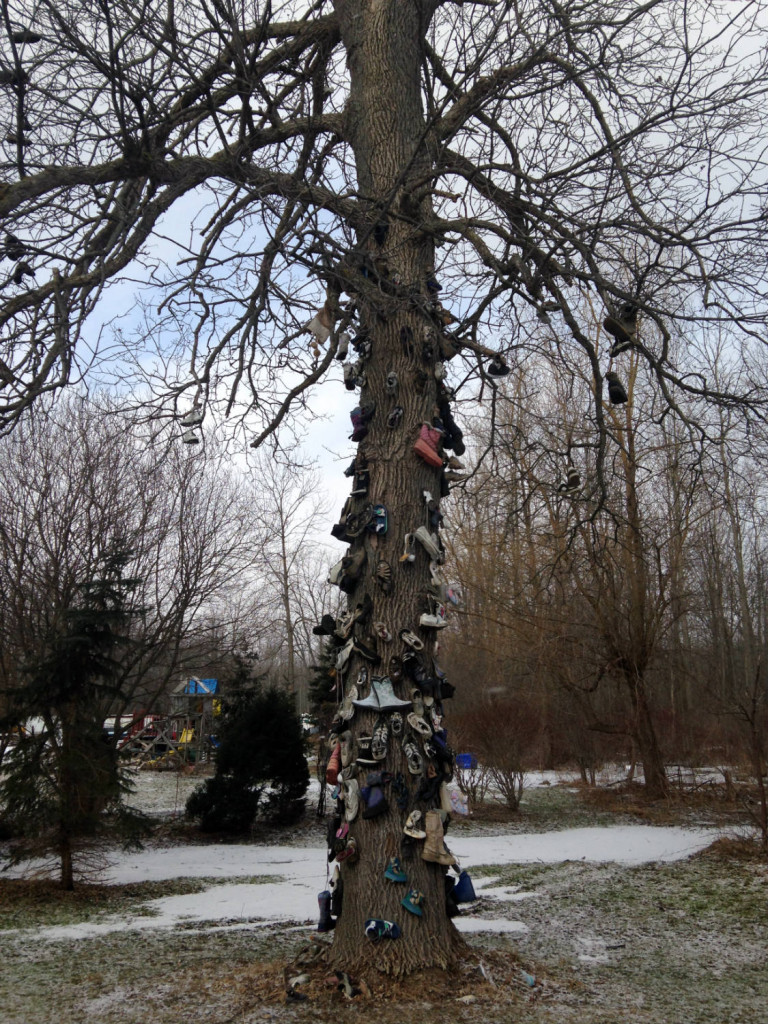 In certain Middle Eastern countries it's considered to be incredibly insulting to throw your shoe at someone. Some Eastern religions remove their shoes before entering a temple, but consider it insulting if the soles of one's feet are facing a deity. In Slovakia, it's tradition to stand with your back facing the door on Christmas Day and toss a shoe over your shoulder, if the shoe lands with the toes facing the door, you're sure to be married by the following Christmas. New Zealanders have 'welly wagging' where they competitively throw rubber Wellington boots and claim a Golden Gumboot trophy. But Americans, for some strange reason, we throw our shoes up in to trees.
Around the United States there are about 75 reported 'Shoe Trees' each with an original story more mysterious than the last. Nearly the only fact where the stories converge is that the collections began with one person tossing footwear high in the air before gravity pulled them back to be stuck on a branch forever. Passersby wanting to join in the tradition donate their shoes in the same fashion (see what I did there?) and after a few years of collecting, what was once just a tree is now an American roadside icon.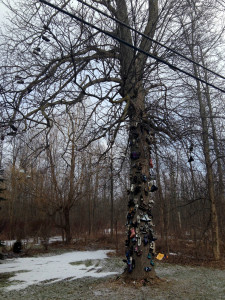 While it's unfortunate that I haven't been able to find the story about this one shoe tree in particular, that didn't stop me from driving well out of my way for a visit after discovering a photo online. On a cold, frozen Western New York morning, I finally visited the Shoe Tree of East Amherst at 8209 Transit Road after driving North off the Depew exit from Interstate 90.
On the West side of the road in a residential yard with a frozen roadside ditch separating the tree and the roadway I found a mature leafless tree with what appeared to be about a couple hundred pairs of footwear adorning its trunk and branches. Recognizing that it was private property and early on a Sunday morning, I chose not to intrude and just snapped a few photos without actually releasing my own shoes into the air. Quite unfortunately, I haven't been able to discover the origin of the first pair on this tree or even if the property owners had anything at all to do with it. Even if they weren't responsible for its beginning, they seem to be fine with its preservation.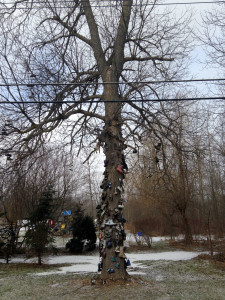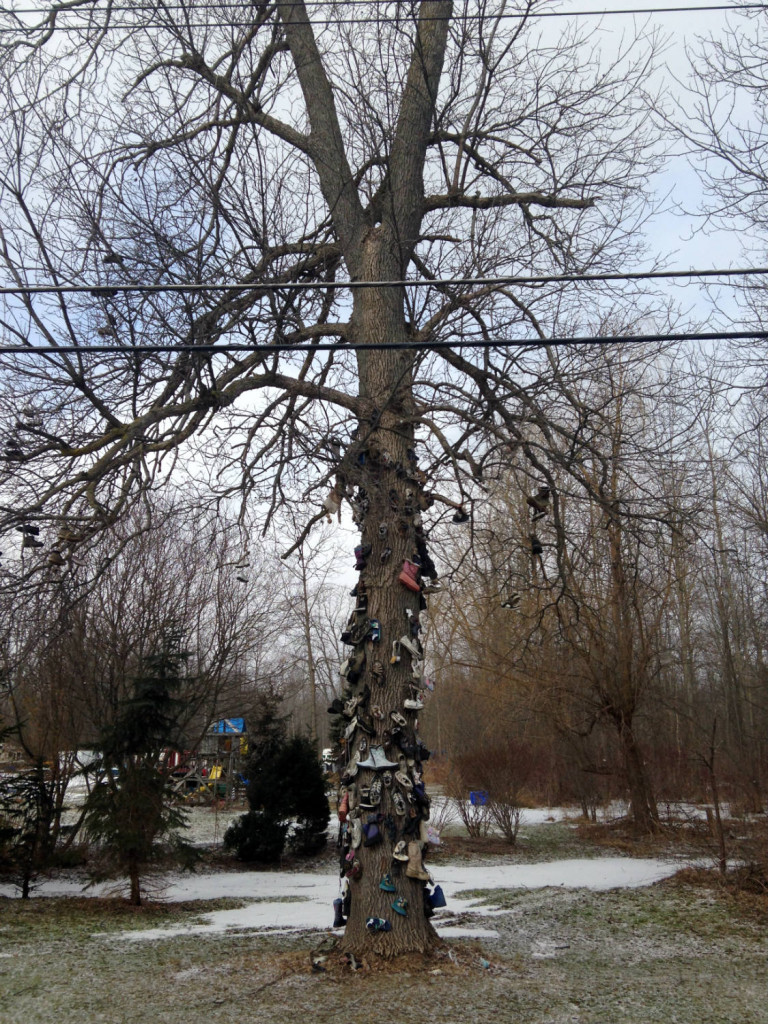 If you go, be mindful that this is located in someone's yard and respect and care for their property should be given. Also, this stretch of road has cars moving at a pretty decent clip, so if you're parked on the shoulder you should use caution.




If Shoe Trees are your thing, you may want to do a bit of research on the collection of four trees in Lyndonville, about a half hour Northeast of this one. Luckily, I've tracked down the history on that collection and I'll be able to provide more info in a later post. In the meantime, you can also checkout this list on Roadside America of all the rest of the Shoe Trees in the country. Or, if footwear isn't your thing at all, you could visit the 'Bra Tree' at Bristol Mountain Winter Resort!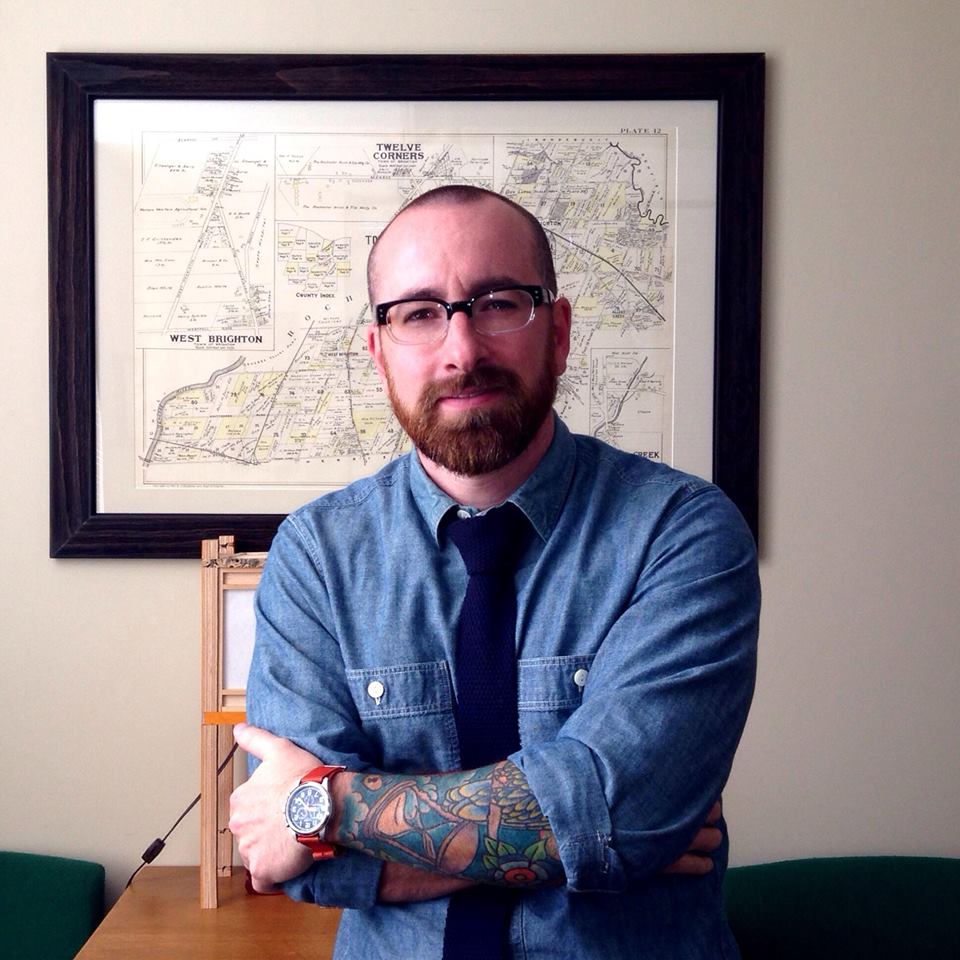 Chris Clemens is the Founder/Publisher of Exploring Upstate. From his hometown in Rochester, he spends as much time as possible connecting with the history, culture, and places that make Upstate New York a land of discovery. Follow him on Twitter at @cpclemens