A visit to Trinity Episcopal Church in historic Seneca Falls
by Chris Clemens
The Burned Over District is probably one of the most unique regions in the country for the ideas on spirituality. The region is even more unique when you study other movements from the era that would go on to change the country, and even the world.
While movements like the abolition of slavery, prohibition, and women's rights were gaining a steadfast foothold in American history, it'd be tough to imagine any of them without the influence of the religious fervor that swept Central and Western New York just a few years prior.
Seneca Falls Becomes Famous
Seneca Falls is often referred to as the 'Historic Gateway to the Finger Lakes'. The village is familiar to many as it's believed to have inspired the fictitious town of "Bedford Falls". That's the town where the 1946 classic film "It's a Wonderful Life" took place. Just as famously, 100 years previous, Seneca Falls would host the first ever Women's Rights Convention in July of 1848.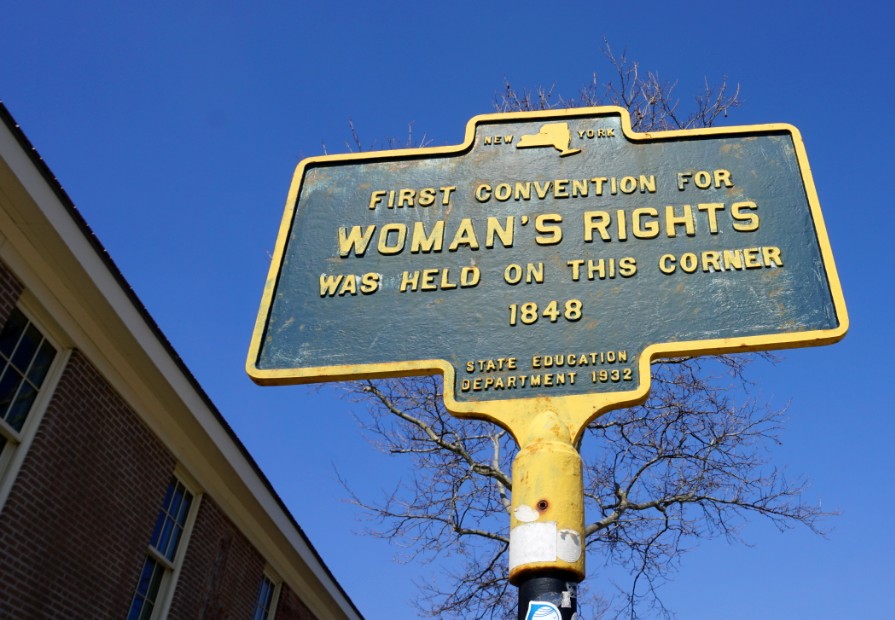 One of the many influential women present at that very first conference was Amelia Jenkins Bloomer. She fought for women's rights, but would also go on to change fashion. You might recognize her name because she invented Bloomers.
An Early History of Trinity Episcopal Church
While living in Seneca Falls, Bloomer was baptized at the Trinity Episcopal Church on April 8, 1843. It was a small, wooden framed edifice built in 1834 but its modesty was outdone by its work. That very church conducted upwards of 900 baptisms and over 8,000 services. Like many groups, the parish outgrew their home and began the fund raising to purchase the property on Fall Street. On this spot the parish built their new (and current) home directly across the canal from the previous.
According to legend, the current Trinity Episcopal Church is the most photographed church in New York State. Some say it's because of its location in Seneca Falls, some say its because of its position on the picturesque Van Cleef Lake. We haven't found any statistician-approved documentation to corroborate the claim, but we haven't found any to the contrary either.
While in the area, we set out to visit a church that has been on our list for years. Plus, we wanted a few photos of our own.
Trinity Episcopal Church
There was some kind of festival going on that day and a morning sidewalk sale was part of the event. We were told there'd be plenty of people around and surely someone would give us a tour if we showed up. As we rolled up Fall Street, there wasn't any sign of any sale. We showed up at the tail end of the time we were told, but missed our shot.
We each solemnly walked around tugging on door handles in hopes we'd strike it rich but none of them budged. As we stood sheepishly on the sidewalk remembering why we like to have an appointment, the front door opened. Out stepped the last, lone sidewalk sale volunteer looking surprised to see two guys standing there.
For the life of me, I can't remember this wonderful woman's name (Irene maybe??) I feel bad for that, because she told us to hang on for a minute while she went to her car. She unloaded all of her things and came back to open the church and let us in for a few minutes. Surprised and grateful, we followed her as she went back to the front door, unlocked and led us in.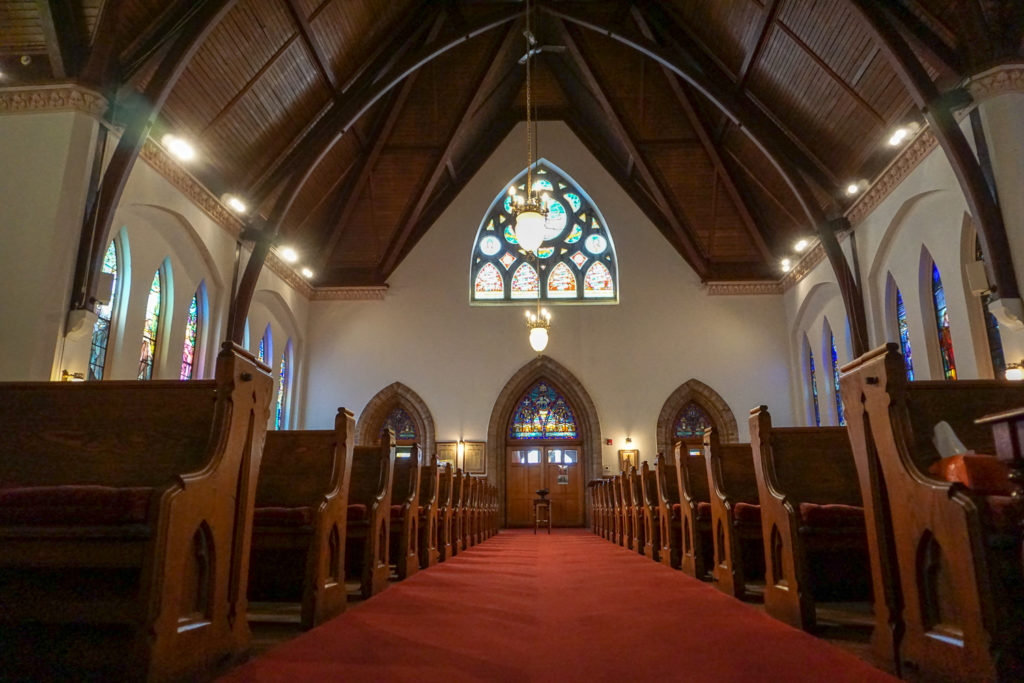 Architecture
The cornerstone for this location was laid on June 2, 1885 and the following year the building was completed. Constructed with blue limestone from a nearby quarry, the Trinity Episcopal Church was designed by Brown and Dawson. The duo out of Troy brought with them a contractor from New York City by the name of William Crabtree. Additionally, a subcontractor out of Albany, Richard Wickham, is responsible for the church's furniture.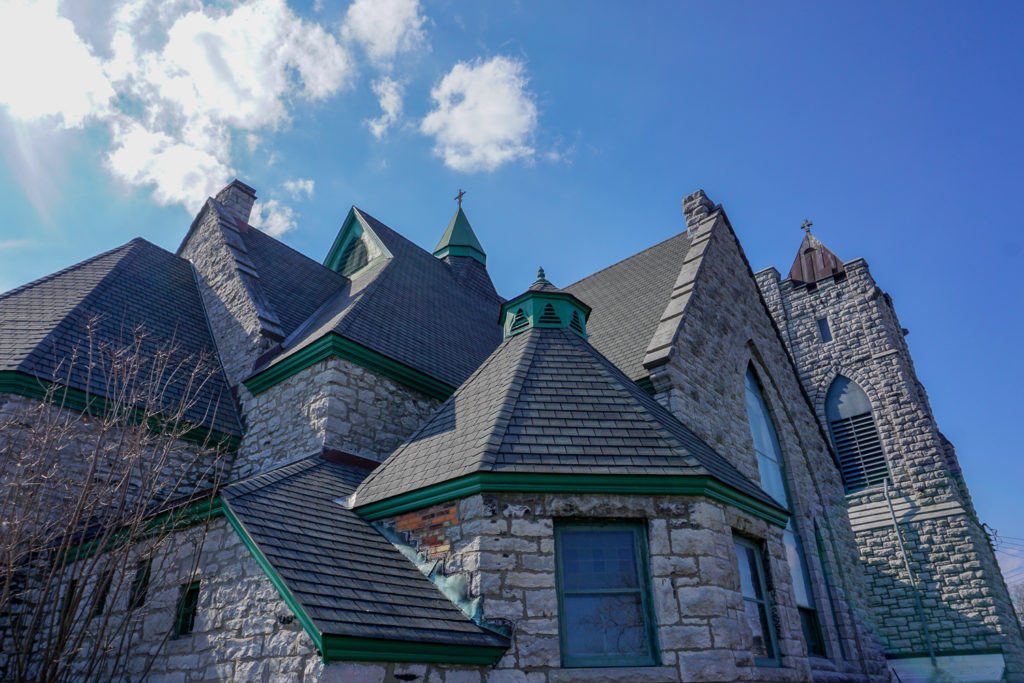 A combination of Gothic and Early English architecture was reportedly not a favorite by the local newspaper, but apparently everyone came around in the end. Though the interior has some brand new Romanesque features, the altar, font, bell and choir window are original to the first church.
The overall peace of the sanctuary is created by elements like the the white pine ceiling and oak altar with ash trim. But, the stained glass windows bring the entire space that familiar serenity of a beautiful church.
Stained Glass
The church has twenty stained glass windows which are the work of numerous artists. You'll well known names like Tiffany Studios, Henry Keck Studios, Gibbs Studio out of Elmira, and Haskins Studios. It's always interesting to be in a space with stained glass created by many different hands. If you look close enough, you can make out subtle nuances that are a nod to each artist's style.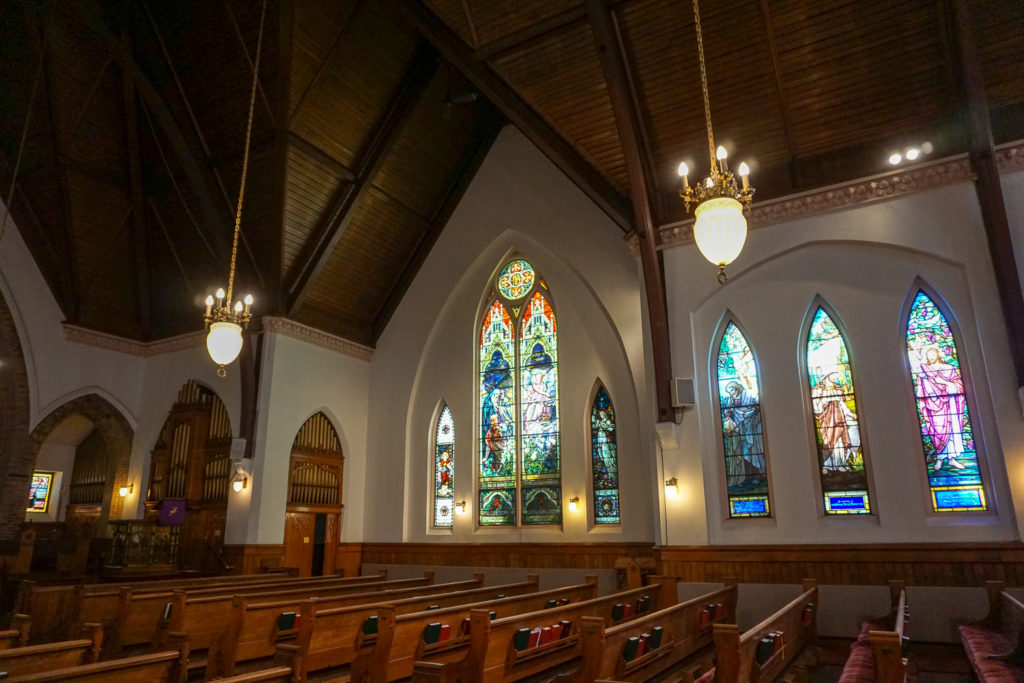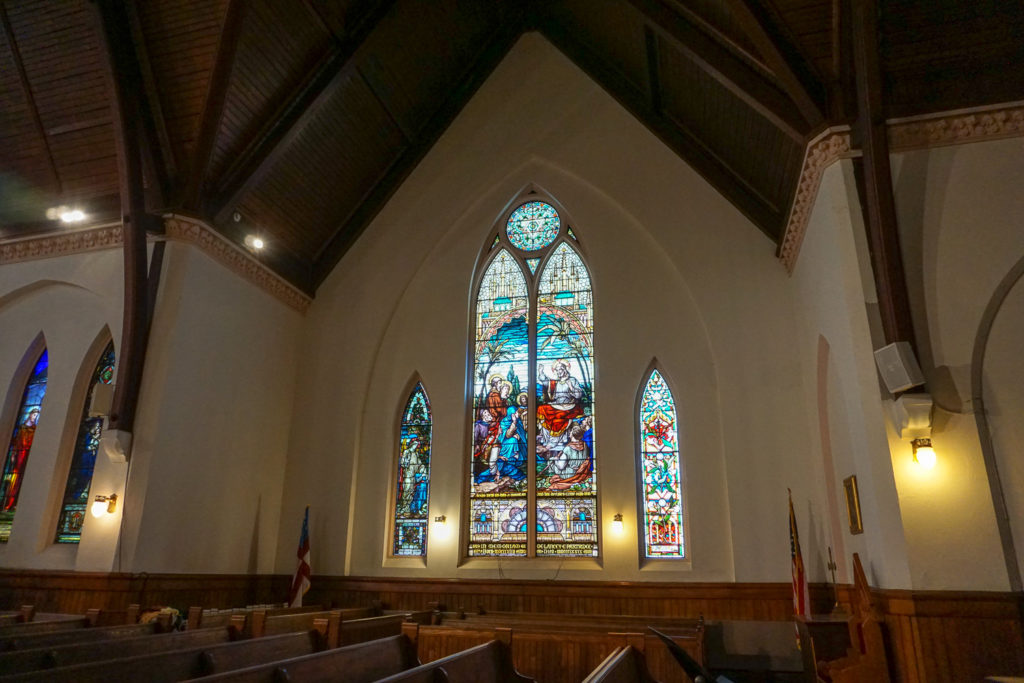 One window in particular struck us. 'The Savior Knocking At The Door' was designed and installed by Louis Comfort Tiffany and features a lantern that was so vibrant it really did seem to be lit. While we wanted to take more time at each window and notice little details, we were sensitive to the fact that our volunteer docent had planned to already be home by now.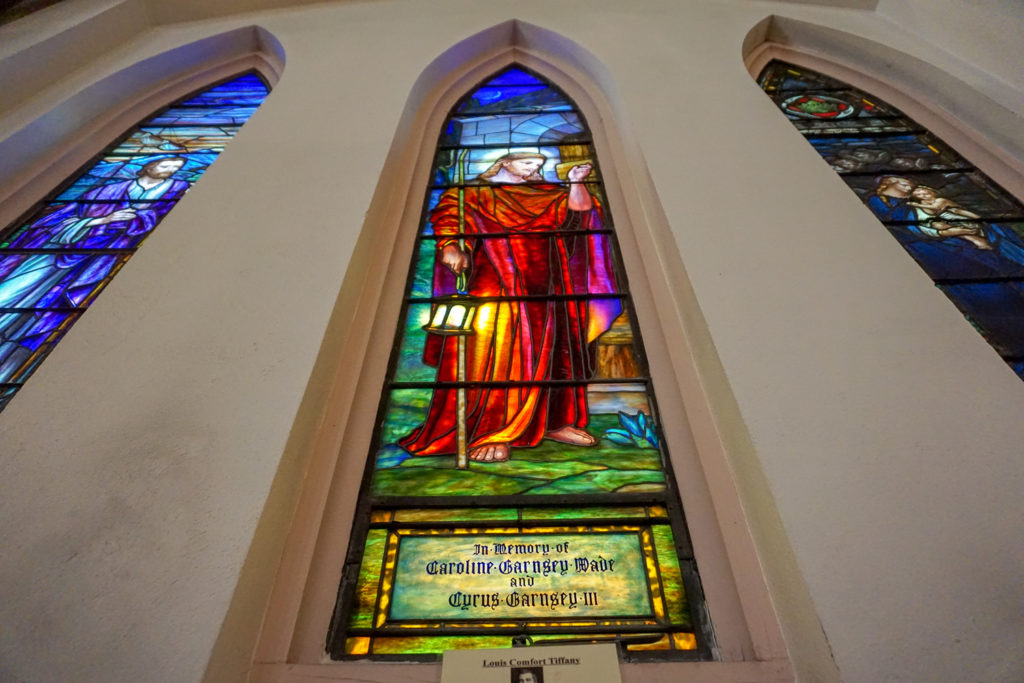 Local Contribution
After we had what seemed like a balance of not keeping her too long while still getting a chance to see all that we wanted, we made it obvious that we wouldn't keep her much longer. She said, "Oh no, before you go you need to see the chapel as well!" and motioned for us to follow her.
Just to the left of the altar was a doorway that seemed it would've just gone outside. Instead, it opened up in to a small, octagonal chapel which is original to the 1885 building, but was never dedicated until 1941. For decades the chapel served as a quiet place for reflection looking east from the church over Van Cleef Lake, just feet away from the outside wall of the church.
But in 1998, a church benefactor made a proposal that couldn't be turned down. That individual anonymously commissioned Don Sottile of Geneva to create a life-sized mahogany statue of Our Lady of Walsingham. With that installation, the chapel was rededicated as a celebration of the Virgin Mary. If you ever visit the church, don't leave without seeing the absolutely stunning piece of artwork in the chapel.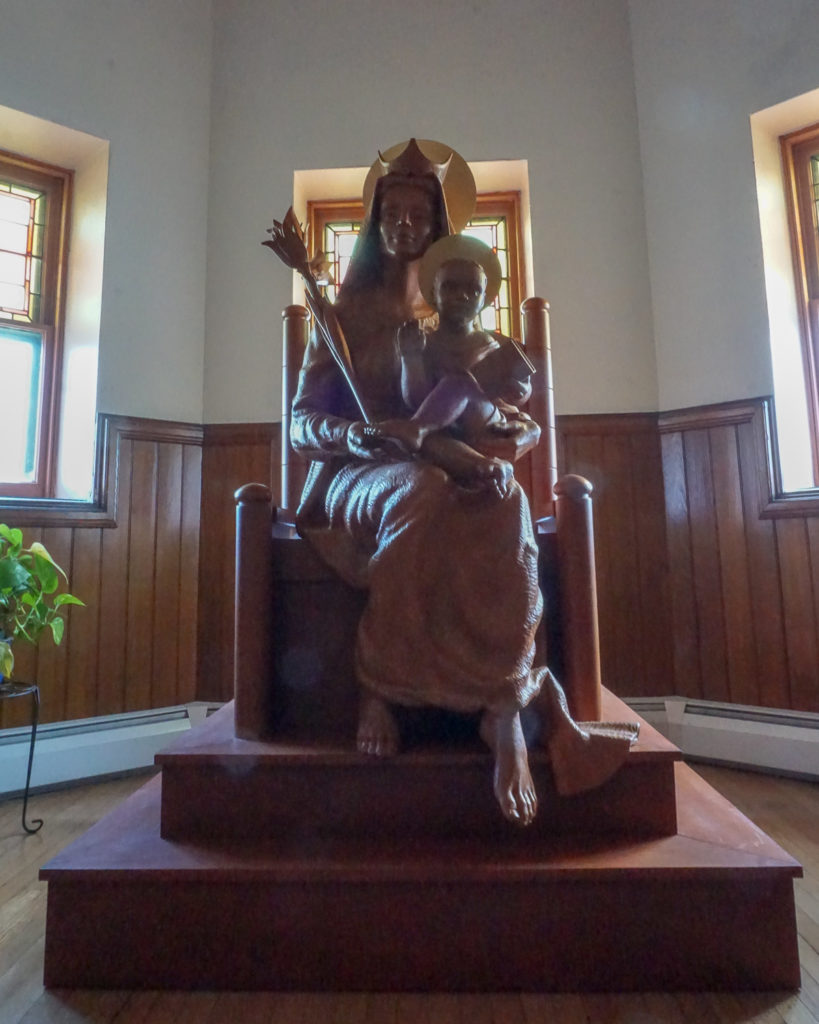 Wrapping Up With Trinity Episcopal Church
We thanked our docent for her willingness to derail whatever plans she already had to open up the church for us. After saying our goodbyes, we took some time to get a better look at all that beautiful blue limestone outside. We walked around the church a bit, trying to imagine some of the most famous suffragettes in history to have been standing in the very lawn we were standing in and wondering if their conversations included their wondering if anyone would be telling their stories a hundred years later.
With the history of this town and the splendor of this church along the calm canal, it certainly is possible that it truly is the most photographed church in the state!
This post was previously published on www.ExploringTheBurnedOverDistrict.com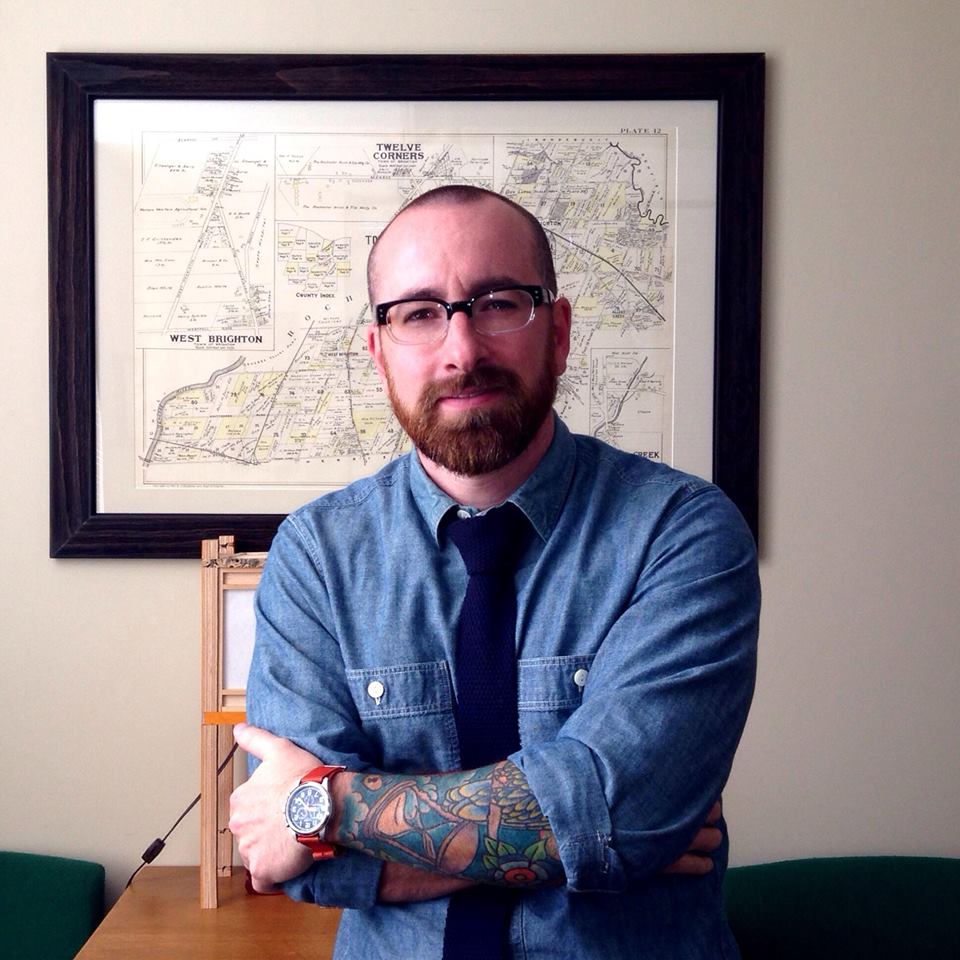 Chris Clemens is the Founder/Publisher of Exploring Upstate. From his hometown in Rochester, he spends as much time as possible connecting with the history, culture, and places that make Upstate New York a land of discovery. Follow him on Twitter at @cpclemens