Upstate News You Can't Use is a series to discover real stories, interesting advertisements, and punny headlines in historical newspapers from Upstate New York
by David Brooks
In March of 1998 the NYC based Pfizer company released their "Little Blue Pill." under the trade name of Viagra. The release caused a stir in the media and opened up new conversation on the long standing issue of male vigor. The concept of men's health and the culture of masculinity in America shifted during that decade. Attention was further enlarged when Pfizer presented Viagra's new spokesperson, former Presidential candidate Bob Dole.
There was lofty debate over the appropriateness of the drug, as well as Pfizer's marketing methods. From magazine ads to TV commercials, Viagra was on the rise all across the country.
The use of pharmaceutical enhancements grew as we sped into the new millennium. However, for well over 100 years, advertisements in newspapers offered men ways to curb "weakness" and increase their manhood. Some of these were for products such as pills, elixirs, or electric belts. Then some others took a more academic approach by way of pamphlets and books. Accompanying these remedies were methods on curing diseases of "indiscretions," "exhausted vitality," or "precocious" habits.
Know Thyself
One literary offering was The Science of Life: or, self-preservation, a treatise by Dr. William H. Parker. As we might apply it to thought for the rest of this article, Parker wrote:
There is no malady in the whole list of human ills to which quackery and empiricism have been so extensively applied as the diseases which flow from imprudence in sexual intercourse…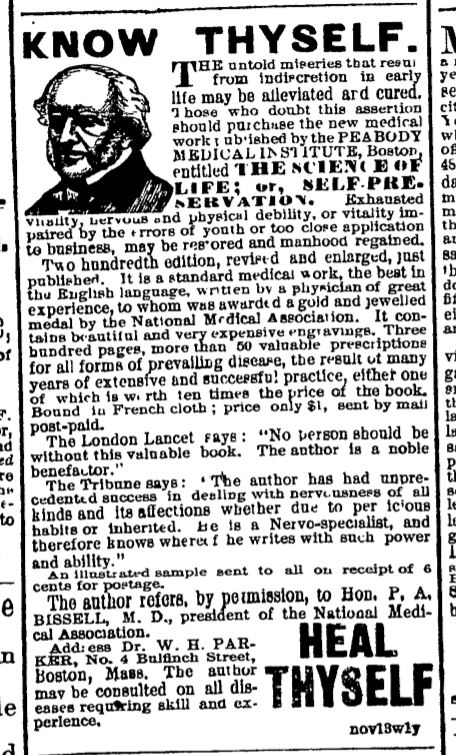 We should all wonder how many of these books still sit on shelves, or perhaps have made their way through church or library book sales. Who wants to believe that great-great-grand-pappy needed to read up on how to eliminate nocturnal emissions or cure youthful indiscretions on his way to being like Apollo?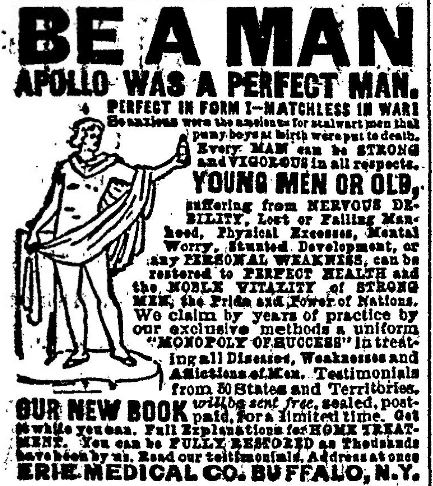 Many of the ads directly confront the lack of manhood in terms of "weakness" or "loss of nerves". Then there are several that pitch it as a long-term or quality of life mantle. Mentions of marriage illustrate the overarching concepts of men's roles in the era. Having a venereal disease was not only painful or a discomfort, but could also mean an inability to father children. Some afflictions in later stages could also mean an inability to work and provide for a family. Those youthful indiscretions had a lifelong implications prior to advancements in medical knowledge.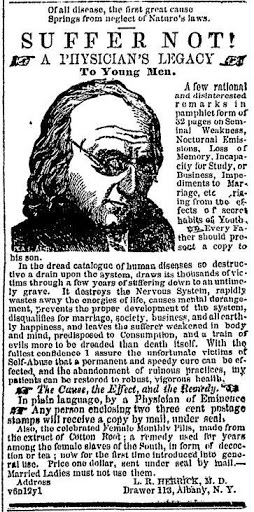 The frightening idea that "secret habits of Youth" may impair such fulfillment of a manly role may have led many to consider sending along their discreet payments and take on the risk of consuming more than just the written word.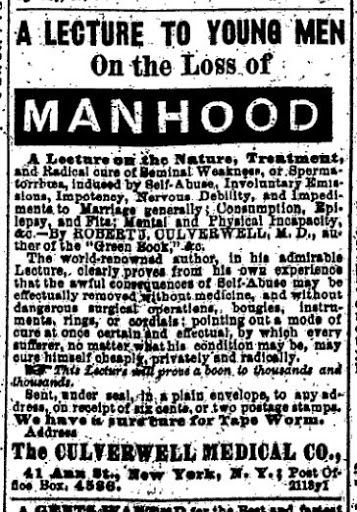 …Cheaply, privately, and radically.
If words alone were not enough to stimulate manhood, there were also hundreds of different products to ingest. As you may recall from last month's post, this was an era without FDA regulations or real government oversight into claims or side-effects. Still, pseudo-pharm advertisements filled newspapers like fake dog poop and smoking fingers ads in old Boys Life magazines.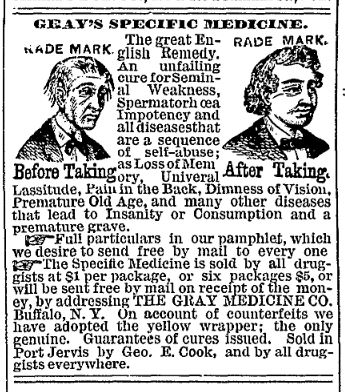 With such an affliction as "Spermatorrhea" it's no wonder a sufferer would be exhausted. Excessive involuntary ejaculation would be tiresome indeed, and this seminal weakness was especially frowned upon outside of marriage. They even offered diagnoses to men with an atypically large discharge.
Perhaps the dimness of vision was also a result of impairment to the kidney's, but some have always said you could go blind…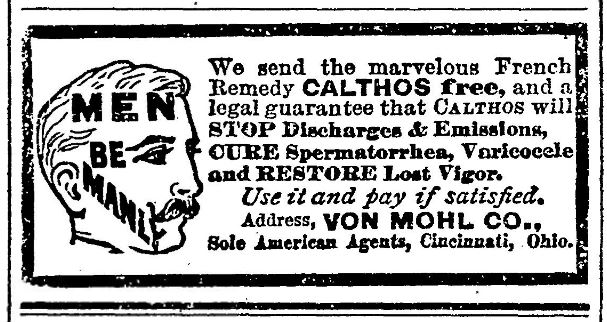 Ajax Tablets would arrive in a plain wrapper, though to this modern American the thought of a company called Ajax selling anything to ingest bears some concern. This product may have just been an herbal supplement, not having the same effect as a Tide-Pod. But, the quick and sure restoration of vitality seems quite the claim.
Old Time Tech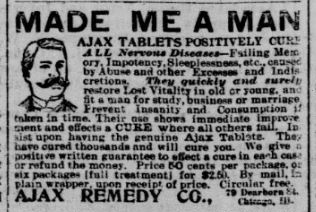 The Erie Medical Company operated from 1885 to 1922 in Buffalo. By 1893 the company offered brochures highlighting their Erie Vacuum Appliance. According to An Annotated Catalogue of the Edward C. Atwater Collection of American Popular Medicine and Health Reform, Volume 3, this product was for the "…treatment of disorders of the male sexual organs." The Erie Medical Company manufactured the device, which "…instantly causes a vigorous circulation of the blood…"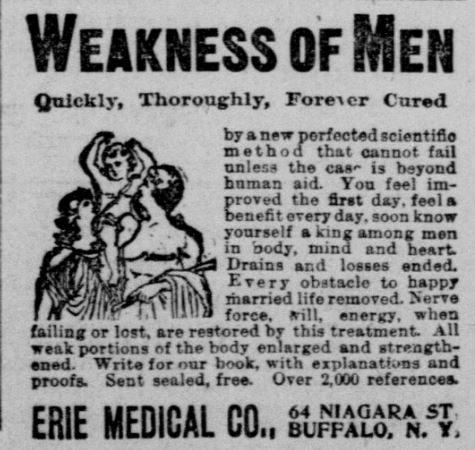 In 1896 the Erie Medical Company was listed under Factory Inspections in the Documents of the Assembly of the State of New York . It noted that their industry was Patent Medicines with a workforce of ten men and seventy-five women.
By the late 19th century, newspaper ads were selling electric appliances of all sorts, taking advantage of a shocking new trend in at home remedy. And why not? Although the medical field had been growing in sophistication since the mid-century, taking care of these types of ailments was a more private affair. Early versions of at home massagers and saddles were advertised to relieve several maladies for both men and women.
The Voltaic Belt and other variations of electric cures took on the new technology and increasing access to the grid.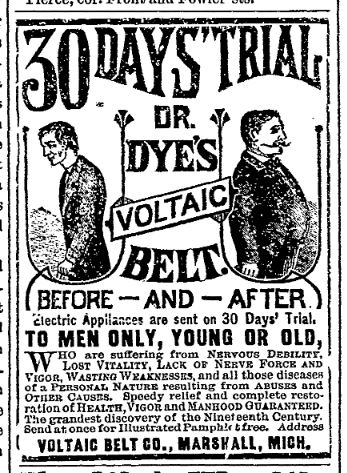 Which Came First?
In writing this, the question was posed as to which really came first: the enhancement "medications" or the devices to cure and achieve relief from such afflictions.
There has to be some plant science to so many ancient cures. Objects have been found dating back thousands of years that show men and women sought to enhance their overall situations and for sexual pleasure.
Though the question was put out within a jestful conversation, it shouldn't be hard to think of how much people have always been people, and as it was stated to me – and to paraphrase here – men are always going to do what they can to make sure their penis works, even if that means hooking up to some medieval looking device with live electrical wires.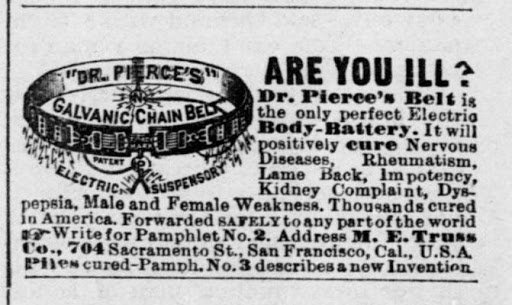 Vim, Vigor, Vitality!
And check out that fuller, more brush like Tom Selleck moustache! Yes, not all ads to enhance manliness were directed for below the belt afflictions. A sure sign of manhood had to be a fierce facial hair game.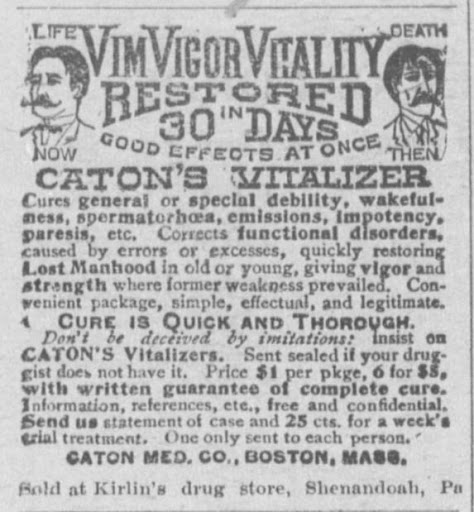 As the Chief Exploring Officer would know, as well as the writer of this post, "Nothing gives character and dignity…" like a "…fine moustache or beard."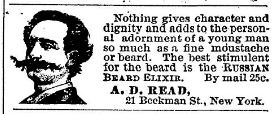 While these ads come from an era without much regulation to business, it would be interesting to find data on the side-effects from any of the "medical cures" with no want or need for testimonials, as they were so readily available in the newspapers or by sending along a stamp to the manufacturer. Newspapers of the past seem to have shared some of the same ad sales strategies with adult periodicals of the 1970's.
One thing that's certain is, the products must have sold. And likely sold well enough for the companies to continually place ads where they knew they would find customers.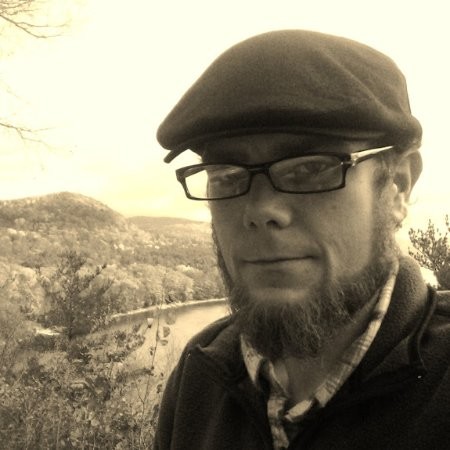 David Brooks has an American History degree from the State University of New York. He currently lives in Northville along the banks of the Great Sacandaga Lake. He serves as the Education Director for the Schoharie Crossing State Historic Site and on occasion can be found exploring the Adirondacks hoping to catch sight of Big Foot.