by Chris Clemens
Looking to test your satiety around Upstate?? These food challenges from around New York will have you stuffed and still maybe even wanting more! (But, probably not.)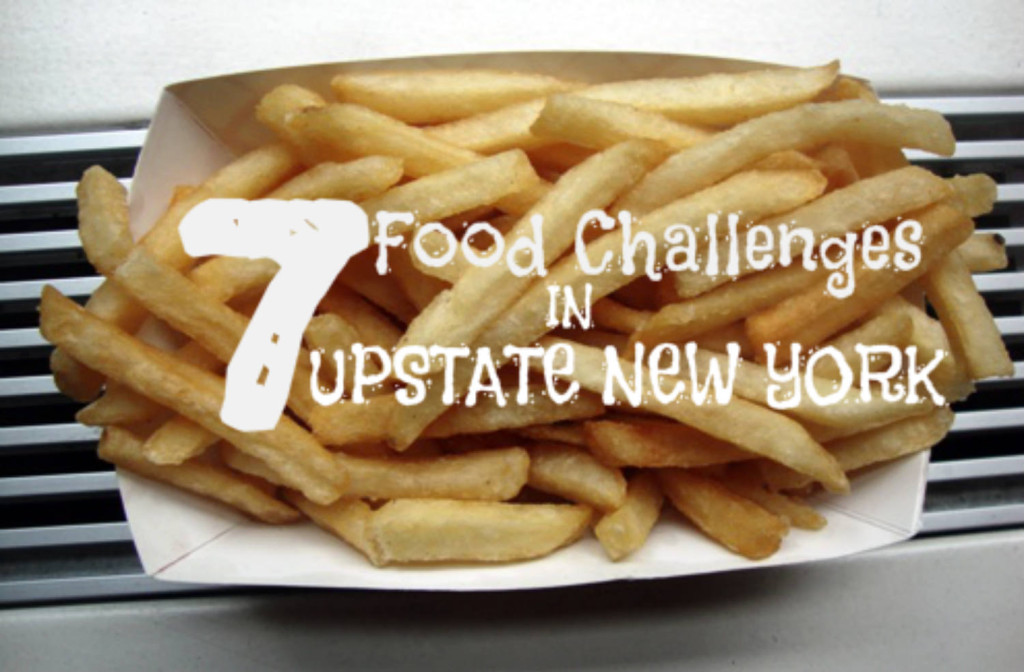 The Sand Dock Sundae
Nine scoops of your chosen ice cream, hot fudge, crushed Oreos, whipped cream and gummy worms make up the Sand Dock Sundae that will set you back $21.99. But, if you finish it you'll go home with a commemorative t-shirt. (And, maybe a stomach ache.)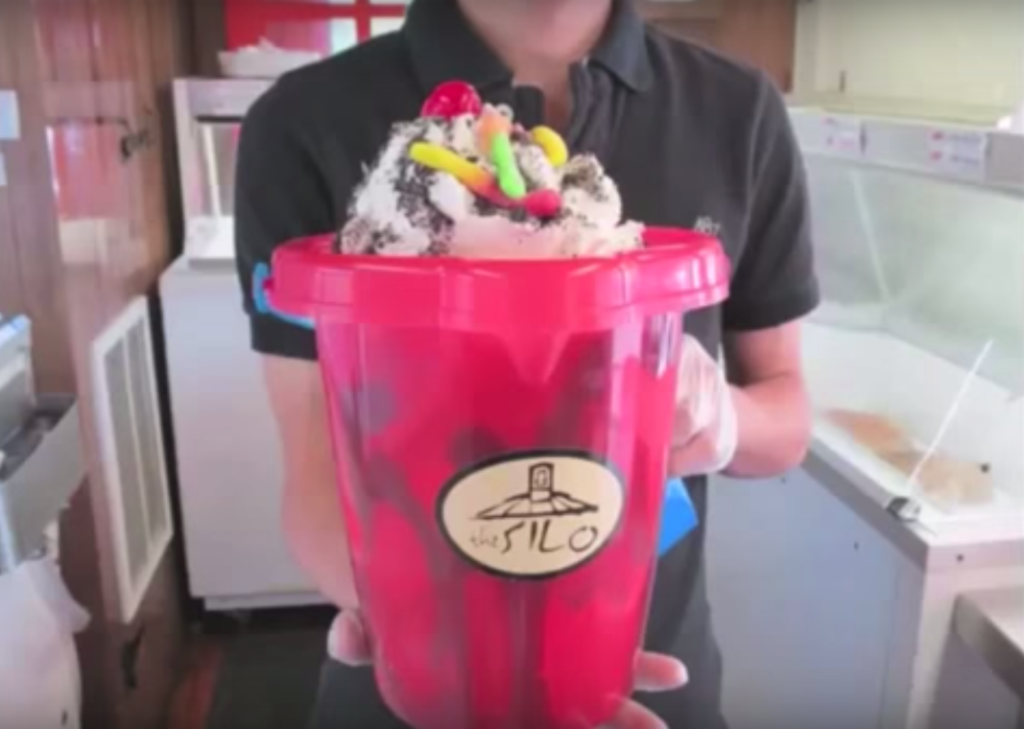 Glutten King Challenge
That's 'glutten', not 'gluten', though there is plenty of it in this challenge. Eating two of these 3 lb. burritos filled with ingredients of your choosing in under 30 minutes will get you a t-shirt with your photo and name up on Burrito Bay's 'Wall of Fame'.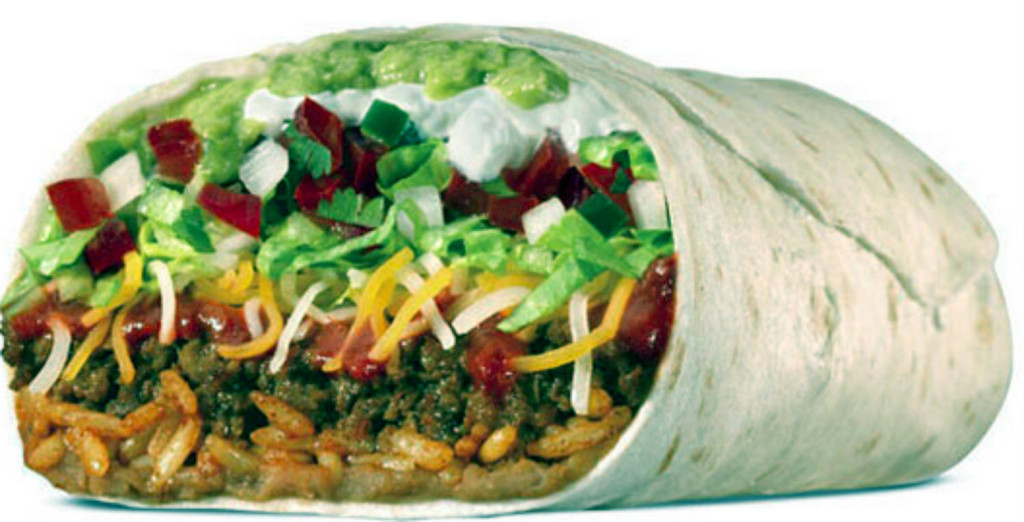 The Graveyard Burger Challenge
Wagon Train BBQ – Rotterdam, NY
A giant roll holds 8 oz. of Beef Brisket, 8 oz. of Mac and Cheese, 8 oz. of Pulled Pork, 8 oz. of coleslaw, 6 bacon slices, 1 lb. burger, 2 fried eggs, 4 pieces of cheese, onion tanglers, jalapenos and BBQ sauce. It also comes with a 1 lb. side of fries and onion rings. The burger will cost you $35.95 but if you can keep it all down, not only is the meal free, you get your own parking spot in the lot for 30 days and a t-shirt. You'd also have the bragging rights of being the first person to actually beat the challenge–'cause it's never been done!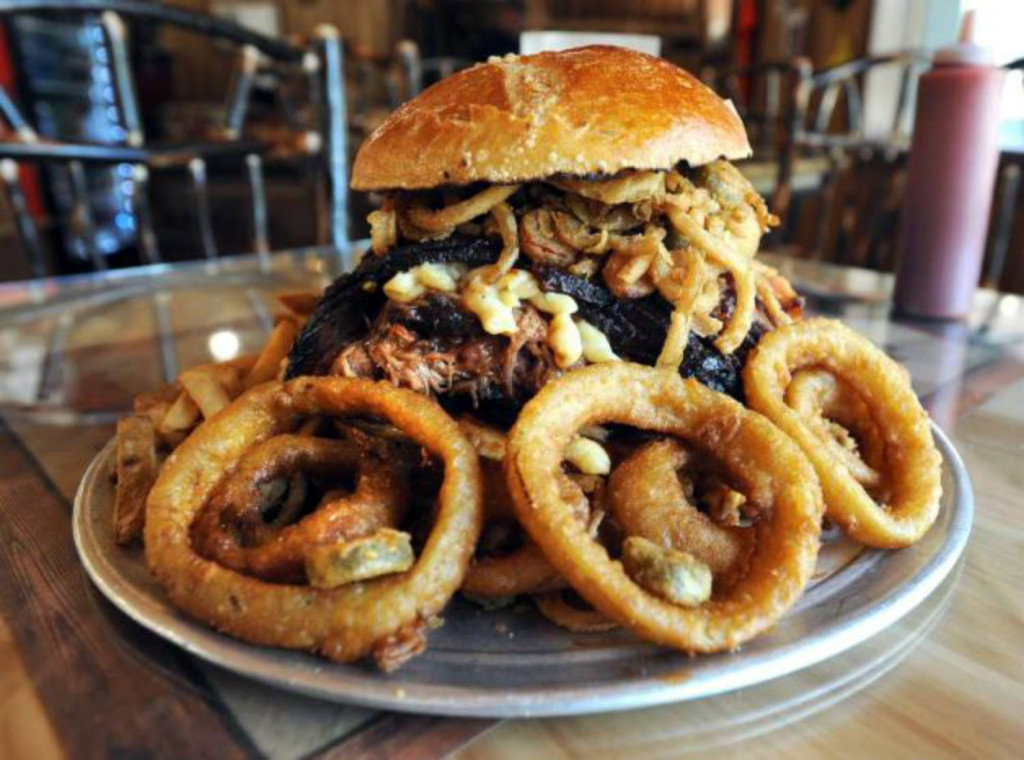 Armadillo Plate
Texas Bar-B-Q Joint – Spencerport, NY
Take down a full rack of BBQ ribs, cornbread muffin and a "Monster Outlaw Baked Potato" for $27.99 and you'll go home with a free t-shirt (and maybe they'll throw in a couple of Tums).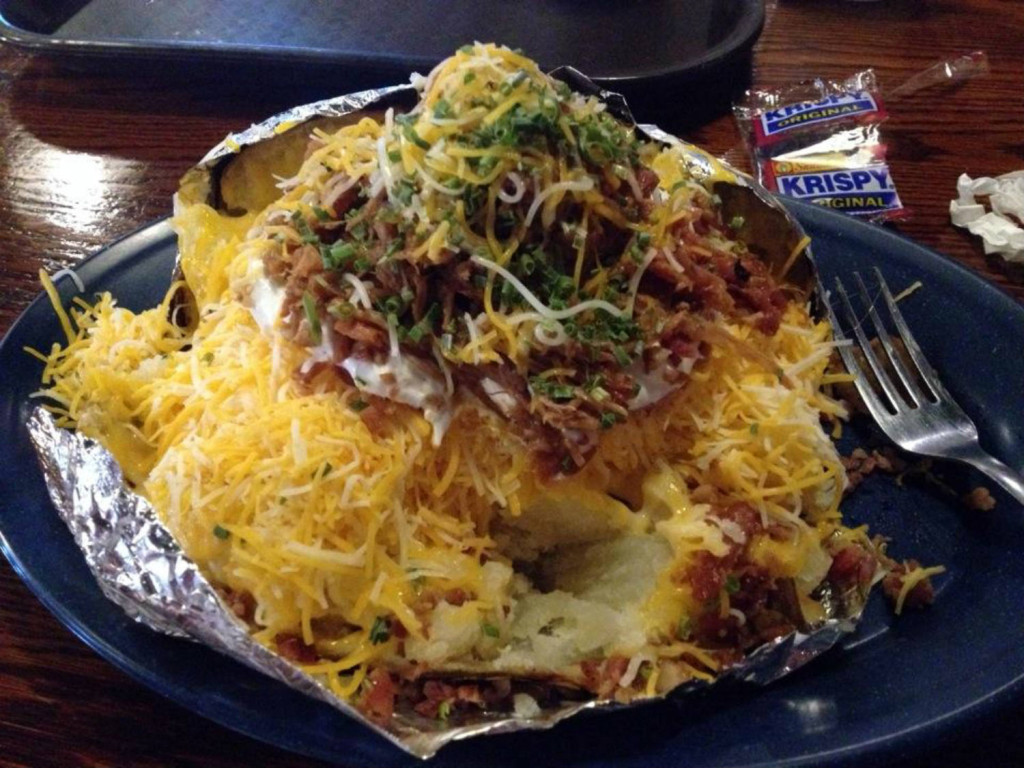 The Frittata Challenge
Mother's Cupboard – Syracuse, NY
As seen on Man vs. Food, the Frittata Challenge beckons your gut to take down 6 lbs of breakfast goodness in whatever time you choose.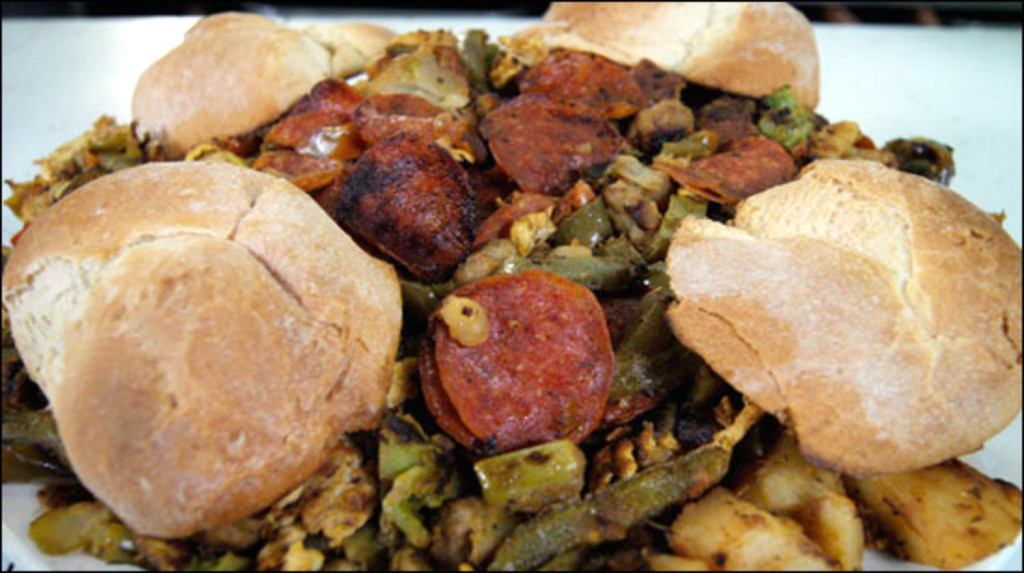 2 Ton-Za Pizza Challenge
If you and a friend can take down a 10 lb. pizza in under 45 minutes without a single ounce of mozzarella coming back up, you'll each get a t-shirt and your photo on the wall. If for some reason you still want more pizza at some point in your lifetime, you'll also go home with a gift certificate for a large pizza with five toppings.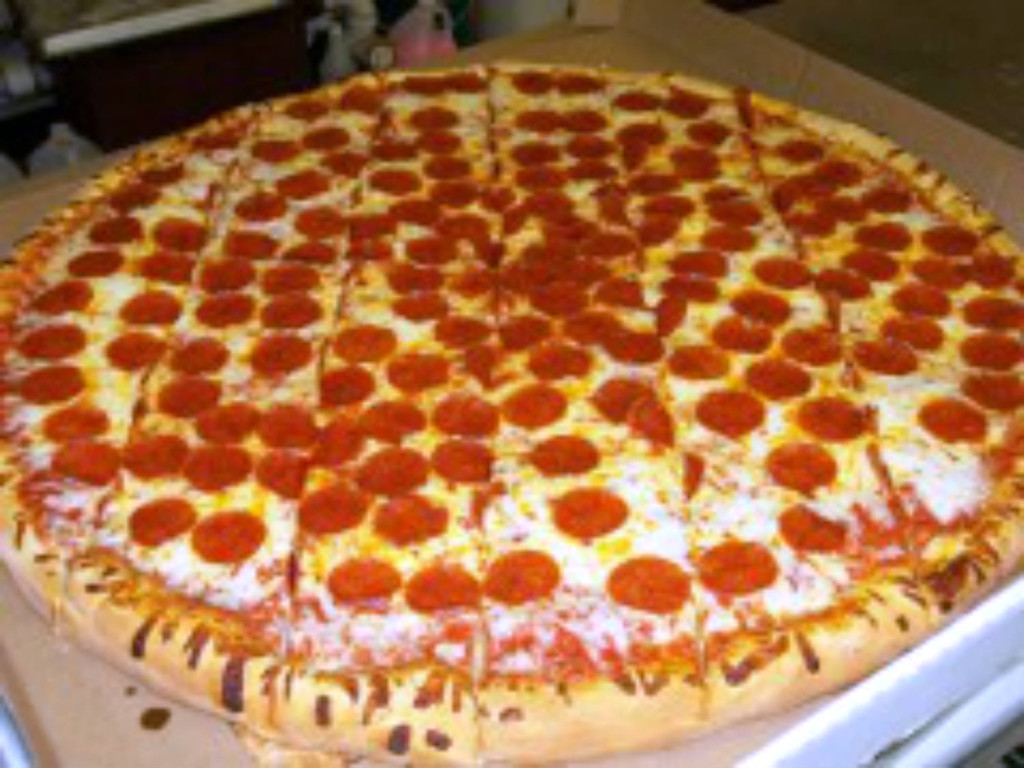 If you're still hungry after all that, the Great American Backyard Burger Festival and will take place Friday, August 21st through Sunday, August 23rd at Dr. Martin Luther King Park in downtown Rochester. Nick Tahoe's will be on site with a competition to see how many of their famous Garbage Plates you can wolf down in 10 minutes! Hit the link for info on how to register.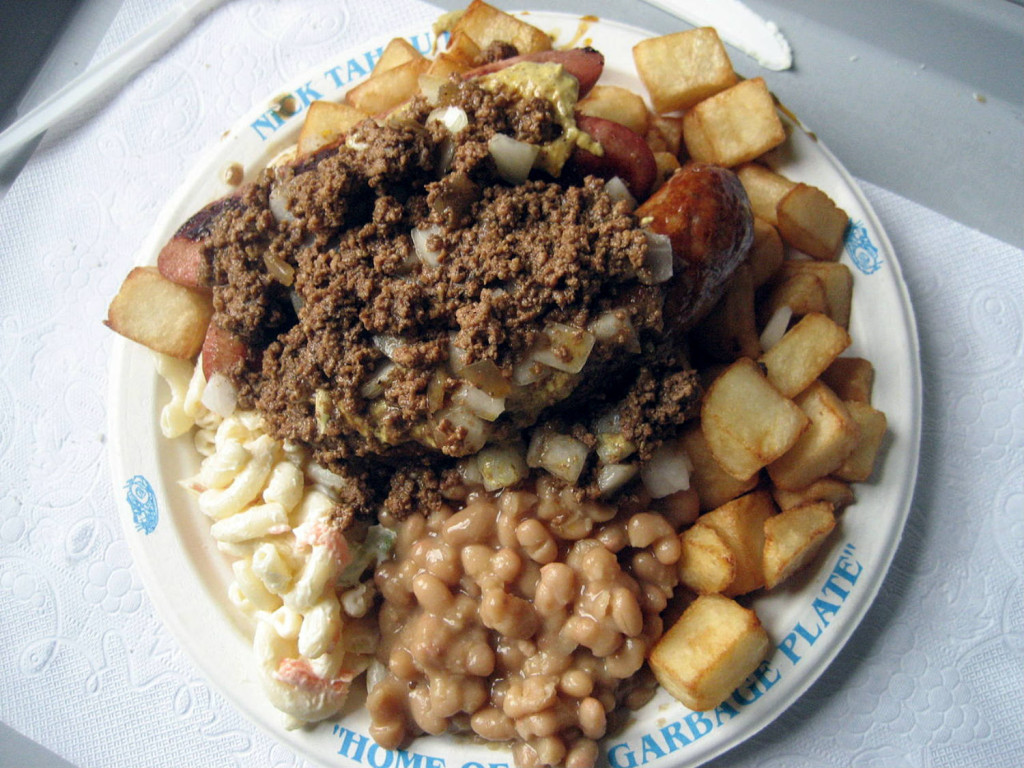 *None of the above photos in this post were taken by me, they all were found around the interwebs. If you own one of them and you're pissed, just let me know and I'll remove it.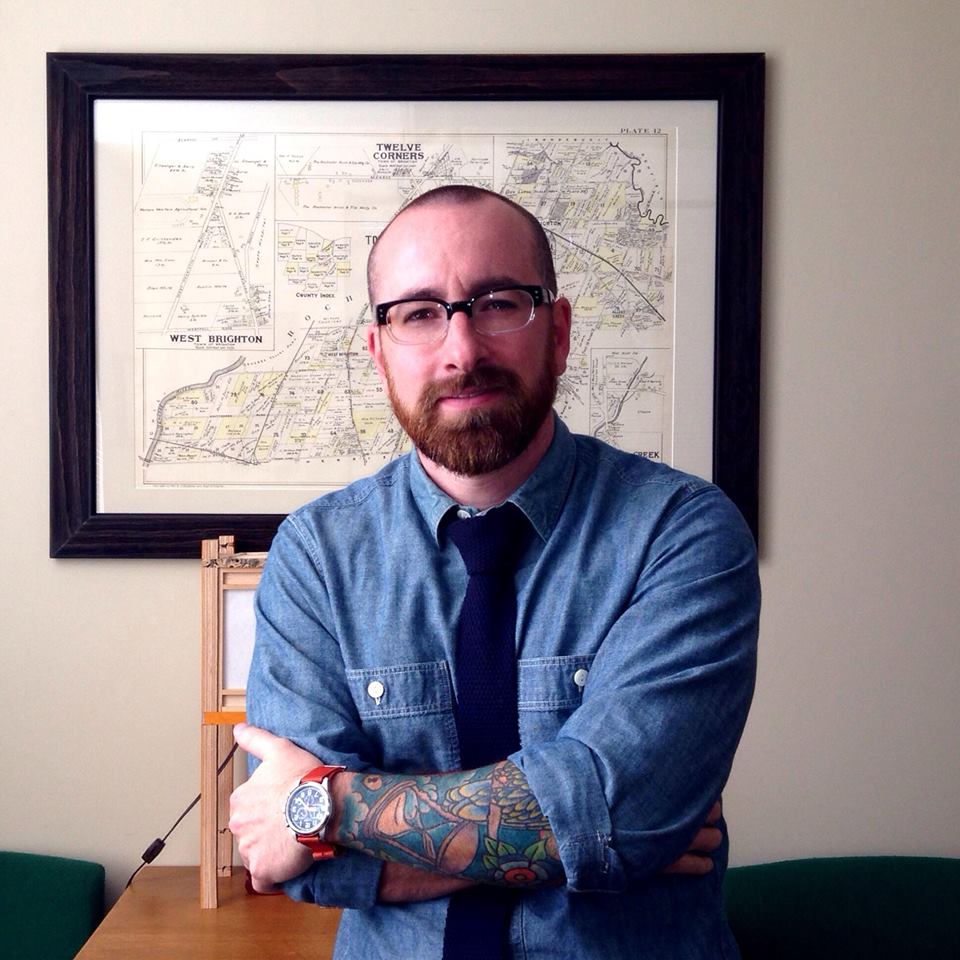 Chris Clemens is the Founder/Publisher of Exploring Upstate. From his hometown in Rochester, he spends as much time as possible connecting with the history, culture, and places that make Upstate New York a land of discovery. Follow him on Twitter at @cpclemens