by Chris Clemens
I first noticed Tree Creations of Geneseo, New York when someone I follow on Instagram put up a photo. After getting in touch with the owners and scheduling a visit for Exploring Upstate to galavant among the branches, I figured I was going to be bringing you the story of a bunch of cool little forts high among the leaves where you could take your kids. What actually ended up happening is what happens so often as the result of this blog: I met one of the most authentic, live-in-the-moment dudes who appears to have learned the secret of living. I spent a couple hours picking his brain about treehouses, cars, engineering and actually, just life in general.
Joe Ferrero is an RIT grad with a Masters in Mechanical Engineering. His background as a jack-of-all-trades had him rebuilding classic cars as a teenager and then working to redesign modern ones as an adult. While in his workshop in 2011, a paint pellet expelled itself from a high-pressure machine from across the room and entered his left eye. Doctors told him that had the projectile traveled another half inch, there was a strong chance that instead of his sight, he would've lost his life. Though he lost half his vision, he gained an invaluable insight: life was short. Really short. During the time he was recovering from surgeries to try and save his eyesight, the oldest of his two daughters claimed she'd love a tree house. Regardless of the fact that it was the dead of an Upstate winter, he set forth on granting his daughter's wish on January 28, 2012. He told me he always thought he'd love someday to do the 'grandpa type things', and after a close brush with mortality, he realized there was no time like the present to get started on them.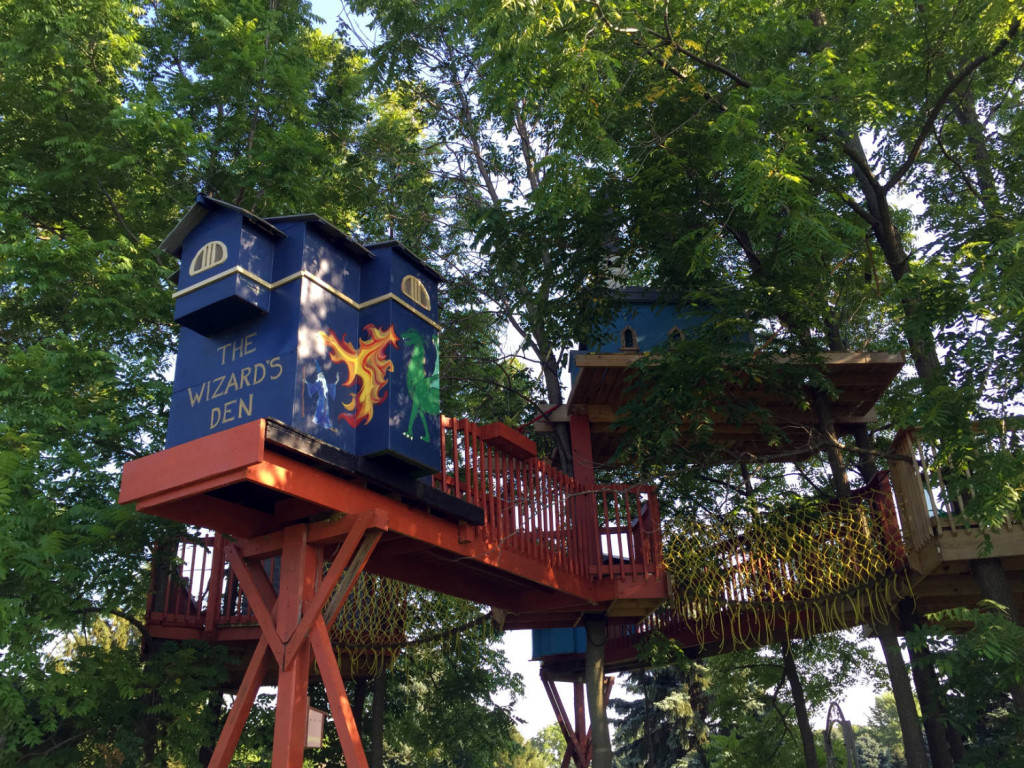 Beginning with a tree house castle complete with a Rapunzel tower and different door sizes, the 'Complex' has evolved to include an ever expanding litany of any kid's dream come true. A Wizard's Den features a book of spells and the Tea Room has a full set up for any princess wanting to host a party. A church in the making already has a priest signed on to provide a non-denominational service to bless what will be one of the smallest churches in the country. A dumbwaiter means never having to carry your dinner up the stairs to the 'Village Square". Not unique enough to blow your mind yet? Fine. When was the last time you saw a vintage car as a tree house? The village also boasts the ONLY 1946 Triumph 1800 Saloon existing in the entire United States. It was hoisted up in to position as a house of its own and even the headlights work!!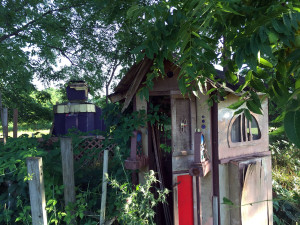 Ferrero got the initial push from his daughter, but he's drawn further inspiration from a fellow Tree-House Engineer. Maurice Barkley in nearby Henrietta had a number of his own unique forts but because of his age he's been having difficulty maintaining them. The decision was made for Barkley's creations to move south into Geneseo and join forces with the ever growing collection where they can continue to be cared for and live on for decades. The story of the collaborative effort in many ways feels like Ferrero is somewhat of a Tree House Preservationist looking to pay homage to his Tree House Hero and maintaining Tree House History while expanding the dream into something larger. And, yes, Barkley (who is in his 80's) has been out to romp around the Geneseo complex. What's more, the oldest kid to have played around in the trees is 95.




What's possibly the most unique about the entire operation is that Ferrero reiterated to me numerous times that he wants everyone to come out and enjoy it. There's no charge. There's no fee. Simply put, he created a fortress of play to give back to the community that he says has given so much to him. [*Remember though that this is private property where he and his family live, so respect should be paid to that end. Anyone wanting to visit should feel free to contact him and let him know in advance that you'll be arriving.]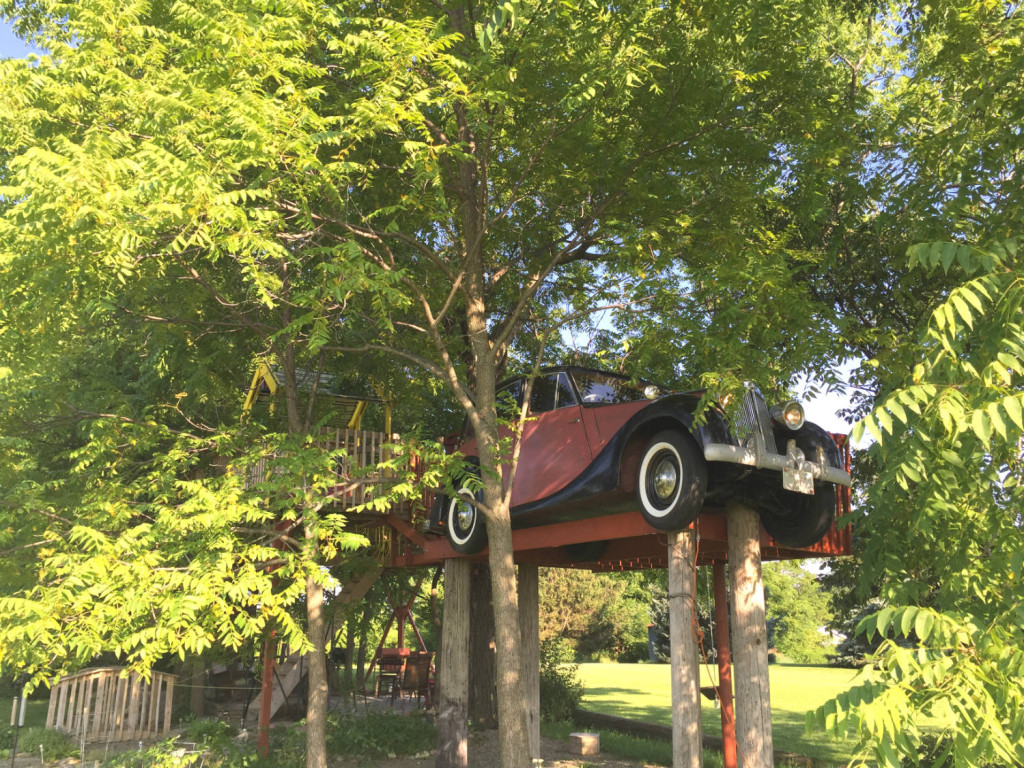 Throughout the time I hung out with Ferrero, he made countless mentions of life lessons his daughters were learning, new friendships being discovered both between kids and by parents and how the community he is part of now stretches among the visitors who have come from all parts of the country. The Complex in his yard isn't a half-baked idea of "hey, we should throw a car up in a tree!", it's a collaborative effort of ideas and suggestions made real by the many hands of volunteers who want to be part of something bigger than themselves. It became supremely obvious to me that no one involved in the project has simply been building treehouses, but rather that they're building memories and connections. Throughout our chat, he continued to mention how much his daughters and wife were involved in not only the enjoyment of the finished products, but also the planning and construction. I got the sense that his daughters spent more time using their imaginations and learning things about the world rather than sitting in front of a television while flicking icons on a tablet. Dinner time chats involve ideas for future projects, but I never got the feeling that his daughter mentioned wanting a treehouse and then he went out by himself to make it happen. Much of the process has included all members of the family, their friends and other volunteers like neighbors or even SUNY Geneseo students wanting to learn how to build things.
Ferrero's mission to open the tree house village to as many people as possible has recently gotten him to expand the idea of who is able to reach the treetops. While there's plans to add additional tree houses after the church is complete, the current project is making the Village Square portion fully accessible by adding a wheel chair lift.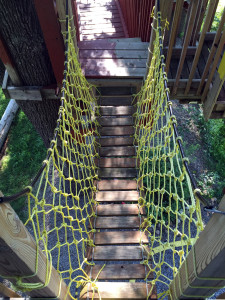 If you're wondering about safety and engineering qualifications, so was I. He explained the tensile strength of each cable coupled with the life expectancy of a pressure treated board, its weight bearing ability at each length and a certain tree's diameter to support sway and stability. He effectively lost me in the clouds of the engineering and math that has gone in to each corner of the village. Rest assured though, birthday parties of a dozen kids and adults haven't so much as even swayed the fortress. Safety features like netting for the bridge sides, rubber hose to wrap cables and an extra high railing ensure that everyone has a great time with no injuries.
I spent a couple hours ducking into little houses, scaling adventurous rope bridges and pretending to drive an old car through the leaves while we chatted. Ferrero's vision for enjoying life and embracing the moment made it easy to forget about my aging back, receding hairline and creaky knees to imagine myself discovering the village 30 years ago as a kid.
If you'd like to swing through the Tree Houses, you can contact Joe through the Tree Creations of Geneseo website, or through their Facebook Page. Be sure to tell him I said hello!




Also, you may find that certain sections of the village don't have stain on them, or maybe something looks like it will be a window and isn't yet. The cost of materials to build and maintain such a project is nearly that of a small home. If you happen to have materials around or want to contribute in some way to maintaining what likely will be a long-standing landmark for a ton of people, I bet it'd be very welcomed. Just before we parted ways, Ferrero imparted a perfectly adult piece of wisdom through a bright childlike smile and said, "Chris, it's not even possible for anyone to do anything entirely by themselves. We all have to help each other."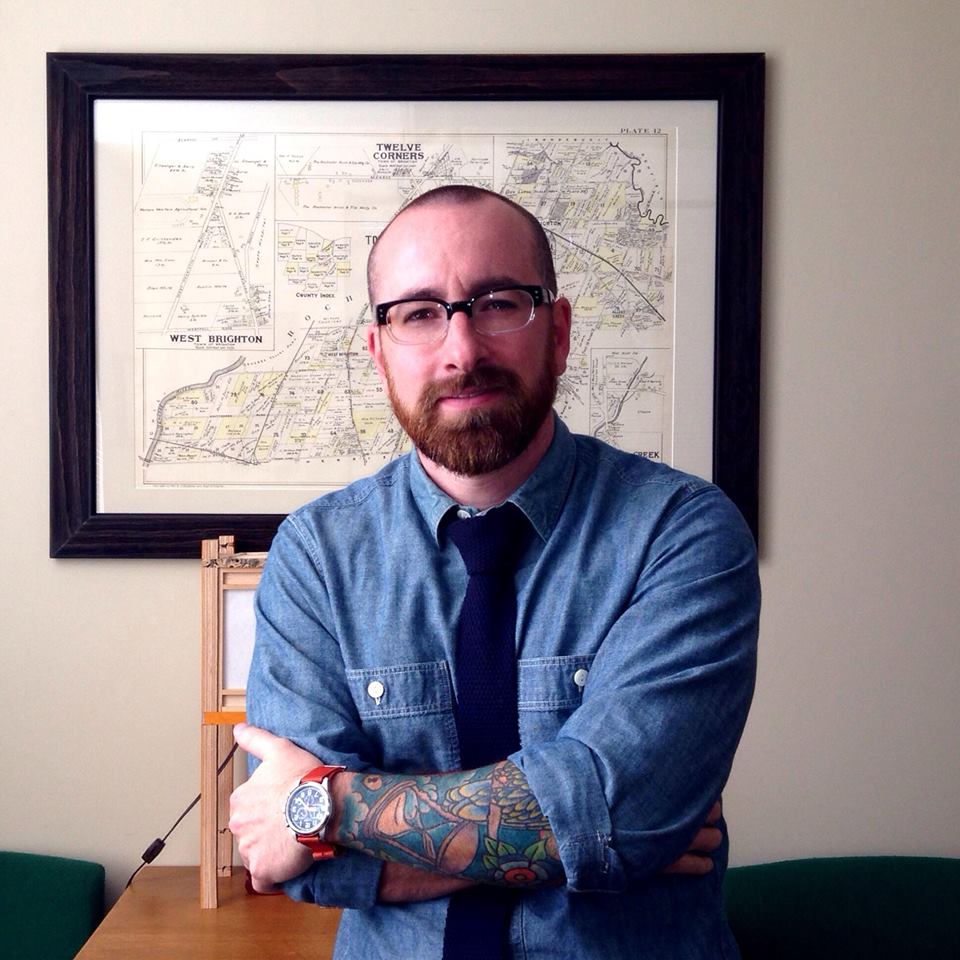 Chris Clemens is the Founder/Publisher of Exploring Upstate. From his hometown in Rochester, he spends as much time as possible connecting with the history, culture, and places that make Upstate New York a land of discovery. Follow him on Twitter at @cpclemens