by Chris Clemens
While exiting the Southern Tier Expressway for Friendship, New York, in Allegany County, you might notice an unsuspecting sign for BBQ. If you're like me, and a BBQ enthusiast, you might wonder, "A BBQ joint in Friendship, New York? That I haven't heard of? Probably not worth it."
If you're like me, then you'd also be wrong.
Friendship Hardware
The Friendship Hardware store has served the good people of Allegany County for over a century as the local spot for lag bolts, plungers, pipes, and related paraphernalia. Current owners Jeff and Dee Wolf have owned the store for just over a decade. As one of the few remaining businesses on Main Street, the hardware store isn't just a spot to get a screen door fixed, it's kind of a local meeting place.
As the defacto gathering site in town, it only made sense for the couple to begin serving BBQ in the store. Actually, it doesn't make sense at all. But, that's part of what makes the whole setup so amazingly wonderful.
After noticing the sign on the side of the highway, we skeptically checked some online reviews. Our skepticism was fed in part by not believing we could find great food in a little hardware store. But, to make matters worse, online review sites can often be wildly off course and inaccurate. For the Friendship Hardware and Sandwich Shop, the general sentiment is that everyone was pleasantly surprised with their visit.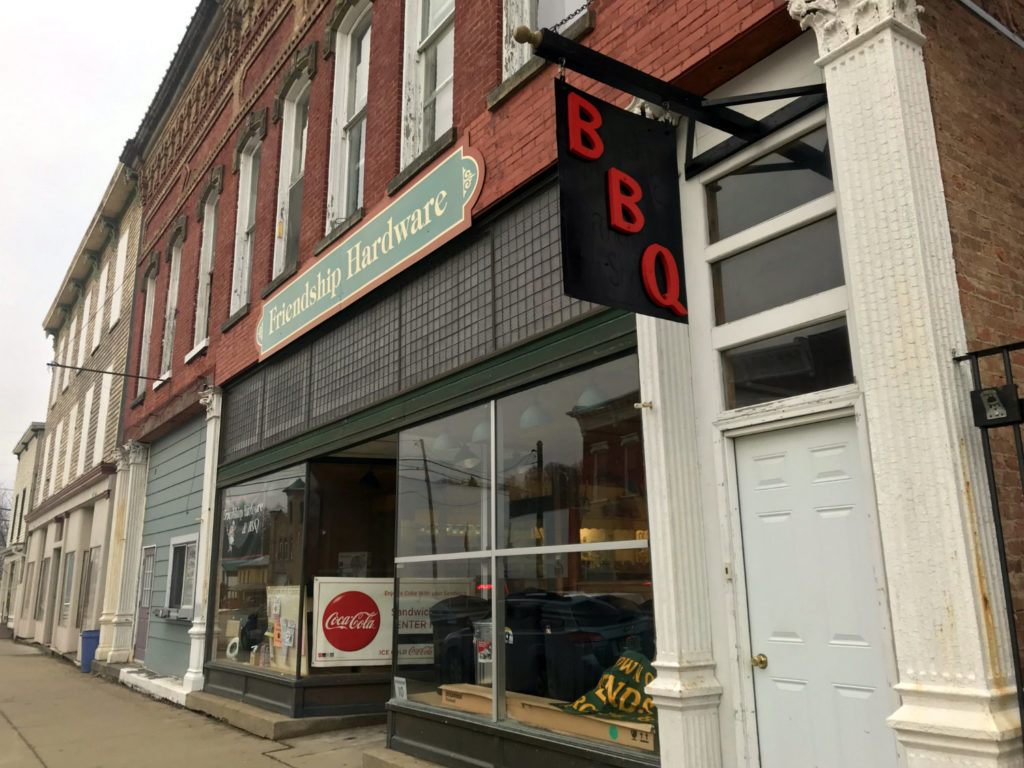 We pulled in to the four corners of Friendship–a town that was once one of the country's original "boom towns", but now is a bit…quiet. After striking oil in 1879, the region's population nearly doubled in just a decade, and this stretch of road was prepped to become a bustling metropolis. The oil boom didn't last long, and investors, hoteliers, and other entrepreneur types moved on. There's no easy way to put this, but Allegany County as a whole has struggled financially over the last century.
I'm mentioning this for two reasons, one of which I'll explain now. The average traveler might roll in to the four corners of Friendship, park their car, look around and think, "That Chris Clemens guy on Exploring Upstate is crazy." I know it doesn't look like much, but let that go.
Striking Sandwich Gold
We strolled inside and stepped back to a time when "mom and pop" shops ruled the land. Metal shelving units are filled with snow shovels, bird house projects, lock de-icers, and other assorted things. Again, at first glance, you might have thought you walked into the wrong place. The back half of the store is filled with tables, clearly arranged for eating, so there's one confirmation that you've made it.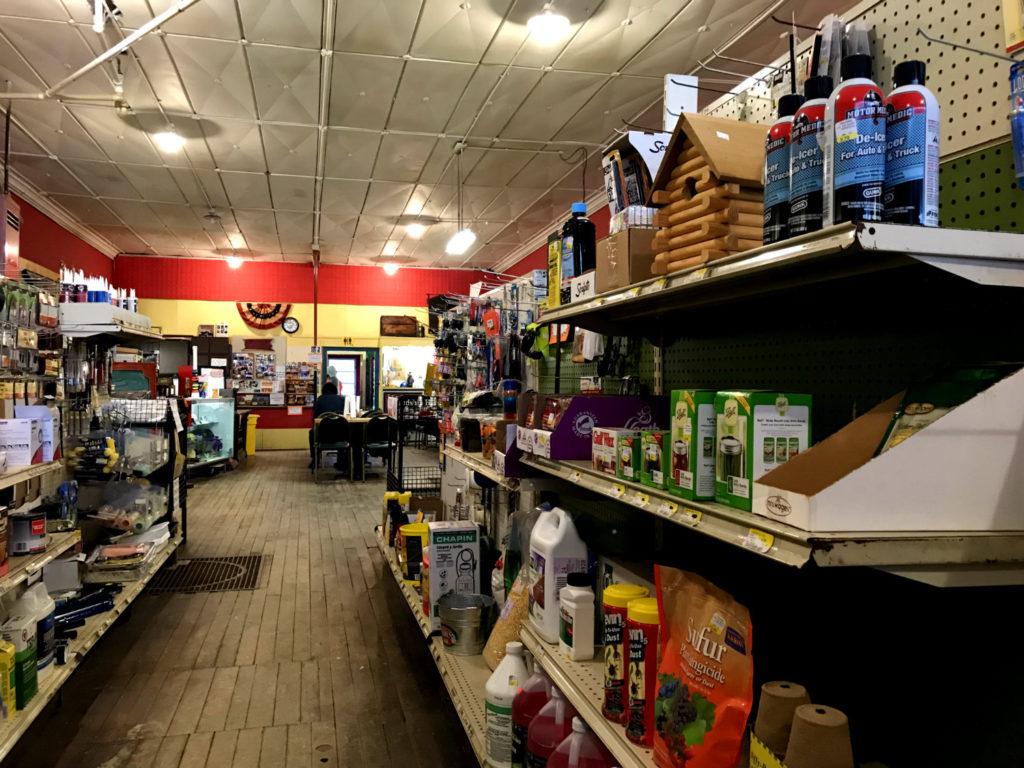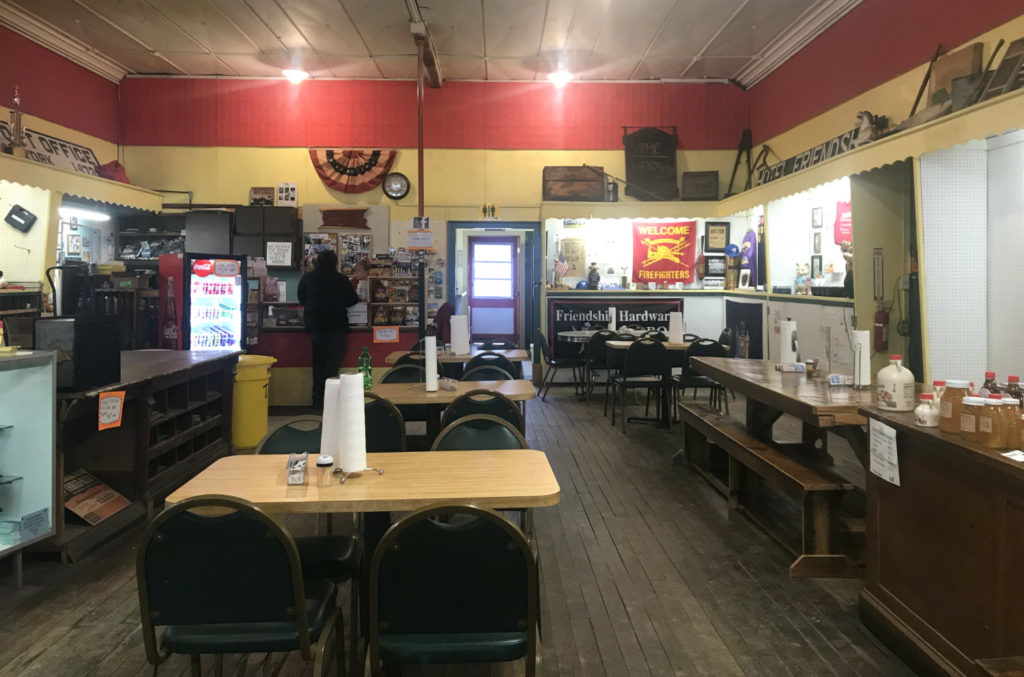 We were warmly greeted by Jeff and Dee, and quickly told them of our road-weary, happenstance discovery of their shop. We arrived around 4:30p on a Saturday, and at the time, were the only patrons in the store. The cool part about being the only ones there, was the opportunity to chat with them about the town, shop, and their menu. We looked over a simple, photocopied menu with sandwiches like the "Pressed Cuban" and the "Smoked Reuben". Also listed are signature items like the "Maple Pig" described as "Our slow smoked pork loin topped with maple bacon cheese and your choice of homemade BBQ sauce or homemade horseradish sauce; pressed on a hard roll".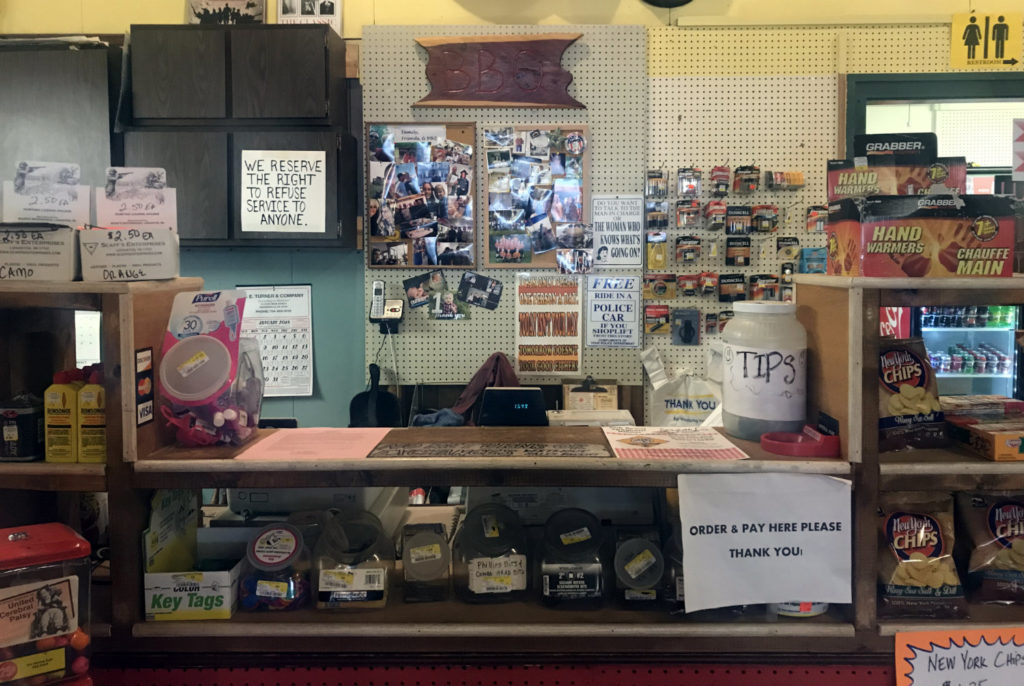 "The Usual" is a smoked turkey sandwich with pepper jack cheese and and chipotle mayo on sourdough. I opted for "The Ruck" which had smoked turkey breast, beef brisket, and bacon with provolone cheese and BBQ sauce on pressed sourdough bread. My sandwich came with some nacho chips and a bowl of brisket chili.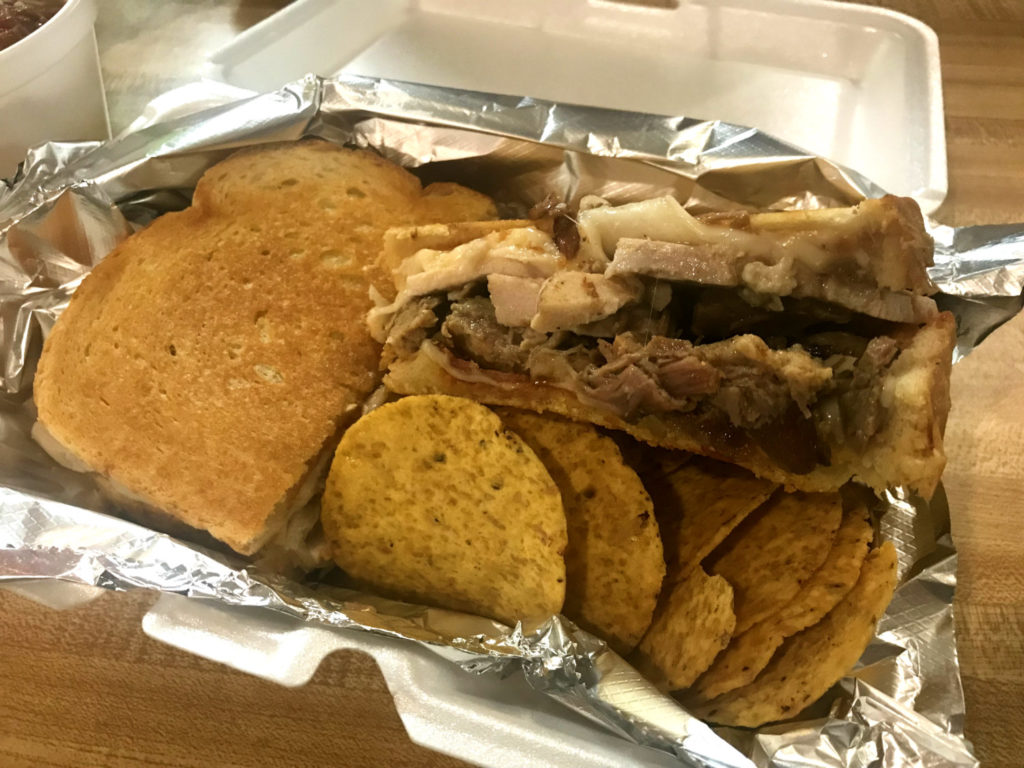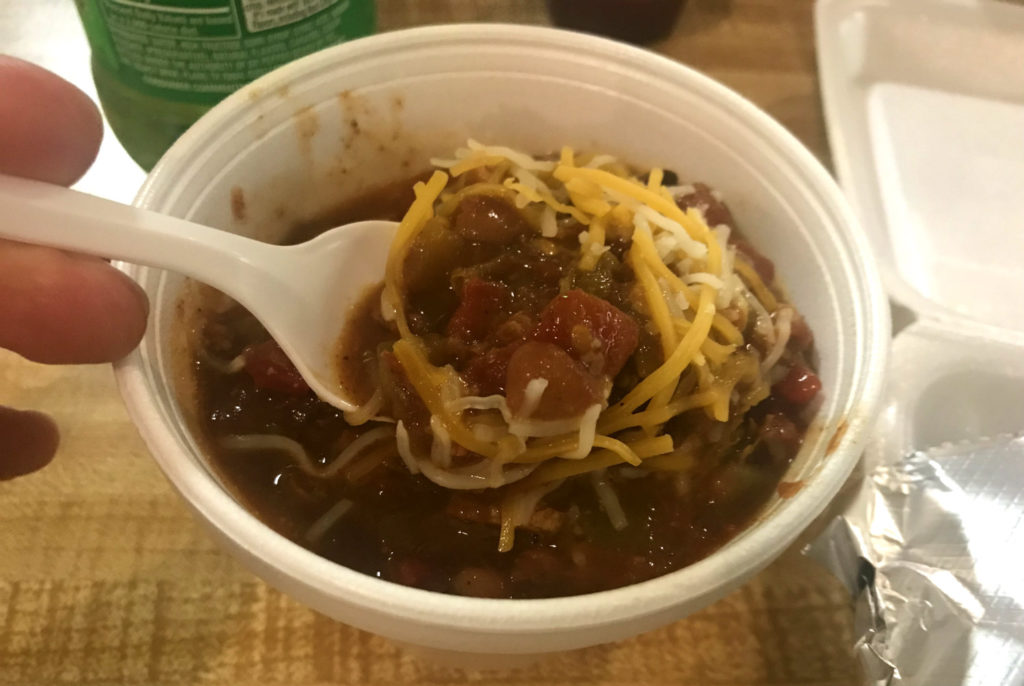 Remember how I said there was two reasons I mentioned the financial struggle of the region? Here's the second reason: my sandwich was $7.00!
That same meal here in Rochester or Buffalo would easily have been double the price. My friend got a brisket sandwich, with a pasta salad side, a homemade brownie for the road, and two drinks all wrapped in to one bill came in at $18.00. If I wanted that same meal here in Rochester, it would almost be cheaper to drive the two hours to the Friendship Hardware and Sandwich Shop!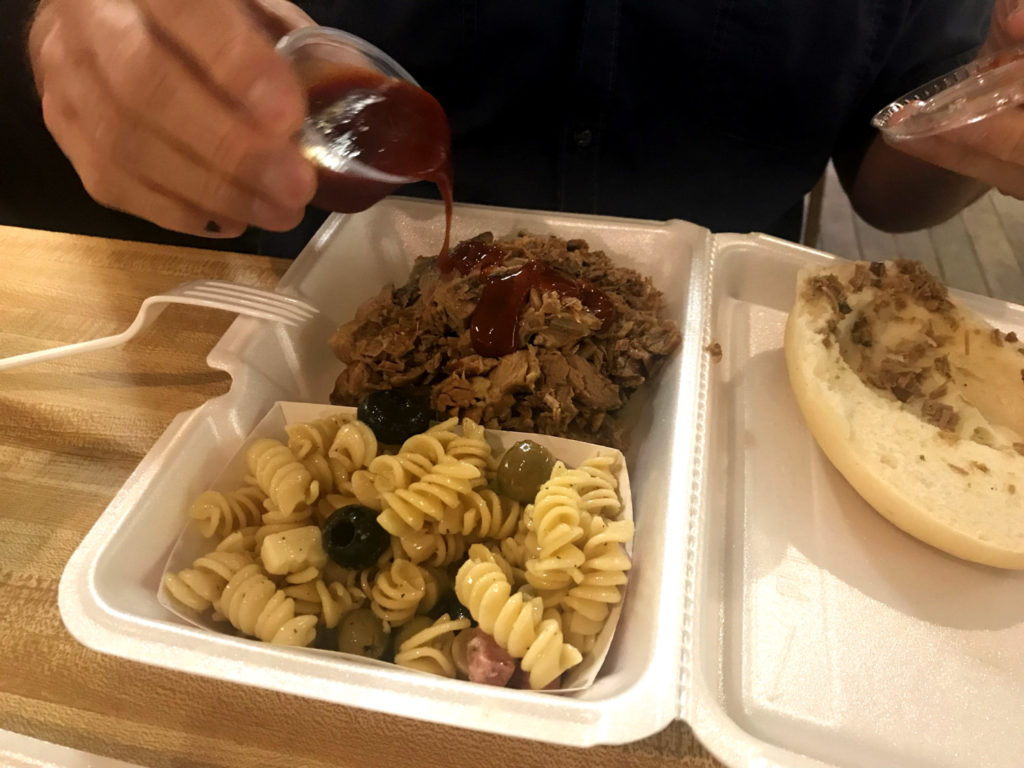 And, it was good! The brisket was tender. The chili was a tad sweet with a little bit of smoky flavor from the chunks of brisket. The pressed sourdough had that great buttery, crunch that you hope for every time you order a grilled cheese. The turkey breast wasn't overdone like poultry often is at BBQ places. All the flavors came together perfectly and was a perfect ending to a long day of driving.
Fixing a Sandwich
Interesting fact about Friendship, New York: At one point in the early years of the 19th century, there was a good number of bars here. Drunken men would get in fights so often that one of the intersections became known as "Fighting Corners". A few settlers didn't love the debauchery, and made efforts to curb the behavior and to move the riff raff out of town. One of their methods was to name the official settlement "Friendship", thereby re-branding the area to be one of peace. Sounds crazy, but it worked!
The Friendship Hardware and Sandwich Shop might be an unsuspecting place to grab a meal, but you'll find friendly faces and great sandwiches. Both my travel companion and I were super excited we made the last minute detour to follow a road sign in the bushes.
Maybe eating in a hardware store doesn't make much sense, but if you were looking to build a friendship, a great BBQ sandwich sure sounds like the right tool to me.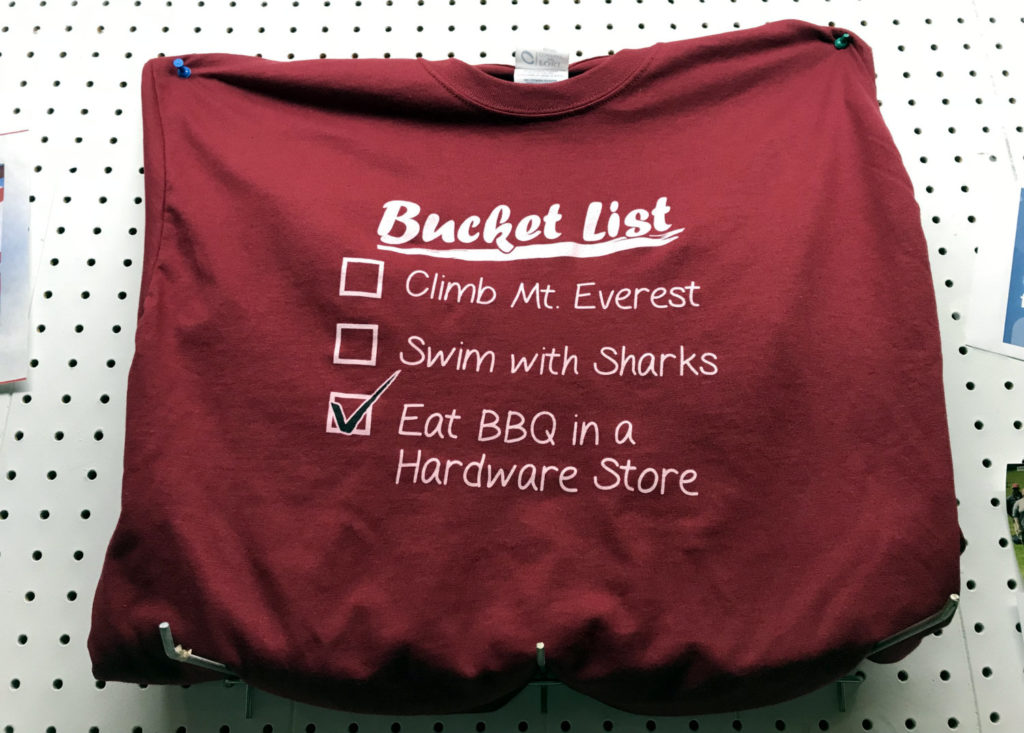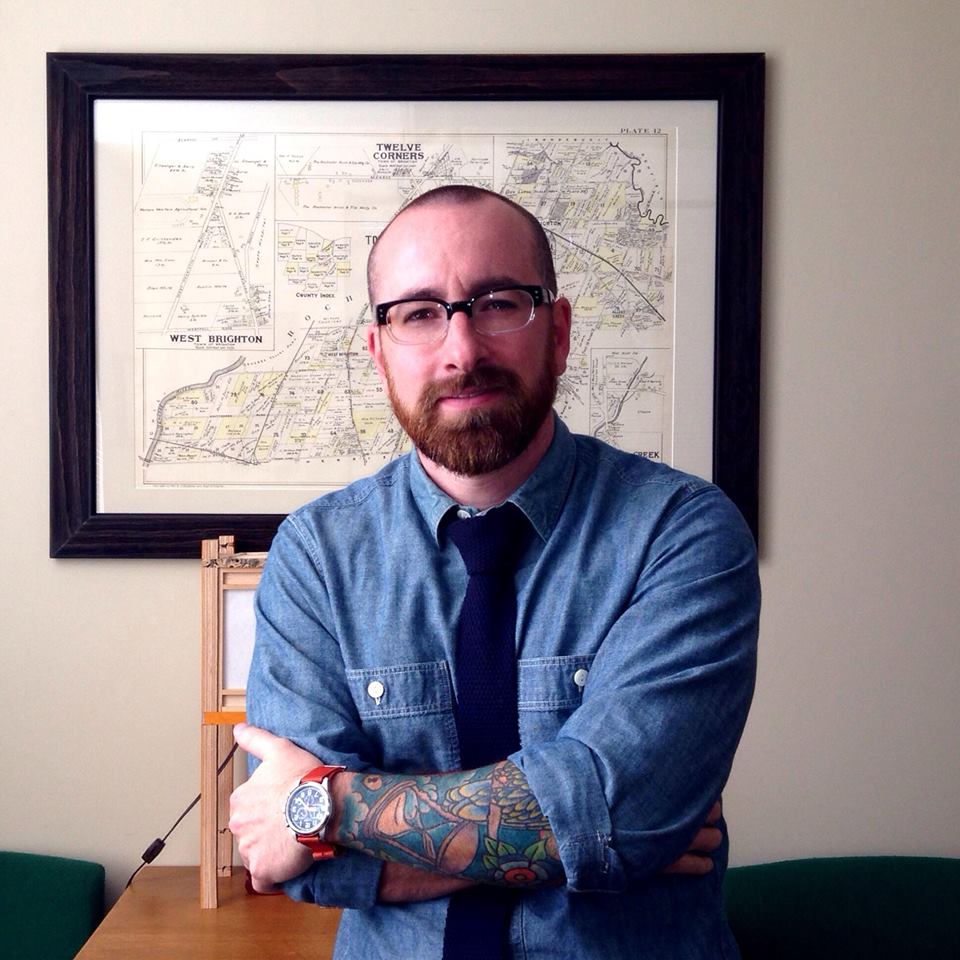 Chris Clemens is the Founder/Publisher of Exploring Upstate. From his hometown in Rochester, he spends as much time as possible connecting with the history, culture, and places that make Upstate New York a land of discovery. Follow him on Twitter at @cpclemens