by Chris Clemens
Ever wondered what it would be like to spend an entire day in Syracuse working your way through the menus of every tea shop you could find? Me too! And, so had my good friend Andrew Brady. We recently spent a day in the Salt City figuring out as much of the tea scene that our bladders could handle.
Allow our experience to be your guide the next time you're in Central New York and seeking a tea steeping experience.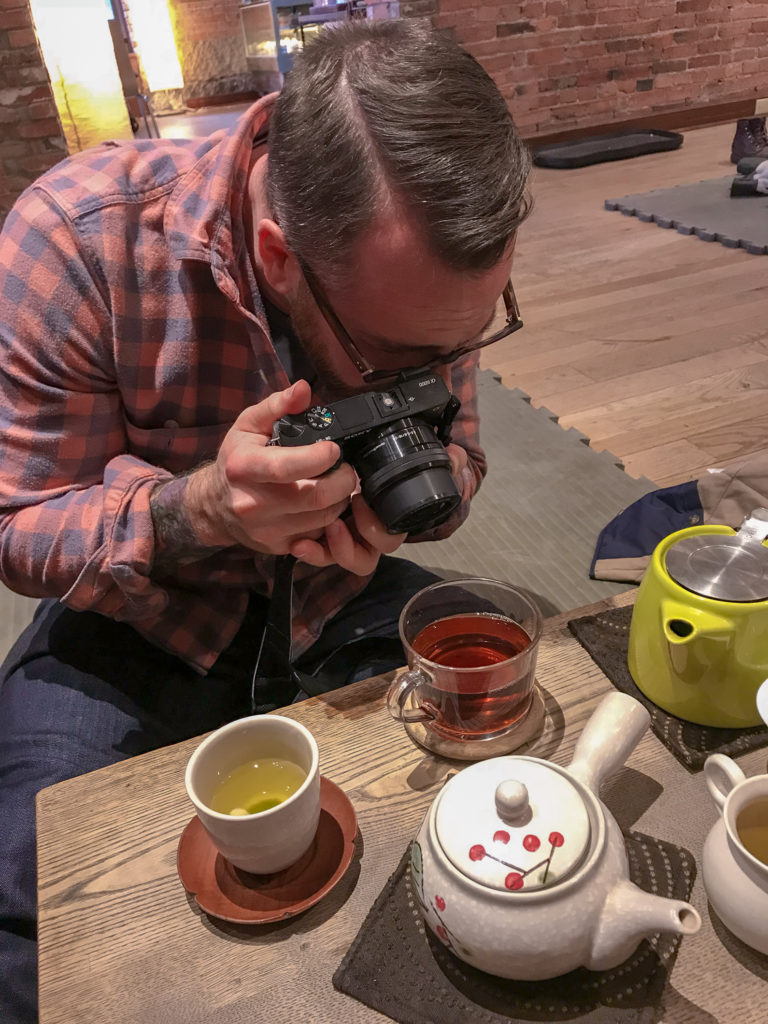 The Bloom
In April 2016, my fellow-foodie-friend Chris Lindstrom invited me to a Gong Fu Cha ceremony. It was hosted by Niraj Lama, who owns Happy Earth Tea (and now, Leaf Tea Bar) in Rochester. What on earth is a Gong Fu Cha ceremony? I thought the same but, didn't ask. I just went figuring as long as there was no mayonnaise I'd probably enjoy it.
That night we learned Gong Fu Cha is a ceremonial Chinese tradition. When translated to English it becomes "tea with great skill". Imagine a very mindful ceremony of preparing, steeping, and drinking tea while a knowledgeable guide crafts a cup like you've never had before.
And then another, and then another, and then another…
The Gong Fu Cha ceremony at Happy Earth Tea was quite memorable for a bunch of reasons. I learned a lot about tea that night, but I also made some great new friends. There was something particularly intimate about sharing an experience over a couple hours of tea.
One of the new friends I made that night was Andrew.
First Steep
Andrew is a veteran traveler who doesn't think twice about booking an extra week in Italy. He's been known to decide a layover in Iceland is the way to travel to Ireland. His travelogue is both impressive and intimidating even to someone claiming to be intrepid.
So, when we began at Destiny USA, it felt a bit less adventurous than we were both used to. The very first stop on my curated list was Kung Fu Tea, a bubble tea place in the newer section of the mall.
Bubble tea is a Taiwanese drink invented in the 1980's. It's made with a tea, then usually sugar, some type of flavored milk, and an added bonus! That bonus is usually a deal-sealer for people. Most seem to love or hate the texture of small tapioca balls slurped through an extra-wide straw. Fear not, you can also sometimes get puddings, fruit jellies, and popping jellies.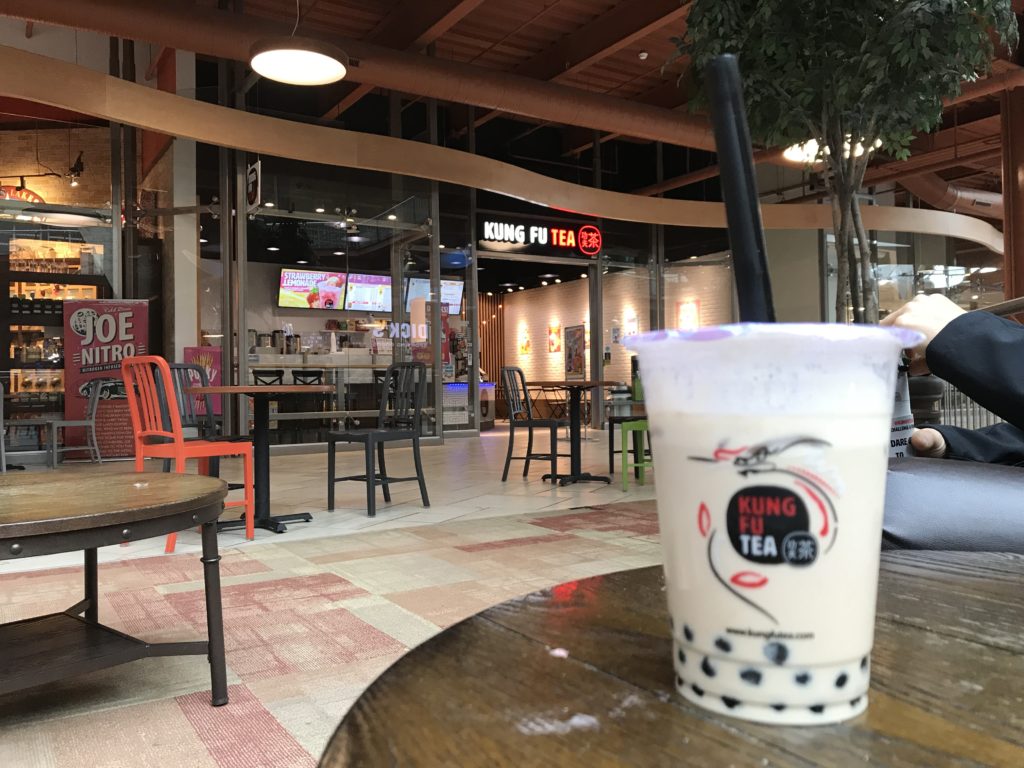 It sounds weird, because, it kinda is. But, over the years I've come to appreciate a great bubble tea now and then.
To begin the day, I went with a basic milk-tea with the tapioca balls and just a bit of sugar. Andrew glared warily while he sipped his go-to hot green tea.
Kung Fu is a humongous chain that can be found all over from Syracuse, to Vietnam and Australia. They even have an app you can order with ahead of time. In fact, if you're new to bubble tea, using the app might be a good strategy. There's a just about a million ways to mix the ingredients so it can be overwhelming.
Second Steep
Kung Fu is rather new to Central New York. But, the Unique Tea House on Marshall Street near Syracuse University has been serving bubble tea for over a decade. We made it the second stop in our Syracuse tea tour.
Unique Tea House has a ridiculously long list of options that make it tough for even a tea veteran to digest. They've got bubble teas, a cocktail series featuring the Love Me Tender (Honey, passion fruit, orange, green apple, and green tea), smoothies, and the list goes on.
Andrew and I tackled our list of stops a bit differently. He opted for another hot green tea as his litmus test to compare each location's green tea against the others. Trading science for spirited introductions, I opted to try as many different ends of the spectrum that I could find. My strategy at Unique Tea House was to blindly accept the recommendation of the guys at the counter. That brought me well outside my normal routine with a brightly flavored mango smoothie and strawberry popping jellies.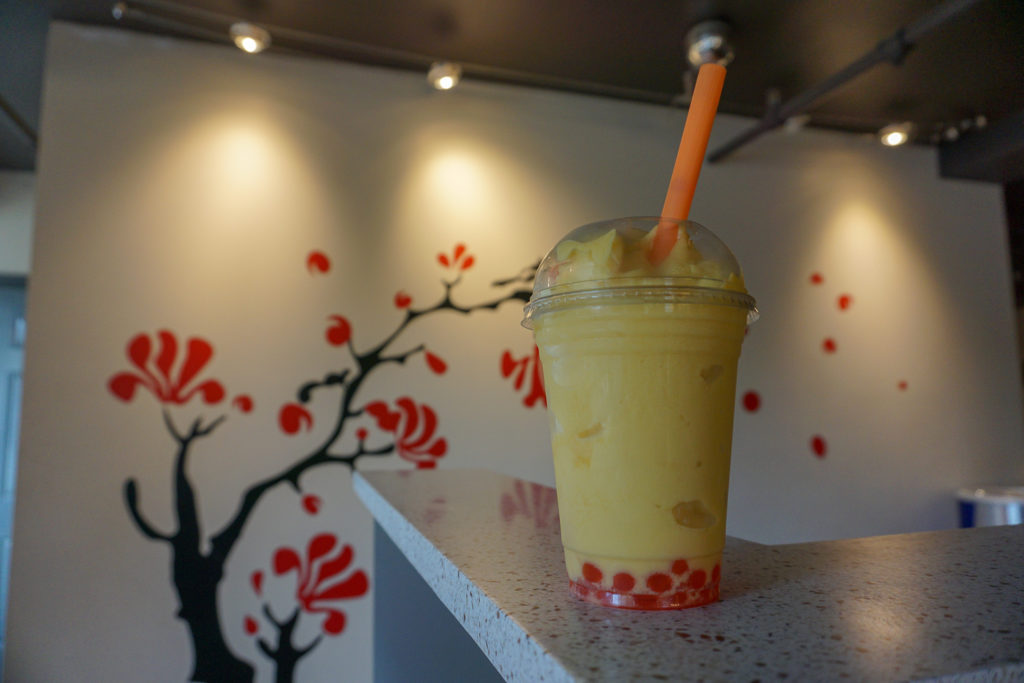 The guys at Unique Tea House were super cool and helpful in working through their menu. You can order online, but honestly, talking to them in person is a great way to get help in finding something you'll be sure to like.
You'll also find the newer established Feng Cha Teahouse on Marshall. Sadly, as much as I really wanted to do everything in a day, we skipped this one. Feng Cha does a bubble tea as well, and with a slightly different cultural interpretation. We heard great things about Feng Cha, but we had a schedule to keep!

Third Steep
Roji Tea Lounge makes their own loose leaf teas right in Syracuse. Their lounge downtown offers what they call a "chill hangout" and indeed, that's an accurate self-description. Two sections of the lounge exist. One is filled with cafe style seating and a couch. The other side is seemingly cavernous as it has only chabudai, which are traditional Japanese tables a foot or so from the ground.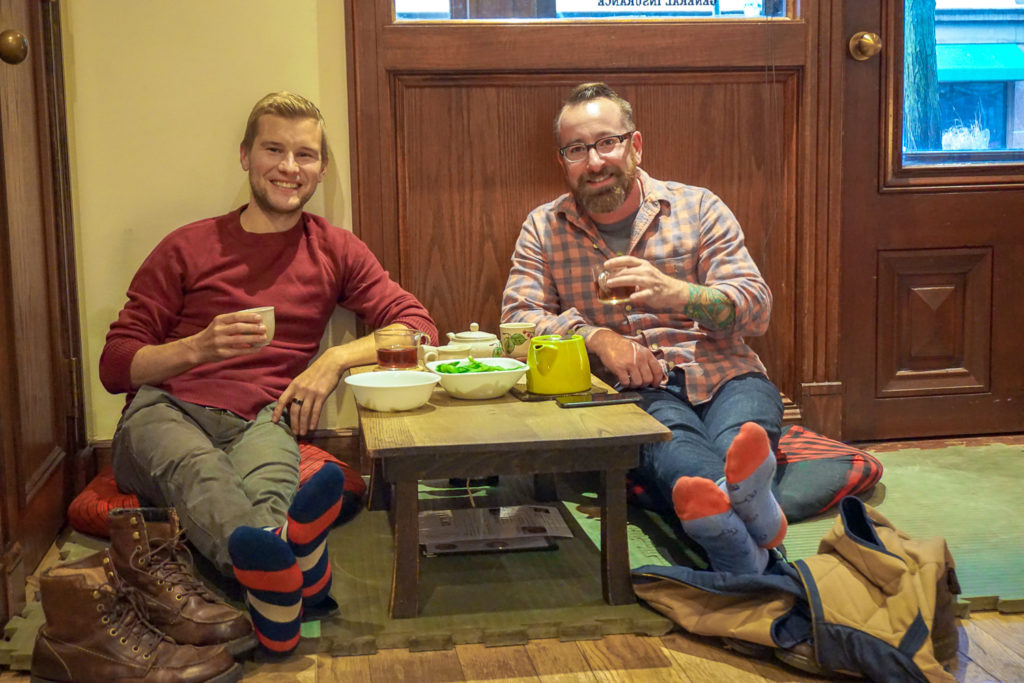 We took off our boots, and found a spot on the sitting pillows at an available table and dug into Roji's robust menu. It was great to see some of the teas that Andrew and I have both sought after like oolong and a Lapsang Souchong.
Andrew ordered his signature green tea. He selected a Sen-cha Shin-ryoku, a Japanese tea that was flavorful, but not overtly grassy. I got excited to see the Mandarin Pu-erh, which featured the typical strong flavors of a pu-erh tea, but dialed back with just a hint of citrus from the mandarin peels.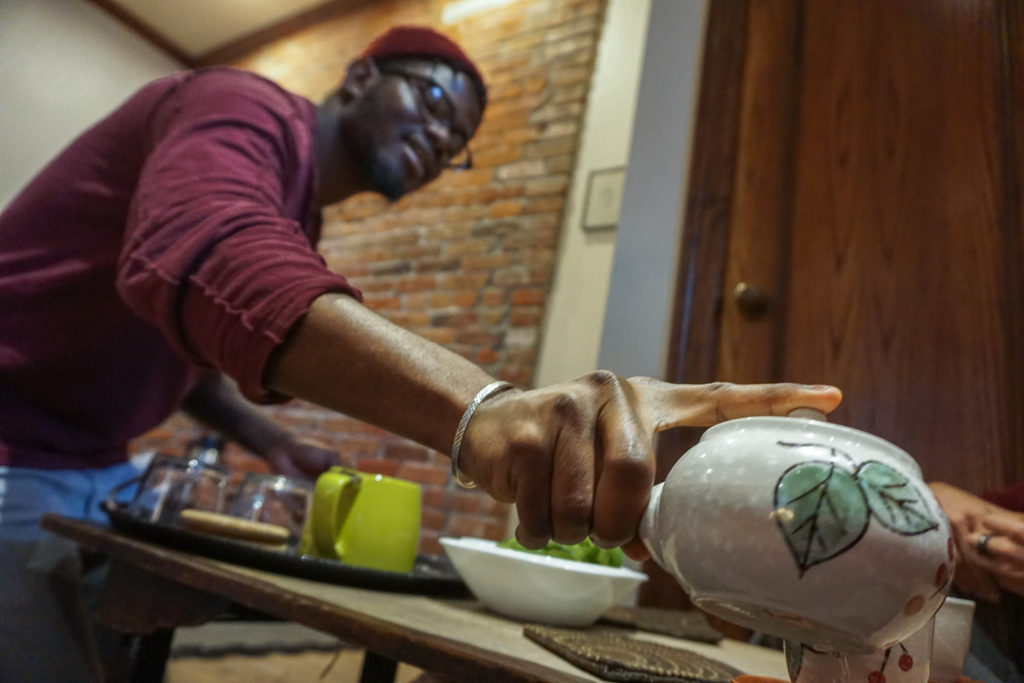 Roji was absolutely a chill hangout, and the couple teas that we selected that day were outstanding.

Fourth Steep
At 5:00p, on Sundays, the boutique shop Midnight Sun in Armory Square closes. But, on most Sundays, at 5:01p it becomes an intimate setting for Jeff Cleary to host his pop-up tea sessions. We arrived as a crew was pushing displays aside and seating was being arranged. Then, arranged again as more and more people arrived.
Jeff Cleary discovered his obsession for tea years ago when he was looking for a healthy alternative to alcohol that still allowed him the social component of sharing a beverage. He fell down the rabbit hole of research and discovered the world of tea extended far beyond what he imagined. The intrigue of trying white teas, and matchas, and all the others became a passion for him.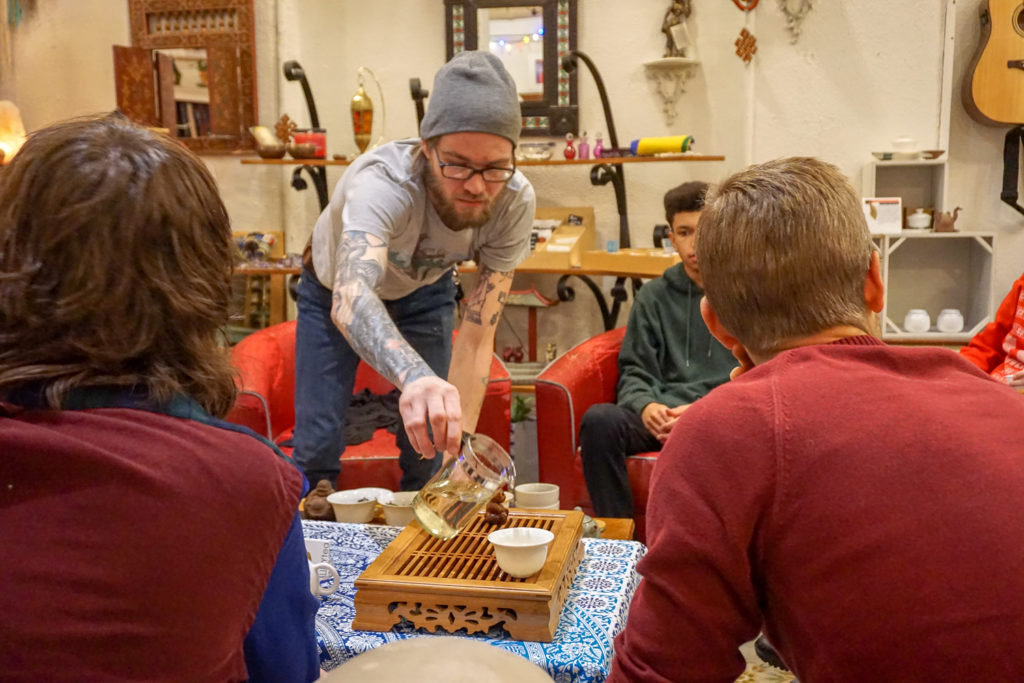 He started writing a blog about teas and soon found others wanted to try the teas he was unearthing. With prompting from friends, he started selling the teas and founded his own business called UNYtea based out of his home in Syracuse. In true form of someone wanting to share their passion, he was hosting tea ceremonies wherever he could find space, often hosting perfect strangers in his home for tea. Now with Midnight Sun providing space for after hours tea sessions, Jeff and UNYtea have found somewhat of a cult following locally.
Jeff offered up some of his most prized teas for the evening, and our group sipped through multiple steeps of each. We had a Cultivar 21, which is a Taiwanese yellow tea, a Twaiwanese oolong called Shan Lin xi, and a 2006 Bai Mu Dan, which is an aged Chinese white tea.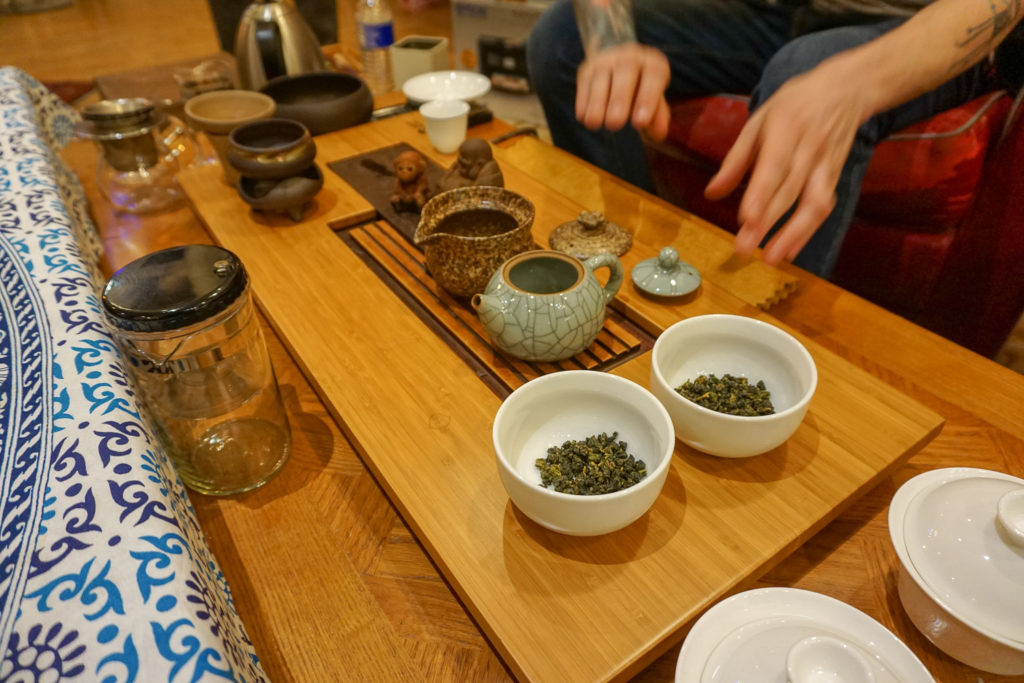 With each pour Jeff shared details about the origins, where each tea tends to grow best, the characteristics of their flavors, and even an in depth description of how the leaves felt, followed by a passing of the leaves to feel them ourselves.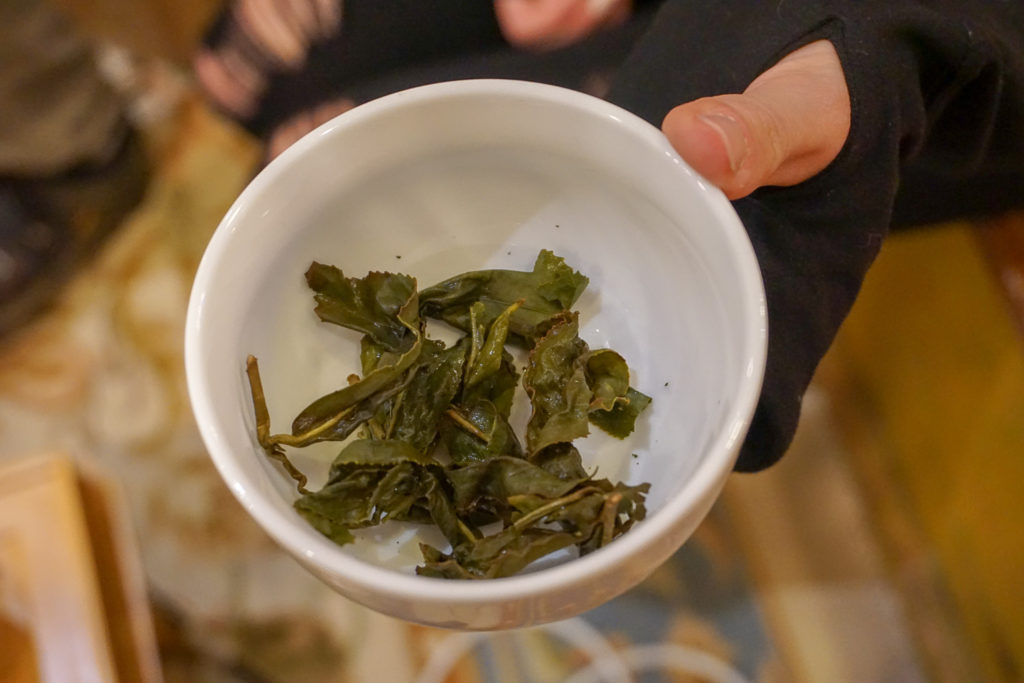 Much like the first Gong Fu Cha ceremony that Andrew and I shared years ago, this was a group that collectively joined together in the experience. It was about having tea, but it felt more like connecting. This event wasn't just having a cup of tea and being done. UNYtea's popup felt more about attaching to a spirit, and the tea (lotttsss of it) was a vehicle for that connection.

To keep up with announcements on future UNYtea events, give them a follow on Facebook.

Fifth Steep
In the interest of truly attempting to be complete, there are other places you can get tea in Syracuse. Most of the coffee shops and cafes serve tea, and you can find different options at certain Asian restaurants. We wanted to experience shops that dedicated themselves almost entirely to teas. The ones mentioned here are what I was able to find while researching in advance.
That being said, I did learn about The Little Tea Cart. In similar fashion to UNYtea, this is a pop-up shop that you can find at certain events around Syracuse. On the day of our visit, there wasn't one planned so you'll have to find it and tell me how it is!
Attempting to drink as much as tea as we could muster was no small feat. But, I can't think of a better friend to tackle such an adventure with than Andrew. What's more, the attempt landed us a bunch of new friends. Who doesn't need more friends to have tea with in other cities?
And, yes, we totally did have to make a stop on the drive home, but only once.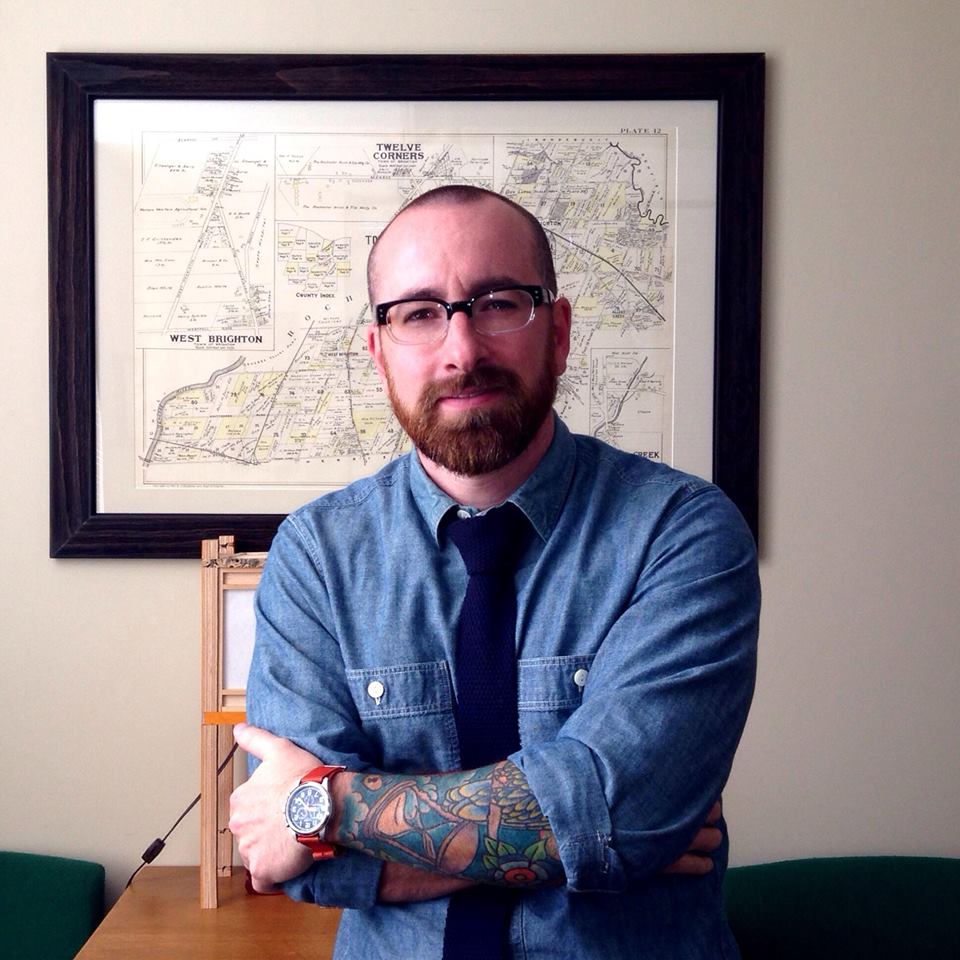 Chris Clemens is the Founder/Publisher of Exploring Upstate. From his hometown in Rochester, he spends as much time as possible connecting with the history, culture, and places that make Upstate New York a land of discovery. Follow him on Twitter at @cpclemens