by Chris Clemens
This year the 14th edition of the world-famous Xerox Rochester International Jazz Fest will fill the streets of downtown Rochester with literally hundreds of thousands of people over a nine-day, jampacked schedule of events from June 19th through the 28th. As a native Rochesterian and music fan, the festival has always been something I've celebrated right from the beginning. Up until about five years ago, I'd take the entire week off from work and use the festival to introduce myself to new music and hang with friends. With the popularity of the festival increasing exponentially year after year, the days of sauntering down to Java's on Gibbs St. and grabbing an outside table with a couple friends and smoking cigars all evening are long, long gone. Now, on Gibbs Street many nights of the festival, it's tough to even find enough elbow room to reach into your pocket for your phone. The Friday and Saturday night free stages bring crowds from literally all over and while many of those people are ridiculously cool and love the music, there's certainly a few who are only there for a free party. Over the years I have found myself developing tips to enjoy the festival and still avoid the overwhelmingly large crowd of slightly tipsy women attempting to avoid the guys in jeans with embroidered back pockets. If you're headed to the XRIJF and really want a relaxed, easy way to enjoy the festival, you're in luck. I hereby present…

GENERAL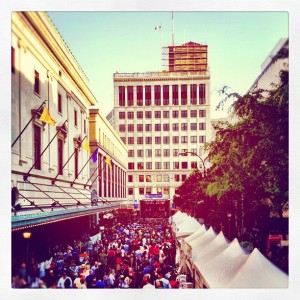 The crowds are by far the largest at the Friday and Saturday free stage venues. People celebrating the weekend head out for a party and usually are ok with seeing whatever artist is playing, but the focus really is on 'going out'. Heading to one of the ticketed shows will ensure that you're surrounded by people who are truly there for the music, and have most likely sought out that artist specifically. Many have ponied up for the week-long Club Pass so you know they're serious about seeing great music. During the week and weekend days, you can catch some of the local jazz bands for free. Because the Eastman School of Music is here in the city, we have a local collection of world class musicians on hand doing some great stuff. Tuesday at 5:30 might not be an ideal time to go out to a festival, but you'll see some great music and avoid fighting the record breaking crowds of the weekend nights. We certainly love Trombone Shorty here, but remember to check out your local musicians too!
Many people don't realize that there are a ton of volunteer opportunities for the festival. Volunteering means you get some free tickets to the paid venues, but it also means you're sorta behind the scenes or under a tent in an info booth or something. You're working, but it's totally fun work and you get special access to the festival and your friends will think you're totally cool! Want to register as a volunteer? Check this out.
PARKING
Unfortunately, there aren't too many cities in Upstate New York that are great with public transportation and Rochester is near the top of that list. In fact, we're actually one of the worst in the country when it comes to the parking situation. Though moving downtown is becoming more chic, most people coming to the festival still don't live within walking distance. The East End Garage has a ton of parking, but it's located right in the nucleus of the entire festival so when everyone leaves at the same time, it's basically like leaving a concert at that one amusement park between Buffalo and Rochester that is infamous for bad concert parking. You know the one I mean.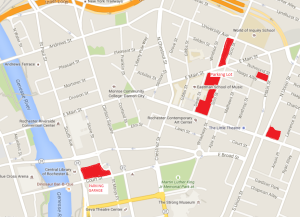 If you're coming from the East side, try driving up Main Street, or take University to Main St and head up on the north side of the festival. There's a few small parking lots that charge $10-$15, but they're on the outskirts of the festival, so when it's time to go, you can just pull right out and be on your way. No waiting for six floors of a garage to clear out and then bottlenecking on East Ave. If you get there in the 4:00p-6:00p range there's still plenty of spots in those lots near Scio St.
Additionally, if you're coming from I-490 or the West side, there's a parking garage on Court Street and South Ave. Is it a couple blocks of walking? Absolutely. But it's also located right next to the on ramp for I-490 so you'll be all set once you're out of the garage. Plus, you're in the city–do a little walking!
Rochester is also becoming more of a bike friendly city. Consider the idea of biking into the fest. Even if you're out in the suburbs, drive your car to a spot like Wegmans and ride the bike (or even walk) from there.




Unfortunately, Lyft and Uber are banned from Rochester, but we still have plenty of cab services. Please, please, please if you've been drinking, don't drive.
FOOD
There's plenty of awesome Rochester Food Trucks that have revved up the last few years and a bunch will be parked in certain areas around the festival. In previous years all the food was right on Gibbs Street along with a free stage and the Xerox VIP tent. This year, organizers have helped sway the congestion a bit by moving some of the food off Gibbs St. Here's an info sheet put out by festival promoters on how to find them.
Also, it's kind of right in the thick of things, but my buddy Chris over at Food About Town is always raving about Aunt Rosie's. If you're down near the Main Street stages you'll be right at the front door to the restaurant.
As an alternative to the Jazz Fest food trucks, the nearby Restaurant 2 Vine recently updated its menu with small plate selections after bringing on a new chef. It's just a couple blocks from the festival so walking is easy, but still far enough where it will provide a great respite from the throngs of people. I've had almost everything on the menu at this point, but I'm particularly a fan of the house-made italian sausage that uses local products from Hart's Local Grocers located next door.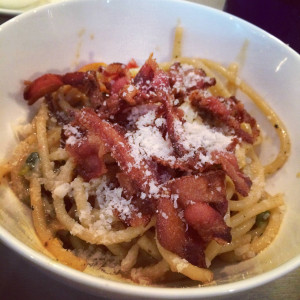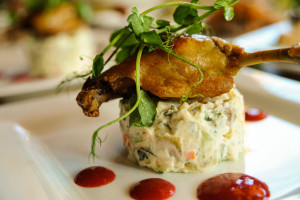 STAGES
As the festival has gotten larger, more and more stages have been added that seem to stretch further away from that Gibbs St. hub of the festival.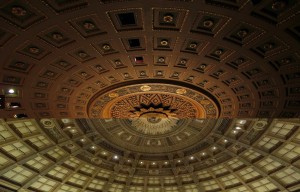 One of the new stages this year is on East and Prince at the new Lyric Theatre. Formerly the First Church of Christ, Scientist, Lyric took over the property earlier this year. Most people have no idea that George Eastman walked in while it was being built in 1911 and loved the ceiling so much, he decided to copy it when he built his Eastman Theatre on Main and Gibbs. I haven't been in there in years, but supposedly Lyric has done some great renovation work. Furthermore, it's way off the beaten path from the festival so parking and accessibility will be pretty great. Here's the venue info for Lyric Theatre.
The Christ Church stage is right down on East near the Gibbs Street hub so it's busier there, but again, you're gonna get a crowd that is excited to celebrate whatever group is playing. Additionally, there's an outstanding Louis Comfort Tiffany stained glass window and an incredibly unique pipe organ. For more on the Christ Church state check the lineup.
Have you got any ideas that I've missed? Don't wait until you run in to me at the festival, leave me a comment so others can pick up on your festival going prowess!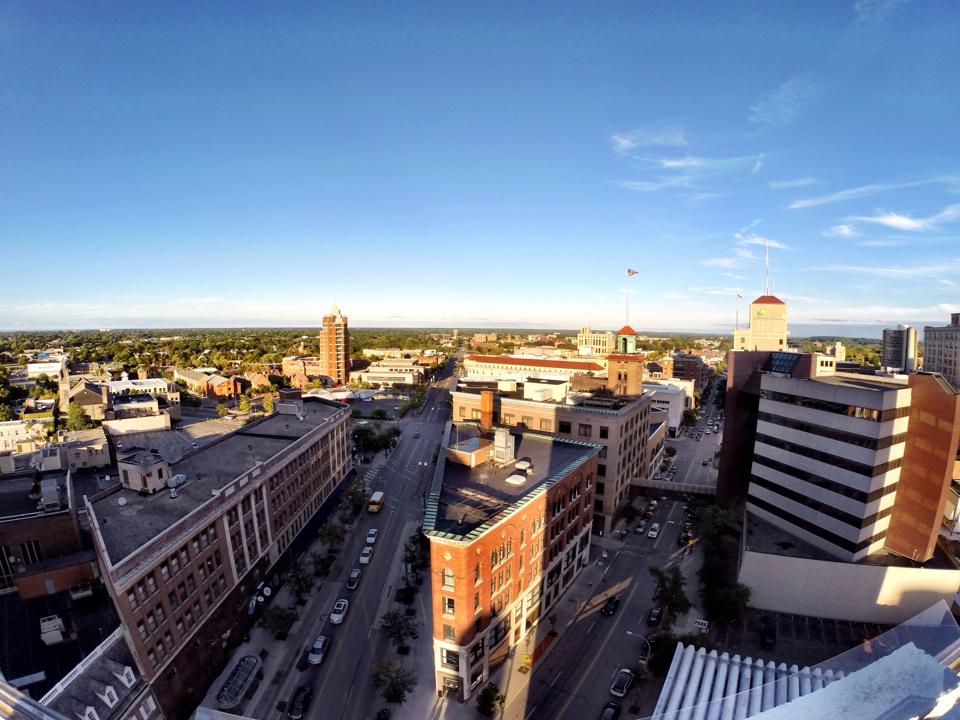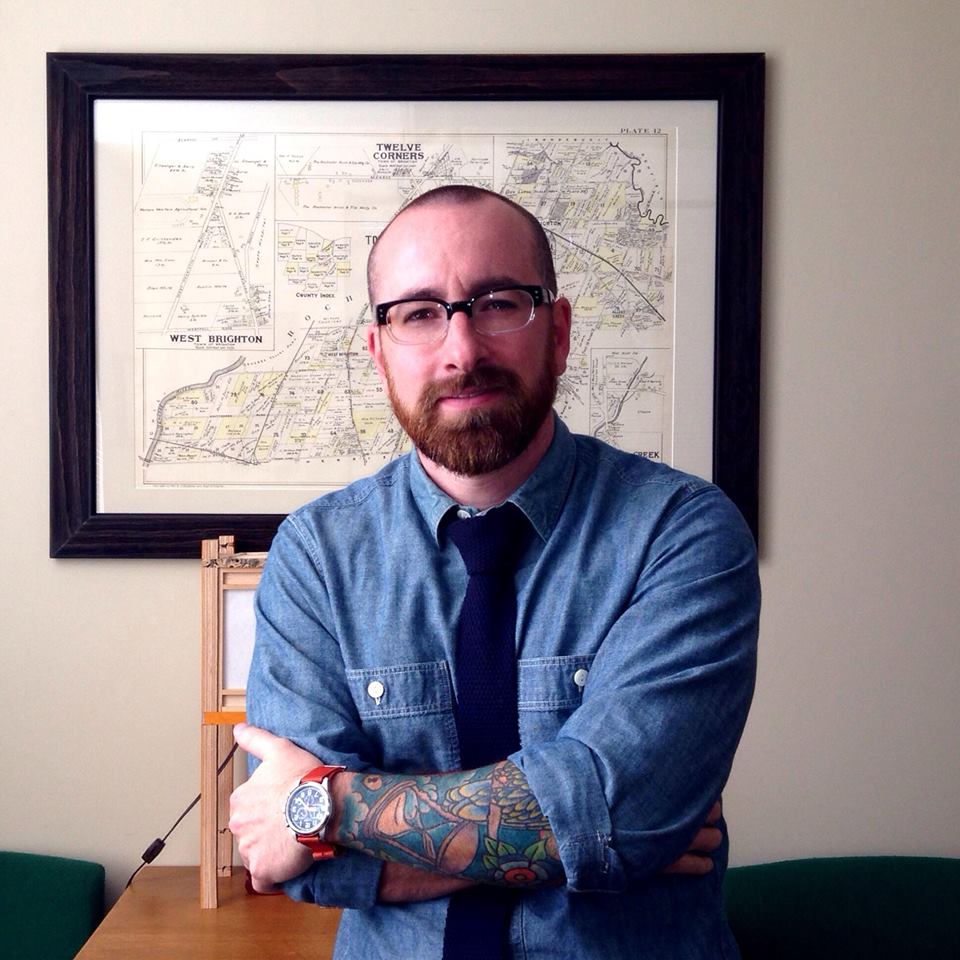 Chris Clemens is the Founder/Publisher of Exploring Upstate. From his hometown in Rochester, he spends as much time as possible connecting with the history, culture, and places that make Upstate New York a land of discovery. Follow him on Twitter at @cpclemens