by Chris Clemens
In the early 1840's Dorothea Dix was just beginning her lobbying efforts in Massachusetts to call for better treatment of individuals experiencing mental health concerns, particularly those living in institutions. At the same time that she was conducting visits to county based Almshouses, the State of New York was beginning to realize that the treatment provided in its own Poor Houses was deplorable. Dix published her expose entitled Memorial to the state of Massachusetts where she reported "Insane persons confined within…cages, stalls, pens! Chained, naked, beaten with rods, and lashed into obedience" but New York was already beginning to look at state run institutions as a progressive option for providing care. In fact, it had already broken ground on building one; the 'New York State Lunatic Asylum at Utica'.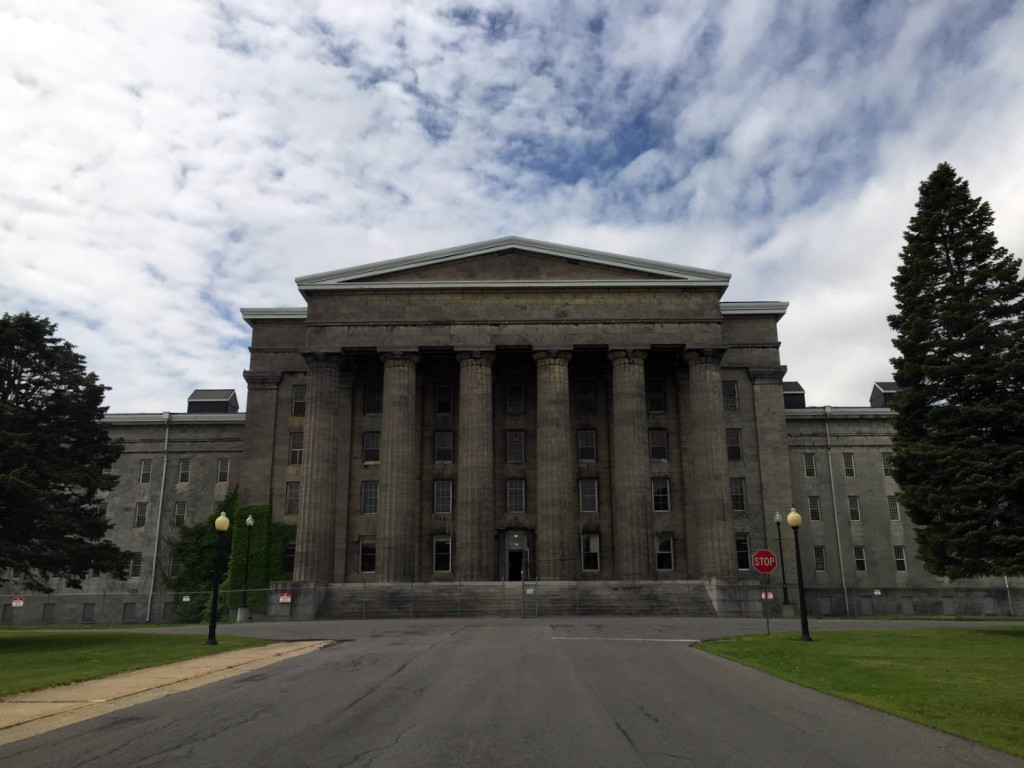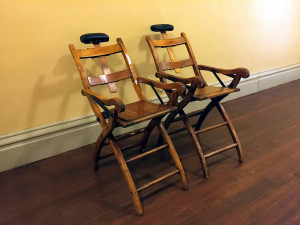 Erected in 1843, it was the first of its kind not only in the state, but was also a forerunner in our nation's effort at providing mental health care within an institutional setting. The Asylum at Utica predated even the Kirkbride Plan, which just a few years later would become the nationwide standard for state run treatment centers. While the treatment methods at Utica may seem inhumane today, for the time period they were thought to be incredibly progressive and based steadfastly on providing individualized care and support. Many seem to believe that treatment centers in the 19th century were evil and barbaric, almost as if they were intended to be that way, but records and journals from the time period indicate that employees at Utica (who lived right on the wards) truly cared for patients and loved their jobs. Our methods today may seem more advanced and compassionate but what was happening inside the walls of the Asylum at Utica were the advanced and compassionate methods of the 1800's.
Though all of the original New York state-run asylums have now either closed entirely or have been in some way repurposed, a few do occasionally open for tours. In the summer of 2014 the Asylum in Utica announced an opportunity for public tours and such an overwhelming attendance showed that hundreds had to be turned away. This year, they quietly announced a few tours available throughout May and June. Since I've now been to the Willard Asylum for the Insane in Ovid and the Richardson-Olmstead Complex in Buffalo, I hopped at the opportunity to get a peek into another part of New York State's mental health history.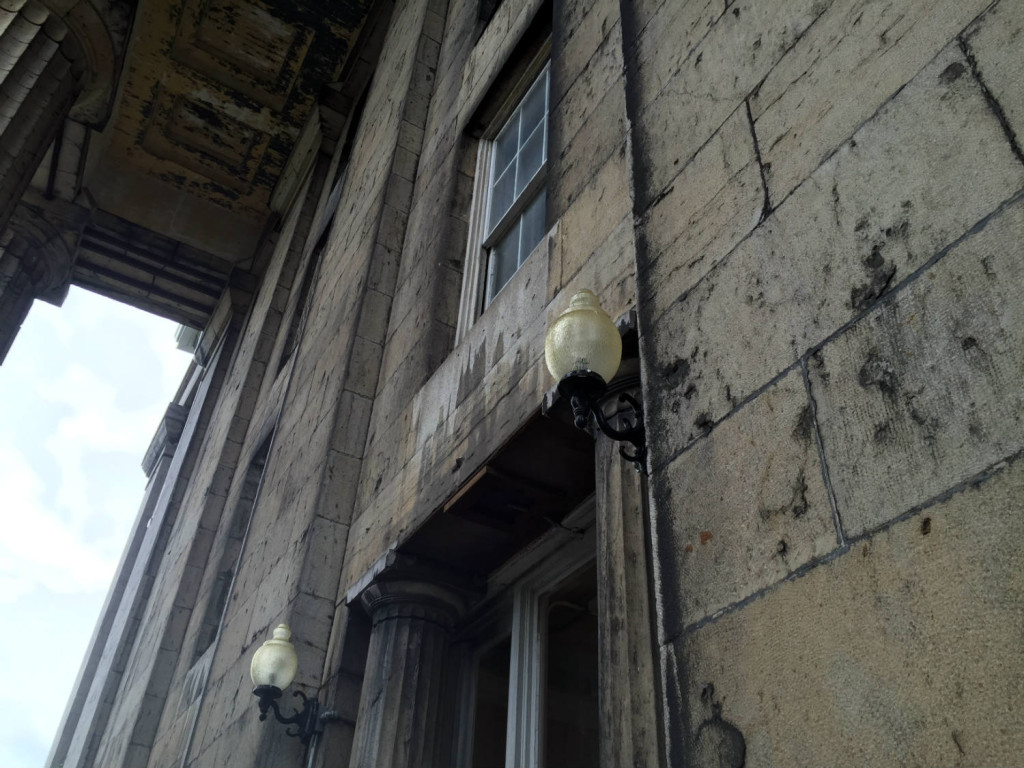 The affectionately nicknamed 'Old Main' building on the campus is the first and original of multiple buildings though most of the buildings that followed have since been razed. Amazingly, Utica residents helped raise money and donated personal funds to help offset the costs of building. The 130 acre property was purchased for $16,300 with the State of New York kicking in only $10,000–the rest was raised by the local Uticans. Just think about that for a second. Imagine today if the state wanted to build an institution in your neighborhood to support those less fortunate. Would it be welcomed at all? Would it be so welcomed that your neighbors would actually pitch in their own money to bring it??





Part of the cost is immediately obvious upon approaching the facade of the building, it's enormous! Considered to be one the finest examples of Greek Revival architecture in the country, the front portico boasts six limestone columns each eight feet in diameter and standing 48 feet tall.
No European public edifice has a grander Greek Doric portico than that which dominates the tremendous four story front block…" – Henry Russell Hitchcock, famed architectural historian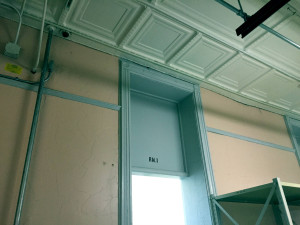 Architect William Clarke originally designed the campus to include four identical buildings, but after completing the first 'Old Main' building and the three foundations for the others, impending costs cancelled the plans and Old Main stood alone for the first number of years it was operational. Three floors (and a basement) with men and women divided on each wing into mostly single occupancy rooms allowed for a total of about 420 residents when the Asylum at Utica first opened. Journal documents from the first year of operations indicate that there were a total of only 41 employees to care for a facility that always operated at full capacity.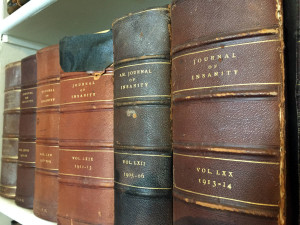 Dr. Arariah Brigham led the facility as the asylum's first director and brought his progressive tactics and treatment models to the campus. Leading the way for the rest of the country with his ideas, he began to publish them with an in-house printing shop under the title of the American Journal of Insanity. Years later the journal would be purchased by the American Medico-Psychological Association and evolved into what is still relied heavily upon today by mental health treatment professionals, the American Psychiatric Journal. Brigham believed that professionals weren't the only ones who should be publishing though. He encouraged the patients at the asylum to use the printing press to publish The Opal, a ten-volume journal entirely created by Utica patients. Featuring prose, articles, poetry, personal accounts and even political commentary, the patient-run publication offered an unprecedented view into the minds of patients. Possibly even more importantly, it gave those same individuals a creative outlet and opportunity for their voices to feel validated.
Patients with concerns ranging from "bumps on the head" to "sadness because of the death of a loved one" to "religious excitement" (remember, there was a TON of this in Central New York in the mid-1800's) would be receiving the same care as someone who today would be diagnosed with significant mental health challenges like schizophrenia or who had committed violent crimes due to mental health challenges. Furthermore, illnesses like alcoholism and people with intellectual disabilities would all be side by side receiving the same treatments. As time went on, disorders that were thought to be more acute would continue to be treated in Utica while more chronic patients would be transferred to the nearby Willard Asylum for the Chronic Insane in Ovid. That being said, there were plenty of cases where someone may require calming techniques in the event that they wouldn't be able to maintain a composure suited for the safety of themselves and others. With an average employee to patient ratio of 1:10, providing restraint that served its purpose of both calming technique and safety for all became paramount.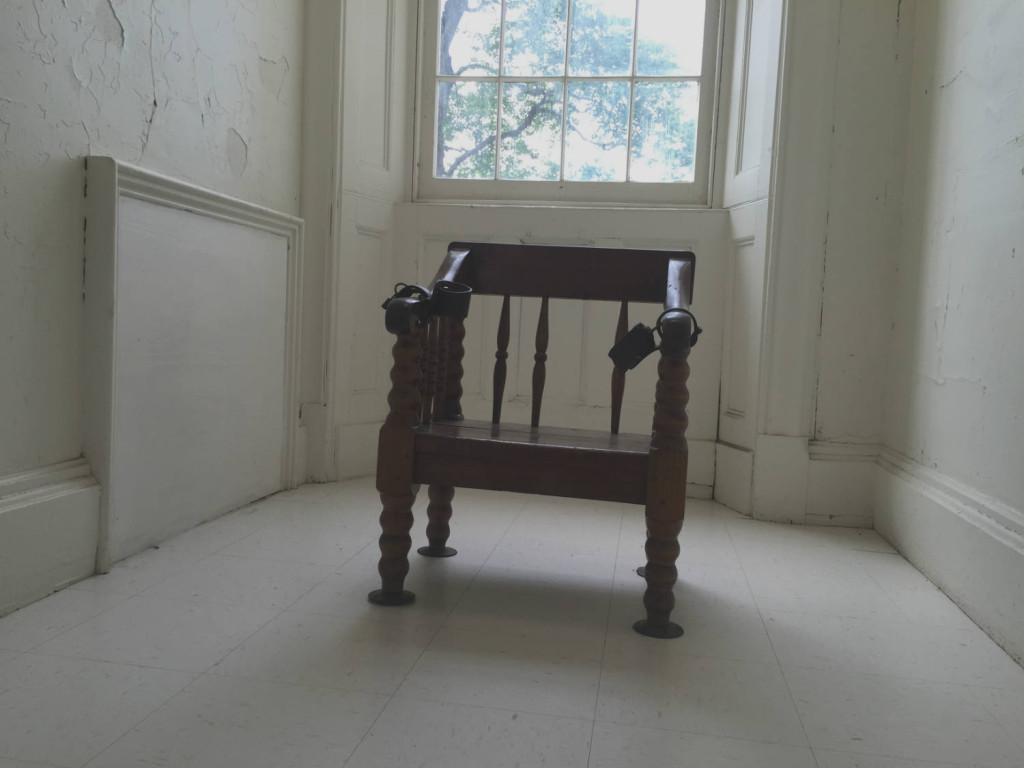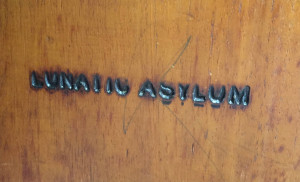 Possibly one of the most (in)famous tactics set forth at Utica today is a cringe-worthy tale. The Utica Crib wasn't invented at Utica, but Brigham was one of the first in the nation to use it, as a result bringing it to the forefront of modern psychiatric care which led to it being named after the New York facility. Invented in 1845 by Dr. M.H. Aubanel of the Marseilles Lunatic Asylum in France, the Utica Crib has been described as a 'covered bed', a bit of a glossy euphemism. Just barely large enough for an average sized adult, the 18 inch deep, 6 foot long and 3 foot wide wooden cage intended to provide a respite to anyone experiencing an excitement thought to be dangerous. The third Medical Superintendent at Utica un-did the work of his predecessor and did away with what he felt to be an inhumane treatment. On January 18, 1887, Dr. George Alder Blumer proudly announced that there wasn't a single Utica Crib left on campus.




The facility's evolution has seen numerous name changes and developments since 1843. Buildings have gone up and buildings have come down. Treatment models have been introduced and retired. Thousands of patients have checked in, and many have checked out after having successfully worked through treatments and re-establishing healthy patterns. Today, the campus is known as the Mohawk Valley Psychiatric Center and though 'Old Main' is now only used for records storage for the state, the remaining buildings around campus continue to provide care with both inpatient and outpatient support. More recently, the staff at Mohawk Psychiatric felt it would be a worthy service to open the doors of 'Old Main' and provide a peek in to the history of our state's treatment of those who were not able to care for themselves.
Many, many thanks to the staff at Mohawk Valley Psychiatric Center for providing such a fantastic opportunity to the public by providing these free tours! Staff's personal accounts of modern-day care accompanied by stories of yesteryear were really intriguing to hear. Much like the original staff at Utica, it's clear that the folks carrying forward today love what they do and are happy to do it.
Sources and Additional Reading
1880 The Utica Crib on The Inmates of Willard
Utica State Hospital on NYSAsylum
Utica Psychiatric Center on Wikipedia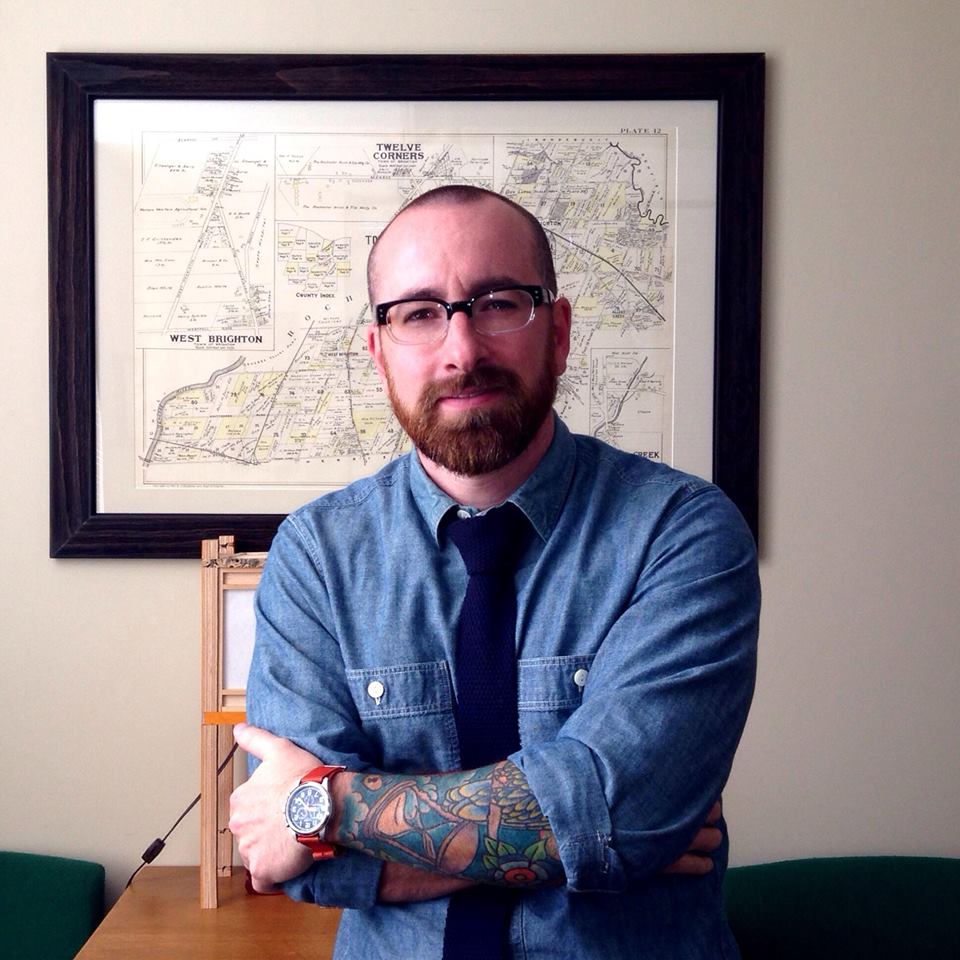 Chris Clemens is the Founder/Publisher of Exploring Upstate. From his hometown in Rochester, he spends as much time as possible connecting with the history, culture, and places that make Upstate New York a land of discovery. Follow him on Twitter at @cpclemens