by Chris Clemens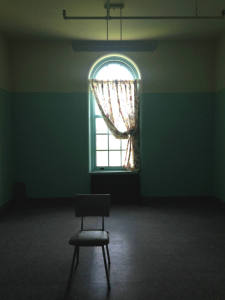 Each year in May there is a rare opportunity for those looking to tour a piece of intriguing history on the eastern shores of Seneca Lake. Three-hour walking tours of the Willard Asylum in Ovid, NY provide photogs, history buffs, explorers and the wildly curious a chance at a guided tour of the state's second effort at government-run housing for those with mental illness, developmental disabilities, epilepsy and other ailments they felt like lumping in to the treatment model. Tours hosted by the Elizabeth Cady Stanton Child Care Center began eight years ago and attendance has grown exponentially ever since. In 2014, there were 10 groups of between 25-40 people both in the morning and the afternoon sessions.
Because part of the property has been converted to house the Five Points Correctional Facility, safety for visitors and security risks make providing tours a complex endeavour that the prison system loathes. Due to the grand efforts of preservation advocates, Five Points has allowed the tours one Saturday, once a year, for a limited number of people. Based on some feedback that I got from our docent, there's a good chance that the event has outgrown it's welcome and the prison may put the kibosh on the whole thing in the near future. If what you are about to read interests you at all, I wouldn't wait around to take this tour assuming it will always be available. [12/23/2014 EDIT: As you'll see in the comments at the end of this post, a couple helpful readers have corrected my facts here. The 'lockdown' facility on the campus is a drug-alcohol treatment program for low-level offenders. Whereas, Five Points Correctional is an entirely different facility about 4 miles away in Romulus, NY. Thanks to those who helped me get this straight!]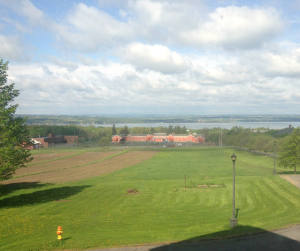 The property on Seneca Lake was first purchased in 1853 with the intention that it would be the home of the Ovid Agricultural College. The 440 acre university opened for classes in December 1860, but the timing proved horrible. Any young and able-bodied men were off fighting in the trenches of the Civil War and weren't available for academia. The collegiate effort lasted only months and left a nearly brand new sprawling campus to rot in the heart of the Finger Lakes Region.
In the meantime, Dr. Sylvester D. Willard, the Surgeon General of New York, had discovered that those with mental illnesses, developmental disabilities, epilepsy, and even alcoholism suffered in torturous conditions in county-based almshouses. Though New York had already forged the path to state-run institutionalization when the Utica Lunatic Asylum was opened in 1843, when Willard discovered the inhumane treatments throughout his research, he proposed a bill that indicated a need for opening a second asylum–a bill that President Lincoln signed just six days prior to being assassinated. If the timing of Lincoln's death and the signing of the bill doesn't seem awfully close, you might be amazed to learn that Dr. Willard himself died of typhoid fever just two weeks prior to Lincoln's passing! The bill that Willard penned that led to this second institution would be his legacy and therefore was named in his memory. The Willard Asylum for the Chronic Insane was to be constructed right away on the 440 acre parcel that lay dormant in the Finger Lakes.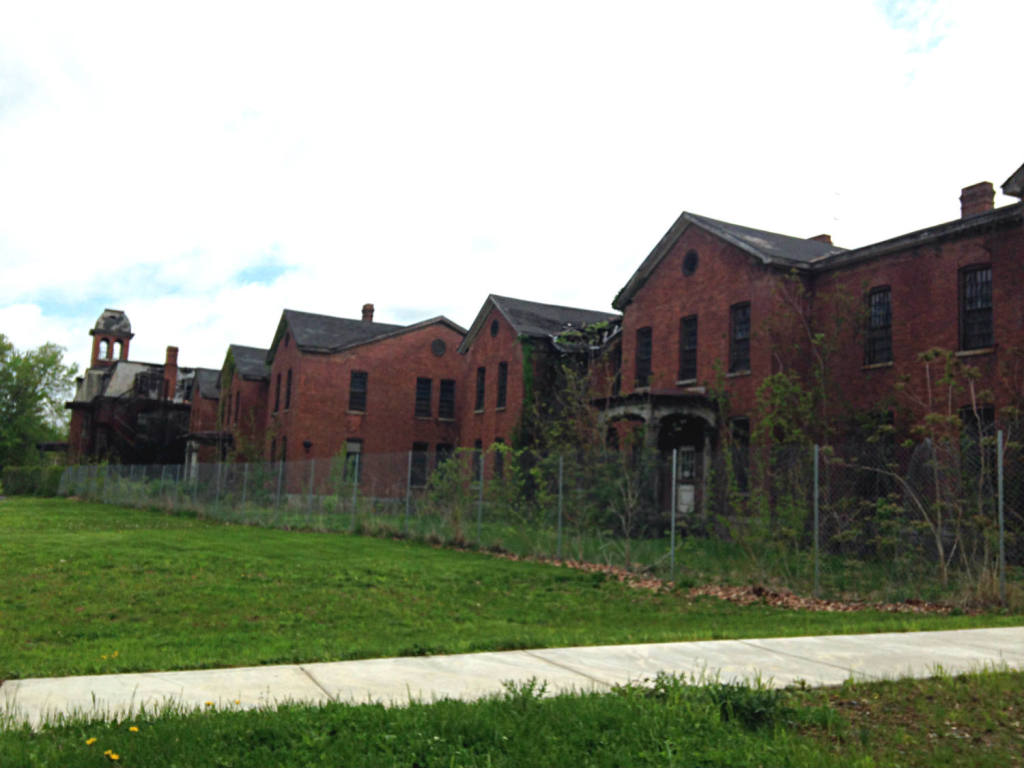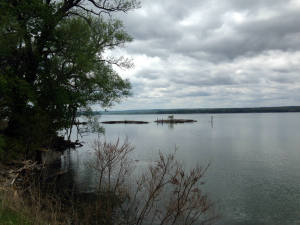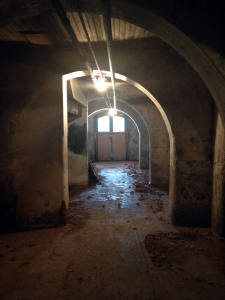 A popular design for institutions of the time period was a sprawling layout of an administration building flanked by two wings, one for males and one for females. One of the best examples in New York of the design is the Richardson-Olmstead Complex in Buffalo which also offers tours (but to be honest, it's probably one of the worst tours I've ever attended). Willard's first building was a similar design and was constructed in 1866, though you won't see this building on any tour because it was taken down sometime in the 80's. Just three years after the first construction began, on October 13th, a steamboat made its way up Seneca Lake and docked at the shore right at the edge of Willard's campus. Several men would appear and lead a chained up, physically deformed woman from the boat and up the dock toward her new home. Mary Rote had spent the previous decade chained to a wall with no bed or clothing in the Columbia County almshouse. Though Willard was no all-inclusive-Caribbean resort, it still was light years ahead of her previous living quarters. With Mary arriving at the Willard Asylum for the Chronic Insane as Patient #1, the long and winding history of the campus was set to begin.




Because there are so many people attending the tours, groups are created of about 25-40 people and each group starts in a different part of the campus. Then each group bounces from spot to spot around the campus with a docent. If you decide to attend the tour, I'd STRONGLY recommend staying with your group and paying no mind to the prison lockdown facility. From what I've heard, even pointing your camera toward the barbed wire fence will get the attention of the constantly patrolling guards. While you may not find yourself in shackles for such an act, remember that the prison is kind enough to allow the historical society to bring upwards of 1,000 people around, and minding manners and following directions might help convince them that it's a great event to continue with.
It was only months after October 13, 1869 when Mary Rote arrived that Willard had filled all 250 beds and began to prepare for more. Rather than put additions directly on to the building, a campus of detached buildings was built. A Warden's house overlooking the dock that the patients arrived at, numerous dormitory style buildings to house both residents and staff, a morgue, a fire department, a nurse's station (that is now a daycare), a generator building and an all-purpose gymnasium that served as a recreational area, chapel and movie theatre all became part of a collection of over 70 buildings that slowly were constructed to serve the growing population. In 1890, the campus (now called Willard State Hospital) had over 2,000 residents on site, making it the largest in the entire country. Originally intended to serve only chronic patients, Willard now was poised to also serve patients with acute needs.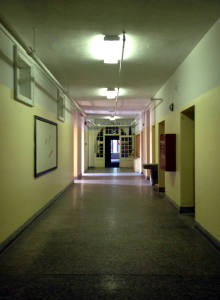 Despite later changing its name to Willard Psychiatric Center, the attempt to embrace a more person-centered treatment philosophy couldn't outrun the national trend toward deinstitutionalization. Large treatment centers and hospitals began to close somewhere in the early 1970's, largely due to Geraldo Rivera's expose on the Willowbrook Hospital in downstate New York. Rather than a model that allowed one nurse to care for 150 patients on one floor, smaller group home models began to become the norm. Finally, in 1995, Willard would discharge its final patient and close its doors for good.
The tour for my group began in the Grandview building which is one of the oldest buildings on the property and was part of the Ovid Agricultural College mentioned earlier. First erected in 1860 and later renovated in 1870, the building housed Willard female patients whose ailments were less profound. Afterward, we moved on to Hadley Hall, which had been built in 1892. Featuring an all-purpose gymnasium, the hall was used for various recreational activities and even as a movie theater. Still available to check out is the projector room where operators had written the titles and dates of each movie they had played. I figured that was going to be the coolest thing in Hadley Hall, because so much history had been preserved there and one you could never stick into a couple photos or even a book. Almost as cool though, we were given an opportunity to wander into the basement of the building, where residents had their very own bowling alley.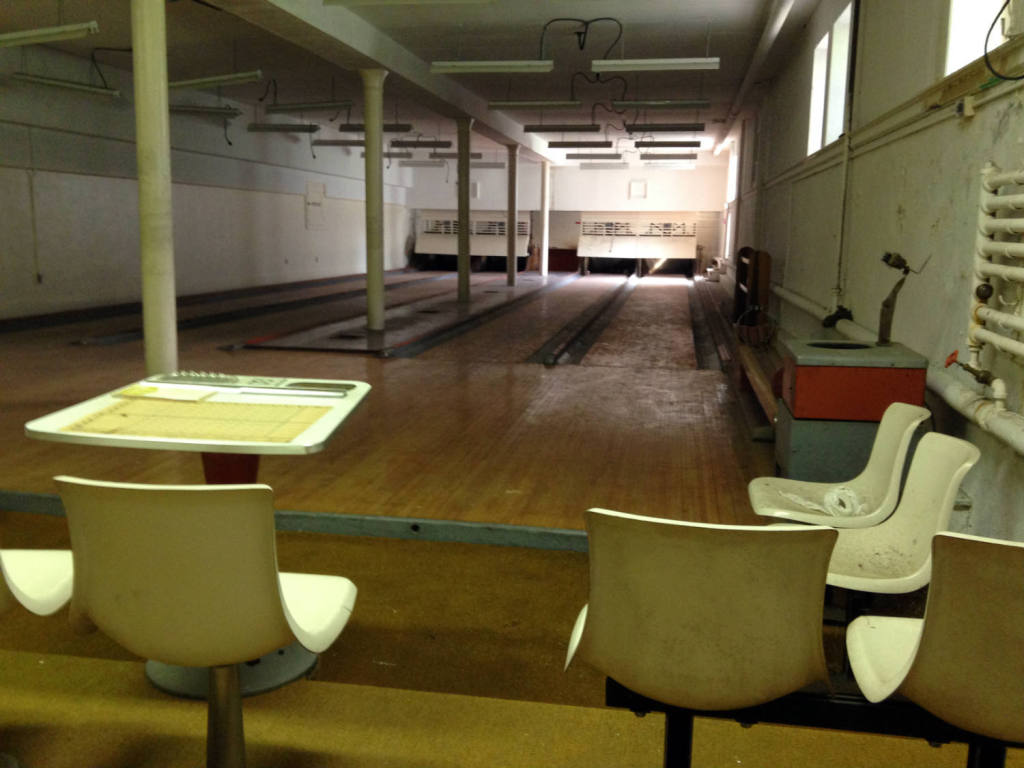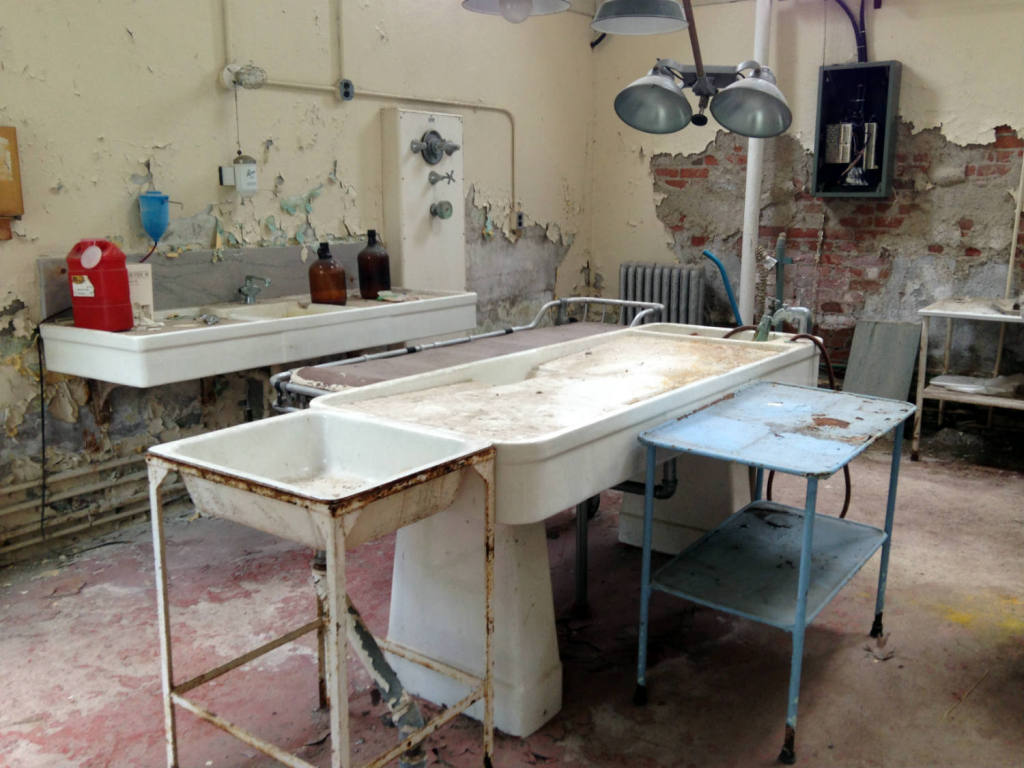 Next on the itinerary was Elliot Hall, though admittedly it was much less interesting. Built in 1931, Elliott was used as the campus hospital and additionally, this building is where electric shock and ice-bath treatments were given. Today, the rooms look like any old hospital and appear to have been stripped of their bad juju. Understandably so, because Elliott Hall has been used the last 20 years as a dormitory for visiting corrections officers who are in training. After Elliott, our group migrated across the road to possibly one of the more (in)famous buildings. Because Willard was 100% self-sufficient, they also needed facilities to provide services to their deceased. Standing inside the Willard morgue provided both a dark, solemn emotion while also stirring my wildest curiosities. Spending a few minutes looking at body coolers, embalming equipment and incinerators really provided a new edge to the haunting emotion of experiencing the grounds where thousands spent their lives. Imagining a lifelong battle with physical and/or mental disabilities and having it wrap up in this small hut of mortuary science made me feel like moving on to the next building soon after getting there.





Two final buildings on the tour were the Brookside (which was the Warden's quarters) built on the crest of a picturesque hillside overlooking the lake, and the Bleak House, living quarters for the steward of the campus. Both homes were ridiculously stately and beautiful, with Brookside boasting two full kitchens and 11 bedrooms! The ornate wood detailing, stained glass windows and even the wooden banisters on the stairwells are a true work of art worthy of preservation.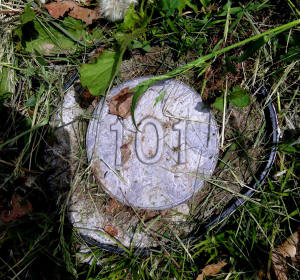 I mentioned earlier that the Willard campus was entirely self-sustaining. A hospital onsite, a utility plant, living quarters for staff, morgue and fire department all ensured that residents at Willard never had to leave the property. The final stop on our tour was one that only added to the solemnity of the previous three hours. While walking through the cemetery at Willard, it was nearly impossible not to imagine who the residents at Willard were. What they looked like, what they struggled with, what their passions were, who their families were. Acres and acres of field are lined with anonymous markers that have only a number to indicate the burial. There is now a group of volunteer genealogists who dedicate their time and resources to finding the stories of each of the individuals buried in the cemetery plots at Willard, and they were on hand to answer questions and share some of the records they had discovered. If you're interested in learning more about the burials and want more information, they have an incredibly cool website with tons and tons of constantly updated resources that you can find here.
A number of years ago someone was cleaning out the upstairs attic of one of the buildings at Willard and found a few hundred suitcases filled with personal belongings from former patients. If the heartbreaking tale of people losing their identities and enduring the last years of their lives in an institution of neglect isn't enough to make you wonder about the history of our healthcare system, the suitcase exhibit might do the trick. The idea that an individual would arrive at Willard with a suitcase of personal keepsakes that would be tossed into an attic and never seen again is a chilling image how we have historically treated those who were institutionalized. The individual who found the suitcases ensured that they made it into the hands of the right people, and a traveling exhibit of all of the belongings from each of the suitcases has been making its way through museums for years. For more on the Willard Suitcase Exhibit check out this website that has been set up.
If you're looking to attend the tour in May 2015, get ready to be Googling and hunting for information as it gets closer. Unfortunately, there's never been one website to serve as a spot for the announcement. A good resource for tour details may be my fellow blogging friend Jennifer Morrisey over at Home In The Finger Lakes. She put together a pretty sweet series of posts from the same tour I was on, in fact, you can even see me in a few of her photos! Additionally, as more information on the tour is available, I'll be sure to share it on the Exploring Upstate Facebook Page, so be sure to follow there too!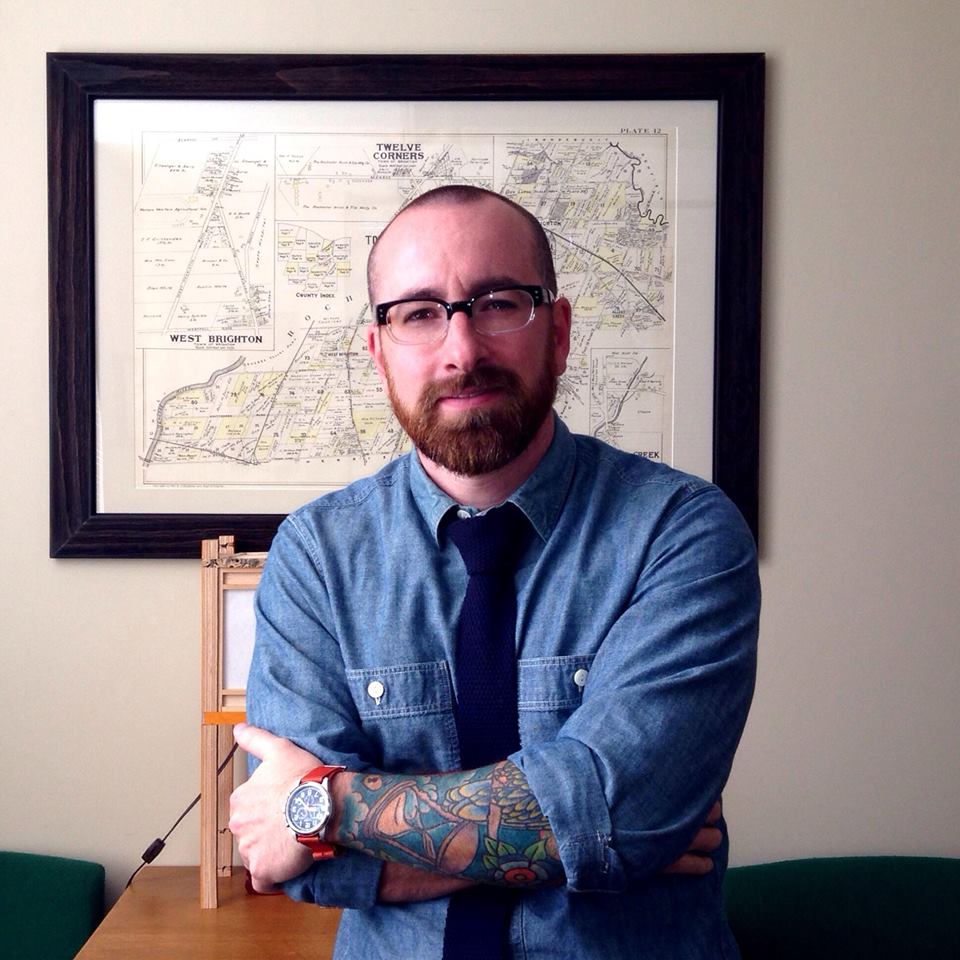 Chris Clemens is the Founder/Publisher of Exploring Upstate. From his hometown in Rochester, he spends as much time as possible connecting with the history, culture, and places that make Upstate New York a land of discovery. Follow him on Twitter at @cpclemens